"Call of Duty: Modern Warfare 3" is gearing up to redefine the Zombies experience with its latest iteration, "Operation Deadbolt." This new mode is a significant departure from the traditional round-based gameplay that fans are accustomed to. Instead, it introduces a large-scale extraction gameplay that blends elements from both the Zombies and the DMZ modes of the franchise.
In "Operation Deadbolt," players will find themselves in a PvE environment designed for trios, set on the expansive new Urzikstan map from Warzone.
The mode offers a sandbox-like feel, allowing players the freedom to choose their approach—whether it's hunting for kills, exploring the map, or engaging in story missions and other objectives.
The interface and menus in Zombies mode bear a resemblance to DMZ, with operator slots that can be filled with any operator from Modern Warfare 2 or 3.
Players can equip their operators with up to five different pieces of gear, which are retained through missions. This gear includes essentials like killstreaks, armor, gas masks, and medical items.
A familiar feature from DMZ is the backpack, known here as the rucksack, which provides storage for all the loot collected during missions. Players start with a small rucksack that has five open slots, with the potential for expansion.
Loadouts in MW3 Zombies are nearly identical to those in DMZ. Players begin with one insured weapon slot, which is the only weapon retained if extraction fails.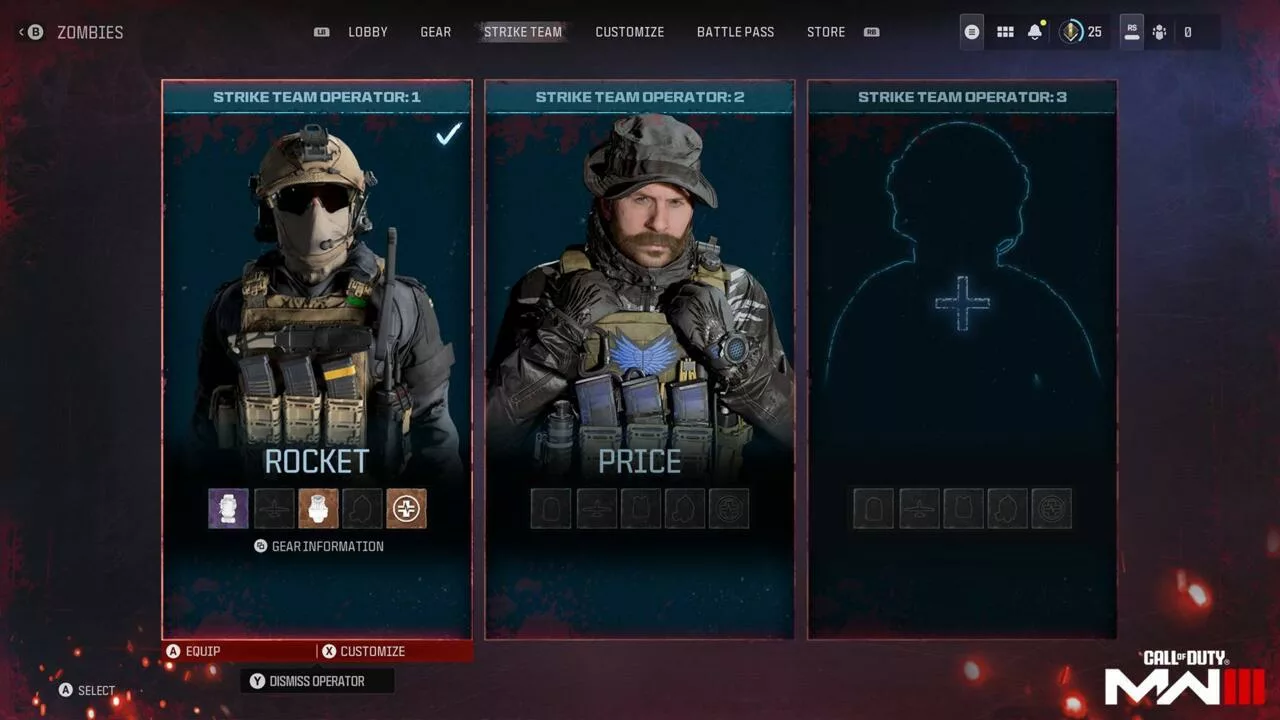 This insured weapon can be customized in the Gunsmith, and completing specific missions can unlock additional insured weapon slots. "Contraband" weapons can also be extracted and stored in a weapons locker.
Field upgrades make a return but with a twist. Instead of the usual equipment from multiplayer or DMZ, these are elemental upgrades from the "Black Ops Cold War" Zombies mode, such as Aether Shroud for invisibility and Healing Aura for healing.
As players progress, they can add items to their rucksack called acquisitions and schematics. Acquisitions are single-use items like Perk-a-Colas, ammo mods, and upgrade tools, while schematics are plans that allow for the crafting of these items.
The mission structure in Zombies mode is tiered, similar to DMZ, with each tier offering more story, experience points, and cosmetic rewards. There are also contracts to complete for additional rewards, and Buy Stations scattered across the map for gear purchases.
Zombies mode retains its unique features, including Perk-a-Cola machines, Pack-a-Punch, and Wall Buys for additional guns. Wonder Weapons are also available, featuring classics like the ray gun and new additions like the Scorcher.
More details about the Zombies storyline for "Operation Deadbolt" and other features can be found on the official blog. "Call of Duty: Modern Warfare 3" is set to release on November 10, with the campaign already available in early access.
Uncover the Highs and Lows of Modern Warfare 3 Zombies: "Curious about how Call of Duty's latest Zombies mode stacks up? Check out our detailed review of Modern Warfare 3 Zombies to see how it balances exhilarating survival action with new gameplay challenges."