Lady Gaga has taken to her social media accounts to announce that she is now on the set of the upcoming movie, Joker: Folie à Deux.
The singer, who has been nominated for a 95th Academy Award for Best Original Song for her song "Hold My Hand" from Top Gun: Maverick, expressed her gratitude for the nomination and shared a photo from the Joker: Folie à Deux set.
In her post, Lady Gaga stated that writing the song for Top Gun: Maverick was a profound and powerful experience, and that she is grateful for the magic of music and movies.
Although it has not been officially confirmed, there have been various rumors that suggest Lady Gaga will be playing Harley Quinn, alongside Joaquin Phoenix's Joker.
Production for the Joker sequel began in December 2022 and Lady Gaga joined the set in January 2023. With the singer now on set, fans can expect to see the first image of her in character soon. This is in line with what the film's director, Todd Philips, had previously stated at the end of 2022.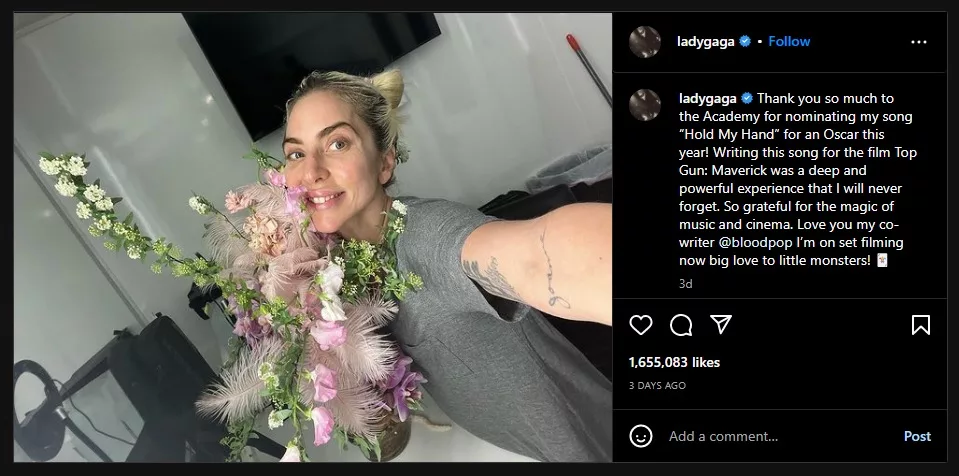 The cast for the Joker sequel includes an impressive line-up, including Joaquin Phoenix, Lady Gaga, Brendan Gleeson from Harry Potter, Jacob Lofland from Maze Runner, Catherine Keener, Zazie Beetz, Harry Lawtey, and more. The movie is scheduled to premiere on October 4, 2024.
Horror Genre Reinvented: Experience a unique blend of demonic possessions and twisted children's games. Don't miss our "Unique Horror Film Review of All Fun and Games" for a fresh perspective on horror cinema.