Rockstar Games is known for its incredible open-world games, and the Grand Theft Auto series has been one of its most popular franchises. With the last installment, GTA 5, being released in 2013, fans have been eagerly waiting for any news about the next game in the series.
Recently, rumors have been circulating about the possibility of an announcement for GTA 6. The hype train was fueled by a social media post by rapper 50 Cent, in which he shared a graphic with the words "Vice City" and promised to explain more later.
Fans immediately started speculating that the post might be related to the upcoming GTA game. While it's still unclear whether 50 Cent's post has anything to do with GTA 6, the hashtags he used in the post have raised some interesting questions.
50 Cent owns several alcohol brands, and their names were included in the post, leading some to believe that there might be some kind of collaboration between the rapper and Rockstar Games.
Of course, this is all speculation at this point. Rockstar Games has been notoriously tight-lipped about any details related to GTA 6.
However, the recent post by 50 Cent has once again sparked the excitement and anticipation of fans, who are eagerly waiting for any official news about the upcoming game.
Given the popularity of the Grand Theft Auto series, it's no surprise that fans are eagerly awaiting the next installment. The previous games have been praised for their open-world gameplay, engaging storyline, and attention to detail. Rockstar Games has a reputation for delivering high-quality games, and fans are expecting nothing less from GTA 6.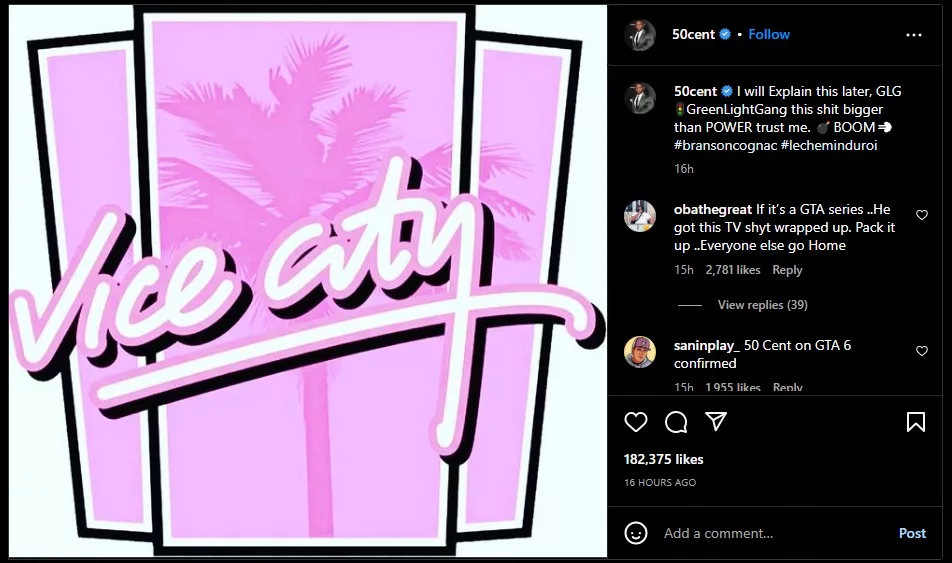 While we still don't have any official information about the game, the recent post by 50 Cent has once again put the spotlight on the highly anticipated title.
Fans are hoping that this might be the announcement they've been waiting for, and that they'll soon be able to explore the next open-world adventure in the Grand Theft Auto series.