During the highly anticipated Xbox Games Showcase, InXile Entertainment delighted fans with the announcement of their upcoming game, Clockwork Revolution.
Set in a steampunk-inspired world, this first-person RPG promises thrilling battles against massive mechs, an array of unique steampunk weaponry, and an enthralling conflict against the oppressive rulers of the city.
Fast-Paced Shooting and Advanced Technologies
The captivating trailer for Clockwork Revolution showcases intense and fast-paced first-person shooting, but it's not just about wielding steampunk guns. Players will have access to an arsenal of advanced technologies, including shock grenades and a device that can make enemies float.
However, the most intriguing aspect is the inclusion of time travel. Time manipulation plays a significant role in the game's narrative, offering glimpses of alternate versions of the city depending on who controls the flow of time.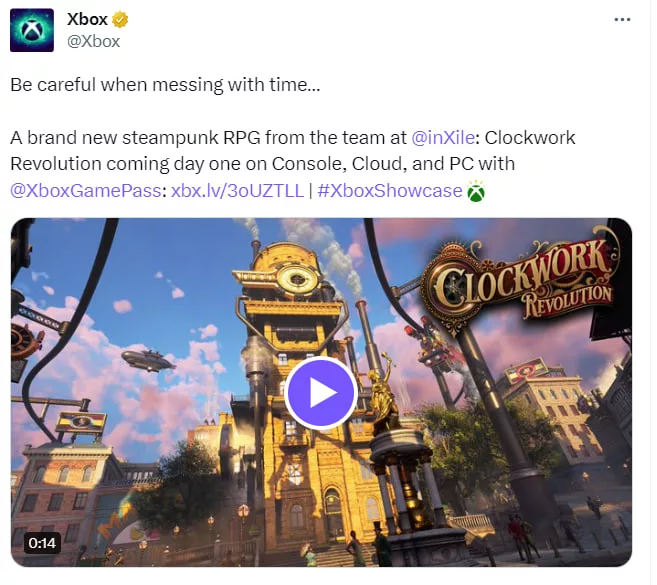 The Story of Avalon and Lady Ironwood's Reign
Clockwork Revolution takes place in the Victorian-era city of Avalon, a place overshadowed by the iron grip of Lady Ironwood. Through her mastery of time travel, Lady Ironwood has altered crucial historical moments, amassing her wealth at the expense of the working class.
As the protagonist, you obtain a time-travel device and embark on a mission to fight back against Lady Ironwood's tyranny. By venturing into key moments in history, you must uncover the truth, alter the course of events, and ultimately shape the present to bring about a better future.
A Release to Look Forward To
While a specific release window has not been provided, Clockwork Revolution is set to launch on Xbox Series X|S and PC platforms. Excitingly, it will be available as part of the Xbox Game Pass subscription service from its release day, offering players instant access to this steampunk adventure.
Clockwork Revolution promises an immersive steampunk experience filled with intricate world-building, intense combat, and a compelling narrative centered around time travel.
As you battle against powerful mechs and uncover the secrets of Avalon, the fate of the city lies in your hands. Stay tuned for further updates on Clockwork Revolution as it progresses towards its highly anticipated release.
Dive into Magic & Mystery: Intrigued by fantasy-tinged puzzle-platformers? Discover the latest chapter in the Trine series and find out if the heroes still sparkle with magic in our in-depth review of Trine 5: A Clockwork Conspiracy.