The Trine series has carved out a nice little niche for itself over the past decade or so. Developed by the folks at Frozenbyte, this fantasy-tinged puzzle-platformer franchise has built up a loyal following thanks to its charming characters, vibrant storybook visuals, and physics-based hijinks. Now, the heroes of Trine are back for their fifth adventure in Trine 5: A Clockwork Conspiracy.
As you've probably guessed from the title, Trine 5 continues the 2.5D side-scrolling action the series is known for. Once again, players take control of the wizard Amadeus, thief Zoya, and knight Pontius as they work together to battle enemies, navigate obstacles, and solve environmental puzzles. It's platforming with a twist, offering up unique character abilities and cooperative elements that require coordination and quick thinking.
In this review, we'll be taking an in-depth look at what Trine 5 brings to the table. Does it feel like a fresh adventure, or is the series showing signs of rust? We'll examine the story, gameplay mechanics, co-op features, and more as we determine whether the latest Trine delivers a magical experience. So sit back, relax, and let's get our hands dirty with Trine 5!
Adventuring with Old Friends
Trine 5 brings back the lovable trio of treasure hunter Zoya, timid wizard Amadeus, and valorous knight Pontius for another fantasy adventure. This time around, the heroes have been framed for destruction around their kingdom, so they set off to clear their names and restore their reputations.
The story hits familiar narrative beats as our heroes travel through vivid, fairytale locales while uncovering the real villains behind the conspiracy against them. The plot doesn't throw any major curveballs, but it manages to expand on the histories and relationships between characters in some charming ways.
Zoya's daring wit, Amadeus' neurotic ramblings, and Pontius' oblivious bravado will be immediately familiar to Trine fans. The voice cast delivers lively performances that capture the essence of each hero. The occasional bits of meta humor and absurdity also lend the dialogue an endearing, lighthearted feel.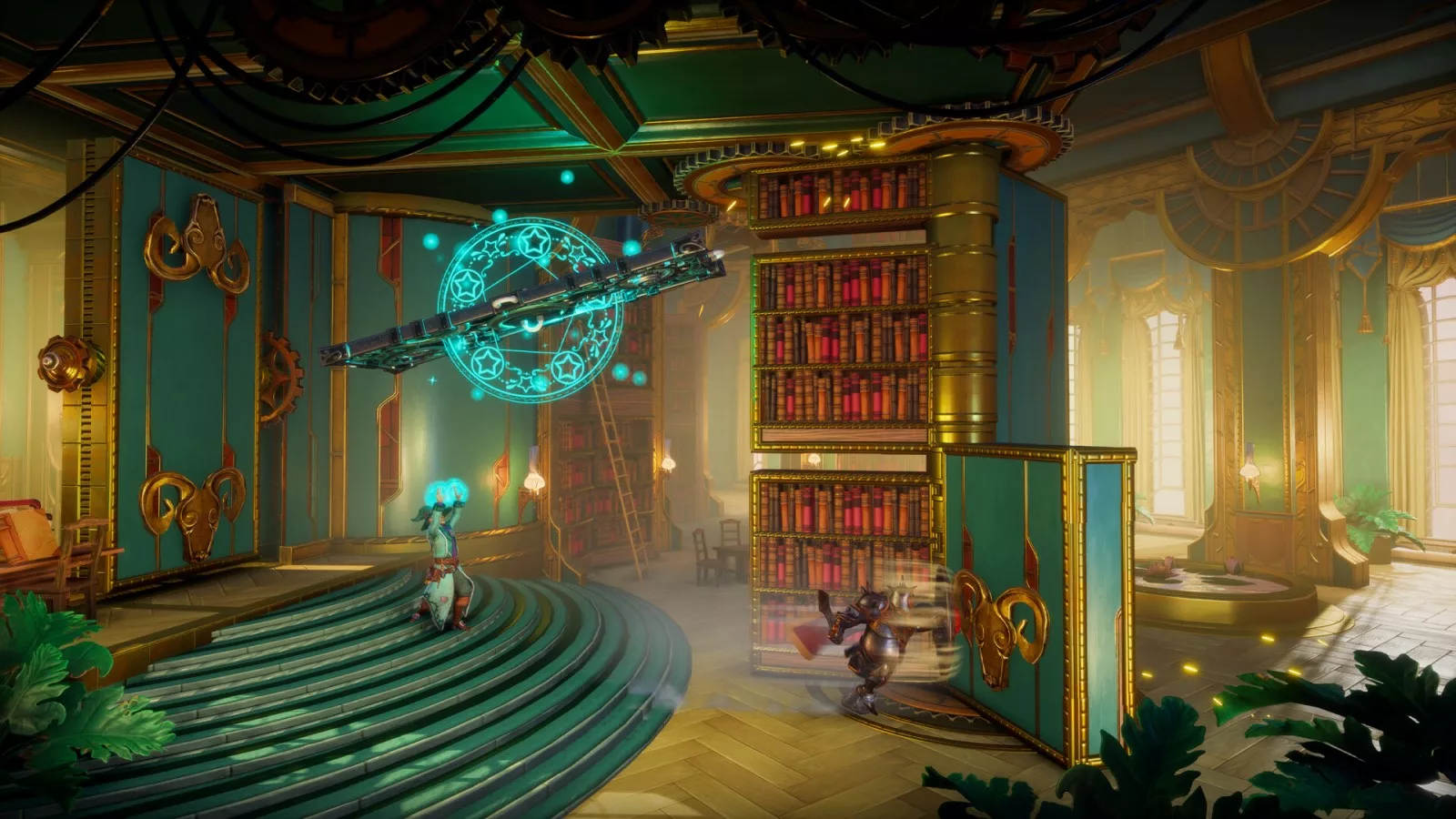 Of course, a huge part of Trine's appeal lies in its storybook setting. Trine 5 immerses players in its imaginative world through painterly 2D backdrops bursting with color and detail. There's an incredible sense of place as you guide the heroes through give shipyards, glittering caverns, and clockwork cities. Seeing the environments come alive with subtle ambient touches like schools of fish or billowing curtains really brings a magical quality to each locale.
It's easy to lose yourself in the mythical kingdoms and dungeons of Trine, uncovering every last secret and taking in awe-inspiring vistas. While the tale of Trine 5 might not spin any unexpected yarns, its lush scenery, affable characters, and plucky charm create an enticing fantasy playground for players of all ages. Exploring the lands of Trine side-by-side with Amadeus, Zoya and Pontius feels like going on an adventure with old friends.
Brain Teasers and Bash 'Em Ups
The Trine series has always excelled at blending physics-based puzzles with platforming action and combat. Trine 5 continues this trend, featuring all the hopping, thinking, and monster-bashing you could want from a fantasy adventure.
The core loop focuses on using each hero's unique talents to traverse obstacles and solve environmental puzzles. As the wizard Amadeus, you can conjure objects like boxes and planks to build bridges and access new areas. Zoya the thief can grapple and swing from points with her rope arrow. Meanwhile, Pontius the knight relies on good old brawn – his shield can block hazards, and his sword slashes foes.
Switching between the heroes fluidly is crucial for overcoming many puzzles. You'll be constantly combining their abilities in clever ways, like using Amadeus' platforms to create footholds for Zoya's grappling rope. The puzzles start out simple, but quickly ramp up as you unlock new powers for each character. By the end, you'll be chaining together several abilities across all three heroes to bypass the trickiest puzzles.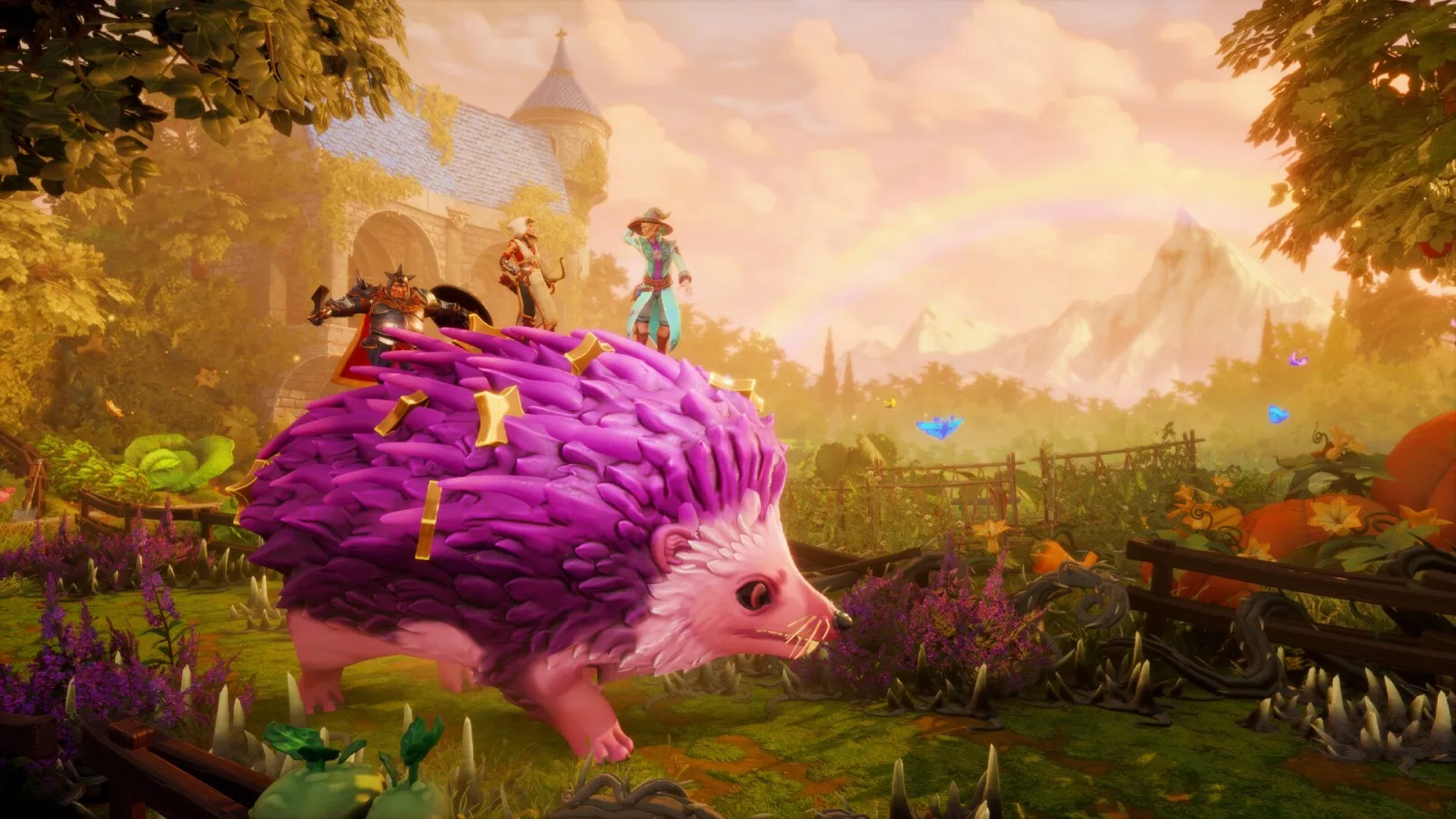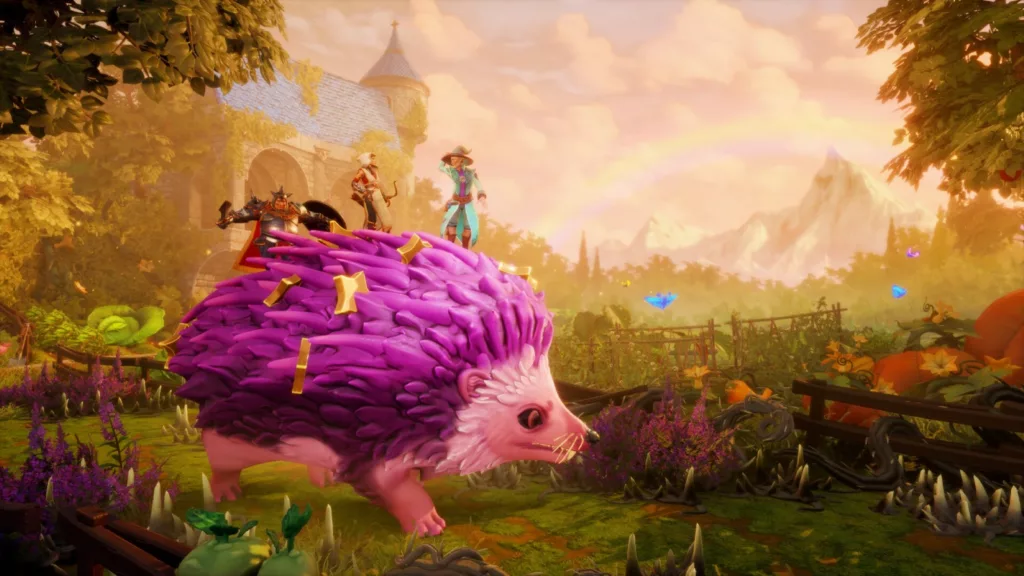 Playing solo means changing heroes at the press of a button. But for the full Trine experience, grab up to three friends for chaotic, cooperative puzzle solving. With more heads put together, the puzzles become more complex and multilayered. Trine 5 even adds mechanics like magnets, electricity and light beams to up the ante. Things get delightfully tricky when you have to coordinate across four players simultaneously.
Of course, you can't have a treasure-hunting adventure without some combat. Trine 5 scatters short action scenes between puzzles, pitting you against adorable-but-deadly critters and hulking mech bosses. It's simple hack, slash, and shoot gameplay, with Pontius doing most of the heavy lifting. Combat feels like more of an afterthought compared to the stellar puzzles, but provides a change of pace.
To help you adventure in style, Trine 5 introduces a quest system for finding upgrade points. These can be used to unlock new abilities for each hero, letting you customize their skills. It's a nice way to add some progression beyond finding hidden vials in each level. You can even reset spent points if you want to try a different build.
Between its magical worlds and myriad ability combinations, Trine 5 really lets your imagination run wild. The physics puzzles allow for multiple solutions, so you can get creative with the tools at hand. That freedom to experiment and tinker encapsulates the childlike wonder that makes Trine such an accessible, rewarding adventure for all.
A Beautiful Fairy Tale World
It wouldn't be Trine without drop-dead gorgeous scenery, and Trine 5 delivers some of the series' most stunning visuals yet. The environments burst with an imaginative storybook style that creates an inviting, fantastical atmosphere.
Each level presents a meticulously detailed diorama stretching into the horizon. Sunbeams pierce through swaying trees, raindrops patter on cobblestone streets, and fireflies hover in the moonlit night. The backgrounds include lovely touches like fish swimming through underwater shipwrecks and birds taking flight as you pass by. These ambient elements make the world feel alive.
Of course, Trine is known for giving players a visual feast, and Trine 5 holds nothing back. Prepare to traverse pirate coves at sunset, venture into underwater palaces full of coral reefs and sea creatures, and slink through cities patrolled by giant mechanized guards. The settings are diverse, dreamlike and masterfully illustrated.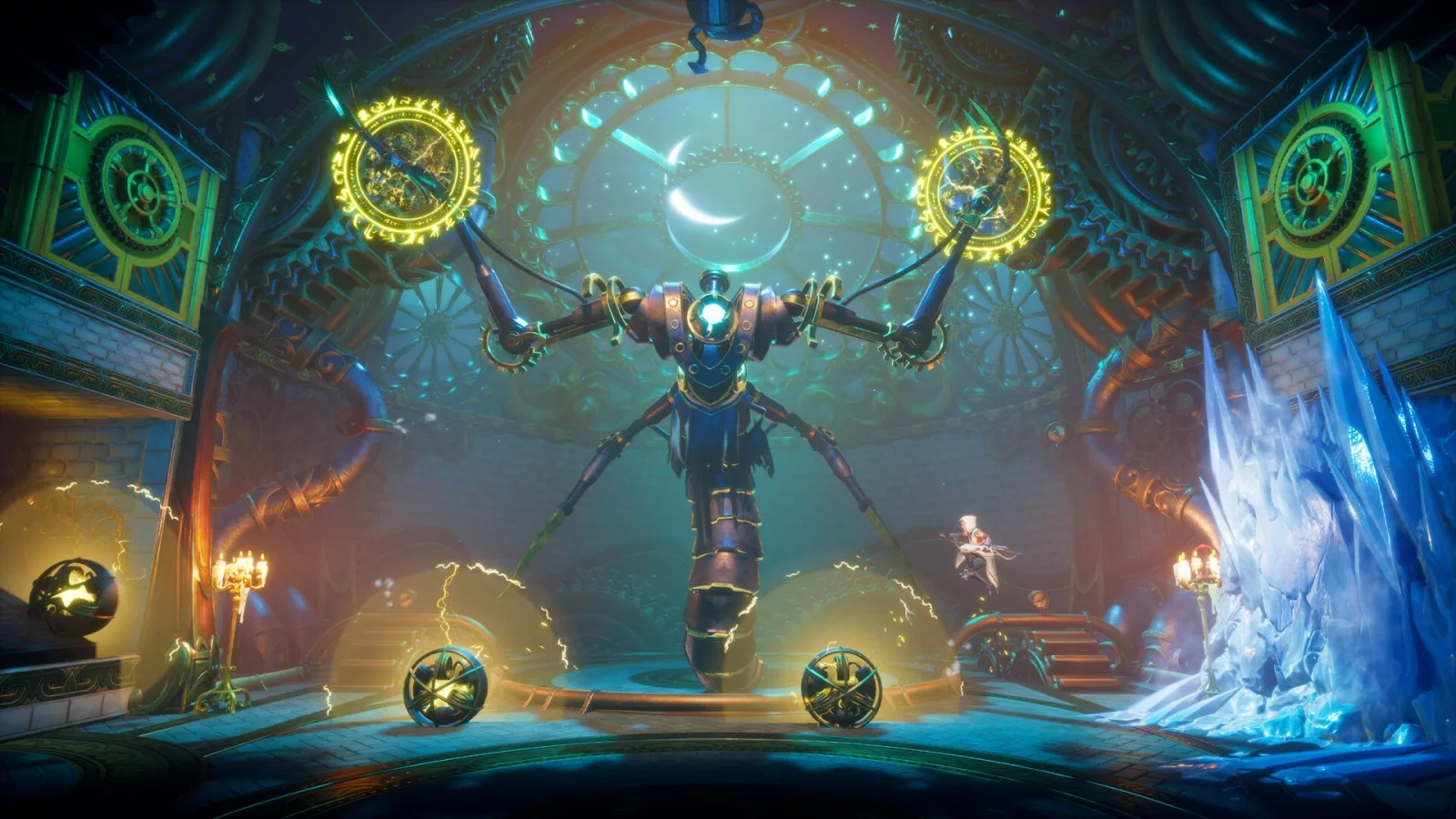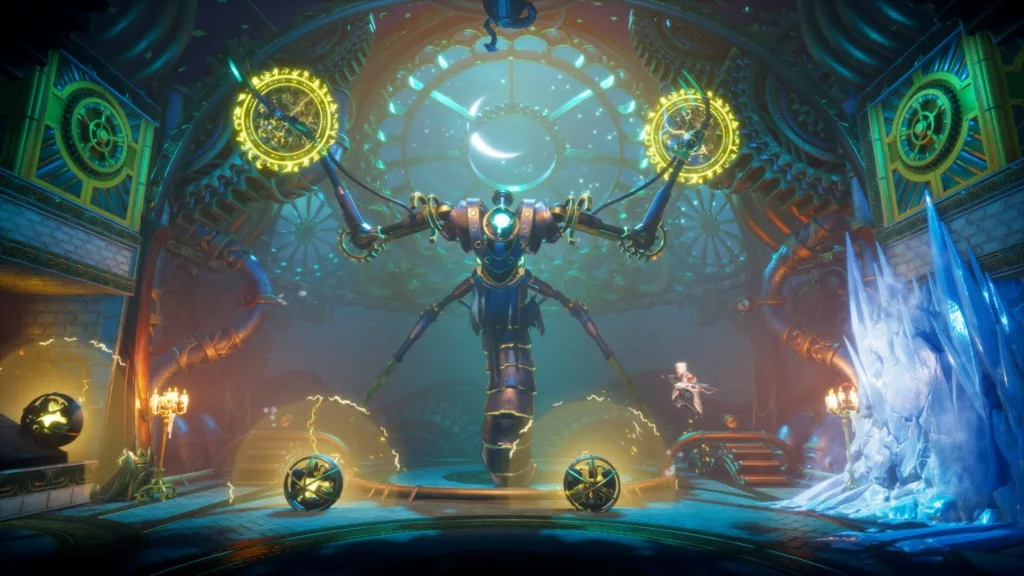 Seeing the expressive characters rendered with such care also adds charm. The heroes emote broadly, conveying distinct personalities through their exaggerated gestures and reactions. It's a joy watching them banter and bumble through obstacles with slick cartoon animation.
To complete the experience, Trine 5 pairs its fantastical sights with a sweeping orchestral score. Triumphant horns blast as you overcome a challenging puzzle or topple a colossal boss. Delicate piano notes chime in pastoral meadows filled with fluttering butterflies. The music ebbs and flows perfectly in sync with the pacing of the gameplay.
Small audio touches also help the levels come alive, from birds chirping in forest thickets to the whirring gears of clockwork machinery. The satisfying smashes and zaps from combat abilities pack a sensory punch as well.
Playing Trine 5 feels like flipping through pages of a storybook brimming with magic. The splendid scenery provides a wonderful backdrop for gameplay hijinks, while the musical score stirs up a sense of adventure. Every corner of its fantastical world is a treat waiting to be uncovered.
More Ways to Play
Beyond the main adventure, Trine 5 provides some great ways to tailor the experience and add replay value. Players can toggle options like hard mode for an extra challenge, or try out the new quest system and skill trees. And playing cooperatively with friends opens up a whole new dimension to the gameplay.
Hard mode lives up to its name by limiting you to just one resurrection per checkpoint. This turns up the difficulty on traversal and combat significantly, requiring tight platforming skills and thoughtful ability use to proceed. It's a great option for series veterans seeking a more punishing test of their skills.
The new quest system also gives you incentive to revisit levels. Hidden throughout each stage are vials you can collect and turn in for skill points. These can then be used to unlock new abilities and buffs on each hero's skill tree. It's a nice progression system that lets you customize your playstyle. I focused on mobility upgrades like Zoya's bounce arrow and Pontius' long jump to ease navigation.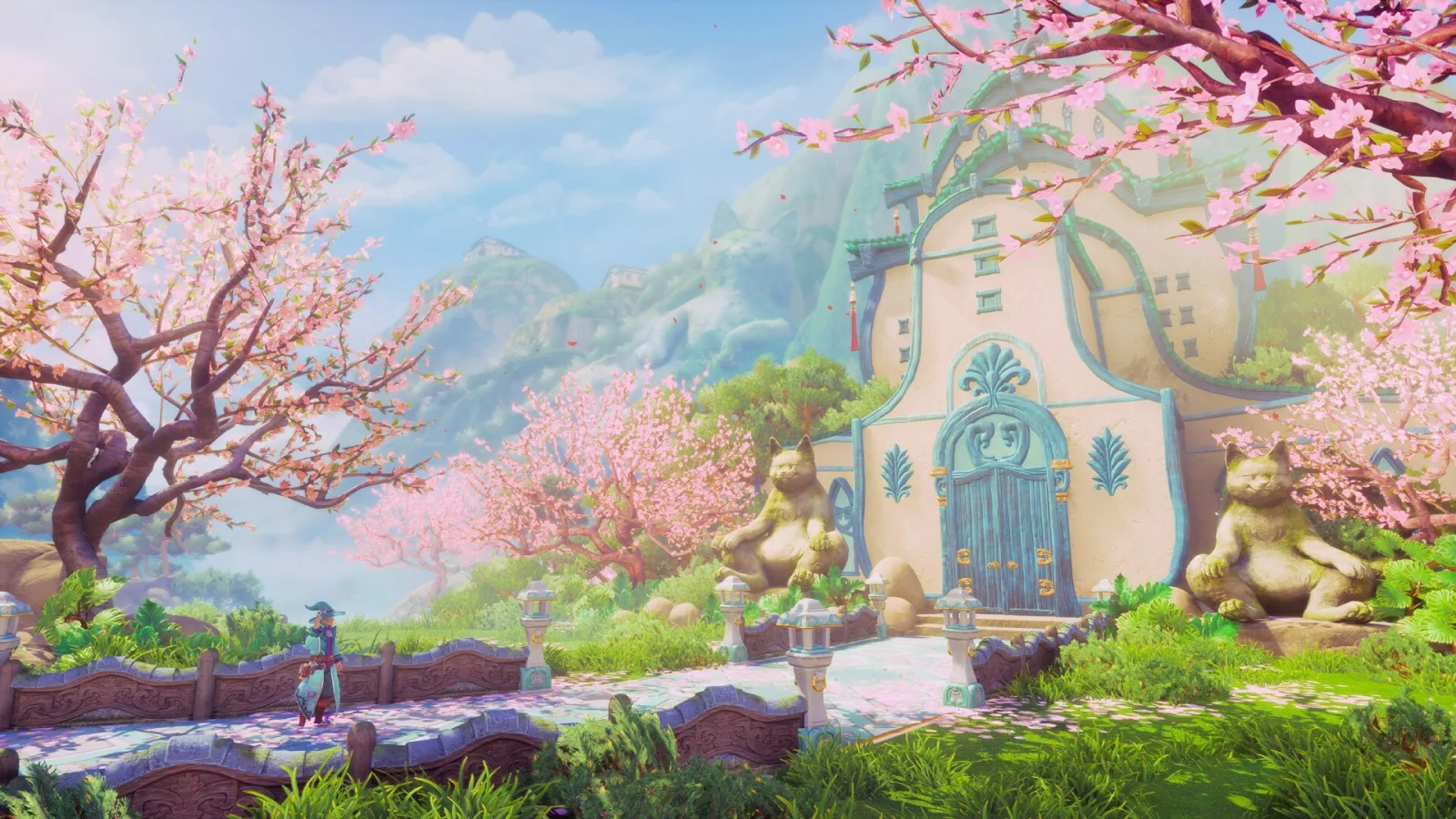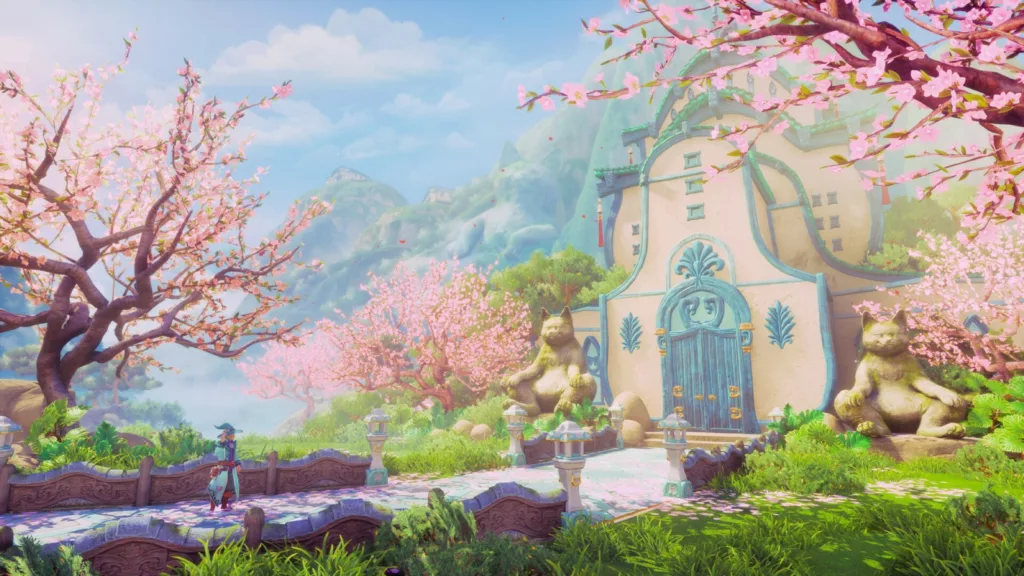 But the biggest draw is returning in co-op. Trine 5 supports 2-4 player local and online play, allowing each person to pick a hero. Having more players completely changes how you approach puzzles thanks to everyone controlling a unique character simultaneously. It adds a new layer of creative chaos that makes the solutions feel fresh again.
Seeing friends laugh and celebrate victory after finally cracking a room-spanning puzzle creates a great sense of camaraderie. The chaos is amplified if you enable the "unlimited" mode with duplicate heroes, though the levels aren't balanced for that.
With the wealth of environments and abilities to experiment with, Trine 5 already offers stellar replay value. But the additional modes provide even more incentive to jump back in, either to challenge yourself or bring along new allies.
Closing Thoughts on a Magical Journey
After joining Zoya, Pontius and Amadeus on their latest escapade, it's clear Trine 5 keeps up the series' reputation for blending enchanting worlds and clever co-op platforming. While it doesn't shake up the formula too much, some smart additions and incredibly creative level design make this a worthy adventure for fans and newcomers alike.
At its core, Trine 5 delivers what the series does best. The physics-based puzzles inspire imagination as you assess your tools and environment to find solutions. Unlocking new abilities through upgrade points adds depth and empowers experimentation. Hopping between the three heroes fluidly empowers you to think outside the box. And playing cooperatively with friends enhances the magic exponentially as you put your heads together.
The expanded collection of abilities is a real highlight. Between magnets, cloning, projectiles and more, the puzzles become multi-layered challenges that push your coordination and lateral thinking. Trine 5 might not reinvent the wheel, but it adds some welcome depth to the classic formula.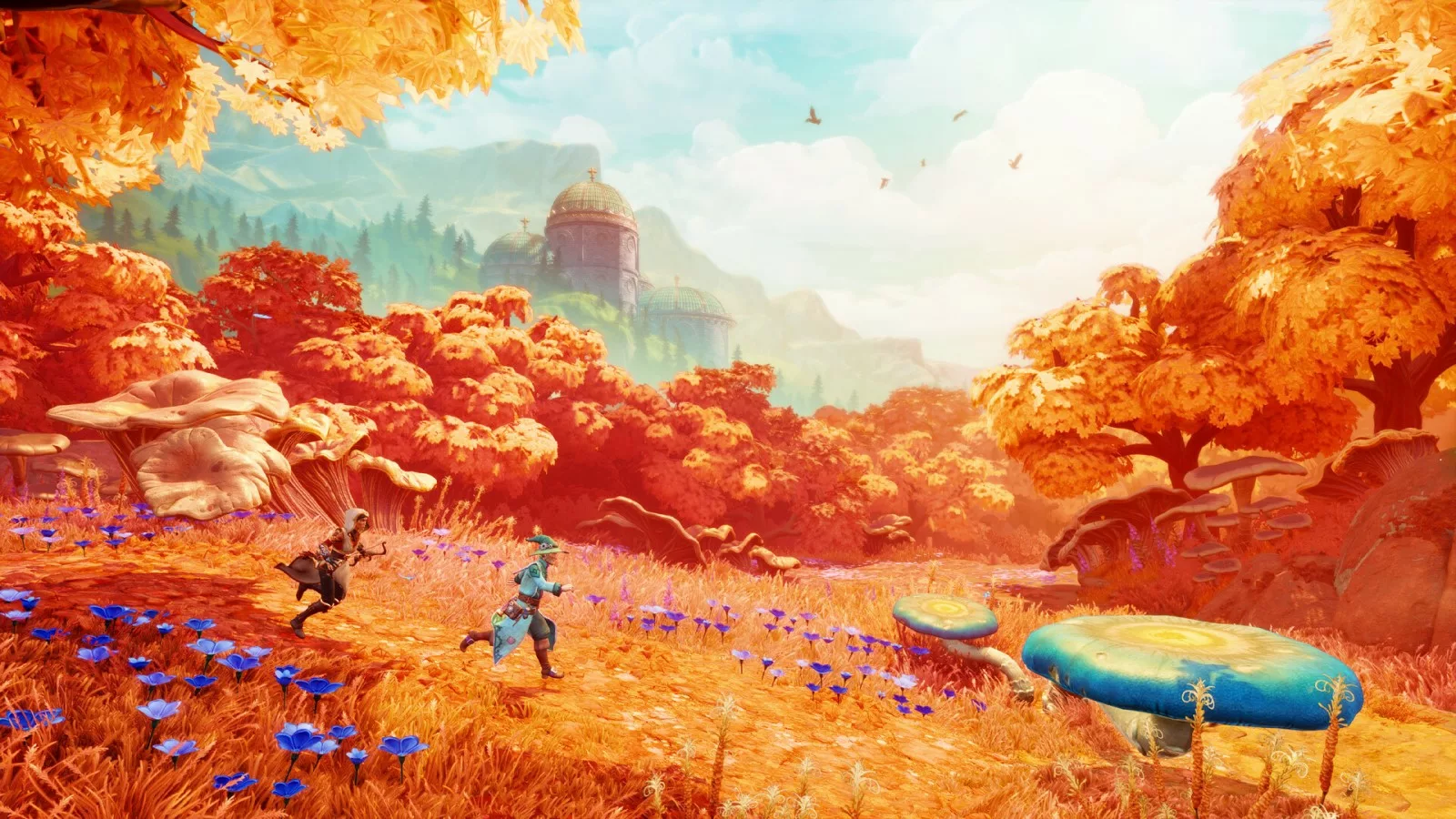 That said, the distractions outside of puzzles, like basic combat, are still relatively weak. And the story, while charming and humorous, follows standard genre tropes without much originality. But considering how masterfully designed the core platforming and puzzles are, it's easy to excuse the shortcomings. The breadth of abilities and intuitive physics make for some immensely satisfying "eureka" moments when solutions click.
Visually, Trine 5 sets a new bar for the series. The painterly backdrops and lively animations create storybook scenes that beg to be explored thoroughly. And the orchestral score completes the fantastical atmosphere. Frozenbyte has crafted one of the most alluring fantasy worlds out there.
For newcomers to grab-based physics adventures, Trine 5 serves as an excellent entry point. The progression system and customizable difficulty let you ease into the mechanics, while the worlds provide eyecandy at every turn. And series veterans will appreciate the amped up complexity of the new levels along with options for further challenge.
Trine 5: A Clockwork Conspiracy doesn't reinvent Trine, but it just might perfect it. The expanded abilities and expertly tuned puzzles demonstrate how much room there is to innovate within the formula. And sharing the journey with friends old and new solidifies Trine's status as one of the best cooperative experiences around. Frozenbyte has set a new bar with Trine 5 that will be hard to top, but I can't wait to see them try in the next adventure. For now, I wholeheartedly recommend picking up a controller and getting lost in this magical world.
The Review
Trine 5: A Clockwork Conspiracy
Trine 5: A Clockwork Conspiracy delivers another enchanting fantasy adventure full of brain-teasing puzzles, platforming challenges, and stunning scenery. While the formula stays mostly familiar, new abilities to experiment with and brilliantly designed levels provide plenty of creativity and surprises. A few shortcomings like simplistic combat and story can't dampen the joy of tackling obstacles alongside charming characters in a magical world brimming with imagination. Trine 5 is a worthy sequel that provides both an excellent entry point for newcomers and a fresh challenge for veterans of the beloved co-op series.
PROS
Excellent physics-based puzzles that encourage creativity and experimentation
New abilities add depth and open up more complex solutions
Gorgeous storybook-style visuals and lively animations
Whimsical orchestral score fits the fantastical atmosphere perfectly
Co-op play brings out the best of the game's mechanics
Customizable options like Hard Mode and skill trees add replayability
CONS
Basic combat feels like an afterthought compared to puzzles
Narrative hits familiar beats without much originality
Can feel repetitive if playing solo for long stretches
Some technical issues like screen tearing occasionally
Doesn't reinvent the Trine formula substantially