Fans eagerly awaiting a glimpse of Stalker 2: Heart of Chornobyl at the imminent Xbox show may have to be a bit more patient. GSC Game World, the game's developer, has announced that Stalker 2 will not be participating in any of the summer presentations this year. This revelation may be disappointing to many who were looking forward to seeing the game in action.
The unexpected news was delivered via a post on the Steam forum. In response to a query about the presence of Stalker 2 at the Xbox Games Showcase, a developer from the team responded.
They usually avoid confirming or denying reports regarding event participation, but this time they clarified that Stalker 2 will not be part of any presentations taking place in June. However, they assured fans that an important announcement will be made in the coming months.
Concerns and Anticipations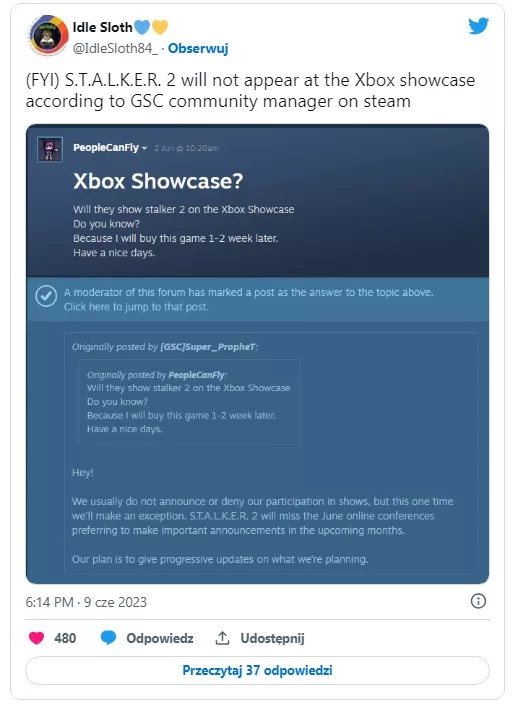 While the developers never promised to attend any of the summer events, their absence from the Xbox Games Showcase, where many fans hoped to see them, is a disappointment. This news may cause some apprehension among followers about whether the game's release, initially planned for 2023, may get delayed.
GSC Game World has been grappling with significant hurdles in their production journey. The ongoing conflict between Russia and Ukraine forced the team to pause their work, evacuate a significant portion of their staff, and set up a temporary office in the Czech Republic. Further complications arose when a hacking incident resulted in unauthorized access to early test versions of Stalker 2.
Despite these issues, the developers confirmed in an early June statement that they remain committed to creating Stalker 2: Heart of Chornobyl. The team reassured fans, stating that they are pouring their heart and soul into delivering a game that lives up to all expectations.
Aiming for a December Release
As of now, Stalker 2: Heart of Chornobyl is scheduled for release in December for PC and Xbox consoles. The exact release date or any potential delay will likely be addressed in the upcoming announcement from the developers.
All that's left for fans is to hold on to hope that the team can overcome their challenges and deliver positive news soon.