The update of GTA Online which introduced casino games has sparked excitement among the residents of Los Santos. However, for some eager players, their enthusiasm has been dampened upon discovering that they are unable to access and enjoy this feature due to their countries' gambling laws.
This unfortunate turn of events has left them devastated and unable to fully experience the much-anticipated GTA Online Casino update.
The Fine Line of Casino Games in GTA
While players can still engage in various activities within the casino, such as purchasing penthouses and participating in missions, it is the act of playing casino games that is strictly restricted for some individuals.
Despite the fact that GTA uses its own virtual currency (GTA dollars) rather than real money, certain governments still consider it as gambling. Regardless of the validity of this claim, Rockstar Games, the developers of GTA, have always prioritized compliance with the laws of the countries where their games are available.
The Gambling Conundrum
The question of whether GTA's casino games can be classified as gambling is a complex one. According to the law, it is indeed considered as such. While GTA dollars cannot be directly converted back into real currency, they do possess real monetary value since they can be purchased using real money.
This ambiguity creates a gray area, enabling loose interpretations of gambling within the game. Although Rockstar Games may not entirely agree with this definition, they have taken the precautionary step of banning these countries from accessing the casino games, protecting themselves from potential legal consequences. At present, the developers have not issued an official statement regarding this matter.
The List of Banned Countries
As shared by Reddit user SlapshotTommy, here is a comprehensive list of countries where players are unable to engage in gambling within GTA 5's online casino:
Afghanistan
Algeria
American Samoa
Argentina
Azerbaijan
Bahamas
Bhutan
Bosnia and Herzegovina
Belarus
Brunei
Cambodia
Cayman Islands
China
Cuba
Cyprus
Czech Republic
Ecuador
Greece
Iceland
Indonesia
Iran
Iraq
Israel
Jordan
Kuwait
Lebanon
Libya
Liechtenstein
Luxembourg
Maldives
Mali
Mauritania
Malta
Malaysia
North Korea
Oman
Pakistan
Paraguay
Peru
Poland
Portugal
Qatar
Saudi Arabia
Somalia
South Africa
South Korea
Sri Lanka
Sudan
Syria
Taiwan
Thailand
Tuvalu
United Arab Emirates
Vietnam
Venezuela
Enjoy the Rest of the Diamond Casino & Resort
For players residing in countries where the casino games are banned, there is still an opportunity to explore and enjoy the other features of the Diamond Casino & Resort.
Although the casino games may be off-limits, there is a wide range of activities and experiences to be had within the establishment. From luxurious penthouses to engaging missions, players can still immerse themselves in the vibrant world of the Diamond Casino & Resort.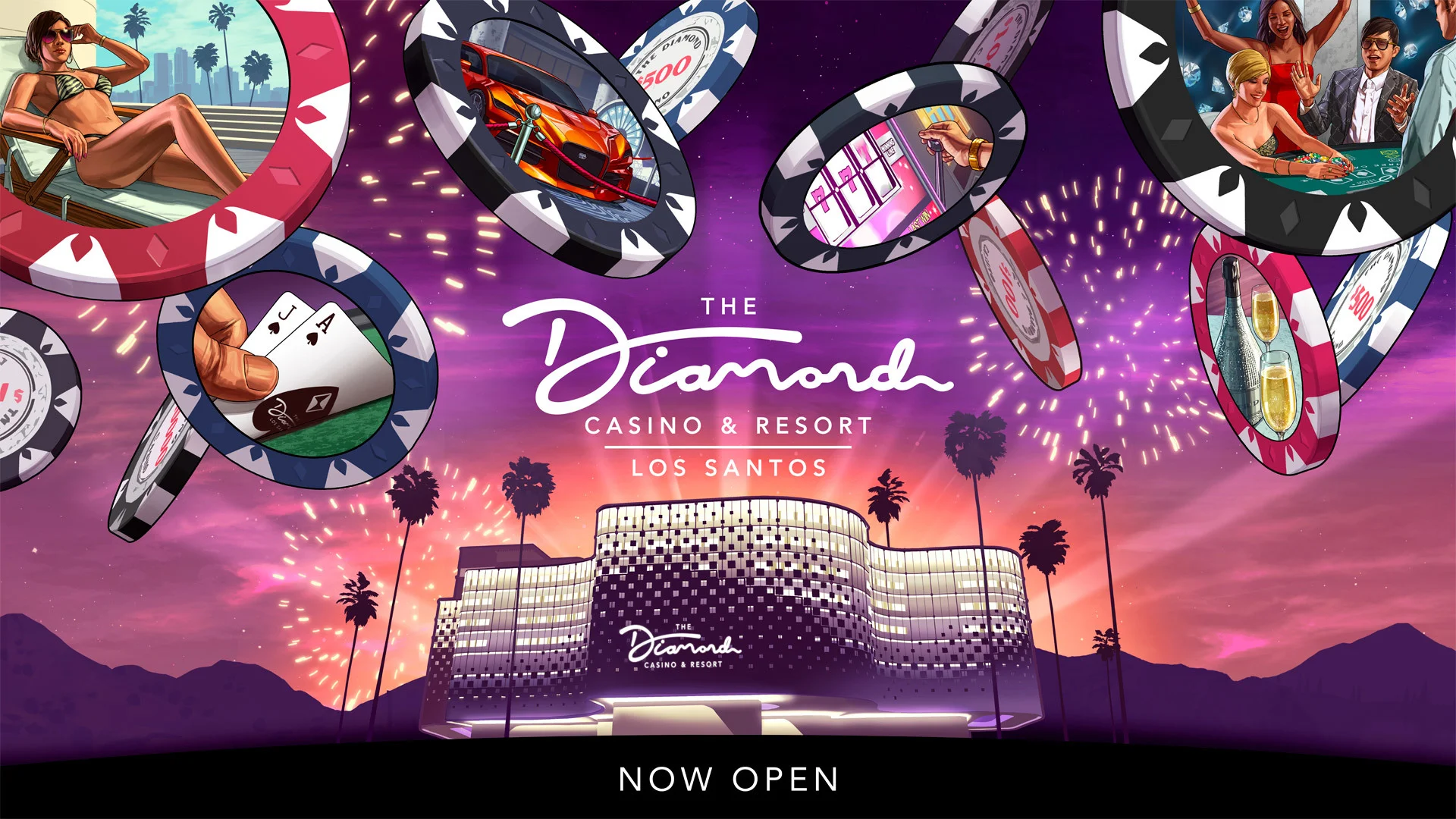 Is Your Country Banned from GTA Online Casino?
If you receive the message "This feature is not available for you" when attempting to access the casino games, it is highly likely that your country has implemented a ban on participating in these activities.
However, it should be noted that there have been reports of players receiving this message even in countries where gambling is legal. In such cases, bypassing the restriction through the use of a virtual private network (VPN) is possible, but it is important to understand that engaging in gambling activities through VPNs may still be illegal depending on your country's laws.
Players affected by the ban unfortunately have to accept that a portion of the Diamond Casino & Resort update will not be accessible to them.
Equip yourself for Victory: The right weaponry is the key to securing your place at the top in GTA Online. Curious about the essential arms for 2023? Read our 'Complete Weapon Guide for GTA Online', and learn about the most formidable artillery, from upgraded Mk2 armaments to trusty sidearms. Step up your game and conquer the streets!