In an unexpected turn of events, a leaked slide from Nvidia's AI training performance briefing has disclosed the release date for the company's next gaming graphics architecture.
The slide, first spotted by Hardwareluxx, indicates that "Ada Lovelace-Next" is slated for launch in 2025, which is notably later than what most industry observers had anticipated.
Discrepancy in the Release Schedule
Nvidia's current line of Ada Lovelace GPUs forms the foundation of the existing RTX 40-series cards, including popular models like RTX 4090, 4080, 4070 Ti, 4070, 4060 Ti, and the recent addition of the 4060. The initial Ada Lovelace GPUs were announced in September of the previous year and made available for purchase in October.
Typically, new GPU architectures are expected to follow a two-year cycle, implying that the first members of Nvidia's next-gen GPU family would debut in the fall of the upcoming year.
However, the leaked slide unmistakably places Ada Lovelace-Next in 2025, suggesting a departure from the anticipated timeline.
Analyzing the Slide
Taking a closer look at the slide, the positioning of various architectures seems to indicate not only the launch year but also a more specific timeframe. Based on this analysis, Ada Lovelace-Next is likely to be unveiled in spring 2025.
If this interpretation is accurate, it would mean a delay of approximately six months compared to loose expectations, which might be slightly disappointing for eager gamers and technology enthusiasts.
Performance Expectations and Potential Reasons for the Delay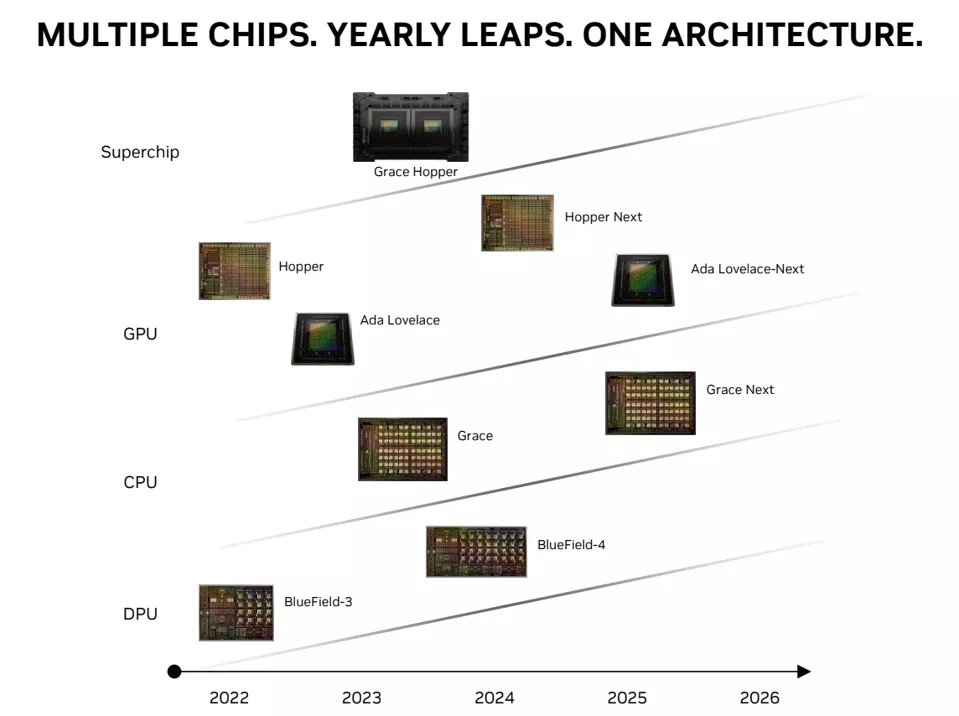 The performance gains offered by Ada Lovelace over the previous Ampere generation are relatively modest. Nvidia claims a mere 20% raster performance boost for the new RTX 4060 compared to the RTX 3060. If Nvidia adopts a 2.5-year cadence for new GPU launches, it would take a full decade to double the baseline raster performance, which is seen as underwhelming by some.
The reason behind Nvidia's decision to slow down the GPU launch schedule remains a subject of speculation. One possible explanation, at least for this particular generation, could be slower GPU sales.
Extending the lifetime of the current generation would provide more time to meet overall sales volume targets and maintain the expected return on investment.
Other factors contributing to the schedule shift may include challenges associated with shrinking transistors and the complexities of engineering and design for each new node. Nvidia's plans for the next GPU family would also need to align with the chosen foundry service, which could potentially influence the release timeline.
Future Implications and Hopes for Shorter Life Cycles
While the exact reasons behind the adjusted launch schedule may never be fully disclosed, the industry will be closely observing to see if this signals a broader trend of longer GPU life cycles.
As the technology landscape evolves, it is hoped that shorter development cycles and more significant performance leaps will continue to drive innovation and meet the expectations of avid gamers and consumers worldwide.