Data miners have once again demonstrated their skills, uncovering and revealing juicy details about Call of Duty: Modern Warfare 3's forthcoming editions and preorder bonuses. While it's important to approach leaks cautiously, given the accuracy of the information and the proximity to the official reveal, our confidence in these preorder details is notably high.
This sneak preview provides insight into the diverse console and PC editions, especially the alluring Vault Edition loaded with extras, along with the preorder incentives soon to be unveiled by Activision.
Though it's possible that certain aspects may change when the official announcements are made during the Call of Duty: Modern Warfare 3 reveal stream on August 17, it's worth noting that preorder links aren't active just yet. Nevertheless, we've got a comprehensive rundown of what lies in store for Call of Duty 3: Modern Warfare preorders.
Exclusive Preorder Bonuses
— Alaix (@HeyImAlaix) August 16, 2023
Data miners have unveiled three exciting preorder bonuses for Call of Duty: Modern Warfare 3. These goodies encompass early access to the single-player campaign and multiplayer open beta, as well as an enticing Soap Operator DLC pack.
While the exact date for early access remains undisclosed, a pattern can be inferred from the similar one-week early access bonus offered for Modern Warfare 2. This implies that eager players can potentially dive into Modern Warfare 3 starting November 3.
The leaked Soap Operator pack bundles two character skins and a versatile weapon blueprint. This pack is not only compatible with Modern Warfare 3 multiplayer, but also extends its benefits to Modern Warfare 2 multiplayer and Call of Duty: Vanguard.
Rest assured, these delightful perks are included with every preorder.
Modern Warfare 3 Editions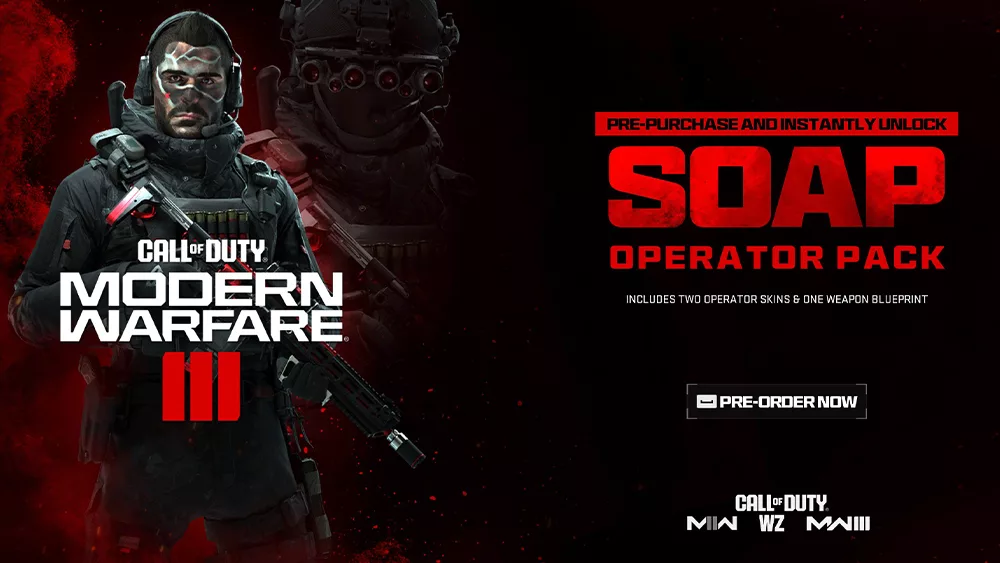 The leaked insights shed light on the different editions of Call of Duty: Modern Warfare 3, each tailored to cater to diverse gaming preferences.
Standard Edition: This version offers the base game on PC, coupled with the early access and Soap Operator bonuses for those who choose to preorder.

Cross-Gen Edition: This edition mirrors the standard offering, but comes with the added advantage of accessing both current- and last-gen versions of the game through a single purchase. Early access and the Soap Operator pack preorder bonuses also sweeten the deal.

Vault Edition: A special edition that elevates the experience further. It encompasses the base game, the coveted Soap Operator pack, early access perks, and potentially more exciting extras. These additional perks may include the BlackCell Season One BattlePass with 50 Tier Skips and other bonuses, the Nemesis Operator Pack with a range of operator skins, and two free Weapon Vaults.
The Call of Duty: Modern Warfare 3 Vault Edition extends its embrace to various platforms, including PC, PS5, PS4, Xbox Series X|S, and Xbox One.
While we eagerly await the official confirmation and the upcoming reveal stream, the leaked details have already ignited excitement in the Call of Duty community, offering a glimpse of the exciting journey that lies ahead.