Adore is a fresh take on the popular monster collecting genre that mixes real-time combat with traditional monster taming mechanics. As an action RPG, Adore allows players to directly control their character while unleashing summoned creatures to do battle. This provides a unique spin on the classic turn-based systems used in similar games like Pokémon.
In Adore, you take on the role of Lukha, a young monster tamer known as an Adorer, on a quest to restore order to the fantasy world of Gaterdrik. Along the way, you'll recruit an army of magical beasts that you can summon during combat. Each creature has their own strengths and abilities, so building the right team composition is key.
The real-time combat ensures battles feel fast-paced and engaging. You need quick reflexes to dodge enemy attacks while managing your creatures. This gives Adore an intense, arcade-like feel compared to the more strategic pace of traditional monster collectors.
However, Adore sticks close to the genre's conventions when it comes to exploration and collection aspects. You'll still journey across procedurally generated dungeons, catch new creatures to add to your roster, and customize your party for the challenges ahead.
In this review, we'll take an in-depth look at how Adore modernizes monster battling with real-time mechanics while retaining the core tenets of monster collecting games. We'll examine the story, gameplay, creatures, customization, presentation, and performance across platforms. Read on to see how Adore provides a fresh new take on this beloved genre.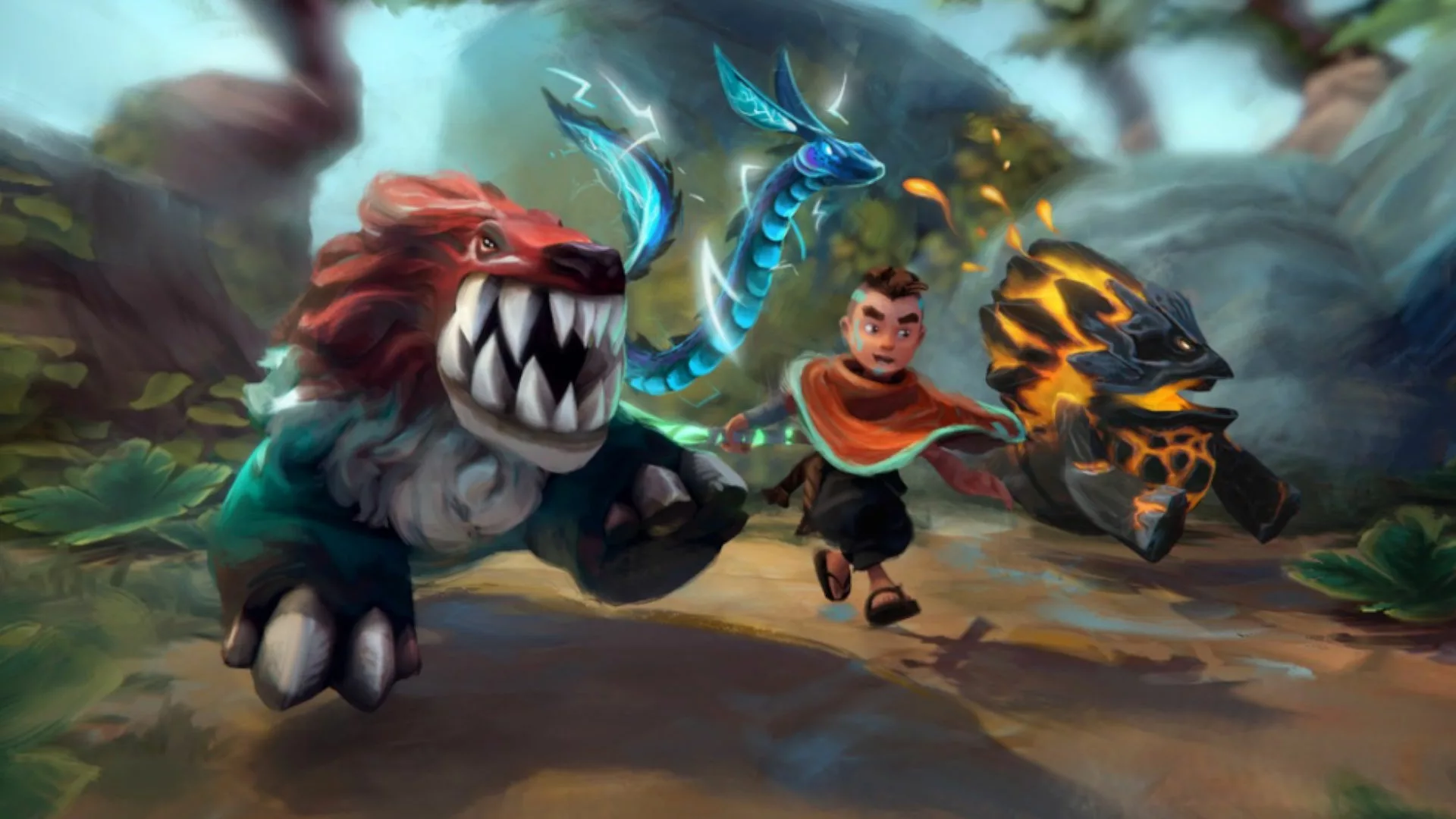 Action-Packed Battles Provide a Adrenaline Rush
Adore's real-time combat system provides a fresh take on battles compared to the turn-based mechanics found in most monster collecting games. Instead of picking moves from a menu, you directly control the Adorer Lukha as you dodge around the arena while summoning creatures to fight for you.
Combat relies on quick reflexes to avoid enemy attacks. You need to keep moving Lukha while tapping creature summon buttons to release attacks. This gives battles an intense, arcade-like feel compared to the slower tactical pace of turn-based systems. It can be thrilling to zip around as deadly spells and beasts bash around you.
However, you have limited control over your creatures once summoned. They attack automatically based on their AI. Sometimes they'll target the wrong foe or miss an easy hit due to the lack of direct control. This can lead to unnecessary damage and dragged out fights. But on the plus side, you can focus solely on repositioning Lukha during the heated action.
Managing your creatures mid-battle is key. They each have separate health bars that when depleted, divert damage to Lukha. This risk-reward element adds depth to the real-time gameplay. You need to monitor health while effectively rotating creatures to unleash their special attacks. It takes fast thinking under pressure but pulls you into the action.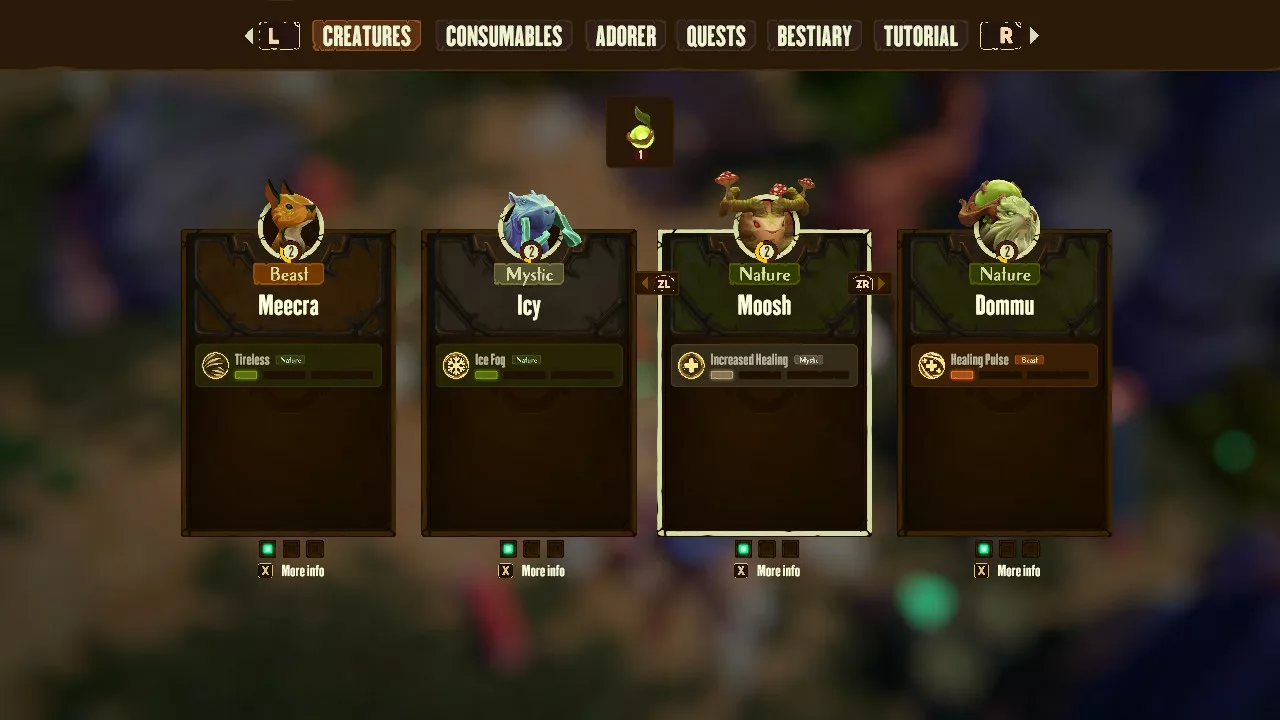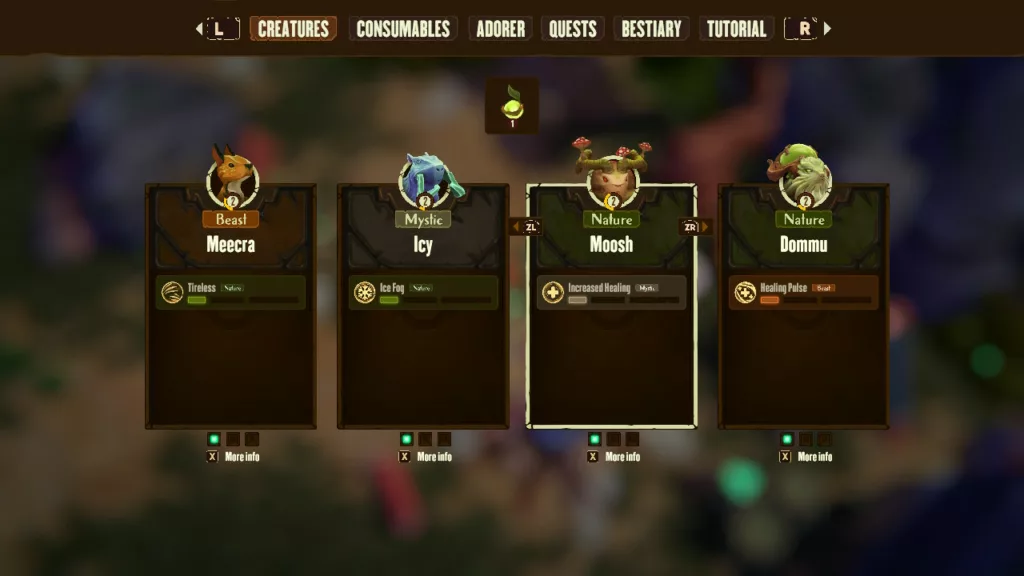 Catching new creatures also utilizes real-time mechanics. You need to hold a shoulder button when near a weakened foe to start capturing it. But staying in the small zone while avoiding incoming attacks tests your reflexes. This makes collecting new monsters more engaging than just throwing a ball.
The dungeon crawling structure provides lots of combat encounters to test your skills. However, the procedural generation leads to repetitive mission objectives across similar rooms and layouts. Whether it's defeating enemies, activating mechanisms, or finding a boss, the randomized levels start to feel too familiar.
The difficulty curve could be better balanced. Despite gradual ramping up of challenges, the grindy loop of replaying dungeons can become tedious. New abilities for Lukha and your creatures provide a steady sense of progression. But the repetitive dungeons and limited loot diminish the payoff of maxing out your party.
While the real-time battles in Adore modernize the genre in exciting ways, the surrounding dungeon crawler elements demonstrate the weaknesses of procedural generation. The loop starts out fun but can become a grind due to the lack of meaningful variety or surprise in environments and objectives. Still, the lively combat and customization help alleviate some of the monotony.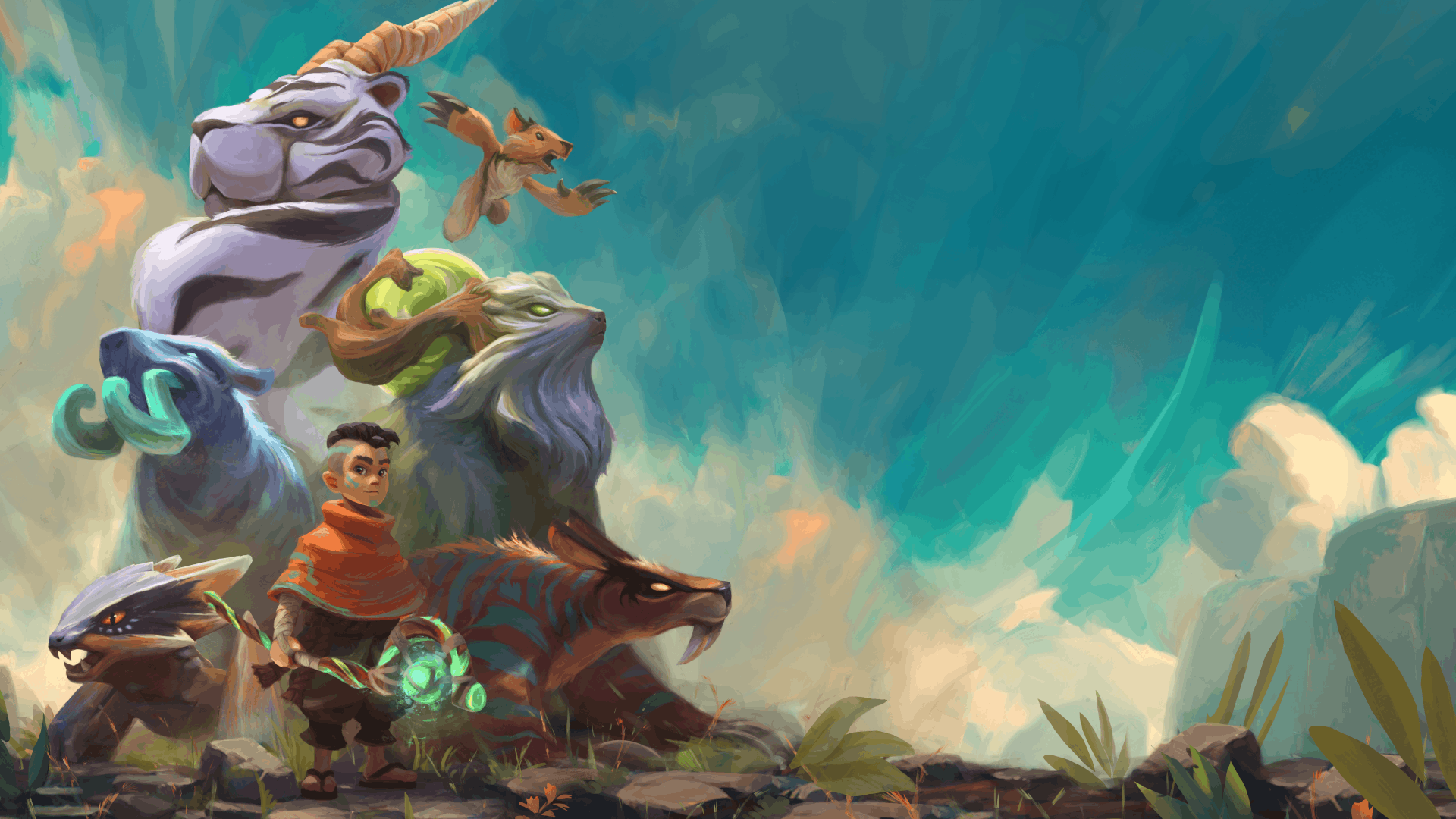 Simple but Solid Fantasy Storytelling
While not the most complex narrative, Adore's storyline adequately sets up the stakes and provides context for the gameplay. It follows a classic good versus evil premise seen in many games in the genre. An evil demigod named Ixer threatens the fantasy world of Gaterdrik, so you take on the role of Lukha, a young monster tamer called an Adorer, to defeat him.
The lore establishes that Adorers can capture and control magical creatures to fight for them. Your character Lukha ends up sharing a body with Draknar, the fallen god of creatures you are trying to restore. This grants Lukha enhanced abilities, setting up the gameplay mechanics in a logical way.
The story hits the usual high fantasy beats you'd expect. A formerly idyllic world thrown into chaos by a great evil force, an unwitting hero rising up to face the threat, mystical creatures aiding the quest to restore balance. It's a simple premise but provides enough context to justify the dungeon crawling and monster battles without getting in the way.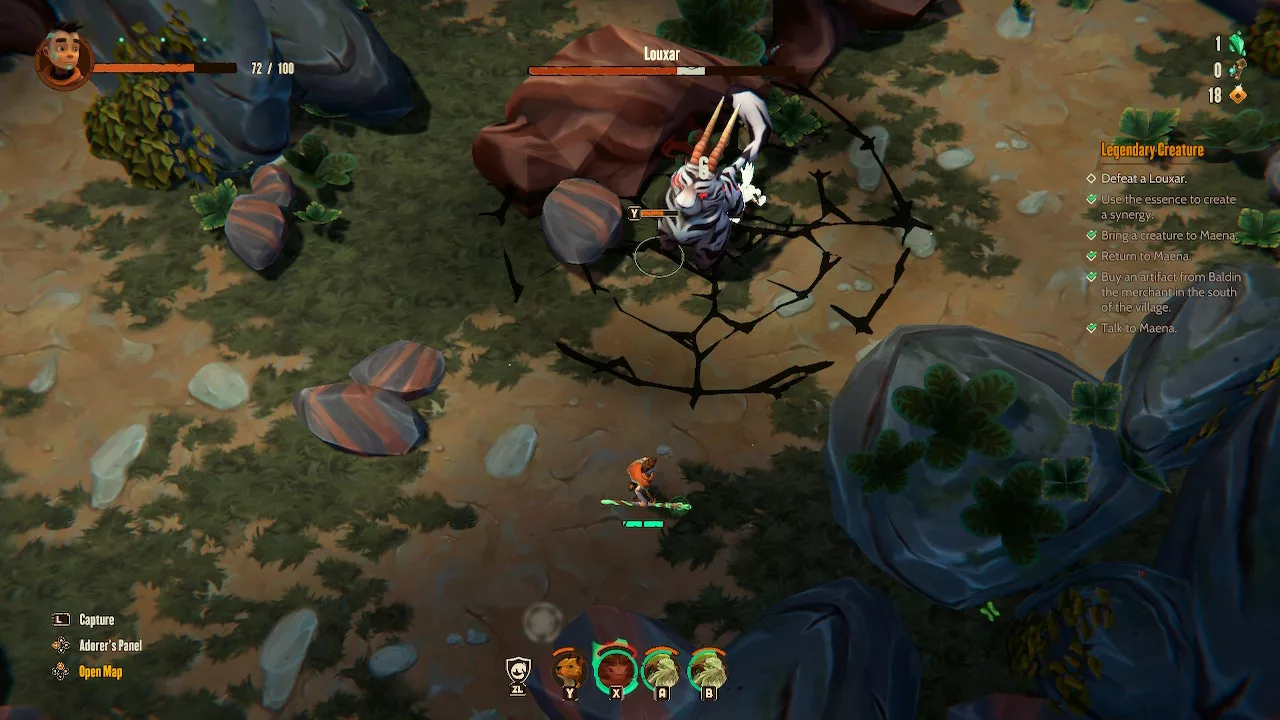 While unlikely to win awards for originality, the lighthearted tale nicely complements the fast-paced action gameplay. The story moves quick, sending you right into the monster battling without excessive exposition or cutscenes bogging things down. Short dialogue scenes with NPC characters at the home hub provide some humor and personality as well.
The world itself adheres pretty closely to classic fantasy tropes. Mana stones, mystical environments, quaint villages filled with magic users. Adore doesn't go out of its way to turn conventions on their head. However, the vibrant, cartoonish art style gives its realms some visual flare. Small details like Lukha's blue face tattoos also help the setting stand apart just enough while remaining comfortably familiar.
Adore's story and world ultimately succeed in their purpose of providing context for the gameplay without distracting from the main draw of real-time monster battles. The narrative hits the right high-fantasy notes in an appealing fable-like tone. Coupled with the simple yet colorful environments, it supports the action well enough while avoiding getting in the way. This allows the fresh combat mechanics to take center stage.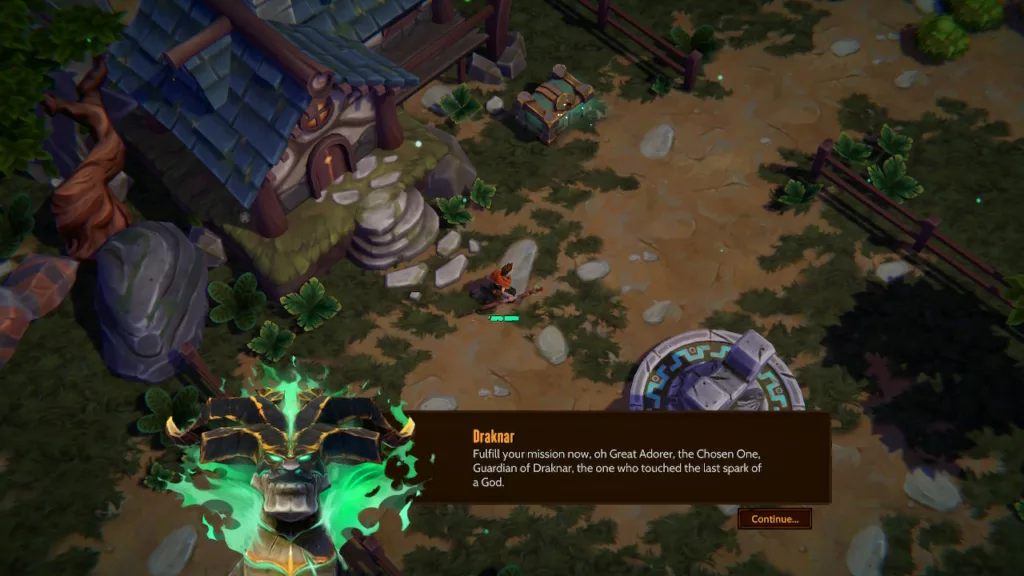 Building a Monster Menagerie
While Adore may not have the sheer volume of creatures found in games like Pokémon, it provides players with a diverse array of magical beasts to recruit on their journey. With 39 species to collect, there are plenty of cool-looking monsters to fill out your roster.
The creature designs are distinct enough to tell apart, ranging from cute little nature sprites to hulking behemoths. However, some look a bit generic compared to the iconic monsters from other games. The isometric perspective during combat also limits how much their detail comes through. A few standouts like icy boars and lava salamanders add flair, but overall the designs could have used more memorable charm.
What Adore lacks in quantity, it makes up for with robust customization. Creatures gain experience in battle, letting you level them up individually. This allows your monsters to carve out specialized roles based on how you tailor their progression.
Applying essences based on creature types takes customization even further. Essences give buffs and abilities that activate when certain party compositions are met. Having the right mix of Beast, Arcane, Mystic, and Nature types provides synergies, rewarding players for creative team building.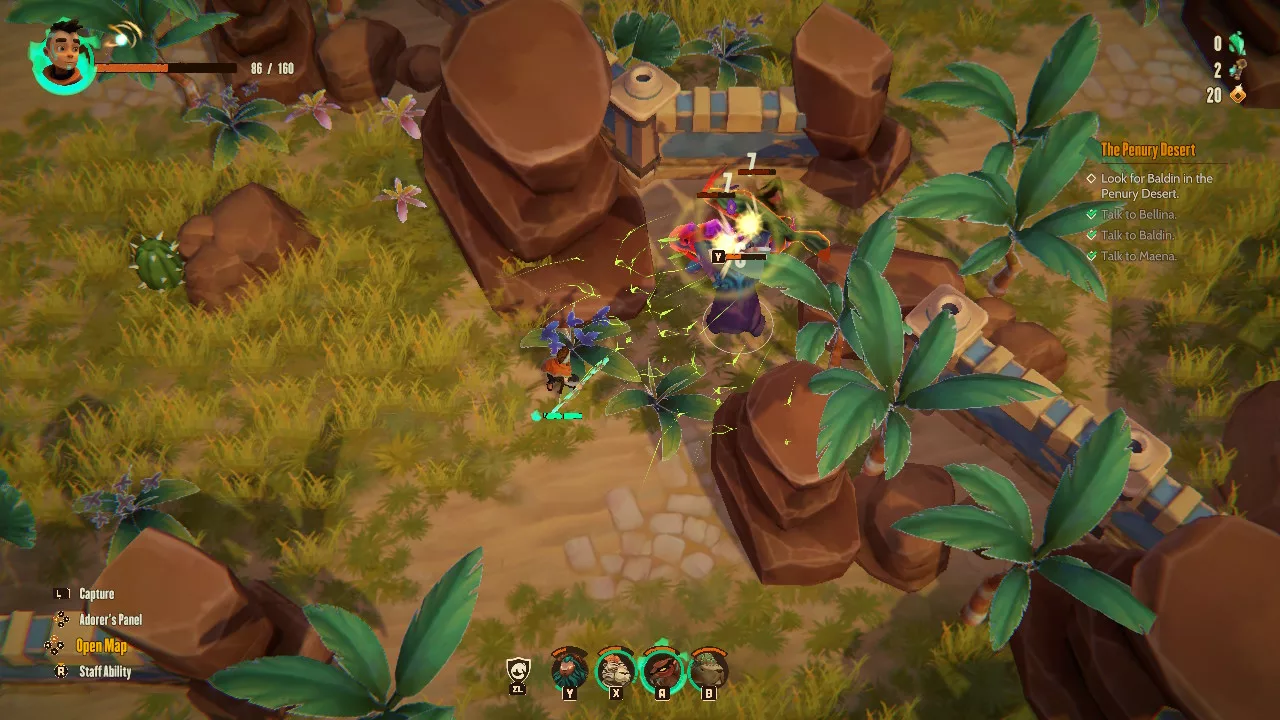 The skill tree system offers additional strategic depth. Spending skill points to unlock new skills and passive buffs lets you optimize each creature for offense, defense or support. With smart specialization, even the same monster species can serve different functions.
While collecting all the creatures takes grind, the systems for growing and enhancing your personal stable add plenty of long-term value. Experimenting with team synergies and skill combinations provides engaging mechanical depth without being overwhelming.
In the end, while Adore's creature roster may not have the distinctive flair of mega-popular monster collectors, the ways you can customize your favorites helps make up for it. With 39 unique species and extensive progression systems, assembling your dream team still fulfills the core power fantasy of the genre.
A Vibrant Look Marred By Performance Issues
Adore impresses with its bright and colorful art style. The cartoonish environments evoke a whimsical fantasy realm perfect for creature collecting adventures. Lush forests, rocky badlands, and mystical ruins liven up the scenery. Vivid spell effects and creature designs also pop with personality. This eye-catching presentation mirrors the lighthearted tone.
However, the procedural generation causes locations to blur together. Rooms and tilesets repeat frequently, making each region feel less distinct. More unique landmarks and biomes could have added welcome variety. Still, the charming graphics style resonates despite some repetitive environments.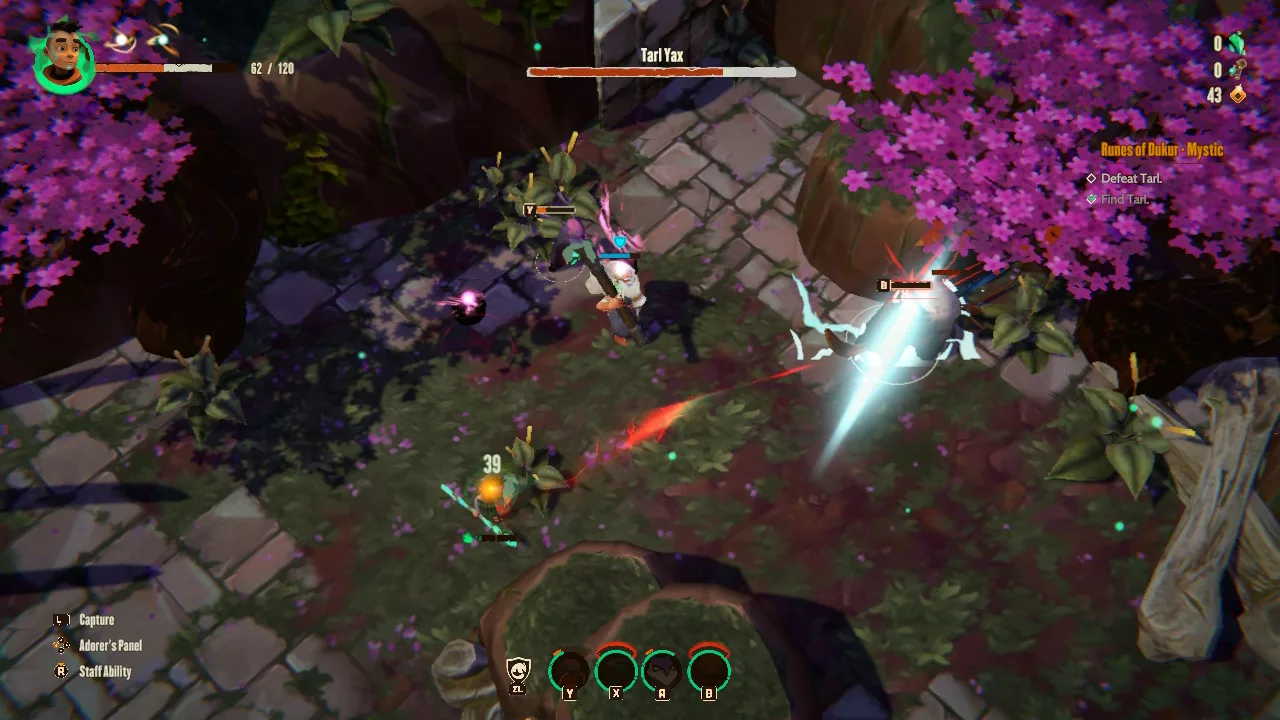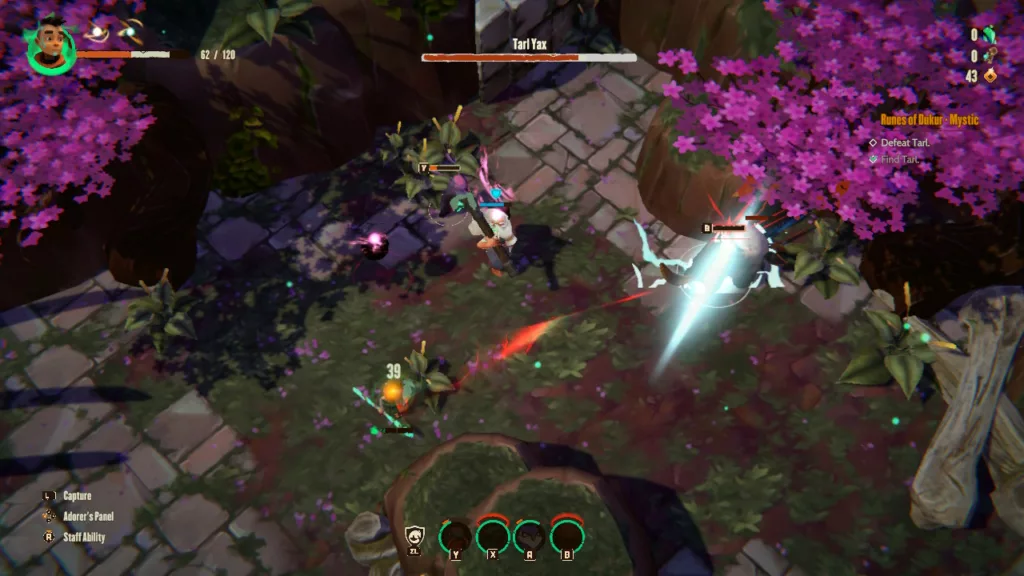 Backing up the visuals is a memorable folksy soundtrack. Upbeat guitars and spirited melodies give the gameplay an uplifting cadence and sense of wonder. The music captures the spirit of adventure and camaraderie at the heart of the genre. Catchy battle themes also help energize the action.
Unfortunately, Adore's performance on Switch leaves much to be desired. Framerates struggle to maintain a steady 30 FPS in both docked and handheld modes. Dips and stuttering occur frequently when the action gets hectic. This makes controlling Lukha's dodging and aiming creatures noticeably sluggish at times.
The poor optimization mars the enjoyable art direction. Roaming and battling across Gaterdrik loses responsiveness right when precision matters most. While not unplayable, the uneven technical performance disrupts Adore's core strengths.
Overall, lively visuals and upbeat music reinforce Adore's fantastical tone, but the gameplay suffers from subpar optimization. Smoothing out the framerate issues would better highlight the appealing graphics and allow players to enjoy the responsive real-time action as intended. As is, the performance shortcomings on Switch distract from an otherwise polished presentation.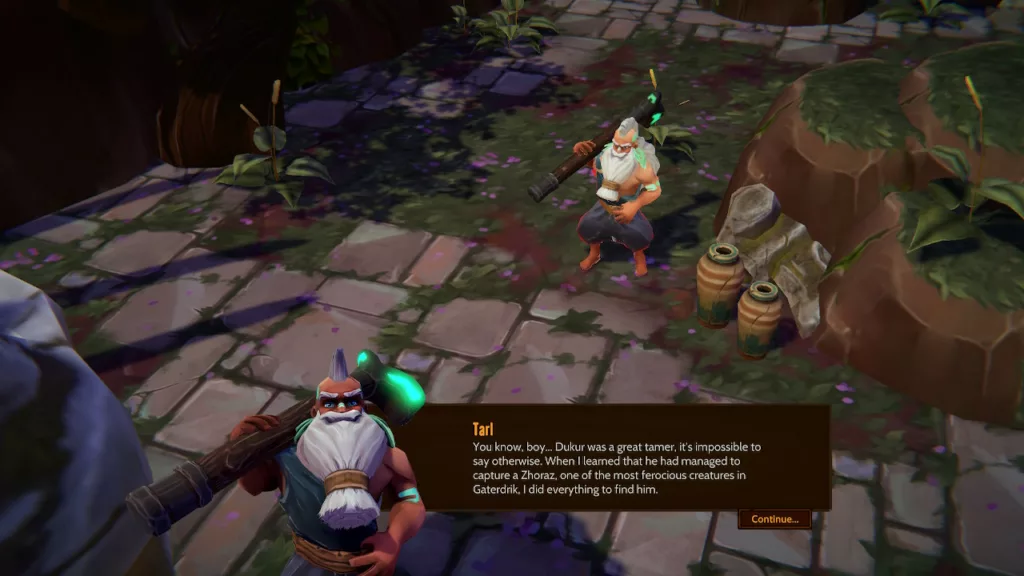 An Innovative New Breed Of Monster Collector
In the end, Adore delivers an innovative twist on the monster collecting formula. Transforming the traditionally turn-based battles into real-time confrontations brings a refreshing shot of adrenaline to the genre. The ability to directly maneuver your character during heated creature-on-creature action makes combat feel more engaging.
However, the repetitive procedurally generated dungeons can diminish some of that excitement over time. The core loop of battling through similar rooms and layouts grows stale too quickly. Some added environmental variety and randomized objectives would help keep the action feeling fresh.
Still, Adore gets a lot right that fans of Pokémon and its ilk will enjoy. Amassing a roster of 39 unique creatures and customizing them via deep progression systems scratches that monster taming itch. The skill trees, type synergies, and ability upgrades allow for plenty of strategic party-building options.
While it may lack the memorable charm and polish of genre giants, Adore deserves credit for reimagining the monster collector framework in a more action-oriented light. There's a great foundation here that develops the core ideas in promising new directions.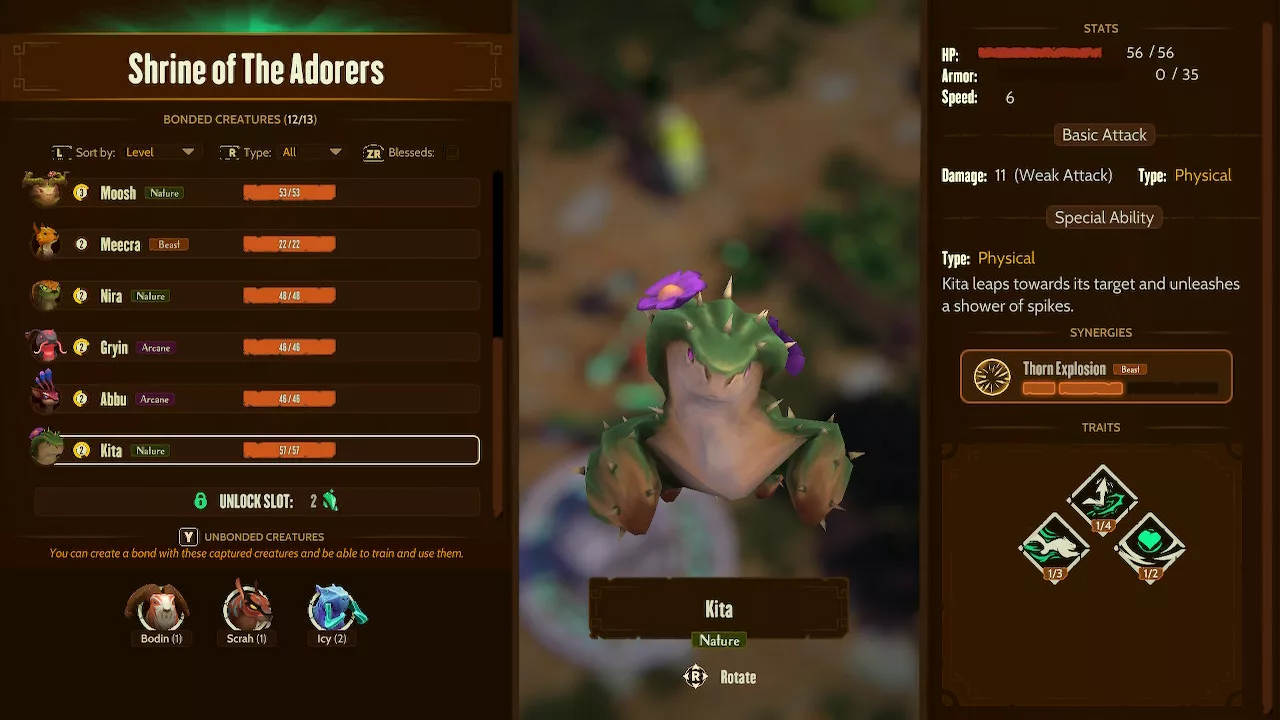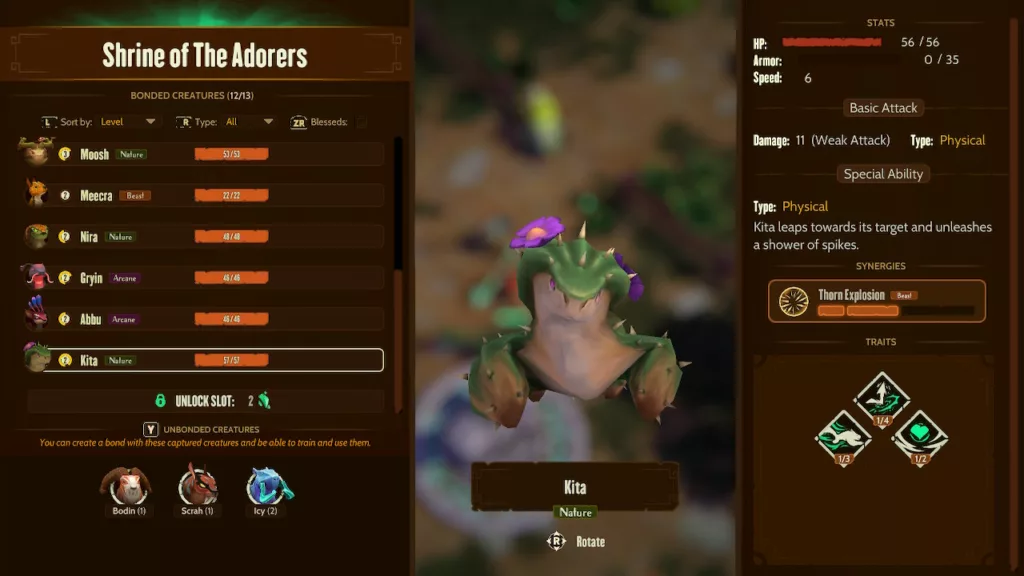 Some poorly optimized performance issues and a lack of content diversity hold Adore back from reaching its full potential. Yet its willingness to fuse real-time combat and dungeon crawling with monster collecting conventions still makes this worth a look for fans wanting a bit more action in their critter battling adventures. Adore's energetic pace and strategic customization ultimately deliver an enjoyable experience that feels both nostalgically familiar and refreshingly new.
The Review
Adore
Adore modernizes the monster collecting genre with its real-time combat and dungeon crawling gameplay. Despite some repetition and performance issues, it provides a fun and innovative twist for fans looking for more action-packed battles. Overall, Adore takes the monster collector formula in exciting new directions with its intense real-time battles. While it doesn't fully escape some repetitive progression and technical shortcomings, this action-focussed spin on convention still provides solid entertainment for genre fans wanting something a bit different.
PROS
Real-time combat system brings faster-paced battles
Controlling your character during fights is more engaging
Tons of customization options for creatures
Vibrant, cartoonish art style
CONS
Procedural generation leads to repetitive environments
Frame rate problems on Switch affect controls
Creature designs lack memorability and charm
Story and missions rely on standard genre tropes