Rainbow Six Siege enthusiasts, get ready for an immersive plunge into a refreshed gaming experience as the Year 8 Season 3 update readies to unfurl its vibrant offerings.
Ubisoft's tactical FPS sensation is all set to introduce a captivating array of features, including a formidable new operator, an innovative game mode transformation, and a commendation system designed to enhance player interactions.
Meet Ram: The South Korean Operator
Embarking on this gaming journey is the enigmatic Ram, a South Korean operator poised to revolutionize tactical gameplay. Equipped with the BU-GI, a remote-controlled gadget of robotic design, Ram takes the reins of destruction into her hands.
This mechanical marvel traverses walls and floors with finesse, creating tactical breaches and granting the upper hand against adversaries. Whether it's breaching from below or transforming vantage points, Ram is a versatile addition to the Rainbow Six Siege universe.
The Evolution of Quick Match
Rainbow Six Siege's quick match mode undergoes a dramatic metamorphosis, rendering it even more captivating and streamlined. Round timers are trimmed down, objective locations are unveiled automatically, and bomb sites come fortified with pre-set reinforcements.
For attackers, a ten-second window of invulnerability at the start of each action phase aims to thwart spawn peeking tactics, making gameplay more dynamic and engaging.
Arcade Adventures and Standard Mode
Unranked mode transforms into standard mode, bringing with it an intriguing innovation called weapons roulette within the arcade. Here, players initiate the match with identical firearms, only to switch to new, random weapons after a designated time interval.
Tutorials cater to newcomers, smoothing their transition into the Siege universe. Additionally, the option to remove the HUD during replays amplifies the potential for capturing stunning in-game visuals.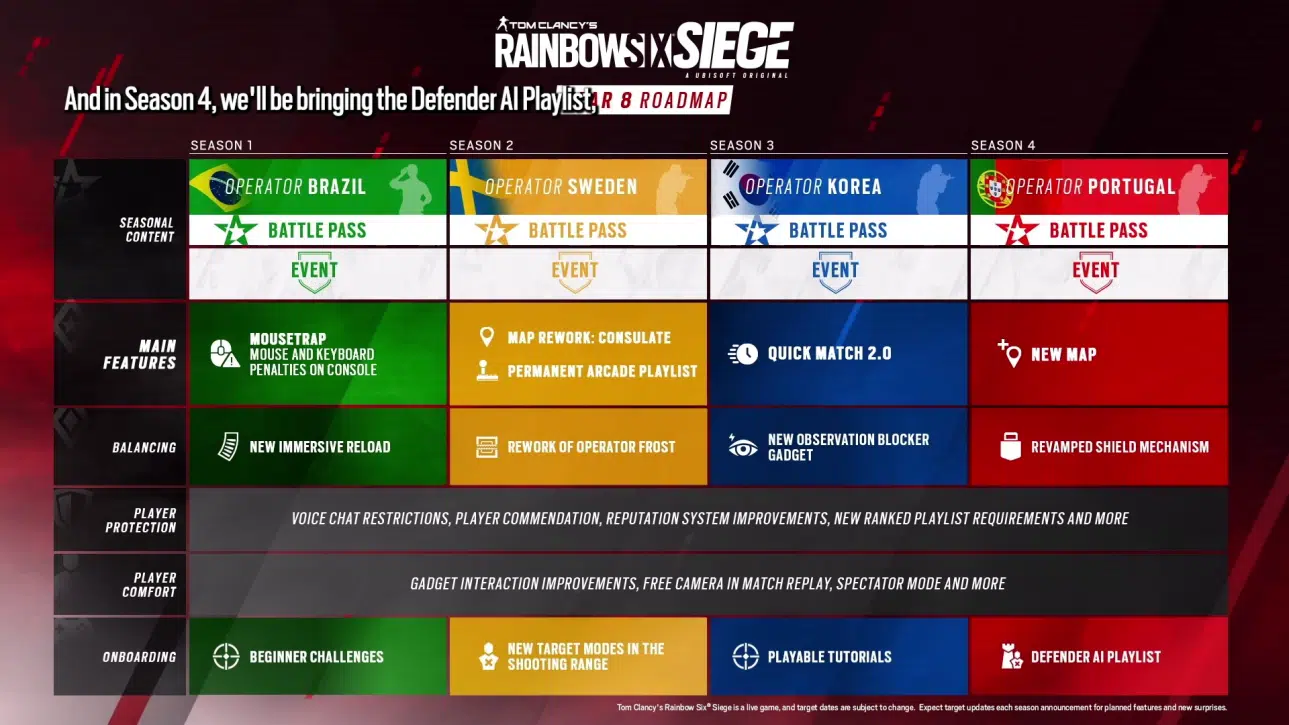 Rainbow Six Siege introduces a commendation system, allowing players to evaluate their peers based on various attributes and behaviors. Consistently commended players reap in-game rewards, fostering positive interactions within the community. Ubisoft maintains a vigilant watch over the system's integrity, ensuring its equitable use.
Mark your calendars! The abundance of updates and novelties will be ushered in with the grand arrival of the Year 8 Season 3 update on Tuesday, August 29th. Brace yourself for an exhilarating journey through an evolving Rainbow Six Siege landscape, where innovation, collaboration, and tactical prowess converge in a gaming experience like no other.