The eFootball franchise has had a tumultuous journey since rebranding from the iconic Pro Evolution Soccer (PES) name in 2021. After completely revamping the game into a free-to-play model, the initial eFootball 2022 release was an unmitigated disaster that was panned by critics and fans alike. eFootball 2023 provided some improvements but still failed to win back most players. Now with eFootball 2024, developers Konami are taking yet another crack at restoring the franchise's lost glory. Can the third time prove lucky?
In this review, we will dive deep into all aspects of eFootball 2024 to see if Konami have finally delivered a competitive and complete football package. We'll scrutinize the graphics, gameplay, game modes, new features and online components to determine if this iteration moves the needle in any substantial way. Has Konami ironed out long-standing issues like clunky controls and a lack of licensing? Are stalwart modes like Master League still absent? Does eFootball 2024 push the franchise forward or is it another glorified roster update?
These are some of the key questions we will aim to answer over the course of this review. While eFootball still faces an uphill battle to reach its former heights, there are signs Konami is slowly turning things around. Let's kick off and see if eFootball 2024 continues this incremental but positive trajectory for the series.
A Step Up in Visual Fidelity, But Work Remains
In the graphics department, eFootball 2024 represents a moderate visual upgrade over previous entries in the series. Player models are more detailed and lifelike, with faces that no longer resemble wax figures from Madame Tussauds. Body shapes and hairstyles also better replicate real-life footballers. The improved character models are particularly apparent during goal celebrations and replays.
The matchday presentation has also received a polish. Crowds are livelier and react intelligently to the action on the pitch. Pre-match scenes like the player bus arrival and tunnel walkout add an authentic sense of immersion. The better crowd visuals and presentation elements make eFootball 2024 feel more like a true next-gen experience rather than just a mobile port.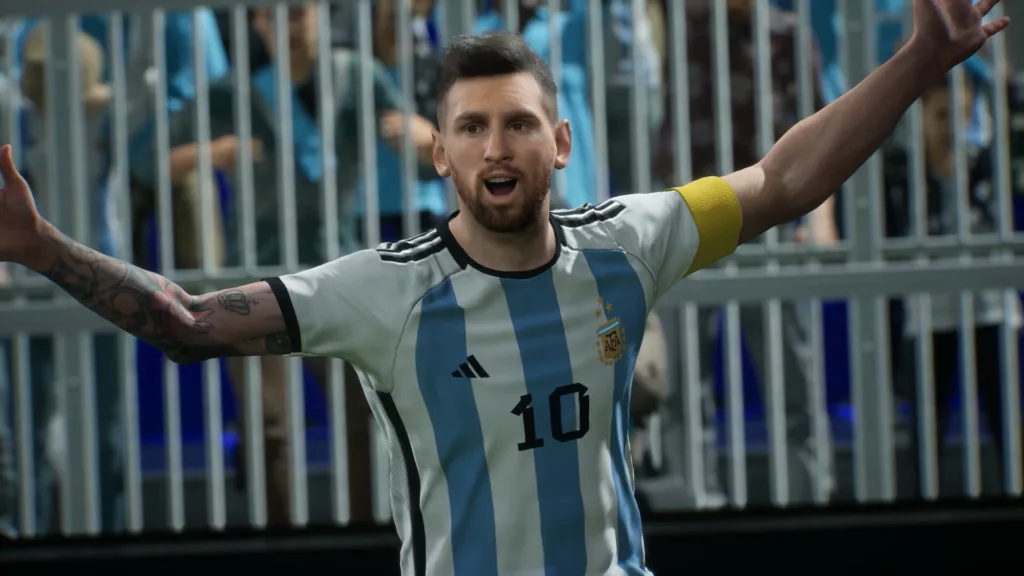 However, some visual aspects remain underwhelming. The stadium environments, while servicable, are nowhere near best-in-class. The grass textures are a particular sore point – with plain, mobile-game style pitches that lack detail and dynamism. The field lacks realism in the way the grass looks, moves and degrades over the course of a match. Weather and lighting effects are also limited, restricting matches to clear days and nights. Overall, the stadium visuals fail to match competitor titles.
In summary, eFootball 2024 makes incremental but welcome strides in some areas of graphical fidelity like player models and animations. But a lot more work is needed to reach the visual benchmark set by the competition. Drab grass textures and stadiums show Konami still has a way to go before eFootball truly looks and feels like a modern, premium football experience across the board. The foundations are there, but Konami needs to keep upgrading visuals to complement the gameplay advances made in eFootball 2024.
A More Responsive Experience, But Inconsistencies Persist
Without question, the area where eFootball 2024 has improved most noticeably over its predecessors is core gameplay and on-pitch control. Players handle in a more responsive manner, especially while dribbling and executing close control moves. There is a discernible weight and momentum to how player models shift direction and position their bodies. This adds an extra layer of realism to on-ball movements. Sprinting with pace merchants like Mbappe finally feels suitably quick and agile. Overall, the improved responsiveness empowers players to pull off more skill moves and intricate passing sequences.
However, shooting remains a weak point, with strikes at goal lacking satisfying ball physics and weight. Even when shots ripple the net, the feeling is underwhelming. Passing speed has been enhanced to move the ball quicker over the pitch, but shooting fails to match this new tempo. The shooting visuals and animations need an overhaul to reach the gold standard set by other football titles.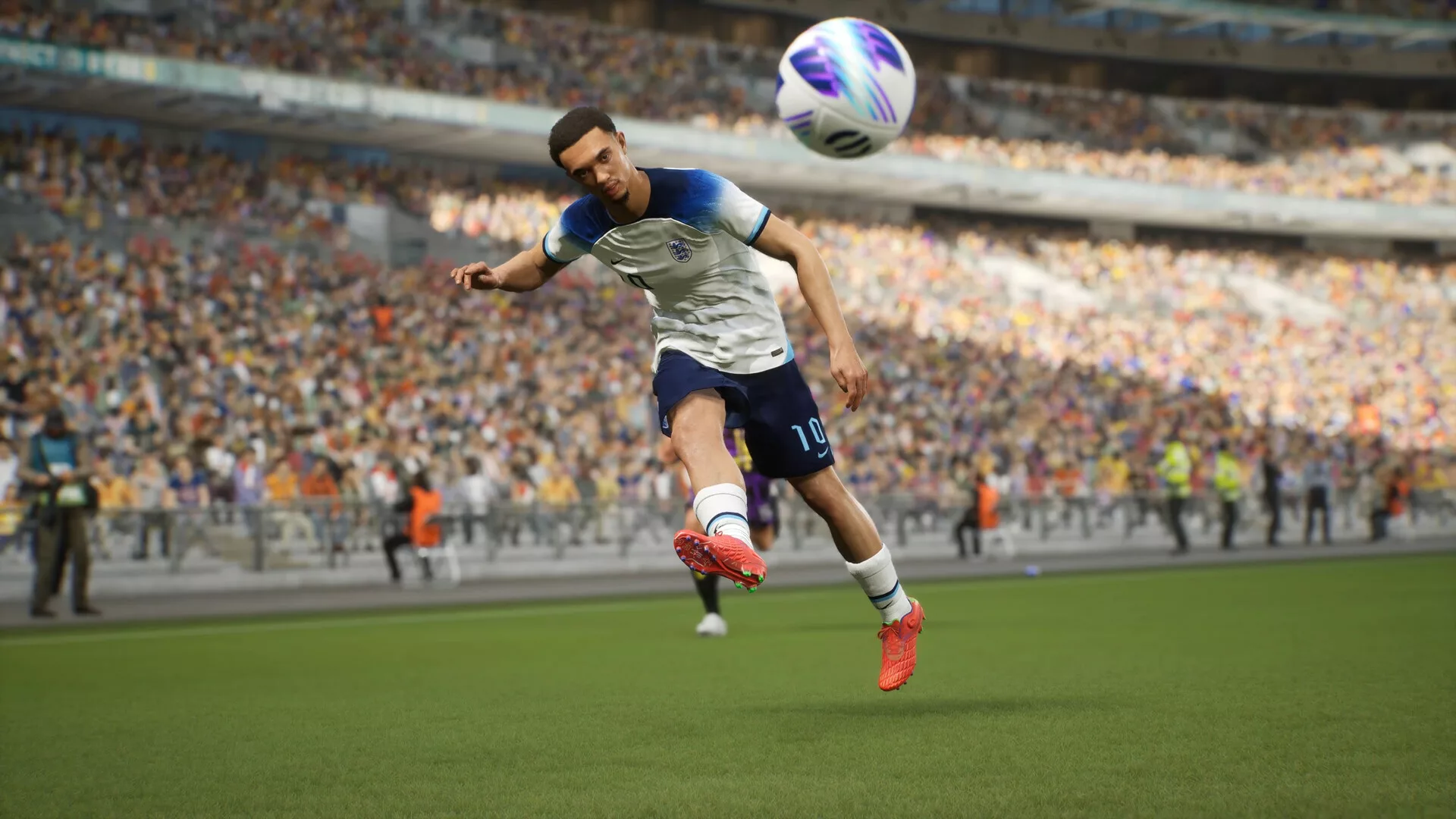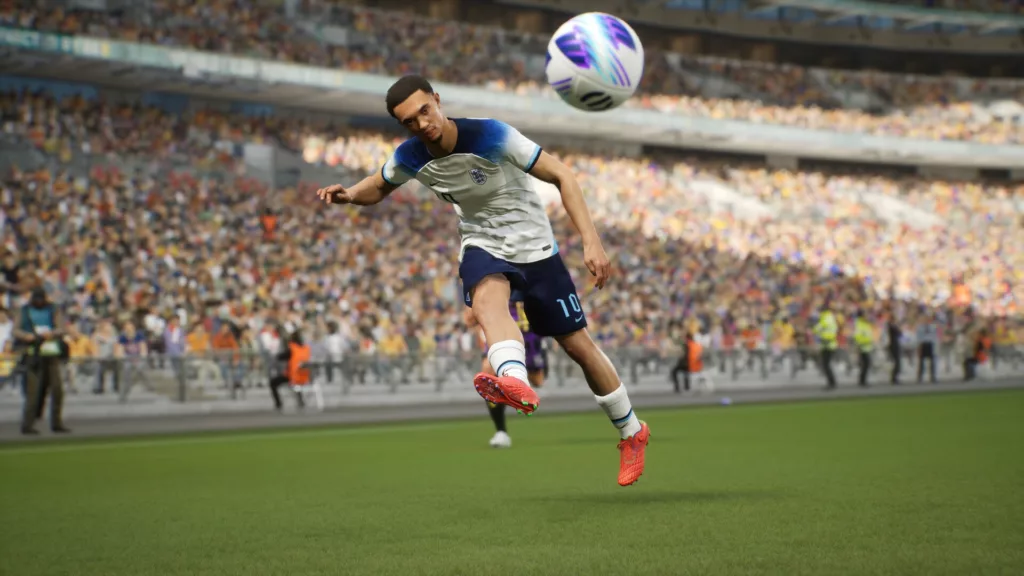 Defending has also been shored up. Crunching tackles and interceptions are simpler to execute with the right timing. Teammates intelligently track runs and cover spaces once you switch to a defensive shape. Individual positioning and collective team defending show tangible AI improvements.
That said, the AI is far from flawless. There are still too many instances of players standing static instead of reacting to loose balls and rebounds. Goalkeepers in particular seem prone to lapses, allowing easy shots to squirm past them. The AI deficiencies mainly occur during transitional phases rather than structured play, but they continue to mar the experience.
The other long-standing issue that persists is inconsistent refereeing decisions. While fouls are called more uniformly than previous editions, there are still obvious incidents where the referee turns a blind eye – especially during tackles from behind on a player passing or shooting. These oversights inevitably lead to opposition counter-attacks and cheap goals.
Overall, eFootball 2024 represents meaningful progress in on-pitch gameplay. But nagging flaws like unreliable shooting, AI lapses and spotty refereeing must be addressed before the game smooths out completely. The foundation is stronger, but Konami needs to sand off these rough edges for eFootball to reach its full potential. For now, we're left with a football experience that offers glimpses of brilliance but remains a frustrating mixed bag.
Slim Pickings – eFootball 2024's Shallow Game Mode Selection
When it comes to game modes and volume of content, eFootball 2024 mirrors its predecessor with just two main options – Authentic Matches and Dream Team. This dearth of modes remains the Achilles heel for the series and badly needs to be addressed.
Authentic Matches allow you to jump into one-off games against human or AI opponents. However, the licensed team selection is painfully slim compared to rival football titles. Beyond the handful of partner clubs like Barcelona, Bayern Munich and Manchester United, you're left choosing sides from minor leagues and competitions. The lack of depth severely limits Authentic's appeal.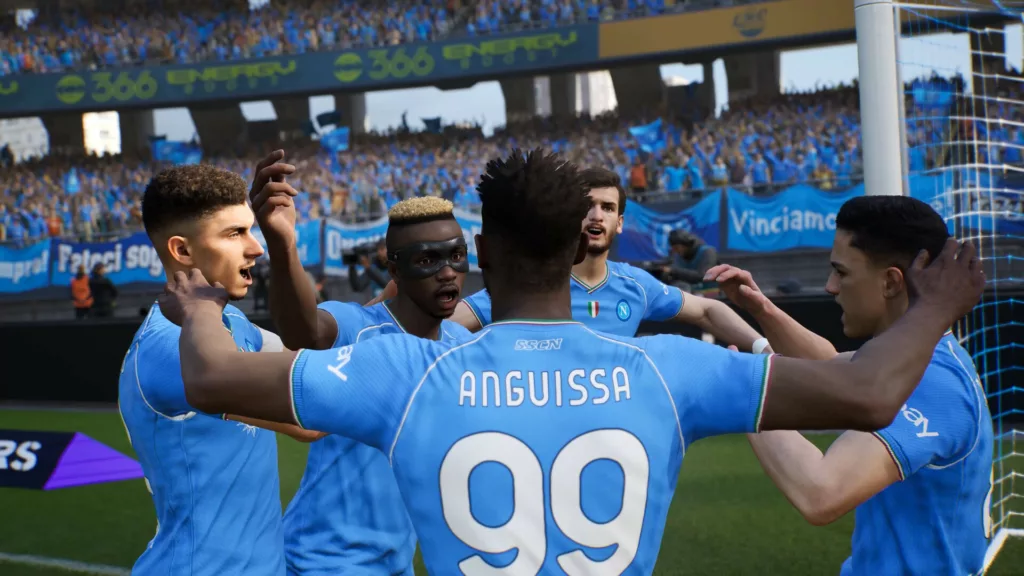 Dream Team provides a solid Ultimate Team-style experience as you build a fantasy squad by acquiring players through packs and an in-game transfer market. The team building process itself is enjoyable, with clear progression as you upgrade positions over time. But this fun is hampered by limited events and a repetitive online division structure. The events that Konami does roll out like Team of the Week quickly become stale.
Worst of all, Master League, the crown jewel mode of PES games for decades, remains completely absent in eFootball 2024. Its long-overdue return is nowhere in sight, much to the chagrin of Master League veterans. Other expected features like custom leagues, tournaments and in-depth editing tools are also missing in action.
In summary, eFootball 2024's limited game mode selection lacks the content depth to sustain most players' interest over the long run. Authentic Matches suffers from a lack of licensed teams to choose from, while Dream Team grows repetitive quickly. The total absence of Master League and other staple modes continues to sting. Unless Konami can significantly expand beyond the barebones offerings, eFootball will continue hemorrhaging players to rival franchises boasting far superior variety and depth in their suite of modes. For eFootball to succeed, a robust game mode catalogue must be prioritized.
Incremental Improvements Only – eFootball 2024's Lack of Meaningful New Content
Given that eFootball 2024 is positioned as a seasonal update, expectations for new features and content were already low. Even then, Konami fails to deliver almost anything of real substance over the previous iteration. Roster updates and boosters in Dream Team mode comprise the bulk of what's new.
The main addition is the introduction of boosters in Dream Team, which provide special upgrades and perks to augment your players. But boosters feel like a band-aid solution to freshen up the stale Ultimate Team format, rather than an innovative feature.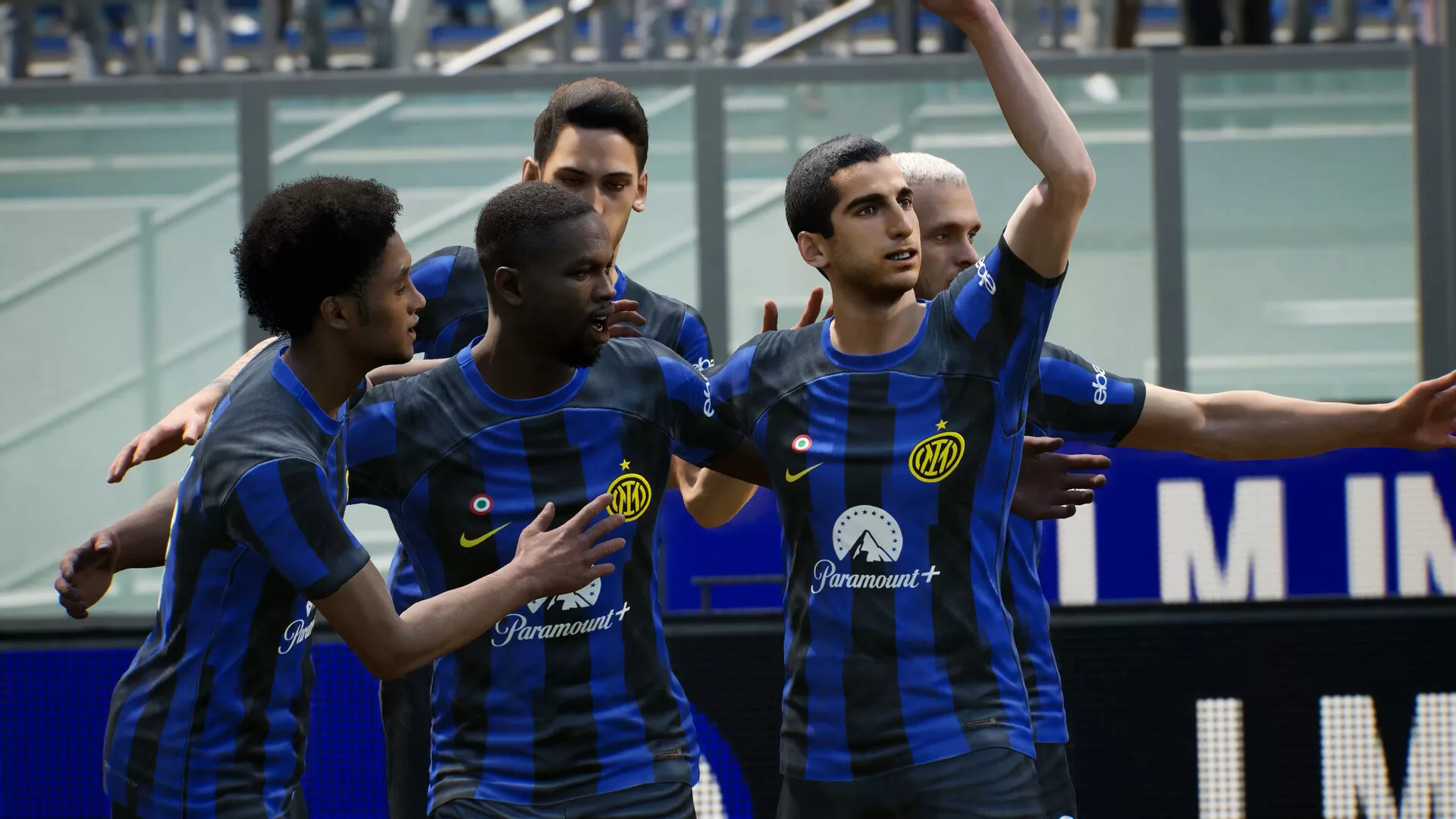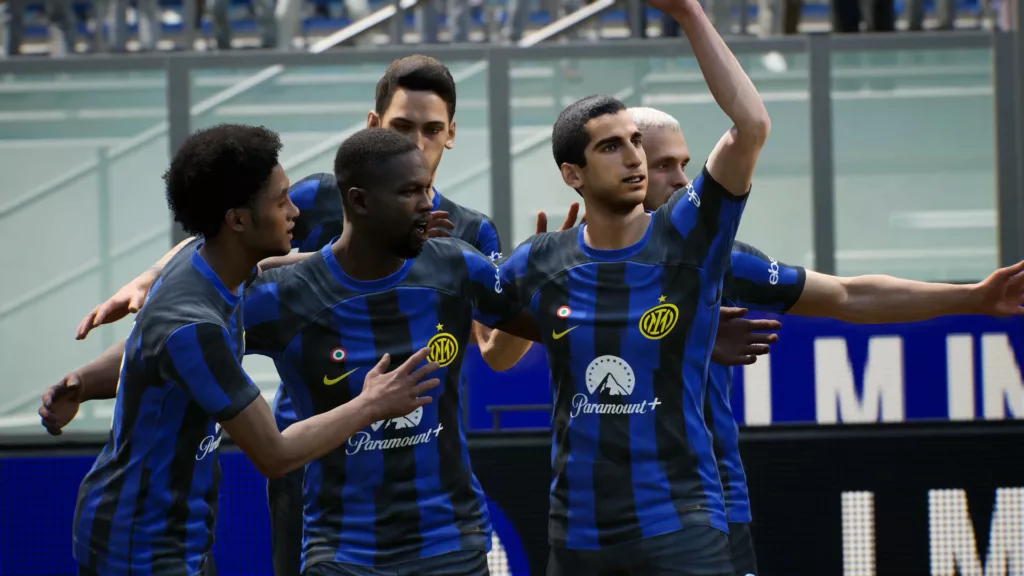 Beyond that, there's little else notable. Slightly enhanced player stat tracking provides some added depth. Various menu screens have been updated with new color schemes and fonts. But these qualify as superficial changes rather than meaningful improvements to core components.
Disappointingly, major gaps like the continued lack of a deep Master League experience remain unaddressed. There are no major revelations in game modes, settings, options or editing tools either.
Overall, eFootball 2024 offers only marginal new content over its predecessor. Given the long wait between iterations, Konami had ample time to deliver impactful innovations that would revitalize the experience. Instead, we're left with roster updates dressed up as a new seasonal release. For the franchise to get back on track, Konami needs to move beyond repackaging incremental patches and significantly upgrade eFootball across the board.
Fun but Flawed – Assessing eFootball 2024's Online Experience
On the pitch, eFootball 2024's enhanced responsiveness and control translates well to online play when latency is low. Exchanging quick passes and orchestrating skill moves against a human opponent amplifies the enjoyment. At its best, competitive online matches capture the tension and thrill of real football.
However, several issues hamper the experience. The limited cross-play functionality combines with a smaller player base to produce repetitive matchmaking. You often face off against the same opponents multiple times across different sessions. This exacerbates the frustration of lopsided matches when high-rated squads crammed with legends dominate lowly competition.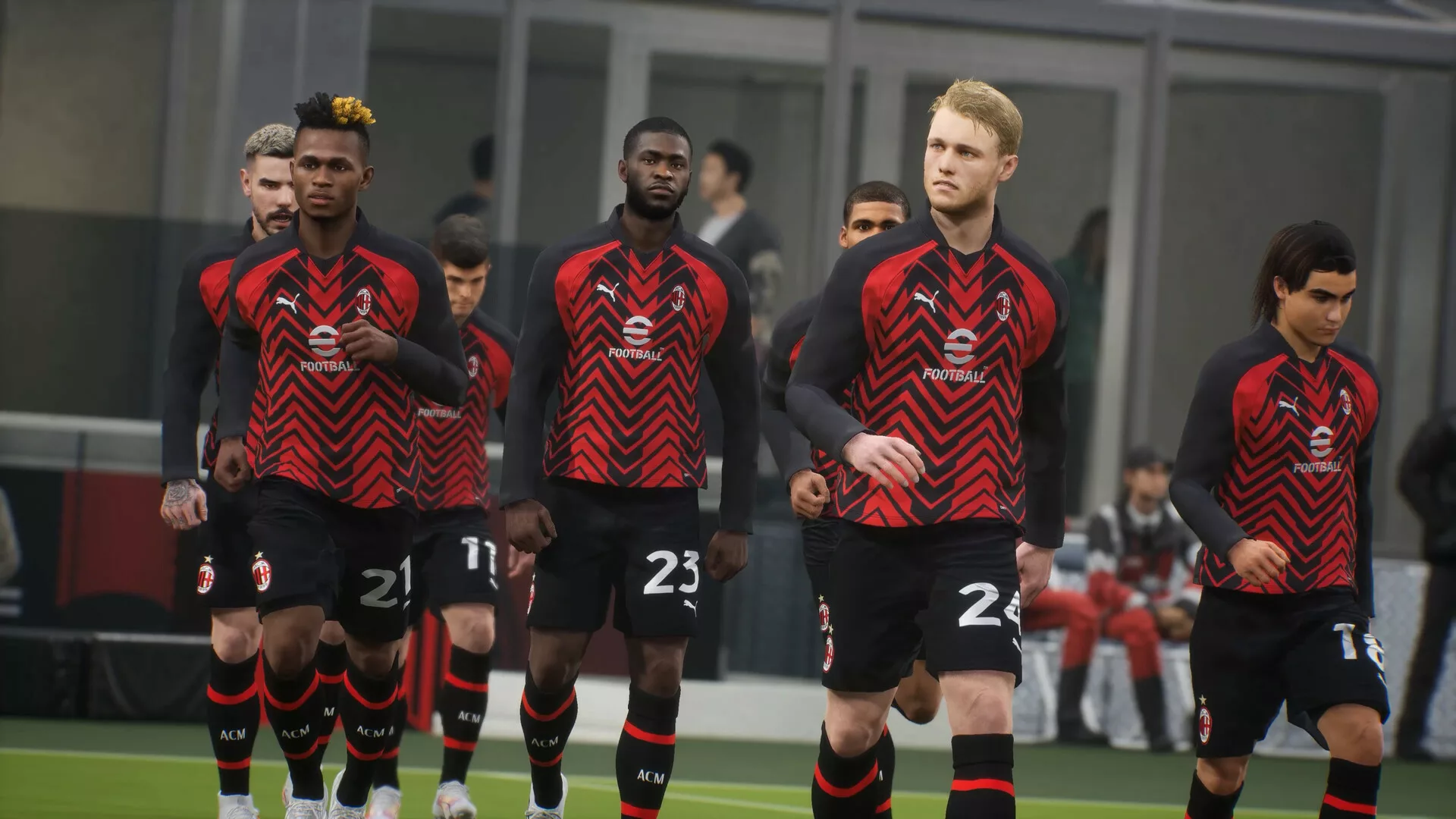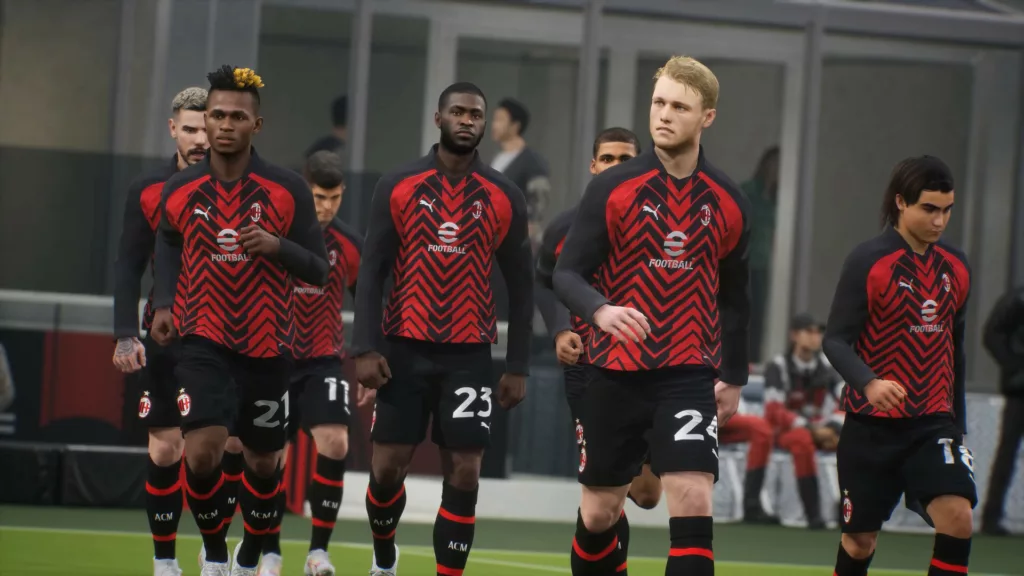 Speaking of unbalanced squads, the lack of proper fouls called allows players with star-studded teams to play exploitatively. They can aggressively press and tackle without consequence, forcing turnovers and launching counters. On the other end, weaker sides have no recourse when hacked down during attacks as the referee often keeps his whistle holstered.
These problems stem from larger gameplay inconsistencies around fouls, keeping the online play from reaching its potential. With better refereeing decisions and matchmaking improvements, the solid pitch gameplay and controls provide a strong framework for enjoyable online matches.
In its current form though, eFootball 2024's online component is a mixed bag. The satisfying flow when controlling your players is undermined by facing the same overpowered squads repeatedly, compounded by the lack of fouls called. Dedicated football fans will still derive plenty of entertainment, but Konami needs to smooth out these rough edges for online play to flourish.
Closing Thoughts – eFootball 2024 Fails To Reach Its Potential
eFootball 2024 represents another incremental step forward for the series, but not the bold leap needed to restore Konami to the pinnacle of football gaming. On the pitch, gameplay and control feels far more responsive than ever before in the rebranded eFootball era. Players move with appropriate weight while increased speed in passing and player switching amplifies the pace. AI behavior, physics and visuals are also marginally improved across the board.
However, subpar graphics in areas like stadiums and grass, combined with lingering AI deficiencies, prevent the gameplay from achieving true excellence. The same can be said for the overall experience – while eFootball 2024 improves upon its predecessors in certain aspects, it's still held back by massive shortcomings.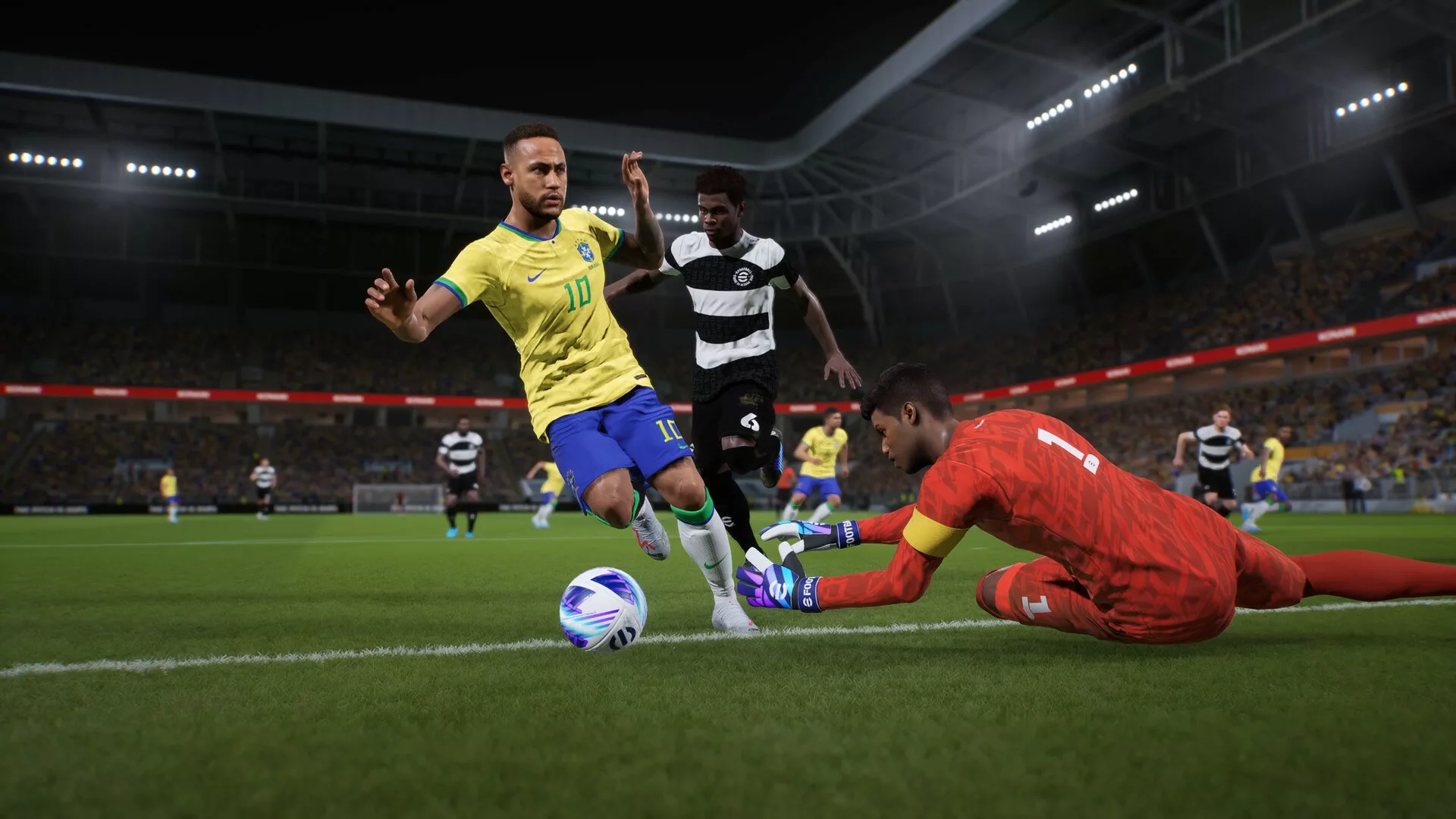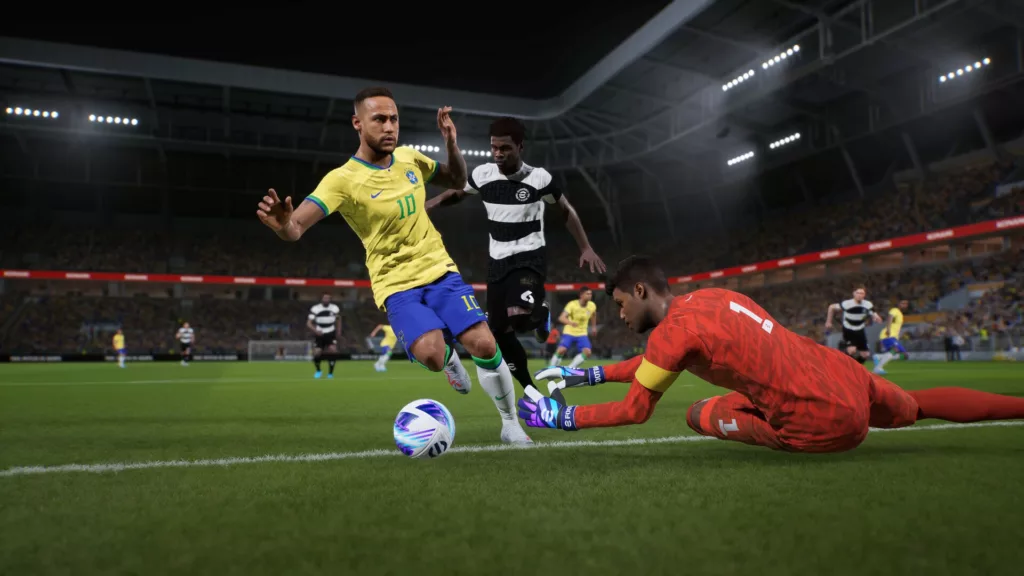 The complete lack of mode depth and breadth continues to disappoint. Presentation elements feel last-gen rather than cutting edge. New features are nearly non-existent. There is no shaking the feeling that eFootball 2024 is less of a sequel and more of a squad update with incremental tuning.
Hardcore PES fanatics will appreciate the on-pitch playability upgrades. But eFootball 2024 does not move the needle enough to win over weary lapsed players or those seeking a FIFA alternative. Buggy refereeing, limited licensing, repetitive online matchups and more underline how far Konami is from competing with the polish and depth of industry leaders.
eFootball 2024 is a tentative step forward that shows potential but ultimately falls well short. Unless Konami can finally deliver bold innovations and missing elements like Master League next time, the franchise will remain stuck in limbo. For now, this plays like another missed opportunity rather than a true comeback.
The Review
eFootball 2024
Despite minor improvements, eFootball 2024 is an underwhelming incremental update that fails to address the franchise's larger issues. This missed opportunity leaves PES loyalists wanting more and will do little to win over defecting FIFA fans. The enhanced on-pitch gameplay shows potential, but subpar graphics, AI flaws, missing modes, and lack of innovation hold eFootball 2024 back from greatness. This middling effort remains too much of a glorified roster update rather than a true next-gen advancement for the series.
PROS
More responsive player control and dribbling
Improved player models and facial details
Better crowd visuals and matchday presentation
Defending is more intuitive and effective
AI shows signs of improvement in attack and defense
Dream Team provides solid Ultimate Team experience
CONS
Shooting lacks proper weight and satisfaction
AI still prone to lapses in crucial moments
Refereeing remains inconsistent with missed foul calls
Severe lack of licensed teams in Authentic Matches
No major modes like Master League after years of waiting
Barely any meaningful new features or content
Repetitive online matchmaking with limited cross-play
Lack of fouls called enables gameplay exploits