For fans of George R.R. Martin's epic fantasy series A Song of Ice and Fire, diving into the rich world of Westeros is an exciting adventure. With its web of intricate plots, multilayered characters, and immersive worldbuilding, readers can easily get absorbed in the grand drama unfolding across these beloved books.
However, with the main series, prequels, novellas and more, it can be tricky for newcomers to navigate the best reading order. Should they follow the publication sequence or explore a chronological timeline? While there's no definitive right or wrong way, many fans find that reading the books in chronological order offers a uniquely enriching experience.
By starting from the very origins of Westeros and moving forward in time, the history and context surrounding key events and figures become clearer. The complex motivations driving characters like Daenerys Targaryen make more sense when you understand the full tapestry of her family's past glories and downfalls. The threat of supernatural foes beyond the Wall also resonates stronger when you trace its first stirrings generations before.
For those up for an adventure, reading A Song of Ice and Fire books in chronological sequence provides an opportunity to explore the realm from an entirely new vantage point. This guide will walk first-timers and re-readers alike through the best order to enjoy these timeless tales. From the Targaryen conquest to the War of Five Kings and beyond, immerse yourself in an intricately crafted world filled with thrilling history, drama and intrigue.
A Comprehensive Guide to Read Game of Thrones Books in Order
The world of Westeros, created by George R.R. Martin, is complex and layered. If you are on the journey to read Game of Thrones books in order, you might find that the publication sequence is not necessarily the chronological order of events in the series. This can lead to a unique reading experience that may not resonate with everyone, especially those new to the saga.
Why Consider Chronological Order?
Some fans argue that reading the books in chronological order adds an exciting layer to the experience. By following the story from the very beginning, you can delve into the rich history and understand the origins of key events and characters.
Who Should Read Game of Thrones Books in Chronological Order?
This approach to reading the series is often recommended only for those who are already familiar with the books. If you are considering a reread of Game of Thrones, you might find chronological order a refreshing way to explore the story anew.
While enticing, this method might not be suitable for everyone. It can lead to a disjoined reading experience, especially if you are not familiar with the overall storyline. A word of caution: this reading order may best be saved for those who have already enjoyed the series at least once and are seeking a different perspective.
How to Read Game of Thrones Books in Chronological Order
If you wish to read Game of Thrones books in chronological order, you'll need a well-curated list that guides you through the past and present times of Westeros. This means moving beyond the publication order and weaving through the novellas, main series, and even some supplemental materials. In the following, we will tell you all you need to know if you want to read Game of Thrones books in order. Stay tuned.
Fire and Blood – Exploring the Targaryen History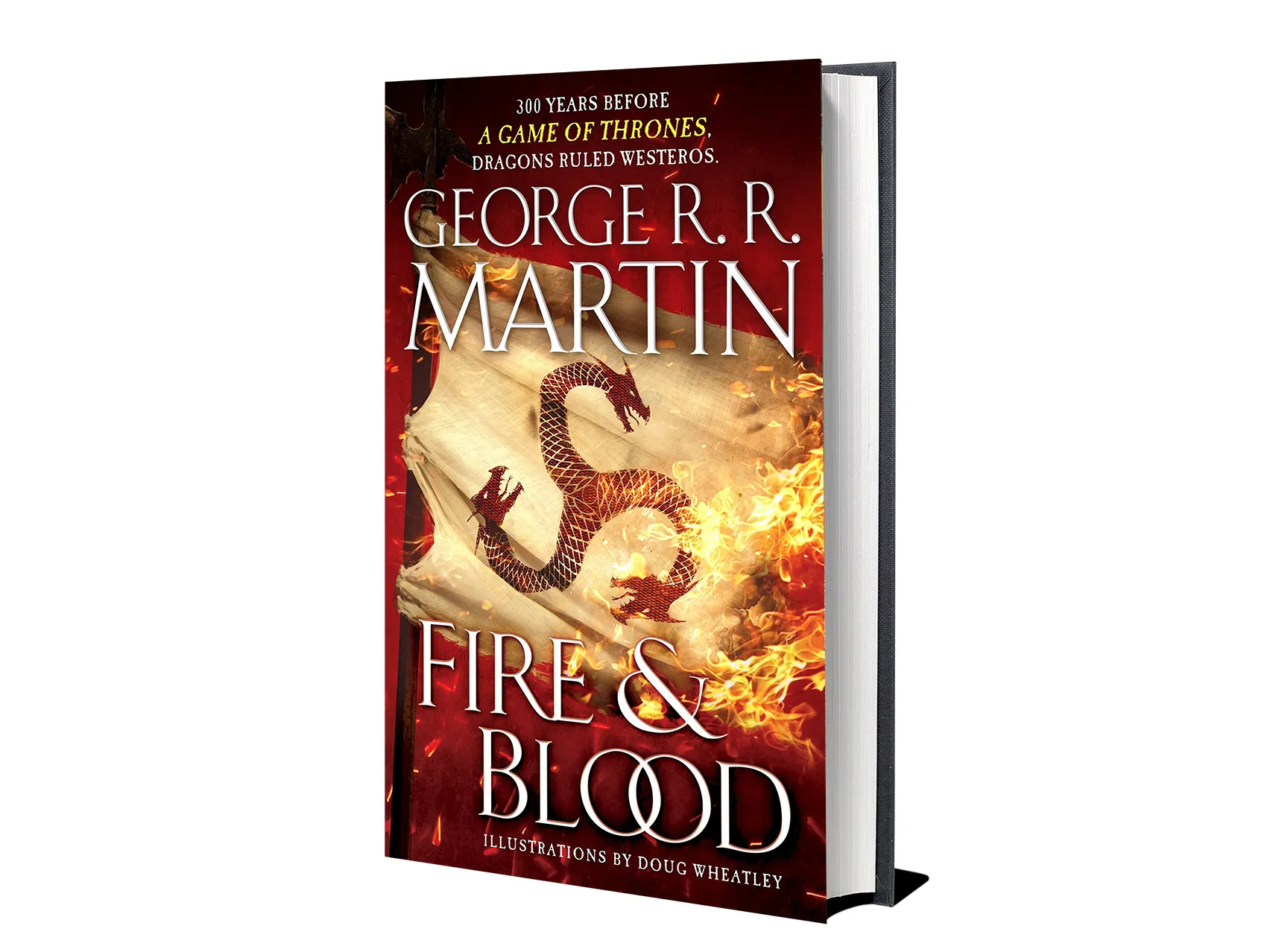 If you're looking to read Game of Thrones books in order, "Fire and Blood" would be an absorbing step in your journey through George R.R. Martin's famous world. It is more than just a companion piece to his revered A Song of Ice and Fire series; it is a full-bodied experience that delves deep into the rich history of Westeros, focusing on the Targaryen dynasty that spans nearly 150 years.
Beginning with Aegon the Conqueror, who, along with his sister-wives, soared into battle on their legendary dragons, and continuing through to the regency of Aegon III following the tragic and devastating Dance of the Dragons civil war, "Fire and Blood" brings the reader into a world of political complexities, intense family relationships, and shocking betrayals.
This fascinating novel showcases Martin's extraordinary storytelling skill, presenting vivid and captivating details of Targaryen rulers such as Maegor the Cruel. He's known for his extreme tyranny and the construction of the terrifying Red Keep, a symbol of power and dread. Martin's impeccable worldbuilding and intricate plotting allow readers to feel as though they are living within this pivotal era of Westeros. Not only does it bring the past to life, but it also lays a strong foundation for future chapters in this vast and thrilling saga.
Whether you're a seasoned fan or a newcomer eager to explore the rich heritage of beloved characters like Daenerys Targaryen, "Fire and Blood" is a must-read, offering a detailed and immersive view of a fantastical world filled with adventure, intrigue, and unforgettable characters.
The Sons of the Dragon – A Compact Prequel
Continuing on the path of reading Game of Thrones books in order, "The Sons of the Dragon" emerges as an enthralling prequel to "Fire and Blood," painting a vivid picture of two of Westeros's most critical Targaryen rulers, Aenys I and Maegor I. It brilliantly depicts their reigns, decisions, and the paths that lead to their respective fates.
As Aegon the Conqueror's firstborn son, Aenys is designated to inherit the Iron Throne. However, his rule is not without challenges. Dissent and rebellion brew across the kingdoms, testing his relatively tranquil and compassionate leadership. Tragedy strikes as Aenys succumbs to illness, leading to his younger brother Maegor's ascent to the throne.
Unlike his predecessor, Maegor rules with an iron fist, earning his reputation for crushing any opposition with unyielding "dragonfire and blood." Martin's unique ability to craft compelling imaginary history shines through as he explores the contrasting characteristics of these two rulers and how their distinct approaches shape Westeros's destiny.
From the shrewd political strategy of Aenys's rule to Maegor's unrestrained brutality in suppressing uprisings, "The Sons of the Dragon" provides thrilling insight into the turbulent Targaryen dynasty. While it may be shorter in length compared to its epic counterpart, this novella's significance cannot be understated. It complements the vast scope of "Fire and Blood," making it an essential piece for anyone wanting to fully understand and appreciate the rich tapestry of George R.R. Martin's world.
The Rogue Prince – A Tale of Ambition and Intrigue
If you're diving into George R.R. Martin's captivating universe and planning to read Game of Thrones books in order, "The Rogue Prince" will be a crucial stop in your expedition. Serving as a vital prequel to "Fire and Blood," this novella delves into the stormy life of Prince Daemon Targaryen, younger brother to King Viserys I.
Daemon embodies the fiery Targaryen spirit: he's daring, passionate, and possesses an insatiable ambition for the Iron Throne. When he finds himself overlooked as heir, being supplanted by his niece Rhaenyra, his discontent fuels resentment that begins to infect the entire realm. The seeds of intrigue are planted, as Daemon manipulates power and forms alliances, including a passionate bond with his lover Mysaria, a skilled dancer from the exotic land of Lys.
As the story unfolds, tensions escalate and reach a point where conflict becomes unavoidable. Martin, a master of crafting complex fictional history, provides readers with a rich tapestry of courtly drama and political maneuvering that set the stage for the inevitable Dance of the Dragons civil war. "The Rogue Prince" is more than just a tale of one character's ambition; it paints a multidimensional portrait of a cunning and infamous figure in the legendary game of thrones.
With adventure at every turn and a narrative that's alive with tension, this prequel is essential reading for anyone eager to delve into the intricate factors that lead to the Targaryen downfall. Engrossing and full of surprises, "The Rogue Prince" offers a vivid look at a critical period in Westeros's history, richly enhancing the overall experience for fans looking to read Game of Thrones books in order.
The Princess and the Queen – A Chronicle of Civil War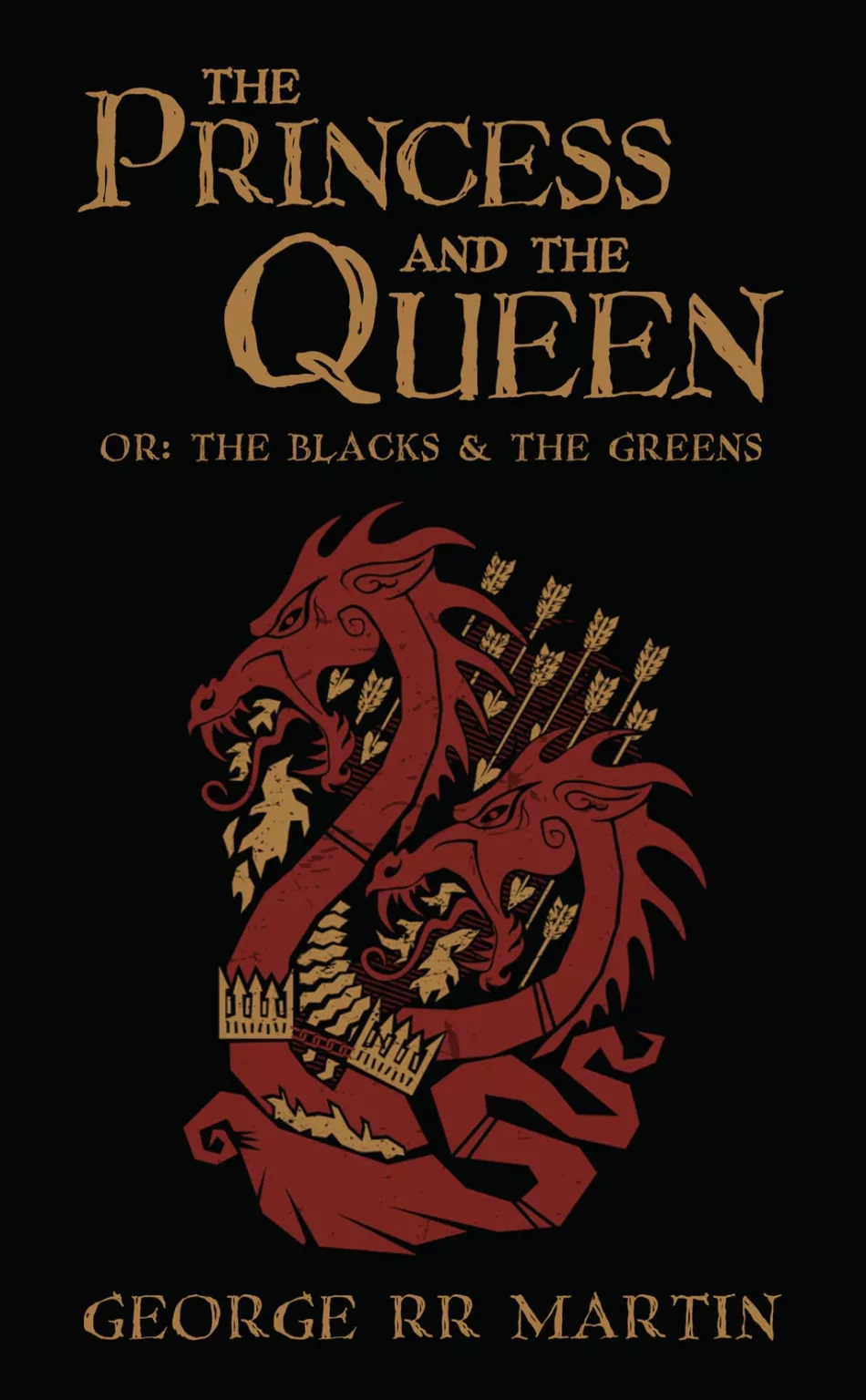 Situated two centuries before the main events of Game of Thrones, "The Princess and the Queen" provides readers eager to read Game of Thrones books in order a mesmerizing view of a violent and transformative period in Westeros's history. This gripping novella by George R.R. Martin chronicles the brutal and tragic Dance of the Dragons, a civil war that pits Targaryen against Targaryen.
At the heart of this struggle are Queen Rhaenyra and her half-brother Aegon II, vying for control over the Seven Kingdoms. The conflict ignites when King Viserys I disrupts tradition by naming his daughter Rhaenyra as his successor. Upon his death, chaos erupts as noble families are torn between loyalties, leading to a series of betrayals, treachery, and violence.
The war's aftermath leaves a lasting mark on Westeros, with consequences ranging from shocking assassinations to unspeakable depravity, and even the near-extinction of dragons. Through Martin's skillful writing, the reader is transported into a world filled with rich details and multifaceted perspectives on the motivations and betrayals that fueled this devastating war.
Complementing the extensive chronicle found in "Fire and Blood," "The Princess and the Queen" presents a detailed, blow-by-blow account of a defining moment in Westeros's history. It is more than just a record of events; it's an immersive experience that reveals the human passions, frailties, and ambitions that shape a world.
For fans and newcomers alike, this novella is not only an exciting read but also a key piece in understanding the broader scope of George R.R. Martin's universe. As you continue to read Game of Thrones books in order, this narrative will offer a profound and thrilling glimpse into the events that set the stage for the epic saga that has captivated audiences around the world.
The Hedge Knight – A Tale of Honor and Adventure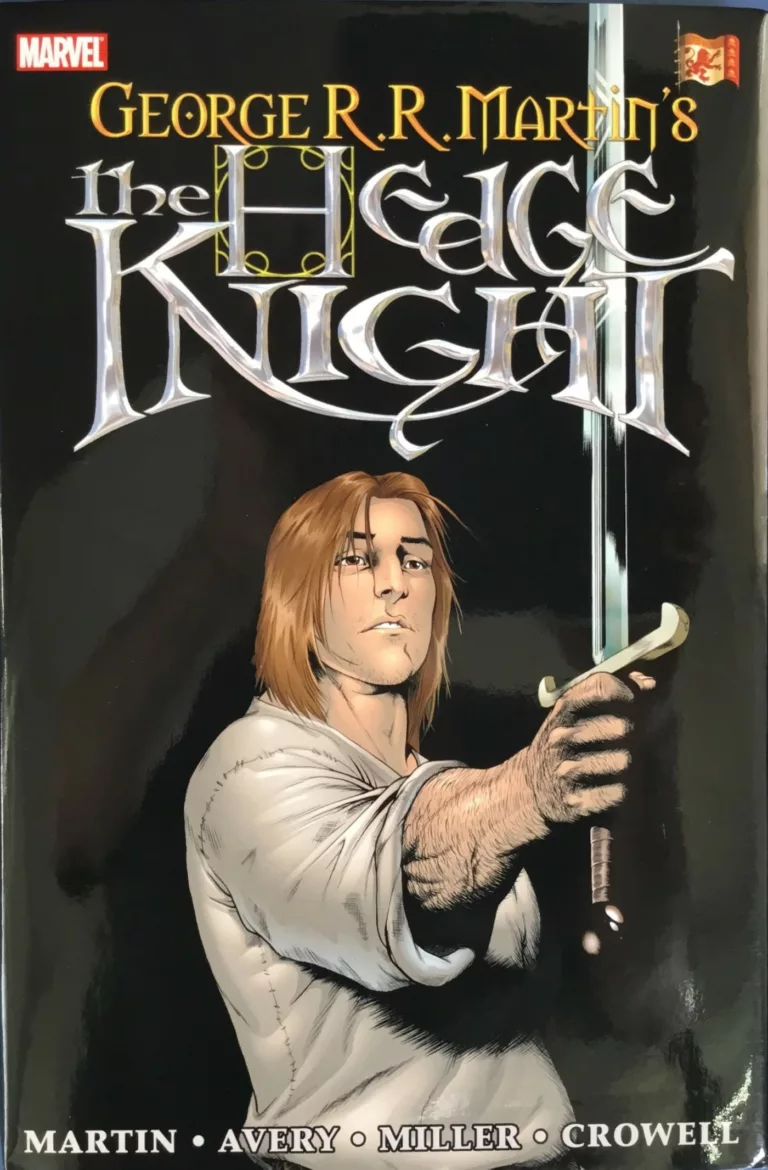 For those seeking to read Game of Thrones books in order, "The Hedge Knight" serves as a captivating side journey that welcomes readers into the world of Westeros, nearly a century before the renowned events of A Song of Ice and Fire. Authored by George R.R. Martin, this tale explores the adventures of Dunk, a hedge knight, and his quick-thinking squire, Egg.
Their story begins as they set out to partake in a grand tournament at Ashford Meadow. With the promise of excitement and glory, Dunk soon finds himself humiliated by a rival knight. Driven by honor and a need to prove his worth, he's drawn into a dramatic trial by combat. Martin's mastery of prose pulls readers into the very heart of the tournament, with its vivid pageantry, fierce combat, and a tangle of deceitful opponents.
Through Egg, cleverly revealed to be Prince Aegon Targaryen in disguise, the story also opens a window into the nobility's lifestyle in Westeros. What makes "The Hedge Knight" special is its ability to peel back the larger-than-life scope of the main saga, providing an intimate, humanizing perspective on the seven kingdoms. Through the journey of these two unlikely companions, Dunk and Egg, readers explore themes of chivalry, loyalty, and the rich texture of life within this fantastical world.
Anyone eager to read Game of Thrones books in order will find this tale a refreshing and enjoyable excursion, revealing new dimensions and hidden layers of Martin's grand epic.
The Sworn Sword – Loyalty and Conflict in Westeros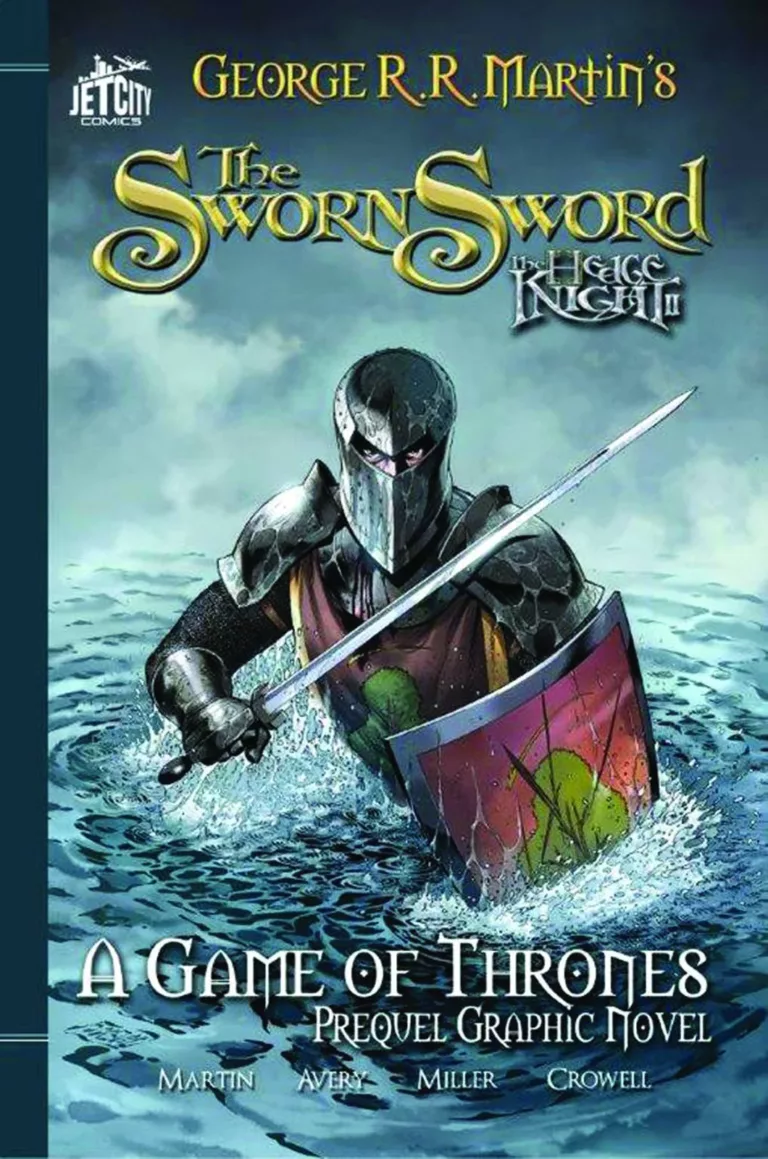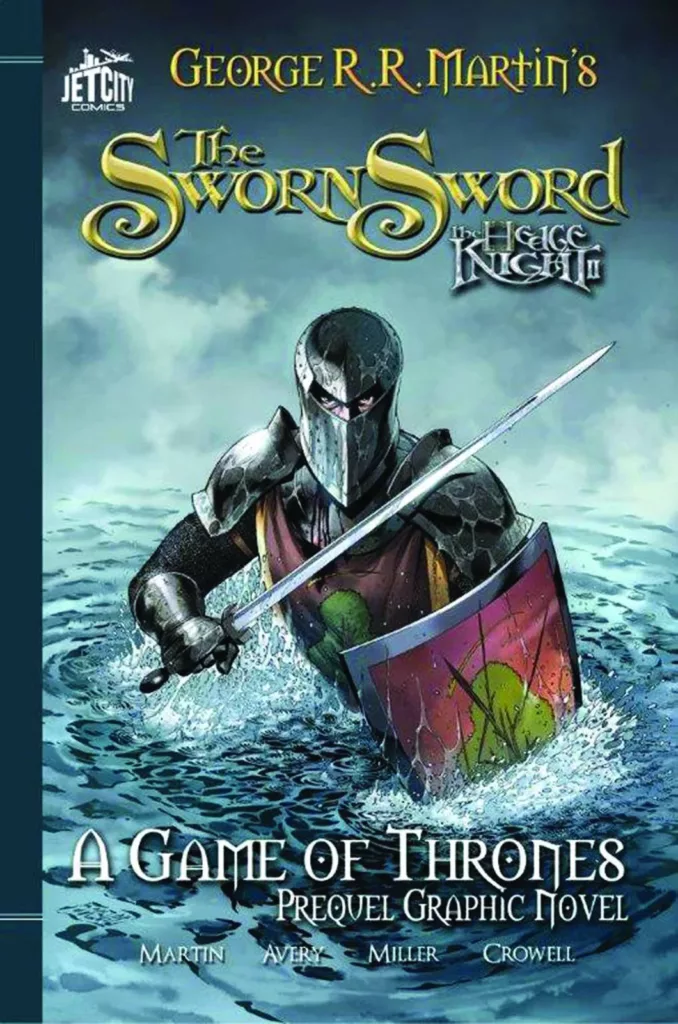 Continuing the adventures of Dunk and Egg, "The Sworn Sword" is a thrilling follow-up to "The Hedge Knight" and an essential read for those who want to read Game of Thrones books in order. This installment plunges our heroes into a local skirmish known as the Second Blackfyre Rebellion, adding depth and color to the larger landscape of Westeros.
The plot ignites when a drought threatens the land, leading Dunk to pledge allegiance to the stream's lawful overseer, Lady Rohanne Webber. However, the rogue Damon Blackfyre has his eyes set on usurping the water rights, sparking a conflict that ensnares Dunk and Egg in a battle of wills and swords.
Their adventures are filled with peril, moral dilemmas, and surprising twists, including a revelation about Lady Rohanne that leaves Dunk torn between his duties and his principles. Martin's storytelling shines once again, immersing readers in the knightly codes of honor that guide Dunk and Egg's decisions, while highlighting how those principles are challenged and reshaped by the complex events surrounding them.
What sets "The Sworn Sword" apart is its ability to enrich the history and politics of Westeros through a seemingly small-scale feud. This local conflict becomes a lens through which readers can explore broader themes and connections within Martin's intricately constructed universe. The lively dialogue, gripping plot, and vivid characters make this a satisfying and engaging read.
If you're looking to read Game of Thrones books in order, don't overlook "The Hedge Knight" and "The Sworn Sword." These tales, though distinct from the main series, provide a rich and rewarding exploration of the world of Westeros, offering fresh insights, exciting adventures, and a deeper understanding of the forces that shape the destiny of this unforgettable realm.
The Mystery Knight – Chivalry, Intrigue, and Adventure in Westeros
For those wishing to read Game of Thrones books in order, "The Mystery Knight" is the third thrilling novella following the adventures of Dunk and Egg. George R.R. Martin once again invites readers into the rich tapestry of Westeros, painting a vivid picture of chivalry, conspiracy, and the deep bonds of friendship.
This tale takes place at Whitewalls Castle, where a grand tourney is being held to commemorate Lord Butterwell's wedding. Dunk and Egg, our steadfast companions, decide to attend but soon find themselves embroiled in a hidden conspiracy involving the Blackfyre pretenders to the Iron Throne. The plot thickens with false allegiances, secret spy networks, and perplexing mysteries surrounding a mesmerizing puppet show that features enigmatic dragon eggs.
What sets "The Mystery Knight" apart is Martin's ability to craft a narrative that's both lively and intriguing. The characters are drawn with care, and the unfolding events keep the reader glued to the pages. We witness Dunk navigating the treacherous waters of Westerosi politics, while young Egg continues to grow into a wise and idealistic future king.
Woven into this tale are essential details about the Blackfyre rebellions, adding depth and historical context to the broader world of Westeros. With its blend of bold knights, charming maidens, and political intrigue, "The Mystery Knight" offers an imaginative glimpse into the complexities of this fantastical realm.
A Game of Thrones – Power, Betrayal, and the Struggle for the Iron Throne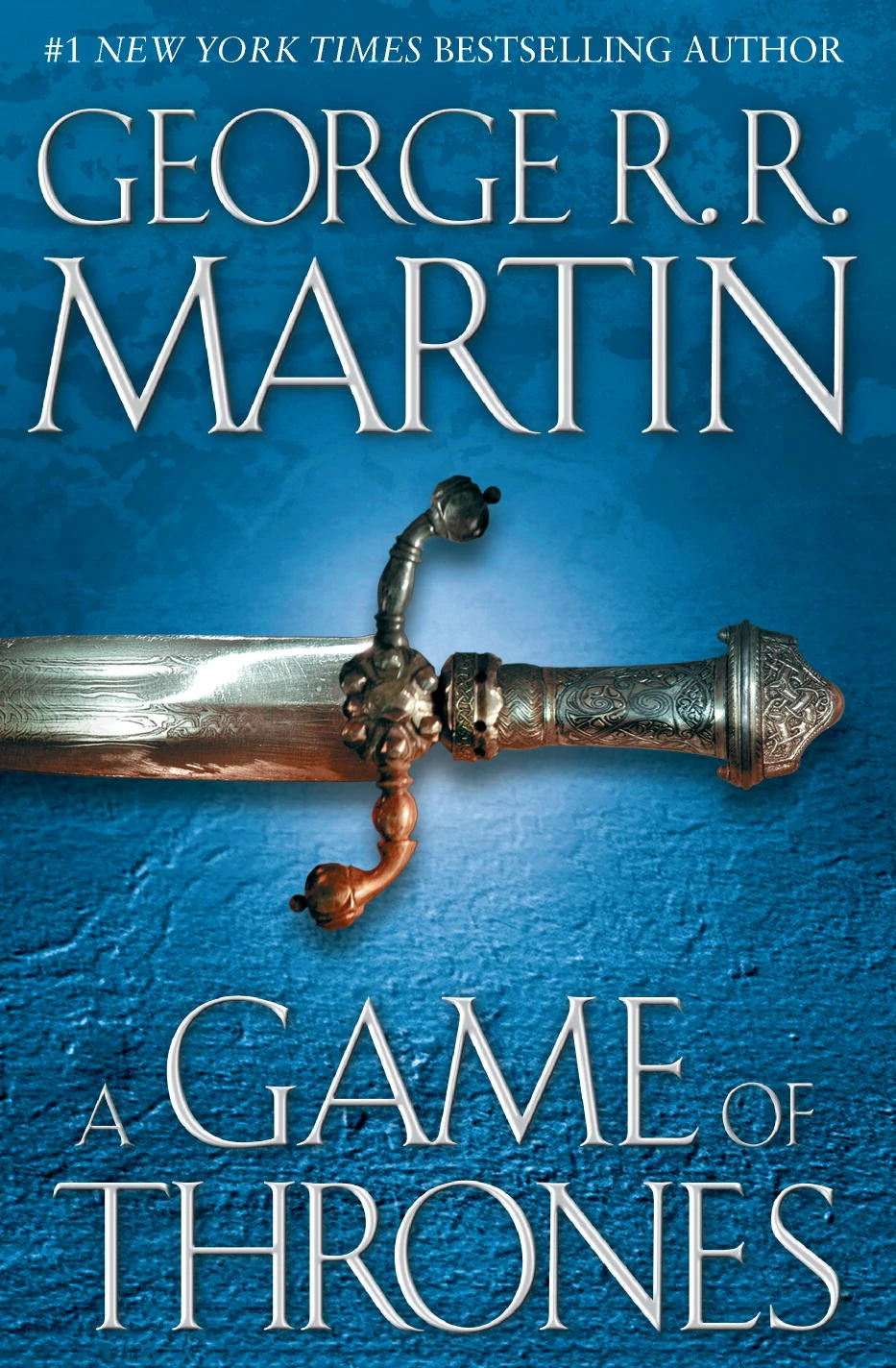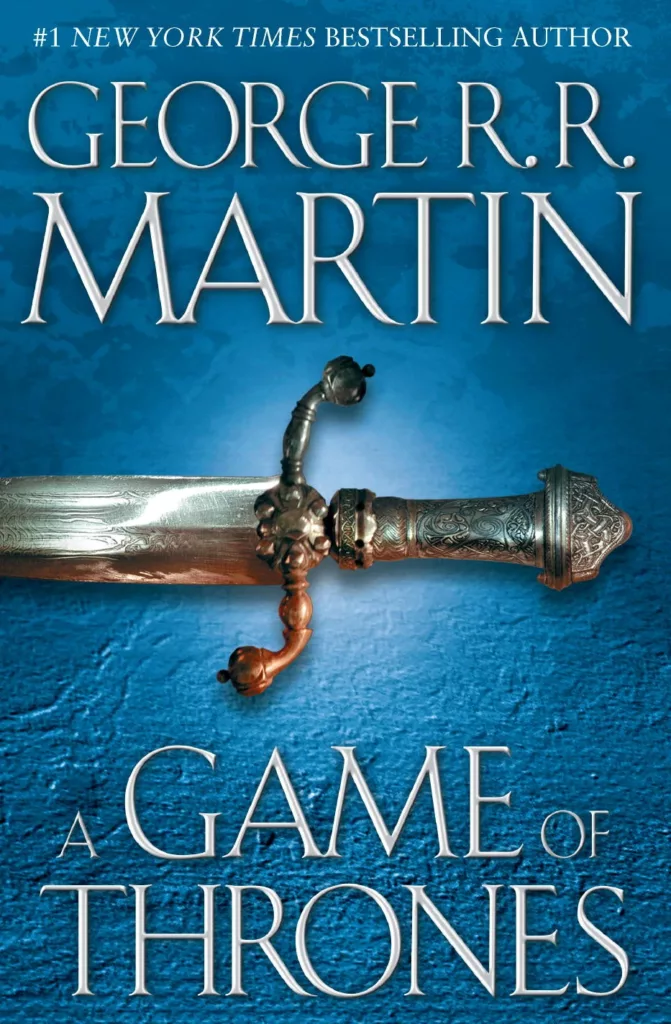 When embarking to read Game of Thrones books in order, "A Game of Thrones" is the monumental beginning to George R. R. Martin's acclaimed A Song of Ice and Fire series. This introductory book plunges readers into the stormy kingdom of Westeros, where noble families engage in a relentless battle for control of the coveted Iron Throne.
The story unfolds with King Robert Baratheon's request for Lord Eddard "Ned" Stark to serve as his Hand. Leaving his beloved family in Winterfell, Ned journeys to King's Landing, only to be ensnared in a twisted web of deceit and treachery, particularly involving the cunning Lannister family. When King Robert meets a mysterious end, the kingdom descends into chaos, and the struggle for power becomes a game of life and death.
But beyond the political machinations, an ancient evil begins to stir beyond the Wall, adding a layer of impending doom that looms over the entire realm. The tension builds, alliances shatter, and the path to the throne is fraught with danger.
Martin's genius lies in his ability to create a world that is both spellbinding and shocking. Through intricate world-building and multifaceted characters, he crafts an epic fantasy narrative that is at once captivating and filled with unexpected twists. Every character, every decision is meticulously plotted, making "A Game of Thrones" not just a book but an experience that sets the stage for a saga where trust is scarce, and the throne's security is ever in flux.
If you're planning to read Game of Thrones books in order, starting with "A Game of Thrones" and including "The Mystery Knight" in your journey will immerse you in a world filled with power plays, moral complexities, fascinating history, and characters that will remain with you long after the last page is turned. These books are an essential entryway into the grand drama of Westeros, a realm where the game of thrones is played with both skill and treachery, and where destiny is etched in both sword and heart.
A Clash of Kings – Civil War, Intrigue, and the Battle for the Iron Throne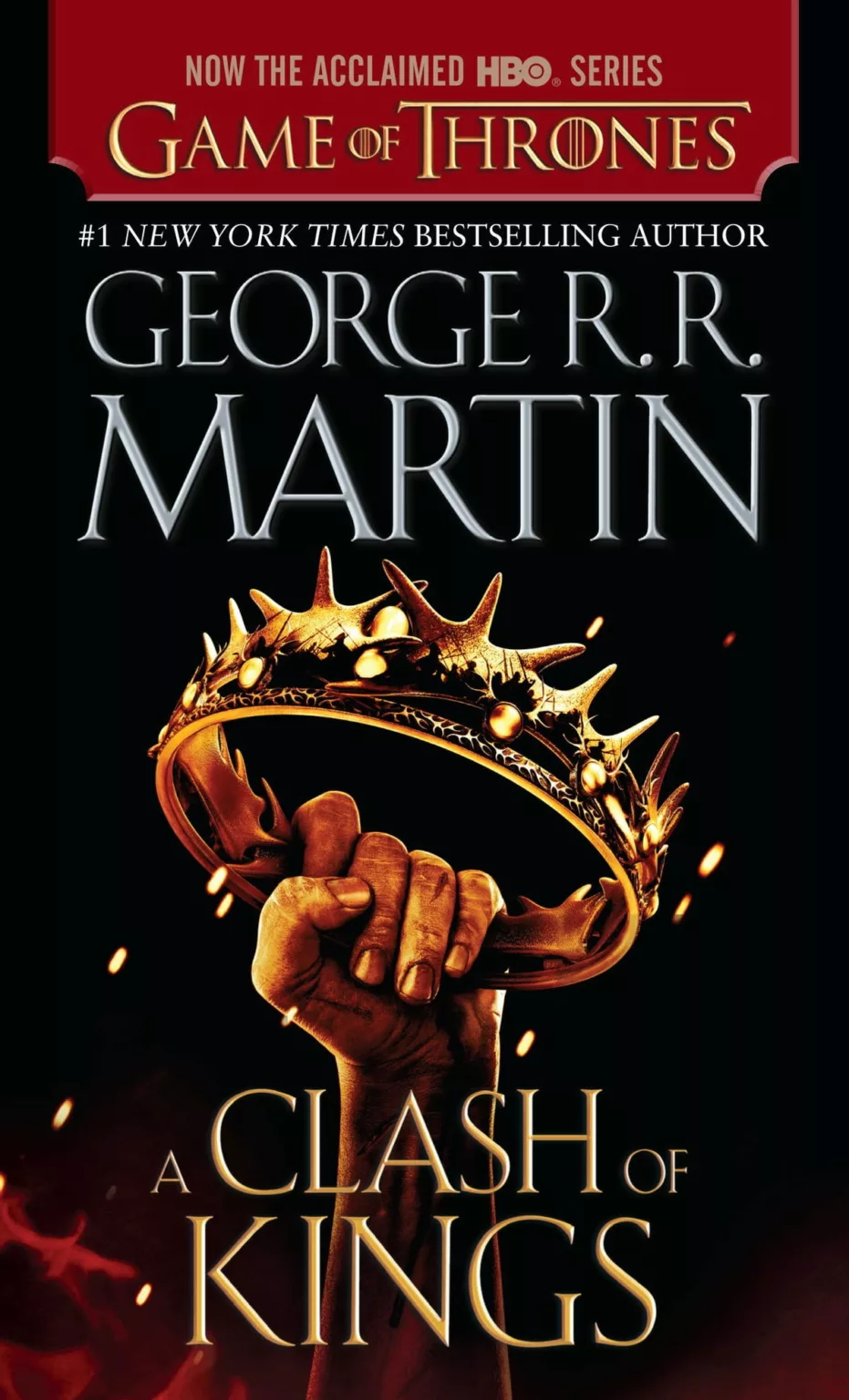 The excitement to read Game of Thrones books in order continues with "A Clash of Kings," George R.R. Martin's mesmerizing second installment in the A Song of Ice and Fire series. This book plunges readers back into the tumultuous realm of Westeros, where the death of Robert Baratheon has ignited a full-scale civil war for control of the Iron Throne.
As the struggle intensifies, four contenders emerge, each with a unique claim and a relentless desire for power. The youthful Robb Stark marches on a path of vengeance, while brothers Renly and Stannis Baratheon present opposing claims. In King's Landing, the sadistic and unpredictable boy-king Joffrey clings to power, his grip as tenuous as it is cruel.
But the battle for the throne is not the only conflict brewing. Beyond the Wall, the mystical Night's Watch faces the growing threat of the eerie White Walkers, as the ominous chill of winter begins to creep southward.
"A Clash of Kings" is an ambitious and enthralling continuation of Martin's epic saga. With its grand battles, shrewd political intrigue, and heart-wrenching betrayals, this installment builds upon the series' rich tapestry. Characters like Tyrion Lannister, Jon Snow, and Daenerys Targaryen continue their arduous journeys, and their struggles resonate with authenticity.
Martin's sweeping world-building and sharp plotting propel the narrative at an exhilarating pace, with twists and turns that will leave readers breathless. Every decision, every alliance, every betrayal carries weight, making "A Clash of Kings" an essential read for those seeking to explore even more of the world of Westeros.
A Storm of Swords – Triumph, Tragedy, and the Unpredictable Game of Thrones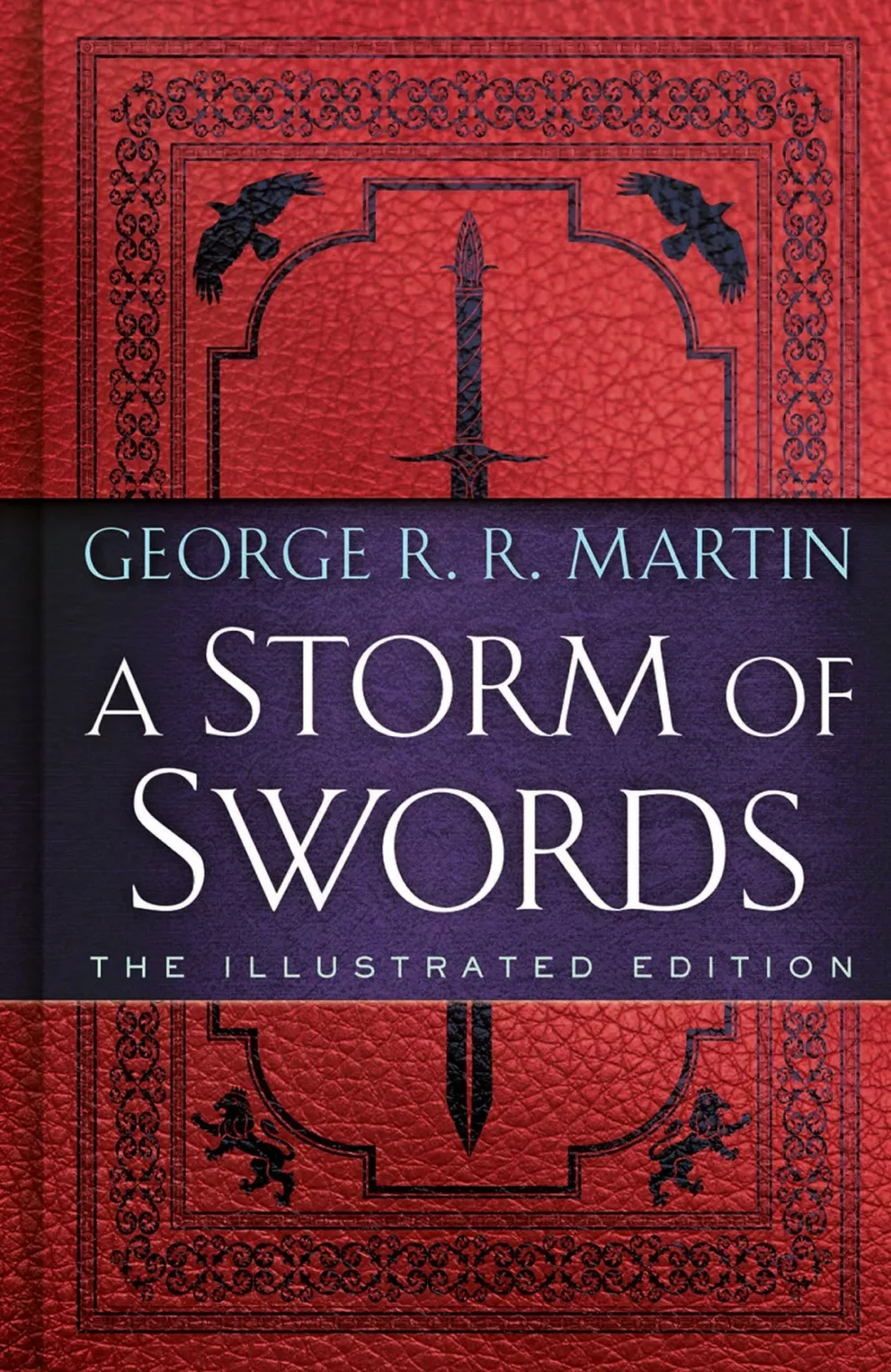 Often hailed as a high point for those who read Game of Thrones books in order, "A Storm of Swords" is a masterwork within George R.R. Martin's A Song of Ice and Fire series. Overflowing with shocking twists and complex political games, this third installment carries readers deeper into the turmoil and intrigue of the Seven Kingdoms.
Robb Stark's war campaign encounters unexpected disasters, and the political chessboard in King's Landing becomes even more convoluted with new players joining the fray. Beloved characters face perilous journeys, betrayals that cut deep, and losses that shake the very foundations of their world.
Jon Snow's adventurous expedition beyond the Wall takes a perilous turn, as the threat of the White Walkers casts a shadow of dread across the land. The sense of foreboding is palpable, and the stakes have never been higher.
The genius of "A Storm of Swords" lies in Martin's ability to weave a tale that's both grand and intimate. Monumental battles and chilling supernatural horrors are juxtaposed with personal grief and glimmers of hope. The intricate plotting, multifaceted characters, and Martin's willingness to defy conventions make this third book a standout in the series.
Whether it's the thrill of battle, the pain of betrayal, or the hope that springs from new alliances, "A Storm of Swords" embodies the very essence of epic fantasy storytelling. If you're planning to read Game of Thrones books in order, this installment is not just a chapter but a crescendo in the saga. Its rich narrative, unexpected turns, and emotional depth solidify the series' reputation as a landmark in modern fantasy literature. Reading "A Storm of Swords" is an experience, a journey through a world where every sword clash echoes and every whispered secret can change the course of history.
A Feast for Crows – An Intriguing Dance of Power, Ambition, and Survival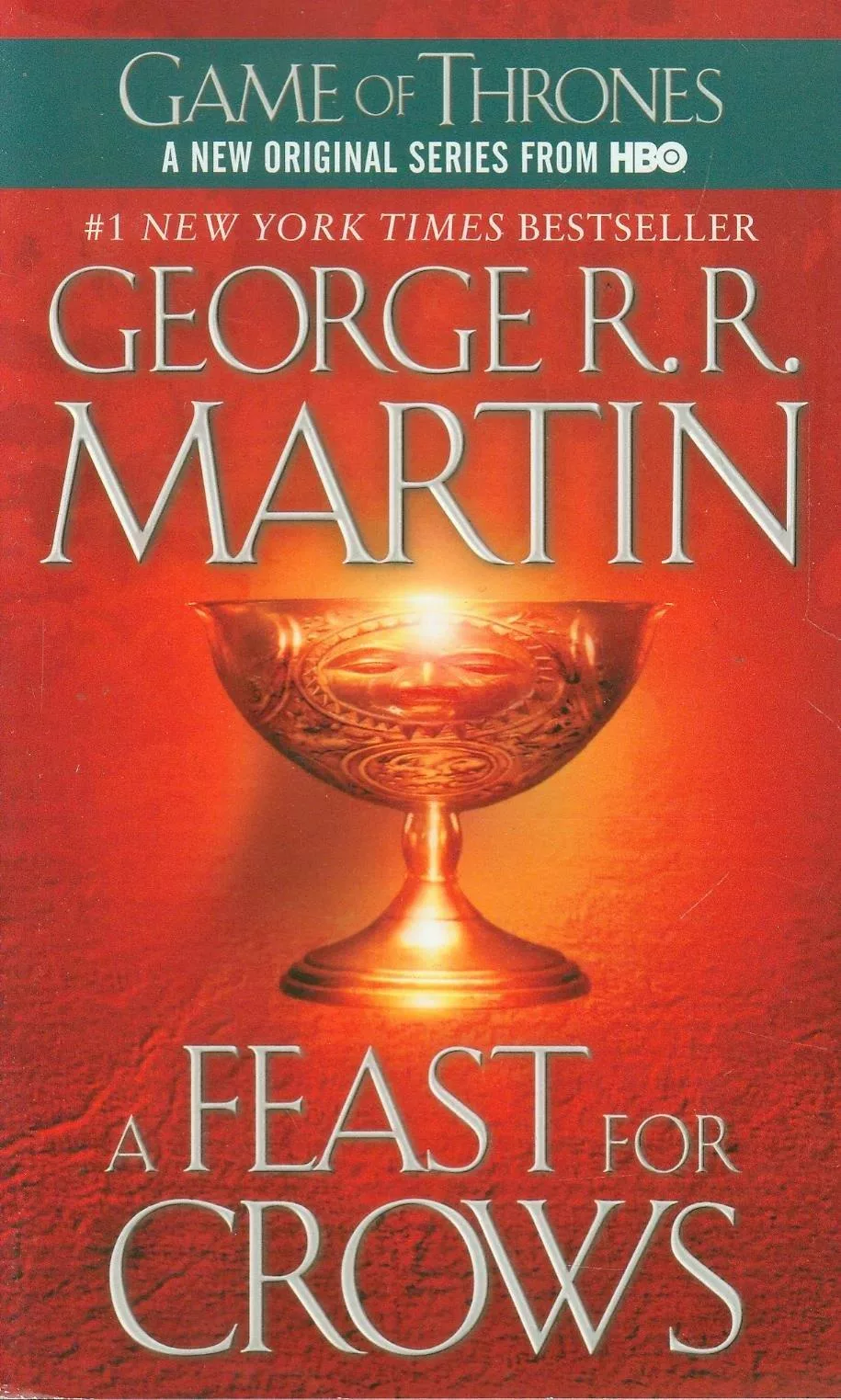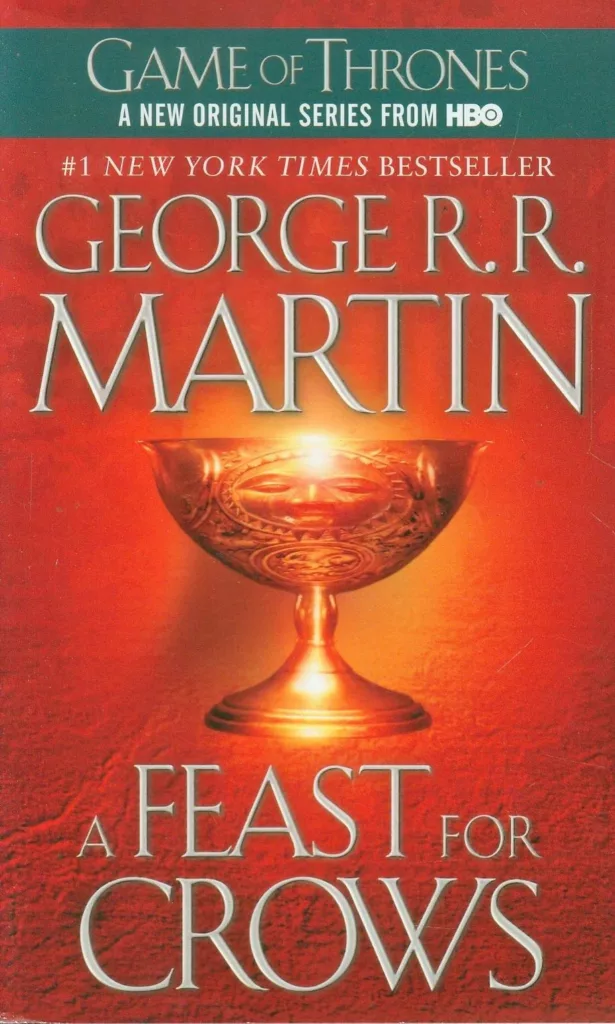 When readers decide to read Game of Thrones books in order, they'll arrive at "A Feast for Crows," the thought-provoking fourth installment of George R.R. Martin's A Song of Ice and Fire series. This book plunges us into a realm recovering from the aftermath of the War of the Five Kings, presenting a time of political chaos and jostling for power.
With the war seemingly over, Martin artfully shifts the focus to the peripheral characters, weaving their stories into the intricate tapestry of Westeros. The Iron Throne, though claimed by the Lannisters, is anything but secure. Young King Tommen finds his rule challenged by emerging religious and political forces, while the Lannister family itself is in turmoil.
Away from the capital, Sansa Stark, hidden under a new identity, becomes a central piece in Petyr Baelish's cunning plans. Across the Narrow Sea, the ambitious Daenerys Targaryen wrestles with ruling the city of Meereen and the complications of liberation.
"A Feast for Crows" doesn't simply continue the series; it enriches it, diving into themes of ambition, honor, and survival. Martin's skill in crafting complex characters and immersive world-building shines through every page. Filled with political scheming, hidden motives, and betrayals that keep readers on their toes, this installment showcases why people love to read Game of Thrones books in order.
A Dance with Dragons – Unraveling the Complexities of Power and Loyalty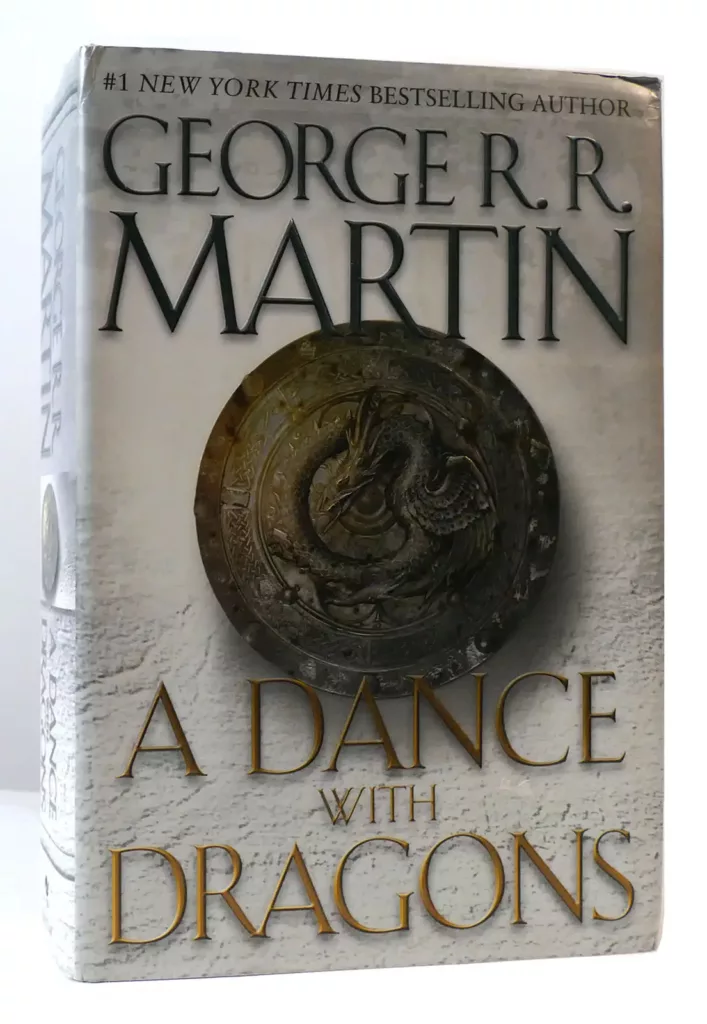 The fifth book, "A Dance with Dragons," for those who read Game of Thrones books in order, is an exciting chapter in George R.R. Martin's legendary series. This thrilling installment picks up the threads left by "A Feast for Crows" and offers an intoxicating blend of intrigue, danger, and complex moral dilemmas.
Daenerys Targaryen, exiled but never defeated, grapples with ruling Meereen, a city teetering on the brink of unrest and violence. Her desire to liberate and rule faces tests and tribulations that add layers to her already fascinating character.
The ever-witty Tyrion Lannister finds himself in unexpected captivity as he journeys to meet Daenerys, offering his unique perspective on a world in turmoil. Up north, Jon Snow, now Lord Commander, fights against both human opposition and supernatural threats. The weight of leadership presses on him as he makes decisions that resonate through the rest of the series.
As winter draws near, other characters like Stannis Baratheon and Theon Greyjoy play their part in the unfolding drama. New elements like the mystical Children of the Forest are introduced, adding more texture and depth to the story.
"A Dance with Dragons" thrives on its dynamic narrative and morally complex characters. Martin's storytelling is at its finest here, blending political intrigue with human emotion. This installment delivers a compelling read that satisfies while setting the stage for greater collisions and revelations to come.
The interplay between power and loyalty, the struggles of ruling, and the redemption of broken characters make "A Dance with Dragons" a must-read in the Game of Thrones series. It's not just a continuation but a vital heartbeat in a saga that continues to fascinate, challenge, and inspire readers across the world. If you're on a journey to read Game of Thrones books in order, the dance is far from over, and the dragons are just beginning to soar.
The Winds of Winter – A Chilling Tale of Power and Destiny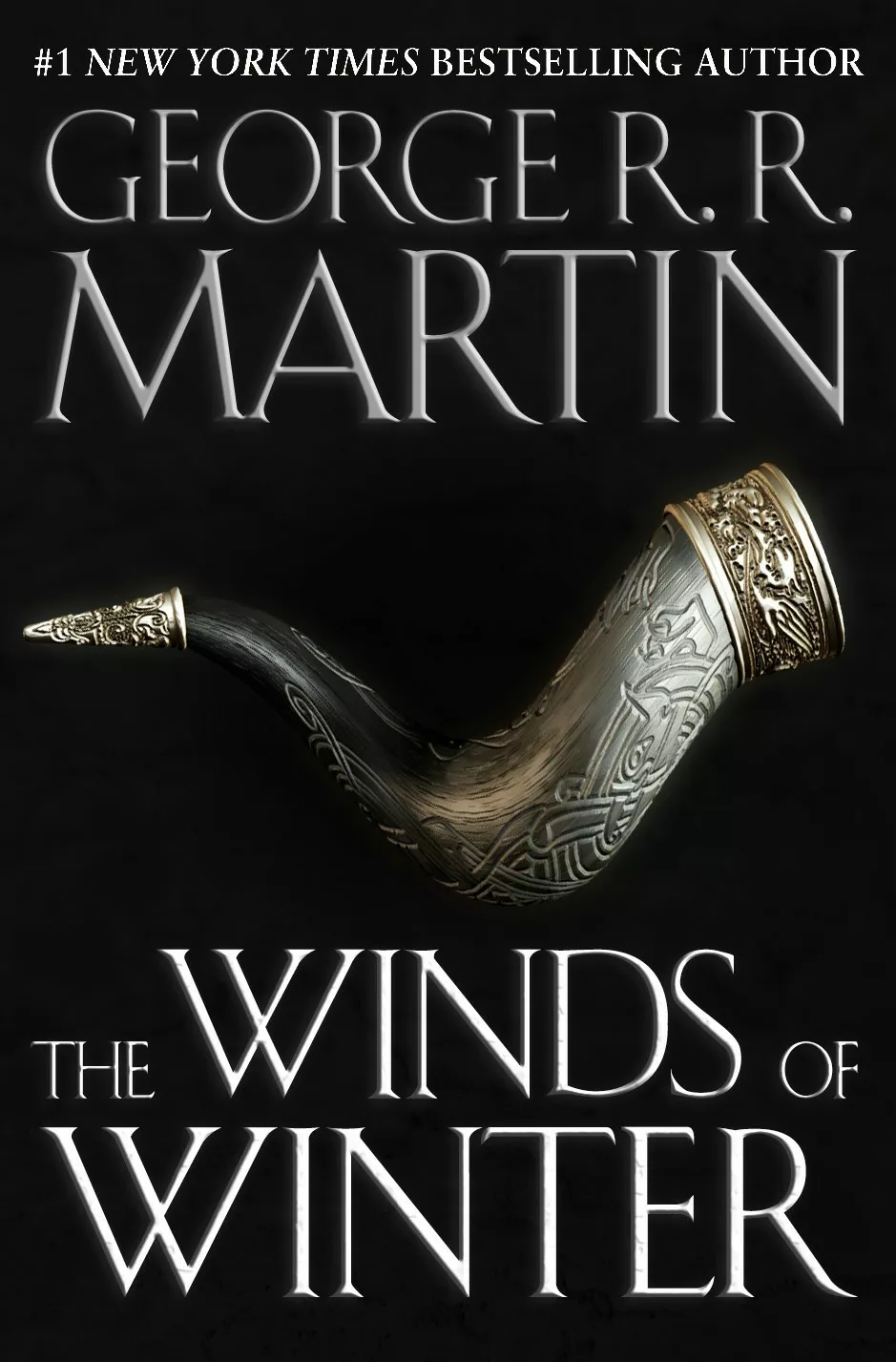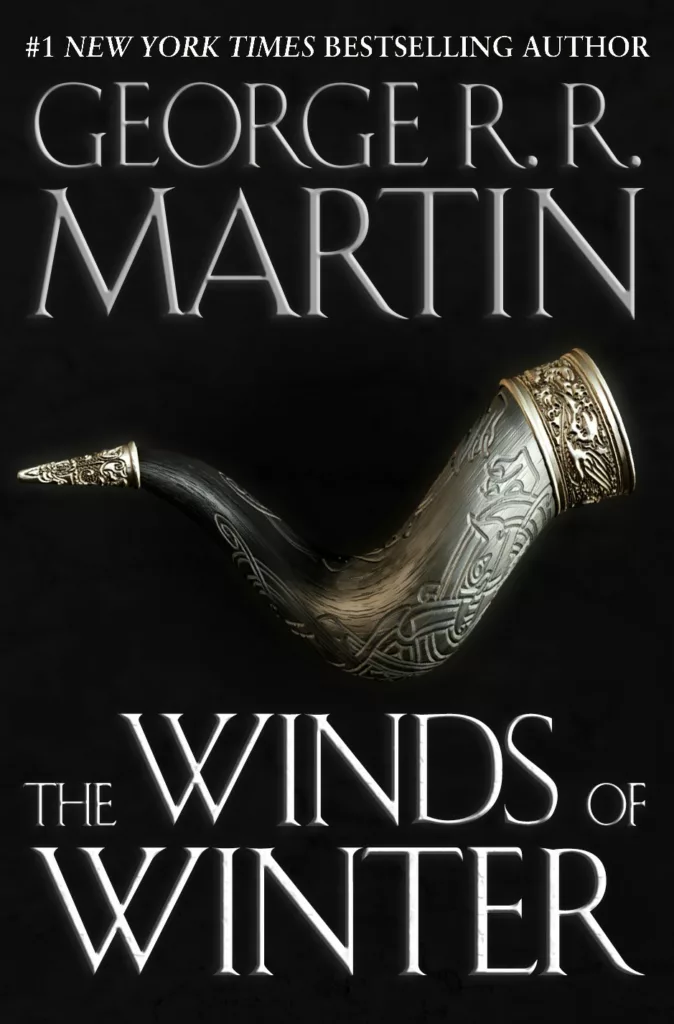 If you're on the path to read Game of Thrones books in order, the next adventure waiting for you is "The Winds of Winter." Although George R.R. Martin's sixth book in the A Song of Ice and Fire series hasn't been released yet, the anticipation surrounding it is immense. With Martin teasing some exciting details, it promises to be an extraordinary chapter in the riveting saga of Westeros.
"The Winds of Winter" will explore the dangerous power vacuum left in the wake of previous books. Westeros stands on the brink, with Cersei Lannister momentarily satisfied but clinging fiercely to her influence over a kingdom teetering on uncertainty. Her thirst for control and the intricate games of political maneuvering will surely be central themes in the story.
But Cersei is not the only one weaving the webs of fate. Tyrion Lannister, a fan favorite, will likely proceed on his destined journey east to meet Daenerys Targaryen. Her attempts to maintain peace in Meereen and her struggle with power will be another compelling aspect to watch.
Jon Snow's challenges as Lord Commander and Bran Stark's growing mystical abilities will also feature prominently. The ever-looming threat of the White Walkers and their relentless march towards the south adds a chilling tension that keeps readers enthralled.
With rich world-building, complex characters, and a plot that promises to be filled with surprises, "The Winds of Winter" is shaping up to be an essential read for anyone looking to read Game of Thrones books in order. The winter is indeed coming, and with it, a tale that could redefine the very landscape of epic fantasy.
A Dream of Spring – The Grand Finale That Will Echo Through Time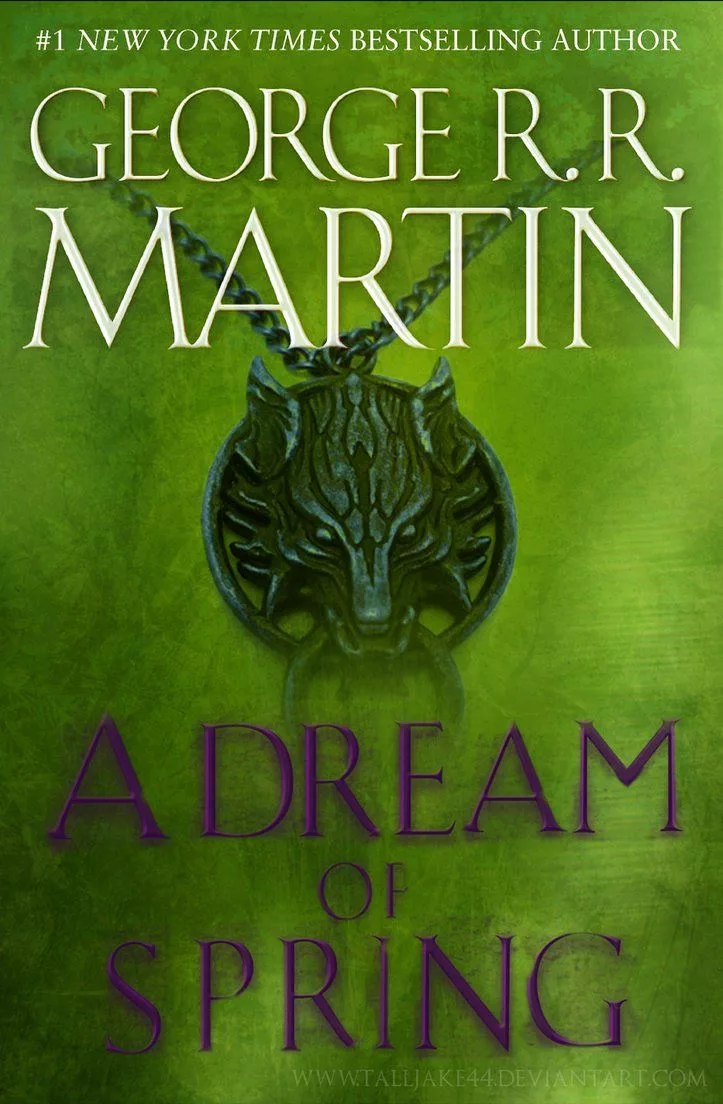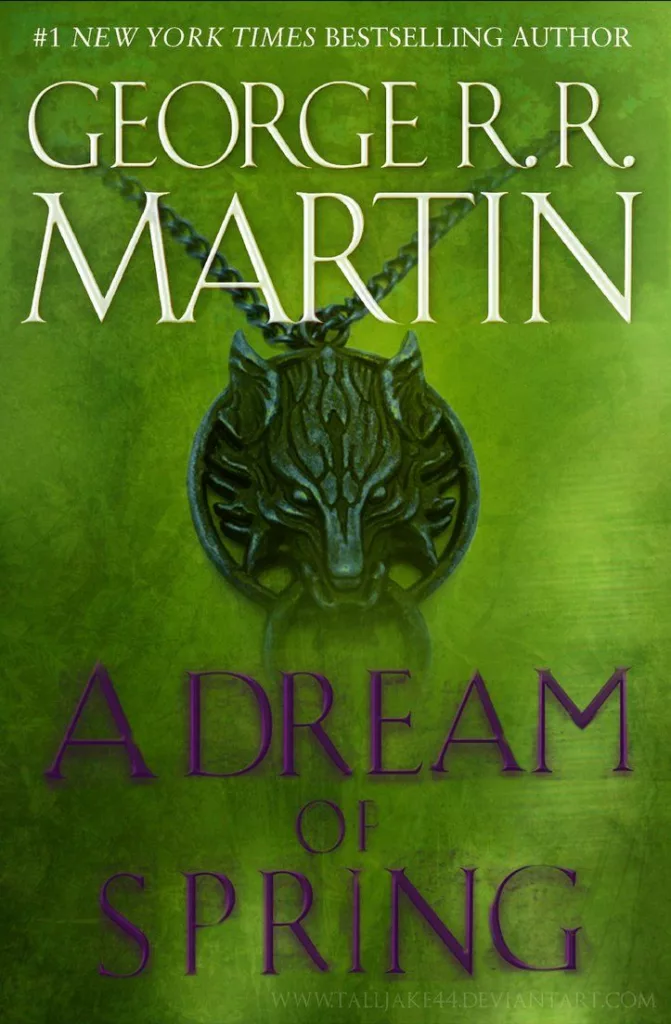 For those looking to read Game of Thrones books in order, the grand finale, "A Dream of Spring," stands as the ultimate destination. This eagerly awaited conclusion to George R.R. Martin's unmatched series will bring a sweeping end to the dramatic and often heartbreaking events that have shaped the world of Westeros.
Though the exact details of the plot are carefully guarded, there's enough information to whet the appetite of any Game of Thrones enthusiast. Winter has arrived, and the foreboding White Walkers are likely to break through the Wall, leading to an apocalyptic battle that could change the fate of humanity.
Daenerys Targaryen's path to the Iron Throne, filled with twists, turns, and monumental challenges, will come to a head. Her journey has been long and arduous, and readers will be eager to see how her story unfolds.
The surviving Stark children—Jon, Sansa, Arya, and Bran—will play pivotal roles, with reunions, discoveries, and destinies awaiting them. An epic showdown with the Lannisters, along with the resolution of cryptic prophecies like the "dragon has three heads," adds to the anticipation.
"A Dream of Spring" is more than just a conclusion; it's a promise of closure, with hard-fought victories, heartbreaking losses, and the final summations of a masterwork in imaginative fiction. It will likely be filled with the complexity, nuance, and emotional depth that fans have come to expect from the series.
As you read Game of Thrones books in order, know that the journey ends here, but the echoes of this powerful saga will resonate long after the last page is turned. With "A Dream of Spring," George R.R. Martin is poised to deliver a literary spectacle that will undoubtedly stand as a towering achievement in the world of fantasy fiction. It's a dream that readers around the world are waiting to live.