The VISCO Collection is a new retro compilation that brings together 7 little-known arcade games originally developed by Japanese studio Visco for SNK's Neo Geo hardware in the 1990s. Though not household names like Street Fighter or Mortal Kombat, these niche titles are primed for rediscovery through this digital package from publishers PixelHeart and QUByte Interactive.
The lineup provides a diverse assortment of genres to choose from. Shoot 'em up fans can blast through the horizontally scrolling Andro Dunos or the odd vertical scroller Captain Tomaday. Those who enjoy sports games have an unconventional soccer title called Goal! Goal! Goal! and two iterations on air hockey with Battle Flip Shot and Bang Bead. For platforming action, there's the ninja-themed Ganryu. Topping it off is the fast-paced isometric racer Neo Drift Out.
While some games are more fully-featured than others, they all capture that distinct arcade charm of their era. This collection not only aims to preserve these overlooked games, but also makes them newly accessible through modern platforms and online play. We'll be looking closely at each title to see how well they hold up today and assessing if this blast from the past is worth revisiting for both retro enthusiasts and newcomers alike. By spotlighting some hidden gems, the VISCO Collection hopes to provide a dose of nostalgia while potentially creating new fans eager to try out these unearthed classics.
Blasting Off With Andro Dunos
First released in arcades in 1992, Andro Dunos is a classic side-scrolling shoot 'em up from Visco's catalog. As is typical of the genre, players control a spaceship and blast through hordes of enemies while dodging and weaving through incoming bullet fire. The objective is to make it to the end of each stage while racking up points and defeating bosses.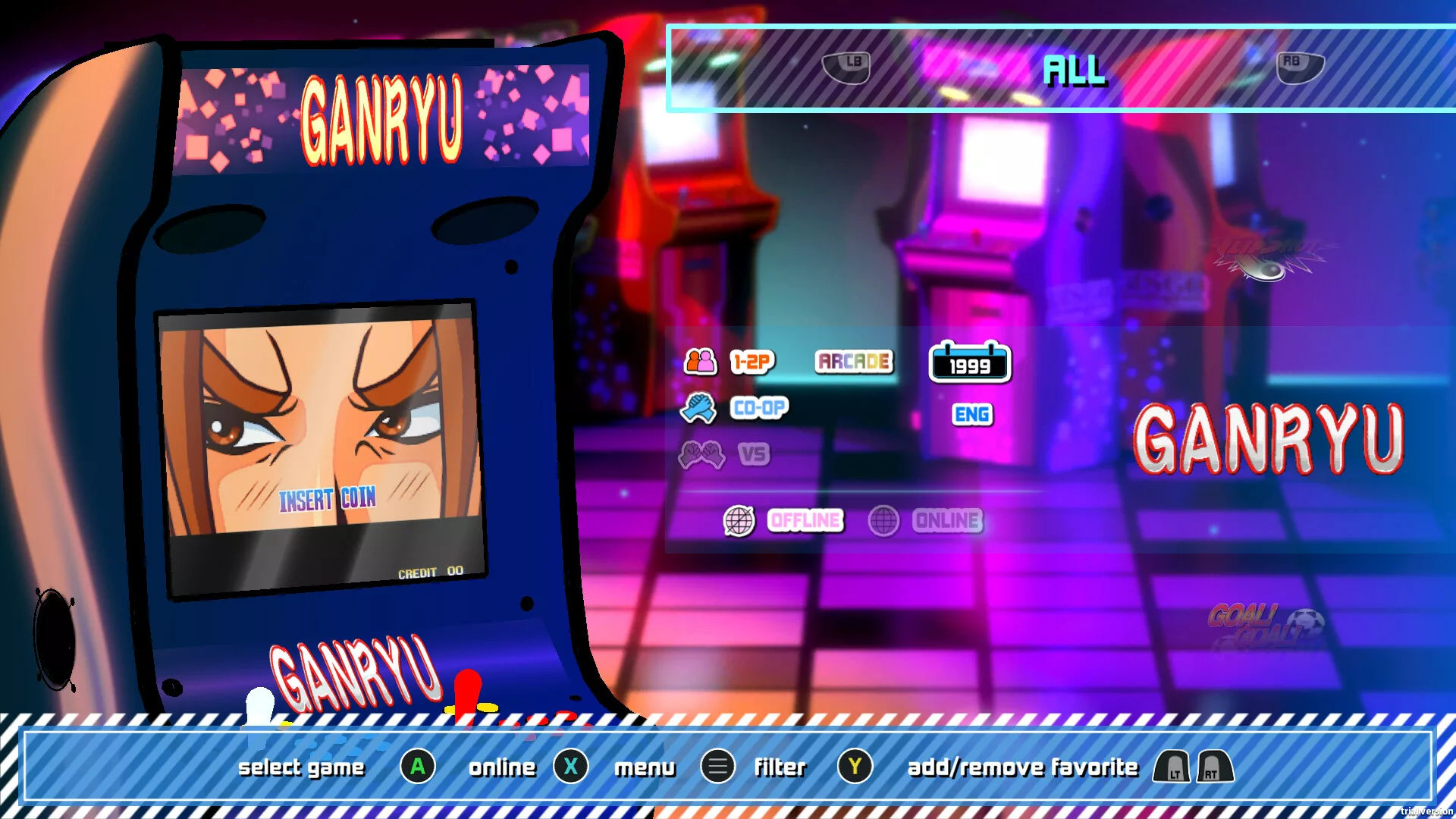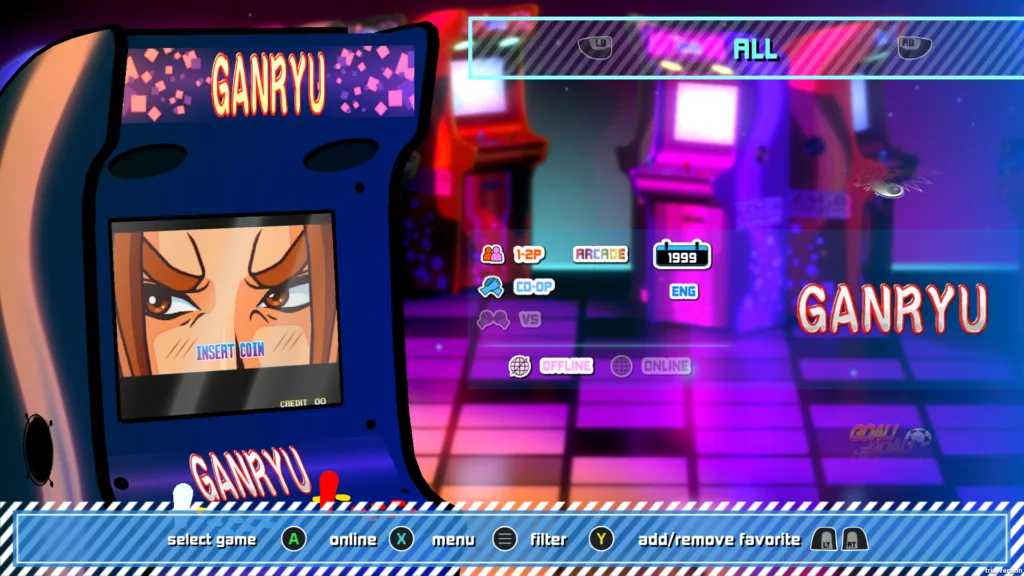 With its colorful, detailed pixel art sprites and backgrounds, Andro Dunos stands out as one of the more visually impressive titles in the collection. The graphics hold up remarkably well and convey a polished science fiction atmosphere. Complementing the visuals is a catchy, upbeat soundtrack that fits the fast-paced action nicely. Controls are responsive and make maneuvering your ship intuitive. The default mapping of an autofire button is a welcome addition as well.
Where Andro Dunos excels is in its smartly designed weapon system. Unlike other shooters where power-ups just increase your firepower, here you start with access to all weapon types and collect pods to upgrade them individually. There are lasers, homing missiles, and wide shot options to switch between. Managing energy reserves and utilizing the right tools for different situations adds a layer of strategy.
The stages also shake up the standard formula with some interesting mechanics like rotating bits that alter enemy patterns. Some genuine challenge is present with the tough but fair boss battles that test your ability to dodge and find openings to strike. From start to finish, Andro Dunos provides classic shmup thrills with just enough unique personality to stand apart. It established Visco as quality contributors to the 2D shooter genre and holds up remarkably well today as an engaging arcade experience.
Ninja Action With Ganryu
Released in arcades in 1999, Ganryu is a side-scrolling hack-and-slash platformer with a feudal Japanese setting. Players take control of a ninja who must fight through perilous stages using a sword and grappling hook. Enemies include assassins, warriors, and mythological creatures from Japanese folklore.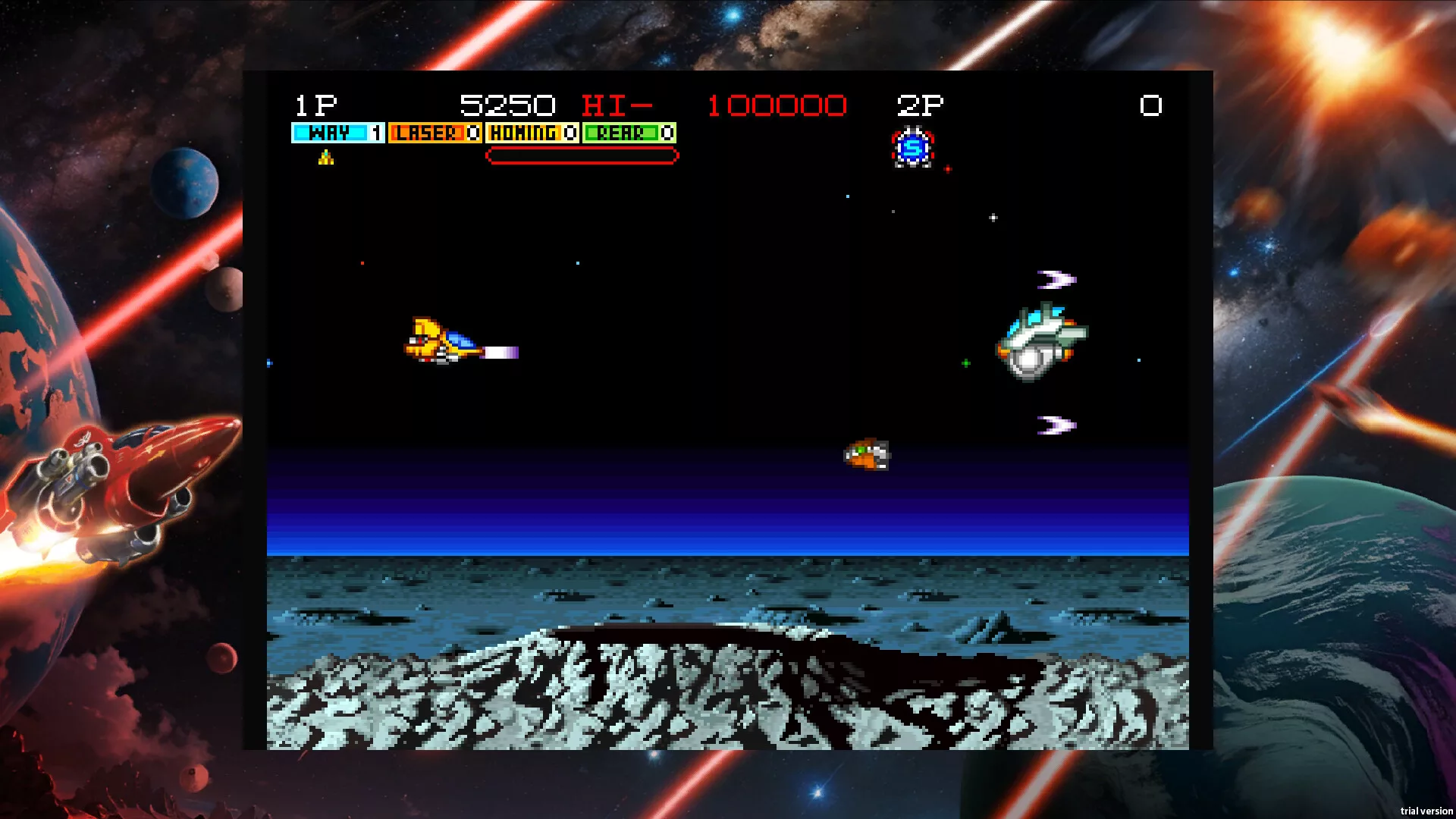 With detailed sprite work and colorful, varied environments, Ganryu is a visually impressive game. The animation is also smooth, bringing the ninja protagonist and enemies to life. Unfortunately, the controls feel somewhat stiff, which hampers the platforming. Movement and jumping feel rigid rather than graceful. Attacks with your sword are satisfying but the lack of a dash ability is a glaring omission.
Despite control issues detracting from the experience, Ganryu does offer some nice variety in its gameplay. Levels feature multiple paths to explore with secret items and hostages to rescue. The grappling hook allows you to traverse gaps and reach new areas. Boss battles provide a challenge as you learn patterns and look for openings. It's clear the developers were trying to create an ambitious ninja-themed adventure but fell short of platforming greatness.
Still, there is fun to be had with Ganryu, especially from a visual standpoint. The production values are impressive even if the gameplay isn't as finely tuned as the best of its genre. It's a textbook case of style over substance – pretty but problematic. For those seeking a historically-rooted take on ninja action, however, Ganryu provides some replayable arcade enjoyment.
Competitive Arcade Sports With Flip Shot and Bang Bead
Flip Shot (1999) and Bang Bead (2000) are takes on competitive air hockey from Visco that foreshadowed modern indie sports hits like Windjammers. The goal is to smack an ball back and forth until breaking through your opponent's defenses to score. Bang Bead served as a sequel that expanded on the original concept.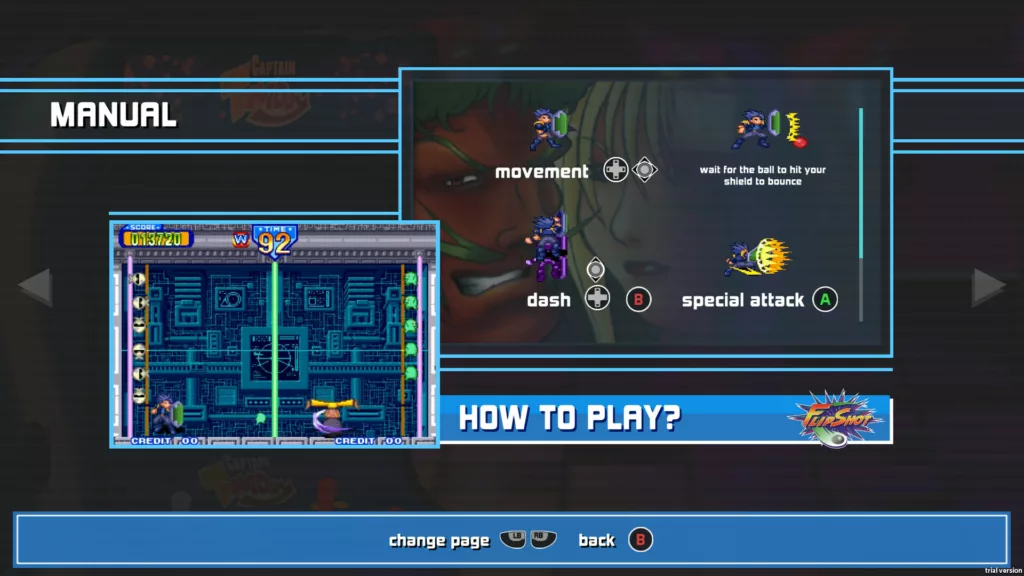 Flip Shot plays out on a futuristic table with players deflecting the ball off walls and their shield. Timing button presses allows you to put spin on returns or hit powerful slam shots. Each character has unique attributes to suit different playstyles. Bang Bead adds more characters, stages, and abilities – including curved shots and invisibility power-ups during matches.
Both games shine in frantic head-to-head multiplayer, which is supported locally or online. The back and forth pace mixed with the mind games of using special shots and anticipating your opponent's returns make for engaging matches, especially in Bang Bead. It perfected the formula with more varied strategy and showmanship.
Visco succeeded in crafting an inventive sports arcade experience that has aged wonderfully. The tactical play combined with over-the-top stylistic flourishes give these games a distinct charm while still rewarding skill. Flip Shot and Bang Bead are hidden gems in this collection that feel primed for a resurgence thanks to their stellar competitive modes. Any fan of retro arcade classics owes it to themselves to give these quirky sports titles a look.
Bizarre Blaster Captain Tomaday
The most offbeat entry in the VISCO Collection is the 1999 shooter Captain Tomaday. As the name implies, players take control of a sentient tomato wearing a superhero outfit. Gameplay takes place in vertical scrolling stages where you fling your detachable fist weapons at swarms of incoming enemies.
With its cartoonish art style and kiddy theme, Captain Tomaday looks like an edutainment game rather than a pure arcade title. The colorful, innocent appearance belies a challenging difficulty curve that can feel punishing at times. Enemies come in relentless waves with hazards depleting your limited health swiftly. Some balancing tweaks could have helped make progression feel fairer.
Still, there is a method to the madness in Captain Tomaday with its power-up system adding depth. Collecting icons transforms your hero into new forms with upgraded abilities. There are 16 possibilities in all, including a tomato mech suit or a strawberry girl with a wand. Managing power-ups while avoiding attacks keeps you engaged. Overall, Captain Tomaday is a quirky curio in the collection – bizarre but with hints of a rewarding scoring challenge for determined players.
Arcade-Style Soccer With Goal! Goal! Goal!
Goal! Goal! Goal! is Visco's arcade soccer game released in 1995, pitting teams of 11 against each other. Choose your country and hit the field for an experience distilled purely to scoring goals without fouls or set plays.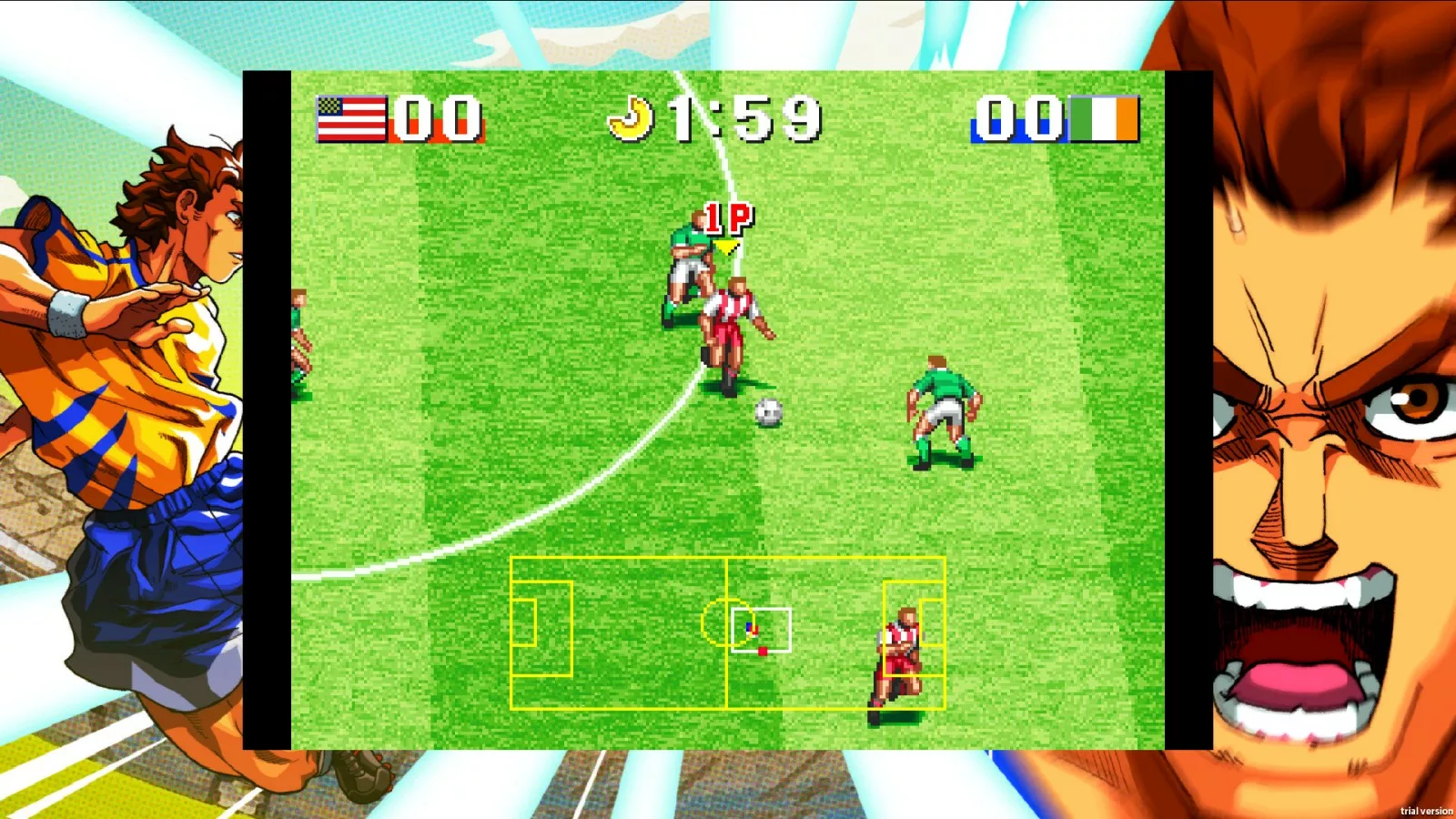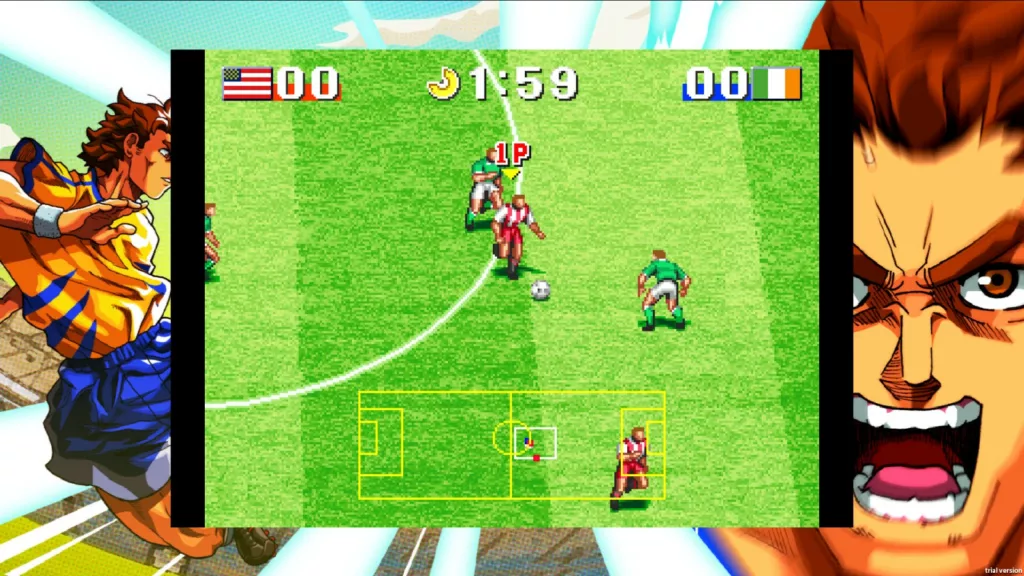 Gameplay is fast and loose – players quickly move up and down doing diagonal runs and big kicks. Shots on goal are done automatically when near the box. Passing and tackling are present but very basic. Matches are under 3 minutes and tend to end with basketball-like scores.
Despite the simplistic take, Goal! Goal! Goal! evokes the pace and excitement of real soccer. The lack of fouls or penalties keeps the action flowing. It captures a frenetic version of the sport perfect for quick head-to-head matches. While it lacks depth, its over-the-top, high-scoring gameplay loops retain a nostalgic arcade charm. For fans of vintage arcade sports action, Goal! Goal! Goal! is a novel inclusion in the compilation.
Pedal to the Metal With Neo Drift Out
Originally released to arcades in 1996, Neo Drift Out is a fast-paced overhead racing game with a focus on drifting mechanics. Players choose from three licensed rally cars then burn rubber through treacherous winding courses viewed from an isometric angle. Completing stages quickly while maintaining control around tight turns is the key to victory.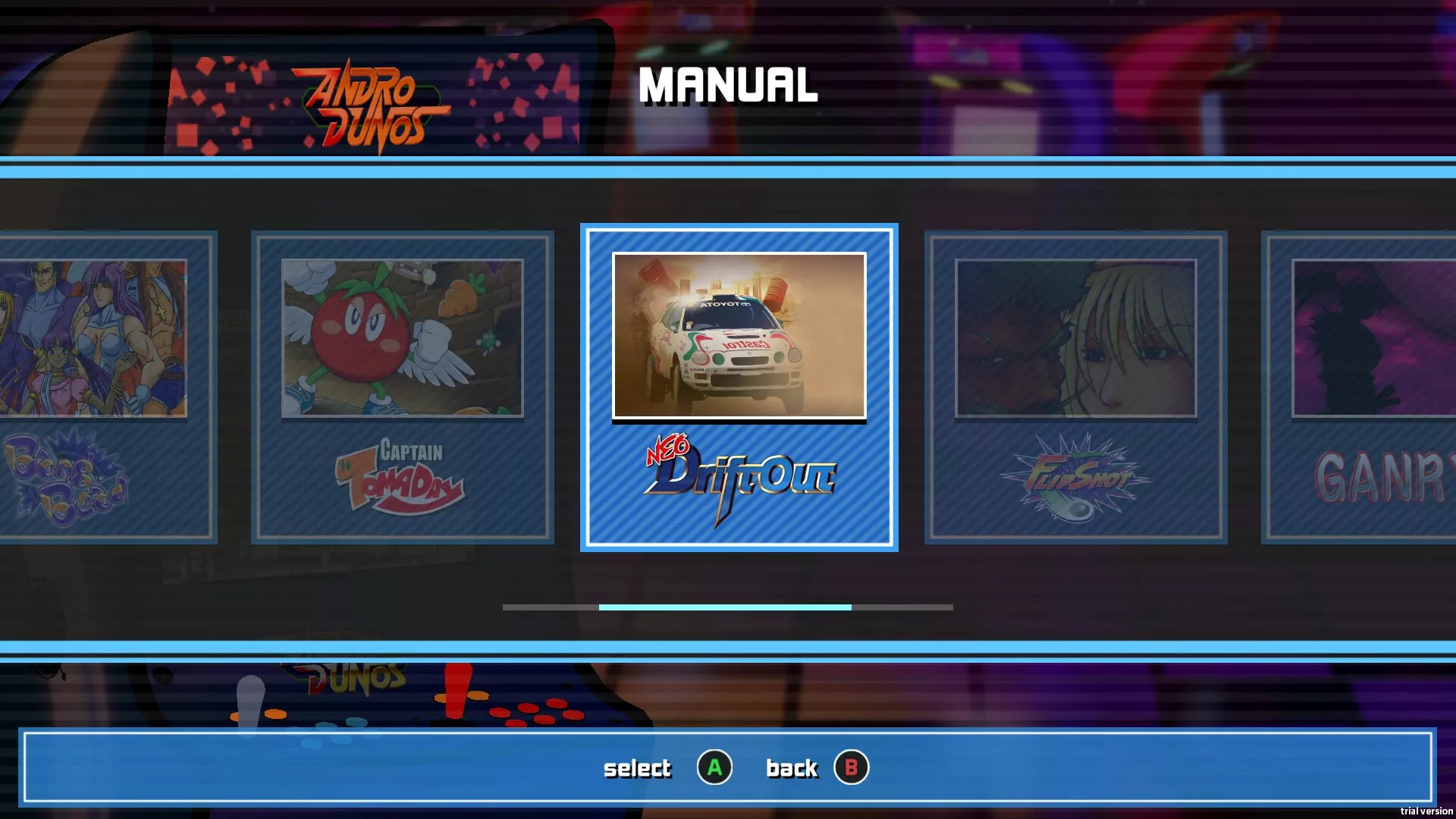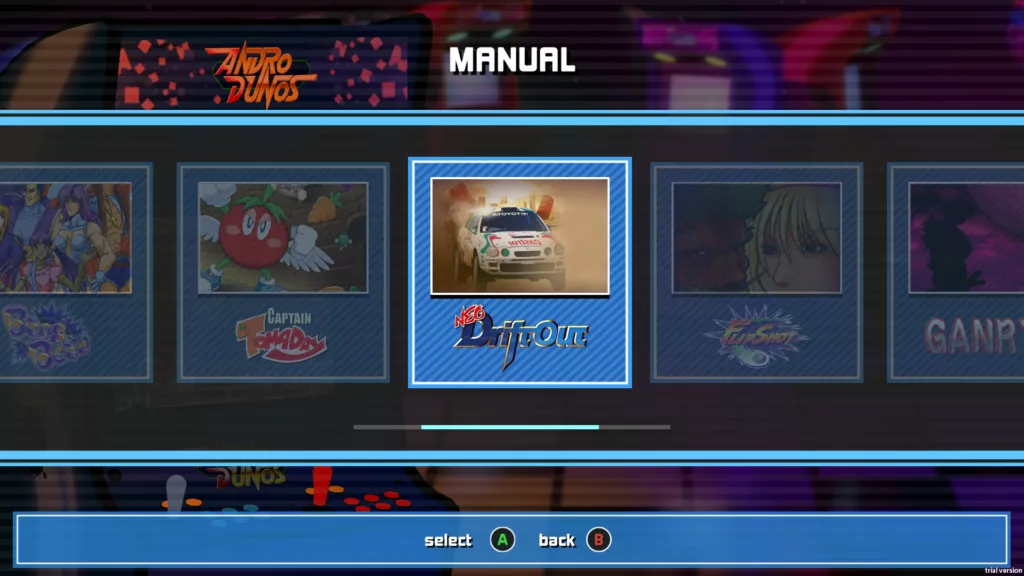 With its scaled-down view of the action, Neo Drift Out convincingly conveys a sense of speed. Your car zips along at a breakneck pace as the track zips by sharply. Finding the right drifting angles to handle hairpin turns takes practice but feels great once mastered. The drift-centric gameplay gives the racing a uniqueness compared to more simplified arcade contemporaries.
Complementing the gameplay is a visually impressive polygonal look. The cars and environments pop with detail and lend an enhanced realism. Neo Drift Out came late in the Neo Geo's lifecycle and demonstrates the hardware's capabilities. The presentation aligns with its fast-paced feel.
While the single player mode provides plenty of challenge, Neo Drift Out also shines as a multiplayer experience. Going head to head with a friend compounds the intensity. Trading paint while jostling for position will keep you on the edge of your seat. It's a shame online play wasn't included but the local multiplayer should not be overlooked.
For arcade racing fans, Neo Drift Out is easily one of the most compelling entries in this compilation. It provides a singular focus on drifting nuance in a quick-burst solo or competitive format. The sharp sense of speed combined with engaging handling make this one ride worth taking again and again.
Digging Into the Collection Itself
While the individual games included in the VISCO Collection provide a diverse sampling of arcade experiences, evaluating the compilation itself reveals thoughtful care but a lack of bells and whistles found in other retro collections.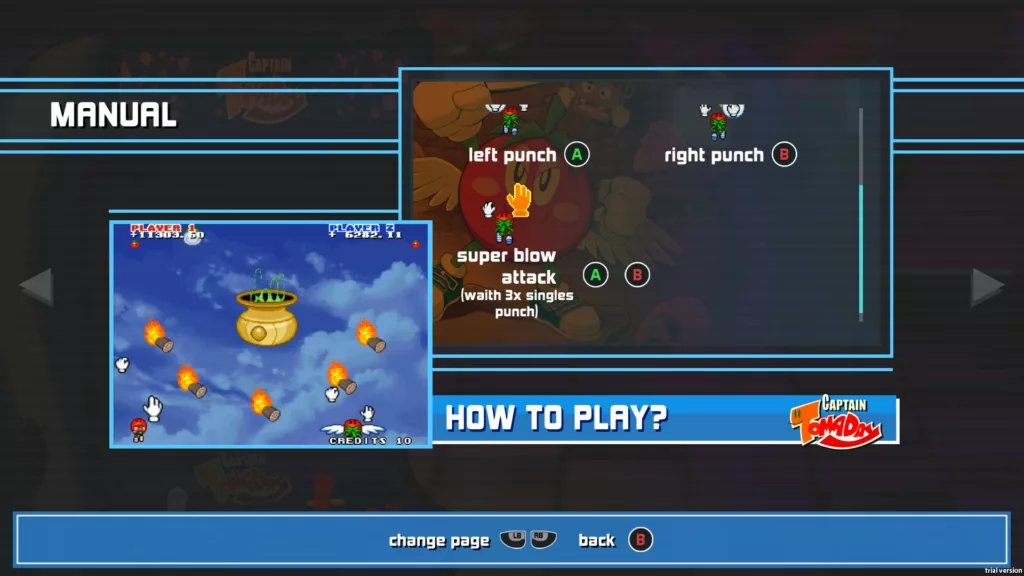 Emulation appears accurate across all titles based on original hardware. The games run smoothly with no noticeable issues. Visual filters are limited to a single nicely done CRT mode that mimics scanlines and curved screens. The lack of customization options is disappointing but the default filter suits the retro aesthetic. Sound emulation is also faithful but the volume starts noticeably low even at full settings.
The frontend interface opts for simplicity over flashiness. Games are selected from an animated arcade cabinet with minimal menus. Each title features helpful details like multiplayer options and online compatibility. This streamlined presentation matches the no-frills approach of the overall package.
And therein lies the biggest distinction between the VISCO Collection and other retro anthologies – the lack of supplementary materials. There are no digital manuals, artwork, or soundtrack options. The games themselves are presented well but beyond that this compilation is bare bones.
However, the online multiplayer integration helps offset the missing extras. The ability to play games like Andro Dunos, Flip Shot, and Bang Bead online against others is a huge feature for longevity. Local co-op and competitive modes are also seamlessly supported.
Given the low asking price and focus strictly on the games, the VISCO Collection seems aimed squarely at diehard arcade fans versus casual retro enthusiasts. Those seeking unheard of classics to experience and take online will find excellent value here. But folks wanting a deep dive into history and extras may come away disappointed. Ultimately the smart online play earns back points lost from missing content.
Final Thoughts on This Arcade Anthology
In the end, the VISCO Collection will appeal most directly to diehard arcade game fans versus casual retro enthusiasts. The curated selection spotlights some under-appreciated games from veteran Japanese studio Visco that showcase the diversity of genres and gameplay experiences possible even with limitations of 1990s arcade hardware.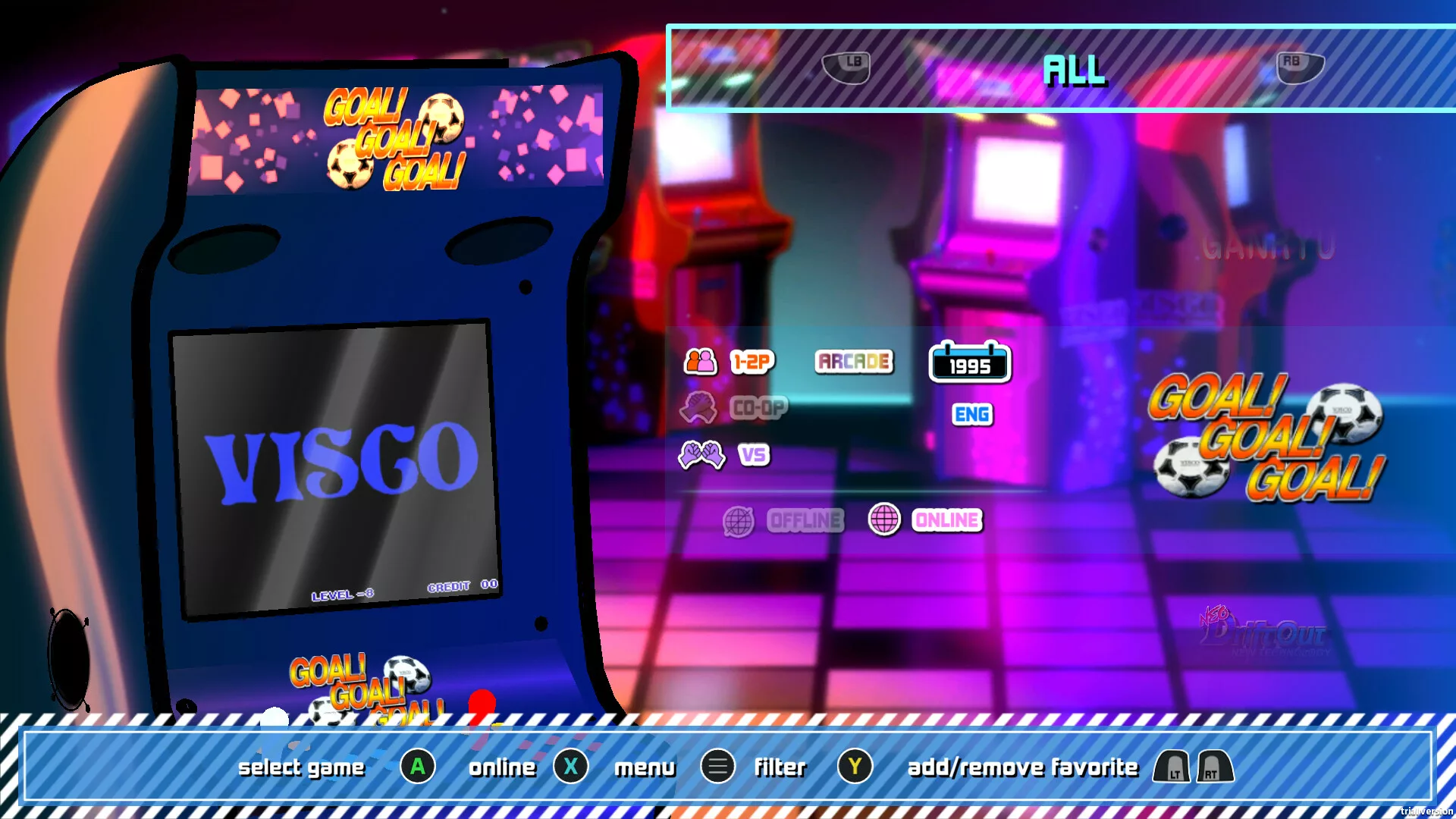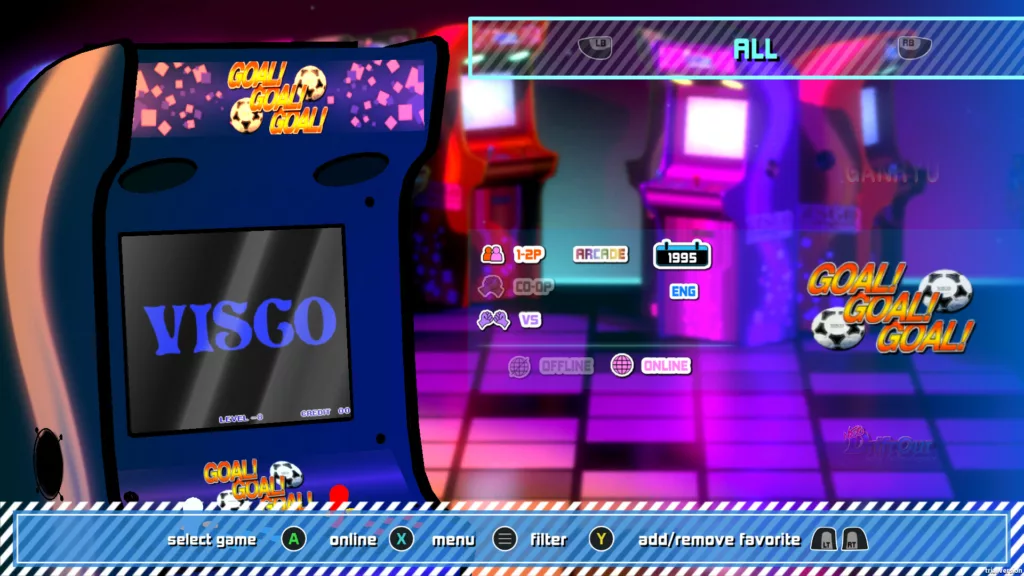 Shooters like Andro Dunos provide intense space blasting action. Quirky games like Captain Tomaday offer their own bizarre charm despite uneven difficulty. And the competitive multiplayer focus of the package brings both classics like Neo Drift Out and hidden gems like Flip Shot and Bang Bead online for all to enjoy.
However, those seeking a more comprehensive documentation of gaming history may come away disappointed. The lack of supplementary materials like digital manuals, concept art, or soundtracks makes this compilation feel bare bones outside of the games themselves. It focuses on delivering the core arcade gameplay experiences accurately and not much else.
But for the target demographic of retro arcade fans eager to rediscover lost classics, the VISCO Collection hits the mark. It digs up niche titles and makes them easily accessible through modern platforms, 40 years of progress be damned. The ability to play online against others extends the enjoyment tremendously. As long as your expectations align with the straightforward approach of faithfully presenting the games, it's hard to find much to complain about.
In the end, I walked away impressed by the diversity and general playability of each entry. And despite the lack of bells and whistles, the package delivers where it counts most – capturing that authentic arcade spirit through impeccable ports. Passionate retro gamers absolutely should give the VISCO Collection a look, especially for the multiplayer integration. Just be aware it prioritizes function over flash and aims to please a niche audience. Within that target scope, it provides a delightful blast from the past.
The Review
VISCO Collection
Though light on extras, the VISCO Collection succeeds as an arcade anthology by spotlighting underappreciated classics and making them accessible through flawless emulation and online play. Retro fans will find excellent value in this focused package.
PROS
Includes a diverse selection of classic arcade genres like shoot 'em ups, platformers, sports games, and racers
Excellent emulation and ports of the original games
Smooth performance and controls
Online multiplayer support for most games
Local co-op/competitive multiplayer options
Attractive CRT filter visual option
Very affordable price point
CONS
Small overall selection of just 7 games
Lack of supplemental materials like manuals, concept art, etc.
Light customization options for display filters/visuals
Quiet default audio even at full volume
No way to tweak game settings or difficulty
Some titles feel generic or flawed in design
Missing some of Visco's more well-known arcade releases