Lord knows Ethan Winters and his wife Mia have had enough: Following the torture in Resident Evil 7: Biohazard, the couple look for an isolated country house, and their baby Rosemary is a spark of hope in the trauma that keeps tormenting the small family. However, you already know: the paradise falls apart when BSSA Captain Chris Redfield storms the apartment with a squad and shoots Mia.
But why? After Ethan wakes up wounded and alone, there are several questions to be answered. But the most pressing: where is his daughter Rose? And why, for God's sake, does he have to suffer again?! Stay tuned to read our Resident Evil Village review.
Fully-packed graphics dinner, with ray-traced eye candy for dessert
The Resident Evil Village is one of those kinds of games that you'll find yourself repeatedly pausing to snap a photo. Using ray tracing technology to make light appear as realistic as possible, water drips off the dank, icky cave walls; gold frames on expensive pictures gleam with value, and worms in soup look as delicious as you can imagine. Everything that Resident Evil 7 could already offer you becomes even prettier in Resident Evil 8 and unfolds its full effect as soon as you start stumbling into the adrenaline-pumping boss fights.
By comparison, I'm playing Resident Evil 8 on the PlayStation 5, and you can expect slightly weaker graphics on the PS4, and the same on the Xbox One. On a well-equipped PC, you should be able to enjoy the beauty of the game even more.
Apart from that, it's a continuation of Resident Evil 7: In addition to the pure visuals, you can also expect a direct follow-up to the seventh part of the series in terms of gameplay. The inventory is not the only thing that reminds us of it, but also the game world's equipment, the enemies, the objects, the weapon handling and the omnipresent gameplay.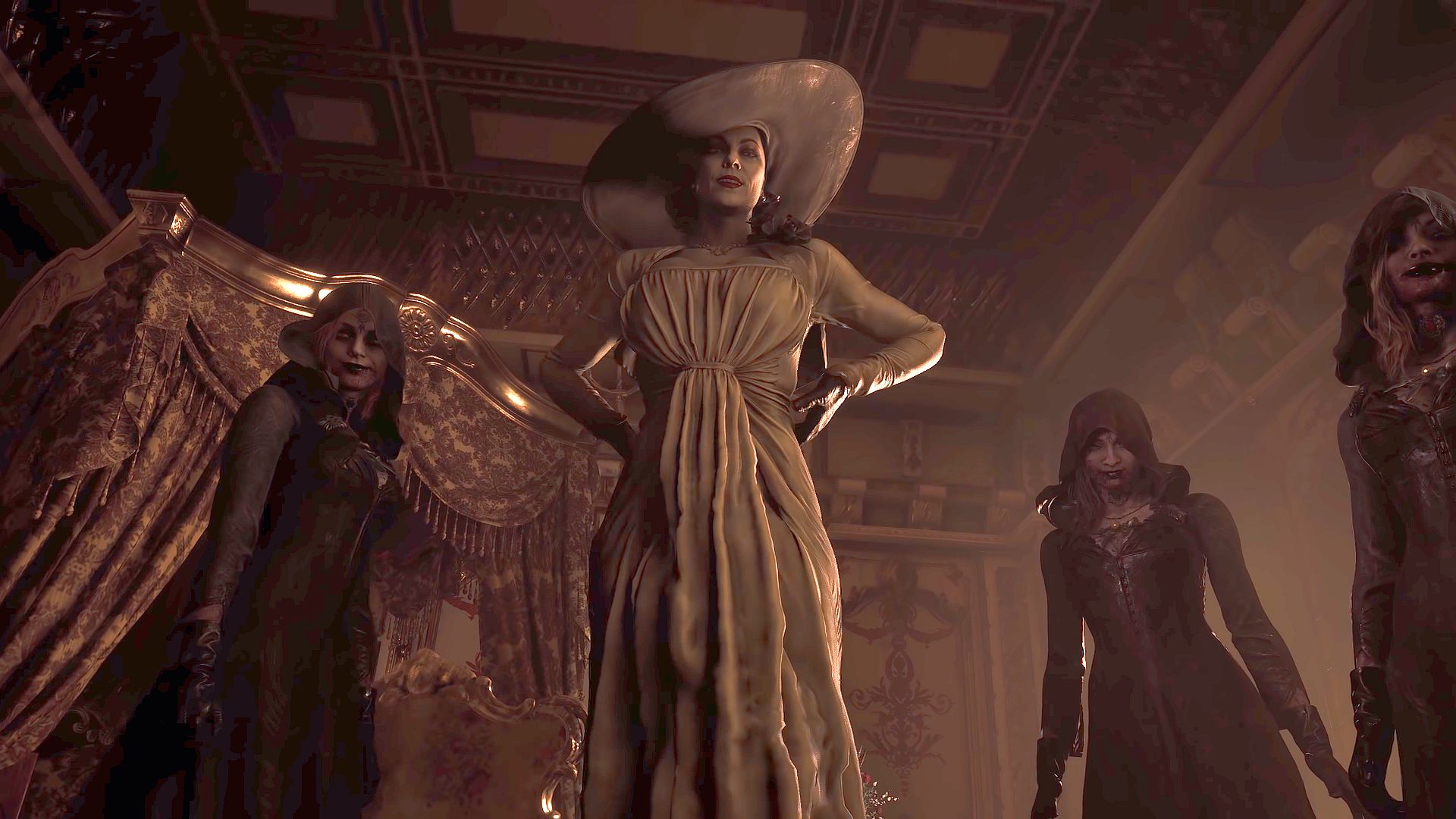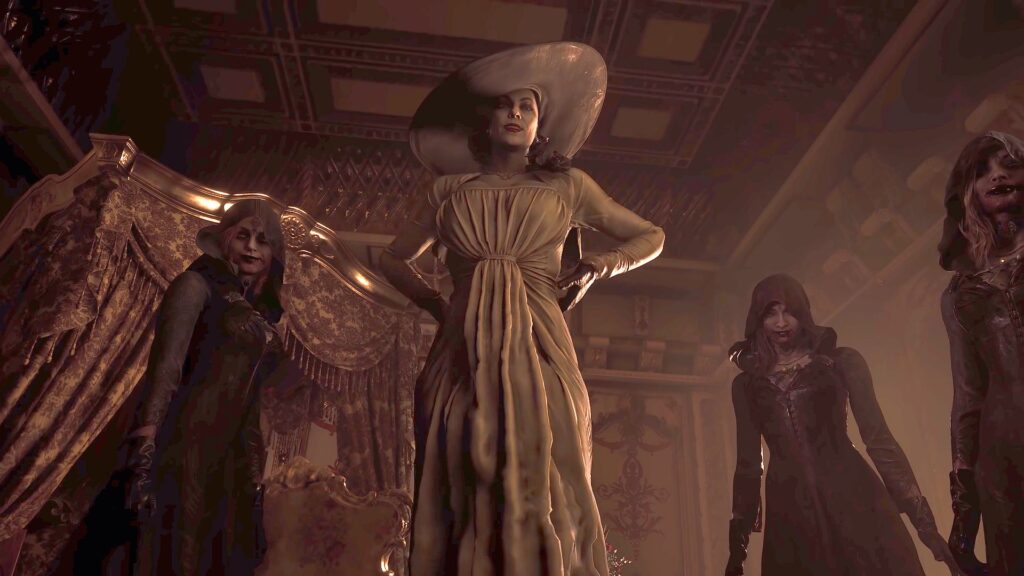 Which in my eyes was a wonderful decision on the part of the developer Capcom: as the game climbs up the graphics stairs, Resident Evil Village feels a bit like you've just played through RE7 and are now – a few years later in the story – suffering further. Probably many of you have just been waiting for this. Myself included.
A horror spectacular that's bizarre enough to be fun as hell
Let's not be fooled: Just like Resident Evil 7, Resident Evil Village doesn't try to create a reality-based horror scenario. Rather, the lust for carnage triumphs over rationality, just as lustful, cathartic gameplay prevails over real-world scenarios. Just how Ethan survives it all? Well, who knows, never mind! Similarly, the partly re-visitable maps become lovingly designed labyrinths in which you search for hours for the last hidden treasures.
Based on the principle of Metroidvenia games – in the broadest sense – only hurdles stop you within the maps, which you will break through one after the other in the course of the game. Bottom line: You don't have to crawl all the way to the last crack, but it will help you in the gut-splattering battles without question. Also, it's quite satisfying if you like this kind of character development.
As such, the game design is one of Resident Evil Village's greatest strengths. I can't stress enough how much fun collectors are allowed to have here, as well as how pointedly Resident Evil Village rewards you over and over and over again. As Ethan grows immensely on his opponents, he still remains the little human that can be tossed around like a bleeding soccer. And you will feel every impact, dear splatter fans.
Also: you can expect an extreme story that you just want to finish. It's just that Capcom is not afraid to go to extremes. If you thought "WTF?!" during the last boss fight of RE7, you will experience some déjà vu in Resident Evil Village. I myself felt driven to get behind the mystery of Baby Rose and this cursed village just by the absurdity of the spectacle. That doesn't mean that the story with its twists doesn't make sense – it does, at least in the insane Resident Evil universe.
Similar, yet so different: crafting, hunting, trading, puzzling
Although Resident Evil Village is similar to its predecessor, some gameplay dynamics change – not always for the better, but most of the time. With the impressive Duke, you'll meet a traveling merchant who has some nice things in store for Ethan. Moreover, he appears from time to time as an advisor and thus moves the straightforward story forward. Do you remember Resident Evil 4? If so, you know that a merchant like the Duke isn't entirely new to the Resident Evil universe.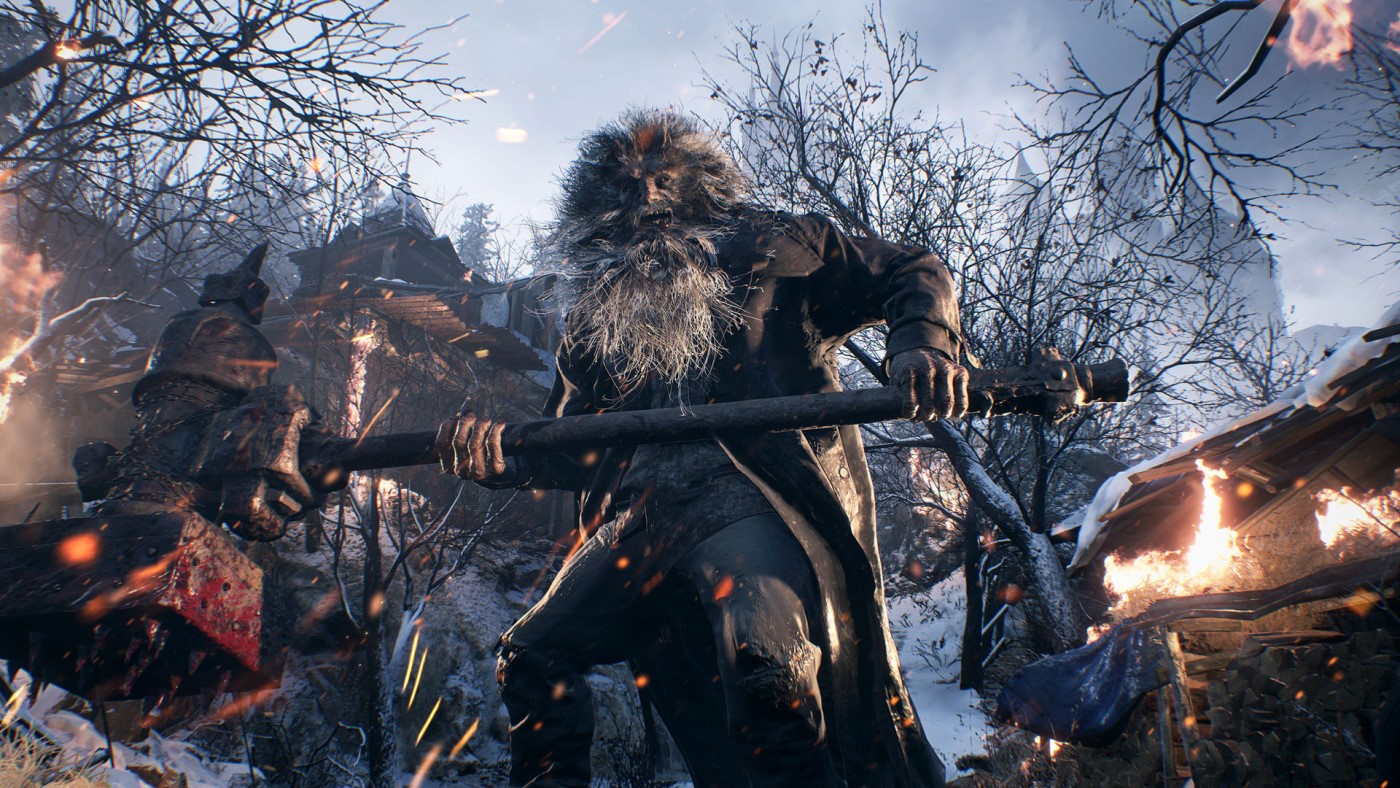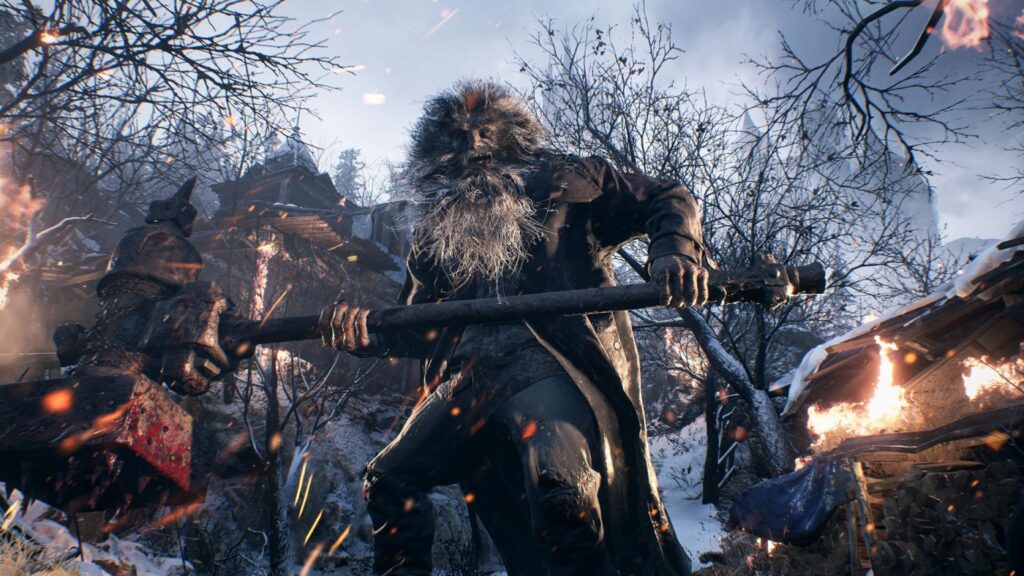 Also the crafting system has been reworked. You'll be able to craft more, but unfortunately it happens at the touch of a button: you'll no longer combine individual things when crafting, which scratches a bit of the strategic search for materials. To put it briefly, it's easier and faster, and thus less tricky. Sadly, the 'Easier and faster!" premise runs through several levels of gameplay.
The ability to hunt is also new. Which is not to say that actual starvation mechanics or anything like that have been implemented. As before, survival in the game is limited to Ethan's survival only.
Besides screeching action and breathless reloading of your weapon, in combat you'll also be able to move certain pieces of furniture to block entrances. Furthermore, puzzles await you again, but their level of difficulty won't overwhelm your grey cells. Which is a pity and gives the slimy-bloody Resident Evil Village stew a slightly bitter note.
The best, the good and what's missing
There are tons of things and incidents that you can discover in the winding, beautiful maps of Resident Evil Village – ranging from shock moments, mountains of corpses to the sadistically bizarre story of the game. However, I won't spoil it for you; for a deeper look, you can check out Resident Evil Village's gameplay trailer or play the PS5 demo yourself. And don't worry: Resident Evil 8 has a lot more up its sleeve than what you can admire in both.
There is a question that's on everyone's minds. Among all the dazzlingly fantastic action, is it still scary enough? Actually, I can finally answer that question for you: it is. While you' re sneaking or running through this crazy world, consistently horrendous passages are waiting for you, which suddenly conjure up very quiet terror. This is a purple mix that relies more on moments of disgust and panic, but can also really scare you.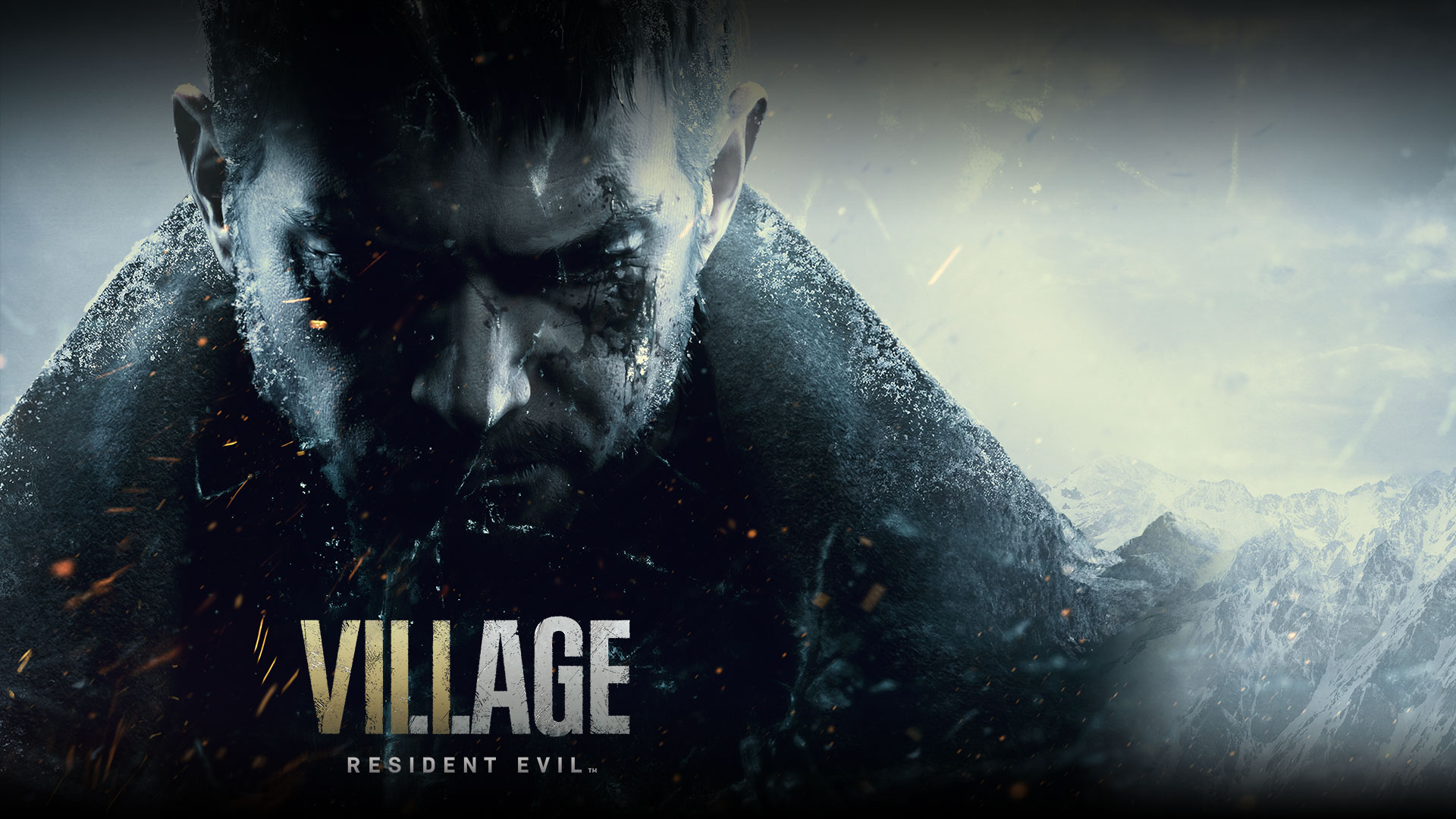 In addition to the game design, which I have now praised enough, there is also one thing that Resident Evil 8 lacks at times: difficulty. Playing on Normal, you can expect more frustration if you go straight to Hardcore. However, the fact is that you rarely get the feeling of being completely lost: The most important puzzles are rarely difficult, crafting is automatic at the touch of a button, and enemies are easier to trick than I would have liked.
Although boss fights require more patience, all in all the entire game doesn't seem to want to put too many hurdles in your way. There is even no shortage of ammunition if you are halfway strategic – and dogged endless loops of fights that you lose over and over again are rather absent. What a pity! Capcom doesn't trust you with much anymore, which makes victories less satisfying, though. Fortunately, different enemies have different weak points, so you won't have to just shoot around.
Conclusion: Morbid enough to promote maximum motivation
After a somewhat slow start, the absurdly gruesome story along with Ethan's bloody ordeal sucked me in and wouldn't let me go: Capcom has not told you the best parts in any trailer; namely, those that I also don't want to lose any more words over. You will see much more brutality than shown; and you will be more creeped out than you might think after all the trailers.
Resident Evil 8 is nevertheless different from Resident Evil 7 – and this is largely due to the fact that you'll explore a larger world, go through more maps and altogether more areas, which only partially allow for the scary hide-and-seek games you know from the predecessor. Yes, there is more action, and the horror of the predecessor isn't quite reached. In return, Village scores points for simply being a hell of a lot of fun. In terms of sadistic body-parts-flying fun, spiced up with a satisfying collecting instinct.
The most important question: Should you buy Resident Evil Village? If you had fun with Resident Evil 7, you get a big "YES!" from me.
Resident Evil Village was released on May 7, 2021 for PS4, PS5, Xbox One, Xbox Series X and PC. When you buy Resident Evil Village, you get the multiplayer game Resident Evil Re:Verse for free. The review was carried out on the PlayStation 5 and virtually no bugs or graphics errors were encountered. However, the same doesn't have to be true for all other platforms, although on the whole I assume it does.
Resident Evil Village Score
9.4/10
"Resident Evil Village is the nightmare you know you need – and bloody well want – from launch."
Resident Evil Village Trailer