Hollandaise sauce is a classic sauce that originated in French cuisine. However, even in many countries around the world, this recipe for the light butter sauce has earned itself a firm place, especially in combination with white asparagus. In this article we will teach you how to make hollandaise sauce.
Do you make hollandaise sauce yourself or buy it?
Not everybody has the courage to make hollandaise sauce. It is said that it is too complicated, and people prefer to buy it rather than make it. The ready-made sauce has a longer shelf life and is heat-resistant, which makes it easy to keep warm. However, we think the taste can hardly be compared to the homemade one and with our guide for the classic recipe, the quick hollandaise or the lightning variant, you will definitely succeed with the hollandaise sauce!
Hollandaise sauce – the basic recipe
Ingredients for 4 people:
250 g butter
1 shallot
4 white peppercorns
1 tablespoon white wine vinegar
4 egg yolks (size M)
1 tablespoon lemon juice
salt, ground white pepper
Step by step guide on how to make hollandaise sauce
When preparing the sauce, the secret is to keep it at the right temperature. If the sauce is whipped too hot, the egg yolk will curdle. On the other hand, if it is too cold, the ingredients will not mix properly. Furthermore, butter and egg yolks should be at the same temperature before they are whipped together. If you follow our instructions, not much can go wrong.
Step 1
Use low heat to melt butter (do not brown). Take saucepan off heat and let butter cool slightly. Skim off any butter foam.
Step 2
Peel and finely dice shallot. Crush peppercorns with the back of a knife or in a mortar. In a small saucepan, briefly bring shallot cubes and peppercorns to a boil together with white wine vinegar and 2 tablespoons water. Pour the broth through a sieve into a stainless steel bowl.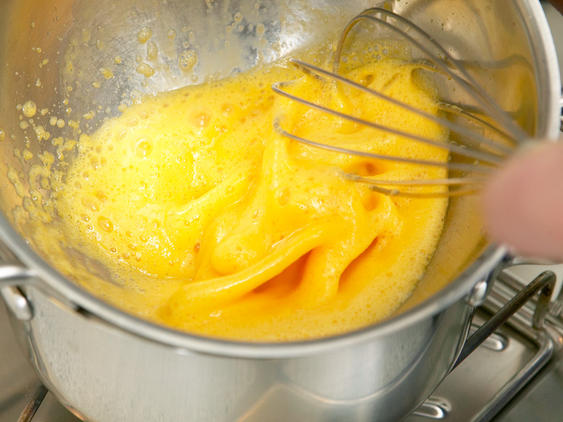 Step 3
Add egg yolks and 1 tablespoon cold water to the broth and mix well. Then whip the egg yolk cream over a hot water bath (60-70 °C) for a few minutes with a whisk or hand mixer until a thick cream is formed. Take off the water bath and continue beating for about 30 seconds.
Step 4
Add melted butter to the egg yolk cream, first drop by drop, then in a thin stream with a whisk, season with lemon juice, salt and pepper. Serve immediately, as the sauce will set as it cools.
What can I do if the sauce curdles?
Did it get too hot? If your hollandaise sauce curdles, you should stop stirring and pull it right off the water bath! At this point, add 1/2 tsp of ice cold water to the edge of the sauce. From there, stir in small circles until it binds again.
Cook quick hollandaise sauce
Making your own hollandaise sauce isn't hard, but it needs a little attention and a knack for timing. When you need to make it a little faster, but you don't want to miss out on the classic sauce, our quick hollandaise recipe is for you. This quick hollandaise sauce is cooked without a broth, but still tastes wonderfully creamy and aromatic.
Simple quick hollandaise sauce with the hand blender
An additional method for the preparation of the classic sauce is offered by our simple quick hollandaise! This version of hollandaise needs only a few kitchen tools, is absolutely sure to succeed and is made quickly. For the creaminess, add crème fraîche and beat the butter into the egg yolk mixture with the help of a hand blender. If you like, you can warm the sauce very gently after preparation, stirring constantly.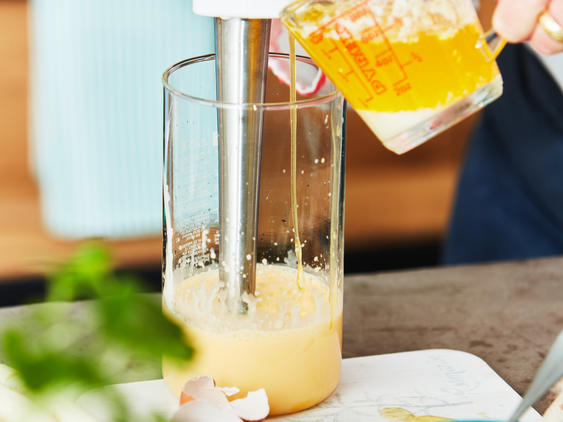 Make your own hollandaise sauce
Are you looking for new recipes for hollandaise sauce? You can change the classic basic recipe in many ways with just a few ingredients. That way you can create a colorful variety of flavors.
No egg, no butter: Vegan hollandaise sauce
This classic sauce also works completely without egg and butter – which vegans in particular will be pleased about. The vegan variant does not have to shy away from comparisons with the French original. When properly mixed, it also has a creamy consistency, yellow color and a pleasant acidity due to the white wine. Plant-based alternatives provide the binding.