Now that the latest season of Rick and Morty has come to a close, you might find yourself in search of a new and wickedly clever comedy to occupy your precious time until season seven hits the screens. Luckily, there is a vast array of animated series with tongue-in-cheek humor and biting satire to choose from, including some produced by Dan Harmon and Justin Roiland, the creators of Rick and Morty. To assist in your quest for similar shows, we have curated a list of Rick and Morty-like series that are sure to pique your interest.
These shows span from adventure parodies to sarcastic spies, and even include a hilariously risqué take on DC's Batmanverse. Each show delivers its own unique brand of entertainment, featuring sci-fi, superheroes, mysteries, and alternate timeline shenanigans. So without further ado, allow us to present some Rick and Morty-style shows that are worth checking out.
10- Koala Man
We've got some ripper news for you all, and it's fair dinkum too good to be true! Hold on to your hats, because Koala Man is making its way to Hulu, and it's going to be a bonzer show! Now, you might be wondering, "What's Koala Man?" Well, let me tell you, mate! Koala Man is an animated family comedy based on Michael Cusack's web series.
It's all about a family man who takes down petty criminals and defends his community in true Aussie fashion. And who's behind this beaut of a show, you might ask? None other than Justin Roiland from Rick & Morty and the writers of Pokémon: Detective Pikachu, Dan Hernandez and Benji Samit! How's that for a top-notch crew?
But wait, there's more! This show's got a star-studded lineup of guest voices, including our very own Hugh Jackman, Jemaine Clement, and Hugo Weaving. They're fair dinkum legends, and they're going to make this show a true blue hit!
9- The Venture Brothers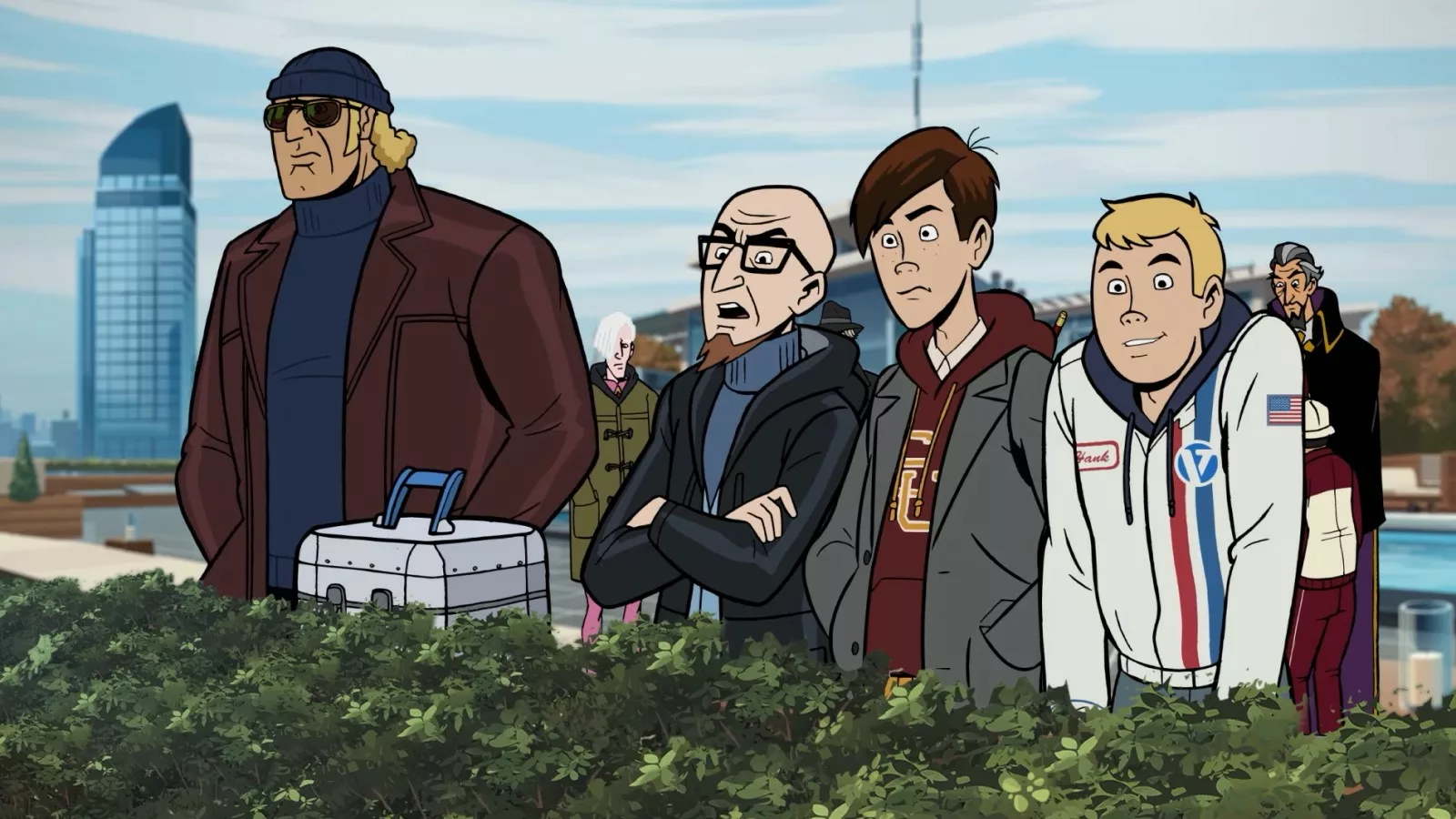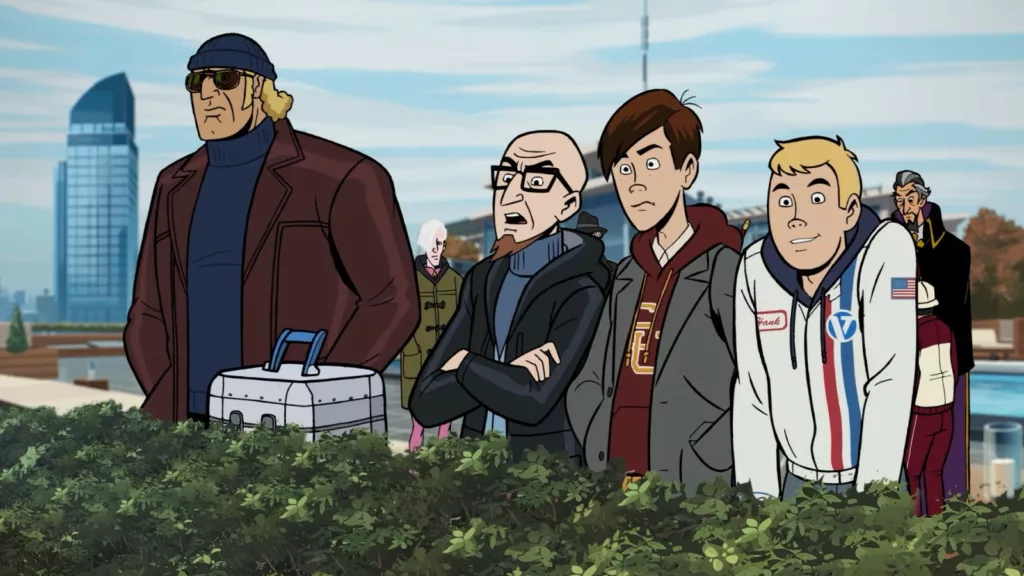 Alrighty folks, let's talk about one of Adult Swim's most beloved classics, The Venture Brothers! While Rick and Morty may have taken inspiration from Doc Brown and Marty McFly, The Venture Brothers drew its initial cues from the iconic 1964 animated sci-fi series, Jonny Quest. But don't let that fool you – this show took the hackneyed Jonny Quest tropes and gave them a saucy and meta update that was nothing short of brilliant.
Meet Hank and Dean Venture, the two hapless brothers who always find themselves in the middle of crazy adventures, all thanks to their hyper-intelligent scientist father. Think mad scientists, evil villains, and outrageous shenanigans – this show's got it all.
And after a whopping 15 years on the air, The Venture Brothers finally came to an end in 2018. But fear not, my friends – there are talks of films in the works, and we're crossing our fingers that the show will soon be available on HBO Max. So if you're a fan of irreverent humor and wild sci-fi hijinks, The Venture Brothers is an absolute must-watch!
8- Community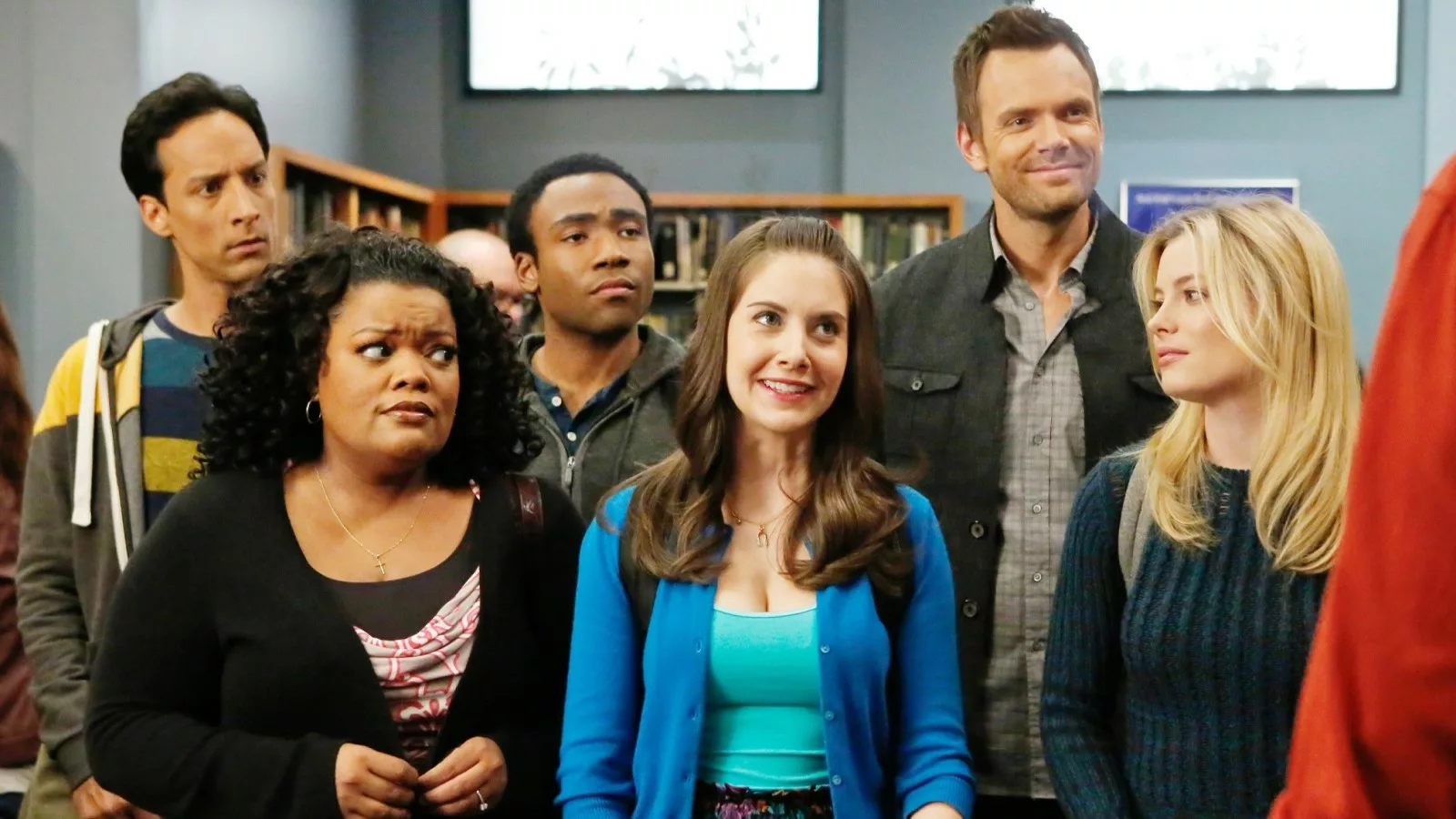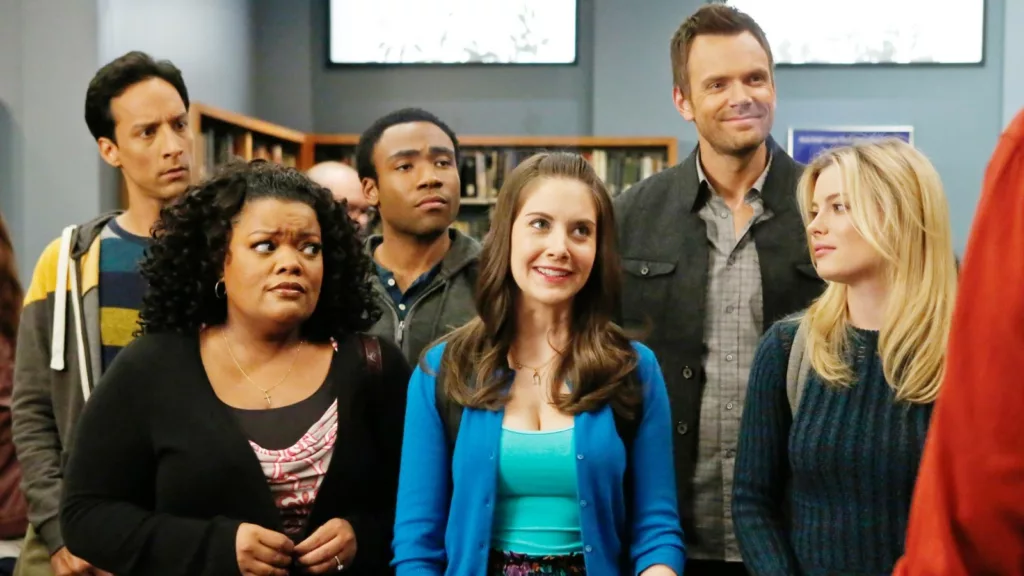 Back when Rick and Morty burst onto the scene, there was one name that stood out from the rest of the creative crew: the man, the myth, the legend, Dan Harmon! If you haven't heard of him, then where have you been hiding under a rock? Harmon's devilish wit and comedic genius were already on full display in NBC's cult sitcom, Community. And that show was a true masterpiece!
So it's no surprise that fans were thrilled when they heard the news that Harmon was coming back to his beloved series, even if it was just for its fourth season (which, let's be honest, wasn't quite up to par with the rest). But hey, who cares? Because now, after years of waiting, we're finally getting what we've been begging for: a Community movie, baby! That's right, that cheeky little phrase, "six seasons and a movie," that we all joked about during the early days of the show, has finally become a reality!
So get ready to dust off your Greendale Community College gear, folks, 'cause the gang's all back together again! And this time, they're taking the big screen by storm. So grab your popcorn, kick back, and get ready to experience the wild and hilarious ride that is the world of Community. It's gonna be epic!
7- Harley Quinn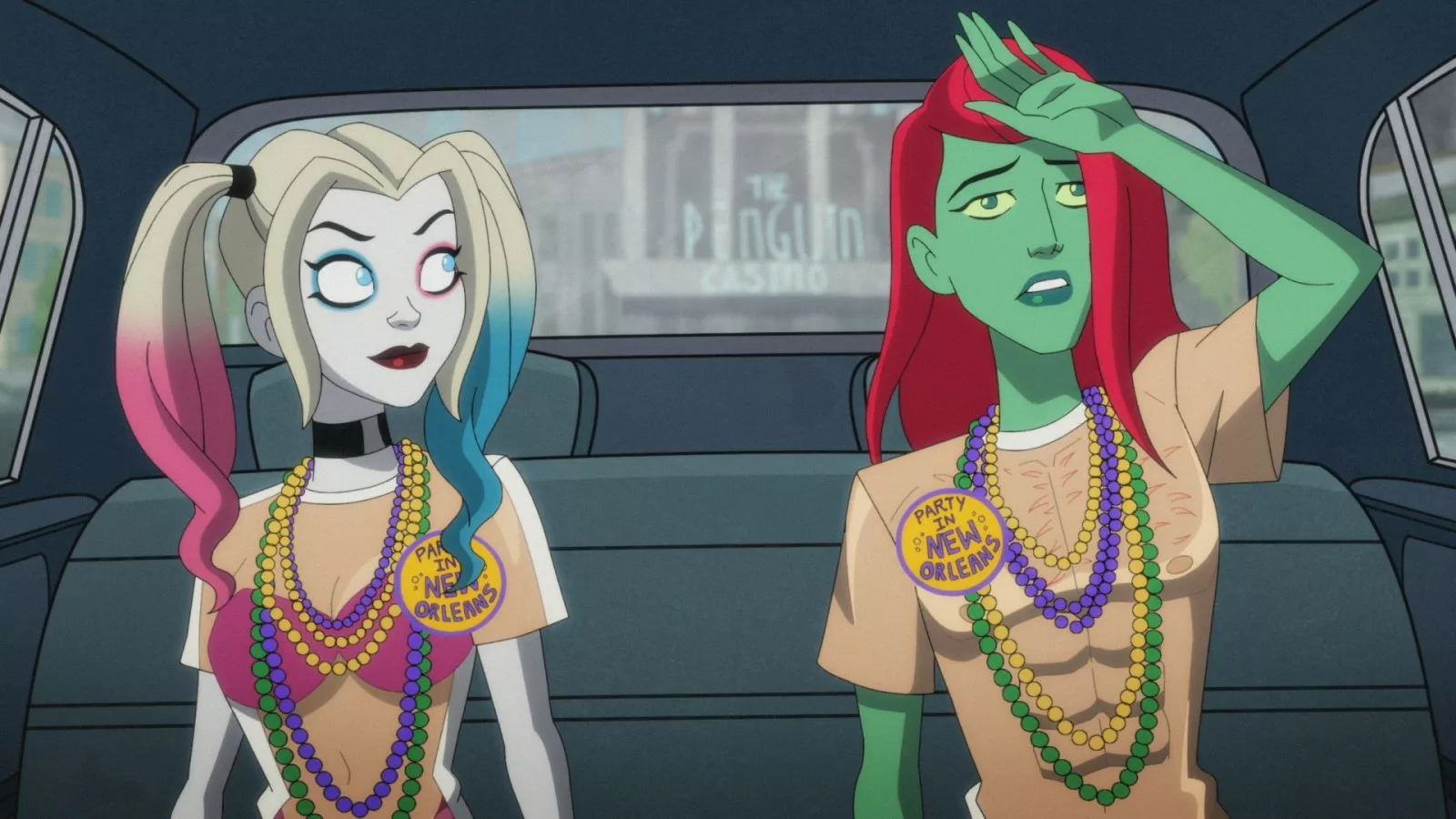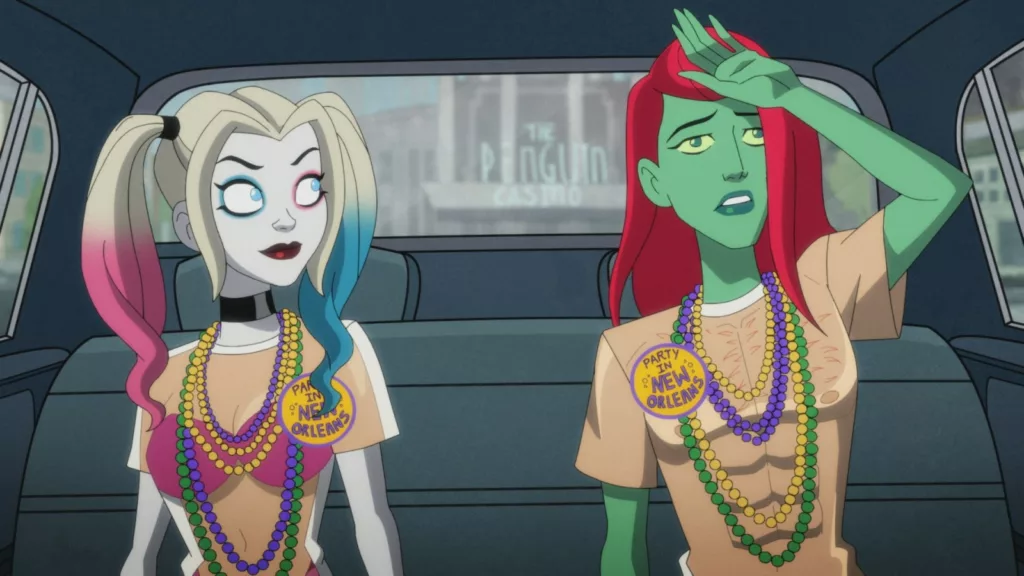 If you haven't seen HBO Max's Harley Quinn yet, you're seriously missing out! Sure, the executive producers may not be able to do absolutely everything they want with the characters, but that doesn't stop them from bringing some seriously epic chaos and hilarity to the screen.
This version of Dr. Harleen Quinzel is an absolute riot! She's the Joker's ex, and she's trying to make a name for herself among Gotham's top villains. Along the way, she discovers the power of love and friendship. It's a wild ride, and it's perfect for anyone who loves the fast-paced, hyper-violent madness of Rick and Morty.
And can we talk about the character work for a second? It's seriously some of the best stuff we've seen in the DC universe in years. Harley is flawed and complex, but she's also incredibly relatable. You'll be rooting for her every step of the way.
6- Archers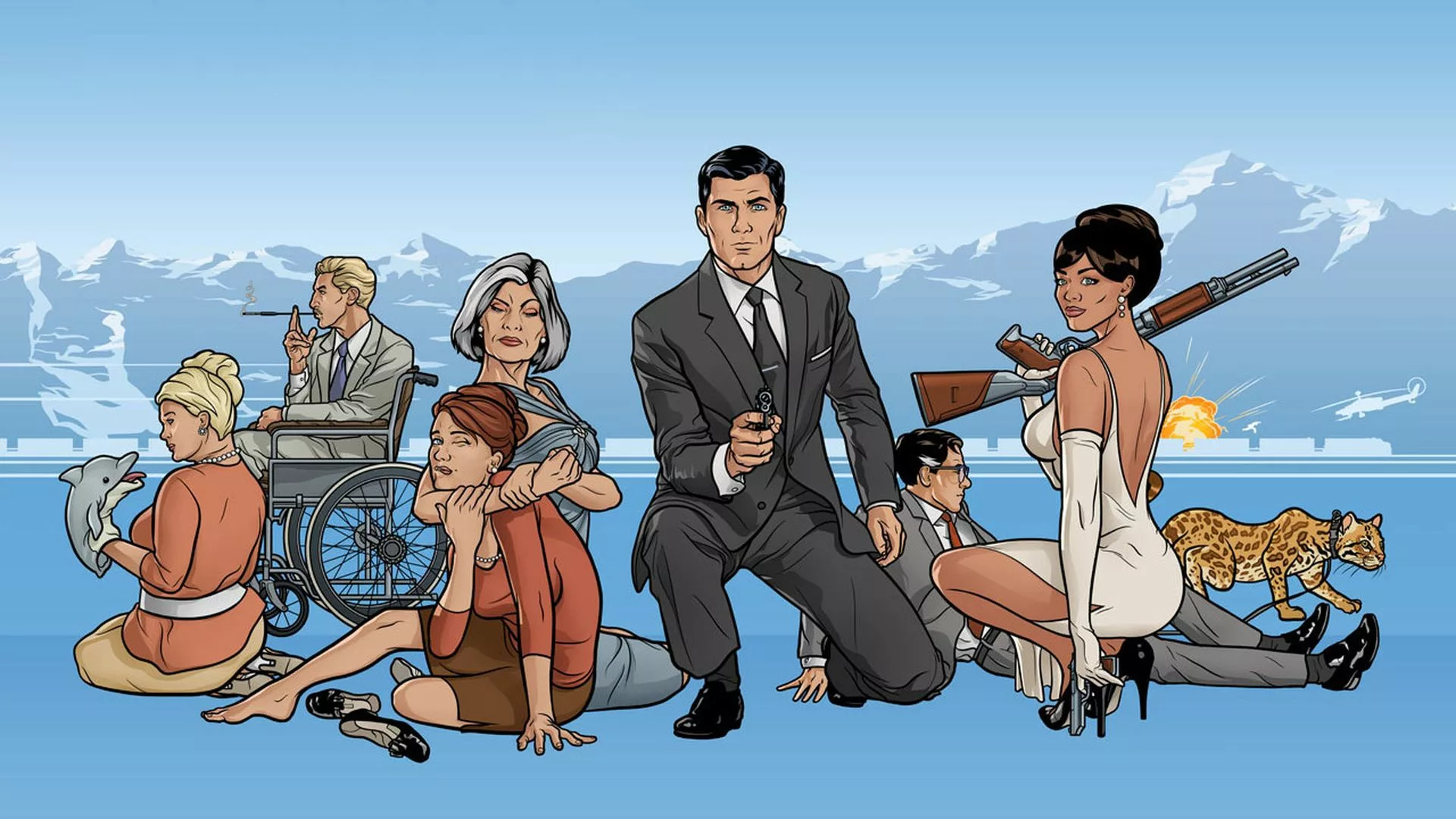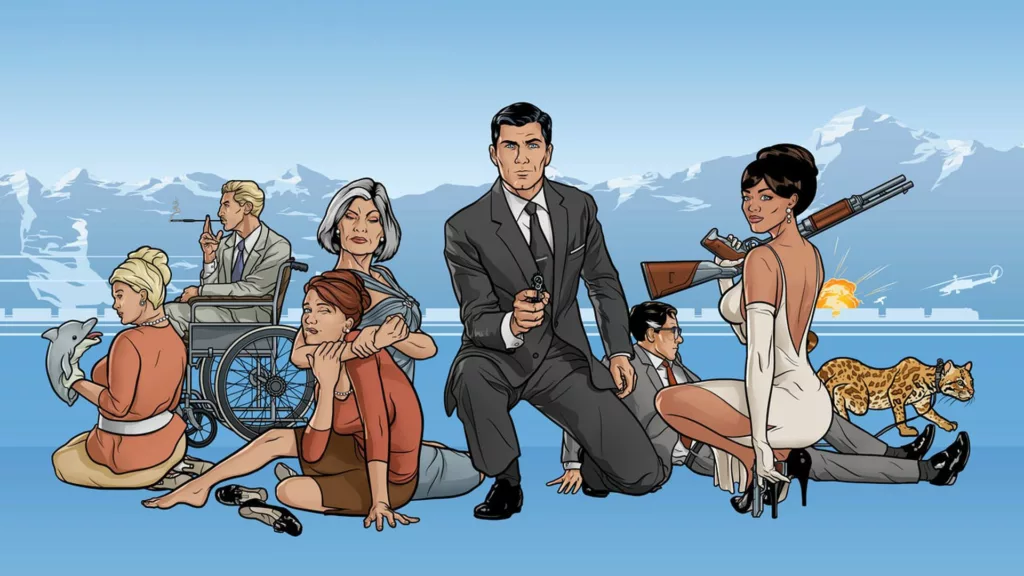 Let me tell you about this show that's been running for over a decade now – Archer! It all started as a hilarious spoof of spy-thrillers, but oh my, has it taken some wild detours along the way. We're talking classic noir mysteries, Amazonian adventures, and who knows what else. This show keeps you guessing and never gets boring, that's for sure.
And the best part? The characters are sharp as a tack, with quotes that will stick with you long after the episode ends. With 13 seasons already under its belt, there's no shortage of material for you to binge-watch to your heart's content. So if you're looking for a witty, satirical series that'll keep you on your toes, Archer is the way to go!
5- Solar Opposites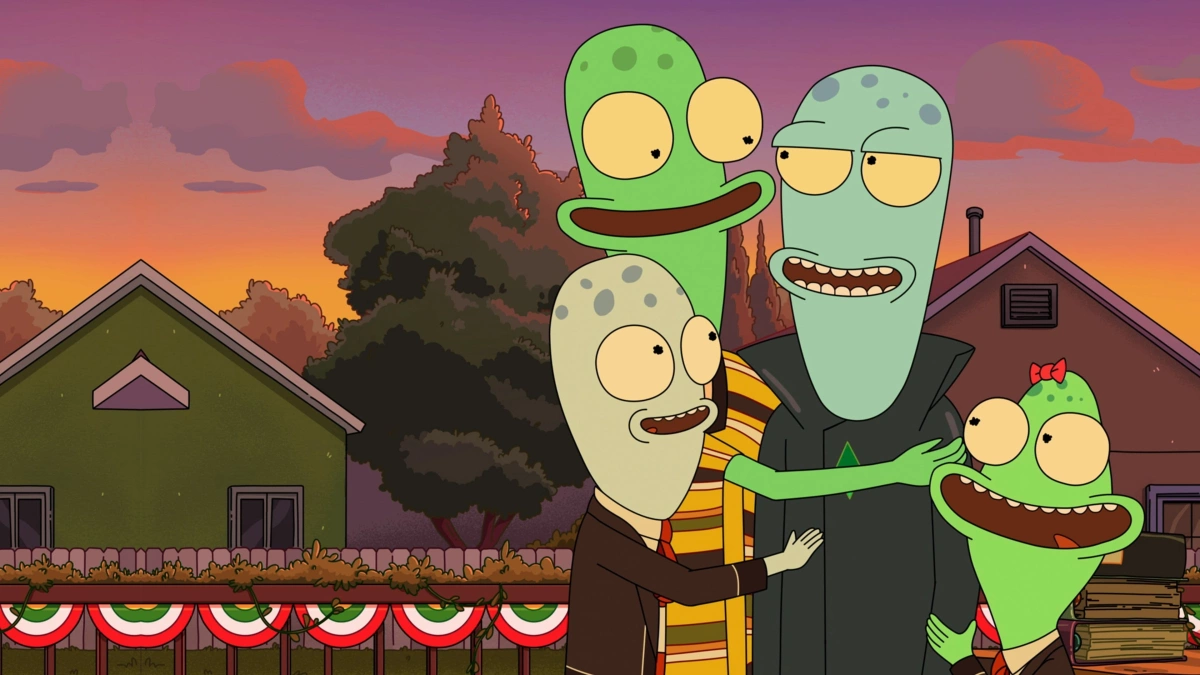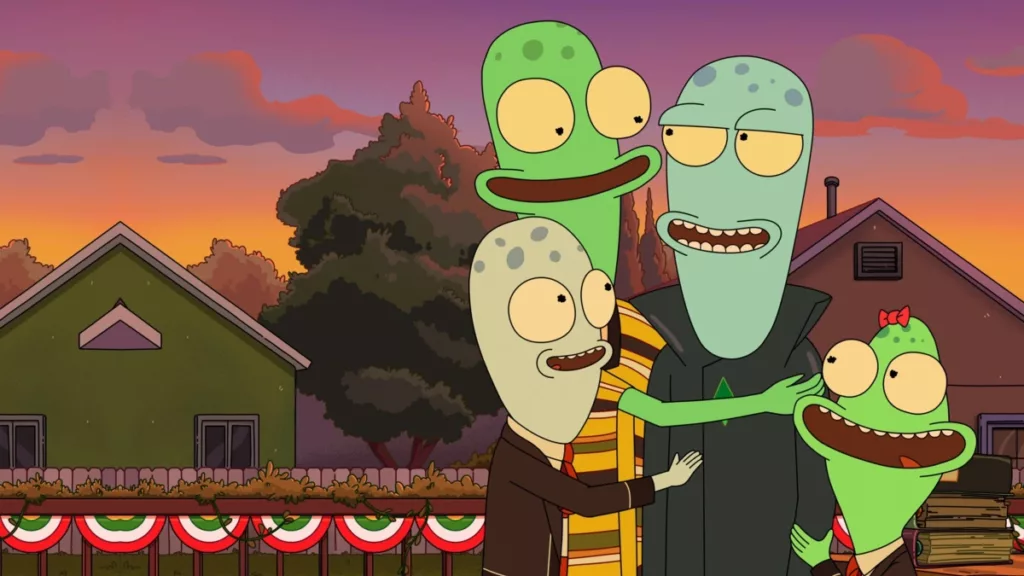 Are you a Rick and Morty fan? If so, I've got some great news for you! You absolutely have to check out Solar Opposites on Disney+ created by none other than Justin Roiland himself, the co-creator of Rick and Morty. Together with Mike McMahan (who also worked on Star Trek: Lower Decks), they've come up with an awesome show that'll have you in stitches.
So, what's it all about? Well, imagine a group of four aliens who are forced to flee their exploding planet, only to end up in a house in suburban America. Sounds pretty wild, right? Well, it gets even better because this show is jam-packed with hilarious and subversive humor that'll keep you entertained for hours on end. So, if you're looking for something fresh and funny to watch, you definitely can't go wrong with Solar Opposites. Give it a shot and prepare to be blown away by its wit and charm!
4- Bravest Warriors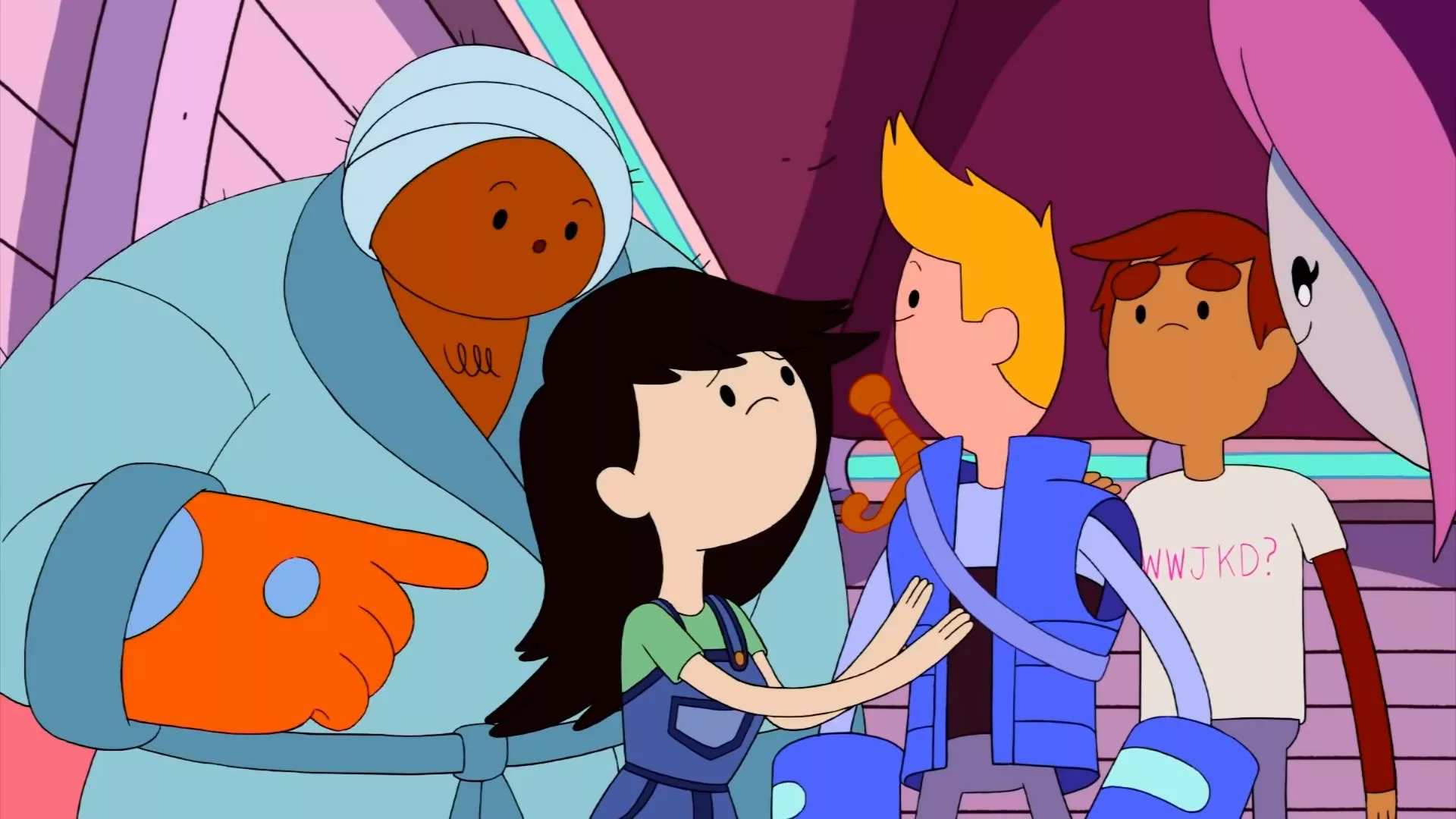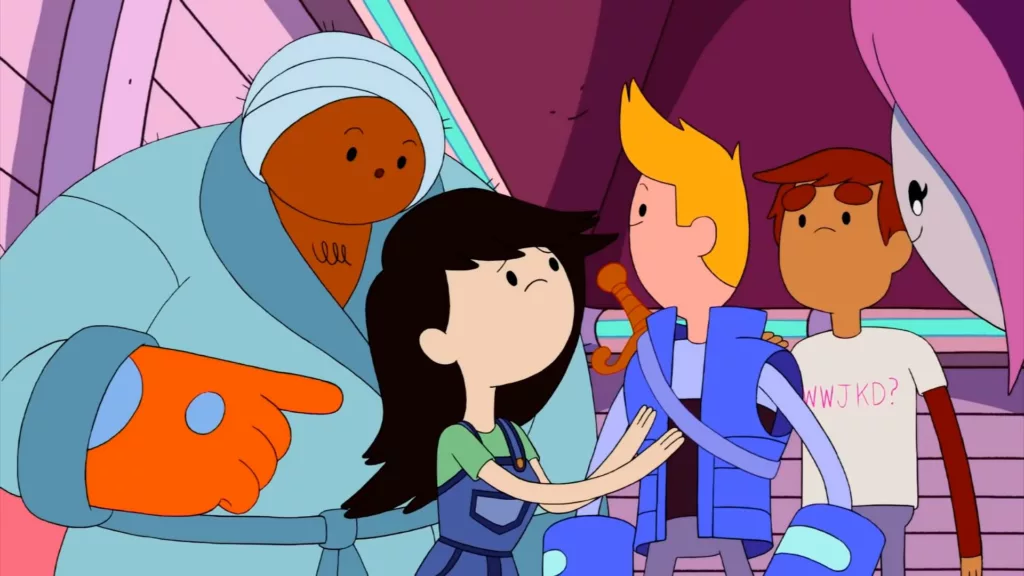 Did you know that Pendleton Ward, the creator of Adventure Time, didn't just stop at making one incredibly awesome animated series? Nope, he went ahead and gifted us with the wildly entertaining Bravest Warriors!
Now, you might be thinking "Oh, cool! It's just like Adventure Time!" And, well, you wouldn't be entirely wrong. Bravest Warriors definitely has that same quirky, whimsical style that made Adventure Time so beloved. But! This time around, it's got a bit more of a mature edge to it. You'll hear some choice curse words and see some themes that you definitely wouldn't find in your typical kiddie cartoon.
The story follows a group of kick-ass space warriors who find themselves in a bit of a pickle when their parents mysteriously disappear into another dimension. They're forced to step up and become heroes themselves, which is easier said than done when you've got all sorts of wacky space shenanigans and monsters to deal with.
Now, if you're worried that the show might not have enough content to keep you busy, fear not! While the first few episodes are on the shorter side, there are a whopping four seasons of Bravest Warriors to dive into. And even though it's not quite as raunchy as Rick and Morty, it still manages to tackle some pretty heavy concepts with a lighthearted touch that's sure to keep you entertained.
3- Gravity Falls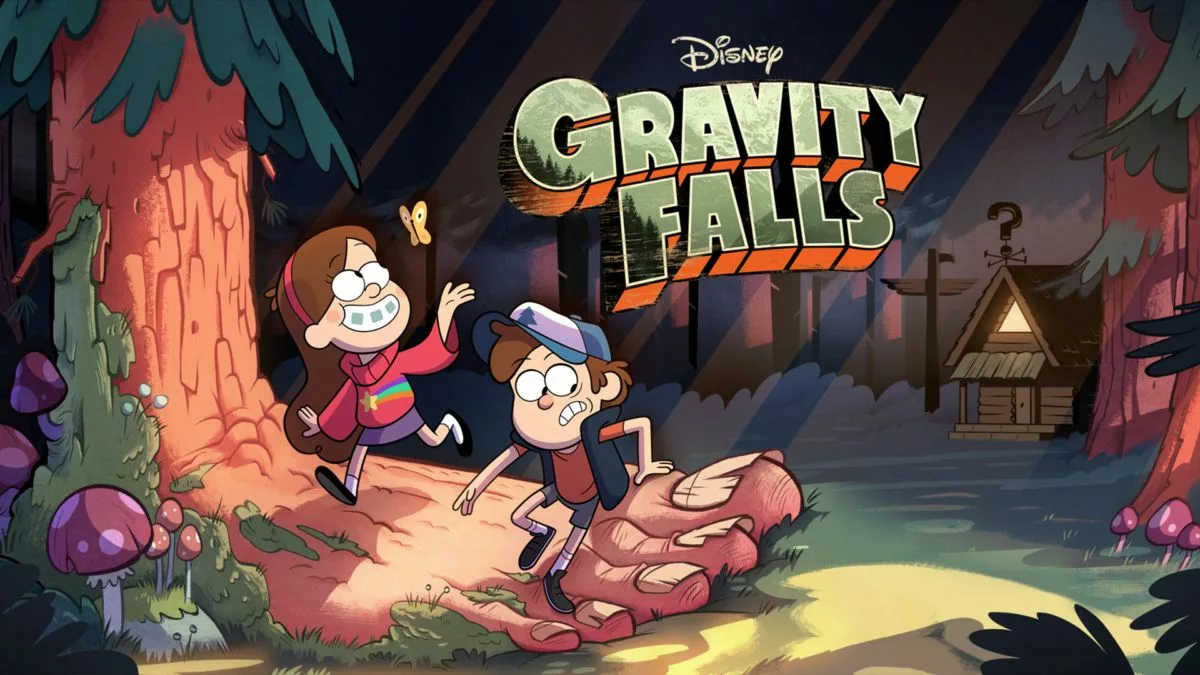 If you're looking for a show that's not quite adult content but still delightfully twisted, then let me introduce you to Gravity Falls. This quirky series created by Alex Hirsch tells the story of twin siblings Dipper and Mabel (played by Jason Ritter and Kristen Schaal) in a way that's both whimsical and gently twisted, tugging at your heartstrings while also tickling your funny bone. With a smart and satirical edge that's as sweet as it is unique, Gravity Falls is truly a gem worth discovering for all ages!
2- BoJack Horseman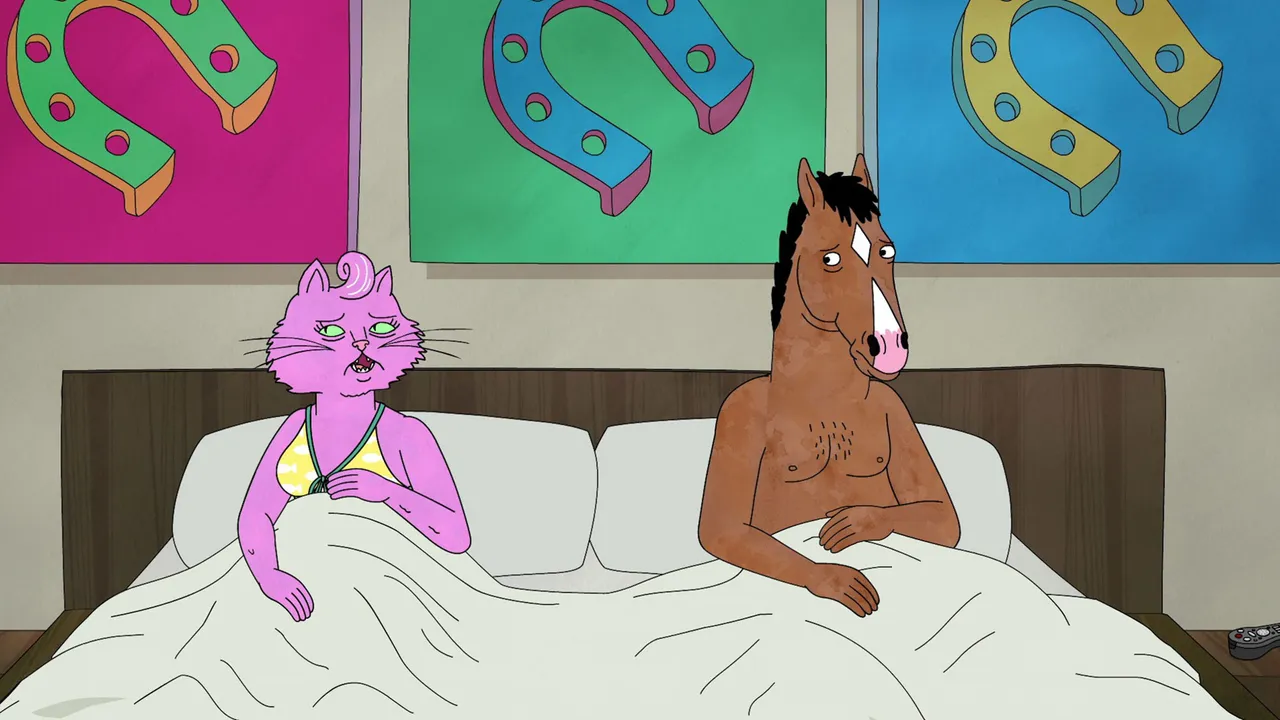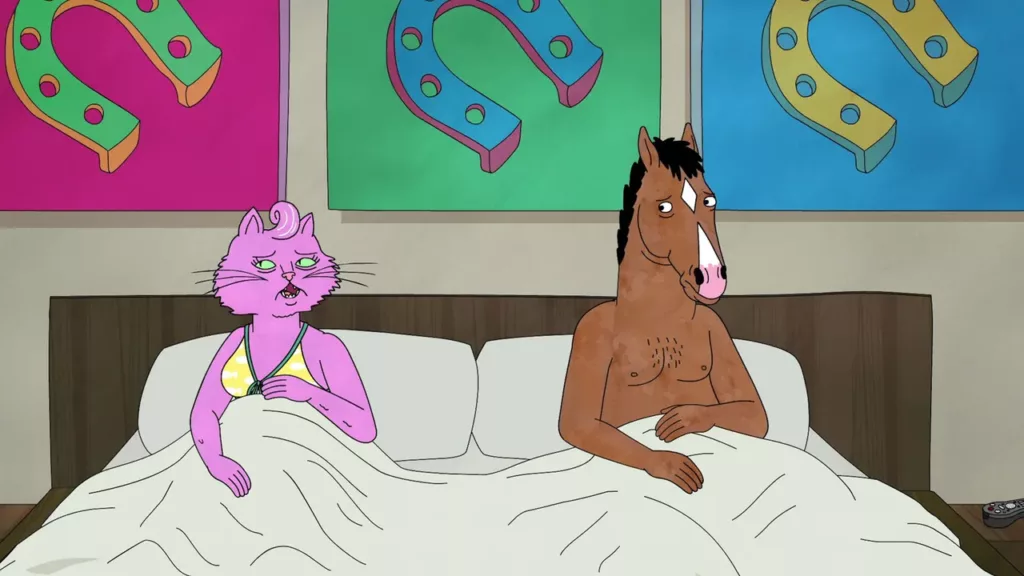 Have you ever watched "BoJack Horseman"? It's like if "Rick and Morty" had a lovechild with a tragic drama. This show is a wild ride that balances some crazy humor with a serious dose of heartbreak. Raphael Bob-Waksberg, the creator, takes us on a hilarious, yet scathing journey through Hollywood, all while focusing on our beloved BoJack. He used to be a star of a hit sitcom back in the '90s, but now, he's a washed-up, bitter horse who can't help but drown himself in drugs and self-loathing. Sounds depressing, right? Well, it is, but it's also hilarious!
Like Rick, BoJack rallies to get himself into all kinds of outrageous situations that will leave you in stitches. Imagine stealing the D from the Hollywood sign, buying a boat in the middle of a desert, or hooking up with a troubled singer who was once a child star. Yep, it's all in there!
The voice acting is top-notch, with Will Arnett bringing a world-weary, but still charming and complex, BoJack to life. The supporting cast, including Amy Sedaris, Alison Brie, Aaron Paul, and Paul F. Tompkins, add depth and color to the show, making it a true masterpiece.
But, let me warn you, this show is not for the faint of heart. It's chock-full of cheeky allusions to movies and celebrity culture, and it's a mercilessly sharp comedy that can cut deep. So, go easy when binging, my friend. You don't want to end up like BoJack!
1- Futurama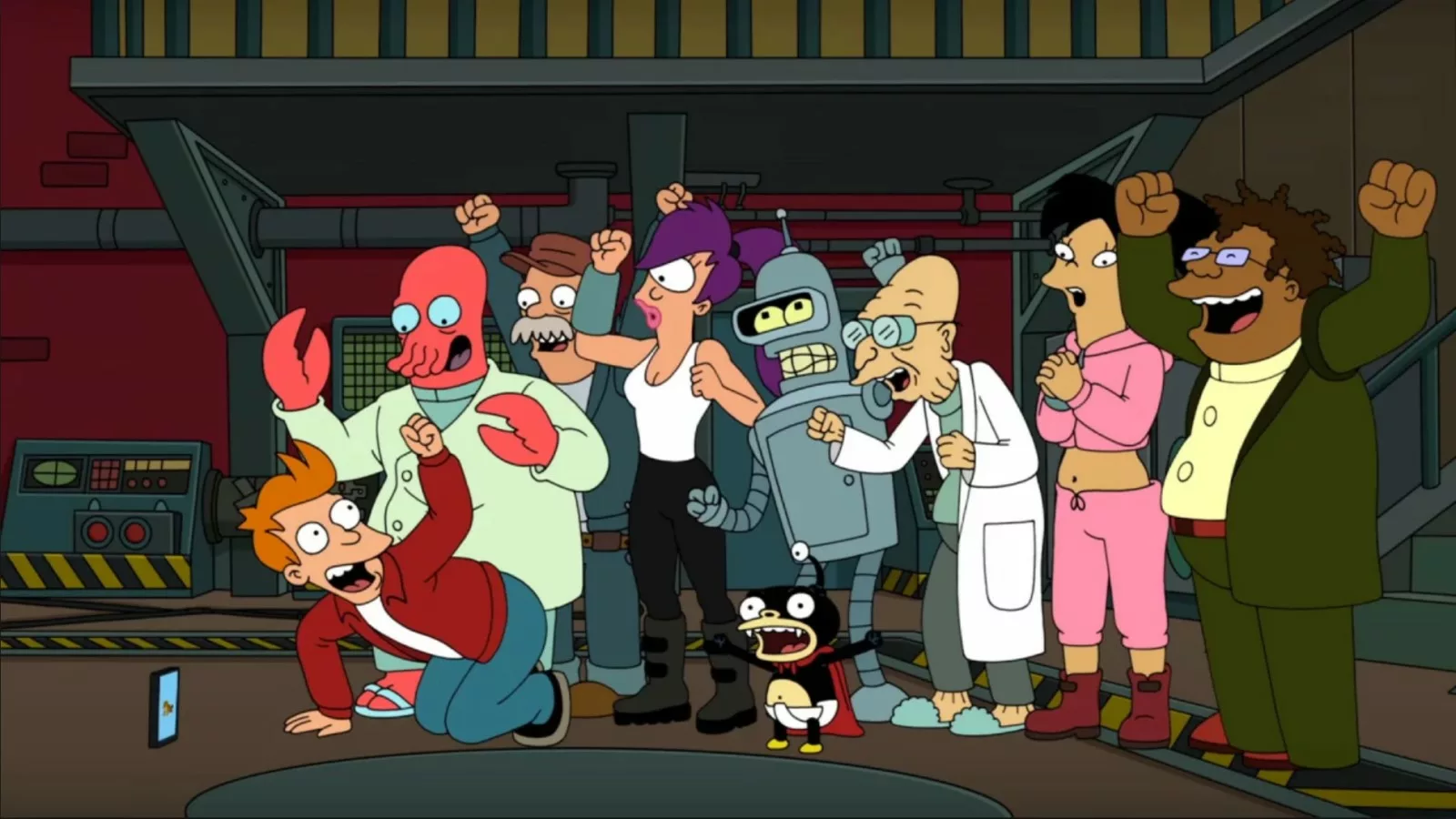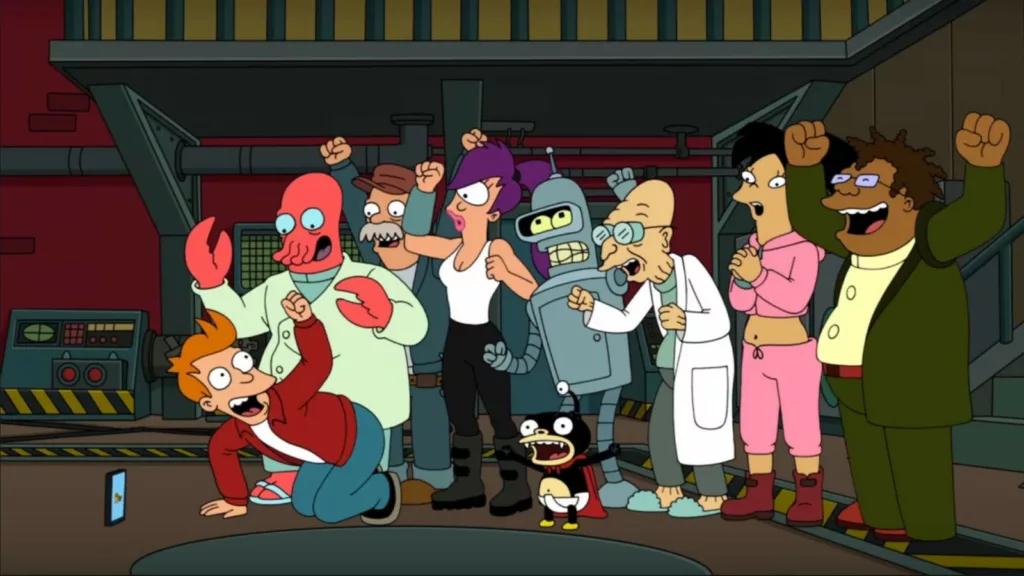 If you're looking for a show that will satisfy your craving for a good laugh AND some mind-bending futuristic tales, then look no further than Futurama. Created by the masterminds Matt Groening and David X. Cohen, this show is a gem in the world of science fiction entertainment.
Unlike some other sci-fi shows that take themselves too seriously, Futurama knows how to have fun while exploring the unknown reaches of space and time. Fry, Leela, Bender, and the rest of the gang are a lovable bunch of misfits who always manage to get into hilarious hijinks and wacky adventures, all while dealing with futuristic gadgets and gizmos.
And if you're worried about running out of episodes to binge-watch, then you're in luck! Disney+ has heard our pleas and has decided to bring back Futurama with a whopping 20-episode order. That's right, folks – we'll be able to join the Planet Express gang once again as they journey through space and time in their quest for laughter and adventure. So buckle up, grab some popcorn, and get ready for the ride of your life in 2023, when Futurama returns to our screens in all its sci-fi comedy glory!
Conclusion
If you're a fan of Rick and Morty, you're in luck because there are plenty of TV shows that share its humor, satire, and science fiction elements. From the sci-fi comedy classic Futurama to the meta update of Jonny Quest tropes in The Venture Brothers, and the witty satire of spy-thrillers in Archer, there are plenty of options to choose from.
Meanwhile, Harley Quinn presents a wild ride for anyone who loves the fast-paced, hyper-violent madness of Rick and Morty, and Solar Opposites, created by one of Rick and Morty's co-creators, Justin Roiland, offers an equally hilarious and absurd storyline. So, until season seven of Rick and Morty hits the screens, you can dive into one of these series and enjoy a similar style of entertainment.