Electronic Arts and Codemasters have unveiled the dynamic launch trailer for F1 23, the highly anticipated racing game. Since its release on June 16th, the game has been available for PS4, PS5, Xbox One, and Xbox Series X, offering players an immersive racing experience like never before.
Authenticity and Innovation: F1 23's Features
F1 23 incorporates driving improvements, real feedback from F1 teams, and the revolutionary Precision Drive technology for gamepad controls. Players are in for an authentic experience as they compete against every team and driver on every track of the 2023 season.
This includes the highly anticipated Las Vegas Sprint Circuit and the Losail International Circuit in Qatar. The return of the popular Braking Point mode also makes headlines, with new and returning fan-favorite characters, including the introduction of the Konnersport team.
Cameo Fighters and Exciting Storylines
Lee Mather, Senior Creative Director at Codemasters, expressed excitement about F1 23's new features, stating, "F1 23 offers everything that players love about the fight for the world championship and takes them even deeper into the world of Formula 1."
The game introduces cameo fighters, adding variety and excitement to the gameplay. Additionally, the immersive Braking Point storyline continues, following the lives of upstart Aidan Jackson and his nemesis Devon Butler, as well as the aspiring driver Callie Mayer.
Players' decisions and actions on and off the track have a significant impact on their achievement and reputation levels throughout two intense seasons.
F1 World: Engaging Single and Multiplayer Experience
F1 World serves as a central part of the F1 23 experience, providing players with various ways to engage with the sport. Daily, weekly, and seasonal content tied to the real-world calendar keeps the game fresh and exciting. The redesigned hub helps newcomers navigate the world of Formula 1 and offers challenges to improve skills before battling for podium spots.
Popular modes like Grand Prix and Time Trial make a return, while the new progression system unlocks car upgrades, liveries, racing suits, and helmets. The introduction of a safety rating system fosters fair and competitive racing, promoting a supportive community.
Additional Circuits, Enhanced Modes, and Special Editions
F1 23 features all 23 circuits from the 2023 FIA Formula 1 World Championship, including three additional circuits: Paul Ricard (France), Shanghai (China), and Portimão (Portugal), which are available for both F1 and F2 events.
The game also includes fan-favorite Career, My Team, and Leagues modes, offering a comprehensive racing experience. The Champions Edition, featuring Max Verstappen as the solo cover star, is also available and offers exciting bonuses and exclusive content.
Launch Celebrations and Future Events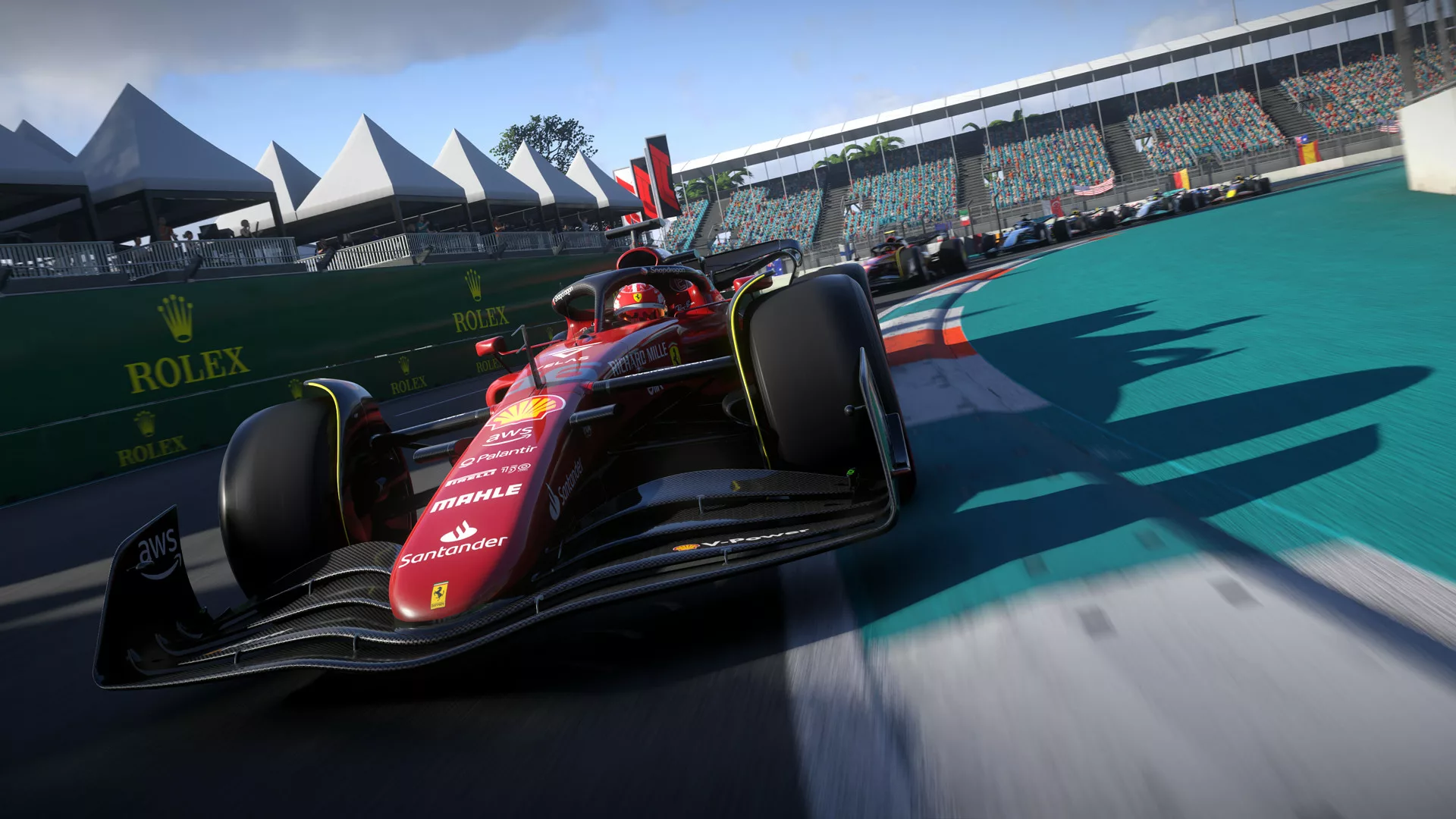 To celebrate the game's launch and McLaren's 60th anniversary, players can participate in a special F1 World event and win the McLaren Triple Crown theme for their F1 World car.
This unique livery symbolizes McLaren's greatest achievements in motorsport. More events with special rewards based on the real calendar are planned for the coming months, ensuring ongoing excitement for players.