Developers DECK13 have unveiled an exciting new combat trailer for their upcoming fantasy action RPG, Atlas Fallen. After watching the footage the combat mechanics look truly impressive! The fast-paced battles bear a striking resemblance to the exhilarating combat found in Monster Hunter, and I can even sense a hint of the intensity seen in God of War.
Targeted Attacks and Crafting Options
In Atlas Fallen, players have the ability to specifically target different body parts of larger enemies, aiming to incapacitate them and bring them crashing down to the ground.
This dynamic feature shares similarities with Monster Hunter's strategic combat approach. Breaking certain body parts not only weakens the enemies but also unlocks unique resources, offering exciting crafting options for players to explore.
One notable aspect of the combat showcased in the trailer is the flexibility it offers in terms of weapon choices. Players can equip two main weapons simultaneously, allowing for seamless switching between them and the unleashing of a wide range of combos.
Throughout the video, we catch glimpses of various weapon styles, including a cleaver, a whip, and even fist weapons, adding depth and variety to the combat experience.
Masterful Maneuvers and Momentum
In the world of Atlas Fallen, evading attacks requires swift rolls, dashes, and even impressive high jumps to maintain pressure on formidable adversaries. Additionally, each successful attack builds momentum, which not only grants access to special attacks but also empowers your weapon.
However, it's worth noting that accumulating too much momentum comes with a price – the greater the momentum, the more damage you'll suffer when hit. This intriguing risk versus reward system adds an extra layer of strategic decision-making to combat encounters.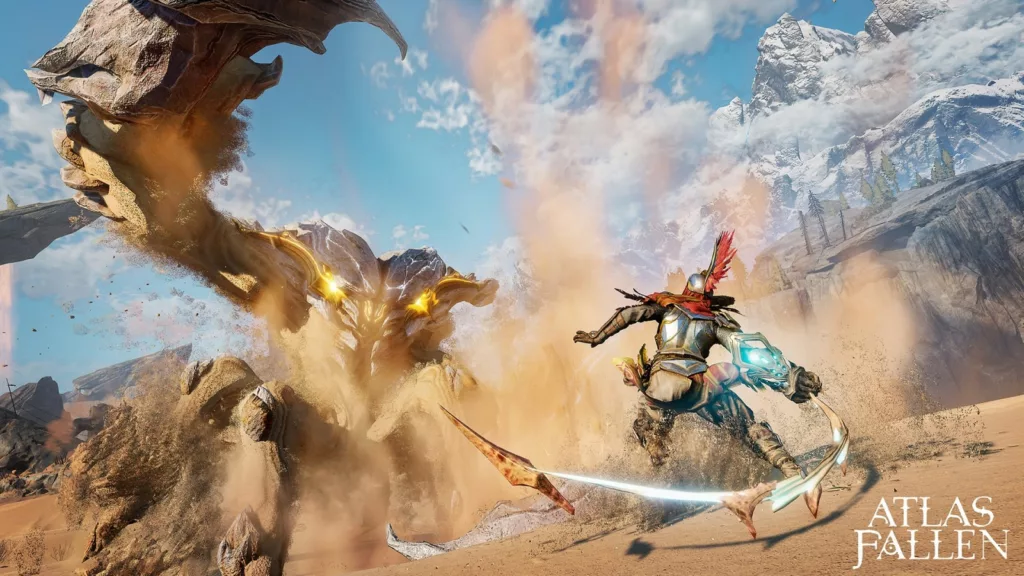 Cooperative Gameplay Thrills
The combat trailer also unveiled an exciting feature – Atlas Fallen will fully support online two-player co-op throughout the entire campaign. Embarking on this adventure with a friend promises countless hours of thrilling battles and shared victories.
Just like teaming up with friends to conquer mighty beasts in Monster Hunter, tackling the challenges of Atlas Fallen together will undoubtedly be an exhilarating experience.
Prepare to dive into the enthralling world of Atlas Fallen, as this highly anticipated game arrives on PC, PS5, and Xbox Series X|S on August 10.
With its impressive combat mechanics, immersive gameplay features, and the allure of cooperative play, Atlas Fallen promises an unforgettable action RPG experience that fans won't want to miss. Get ready to embark on a thrilling adventure filled with strategic battles and epic moments!
Magic, wraiths, and endless sands await. Unravel the mysteries of the desert in our in-depth Atlas Fallen Review. Join the adventure now!