In a remarkable feat, Baldur's Gate 3 has surpassed popular titles like BattleBit, Call of Duty, GTA 5, and Starfield to claim the coveted title of the best-selling paid game on Steam.
With its release date on the horizon, promising rich customization options, DnD-inspired mechanics, and the inclusion of captivating races such as Paladins, Barbarians, Gnomes, and even unexpected elements like bear sex, Larian Studios' RPG has experienced a meteoric rise in the Steam sales chart.
It now trails only the free-to-play behemoth CSGO and Valve's own Steam Deck, hinting at a bright future for Baldur's Gate 3 and the eager players yearning to return to the Forgotten Realms.
As you prepare to embark on your adventure, we bring you comprehensive details on the available races and classes in Baldur's Gate 3. While you carefully plan your ideal character and build, rest assured that when BG3 finally launches, you will have a vibrant community to join and share the experience with.
Surging Up the Steam Sales Chart
For the week ending on Tuesday, June 27, Baldur's Gate 3 resided at a modest 77th position on the Steam sales chart. However, since then, Larian Studios held the captivating Panel From Hell showcase, unveiling more information about the game's abilities and surprising romantic encounters, such as the one between Astarion and the Druid Halsin.
Following the showcase, Baldur's Gate 3 skyrocketed up the sales chart, securing the third spot for the week ending on Tuesday, July 17. This impressive surge places it just below the Steam Deck and Counter-Strike Global Offensive. BattleBit occupies the fourth position, while the resurgent battle royale game Naraka Bladepoint claims fifth place. Call of Duty Modern Warfare 2 sits at number nine, and the ever-popular Grand Theft Auto 5 holds the twelfth position.
Unveiling Exciting Gameplay Elements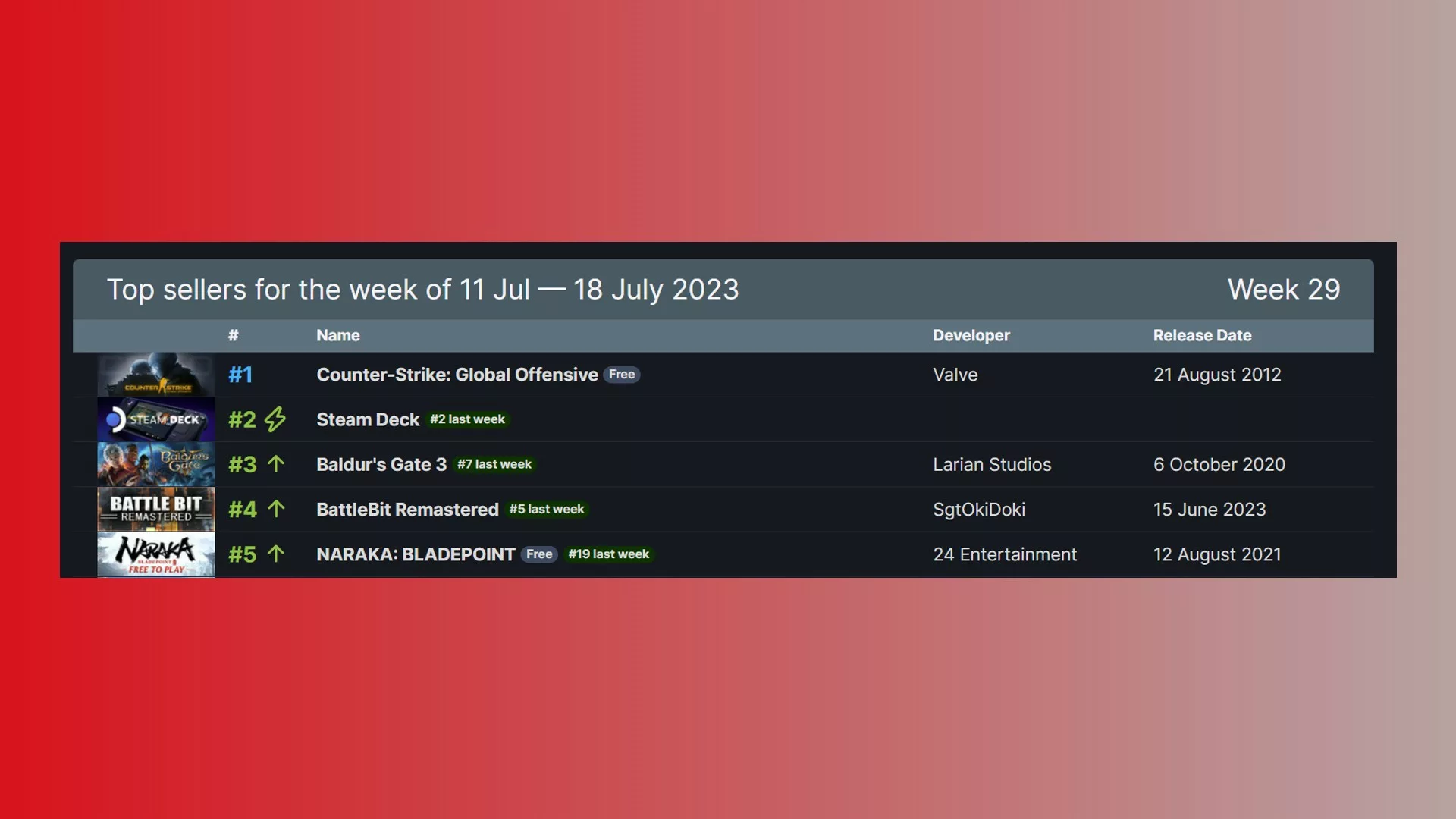 In addition to the thrilling romantic encounters within Baldur's Gate 3, we have also discovered that the game encourages you to literally toss your teammates. With such intriguing gameplay mechanics, there is a wealth of content awaiting players on launch day.
Prepare yourself for a captivating journey to the Forgotten Realms as Baldur's Gate 3 continues to captivate gamers and conquer the Steam sales chart. With its immersive world and promising gameplay, it's set to be an unforgettable adventure for all.