The Star Wars universe has introduced audiences to countless memorable characters across films, shows, books and more, but few have made the leap from animation to live-action as momentously as Ahsoka Tano. First debuting as Anakin Skywalker's spunky Padawan learner in the animated film Star Wars: The Clone Wars back in 2008, Ahsoka quickly became a fan favorite for her tenacity, intelligence and growth into a mature leader who ultimately walked away from the flawed Jedi Order.
After becoming a key player in the Rebellion's fight against the Empire in the acclaimed series Star Wars Rebels, Ahsoka made her first live-action appearance in The Mandalorian, once again portrayed by actress Rosario Dawson. Now Ahsoka takes center stage in her own self-titled Disney+ series, a direct continuation of unfinished business from Rebels involving the search for missing Jedi Ezra Bridger and Imperial Admiral Thrawn.
Helmed by Dave Filoni, who has shepherded Ahsoka's journey from animation to live-action, Ahsoka not only serves as a long-awaited spotlight for this fan favorite character, but also furthers connections between other animated favorites like Hera Syndulla and the larger cinematic Star Wars story. While relying heavily on lore from past shows, there's still plenty for casual viewers to latch onto with the new mysterious villains and Ahsoka's emotionally complex reunion with her strained protégé Sabine.
In this review, we'll take a close look at the first two episodes of Ahsoka to see how successfully this pivotal character makes the transition to headlining her own live-action series. From pacing and visuals to performances and ties to Star Wars canon, Ahsoka has big boots to fill, but the potential is clearly there.
A Galaxy-Spanning Quest with High Stakes
The first two action-packed episodes of Ahsoka waste no time establishing the series' driving quest: locating the missing Imperial Admiral Thrawn. After defeating the Empire, Ahsoka has turned her focus to finding this dangerous tactical genius in order to prevent his return and the potential rise of Imperial sympathizers. But this mission reconnects Ahsoka with uneasy allies, introduces new foes, and promises galaxy-altering consequences.
The premiere aptly titled "Time" finds Ahsoka continuing her search for a mysterious map that holds the key to finding Thrawn after his disappearance into the Unknown Regions. This map was last in the hands of vengeful administrator Morgan Elsbeth, who Ahsoka previously apprehended on the forest planet Corvus. But Elsbeth has now escaped imprisonment, forcing Ahsoka to reluctantly reunite with her former Rebellion compatriots Hera Syndulla and Sabine Wren, the latter harboring resentment towards Ahsoka.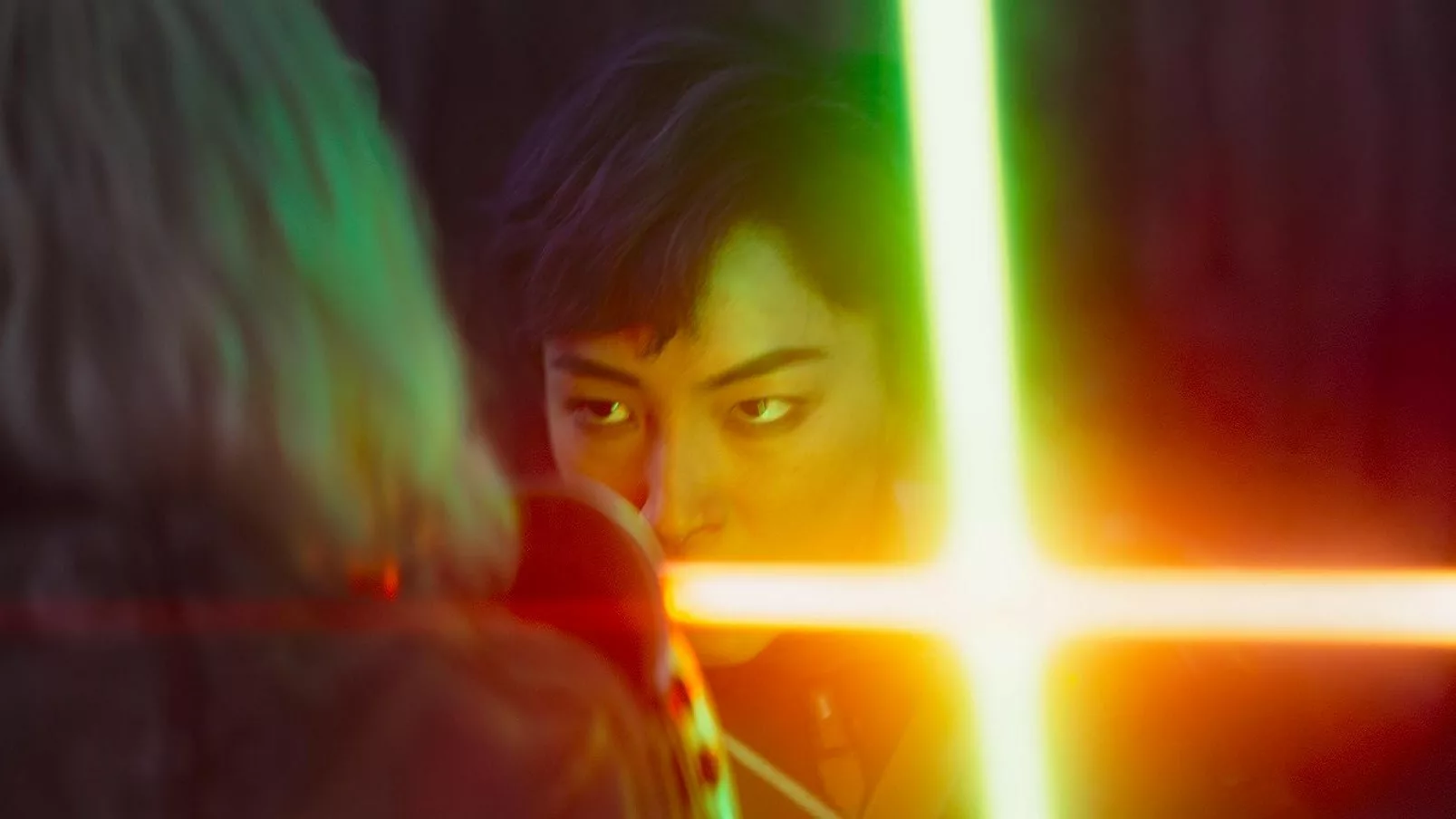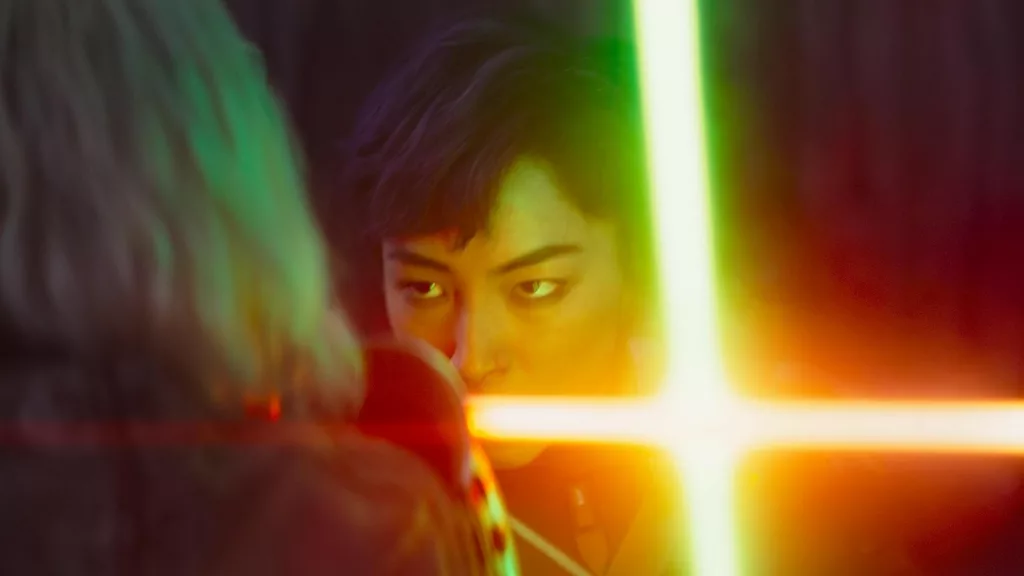 Things only get more complicated with the introduction of Jedi hunter Baylan Skoll, who breaks Elsbeth out of prison in a thrilling opening speeder chase. Skoll has his own dark motivations for obtaining the map and unleashing Thrawn's return. After Ahsoka and Sabine track down a piece of the map on the urban planet Lothal, the stakes are raised further when it projects an image of Ezra Bridger – Sabine's missing friend who sacrificed himself to stop Thrawn previously. Now it's a race between Ahsoka and her allies against Skoll to find Thrawn first.
The parallel storylines converge on the planet Raada, where Ahsoka attempts to broker a deal with Elsbeth for the map while Sabine searches for clues on Lothal. Skoll interrupts violently, leading to tense standoffs, narrow escapes, and thrilling lightsaber combat. Ahsoka and Sabine's relationship remains on shaky ground, but the secrets of the map hint at a much larger quest ahead involving Ezra's unknown fate.
By developing layered villains, high-risk settings, unanswered questions about the past, and unlikely reunions, the premiere episodes of Ahsoka deliver a strong narrative foundation. The series balances fresh storytelling while rewarding loyal fans of the animated series who have waited years for these threads to be explored. While the Emprie may have fallen, the danger has perhaps only just begun anew for Ahsoka and her allies.
Complex Characters Old and New
Ahsoka succeeds in bringing fan favorite animated characters convincingly to life while also introducing compelling new ones that expand the drama and stakes. These complex personalities drive the storytelling and offer promise for future growth.
First and foremost is Ahsoka Tano herself. While Ashley Eckstein voiced the character with an energetic zeal in The Clone Wars and Rebels, Rosario Dawson plays the role with more muted gravitas befitting Ahsoka's hardened experience. This restraint makes sense given Ahsoka's disillusionment with the Jedi Order and the trauma she has endured fighting the Empire. Dawson conveys the inner turmoil under Ahsoka's zen exterior, hinting at new depths to explore. Her sober disposition plays off well against the reckless abandon of her protégé Sabine Wren.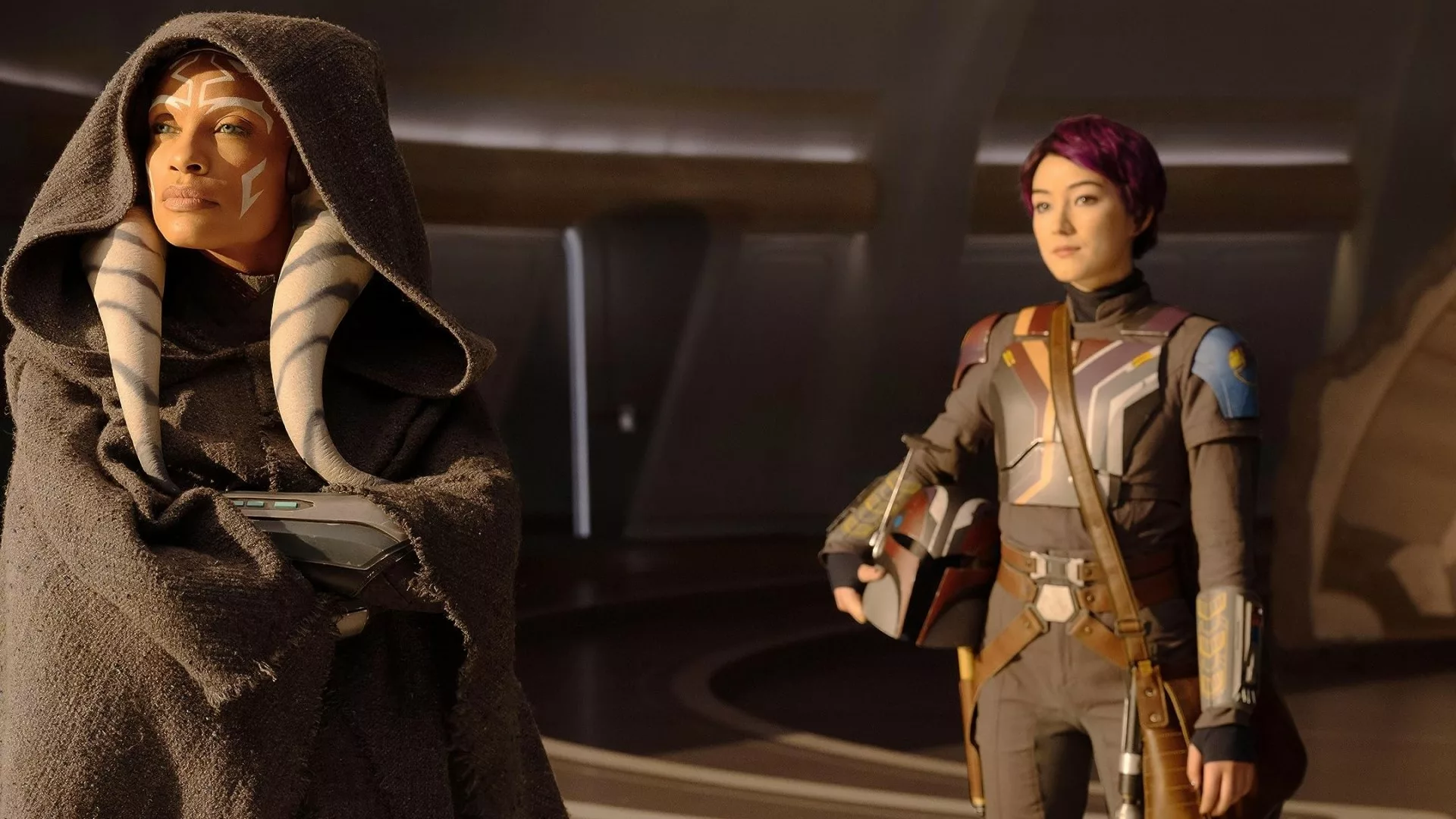 Reprised by Natasha Liu Bordizzo, Sabine remains the fiery Mandalorian artist Rebels fans grew to admire. Her creative spirit manifests in stylistic clothing, graffiti art, and customized weapons that make her fight scenes pop visually. But beneath this impulsive attitude lies regret and fixation on those she couldn't protect, like her missing friend Ezra Bridger. Her strained dynamic with mentor Ahsoka, stemming from past failures, drives immediate conflict while allowing room to mend fences.
On the villainous side, Baylan Skoll makes an immediately chilling impression thanks to the late Ray Stevenson's gravitas. As a fallen Jedi turned mercenary, Skoll retains enough adherence to the Force to wield a lightsaber and manipulate minds. Yet his moral fluidity in serving imperial loyalists paints him as a new kind of Star Wars villain operating in the post-Empire landscape. His motivations and history with Ahsoka offer intriguing mysteries.
General Hera Syndulla, another Rebel veteran, provides a steady hand as a voice of wisdom and leadership true to her characters' growth in Rebels. Fan favorite droid Huyang also returns via David Tennant's voice work to inject levity and exposition around Jedi lore. And even returning minor characters like Lothal governor Ryder Azadi demonstrate how lived-in Ahsoka's world feels thanks to its animated roots.
By populating the new live-action series with personas that have years of development, yet not solely relying on nostalgia, Ahsoka strikes an effective character balance. It respects longtime fans while organically introducing new dynamics, backstories and emotional arcs that make the galaxy feel boundless in potential. The characters successfully drive both the intimate character journeys as well as the epic planetary stakes.
Rewarding Fans While Welcoming Newcomers
Ahsoka strikes a delicate balance between heavily rewarding loyal fans of the animated shows while still offering enough exposition for viewers jumping in blind. The series manages to anchor itself firmly in the wider Star Wars mythology without getting too bogged down in obscure references.
Fans of The Clone Wars and Rebels will get the most payoff from Ahsoka's direct narrative links and returning characters. The show picks up story threads regarding Thrawn, Ezra, and the Wold Between Worlds left dangling after Rebels. Ahsoka's fraught relationship with Sabine and the search for Ezra formed major emotional cores for Rebels that find continuation here. Appearances from Hera Syndulla, Chopper, Huyang and more immediately connect to their animated adventures.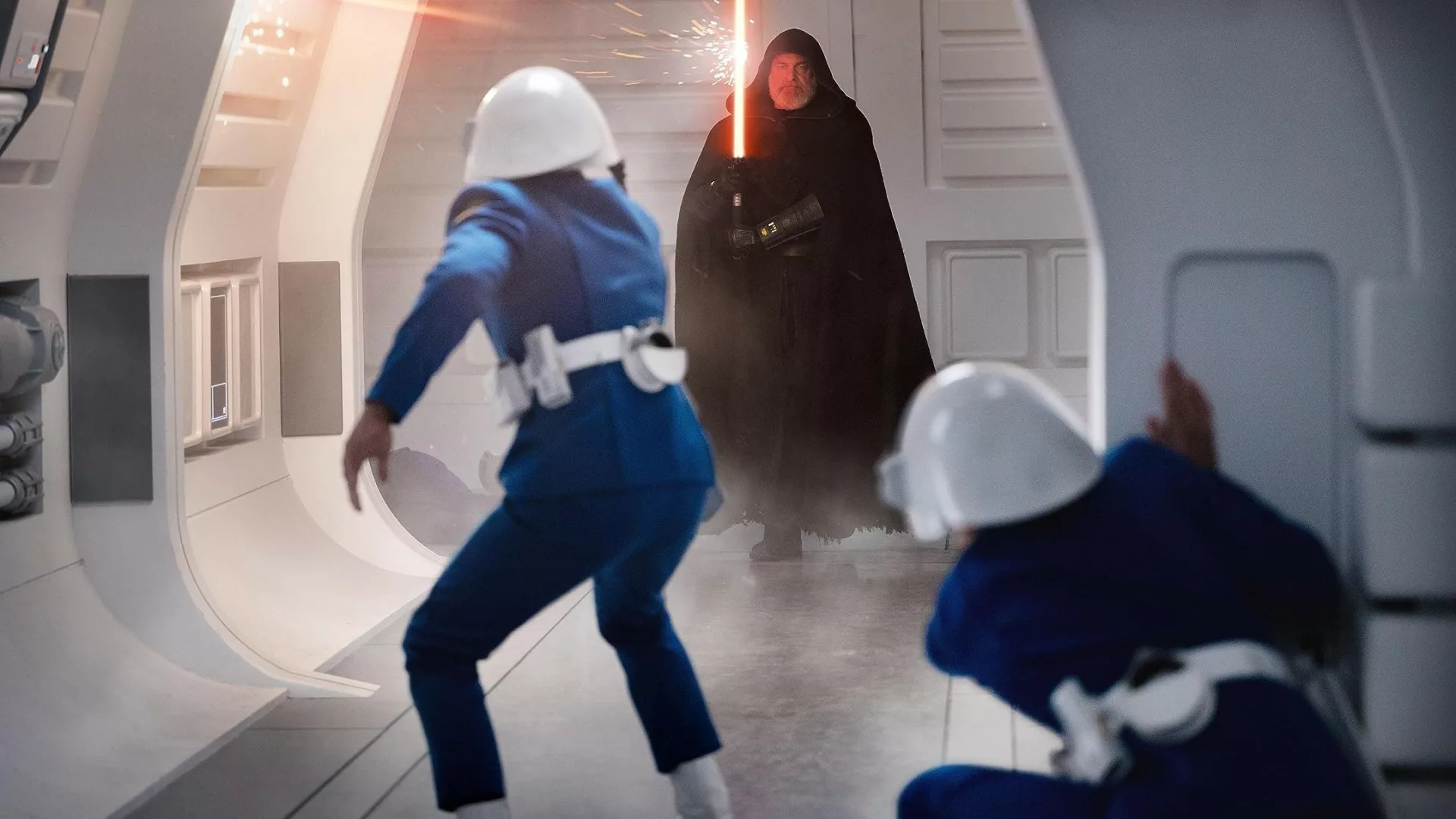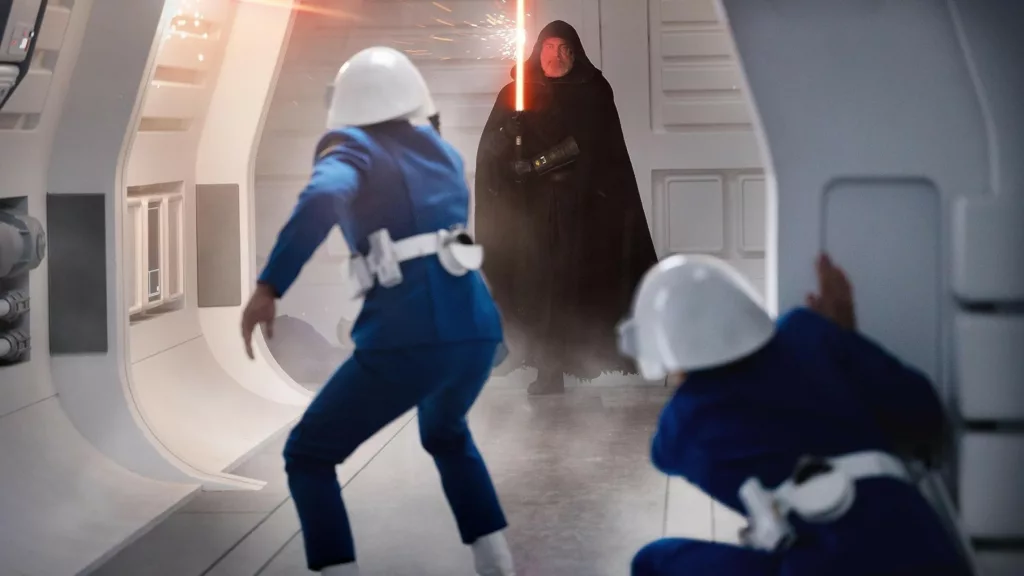 Yet Ahsoka still takes the time to provide just enough context on these characters and past events for new viewers following Ahsoka's saga for the first time. Quick lines referring to the Empire's fall, Ahsoka's pre-existing connection to Morgan Elsbeth, and the loss of Ezra provide crucial orientation without getting mired in exposition. The show conveys a clear path forward around finding Thrawn and the map rather than presuming audiences already know these stakes intimately.
In this way, Ahsoka honors the work done building up the current state of the Star Wars galaxy through animation while not excluding newcomers. It demonstrates how ancillary media can enhance and expand characters and stories that then organically cross over into live-action projects. This interconnectivity makes the Star Wars universe feel whole.
At the same time, Ahsoka hints at plenty of new directions pointing towards the future of this timeline rather than solely mining the past. The planet Raada and its terraforming offer visual flair. New villains like Baylan and his apprentice provide their own mysterious backstories to uncover. Ahsoka's personal path of reconciling her Jedi past with her post-Rebellion present continues evolving.
By blending rewarding connections with accessibility for all fans, Ahsoka proves that honoring animated foundations need not come at the expense of inviting new viewers into the journey. There is a vast galaxy left to explore down many paths, illuminating both past and future.
Cinematic Scale and Craftsmanship
While shows like The Mandalorian have demonstrated that Star Wars can feel at home on the small screen, Ahsoka possesses feature film-level production values that make the most of its blockbuster budget. From grand vistas to sleek effects, Ahsoka looks and sounds like a visually stunning addition to the saga.
Most impressive is the meticulous recreation of animated locales like Lothal and Capital City in live-action form. The urban sprawl and aesthetics perfectly mirror Rebels while bringing the environments to photorealistic life. Textures like stonework and rust on vehicles ground the fantasy in realism. The terraformed planet Raada also dazzles with its environment design. These fully realized settings provide epic backdrops for the story unfolding.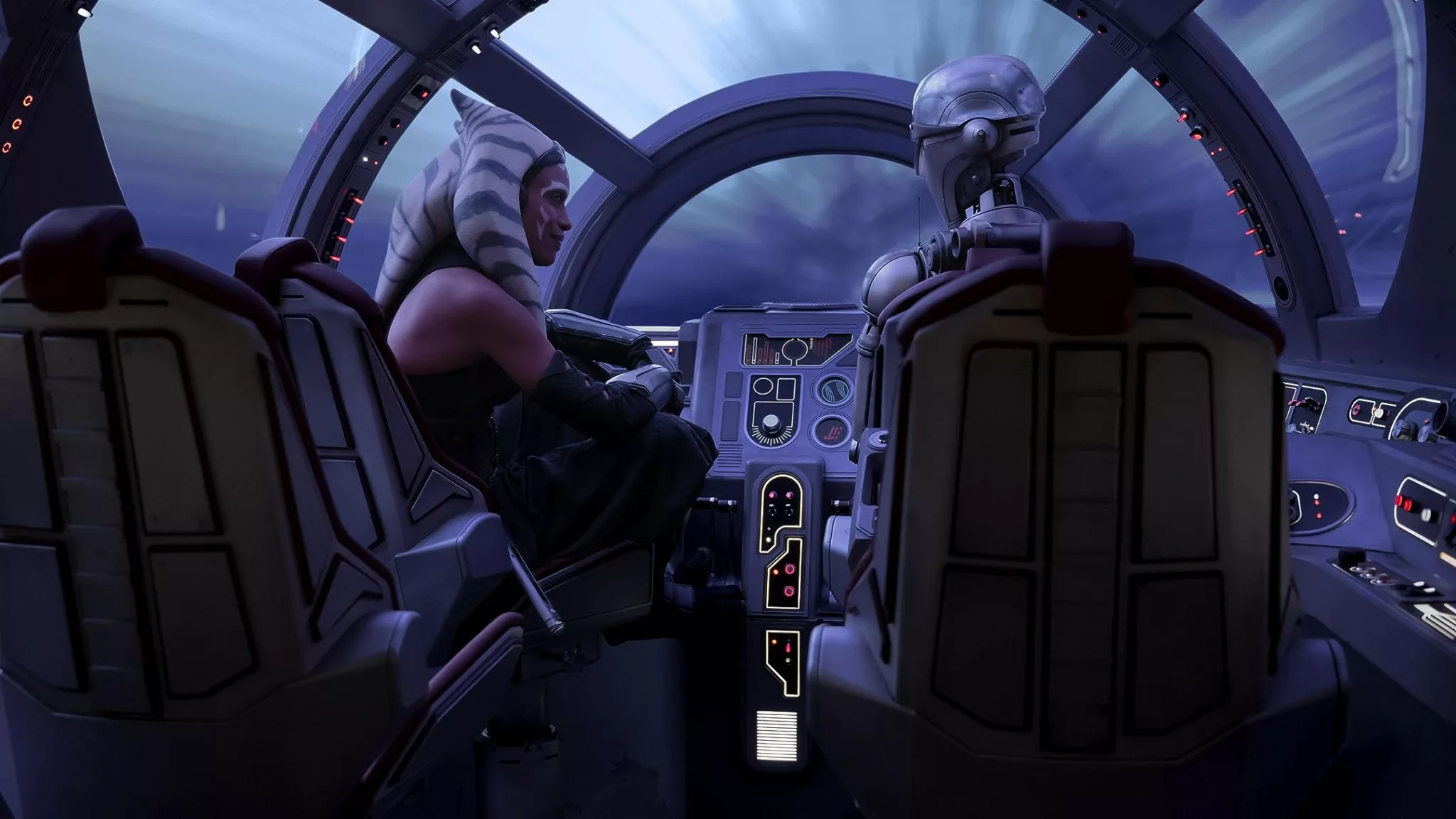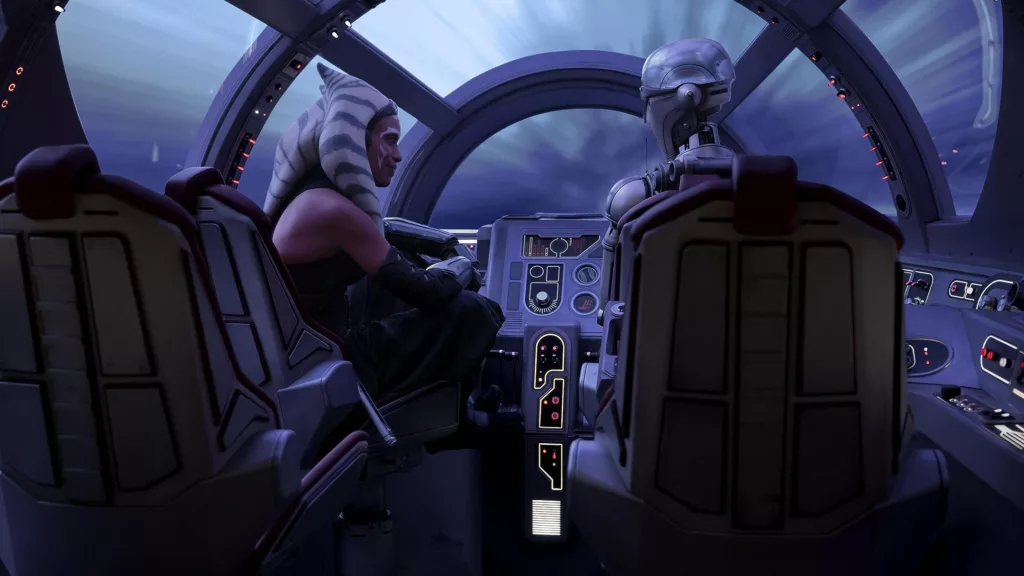 The lighting and cinematography further enhance the cinematic atmosphere. Deep shadows, lens flares and low camera angles bring a moody ambience, punctuated by vibrant lightsaber flashes in action scenes. Whether soaring through the cosmos or clashing in dark hideouts, the visual language screams big screen despite the smaller format.
This all comes to life sonically thanks to detailed sound design that puts you right into intense speeder chases and electrifying duels. Kevin Kiner's orchestral score erupt at key emotional moments while also knowing when to dial back and let silence speak volumes. The audiovisual canvas remains just as vital as the writing and acting.
And when it comes time for fights, the effects wizards and stunt team deliver thrilling choreography with both practical and digital wizardry. Sparks, severed limbs, and explosions sell the lethal danger at hand while inventive camerawork keeps the combat kinetic yet coherent. The action stays rooted in character, such as Ahsoka using her dual lightsabers in concert with her acrobatic finesse.
With lavish production design, evocative cinematography, robust sound and compelling action, Ahsoka completes its live-action evolution by capturing the same visual magic as Star Wars' greatest moments. The technical mastery on display brings immersive new dimensions to a beloved character.
Uneven Storytelling Hinders Momentum
While individual scenes deliver stunning action and visuals, the larger narrative shaping of Ahsoka's first two episodes causes the show to lose steam through slow pacing and disjointed story arcs. There is plenty of talent on display, but the writing fails to make all the pieces coalesce into a propulsive adventure.
The premiere works hard to establish the quest for Thrawn and the cryptic map leading to him. But despite the galaxy-altering stakes implied, there is a lack of urgency and focus to the proceedings. Too often the story meanders down convoluted tangents like the corruption subplot on Lothal rather than keeping the forward thrust.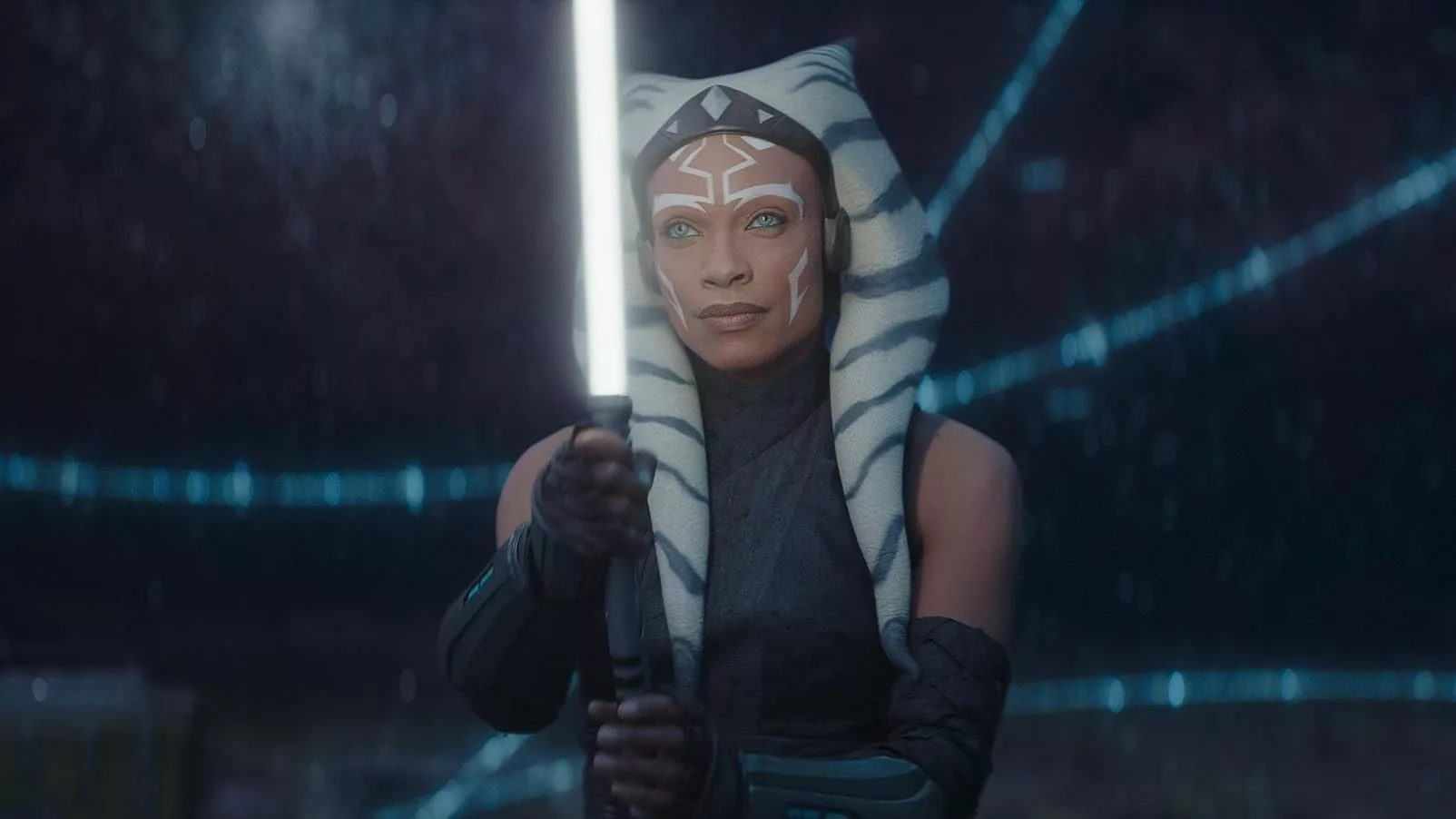 This stems in part from the overly cryptic dialogue between Ahsoka and Sabine. Their vague references to past events and refusal to plainly state their goals gets repetitive and obscures the central thread. While clearly intentional to maintain an air of mystery, it diminishes the chemistry between the leads that should anchor the series.
The pacing also slows to a crawl for prolonged periods between action scenes. Weighty pauses and melancholy stares dominate as the characters brood. Once again, this tries to suggest hidden depths, but too much brooding lacks narrative impact. The story relies on dramatic beats from Rebels without properly setting them up for new audiences to appreciate.
That said, when the story does pick up momentum, there are intriguing implications around the mystical map, time travel, and exploring the galaxy's unknown regions that speak to the magical side of Star Wars lore. These moments represent the title character at her most compelling while tackling spiritual questions of fate and destiny.
Unfortunately the sluggish atmosphere permeates too much of the first two episodes for these elements to fully resonate. The series clearly intends to unravel its mysteries at a deliberate, introspective pace. But so far that pace comes at the cost of narrative urgency and accessibility. With writing that matched its stellar production, Ahsoka could realize its grand vision. For now, it remains weighed down by the storytelling shortcomings holding back its technical triumphs.
Talented Cast Stymied by Stilted Material
Given the pedigree of performers involved, the acting in Ahsoka ends up surprisingly flat, lacking the dynamism and personality that defined these characters in animated form. This likely stems from underwritten dialogue rather than any fault of the cast, who do their best with the material at hand.
In bringing Ahsoka to live-action, Rosario Dawson opts for a subdued interpretation that pales against Ashley Eckstein's more spirited vocal performance. Dawson certainly projects wisdom and resilience, but fails to capture Ahsoka's warmth and quick-witted charm. The muted dialogue leaves her attempting to convey emotional depth solely through stares. This makes Ahsoka feel diminished as a character.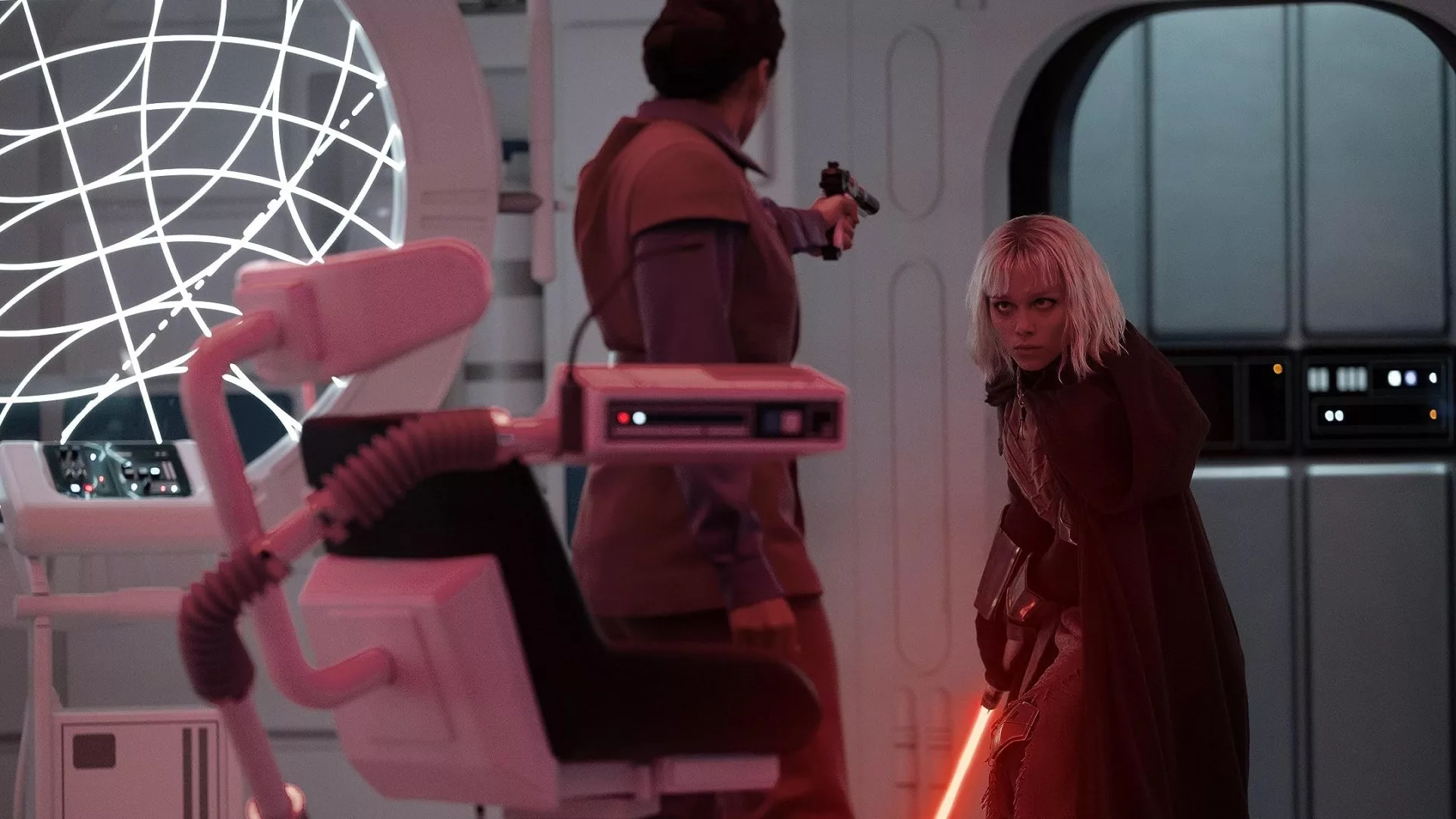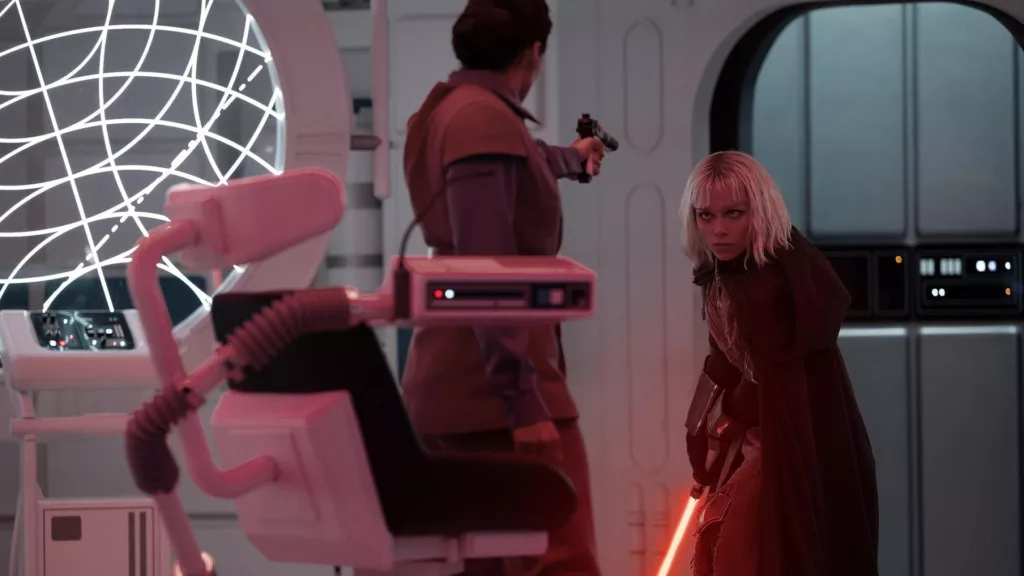 As Sabine Wren, Natasha Liu Bordizzo also struggles to liven up cryptic pronouncements and lengthy brooding silences. Her training scenes hint at the exuberant fighter within, but Bordizzo lacks the scripted opportunities to fully recreate Sabine's personality. The stunted dialogue hobbles any efforts to portray genuine chemistry and camaraderie with Ahsoka.
Mary Elizabeth Winstead brings a steadier presence to Hera Syndulla, befitting her character's leadership growth. But she too has scant material to work with beyond sagely advice. Even David Tennant's eccentric voice work as Huyang gets undercut by obligatory exposition. The characters made memorable impressions through animation, but lose that energy transitioning to live-action.
The outlier is Ray Stevenson, who leaves a lasting mark as Baylan Skoll by sheer presence alone. While underserved by the writing as well, his imposing physicality and gravitas bring weight to Skoll's villainy that contrasts the other performances. When the series gives him a meatier antagonist role, he rises to the challenge.
There is proven talent both in front of and behind the camera here. With writing that gives them more personality and levity to feed off of, the cast of Ahsoka can better emulate the spirit that has endeared audiences to these characters for over a decade. The potential still remains to develop the lived-in chemistry and charm inherited from the beloved animated foundations.
A Promising Start That Leaves Room to Grow
While Ahsoka displays incredible craftsmanship and vision in bringing this beloved character to live-action, the first two episodes fail to fully deliver on that rich potential. Uneven storytelling and stilted character dynamics weigh down the series premiere, making it play more like an extended prologue.
Yet the technical mastery on display, from stunning visuals to thrilling action, demonstrate that the essential ingredients are all here for Ahsoka to evolve into something special. The deep connections to Star Wars lore reward loyal fans while the new locations and villains provide accessibility to casual viewers. Most importantly, Rosario Dawson embodies both the world-weary wisdom and inner turmoil of Ahsoka Tano, even if the writing has yet to take full advantage.
With some tightened pacing, snappier dialogue and enhanced character chemistry, future episodes can hopefully smooth out these early wrinkles. Ahsoka's first live-action quest still holds the promise of tapping into the mystical elements of the Force, expanding the galaxy, and forging a compelling path forward from her animated origins. The story seeds are planted; now the show simply needs to let them flourish.
For all its evident talent and reverence for Ahsoka Tano's journey thus far, the series premiere represents more of a stilted start than a powerful fulfillment of this character's live-action potential. But the room for growth and greatness still lies ahead once the storytelling matures to match the stunning presentation. The mission is not over yet.
The Review
Ahsoka
While showing glimmers of potential, the premiere of Ahsoka ultimately falls short with uneven pacing, stilted dialogue, and performances that lack the vitality of the animated source material. More dynamic storytelling is needed to fully realize a beloved character's live-action promise.
PROS
Strong production values and visuals
Rewards longtime fans of the animated shows
Rosario Dawson's portrayal hints at deeper characterization
Intriguing new villain in Baylan Skoll
Expands mystical elements of Star Wars lore
CONS
Uneven pacing hampers narrative momentum
Stiff, cryptic dialogue limits character chemistry
Acting lacks dynamism of animated counterparts
Relies heavily on pre-existing fan knowledge
Fails to make new viewers invested in stakes