Superhero fans, it's time to meet the newest crusader on the block – Blue Beetle! With decades of comic history behind him, Blue Beetle is finally making his big-screen debut as part of DC's ongoing cinematic universe. And based on early reviews, it looks like this rookie hero might give some of DC's more established icons a run for their money.
For those unfamiliar with the character, Blue Beetle has been around in various comic incarnations since the Golden Age of the 1930s. Several different alter-egos have taken on the Blue Beetle mantle over the years, with modern iterations possessing a powerful alien scarab that transforms them into a high-tech armored hero. The current Blue Beetle is Latino teenager Jaime Reyes, bringing much-needed representation to the superhero world.
DC has had a spotty track record with its recent string of interconnecting films, ranging from hits like Aquaman and Shazam! to disasters like Justice League and The Flash. But Blue Beetle sounds like a fun, back-to-basics superhero origin story based on early reactions. With all the cosmic crises and convoluted crossovers in the DC universe lately, Blue Beetle promises a street-level, family-focused adventure.
In this review, we'll take a close look at all the elements that make Blue Beetle a bright spot in DC's catalog. From the charming lead performance by Cobra Kai's Xolo Maridueña to the deeper themes around family and Latino culture, Blue Beetle carves out its own niche in a crowded superhero landscape. Strap on your mystical scarab and get ready for a wild ride as we explore everything this bug-themed hero has to offer!
Bugging Out: Blue Beetle's Transformative Origin Story
Jaime Reyes is a regular college kid who returns home eager to put his new business degree to use helping his parents save their struggling auto shop. But fate has other plans for this would-be entrepreneur. After a chance run-in with the wealthy Kord family, Jaime ends up as the reluctant new host of an ancient alien artifact called the Scarab. Faster than you can say "metamorphosis," this ordinary teen is transformed into the super-powered Blue Beetle!
Things kick off when Jaime scores a meeting with charismatic Kord Industries CEO Victoria Kord and her idealistic niece Jenny. But instead of a job offer, Jenny slips Jaime a mysterious device she stole from her aunt's lab – the extraterrestrial Scarab. Despite Jenny's warnings, Jaime's curiosity gets the better of him and he accidentally activates the bug-shaped artifact.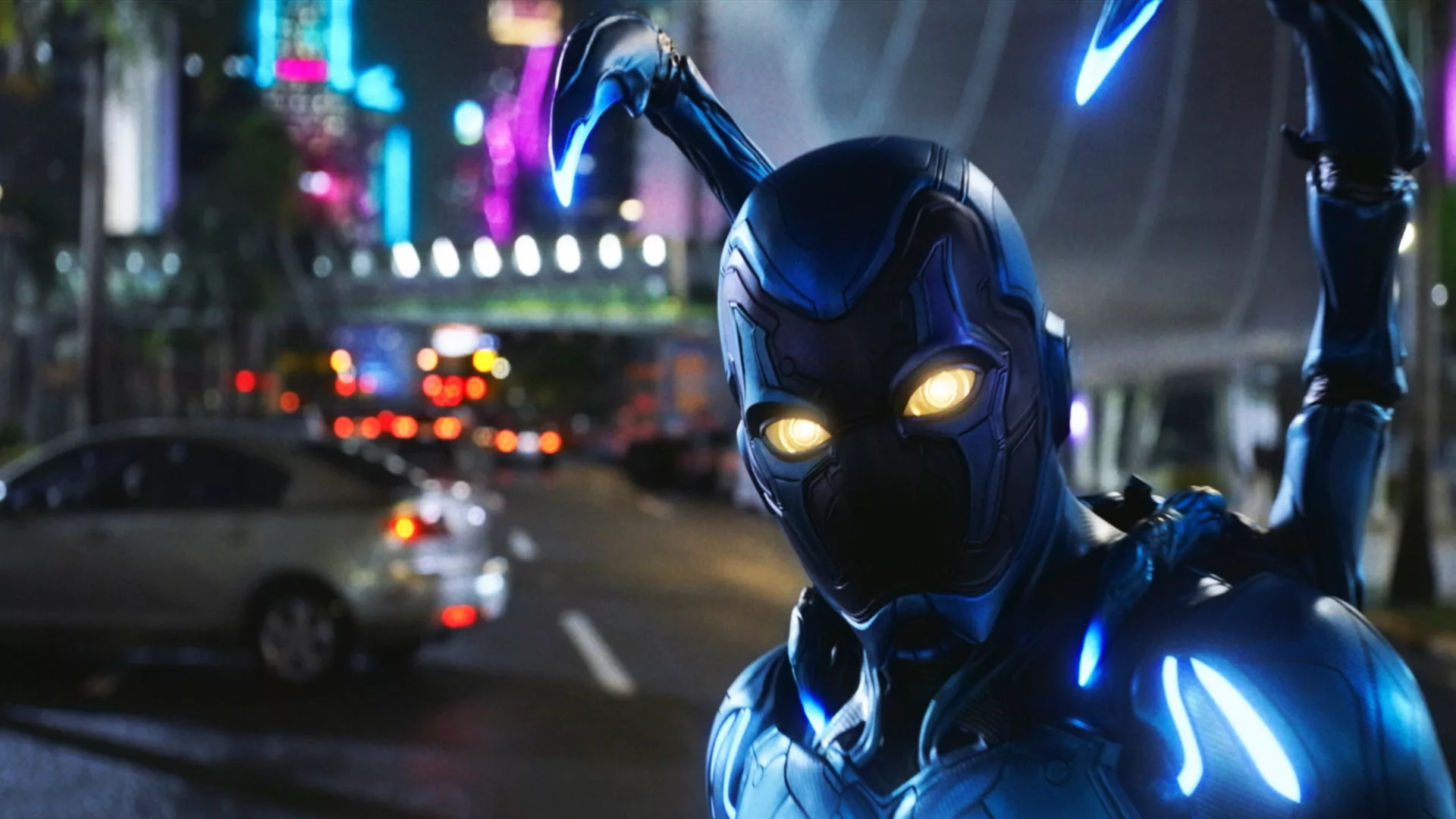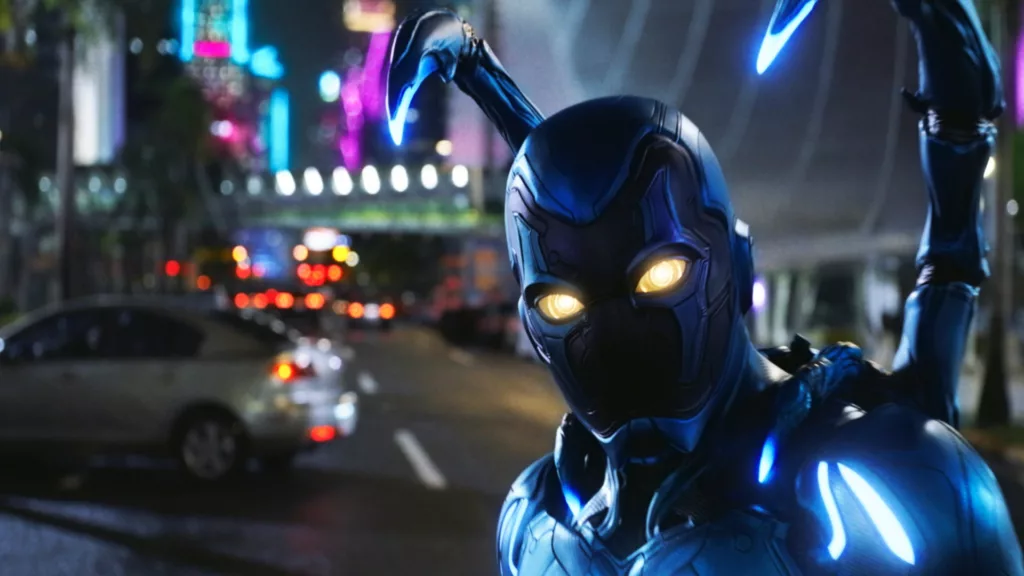 In a pulse-pounding sequence straight out of a sci-fi horror flick, tendrils shoot out from the Scarab and fuse to Jaime's spine as his family watches in horror. Jaime writhes in pain as the Scarab permanently bonds with its new host, creating a high-tech suit of armor around his body.
Understandably freaked out, Jaime tries to make sense of his strange new situation. Luckily, the Scarab comes installed with its own onboard A.I. that only Jaime can hear. This sassy sidekick, jokingly dubbed "Scarab Siri," clues Jaime in about his awesome new abilities. Through trial and a lot of embarrassing error, Jaime starts mastering powers like flight, enhanced strength, and advanced weaponry.
Of course, with great power comes great responsibility. Victoria Kord sends her henchman to retrieve the Scarab at any cost. To protect his family and discover the secrets of his origins, Jamie has no choice but to embrace his destiny as Blue Beetle.
With his supportive parents, cheeky little sister, and wild uncle along for the ride, Jaime dons the dazzling Blue Beetle suit to take down bad guys while cracking wise. But when faced with a showdown against Victoria's nearly invincible enforcer, this rookie superhero is pushed to his limits. The stage is set for an epic clash to decide the fate of the Scarab once and for all!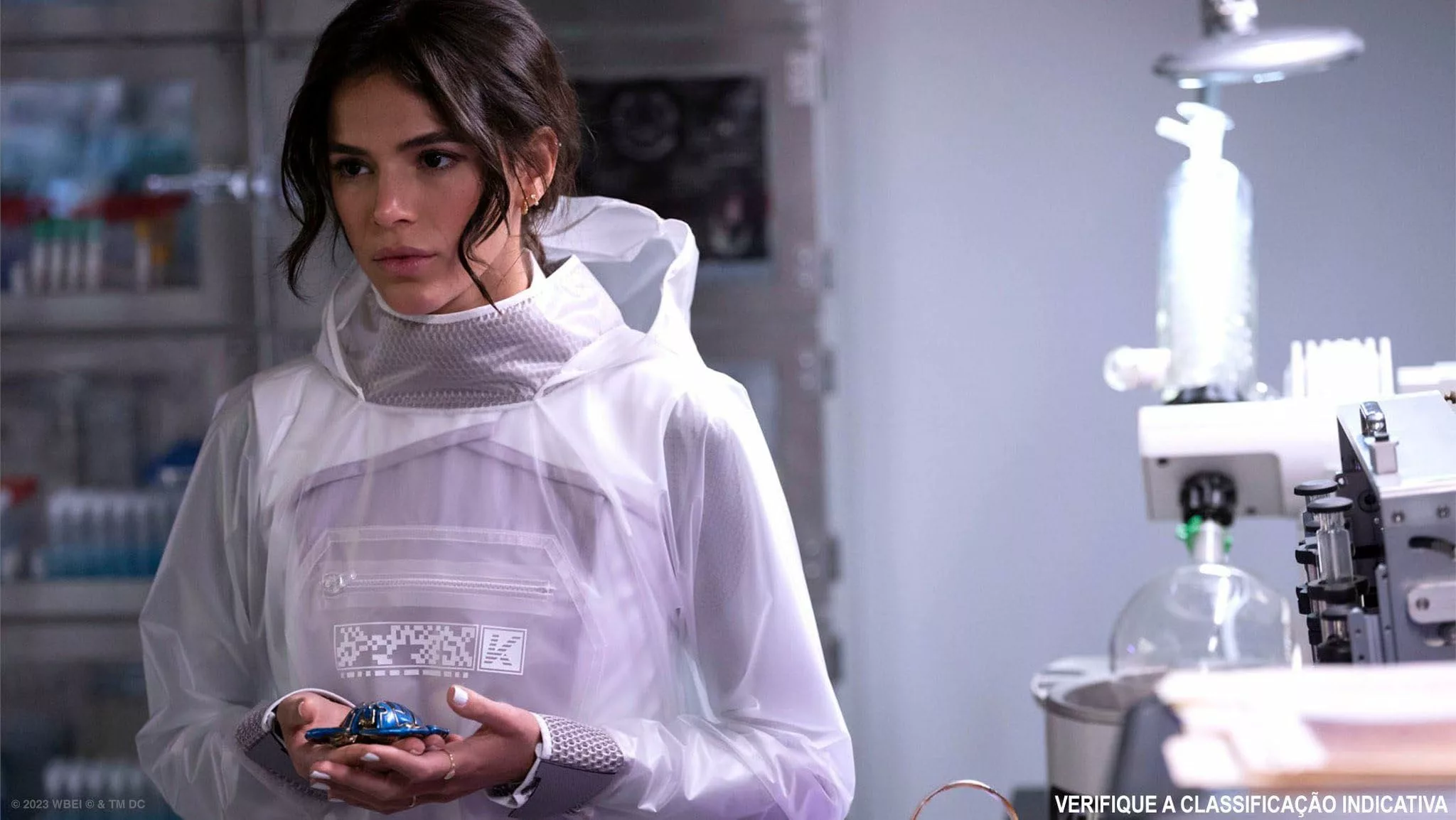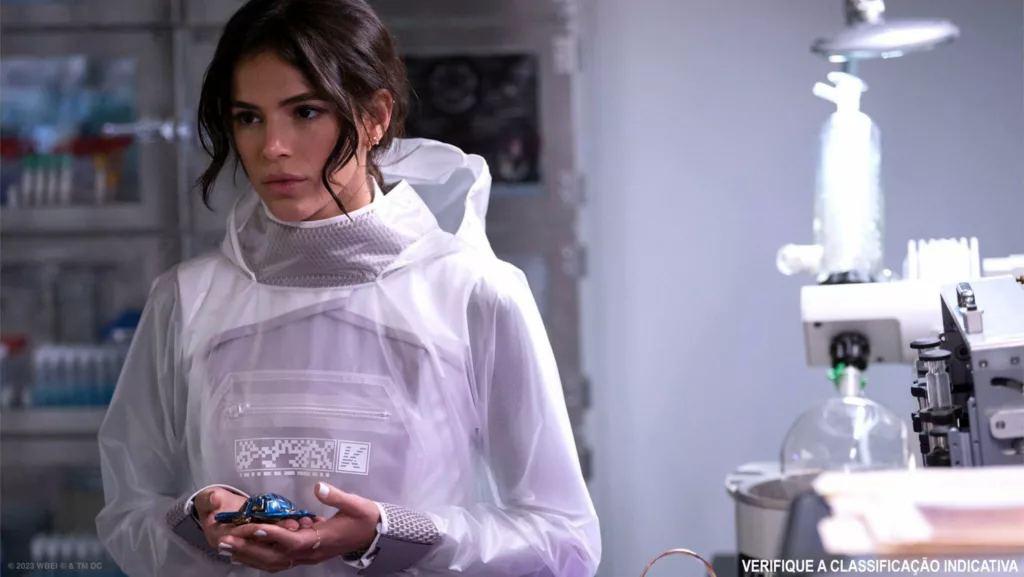 Beetle Breakdown: The Highs and Lows of DC's Newest Hero
Newcomer Xolo Maridueña effortlessly taps into a lovably grounded portrayal of Jaime Reyes that anchors the entire film. Jaime feels like a real teen – not some impossibly perfect paragon – with relatable struggles. We sympathize with his desire to support his family even as extraordinary powers are thrust upon him.
Maridueña nails both the lighter and more emotional moments as this insecure kid evolves into a bonafide superhero. His dynamic with the persistent Scarab A.I. voices in his head is also gold, like having a snippy Siri in your brain 24/7. Overall, Jaime emerges as a refreshingly grounded and complex Latino superhero audiences will root for.
The Reyes Family Brings Welcome Representation
While many superhero flicks breeze past the protagonist's family, Blue Beetle puts the relatable Reyes clan firmly in the spotlight. Their warm Latino household provides an inclusive counterpoint to the genre's usual white lens. The script gracefully folds Spanish language and Mexican cultural elements into their everyday dynamic.
But the Reyeses are never reduced reductive stereotypes either. The standout family members include Jaime's spunky little sister, lovably eccentric uncle, and abuela harboring hints of an unexpected badass side. Their presence and support humanizes Jaime while organically enhancing the story.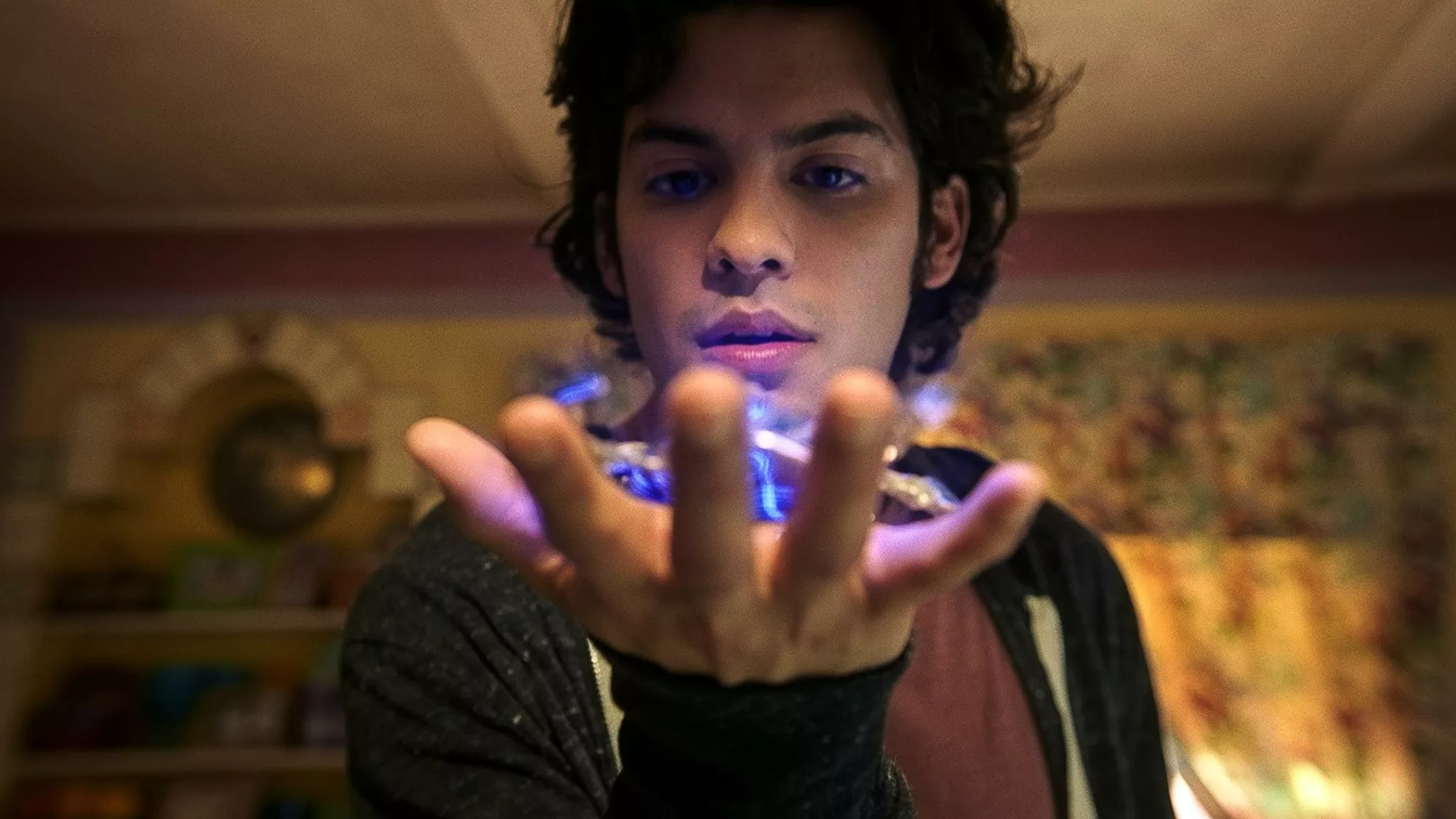 Lighter Tone Is a Welcome Change of Pace
Compared to the melodramatic gloom of recent DC films like Batman v Superman and Justice League, Blue Beetle opts for a more family-friendly, comedic vibe á la Shazam! Scenes of Jaime haplessly navigating his newfound powers elicit laughs by channeling teen underdog tales like Spider-Man: Homecoming.
Banter between Jaime and his bug suit's A.I. also boosts the humor. While the stakes are still real, the overall tone allows audiences to enjoy the ride without getting bogged down in gritty self-seriousness. It's a refreshing change of pace.
Blue Beetle packs all the CGI-heavy action you'd expect from a superhero blockbuster. Early scenes as Jaime first gains his powers brim with fun visuals, like him accidentally blasting holes through walls á la the X-Men's Cyclops. However, the repetitive final battle between armored villains grows tiresome pretty fast.
The designs for Blue Beetle's suit and arsenal of gadgets impress, yet lose impact when everything becomes a blur of indistinct fighting. Less CGI spectacle in favor of character-driven showdowns may have served the story better.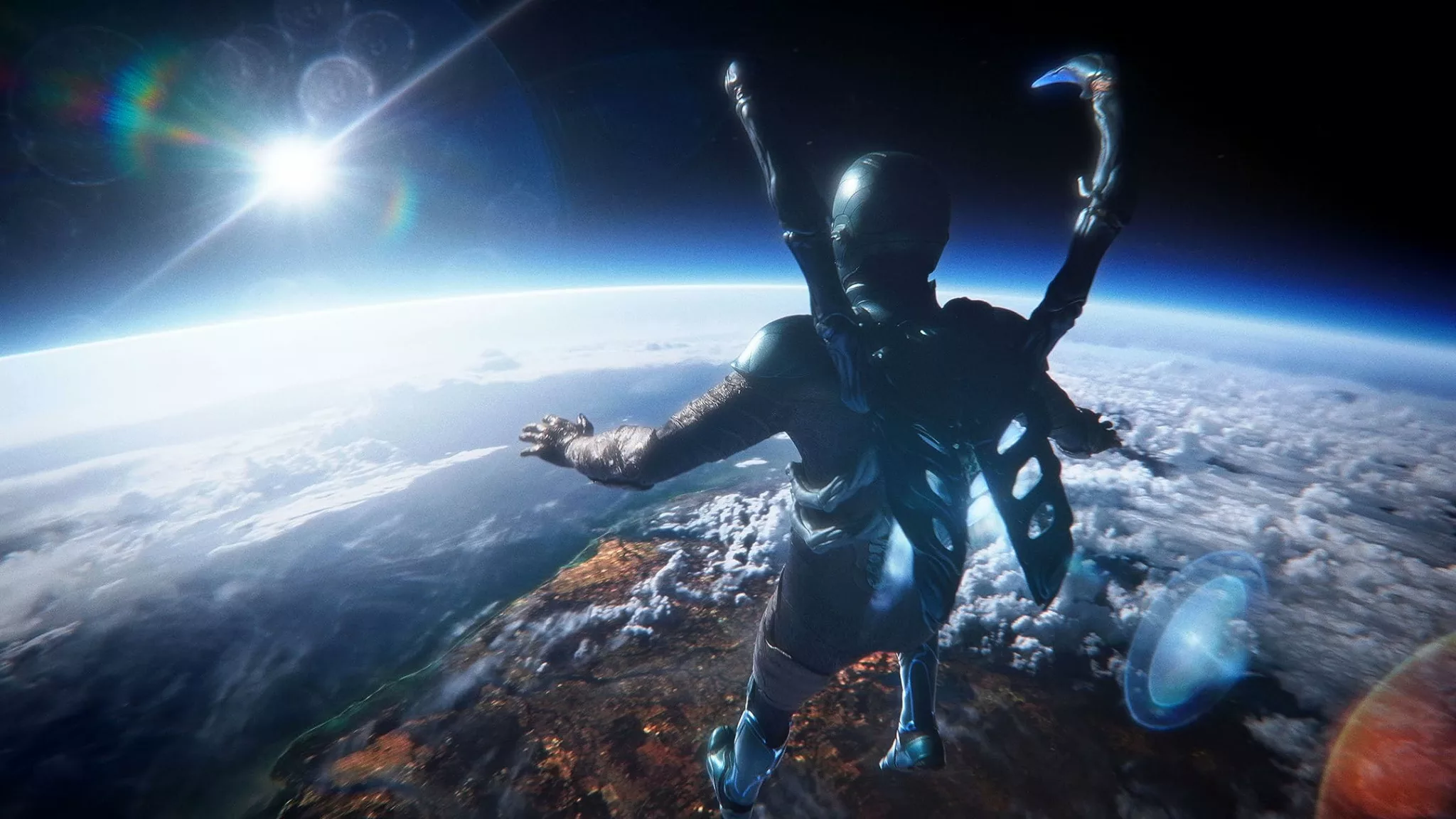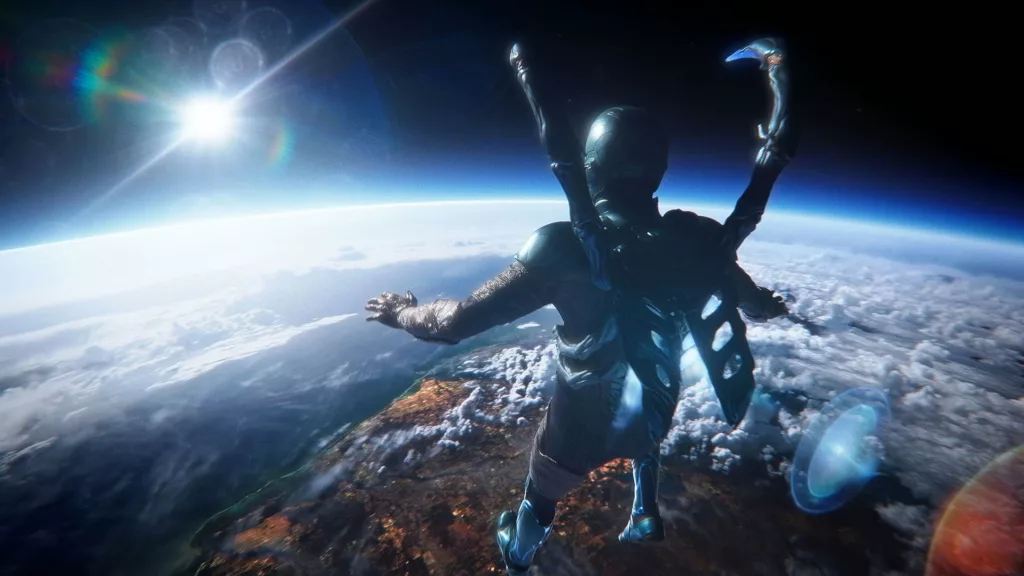 From references to previous Blue Beetles to cameo appearances by established characters like El Diablo, Blue Beetle does a solid job seeding the film with Easter eggs for comic book fans. Visuals lifted right from the pages include Jaime's stylish suit and Ted Kord's classic Beetle Bug aircraft. While newcomers can still follow the plot, these details help long-time fans feel rewarded for their knowledge. The film gets extra points for organically incorporating elements like the Peacemaker universe without forcing it.
The Kord Family Drama Anchors the Plot
While Jaime is the heart, the mysterious Kord family dynamic functions as the film's engine driving events forward. The generational conflict between ruthless Victoria and idealistic Jenny compellingly reinforces the stakes.
Their link to the previous Blue Beetle, Ted Kord, also adds intriguing backstory. Susan Sarandon clearly relishes playing the scenery-chewing villain role to the hilt. Although Jenny becomes a bit sidelined halfway through, Victoria makes for an imposing big bad. Overall, the Kords' mission to harness alien tech for their own ends provides a solid core conflict.
On the plus side, Susan Sarandon's Victoria Kord leaves a deliciously evil impression as the corrupt corporate baddie. Her agenda poses a credible threat, and Sarandon seems to be having a blast in the role. Unfortunately, main henchman Carapax feels generic despite hints of a deeper backstory.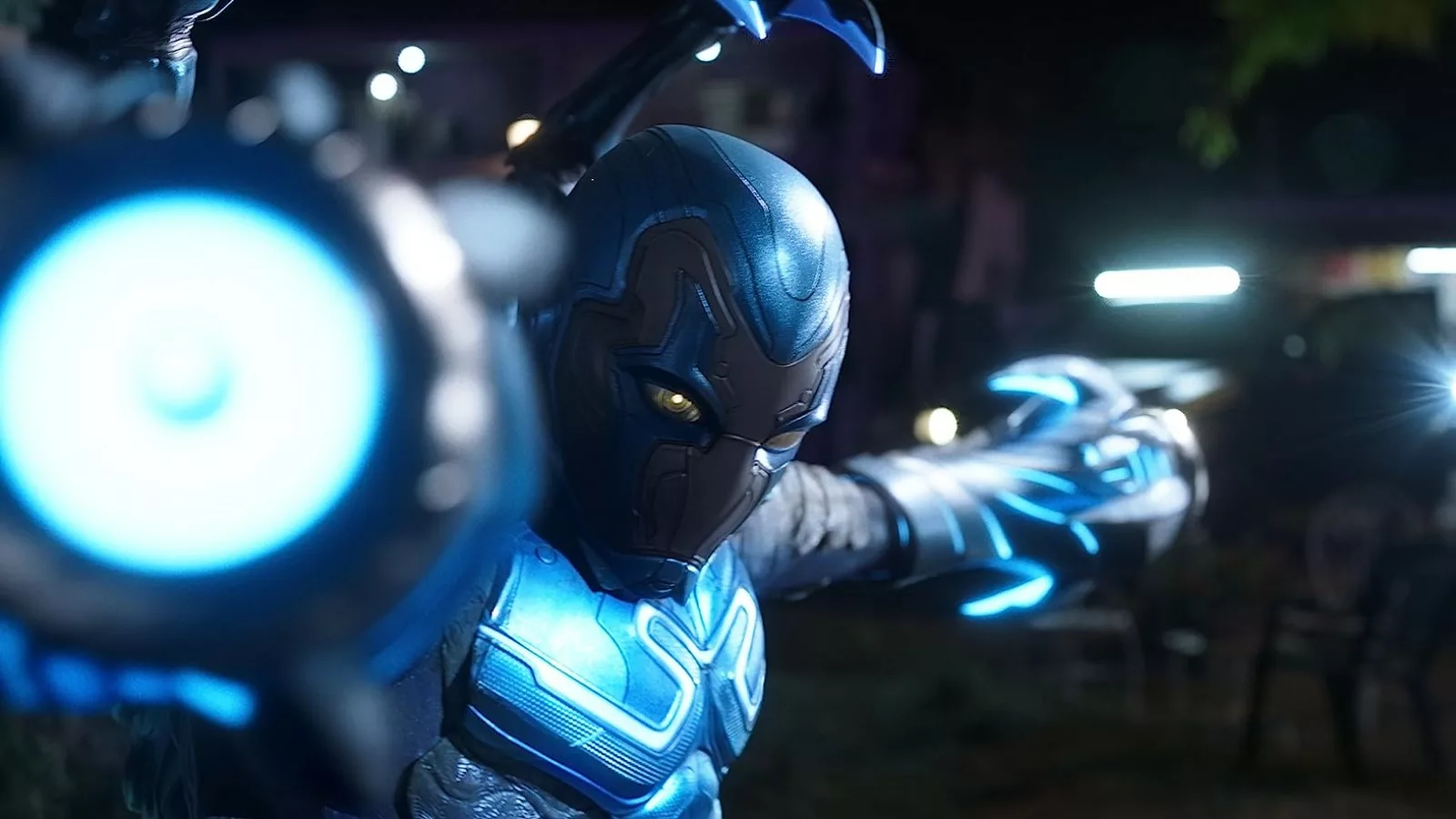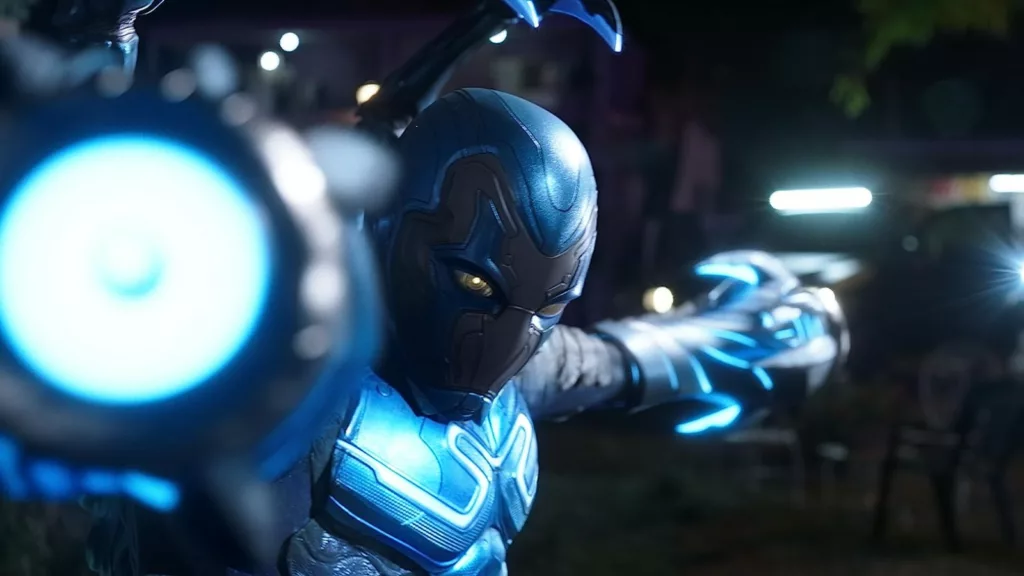 The character's motivations seem muddy and his visual design lacks originality. Still, Victoria represents how even human adversaries can be formidable foes for superheroes when done right. A more nuanced supporting villain could have amplified the tension.
How Does Blue Beetle's First Flight Stack Up?
It's impossible to watch Blue Beetle without drawing comparisons to previous entries in the crowded superhero genre. Let's examine how Jaime Reyes' big-screen debut measures up to classics like Spider-Man: Homecoming, Iron Man, and Black Panther when it comes to plot, tone and characters.
One major parallel is to Spider-Man: Homecoming, given both films' focus on inexperienced teenage heroes balancing powers with everyday high school life. However, unlike Peter Parker, Jaime's supporting cast is directly involved in his journey as Blue Beetle. This expands the scope beyond a traditional coming-of-age tale. Tonally, Blue Beetle skews more comedic, while Homecoming amped up the interpersonal drama.
Stark contrasts also emerge in the hero's origin story. Like Iron Man, Jaime gains abilities via advanced suit technology. But Tony Stark builds his ingenious armor himself, whereas the Scarab bonds to Jaime against his will. Their motivation differs too: Tony sees heroism as atonement, while Jaime is compelled by family duty. Both charmers with bravado though, so the witty banter rings familiar.
Looking at Black Panther, strong cultural identity drives both narratives. Yet while T'Challa assumes a leadership mantle, youthful Jaime is unsure of his path. Each film is grounded in a sense of place, be it Wakanda or Jaime's Latino neighborhood.  Blue Beetle also borrows the conceit of a secretive sci-fi kingdom hidden in plain sight.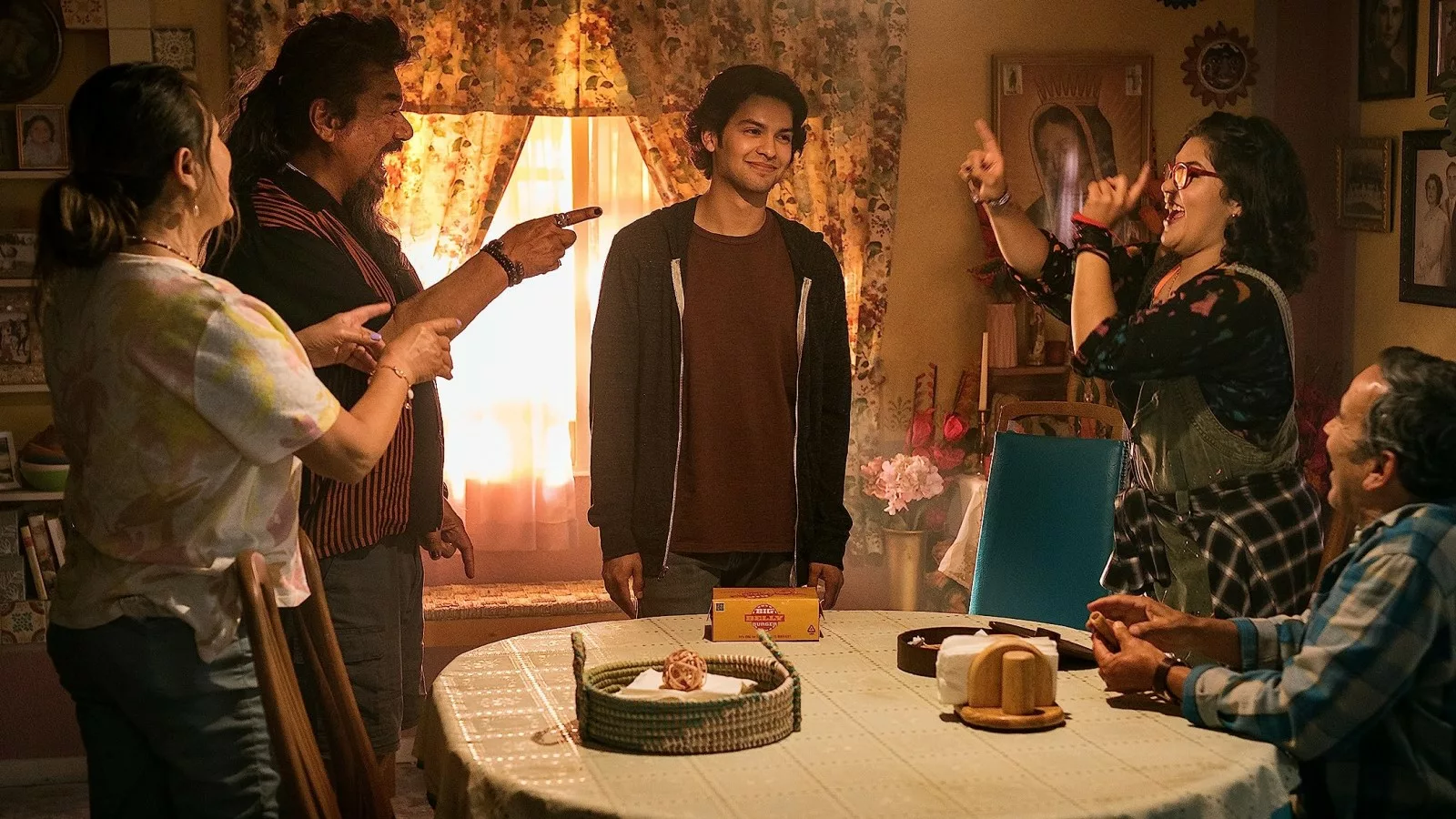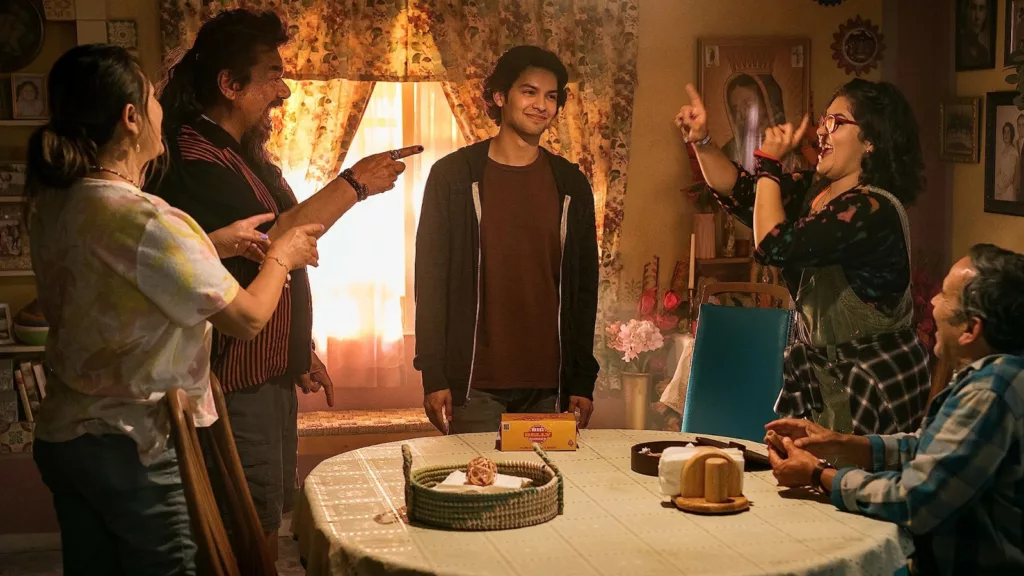 In terms of tropes, Blue Beetle checks all the boxes: dead parental figure, science experiment gone wrong, training montages, cool costumes and gadgets, final CGI-heavy battle. But thanks to a winning cast, it elevates the material enough to breathe new life into conventions. Compared to the familiar stakes in Spider-Man or Ant-Man, the family-first approach makes Blue Beetle stand out from typical solo origin stories.
While influenced strongly by past hits, Blue Beetle carves its own niche through humor, heritage and heart. The film sidesteps the gritty pitfalls of recent DC entries, offering youthful spirit and optimism akin to Shazam. Though formulaic at times, dynamic performances and themes of community give Blue Beetle's maiden flight enough lift to soar.
Reading Between the Lines: Themes of Family, Culture, and Responsibility
On the surface, Blue Beetle follows the usual superhero formula. But beneath the CGI spectacle lie thought-provoking themes that give the film unexpected depth. Let's discuss some of the core ideas around family, culture, power and responsibility.
Family comes first in Blue Beetle, subverting the genre's tradition of lone heroes. Jaime's parents, sister, uncle and grandma are integral supports, not distant figures. Their unconditional love shapes his choices more than any supernatural responsibility. And Jaime's powers draw them closer rather than isolate him. Unlike many heroes, he never has to lie. This celebrates the strength familial bonds can lend through even the most difficult trials.
Heritage also fuels the narrative. Jaime's Mexican-American neighborhood is portrayed as vibrant and complex, not a generic backdrop. Spanish language and cultural details enrich scenes organically, from the food to the music to the multi-generational household dynamic. Jaime grapples with living up to expectations as a first-generation college grad. These thoughtful details make him a trailblazing Latino superhero.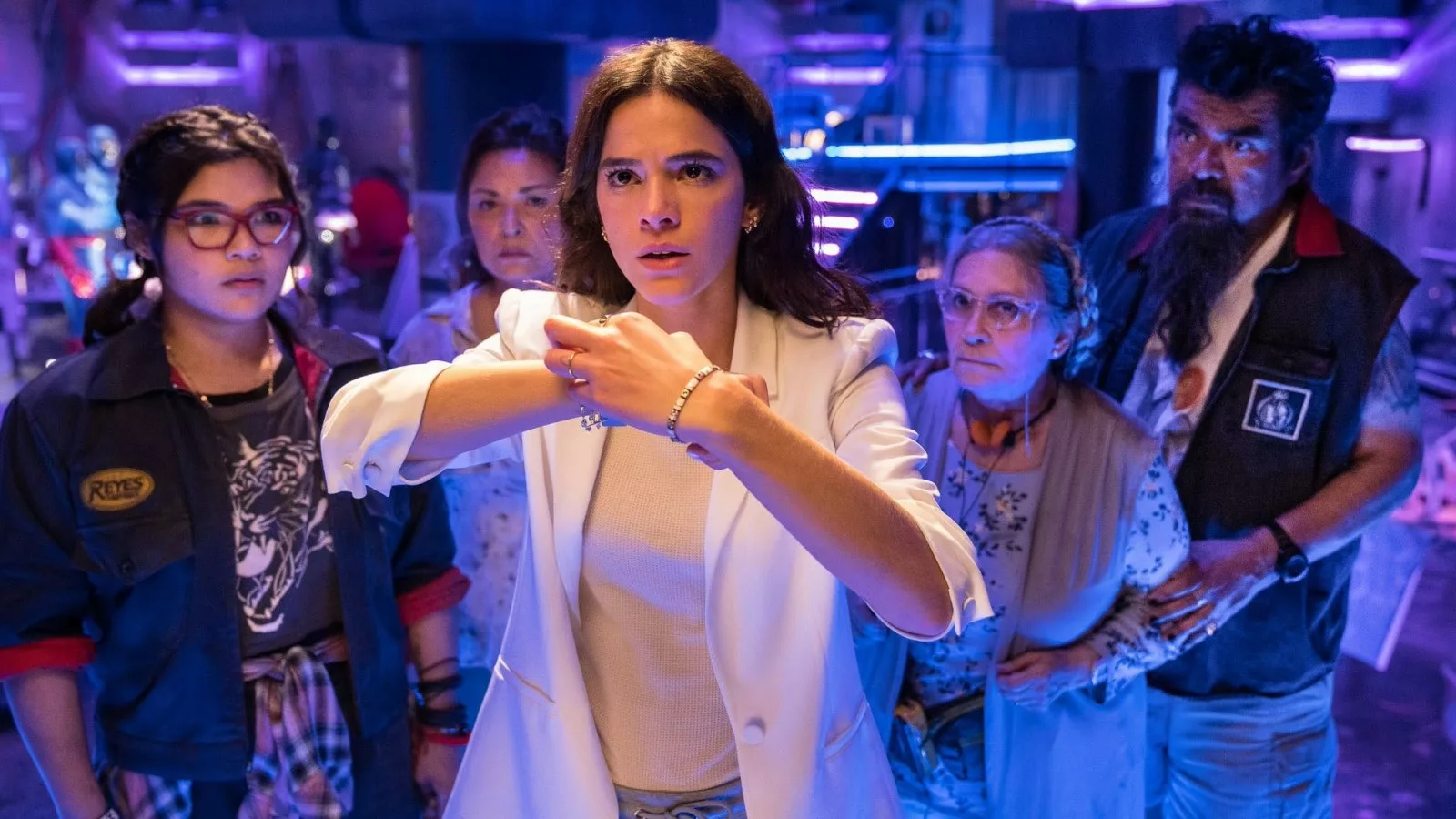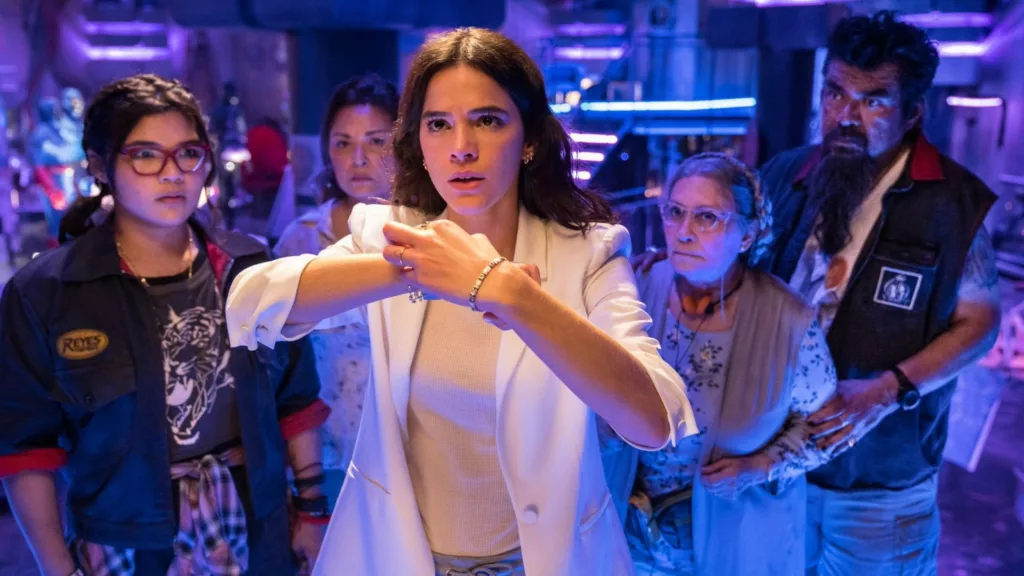 Gentrification threatens Jaime's community, reflecting relevant social issues. The film links the housing struggle to greedy corporate interests, represented by the unethical Kord Industries. Though not overtly political, it connects Jaime's superhero origin to very real economic injustices faced by minority groups. His fight for home and family takes on societal significance.
A poignant subtheme is how we use power. Victoria Kord seeks to exploit the Scarab's capabilities for destruction and control. In contrast, Jaime only unleashes his full abilities out of protection, not vengeance. The film implicitly asks how much power any one person or entity should wield over others. And how they wield it matters more than what it is. Perhaps the greatest strength is restraint.
Overall, Blue Beetle argues responsibilities rooted in family, culture and community should guide our actions – not supernatural gifts alone. Jaime's journey sends positive messages about embracing identity, fighting injustice, and using power for good. In representing today's diverse society while questioning what makes a true hero, it modernizes the genre for a new generation.
Behind the Mask: A Spotlight on Blue Beetle's Craftsmanship
Let's shine a light on the vital behind-the-scenes craftsmanship that brings Blue Beetle's world to life on screen through direction, cinematography, editing, production design and more. Director Ángel Manuel Soto takes an assured yet playful approach, balancing colorful comic book flair with grittier moments. The pacing clips along briskly with scenes woven together tightly by editor Douglass Crise. Standout sequences like Jaime's spine-chilling transformation display a horror influence. Quieter family moments adopt a more grounded sensibility. This tonal agility keeps the story engaging across different genres.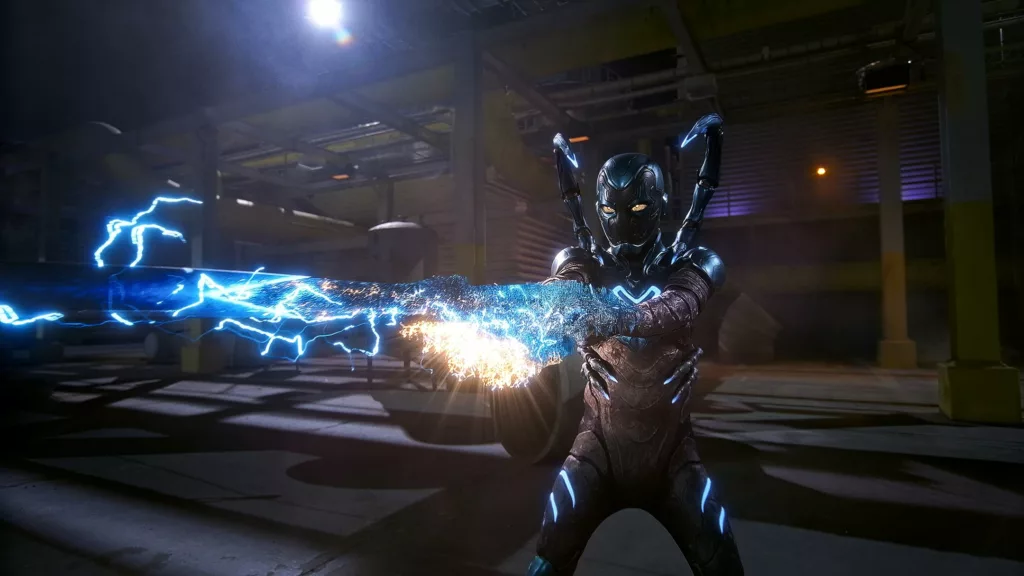 Cinematographer Enrique Chediak makes excellent use of creative camera angles, from low-angle hero shots to POV perspectives as Jaime first takes flight. The dynamic camerawork stays energized during action without becoming disorienting. Chediak's lighting also helps ground scenes in a tangible sense of place, illuminating the textures of Jaime's neighborhood.
Production designer Kasra Farahani deserves praise for building an authentic community that feels lived-in. Jaime's colorful house interior and the auto shop owned by his parents look comfortably worn-in and realistic. Small details echoing Mexican art and decor help the sets feel culturally authentic. The Beetle suit itself is a visual marvel, reinterpreting the iconic comic look with intricate alien technology details.
For a mid-budget superhero entry conceived for streaming, Blue Beetle's effects work impresses. The clever layering of practical suit effects and CG extensions sells Jaime's transformation believably. Creative sound design also bolsters moments like the Scarab fusing to Jaime's spine. Though the final fight grows repetitive, the digital creatures and pyrotechnics showcase technical prowess.
Altogether, the expert filmmaking elevates standard superhero story beats through skillful world-building. The visually dynamic yet intimate direction makes quiet character moments just as compelling as the blockbuster spectacle. Grounded by cultural specificity and technical creativity, Blue Beetle ultimately soars thanks to the vision and craftsmanship behind the camera.
A Fresh-Faced Superhero Takes Flight
In the crowded superhero landscape, how does Blue Beetle stand out? While the film relies on some overly familiar origin story beats, it ultimately soars thanks to charming lead performances, cultural specificity, and themes of family.
As a superhero origin tale, Blue Beetle hits all the expected notes but with enough self-aware humor and snappy pacing to keep it fun. Leaning into the sci-fi horror of Jaime's transformation distinguishes the first act. Unfortunately, the formulaic CGI climax detracts from that originality. But thanks to Xolo Maridueña's endearingly grounded take on Jaime, the journey still engages despite a conventional destination.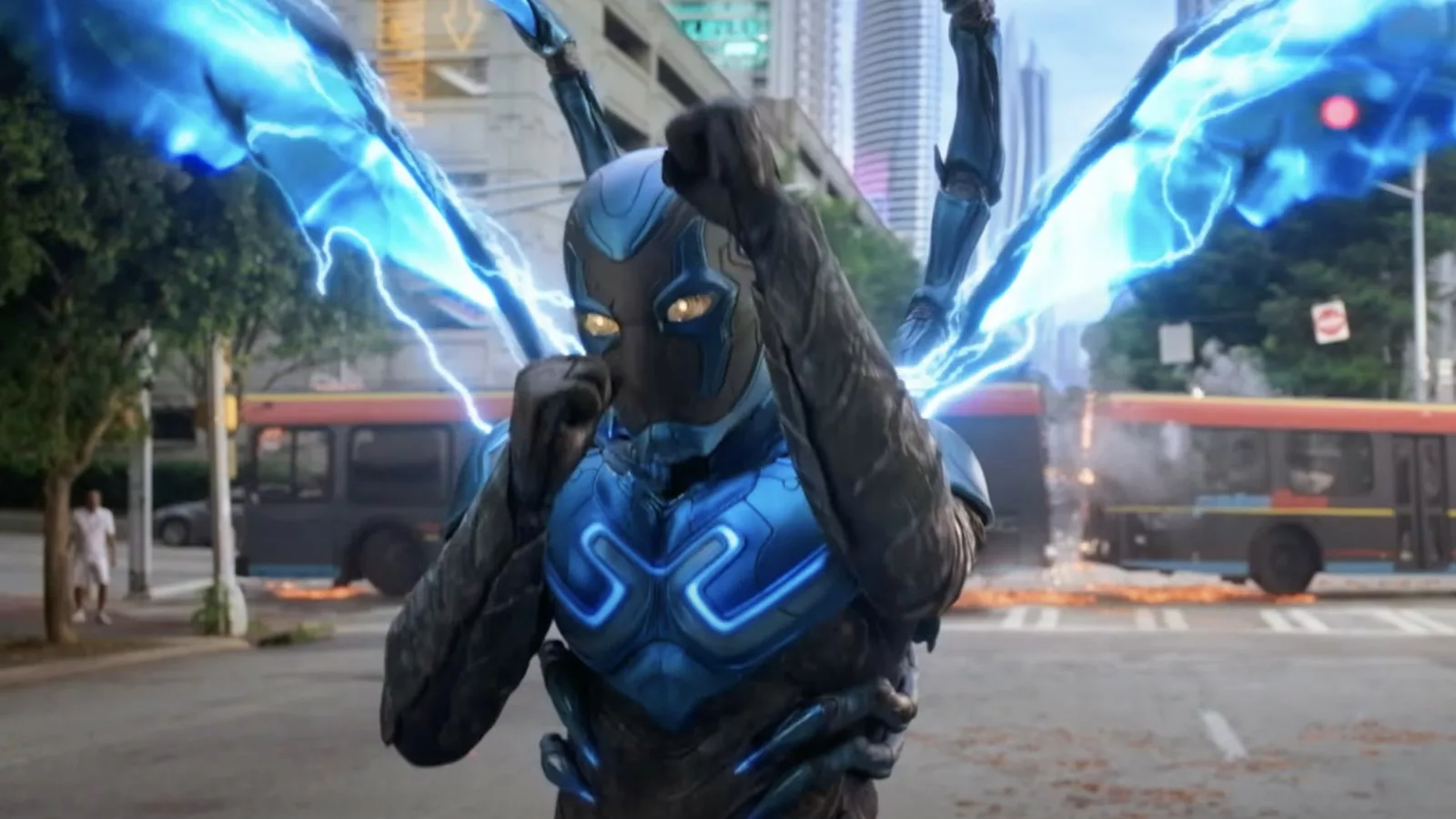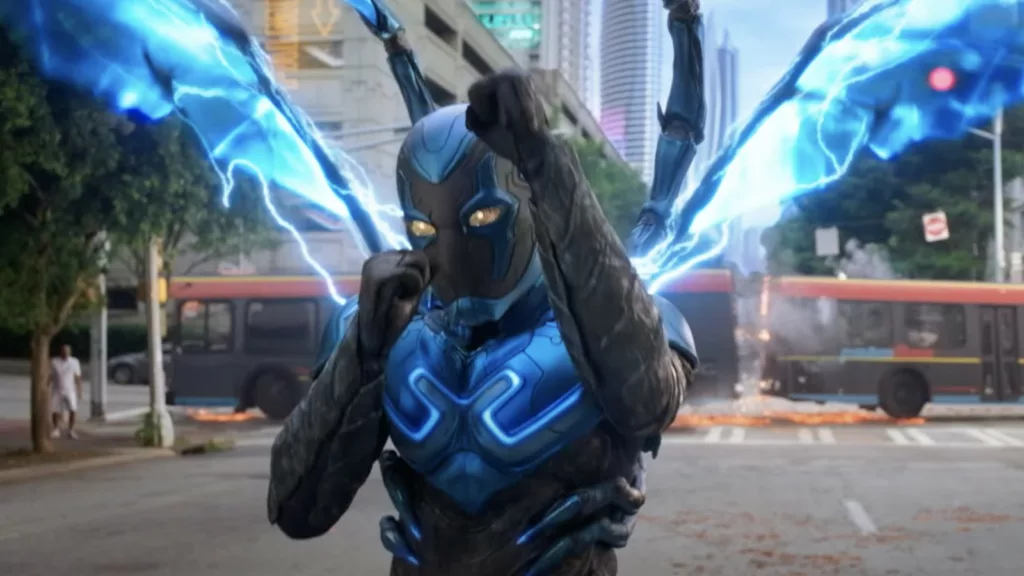 Where Blue Beetle truly takes off is bringing a thoughtful Latino lens to the genre seldom seen before. The rich cultural details and Spanish language elements feel integral, not tokenistic. Jaime's devotion to his working-class family also provides a fresh perspective on what shapes a reluctant hero and his values. These facets lend the film an inspirational yet accessible sensibility.
For the wider DC franchise, Blue Beetle succeeds by telling a neatly self-contained story not weighed down by wider continuity baggage. Aside from some lore nods for comic faithful, convoluted connections don't derail the pacing. This allows the film to work for newcomers and stand on its own merits.
Does Blue Beetle reinvent superhero cinema? No. But it doesn't have to in order to offer a fun, poignant take on the formula. Led by the remarkably endearing Xolo Maridueña, Blue Beetle ultimately soars as an earnest and heartfelt origin story. This rising Latino star could become the fresh face DC needs to revitalize their universe.
The Review
Blue Beetle
Though it relies heavily on standard superhero origin story tropes, Blue Beetle takes flight thanks to Xolo Maridueña's earnest lead performance, thoughtful themes of family and culture, and a lighter tone that sets it apart from the crowded pack of DC films. This first Latino-led superhero romp might not reinvent the genre, but represents a fun step forward.
PROS
Winning lead performance by Xolo Maridueña
Thoughtful representation and themes
Lighthearted tone compared to other DC films
Creative family dynamic
CONS
Overly formulaic plot and generic villains
Uneven CGI and repetitive action sequences
Underdeveloped female characters
Over-reliance on existing superhero tropes