Calling all American football fans who are also EA Play members! We've got some exciting news for you. Prepare to huddle up and gear up, because Madden NFL 24 is now open for a 10-hour trial exclusively for EA Play members.
But that's not all – it's not just about testing the waters. EA Play members can also score some exclusive rewards, designed especially for fans of Madden Ultimate Team.
The Welcome Pack for Madden Ultimate Team is a touchdown in itself, featuring a quartet of Elite Players that'll give your team that extra edge. Not stopping there, recurring Ultimate Packs throughout the season will keep the momentum going.
Unlimited Access for EA Play Pro
If you're an EA Play Pro member, consider this your season opener. The Madden NFL 24 EA Play Pro Edition comes with a season ticket of unlimited access. And it's not just about the game itself – it's about the in-game items that amp up your experience.
Think NFL Marble Bills Gear, a top-tier Josh Allen Elite Player Item, and a touchdown dance of 500 Madden Points delivered monthly from August 2023 to July 2024. And there's plenty more in the game day haul.
Let's not forget about the perks of being an EA Play Pro member. It's like having an all-access pass to the virtual locker room. Get ready for unlimited access to handpicked new EA Games, including Madden NFL 24 on PC.
But that's not all – you can dive into a treasure trove of premium versions of games like Wild Hearts and Star Wars Jedi: Survivor, along with a host of other exciting titles. And remember, EA Play Pro members don't just play, they save too – enjoy a 10% discount on purchases and monthly rewards across various games.
Where to Play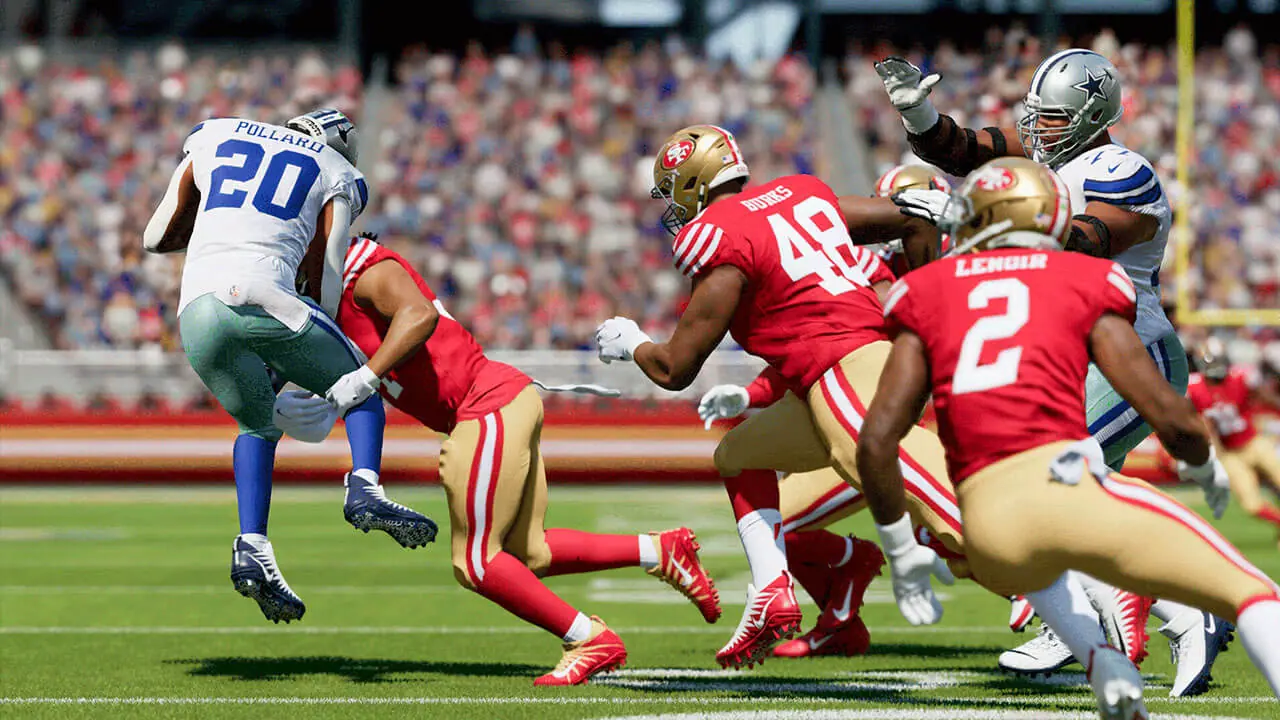 EA Play is your ticket to gaming excitement, available on PC, PlayStation, and Xbox. And for those who've joined forces with Game Pass Ultimate, EA Play is also part of the team.
And for those playing on PlayStation 5, Xbox Series X/S, and PC, brace yourselves for an upgrade. Madden NFL 24 introduces the next evolution of FieldSENSE, offering a heightened level of realism that'll have you feeling the game like never before. The debut of SAPIEN Technology takes the stage too, enhancing character realism and bringing anatomical precision to the fore.
Ready to tackle the virtual gridiron? The wait is over. Madden NFL 24 blitzes onto the scene today, August 15, ready to deliver an unforgettable gaming experience for football enthusiasts everywhere. Get your gear on and get ready to make some digital touchdowns!
Get a comprehensive insight into the latest gridiron game's offerings with our Madden NFL 24 2023 edition breakdown. Don't miss out!
New to the Ride franchise and contemplating a purchase? Before you hit that throttle, be sure to read our critical examination of Ride 5's pros and cons to find out if it's the right game for you.