Let's! Revolution! joins the ranks of games that take the familiar concept of Minesweeper and transforms it into a more intricate experience. As I delve into the game, I find myself on a quest to vanquish an evil king, journeying through diverse levels.
My power grows with each step, allowing me to cast spells and confront enemies. Yet, in this adventure, I also face damage, errors, and the challenge of avoiding foreseeable mistakes.
This intriguing game is surprisingly easy to grasp. At the heart of each level lies a grid of tiles, many of which shroud their contents in mystery. Some tiles are safe to tread upon, while others hide road tiles beneath them. These roads, however, conceal enemies who spring into action if I step on them unknowingly.
The Minesweeper Twist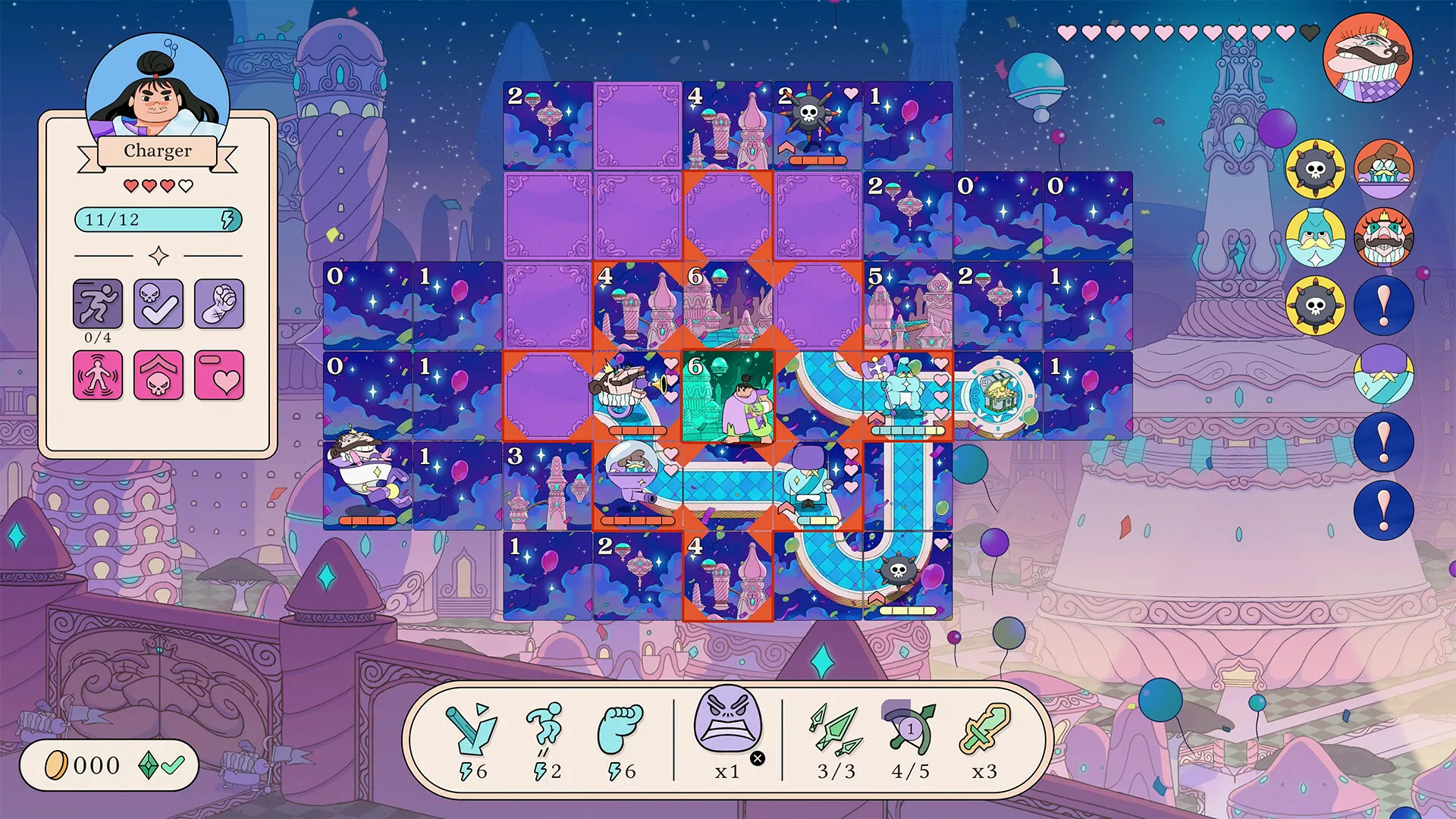 Here's where the Minesweeper twist comes in. By observing the numbers on unoccupied tiles, I can discern the number of adjacent road tiles. It's reminiscent of Minesweeper, but with a twist. Instead of hunting for mines, I'm seeking roads that carry a higher likelihood of hosting perilous elements.
Yet, the roads also bear the promise of reward. Among the hidden treasures lie loot or even shops where I can spend my acquired loot. The game follows a roguelike structure, wherein I invest in character traits during each run.
These traits offer advantages that ease the challenges. Perhaps I opt for health regeneration at level beginnings or a damage boost. I might even acquire a fresh attack to unveil previously uncharted territories.
The Dynamic Battle of Exploration
The gameplay's second dimension arrives in the form of attacks and spells. My character can reveal tiles by utilizing various attacks, such as a powerful whirlwind move that uncovers the surrounding tiles while simultaneously dealing damage to adversaries.
Casting spells consumes stamina, and stamina replenishes as I uncover tiles. This interplay between battling and exploring creates a seamless connection. To unleash more potent attacks, I must venture further into the unknown.
The game boasts a medley of inventive features that elevate the experience. From uncovering the hidden king on each level to the timed nature of revealed enemies, Let's! Revolution! presents clever layers of challenge.
The inclusion of captivating loot amplifies the intrigue. Yet, there's more: the game's allure is heightened by its captivating visuals, candy-colored art, and a vibrant prog rock-inspired world that spans from haunted deserts to cities resembling birthday cakes. To complement the immersive journey, the soundtrack exudes a mid-'70s Floyd vibe, a musical treat that enriches the gameplay's charm.