When it comes to decking out your Street Fighter 6 experience with Teenage Mutant Ninja Turtles gear, be prepared to dig deep into your virtual coin purse.
Capcom recently unveiled a crossover featuring an assortment of costumes, stickers, poses, and more, allowing players to infuse a bit of the beloved turtles into the world of Street Fighter 6. However, the sticker shock comes from the price point associated with these items.
Earlier this week, Capcom rolled out the much-anticipated Teenage Mutant Ninja Turtles crossover content for Street Fighter 6. This assortment encompasses a variety of items, from avatar costumes to stickers and poses, designed to celebrate the legendary TMNT franchise. What caught the attention of fans was the noticeable absence of price details during the initial announcement.
Paying in Fighter Coins
To get your hands on these turtle-themed goodies, you'll need to part ways with Fighter Coins, the premium in-game currency of Street Fighter 6. Fighter Coins are available for real money purchases but can also be earned through gameplay.
The TMNT costumes, each costing 750 Fighter Coins, grant players the chance to dress their avatars in turtle attire, though they don't bestow full playable characters.
For those eying the iconic turtle bandanas, these are priced at 250 Fighter Coins per piece. In comparison, a new playable character like Rashid can be yours for 350 Fighter Coins, complete with various outfits.
If you're looking for fresh costumes for your existing fighters, these can be snagged for 50 coins each. The game's Premium Rewards pass, on the other hand, requires 250 Fighter Coins.
Putting a Price Tag on Turtle Items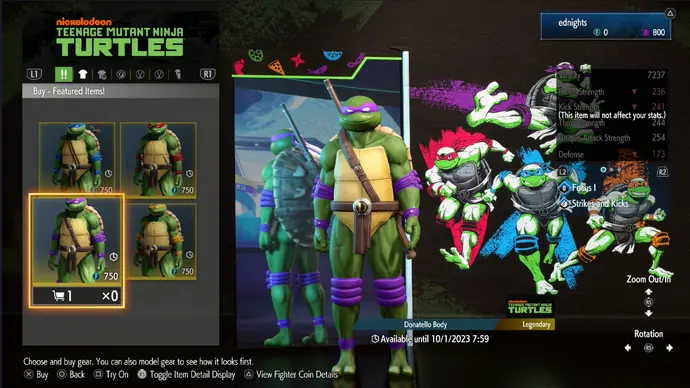 The Turtle-themed offerings extend beyond costumes and bandanas. Players can delve into four-sticker sets, available for 100 Fighter Coins, striking poses for 250 coins each, in-game device wallpapers for 100 coins, and photo mode frames for 100 coins apiece.
The sticker shock truly sets in when looking at the Fighter Coin bundles. Available in four options—250 coins (£3.99), 610 coins (£9.49), 1250 coins (£18.99), and 2750 coins (£39.99)—players must purchase these bundles to obtain the desired items.
A straightforward calculation reveals that purchasing the four Turtle costumes would require a 2750 coin bundle and a 250 coin bundle, totaling £43.98.
A Hefty Price to Pay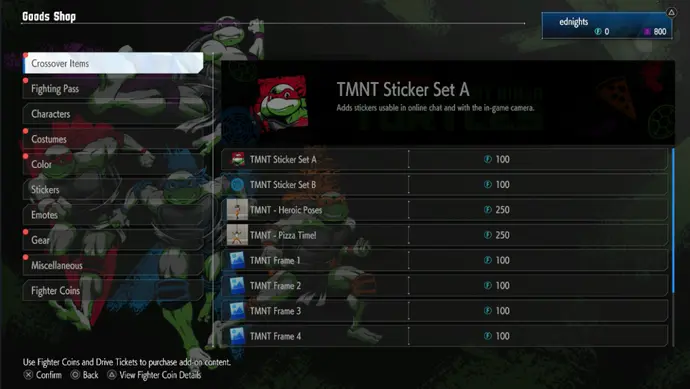 For the complete Teenage Mutant Ninja Turtles collection, which adds up to 5300 Fighter Coins, gamers must invest in two bundles of 2750 coins, amounting to a steep £79.98. Notably, this price tag exceeds the cost of the standard edition of the game itself, which stands at £54.99.
Capcom's TMNT bundle coincides with the release of "Teenage Mutant Ninja Turtles: Mutant Mayhem," currently gracing cinemas. While the intent to celebrate this iconic franchise is clear, the exorbitant prices attached to these crossover items have sparked discussions within the gaming community.
A.K.I: The New Character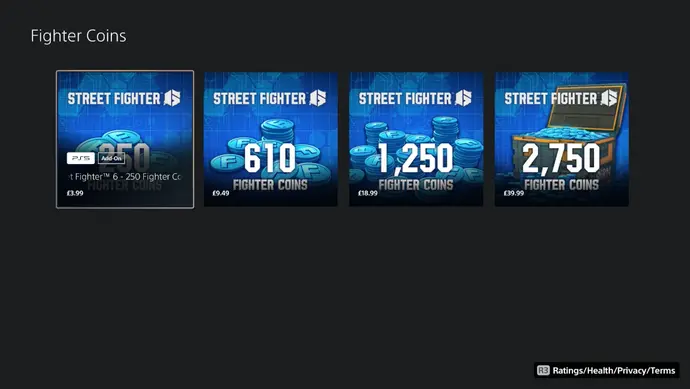 Alongside the TMNT bundle, Capcom has introduced A.K.I, a character described as a "maniacal poison aficionado," hinting at the forthcoming additions to Street Fighter 6's eclectic roster.
In the world of Street Fighter 6, the addition of Teenage Mutant Ninja Turtles items has certainly raised eyebrows due to their high price, leading players to question whether the Turtle experience is worth the hefty cost.