WrestleQuest is a new turn-based RPG that offers a loving homage to the golden age of professional wrestling. Developed by Mega Cat Studios, known for retro-inspired titles like Coffee Crisis and Catsylvania, WrestleQuest merges classic JRPG combat with over-the-top wrestling aesthetics and humor. Released in late 2022 for PlayStation 4 and 5, Xbox One and Series X/S, Nintendo Switch and PC via Steam, this game aims to appeal to both wrestling fans and RPG aficionados.
At its core, WrestleQuest is a classic turn-based RPG with a battle system reminiscent of iconic 16-bit classics like Chrono Trigger or Final Fantasy VI. But instead of swords and sorcery, the combat takes place inside the wrestling ring, with grapplers unleashing signature moves and vying to pin their opponents' shoulders to the mat. Behind the cartoonish spandex and outlandish personas lies a surprisingly deep combat system full of hype crowds, tag team maneuvers and larger-than-life finishing moves.
Beyond the bell-to-bell action, WrestleQuest weaves a lighthearted story through vibrant, toy box-inspired environments populated by legendary wrestlers of yesteryear. With nods to Randy Savage, Bret Hart and other icons of the Rock 'n Wrestling era, the game brims with affectionate references that longtime wrestling fans will appreciate. The journey may be filled with wacky antics, but it captures the spectacle and legacy behind one of sports entertainment's most defining periods.
So tighten your wrist tape, adjust your mask, and prepare to layeth the smacketh down. Whether you lived through Hulkamania's heyday or just yearn for some retro RPG nostalgia, WrestleQuest lets players relive wrestling's glory days through a novel new twist on turn-based combat. It's time to step into the squared circle and prove you're the cream of the crop!
Turn-Based Brawls with Plenty of Flair
WrestleQuest's turn-based combat will feel familiar to fans of classic JRPGs, with a few twists that capture the spectacle of pro wrestling. Battles take place inside the ring, with up to 3 wrestlers on each side vying to deplete their opponent's HP and score the decisive pinfall victory.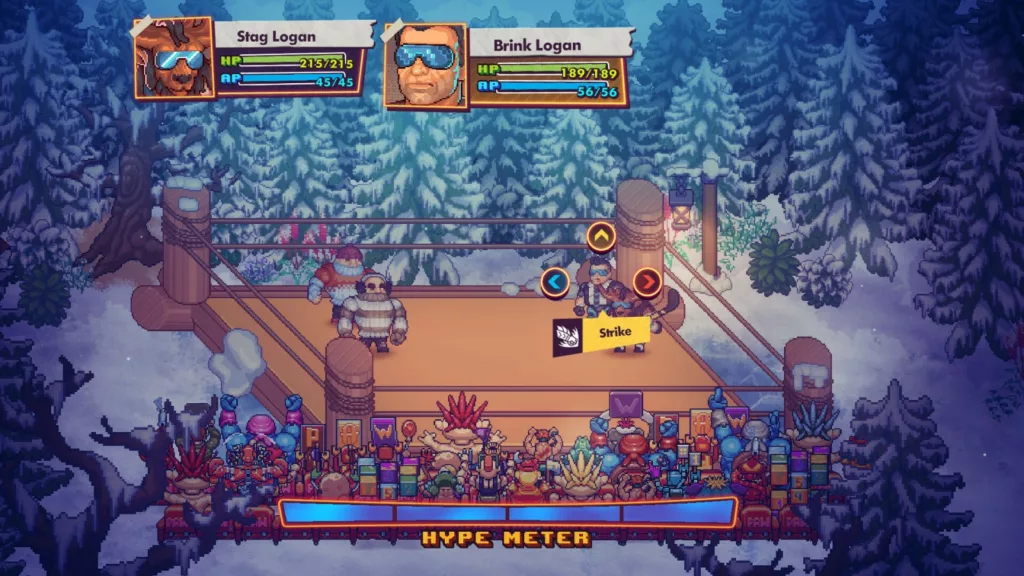 During their turn, players can choose normal strikes, grapples and attacks to chip away at enemies, all while managing Action Points that limit the number of moves performed. But to really ignite the crowd, wrestlers can unleash signature finishing moves called Gimmicks, with flashy animations and effects. Think of these as special skills or spells. Equipping different Gimmicks can customize a grappler's playstyle, like a Technician with more submissions or a High Flyer with aerial attacks.
Winning over the crowd is key in WrestleQuest, as hype levels provide bonuses like stat increases and even unlock special moves. Taunting enemies, nailing high-impact attacks and entering with flamboyant entrances all raise hype, bringing an extra layer of strategy. Allow hype to drop, and wrestlers lose their edge. Managing hype and playing to the audience is crucial, especially in the various boss battles and story-driven matches.
Adding even more nuance are the tag team and trio mechanics. Coordinating with partners to perform double-team or even triple-team maneuvers adds a ton of damage at the cost of multiple turns, creating risk-reward decisions. Support partners like Managers can also be summoned for aid, reminiscent of classic Final Fantasy. And no match is over until you successfully pin a downed foe, leading to frantic button mashing minigames to avoid a kickout.
Matches play out through turn-based menus, but WrestleQuest keeps players engaged with well-implemented quick time events. Key moves often require timed button presses for max damage or even just to avoid countering attacks. While overused in some games, the QTEs here add an extra layer of interaction without being overly punishing. An option to slow down QTE timing also caters to different skill levels.
Outside the ring, WrestleQuest offers light exploration and progression systems to drive the adventure. The colorful overworld houses various themed zones and territories packed with quests. Leveling up unlocks new abilities and boosts wrestler stats as players battle random enemy toys, animals and robots. Quests move the story forward, with objectives ranging from mundane fetch tasks to multi-part excursions. Stages also hide collectible crafting materials and money to purchase gear and items.
While no Hunter S. Thompson-tier theater of the absurd, WrestleQuest remixes wrestling tropes into its world. Want to be the good guy? Play fair and appeal to the fans. Would you rather embrace villainy and cheat to win? The game tracks player actions on a morality meter, with choices ultimately shaping wrestlers into heroic faces or dastardly heels. Will Muchacho Man stay a courageous role model for kids, or succumb to the allure of shortcuts on his path to superstardom? The decision is yours.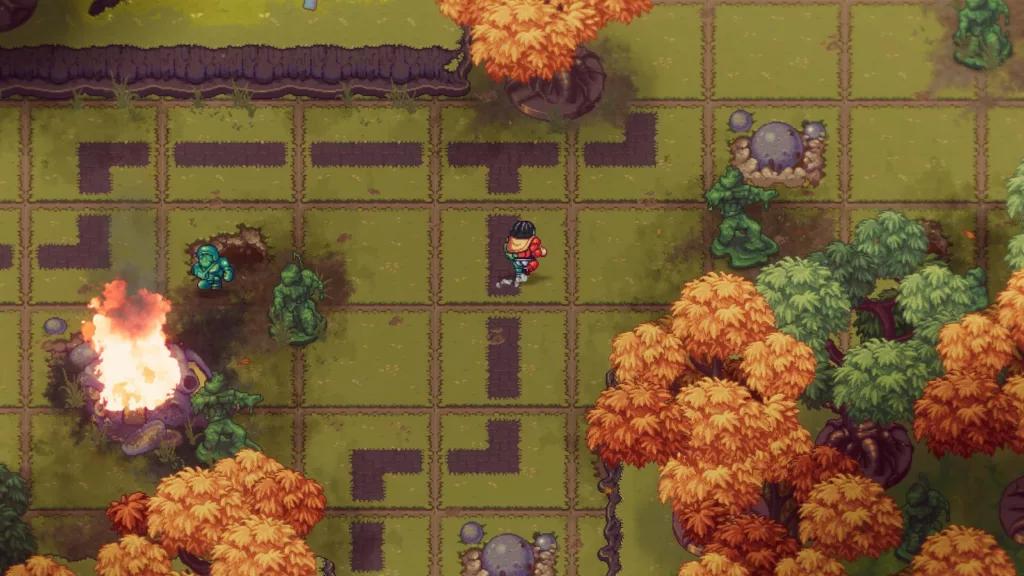 Between the hypnotic combat loop and steady sense of progression, WrestleQuest keeps players hooked in short bursts or extended play sessions. Is it as deep as classics like Chrono Trigger or Final Fantasy Tactics? Perhaps not, but with its wrestling charm and accessibility, Mega Cat Studios has crafted an RPG brawler that stands out from the indie crowd. A few unfortunate missteps hold it back from true greatness, but overall this scrappy upstart shows plenty of promise. For wresting fans especially, consider this one a certified slobberknocker.
A Toy Box Tale Packed With Wrestling Lore
WrestleQuest weaves a lighthearted, metafictional tale set in a world of living toys, while honoring legends throughout wrestling history. The story follows optimistic upstart Muchacho Man Randy Santos, an obvious homage to Macho Man Randy Savage, on his quest to become the greatest wrestler in the world.
Guiding players along is none other than real-life wrestling podcaster Conrad Thompson, who frames the adventure as part of his fictional talk show. Other legends like Diamond Dallas Page and Jake "The Snake" Roberts also chime in with commentary, grounding the game in wrestling tradition. The territories players traverse are similarly named after icons like Andre the Giant and Sgt. Slaughter, with heroes aspiring to live up to their hallowed legacies.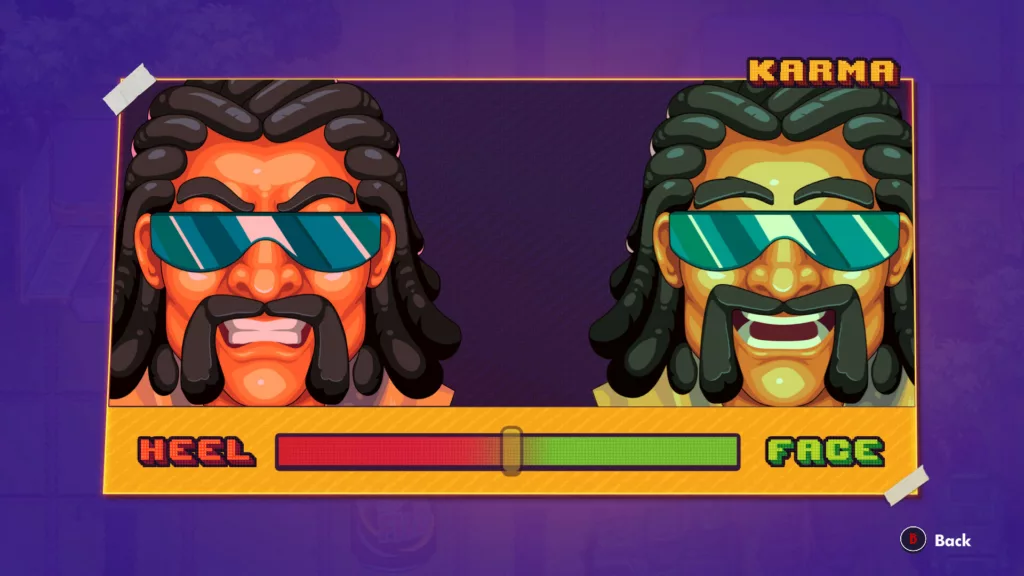 But WrestleQuest also crafts its own stable of memorable characters beyond the familiar faces. Supporting Muchacho Man is a diverse crew of grapplers like high-flying fish man The Loachador, hulking brute The Brooter, and southern gentleman Pecos Pete, to name a few. Their designs and exaggerated personalities pay homage to classic wrestling tropes and gimmicks. Despite their cartoonish proportions, each character has motivations that drive them forward.
At its core, WrestleQuest explores the dichotomy between wrestling's staged nature and the determination of those who strive for greatness within its fabricated world. Muchacho Man believes fully in the "realness" of the sport, aiming to become the world champion through hard work and fair play alone. His optimism acts as a moral compass for players.
Conversely, jaded veteran Brink Logan sees wrestling solely as a business, willing to compromise ethics and make backstage deals to get ahead. The player's decisions shape whether they take the noble path or more nefarious heel route to success. Do you pander to fans, or use dirty tactics and post-match beatdowns? WrestleQuest tracks these choices on a morality scale.
Of course, it wouldn't be a lighthearted wrestling story without some absurdity thrown in. The game's vibrant, toy box-inspired world lends itself to oddities and anachronisms that poke fun at wrestling's inherent ridiculousness. Matches aren't just against colorful humans, but also sentient reptiles, robots, and stuffed animals. Backstage interviews occur in Barbie's dream house. Cheat codes can even turn fighters into giant chickens!
Yet even when veering into farce, WrestleQuest stays respectful of wrestling history. Icons are honored, not parodied, and commentary examines deeper themes like the blurred lines between reality and entertainment. Muchacho Man's unwavering ideals offer an inspirational through-line as players experience various story beats from his perspective and beyond.
WrestleQuest demonstrates a clear affection for all eras of wrestling, from kayfabe to the modern reality era. Both longtime fans and newcomers seeking an enjoyable RPG adventure will find endearing charm throughout this toy box of tributes. While not every story beat or meta joke lands flawlessly, the full package demonstrates an intimate understanding of the ideals wrestling represents, and why so many gravitate toward its theatrics and larger-than-life appeal.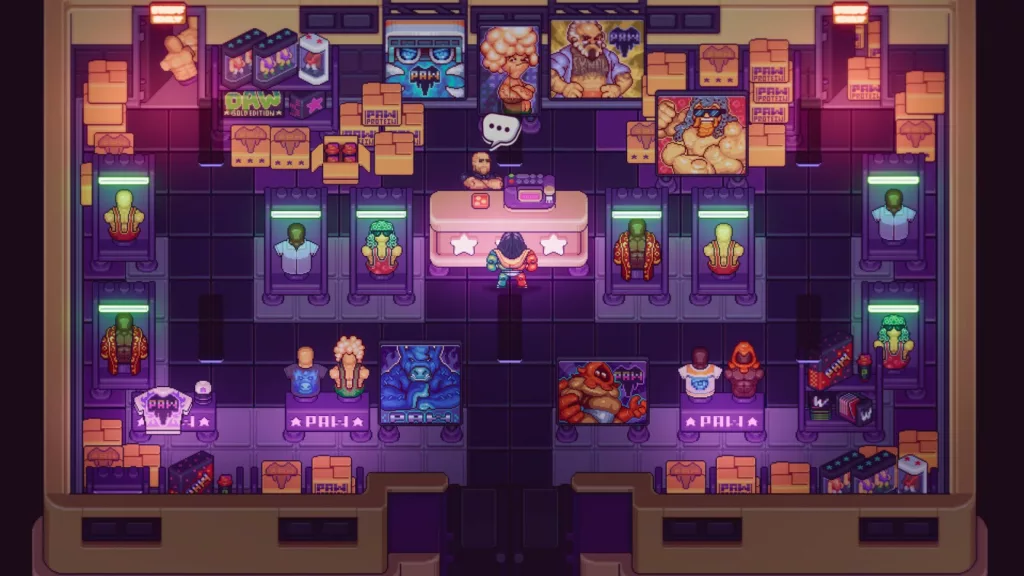 A Vibrant Visual Showcase with Retro Flair
From its vibrant pixel art to varied environments, WrestleQuest delivers a marvelous retro-inspired aesthetic that immerses players in its lighthearted toy box world. The visual presentation evokes 16-bit classics, with chunky characters traversing colorful overworld maps and locales. Battle backgrounds capture the atmosphere of arena events, spotlights shining down as players square off in the ring.
Each zone provides environmental eye candy, from the bright lights of downtown to eerie graveyards and sci-fi landscapes. They all tap into the exaggerated themes common in wrestling promotions and live shows. Streets are populated with larger-than-life statues honoring legends like Macho Man and Andre the Giant, dwarfing passerbys. Ever-present wrestling paraphernalia like turnbuckles and folding chairs further drive home the game's core theme.
Wrestlers themselves showcase stylized, superheroic proportions fitting of their outrageous personas. Muchacho Man strikes bodybuilder poses as he enters the ring, radiating machismo. Brink Logan oscillates between underdog babyface and sinister heel mannerisms during his journey. Even supporting players like the hulking luchadore Beetle and mini referee Mills Lane get strong characterization through their animations.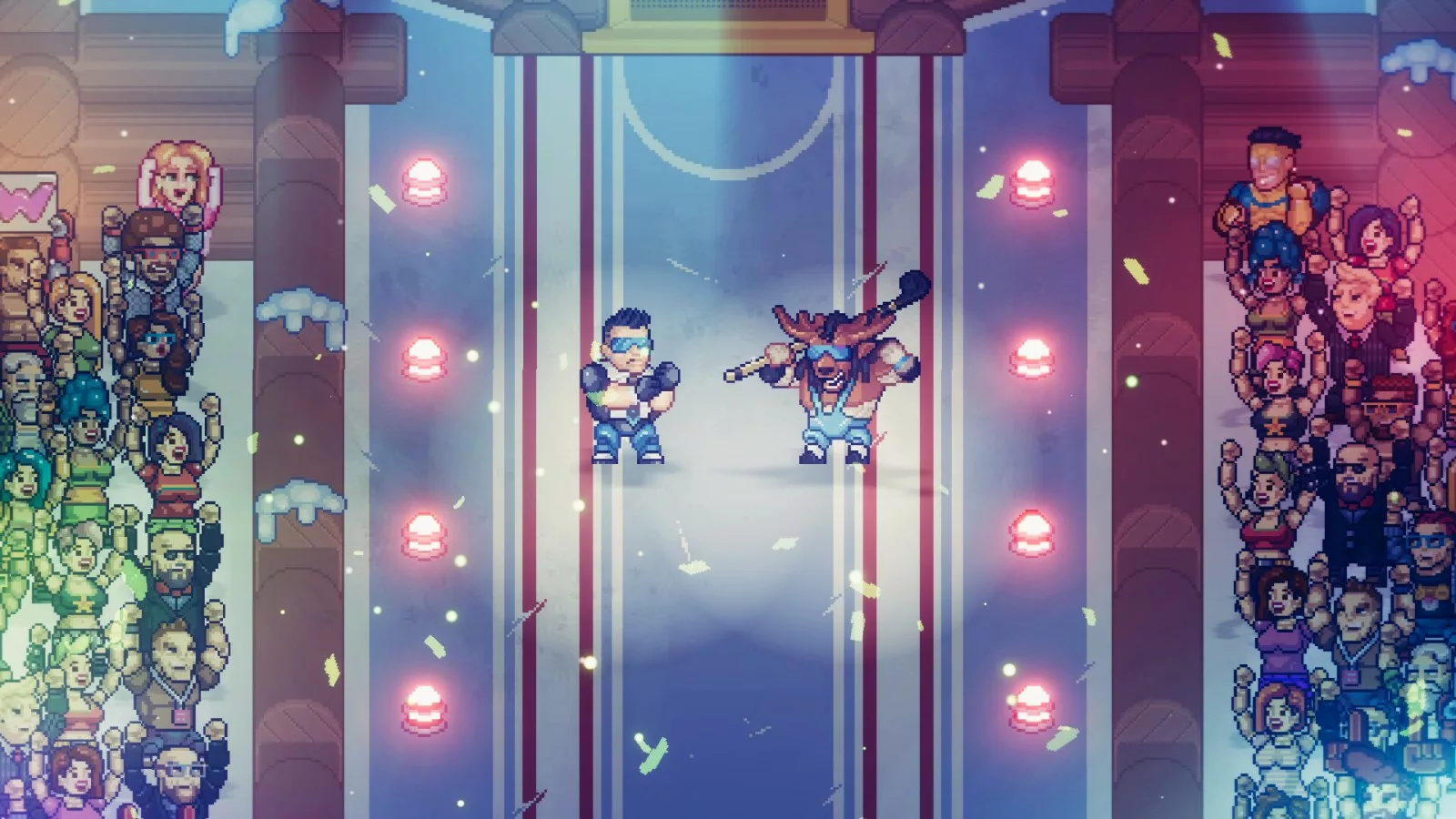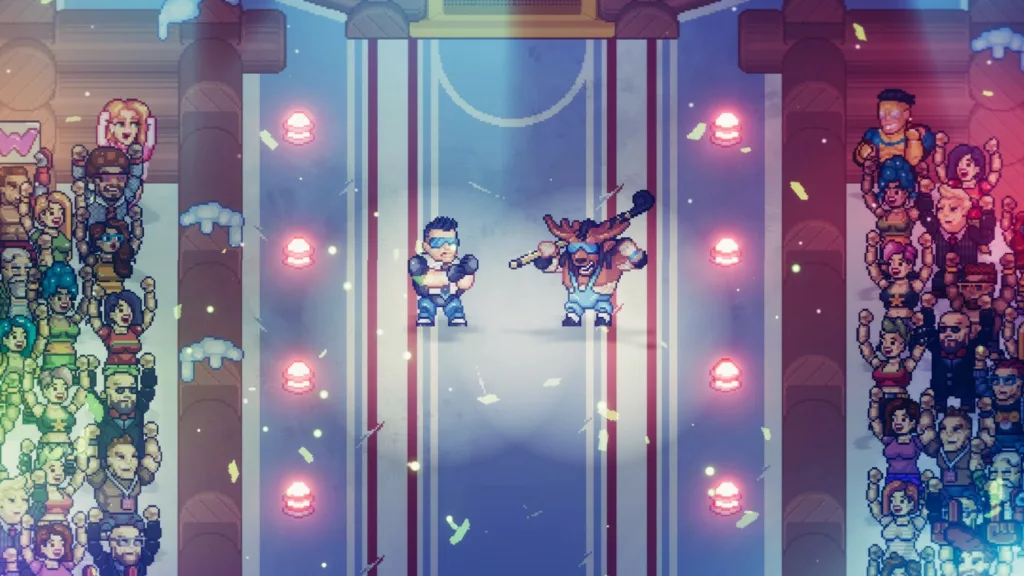 Part of what makes exploring WrestleQuest so enjoyable is finding nods and Easter eggs tucked into every corner. Keep your eyes peeled and you may catch a Hulk Hogan lookalike chatting with someone resembling Mean Gene Okerlund, or a toy resembling 80s icon Sgt. Slaughter marching by. Building facades bearing the Bret "Hitman" Hart logo and other subtle touches bring added smiles.
It wouldn't be a retro-flavored JRPG without classic bleeps, bloops and synth tones complementing the action, and WrestleQuest's score delivers. Sound effects like ringside bells and crowds punctuate matches, and satisfying thwacks and crunches accentuate the cartoon violence. The upbeat soundtrack keeps energy high as players travel the world.
From start to finish, WrestleQuest is a visual treat overflowing with character. While not all graphical elements are perfect, the incredible attention to detail shown by Mega Cat Studios demonstrates a true affection for all eras of wrestling. The vibrant retro sheen should delight fans and newcomers alike.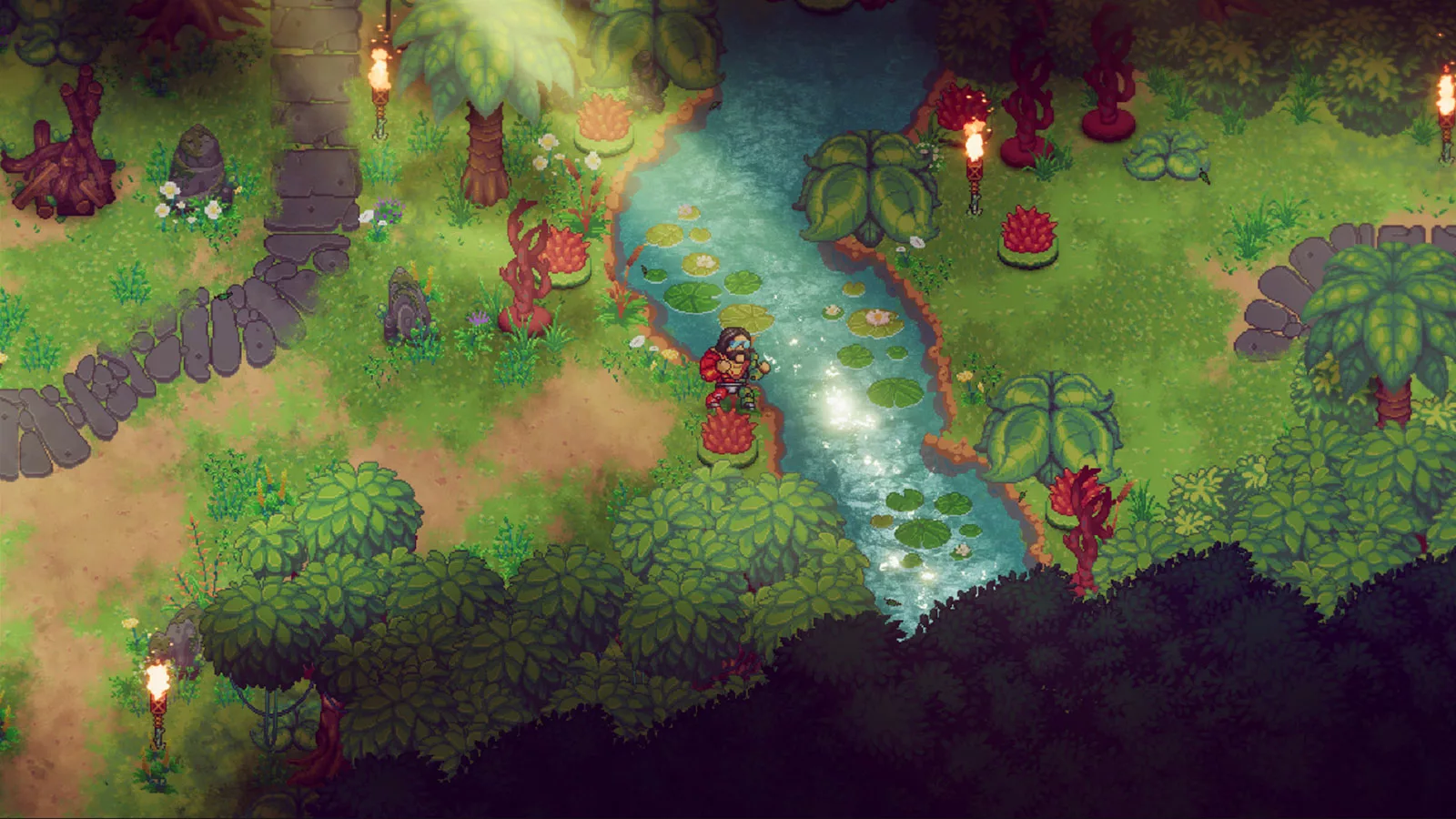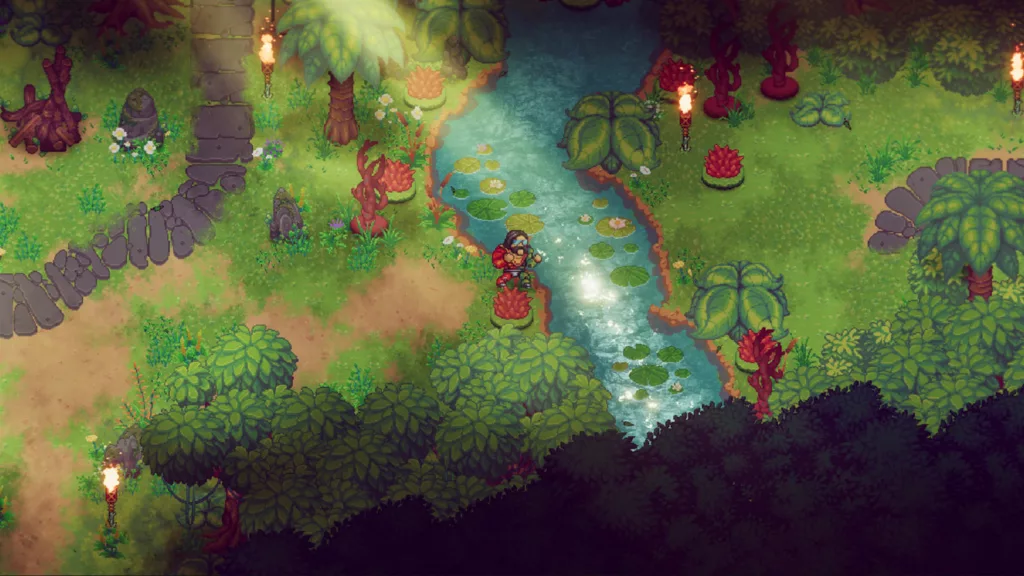 A Charming Homage Despite Some Shortcomings
At its best, WrestleQuest provides an innovative blend of pro wrestling spectacle and turn-based RPG mechanics. The way it adapts the flow and terminology of wrestling into combat, progression and story systems is remarkably clever. Matches become turn-based affairs with pinfalls, where showmanship and hype matter as much as strength. Backstage politics turn into morality systems. Tag team maneuvers become combo abilities. It's a marriage of genres that succeeds by leveraging the best of both worlds.
WrestleQuest's lighthearted writing and absurdist toy box world are perfectly executed as well. Much like wrestling itself, there is an earnest charm behind the sheer ridiculousness. Heroes like Muchacho Man wanting to prove themselves amidst a roster of sentient stuffed animals and mutants may sound ridiculous on paper, but it works thanks to smart humor and bounds of heart. Some jokes miss the mark, but overall the game maintains a sincere love for wrestling's legacy.
On this front especially, WrestleQuest is utter fan service in the best way possible. The sheer amount of easter eggs and wrestling references packed into every corner is staggering. Seeing tributes to legends like Macho Man, Hitman and Jake the Snake at every turn through territories, signature moves and more provides endless excitement. Mega Cat Studios clearly knows their wrestling history, and want to share their passion with players.
However, a few unfortunate issues prevent WrestleQuest from true greatness. The uneven pacing disrupts immersion as the story abruptly jumps between perspectives with no gaps, often interrupting questlines. Streamlining the narrative structure and progression could have helped it feel more cohesive. Repetition also creeps in on the gameplay front, with combat overly reliant on QTE mechanics for most moves.
From a technical standpoint, hiccups like collision detection errors and game-halting bugs indicate more polish was needed. Quality of life improvements could have gone a long way as well, like implementing shared inventories or adding character creation tools for more customization. The lack of certain staple features makes the experience feel slightly bare bones despite its charm.
But in the end, WrestleQuest's strengths outweigh its flaws, especially for wrestling fans longing for a loving tribute. It may not be a certified five-star classic RPG, but this scrappy and charming package shows huge promise. With snappier pacing and combat, richer features, and a bit more polish, the foundation is here for something truly special. As it stands now, WrestleQuest is an absolute delight wrestling and retro RPG enthusiasts should try out despite a few rough edges.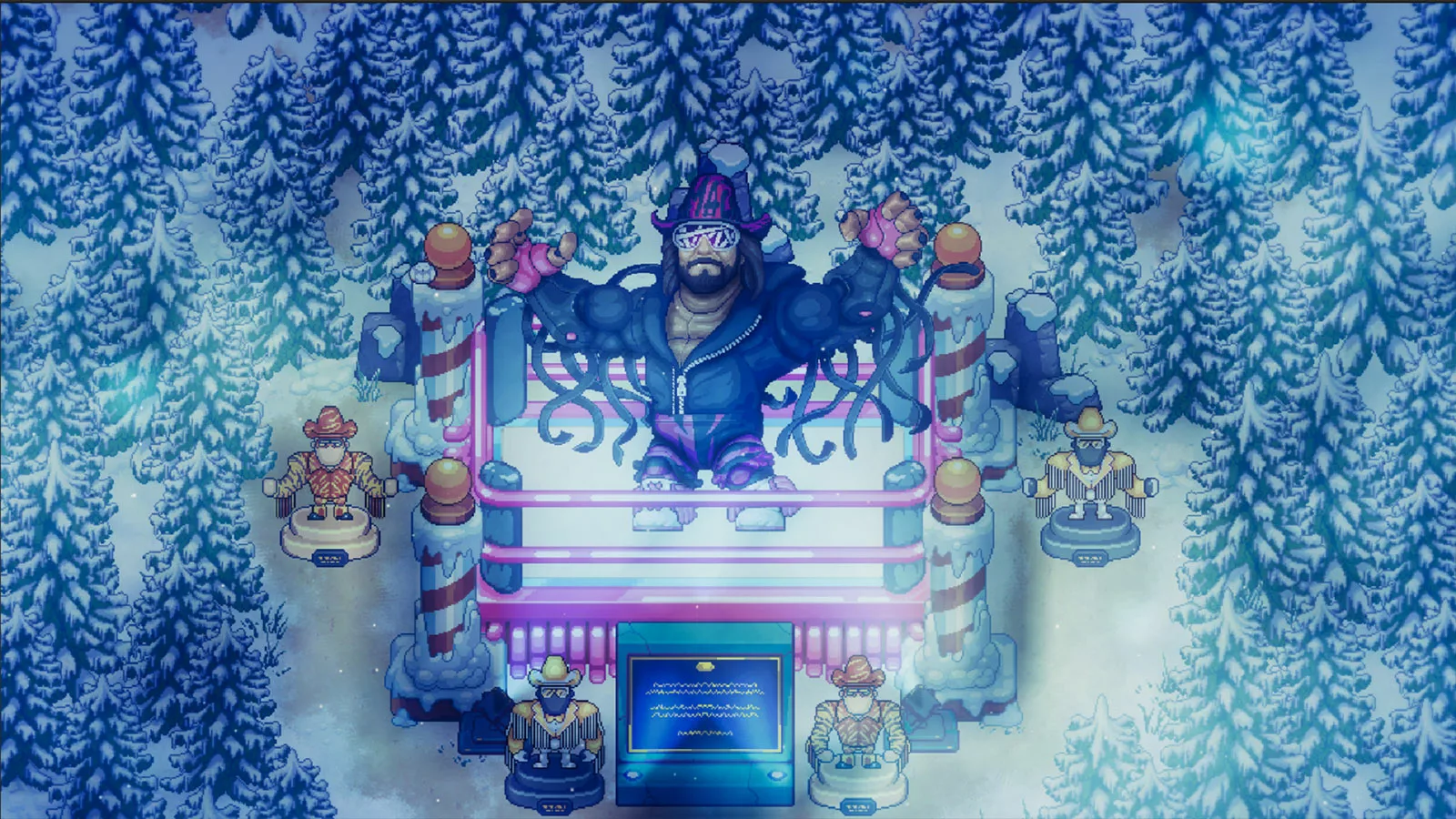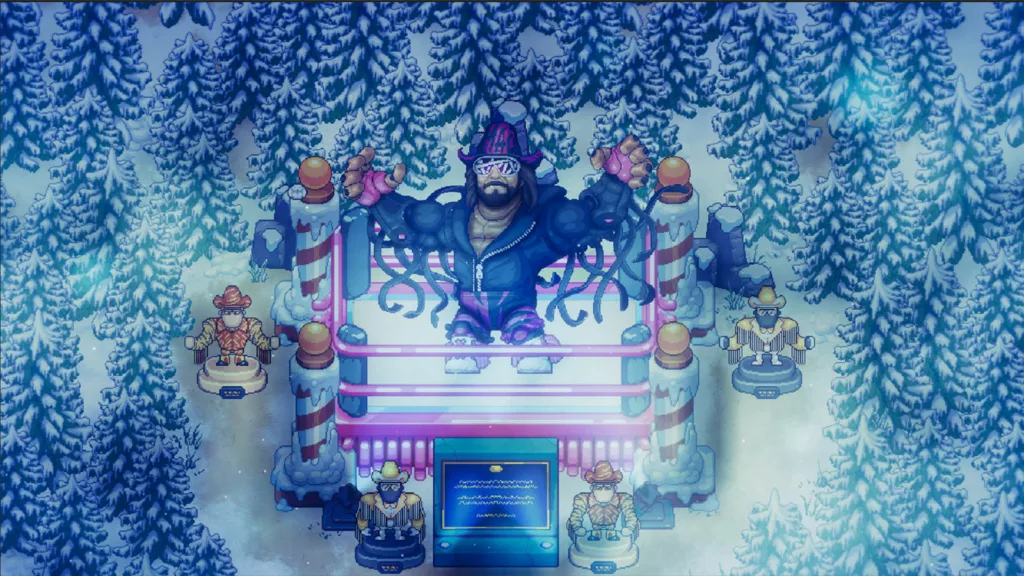 An Imperfect but Enduring Love Letter
For all its faults, WrestleQuest remains an absolute joy thanks to its evident passion for pro wrestling's history and penchant for spectacle. This scrappy indie tribute succeeds far more than it falters, blending wrestling and RPG concepts in delightfully clever ways. From start to finish, it's clear Mega Cat Studios approached this game as aficionados aiming to do right by the outrageous, bombastic art form they adore.
The brilliant adaptation of wrestling match flow into a turn-based structure provides hours of strategic fun spiced up by taunts, tag teams and crowd hype. A lovable cast of oddball characters inhabits a vibrant toy box world brimming with Easter eggs for longtime fans. Minor issues with pacing, repetition and technical polish occasionally disrupt the wrestling theatrics, but not significantly enough to halt the fun.
WrestleQuest nails the soul and charm of wrestling even when it stumbles. Larger-than-life personas, flashy costumes and outlandish storylines are par for the course. Like any great wrestling promoter, Mega Cat Studios knows how to craft an experience around sheer entertainment value, augmented by compelling gameplay. They've created a scrappy underdog capable of going the distance.
So while not quite a five-star classic, WrestleQuest has all the makings of a cult favorite, especially among wresting devotees. It captures so much of what makes wrestling special, from humor and heart to showmanship and competition. Overlooked gems often shine the brightest in hindsight. Give this love letter a chance, and prepare to layeth the smacketh down in vibrant, retro-flavored style. Muchacho Man and friends are destined for greatness.
The Review
WrestleQuest
WrestleQuest has its highs and lows, but ultimately stands tall as an endearing and innovative wrestling homage. Despite some repetitive combat and uneven pacing, its passion for wrestling shines through thanks to clever RPG adaptations, vibrant retro style, and lighthearted toy box charm. This scrappy package may not be flawless, but it contains the spirit, humor and showmanship that makes wrestling so beloved. For fans especially, it's a must-play tribute bursting with heart. Wrestling and RPG fans alike should give this one a shot.
PROS
Excellent adaptation of wrestling elements into RPG mechanics
Captures the spectacle and humor of pro wrestling very well
Great homage to wrestling history and legends
Vibrant, varied environments with fun toy box aesthetic
Innovative hype system and crowd engagement mechanics
Tag team maneuvers and combos add depth
Lighthearted story with endearing characters
Packed with references and Easter eggs for wrestling fans
CONS
Combat is repetitive and over-reliant on QTE mechanics
Uneven pacing due to abrupt perspective shifts
Lack of character creation tools
Inventory not shared between parties
Some technical issues like bugs and collision detection