In Venice, at the premiere of "Priscilla," the drama directed by Sofia Coppola, there were strong emotions in the air. Priscilla Presley, the film's subject, couldn't hold back her tears as the audience in the Lido gave the A24 indie film a heartfelt standing ovation that lasted seven minutes.
Sofia Coppola and Priscilla Presley, along with Cailee Spaeny and Jacob Elordi, who play the roles of Priscilla and Elvis, were all present at this special moment. It's important to note that the actors received a SAG-AFTRA waiver to promote the film during an ongoing strike.
Priscilla Presley was visibly moved by the film, and she wiped away her tears during the premiere. She shared a hug with Cailee Spaeny. This film comes shortly after Baz Luhrmann's "Elvis," which hit theaters in 2022.
In Sofia Coppola's portrayal, Jacob Elordi takes on the role of the King of Rock and Roll, presenting a less flattering side of Elvis. This version of Elvis is shown struggling with addiction, losing his temper, and attempting to control his girlfriend's choices while being unfaithful.
Jacob Elordi Steals the Spotlight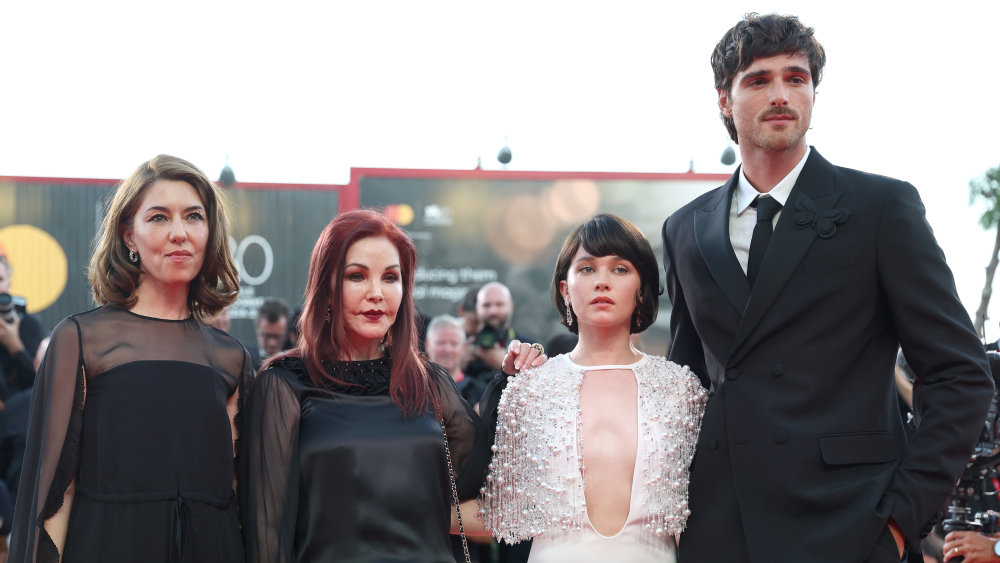 Outside the Sala Grande Theatre, the crowd was chanting one name – "Jacob! Jacob! Jacob!" Jacob Elordi, the 26-year-old Australian actor known for "Euphoria," exuded a charismatic '90s Brad Pitt movie star vibe as he interacted with fans, signing autographs and taking selfies.
He even dashed across the red carpet, amidst the excitement, to retrieve a dropped Polaroid for a fan—a chivalrous act that Elvis himself would have surely approved of.
Earlier in the day, Priscilla Presley also attended the film's press conference. She emotionally answered a question about her experience falling in love with Elvis when she was just 14 years old.
"It's very difficult to sit and watch a film about you, about your life, about your love," Presley shared. "Sofia did an amazing job. She did her homework, we spoke a couple of times, and I really put everything out for her that I could."
She went on to explain their unique connection, "Even though I was 14, I was actually a little bit older in life — not in numbers. That was the attraction. People think, 'Oh, it was sex.' No, it wasn't. I never had sex with him. He was very kind, very soft, very loving, but he also respected the fact I was only 14 years old. We were more in line in thought, and that was our relationship."
Critics Applaud 'Priscilla'
Sofia Coppola's film received rave reviews in Venice. Variety's film critic, Owen Gleiberman, described "Priscilla" as "piercingly authentic" and praised the performances of Cailee Spaeny and Jacob Elordi.
The film is based on Priscilla Presley's autobiography, "Elvis and Me," which Coppola adapted herself. It explores Priscilla's life and her love story with the King of Rock 'n' Roll, from her teenage years as an army brat in West Germany to her life at Graceland.
"Priscilla" marks a reunion between Sofia Coppola and A24 after their collaboration on "The Bling Ring" in 2013. Although Coppola is more commonly associated with Cannes (she won the Best Director prize there for "The Beguiled" in 2017), she has a history at the Venice Lido. Her father-daughter drama, "Somewhere," was highly acclaimed at the 2010 festival, winning the prestigious Golden Lion award for Best Picture.
"Priscilla" serves as a counterbalance to last year's "Elvis," which told Elvis Presley's story from his perspective. The Warner Bros. blockbuster was a box office success, grossing $288 million worldwide and earning eight Oscar nominations, including Best Picture and Best Actor for Austin Butler.
"Priscilla" is scheduled to hit theaters on October 27th, distributed by A24. It will also be the centerpiece screening at the New York Film Festival in October.
Intrigued by the evolution of indie cinema? Don't just scratch the surface. Dive deep into our comprehensive analysis of Scrapper: The Indie Film Sensation of 2023 and discover what's shaking up the industry!