As the launch of EA Sports FC 24 approaches, a significant transformation is taking place in the world of digital gaming. Older FIFA titles, including FIFA 23, have mysteriously vanished from popular digital storefronts such as Steam, Epic Games, PlayStation Store, and Xbox Store. This sudden disappearance has left fans wondering about the future of these beloved football games on PC.
In the lead-up to the release of EA Sports FC 24, a notable change has occurred in the availability of previous FIFA games. Players attempting to find these classics on Steam are met with a stark reality: the entire FIFA series, with the exception of the forthcoming EA Sports FC 24, has been wiped from Valve's storefront. A search for 'FIFA' yields only one result – the upcoming release that marks EA's separation from the official FIFA license.
The situation is equally puzzling on the Epic Games Store, where FIFA 23 and its Ultimate Edition can still be found in search results. However, they are frustratingly labeled as 'unavailable,' leaving FIFA enthusiasts in suspense. On the Xbox Store, FIFA 22 and FIFA 23 seemingly remain accessible through the EA Play tier of Game Pass. But despite listings, the older FIFA titles are nowhere to be seen when it comes to purchasing options.
EA's Official Statement: FIFA 23's Mysterious Disappearance
Digging deeper into the disappearance of FIFA 23 from the Steam platform, it was discovered that the publisher, EA Sports, played a pivotal role in this vanishing act. An official update on the FIFA 23 page states, "At the request of the publisher, EA Sports FIFA 23 is unlisted on the Steam store and will not appear in search." This statement raises questions about EA's strategic shift and its implications for the future of FIFA games on PC.
Steam DB, a database that tracks changes on the Steam platform, recorded FIFA 23's removal on Thursday, September 21, a mere day before the early access period for EA Sports FC 24 commenced on Friday, September 22. This timeline suggests a deliberate move by EA Sports to transition players from older FIFA titles to the upcoming EA Sports FC 24.
The Future of FIFA: EA Sports FC 24 Takes the Spotlight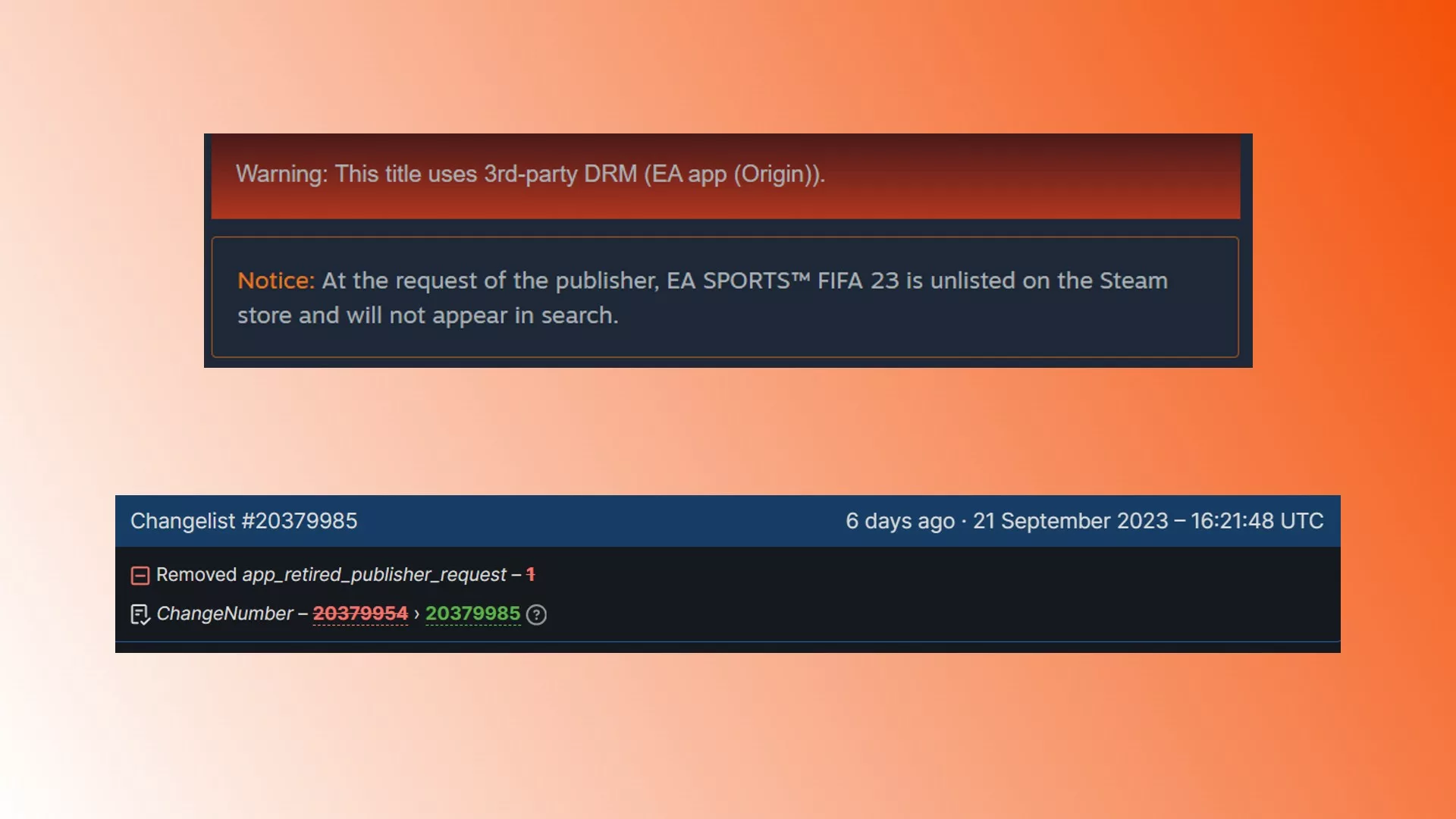 With the disappearance of older FIFA games, the spotlight is now firmly on EA Sports FC 24. As anticipation builds for the new season, players are already scouting the best wonderkids and strategizing to improve their defense and scoring chances with the game's best midfielders.
The dawn of EA Sports FC 24 marks a new era in digital football gaming, leaving fans eager to experience what the future holds for this beloved franchise.
From FIFA to the Future: The transition from FIFA to EA Sports FC 24 has been a topic of much debate. Get all the insights, pros, and cons in our detailed EA Sports FC 24 Review on Gazettely.