In the wake of its highly anticipated full release on September 6, Bethesda's futuristic RPG masterpiece, Starfield, has taken the gaming world by storm. SteamDB reports an astounding peak concurrent player count of over 330,000 players during its inaugural weekend, surpassing the numbers achieved by the legendary Skyrim upon its launch in 2011. However, when compared to Bethesda's all-time champion, Fallout 4, which achieved nearly 473,000 concurrent players in 2015, Starfield still has some ground to cover.
While the numbers are certainly impressive, they come with several important caveats. Firstly, the Steam player count is just one facet of Starfield's success story, as the game is available on multiple platforms, including the Microsoft Store and Xbox Series X/S consoles.
Xbox boss Phil Spencer recently announced that Starfield had achieved over one million concurrent users across all platforms, encompassing not only those who purchased the game but also Game Pass subscribers. It's worth noting that Game Pass was not available when Skyrim and Fallout 4 initially launched.
The landscape of Steam itself has evolved significantly since the days of Skyrim's record-breaking player counts. In 2011, Steam boasted approximately 40 million user accounts. Today, it hosts nearly as many concurrent users, alongside an expansive library of over 150,000 games to choose from. These factors make comparisons with the past a complex endeavor.
A Glimpse into the Steam Chronicles of Bethesda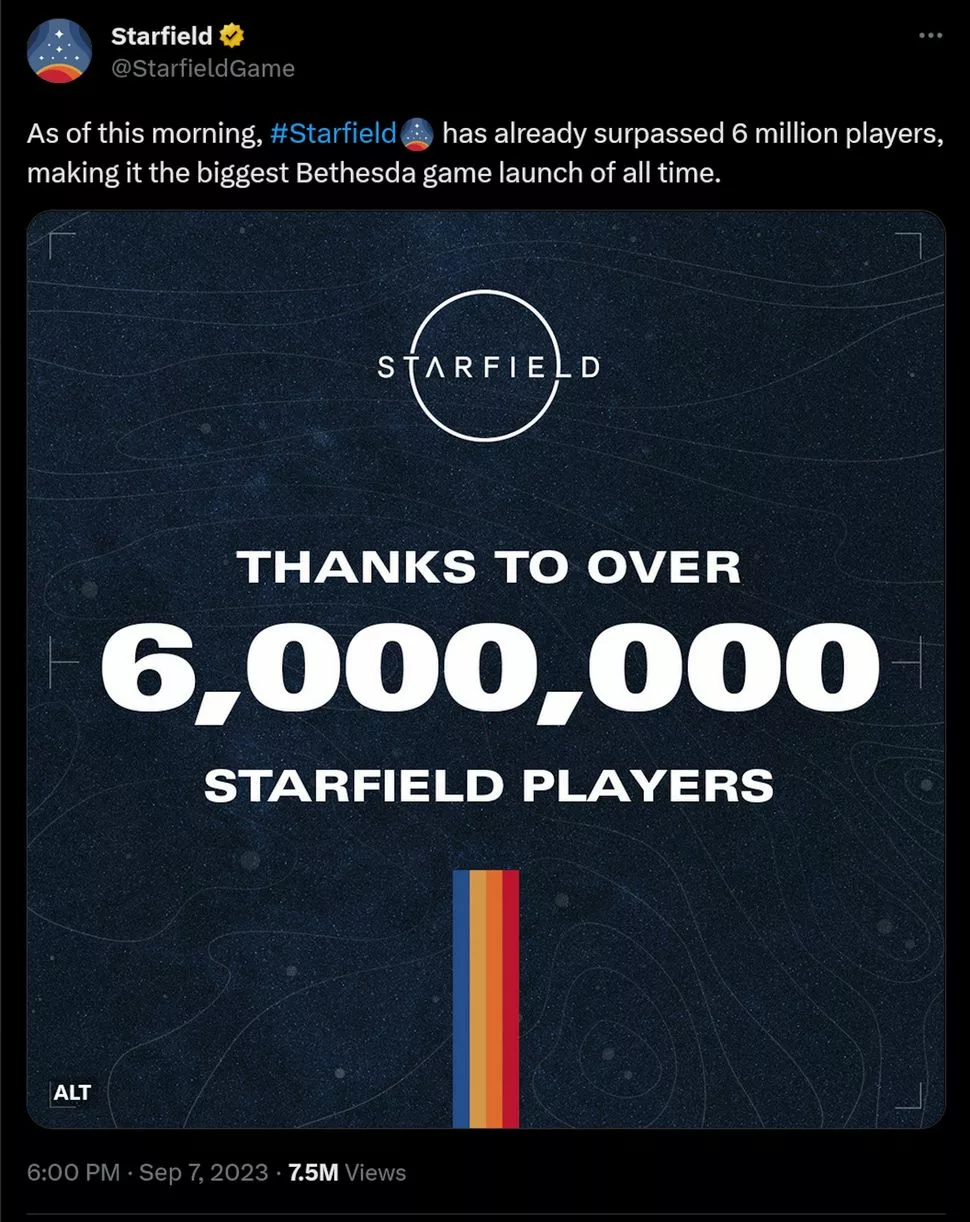 To gain a broader perspective, let's take a look at how Starfield's peak concurrent player count measures up against some of Bethesda's other significant titles on Steam:
Fallout 76 (2018) – 32,982

Fallout 4 (2015) – 472,962

The Elder Scrolls Online (2014)– 49,234

Skyrim (2011) – 287,411

Fallout 3 Game of the Year Edition (2009) – 10,401

Oblivion (2006) – 6,390

Morrowind (2002) – 1,396
Additionally, for a more recent comparison, we turn to Baldur's Gate 3, another RPG juggernaut of 2023. It achieved a peak concurrent player count of over 875,000 on Steam, surpassing Starfield. However, it's essential to consider that Baldur's Gate 3 was initially exclusive to Steam, unlike Starfield, which was available across multiple platforms, including Xbox and the Microsoft Store.
Steam's All-Time Champions and Future Prospects
Starfield's current peak player count places it outside the top five all-time leaders on Steam, a list dominated by PUBG, CS:GO, Lost Ark, Dota 2, and Cyberpunk 2077, all boasting peak concurrent player counts exceeding one million. Notably, these games enjoyed exclusivity on Steam during their peak performance.
The intriguing question now is how Starfield's numbers will evolve in the months and years to come. Skyrim, twelve years after its initial release, continues to attract a substantial player base, with nearly 25,000 concurrent players across the original and remastered Special Edition.
In conclusion, while Starfield may not have immediately eclipsed the Steam success of its Bethesda predecessors, its performance is commendable, especially considering the dynamic gaming landscape it enters. As the months roll by, it will be fascinating to observe how this sci-fi epic fares in the ever-evolving world of gaming.
Eager to experience high-octane space action? Dive into our Jets'n'Guns 2 full gameplay breakdown and see if it's the shooter game for you!