It's time to wax nostalgic and revisit one of the most influential retro games that kicked open the door to cinematic experiences in gaming. Karateka was a pioneering martial arts game developed by Jordan Mechner and released for the Apple II back in 1984. Though its one-button gameplay may seem simple by today's standards, Karateka made massive strides when it launched.
With its fluid character animations, evocative soundtrack, and unfolds-like-a-movie progression, Karateka took gamers on an immersive journey they had never experienced before. It laid the groundwork for storytelling in games to feel more cinematic and lifelike. Seeing the unnamed martial artist hero battling his way through enemies to rescue the princess felt like playing through an interactive kung fu film. Karateka brought a level of graphical fidelity and seamless motion previously unseen in games at the time.
Developed by Mechner when he was just a student at Yale, Karateka kickstarted his career and directly paved the way for his even bigger hit, Prince of Persia. Though a relatively straightforward game in hindsight, Karateka made its mark on so many developers who cited it as an inspiration. From Mortal Kombat creators to Doom co-founder John Romero, Karateka opened many developers' eyes to new possibilities in game storytelling and fluidity.
In this review, we'll be taking a nostalgic trip back to evaluate how Karateka holds up today. We'll explore both the original game as well as the new remastered version contained in the interactive documentary package The Making of Karateka. Join us as we recount this retro revolution that brought cinematic flair into gaming's vernacular. Though dated in many ways, Karateka still evokes that magical feeling of experiencing an interactive movie that wowed so many gamers back in the day.
Charting Karateka's Creation through a Digital Time Capsule
The real treasure of this Karateka retrospective lies in the incredibly in-depth making-of documentary included with it. Developed by Digital Eclipse, The Making of Karateka takes players through an interactive timeline chronicling the full development journey of this retro classic. This digital time capsule provides unmatched insights straight from Karateka's creator Jordan Mechner himself.
The timeline format guides you through various stages, beginning with Mechner's early programming experiments before Karateka was even an idea. Through archival journals, design documents, family photos, and behind-the-scenes videos, Mechner's creative process unfolds before your eyes. It's a rare intimate look at the inspirations and challenges faced while crafting this pioneering game.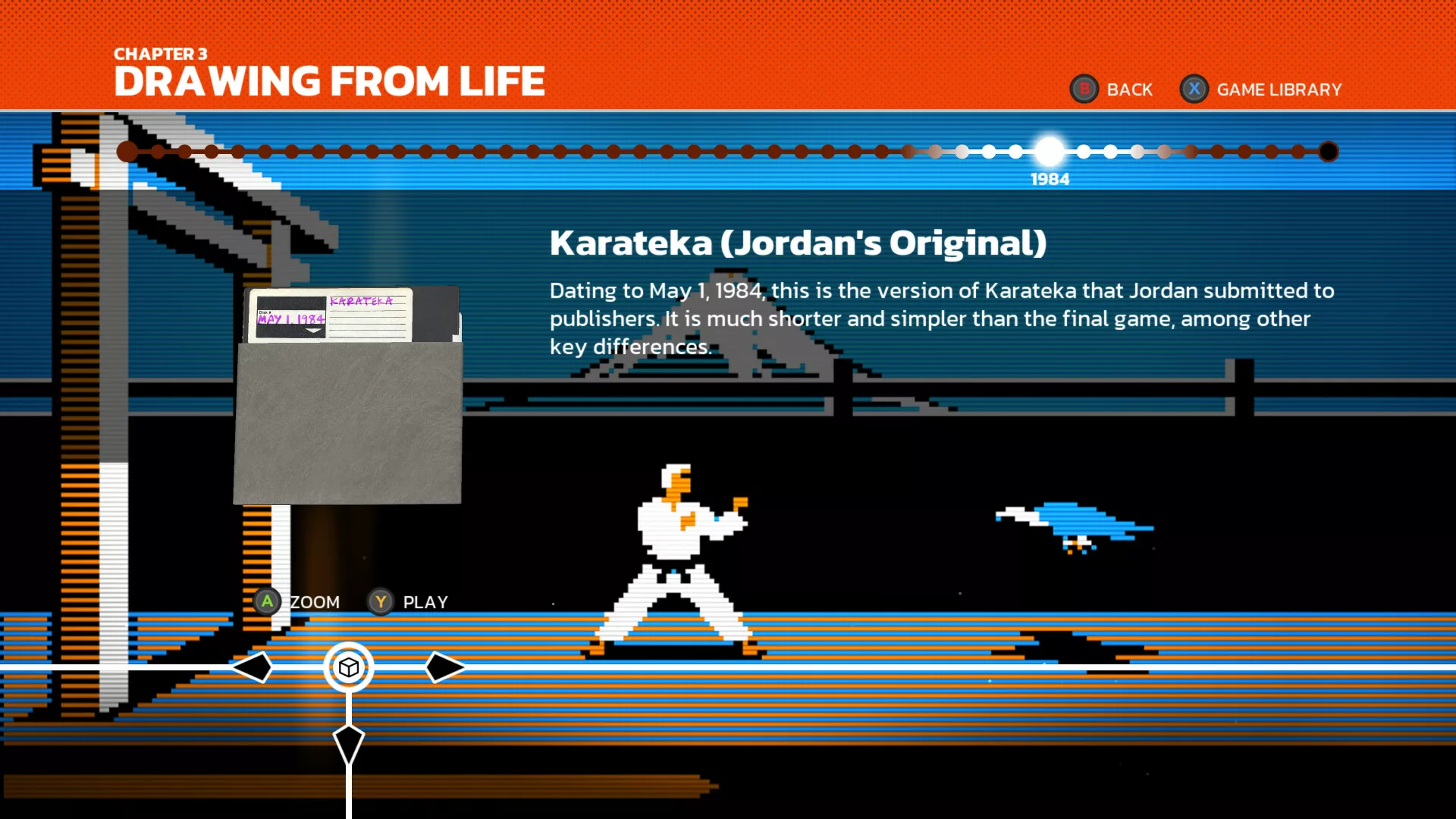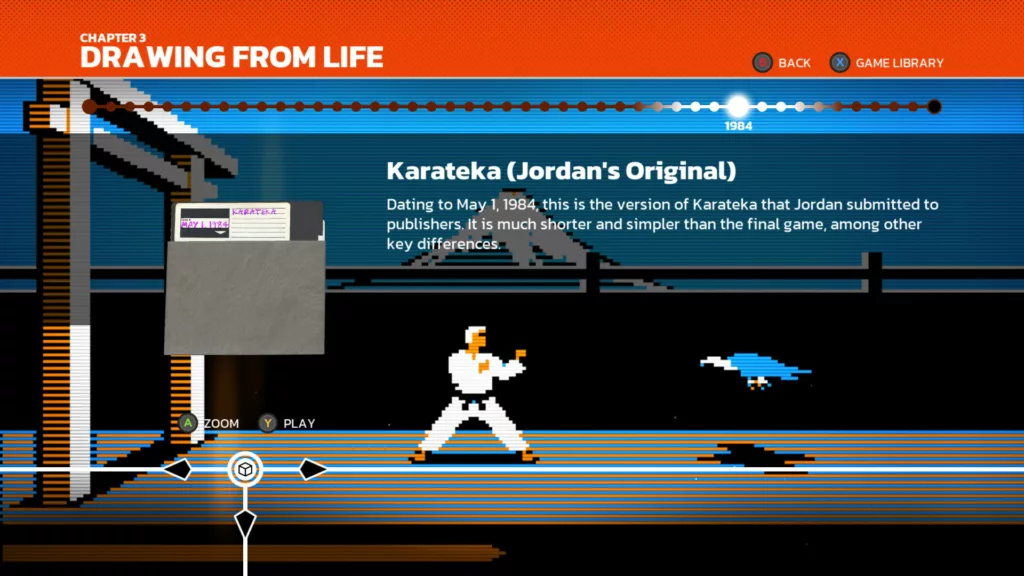 Seeing Mechner's enthusiasm as a young student, the lightbulb moment when Karateka's concept took form, and the giddy excitement of getting the green light from publisher Brøderbund adds infectious energy. You get swept up in the rush of what it must have felt like developing Karateka in the wild early days of gaming.
Mechner also provides candid perspective on critical family involvement that made Karateka possible. His father Francis contributed hand-drawn animations for rotoscoping and composed the Apple II version's unforgettable musical score. Watching father and son reminisce about this collaboration over 40 years later is incredibly heartwarming. Their tight bond shines through as they explain through demonstrations how they pushed the Apple II's technical limits.
Hearing Mechner's memories of drawing inspiration from childhood karate training gives deeper meaning to Karateka's motif. He also reveals Easter egg references to his favorite musical Man of La Mancha that provide an endearing glimpse into his creative mind. Through photos, correspondence, journal entries, and videos, Mechner opens up his world during Karateka's development in an amazingly transparent way.
The timeline also includes perspective from fellow game developers who were impacted by Karateka. Luminaries like John Romero, John Tobias, and Tom Hall recount how Mechner's work influenced their own. Interviews with the Broderbund team reveal more about shepherding Karateka from proposal to retail release. No stone is left unturned in documenting Karateka's ripple effect on gaming.
By the end, you really understand Karateka's significance in bringing cinematic flair to games. The immersive making-of timeline lets you experience Mechner's personal journey as if you were right there with him. For gaming history aficionados, this intimate behind-the-scenes access is an unparalleled treasure. The insight into Mechner's creative spark reveals an inspiring parallel tale that enhanced my appreciation of Karateka even more.
Before Karateka: Cutting Teeth Through Failure
Long before Karateka catapulted him into gaming fame, Jordan Mechner cut his teeth on some early programming experiments. The documentary portion includes insight into Mechner honing his skills during his Yale studies. This provides enlightening context showing the winding road that eventually led to Karateka.
Mechner started by creating an Asteroids clone called Asteroid Blaster just to grasp coding fundamentals. Amusingly, this early attempt at ripping off an arcade classic to learn programming mirrors the paths of countless developers since. While rudimentary, Asteroid Blaster shows the sparks of creative potential.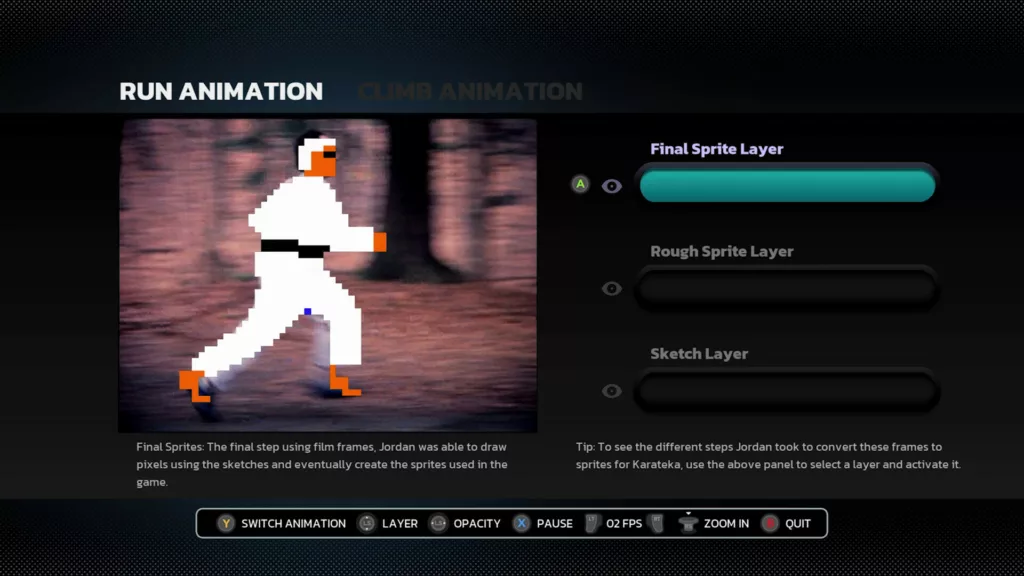 However, Mechner's first attempt at an original game proved far more revealing. Deathbounce was a project he toiled over tirelessly before the Karateka concept emerged. Thanks to Mechner saving old Apple II prototype disks, you can play Deathbounce in its various unfinished incarnations.
The iterations showcase Mechner's evolution from an idea of blending Breakout and Asteroids into something brimming with more personality. But no matter how much he iterated based on publisher feedback, Deathbounce never reached completion. You feel Mechner's early frustrations as approval remained elusive.
Yet walking through Deathbounce's dead ends contains valuable lessons. You understand Mechner absorbing constructive criticism and learning when to stick to his creative guns. Deathbounce needed more work, but its core showed promise. Mechner just hadn't found the right gameplay hook yet.
The collection adds delightful closure by including a new completed version of Deathbounce with slick modern graphics and tuning by Digital Eclipse. Having this unfinished business from Mechner's early days finally realized with a bow tied on it is tremendously fulfilling. It transforms Deathbounce's story from a cautionary tale into a testament of perseverance.
Playing Deathbounce grants a deeper appreciation for Karateka's eventual success. Mechner's early stumbles made his subsequent triumph with Karateka even sweeter. Flushing out his creative muscles on these warm-up acts prepared him to stick the landing when his big break arrived. Without Deathbounce's lessons, Karateka's kick may not have landed as perfectly.
Simple Yet Demanding One-Button Action
Jumping into Karateka's gameplay after enjoying the documentary portions is an exercise in accessing long-dormant muscle memory. The single-button mechanics powering your nameless martial artist feel elementary by modern standards. Yet developing the reflexes and timing to master Karateka's demanding combat reveals greater depth beneath its minimalist controls.
As mentioned earlier, gameplay boils down to just one button to attack enemies as you traverse from left to right. Tapping the button unleashes a kick, while holding it charges a more powerful punch to knock foes down for longer. The input simplicity meshes nicely with the smooth rotoscoped animations, making combat feel cinematic and flowing.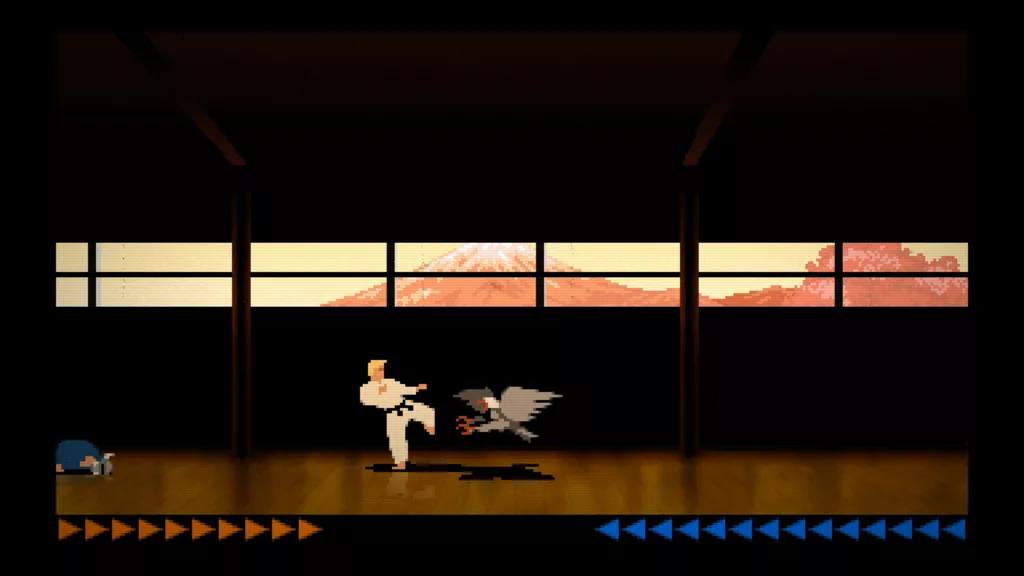 However, belying this seemingly basic framework lies a stern challenge. The narrow timer always pressures you forward, and enemies attack relentlessly from both sides. Your reflexes get tested sorely to repel attacks while maintaining offense. A mistimed button press spells disaster and an unceremonious restart. Karateka pulls no punches demanded laser-guided reflexes, especially given the limitations of stiff digital inputs of its era.
Yet therein lies much of Karateka's lasting appeal. Overcoming its challenges bears the satisfaction of honing real dexterity. routing enemies with perfectly timed mix-ups of kicks and punches proves immensely rewarding. The further you progress, the more your skills organically improve just like a real martial artist. While simplistic on the surface, Karateka contains nuanced depth in its combat.
Despite respect for Karateka's surprising substance, it's hard not to feel the limitations of its era as well. The inability to block or traverse both directions feels archaic. Checkpointing is very sparse, and the punishing difficulty curve may frustrate some. The pacing and mechanics exhibit a less refined time before elaborate combat systems emerged.
However, keeping this history in mind, Karateka remains an admirable artifact. It laid vital early foundations for future titles to build upon as combat complexity accelerated. Karateka captures charming retro purity in its singular focus on rhythmic, cinematic fisticuffs. For those willing to relearn old-school dexterity, it can prove gratifying in controlled doses. Returning to Karateka's basics evokes nostalgia, but feels best suited for visits rather than extended stays.
Pushing Hardware Limits Through Clever Optimizations
While primitive by today's standards, Karateka made ingenious use of limited hardware to bring unprecedented cinematic flair to games in 1984. Mechner wrung every ounce of power from the humble Apple II to craft a watershed title other developers continue to admire today.
The original Apple II version represents a masterclass in efficient coding and creative optimization. To portray more detailed characters, Mechner used rotoscoping by carefully tracing over footage of his father performing martial arts moves. This allowed a massive leap in lifelike motion using the Apple II's modest graphical capabilities.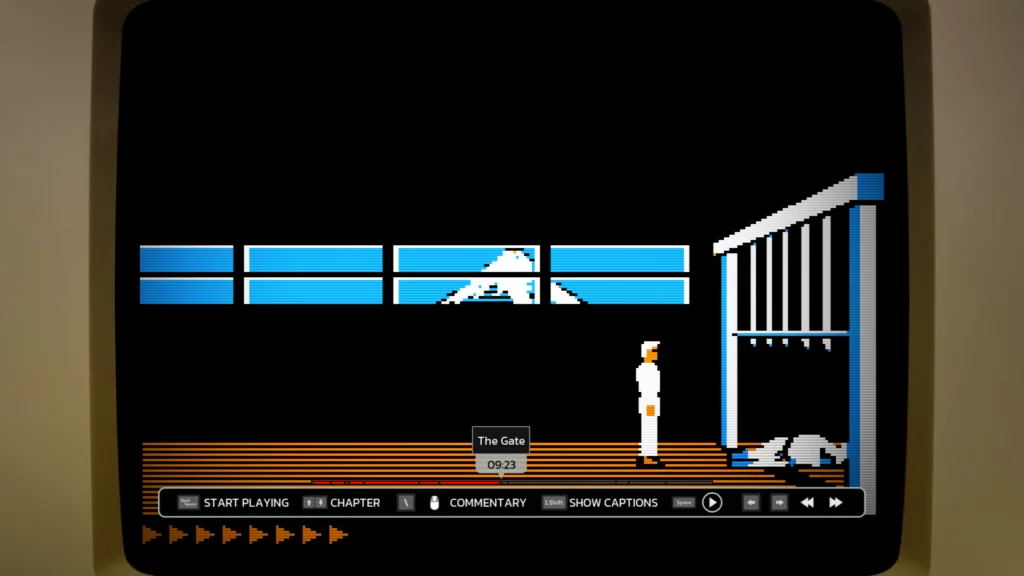 To heighten drama during combat, Mechner's father composed an emotive soundtrack mixing melody and percussive beats. The music plays seamlessly despite the Apple II only supporting one audio channel natively. Through clever coding workarounds, he created the illusion of richer audio that synced dynamically with the action.
When converting Karateka to other platforms like the Atari 8-bit, Mechner continued pushing boundaries. The Atari's native four channel sound chip allowed him to separate distinct musical elements like drums and lead melodies. He added attack sounds and even minor environmental touches to boost immersion.
The Commodore 64 version likewise received similar audiovisual enhancements. Animations gained more interpolated frames between rotoscoped keyframes for smoother motion. Leveraging more advanced hardware, Mechner continued building out his cinematic vision.
Overall, the technical achievements powering Karateka are remarkable given the early limitations. Mechner exhibits creative problem-solving that wowed gamers and fellow developers alike. Many cite Karateka as the moment they realized games could offer far more lifelike experiences and narrative immersion. Despite humble beginnings, Karateka's tech and design ingenuity sparked a revolution.
A Bounty of Retro Goodies
While the documentary insights into Karateka's development prove invaluable, this retro package backs up its history lesson with a copious playable software lineup as well. Between prototypes, ports, remasters, and the new version of Deathbounce, the collection contains a bounty of goodness for retro enthusiasts.
In total, you get 14 distinct titles included in the package. The numerous iterations of Deathbounce allow you to replay Mechner's early programming evolution firsthand. Likewise, the Karateka prototypes leading up to its Apple II release provide a cool behind-the-scenes peek at the creation process.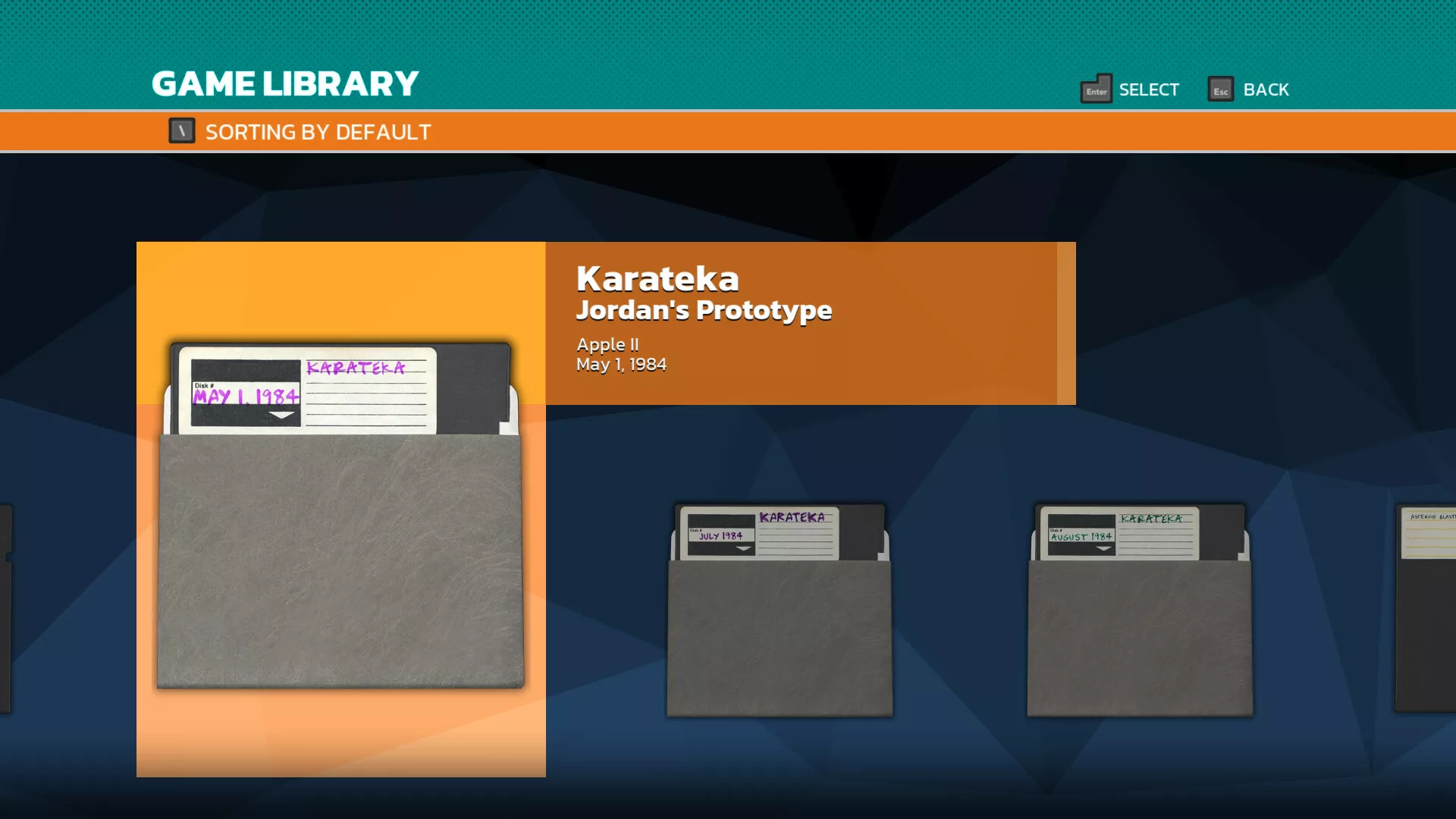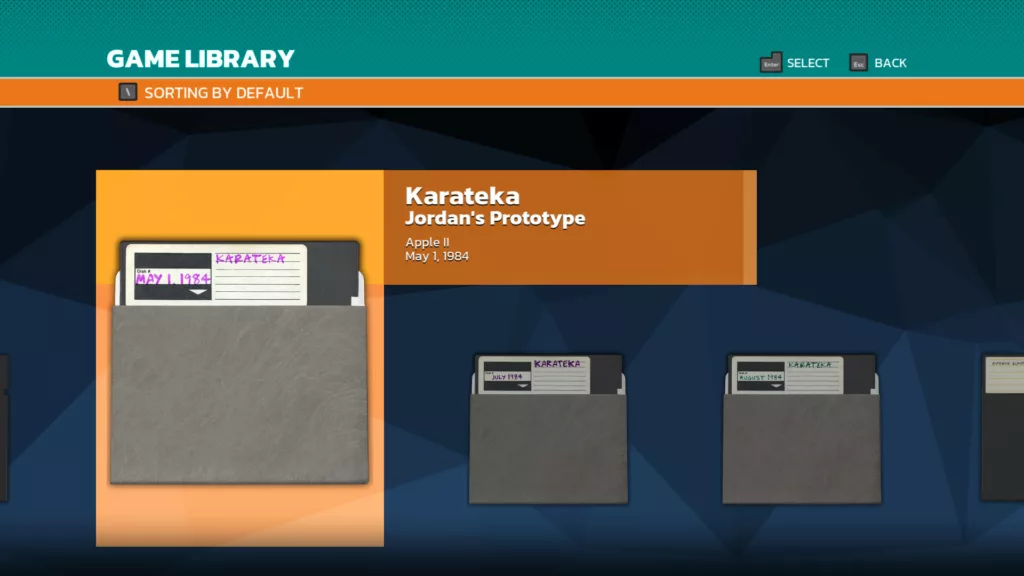 Major ports to platforms like the Commodore 64 and Atari 8-bit make up the bulk of the playable software. These showcase how Mechner tailor-made Karateka to capitalize on more advanced capabilities as hardware grew. The different versions provide an insightful technical comparison.
For convenience, all the titles include modern enhancements like save states while still retaining original game integrity. Display options let you replicate an authentic '80s experience with scanlines or smoother updated visuals. Nice touches like borders styled after each platform's box art also boost nostalgia.
The crown jewel of the playable lineup is clearly the slick Karateka remaster developed by Digital Eclipse. It provides a beautiful overhaul transforming the pixel art into hand-painted graphics. Animations gain additional fluidity, and controls get modernized for accessibility while retaining original gameplay. This remaster treatment offers a fresh way to enjoy Karateka's classic punches and kicks.
About the only thing missing is versions of Karateka on certain additional platforms like the NES and ZX Spectrum. Presumably licensing challenges kept these ports off the table. But the included offerings still represent the bulk of Karateka's retro catalogue.
Overall, the playable software provides the perfect complementary experience to the documentary content. Being able to directly engage with Karateka's history in such detail makes the learning even more relatable and immersive. It transforms education into entertainment.
Casting an Enduring Cinematic Vision
While not the most complex or advanced game, Karateka made an outsized impact by bringing unprecedented cinematic flair to the young medium of gaming. It inspired legions of developers with its fluid lifelike animations and greater emphasis on immersive storytelling. Karateka forever changed perceptions on what games could achieve.
As covered in the documentary, Karateka directly shaped the careers of many industry luminaries. John Romero and John Tobias cite Karateka as revelatory in showing them games could drive narrative experiences. It helped shape their own landmark cinematic series like Doom and Mortal Kombat respectively.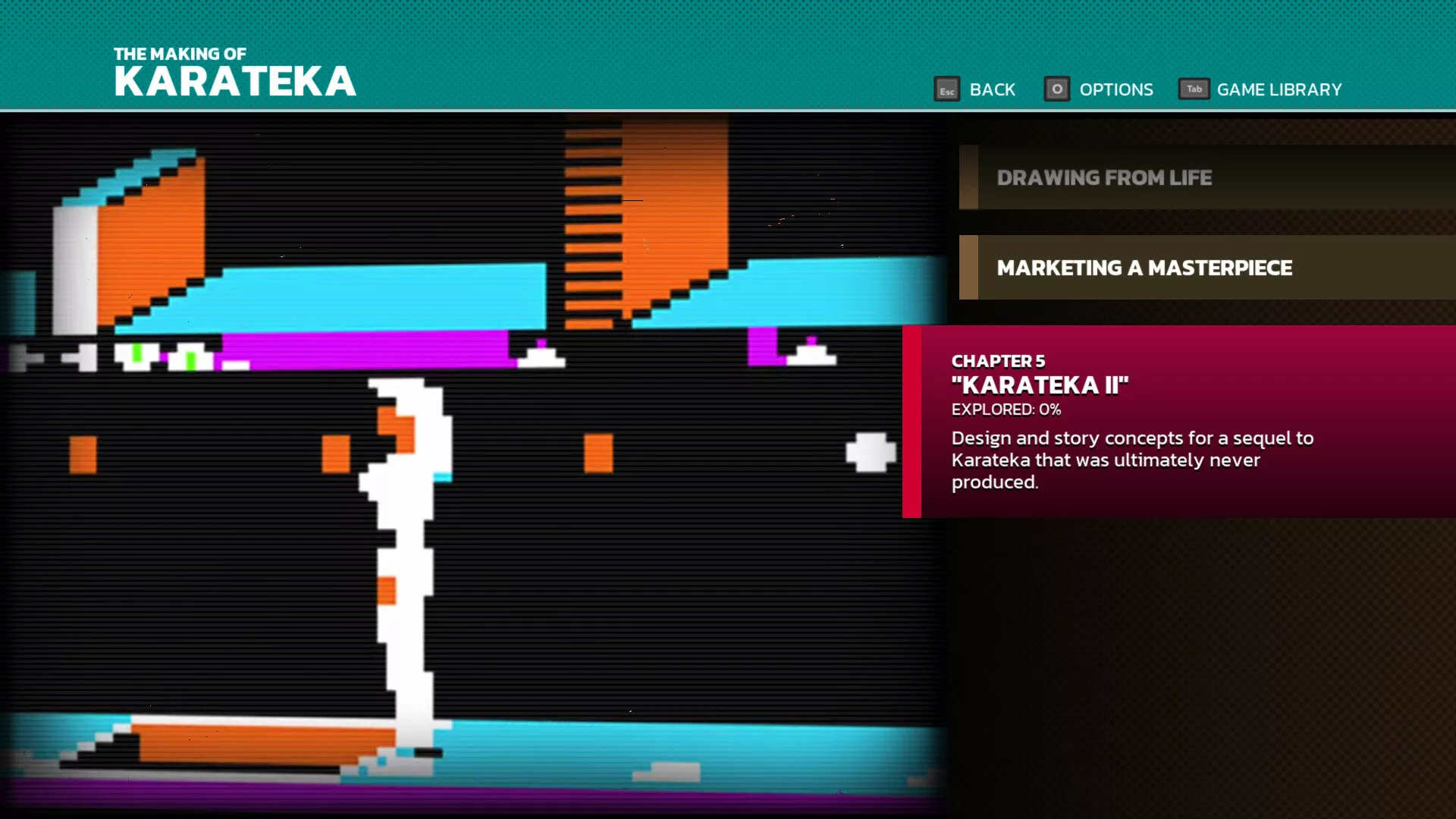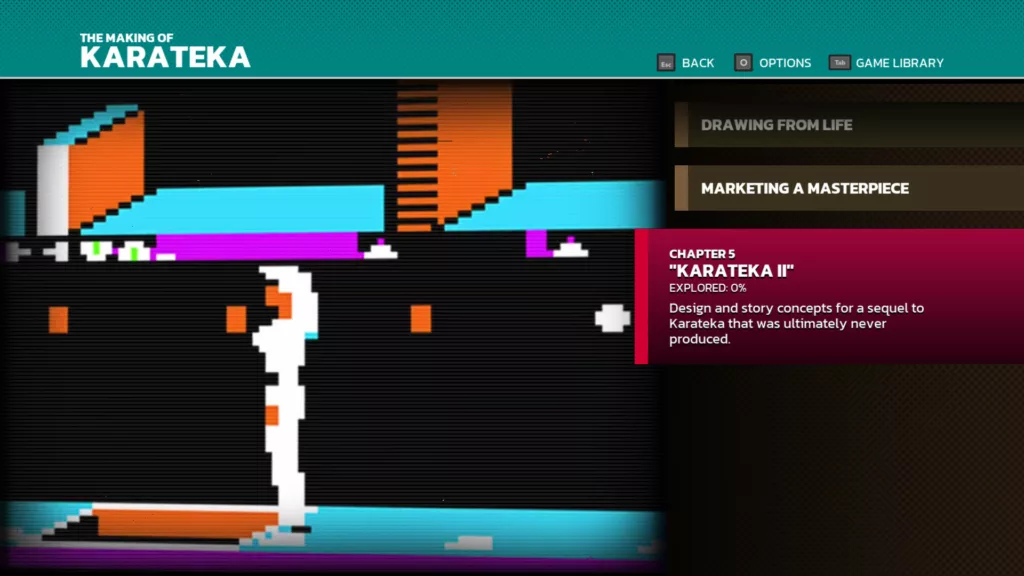 Karateka also paved the way for Jordan Mechner's career-defining Prince of Persia franchise. Applying lessons from Karateka let him craft an even more immersive experience with Prince of Persia's sprawling trapped-in-time storyline. Gaming storytelling grew by leaps through Karateka's influence.
Most importantly, Karateka opened developers' minds to new possibilities beyond high scores and abstract challenges. It brought a sense of tangible realism and cinematic progression previously foreign to games. Karateka created an emotional connection and embodiment like never before.
Players finally got to feel they inhabited the protagonist thanks to Mechner's meticulously rotoscoped character animations. Moving with lifelike motion and nuance made the combat and peril feel more visceral. This paradigm shift expanded gaming's emotional palette.
It's impossible to overstate this contribution. Karateka ushered in maturity and cinematic aspirations that shaped gaming forever after. Once Karateka demonstrated these immersive qualities, a return to purely abstract experiences could never suffice. It irreversibly elevated gaming's trajectory.
Remaining Gaps in Karateka's Legacy
While incredibly comprehensive overall, a few omissions in The Making of Karateka collection leave certain gaps unaddressed. A handful of significant Karateka ports fail to receive coverage, limiting the full historical picture provided.
Most conspicuous is the absence of Karateka's NES port. Arriving in 1987, this version marked Karateka's debut on consoles after initial computer releases. As one of the earliest cinematic martial arts titles on NES, documenting its conversion would prove insightful. But it sadly lacks inclusion or even a passing mention.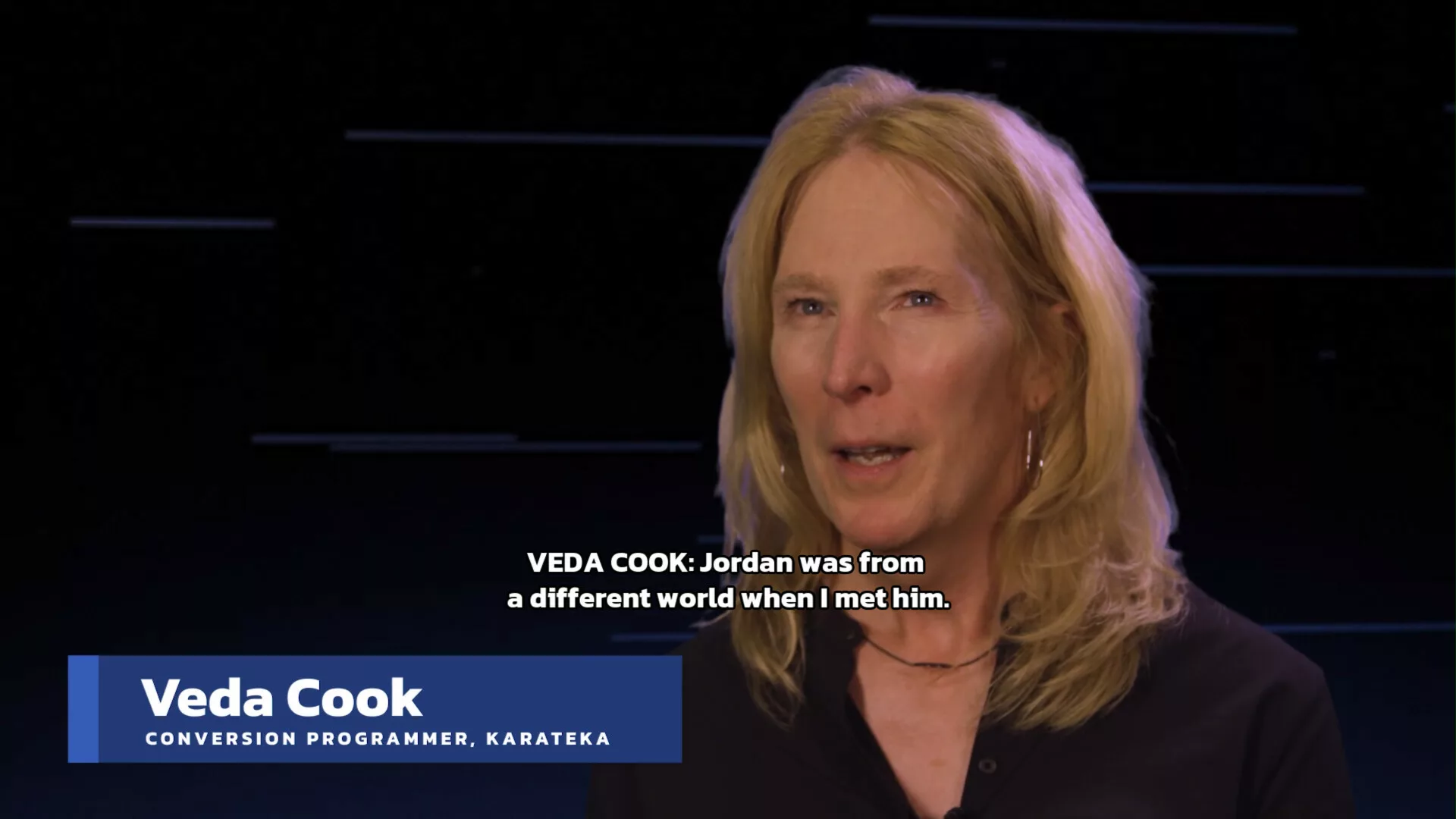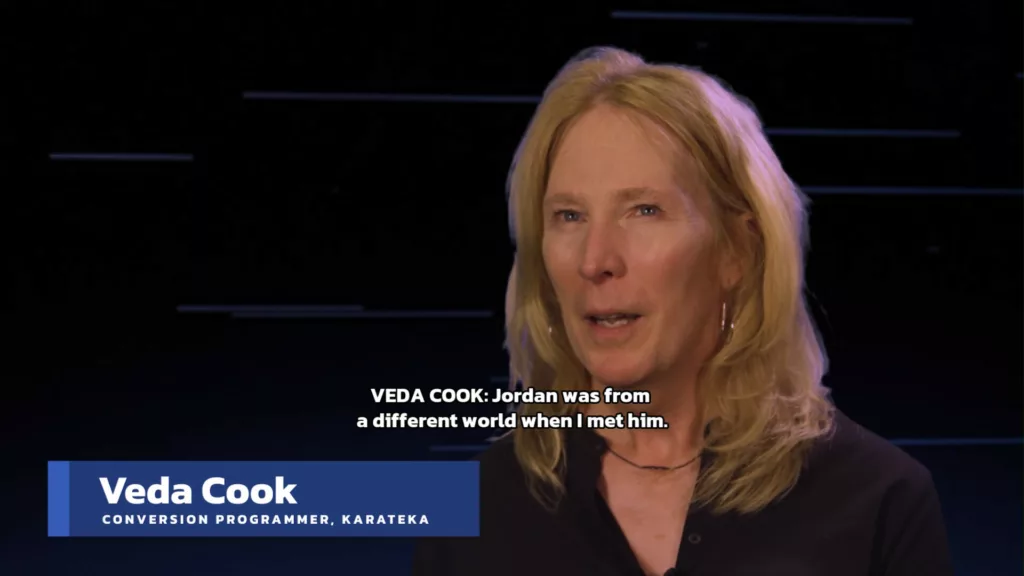 Likewise, the ZX Spectrum port of Karateka is another regrettable absence. As one of Karateka's most unique conversions with horizontal flip-screen movement, covering its iteration for the British computer market could reveal intriguing technical challenges. Unfortunately no Spectrum gameplay or discussion appears whatsoever.
Perhaps most disappointing is the total omission of 1991's Master Karateka for Game Boy. This interesting spinoff employed some light RPG elements in allowing players to build up their martial artist across multiple tournaments. As Karateka's most radical reimagining, overlooking it entirely seems a miss.
While presumably not directly Digital Eclipse's oversight, Ubisoft retaining full control over the Karateka IP may have complicated licensing these versions for inclusion. But their absence nonetheless creates gaps within the retrospective.
Despite these oversights, The Making of Karateka still provides incredibly deep insight into Karateka's origins and significance. The included wealth of content likely required tough curation choices. But acknowledging and briefly discussing even excluded versions could have granted helpful perspective. Their exclusion leaves some chapters conspicuously missing from Karateka's full legacy documentation.
An Indispensable Interactive Time Capsule
The Making of Karateka provides an unparalleled gift to gaming historians and retro enthusiasts. By extensively documenting Karateka's creation and impact, it brings well-deserved recognition to this pioneer of cinematic flair and immersive storytelling. The insightful making-of timeline grants priceless fly-on-the-wall access straight into Jordan Mechner's creative process across his early catalog.
Supplementing the documentary with playable prototypes, ports and reconstructions makes the learning experiential rather than purely informational. The ability to directly engage with Karateka's evolution through multiple eras confers deeper appreciation for the technical and creative ingenuity powering this retro classic.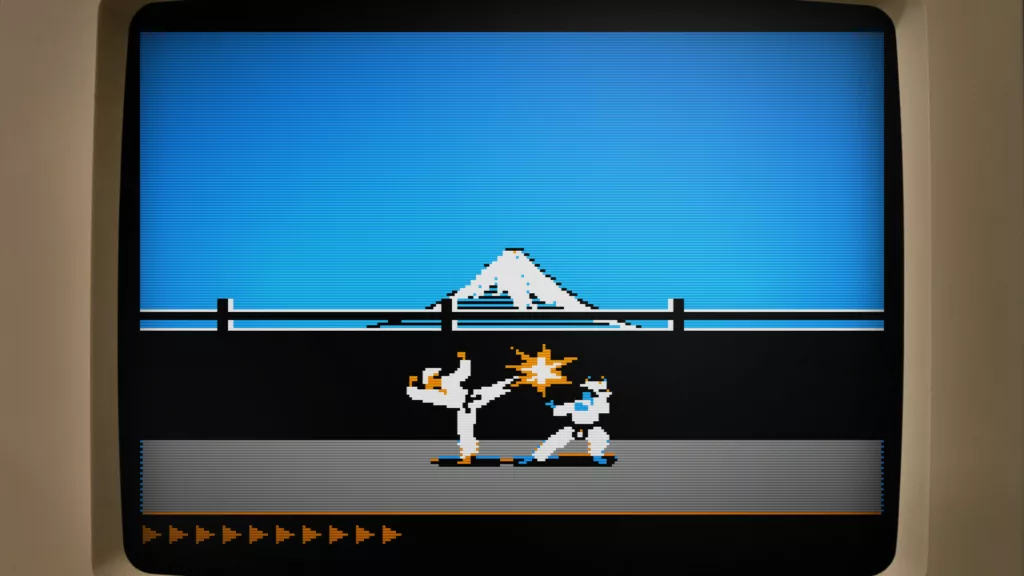 For those passionate about gaming's history and evolution, The Making of Karateka is an utterly essential interactive time capsule. It sets a new gold standard for thoroughly documenting the context and stories behind gaming's most impactful titles. The only downside may be wishing it lasted even longer to cover every facet of Karateka's ripples through gaming.
Hopefully this first entry in Digital Eclipse's "Gold Master" series inspires similar deep dives into many other landmark games. There is tremendous educational and entertainment value in revisiting pivotal gaming moments through interactive retrospective packages as meticulously crafted as this one.
Karateka may feel dated playing it today removed from its period context. But The Making of Karateka provides that critical lens to let you view this proto-cinematic experience as the revelation it proved for gaming's growth. It makes revisiting this retro classic an indispensable history lesson rather than mere nostalgia trip. For that alone, The Making of Karateka earns my highest recommendations for gaming scholars and devotees eager to trace the path of how we arrived where we stand today. Karateka landed a mighty blow that permanently raised gaming's aspirations.
The Review
The Making of Karateka
"The Making of Karateka" is a remarkable retrospective that celebrates the game's significant contribution to the gaming industry. This comprehensive documentary provides invaluable insights into the game's development, highlighting Jordan Mechner's creative journey and his family's involvement. The inclusion of playable software, including remasters and prototypes, enhances the experience, allowing players to explore the game's evolution. While it misses a few notable ports, this collection remains an essential interactive time capsule for gaming enthusiasts and historians, setting a high standard for documenting gaming history. It's a must-have for anyone interested in the evolution of gaming.
PROS
Historical Significance: Karateka is a trailblazing game that introduced cinematic storytelling to gaming.
Playable Variety: The collection includes prototypes, remasters, and ports, enriching the gaming experience.
Immersive Making-Of: The documentary offers a captivating look into the game's development and Mechner's creative process.
Technical Ingenuity: Karateka's clever use of limited hardware demonstrates Mechner's technical creativity.
Lasting Impact: The game's influence on developers and its role in shaping Prince of Persia highlight its significance.
CONS
Omissions: Notable Karateka ports, like the NES version and ZX Spectrum, are missing from the retrospective.
Limited Mechanics: The game lacks features like blocking and bi-directional movement, feeling outdated.
Sparse Checkpoints: Infrequent checkpoints and high difficulty may frustrate modern gamers.
Platform Limitation: The collection mainly focuses on specific platforms, potentially excluding some gamers.
Incomplete Legacy: The omission of certain versions leaves gaps in Karateka's historical documentation.