Director Todd Phillips, the creative force behind the iconic "Joker," took to Instagram to commemorate the fourth anniversary of the film's release by treating fans to a sneak peek of the highly anticipated sequel.
Phillips expressed his gratitude with a heartfelt message, saying, "Thanks for all the messages. Four years ago, we had quite a ride. Lots of great memories. More to come." Accompanying this message was a captivating still from the sequel, offering fans a tantalizing glimpse into the dark and enigmatic world of "Joker 2."
The image, reminiscent of the iconic Singin' in the Rain scene, features Joaquin Phoenix, reprising his role as Arthur Fleck (the Joker), standing in the rain, surrounded by four vibrantly colored umbrellas. This evocative shot immediately sparks curiosity and excitement among fans, hinting at the film's visually striking and emotionally charged narrative.
Officially titled "Joker: Folie à Deux," the sequel carries a French name that translates to "shared madness." This term also relates to shared delusional disorder, a psychiatric syndrome where delusional beliefs and sometimes hallucinations are transmitted from one person to another. In a fitting casting choice, Lady Gaga has joined the ensemble, portraying Harley Quinn, a psychiatrist who becomes enamored with Arthur Fleck.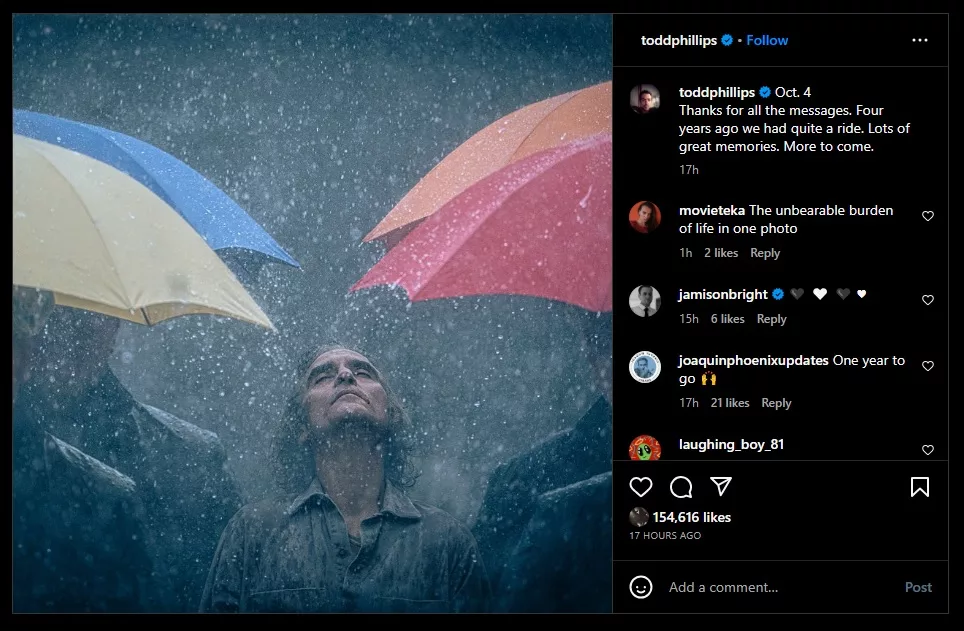 As the sequel continues to assemble its cast, other notable additions include Brendan Gleeson and Catherine Keener in undisclosed roles, adding an air of mystery to the film's narrative. Zazie Beetz returns to reprise her role as Sophie, Arthur's neighbor.
While details of the plot remain tightly guarded, it has been revealed that a portion of the film will unfold within the eerie confines of Arkham Asylum. Additionally, the surprise inclusion of a musical element hints at a unique and multi-dimensional cinematic experience, possibly exemplified by Joaquin Phoenix's character singing in the rain, as suggested by Todd Phillips.
As fans eagerly await more glimpses into the sequel and unravel the mysteries of "Joker: Folie à Deux," one thing is certain: the dark and compelling world of Arthur Fleck will once again captivate audiences in what promises to be another unforgettable cinematic journey.