Among the lush forests and shimmering seas of idyllic islands exist realms of myth and magic. Phoenix Labs, known primarily for their free-to-play behemoth hunting game Dauntless, are venturing into more tranquil territory with Fae Farm, a new farming life simulator with a fantasy twist. Releasing September 8, 2022 on Nintendo Switch and PC, Fae Farm invites players to till the land, befriend townsfolk, and uncover mystical secrets on the enchanted island of Azoria.
After years of crafting intense monster-slaying action, Phoenix Labs are trying their hand at a gentler genre; trading sword and sorcery for hoes and watering cans. Fae Farm represents a pastoral change of pace for the developers, though one not completely devoid of adventure. Magic spells and mysterious dungeons still await amidst the turnips and blueberries. In this review, we'll survey how well Phoenix Labs' maiden farming voyage fares. Does Fae Farm stand tall among classics like Stardew Valley, or is it more of a withering sprout? Read on to find out!
With its cheery art style and upbeat island setting, Fae Farm aims to deliver a soothing experience. But can its mix of familiar farming and fantasy elements truly enchant, or does the magic fade too quickly? Our review will explore what this mystical farming sim does right, where it falters, and whether it ultimately casts the right spell.
Tilling the Land and Taming the Magic in Fae Farm
At its core, Fae Farm will be instantly familiar to veterans of farming simulators. The central gameplay loop revolves around building up your homestead through the tried-and-true mechanics of tending crops, gathering resources, fishing, mining, crafting, and befriending the local townsfolk. Fans of games like Stardew Valley and Story of Seasons will feel right at home among the turnip patches and chicken coops of the island of Azoria.
The basics of farming gameplay are intelligently streamlined in Fae Farm. Planting and watering your fields is made easy with auto-switching tools, and the game helpfully prompts you when your health, energy, or magic is running low. Foraging for materials around the environment takes only a single button press rather than needing to manually equip and use the right tool. It's clear Phoenix Labs wanted to trim some of the more tedious fat that can accrue in this genre.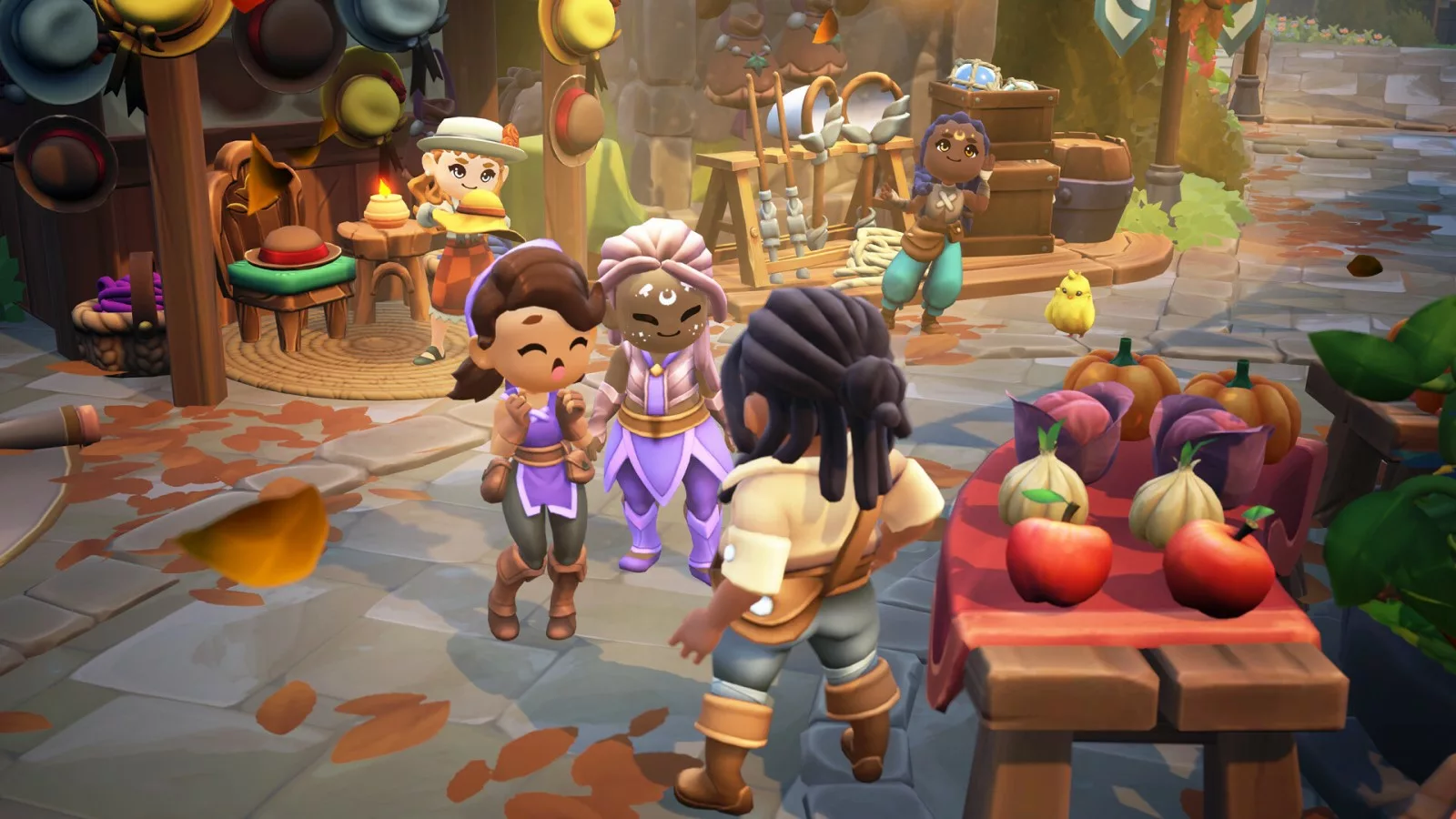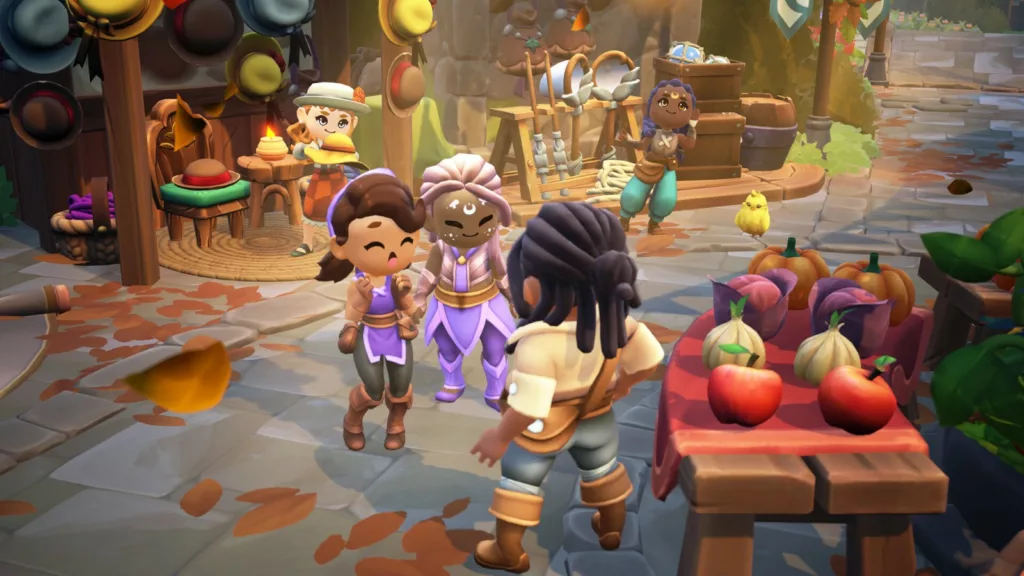 At the same time, the core relationship building remains strong. Getting to know your neighbors, learning their stories, giving gifts, and eventually finding romance all will be comfortingly familiar. The same goes for many of the additional pastimes like fishing, cooking, crafting furniture, designing your farm, and slowly expanding your home. Fae Farm checks all the expected boxes for the virtual country life.
Of course, being set in a realm of magic, Fae Farm adds some twists to the formula. As you progress, you'll gain access to spells that can damage enemies or provide utility, like magically harvesting an entire field at once. Traversing ancient dungeons and battling mystical creatures also brings some action to contrast the pastoral calm.
The titular fae themselves don't actually appear until a decent ways into the game, so the fantasy elements take time to ramp up. But once introduced, they bring an extra layer of depth and discovery to the experience. Unlocking new fae-themed areas opens up additional activities to engage with.
Overall, Fae Farm succeeds more than stumbles when it comes to gameplay fundamentals. The loop will feel intimately familiar to farming sim fans, with some smart quality of life changes to smooth out the experience. While the pacing could be better balanced, the injection of magic into the mix provides a unique draw. Fae Farm doesn't revolutionize the genre, but freshens it up just enough to stand apart from the crowd.
The Cheery and Mysterious World of Azoria
The moment you wash ashore on Azoria, it's clear this is an island brimming with color and character. Fae Farm's bright, cartoonish art style gives its world an energetic, storybook-like quality. Vibrant forests, shimmering seas, and mushroom-dotted meadows burst with color across the island landscape. The inhabitants match the environment's lively personality, with expressive gestures and excitable dialogue conveying a lighthearted tone.
As expected from the genre, the story starts simply – you inherit a rundown homestead and must restore the farm to its former glory by tilling the fields, building relationships with townsfolk, and steadily expanding your home. It's a familiar premise, but the writing and voice-acting inject even stock characters like the friendly mayor and aloof wizard with warmth and humor. Small touches like lively animations and rhyming storybook transitions add to the inviting atmosphere.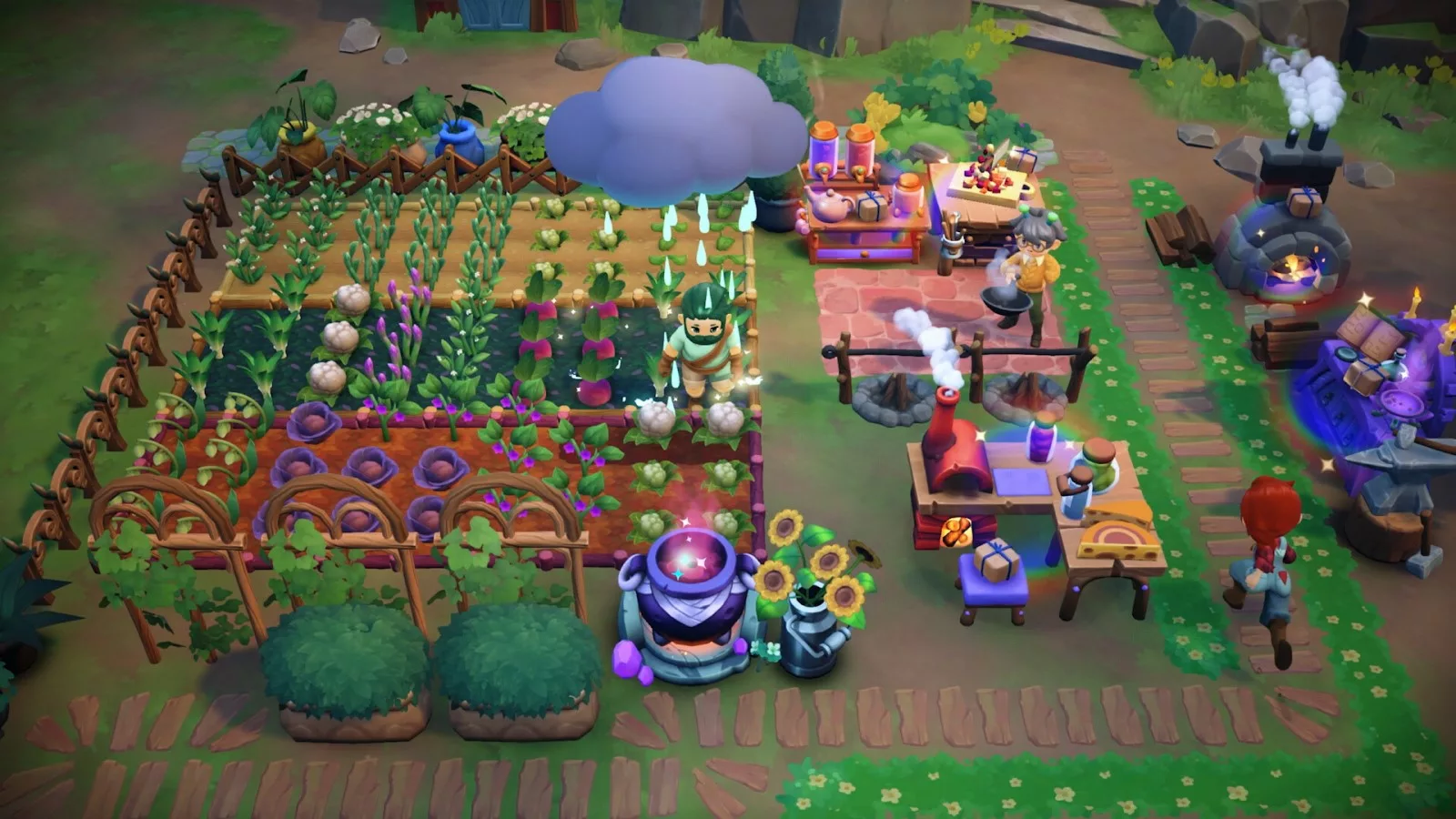 Despite the cheery first impression, an intriguing air of mystery looms over Azoria. Surrounding whirlpools prevent anyone from leaving, and dark thorns block paths deeper inland. The island has clearly seen better days, and strange magic now grips the land. Hints slowly emerge that the fantastical Fae who once presided here may hold answers about the isle's predicament.
Unfortunately, concrete details remain murky for far too long. The Fae themselves don't appear until hours into the game, despite being central to the title and premise. Until their introduction, Fae Farm feels indistinguishable from countless other farming simulators. When the hidden magical world finally unfolds, however, the setting becomes far more unique and intriguing.
Fae Farm's world brims with an infectious sense of whimsy and discovery, but takes too long to embrace its full potential. The delayed reveal of its distinctive fantasy elements prevents the setting from immediately matching the color and originality of its visual presentation. Still, once the veil is lifted, the island of Azoria becomes a vibrant storybook realm worth exploring.
Express Yourself Through Customization and Farm in Style
A major part of any farming sim's appeal lies in customizing your character and homestead to your liking. Fae Farm provides solid options for self-expression, with a few missed opportunities. Character creators are often where these games fall short, but Fae Farm does admirably. You can select they/them pronouns, skin tones encompass a wide spectrum, and options like hijabs show greater diversity than usual. Face and hair choices feel more limited in comparison, but the tools are still above average.
Your farming flair also extends to Fae Farm's smooth, free-flowing movement. Jumping, diving into water, and bouncing across mushroom platforms all feel great. The joy of effortlessly hopping about Azoria's environs can't be understated. Farming and foraging also avoid hassle thanks to automatic tool selection – the right pickaxe or watering can comes out depending on what you interact with.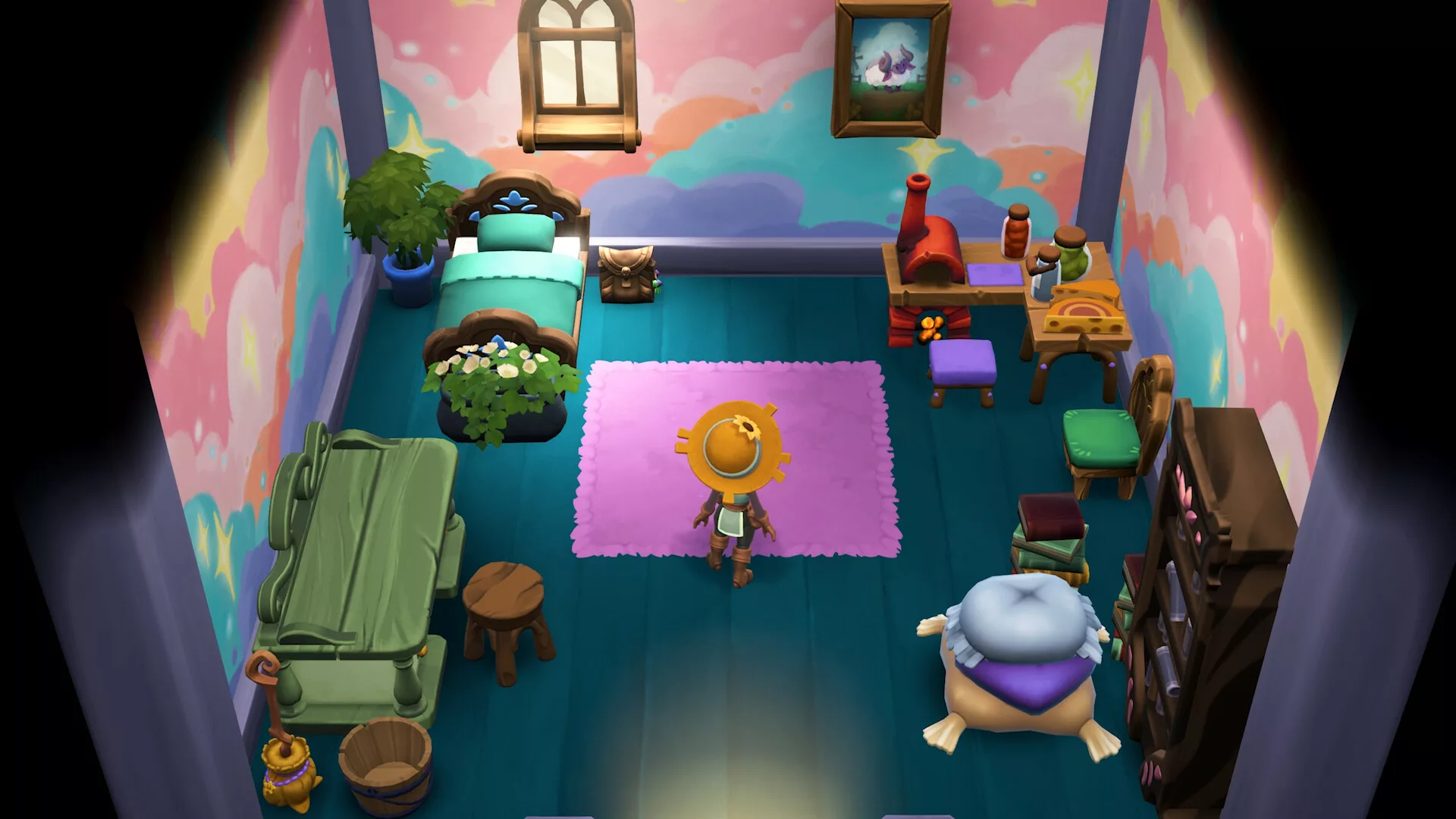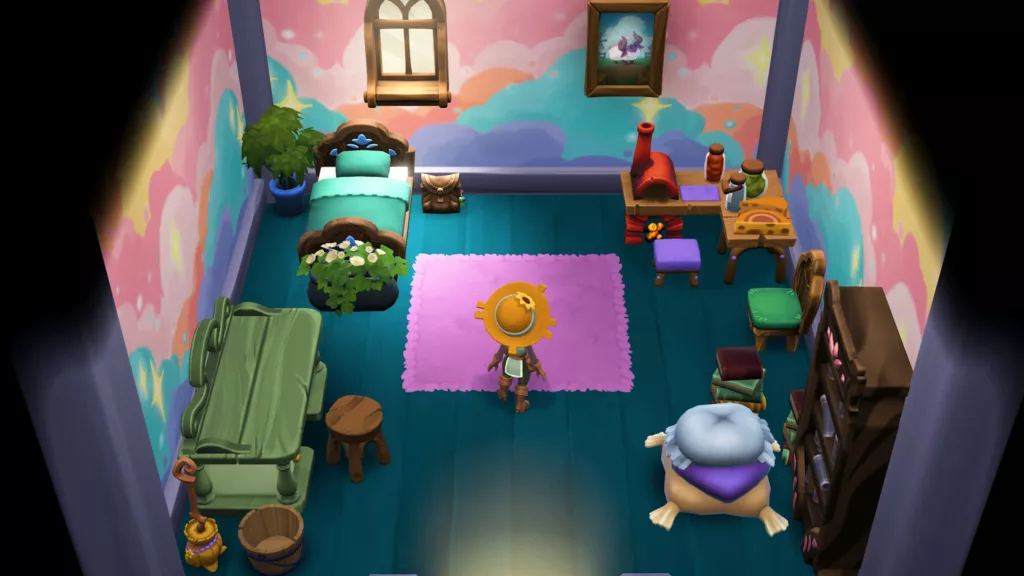 That said, inventory management could still use some work. Navigating through materials and items feels clunkier than it could. The interfaces for crafting, storage, and switching tools don't feel as refined as the game's traversal. With farming sims requiring tons of item juggling, improving these menus could go a long way.
On the technical front, Fae Farm runs smoothly once loaded in, with occasional hitches when transitioning areas. Load times in general skew long, which can try one's patience. Given the relaxing pace of farming though, long loads and brief hiccups don't ruin the experience.
In the end, Fae Farm succeeds more than falters when it comes to personal expression and presentation. While the interfaces have room for improvement, you have ample options to make your character and farm distinct. Combined with satisfying movement, the overall farming fantasy you can live out in Fae Farm is compelling.
Share the Farming Life with Friends, When You Can Tear Yourself Away from Your Crops
One of Fae Farm's touted features is full cooperative multiplayer for up to four players to share in the world-building experience. Farming sims lend themselves well to playing alongside friends, and Fae Farm provides that option for those who want to grow their homestead as a group. Of course, as with any multiplayer implementation, its appeal depends heavily on execution.
Based on early impressions, Fae Farm's co-op shows promise but may still be awaiting polishing. Syncing up schedules for long-term shared farming requires dedication, so unfortunately many may not take full advantage of the feature. But for those able to coordinate, building a bustling farm with fellow magical agriculture enthusiasts could enhance the adventure.
When you need a break from tending the turnips, Fae Farm also offers additional solo pastimes of varying quality. Activities like fishing, bug catching, and crafting furniture all provide alternative goals to strive for, though they largely recycle mechanics from the main farming gameplay loop. These extra elements expand your options but aren't as fully engaging.
The same goes for romancing townspeople, which feels quite thin. The villagers lack enough depth for courting them to feel compelling beyond checking achievements off a list. Still, more avenues of progression beyond core farming are welcome for variety's sake.
Of the extra content, the multi-floor dungeons probably offer the most consistently enjoyable escapades. Fighting monsters, finding treasures, and mining metals provides the taste of adventure farming itself often lacks. The dungeons could still use more creativity, but at least feel distinct from the daily farming grind.
Fae Farm checks the expected boxes for cooperative play and supplementary content without going above and beyond. These features provide some added value, but the core homesteading gameplay remains the star. Those simply seeking a solo farming getaway need not worry, while friends can optionally enjoy the journey together. But beyond the fields themselves, little in Fae Farm completely enchants.
A Charming Farming Getaway, But Further Magic Wouldn't Go Amiss
When taken as a relaxing pastoral escape, Fae Farm succeeds as a worthy addition to the beloved farming simulator genre. The core everyday loop of tending fields, gathering materials, crafting items, and getting to know townsfolk is polished, soothing, and compelling. Fae Farm understands what makes living a virtual country life so enjoyable, even if it doesn't drastically push boundaries.
Where Fae Farm falters is capitalizing on its full potential, resulting in an experience that charms but doesn't completely enchant. The technical issues causing occasional lag and long load times, while not deal-breaking, could still use ironing out. The additional activities like fishing and bug catching, while nice distractions, lack hooks to make them as addicting as farming itself.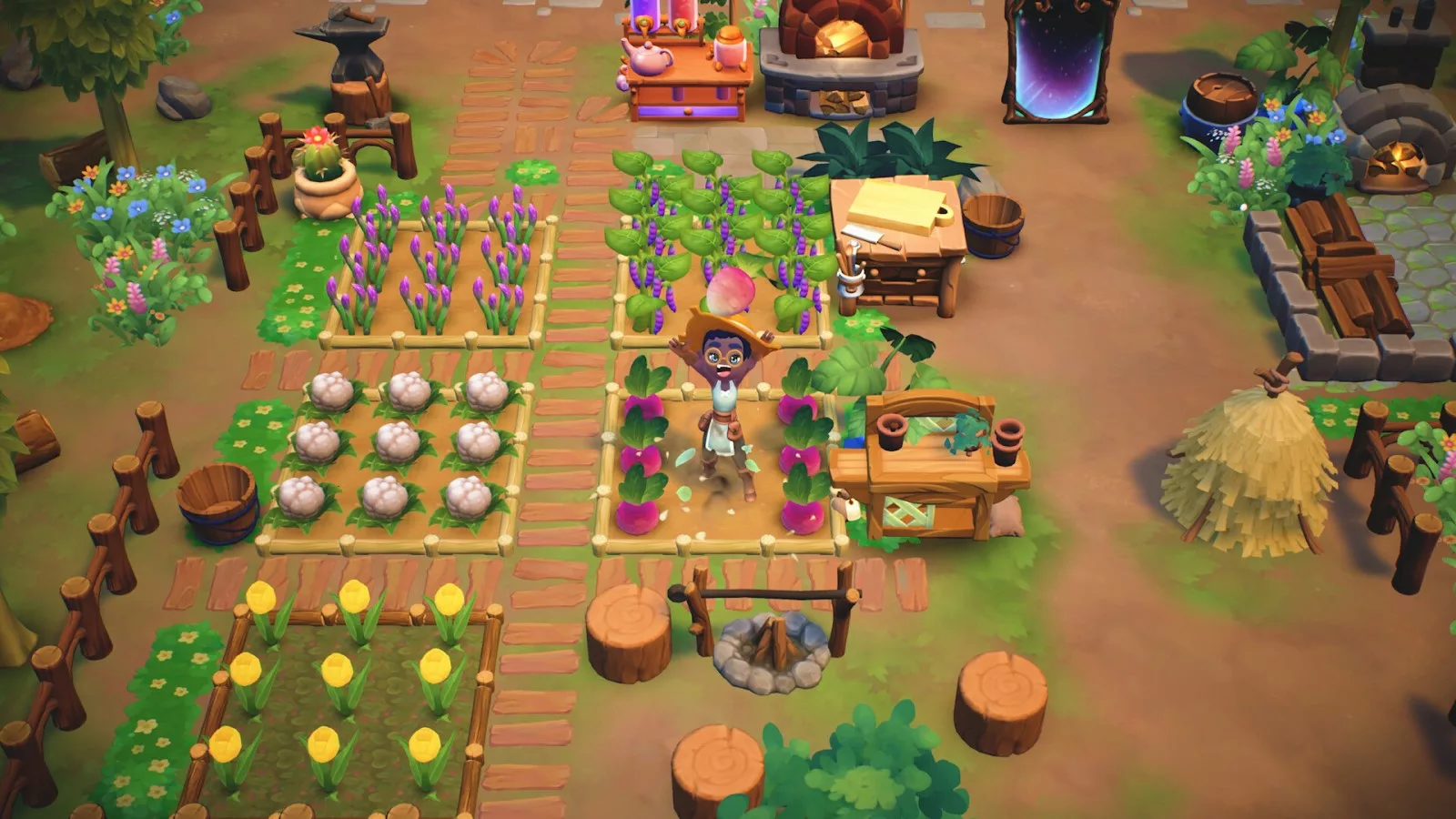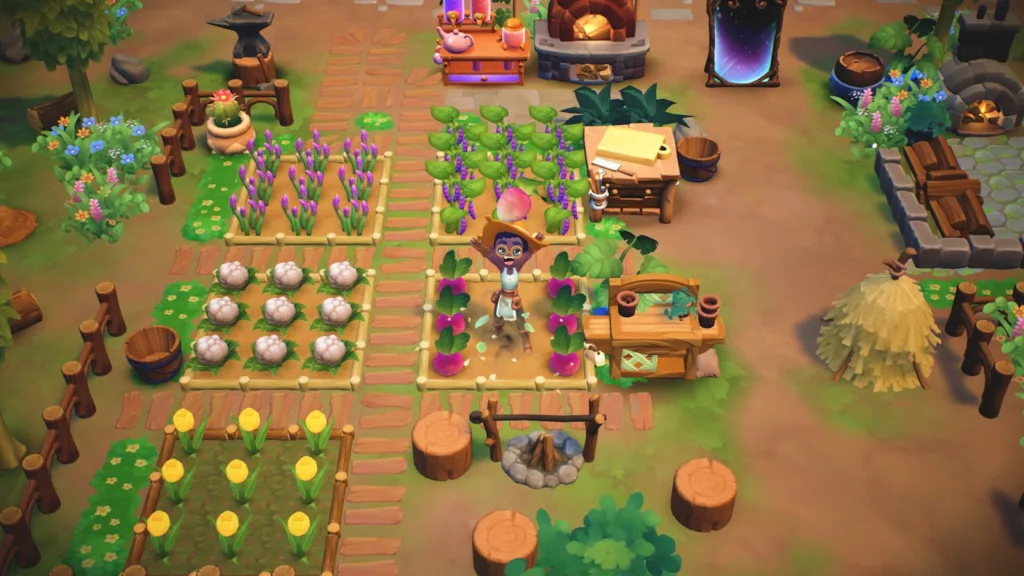 The pacing also undermines the impact of the game's premise. The titular Fae and their magic remain mysteriously absent for far too many opening hours. Upon their long-awaited introduction, they bring the sense of wonder and possibility that sets Fae Farm apart. But their delayed reveal prevents the fantasy from complementing the farming early on.
Still, Fae Farm deserves praise for what it gets right. The relaxing rhythm of farm work is skillfully crafted and feels great to dive into. Customizing your character's appearance and your homestead's layout checks the right boxes. Interacting with quirky townspeople brings much of the game's heart. The magic-infused farming concept has huge potential.
For players craving another cozy, cheery world full of crops and communities to cultivate, Fae Farm absolutely delivers. As a genre entry it succeeds admirably. But while its foundations are strong, its scope feels modest. With care and effort building on what's already done well, Fae Farm could bloom into something truly special. For now, it's an enjoyable farming getaway but not the fully magical experience it could be.
Fae Farm is absolutely worth playing for fans of farming life simulators looking for a new pastoral home. It executes core farming mechanics masterfully and provides that idyllic sense of routine and relationships. But it doesn't shake up conventions enough to be considered groundbreaking. With further refinement and more gameplay variety, Fae Farm could become truly exemplary. As is, it's a charming world to unwind in that brings some new mythical shine to a beloved genre, if not yet the full imaginative experience it holds the promise for.
The Review
Fae Farm
Fae Farm is a pleasant and polished farming simulator that succeeds more than it stumbles. While it doesn't revolutionize the genre, its sprinkling of magic and emphasis on relaxation provide enough uniqueness to make it worthy for fans. With expanded content and technical improvements, Fae Farm could blossom into something exemplary. For now, it's a charming pastoral getaway that lays the groundwork for an enchanting experience.
PROS
Unique fantasy twist to the farming simulator genre.
Cheery art style and upbeat island setting.
Streamlined farming gameplay with auto-switching tools and helpful prompts.
Strong core relationship-building mechanics.
Magic spells and dungeons add variety to the gameplay.
Bright, cartoonish art style with a vibrant world.
Engaging writing and voice-acting that adds warmth and humor.
Solid character customization options, including diverse choices.
Smooth, free-flowing movement and automatic tool selection.
CONS
Pacing issues, with fantasy elements introduced late in the game.
The world takes too long to embrace its full potential.
Inventory management and interfaces could be more refined.
Technical issues with occasional hitches and long load times.
Additional activities like fishing and bug catching lack depth.