Enchanted Portals is a new run-and-gun shooter that clearly takes inspiration from classic 2D titles like Cuphead. Developed by Xixo Games Studio, this indie game aims to capture a retro cartoon aesthetic in both its visual style and challenging gameplay.
You play as two rookie magicians named Bobby and Penny, who accidentally get sucked into a magical portal after knocking over a spellbook. Stranded in a fantastical new world, they must chase after the sentient book through a series of themed levels and boss fights. Armed with a magical wand, you run, jump, and shoot your way through creepy forests, underwater caverns, western towns, and more.
With hand-drawn visuals reminiscent of vintage 1930s cartoons, Enchanted Portals oozes nostalgic charm. The developer has crafted a diverse array of environments and enemies that seem ripped from the golden age of animation. However, underneath the gorgeous art direction lies gameplay that fails to live up to its obvious influences.
In this review, we will closely examine the graphics, controls, level design, gameplay variety, and overall fun factor of Enchanted Portals. While certainly a loving tribute to the retro classics that inspired it, this indie title stumbles in matching their finely-tuned gameplay and challenge. Does the charm of its throwback aesthetic make up for repetitive, frustrating mechanics? Let's dive through the portal and find out.
A Nostalgic Visual Treat…With Some Rough Edges
There's no denying that Enchanted Portals absolutely nails its tribute to retro cartoon aesthetics. The developer has crafted a diverse range of vibrant, detail-rich environments full of quirky enemies and characters that feel ripped from classic animation.
The hand-drawn art pops with color, evoking the rubber hose style of early Disney and Fleischer Studios cartoons. Backgrounds are packed with imaginative details, like gravestones and creepy trees in the haunted forest levels. Enemies each have unique and expressive designs, like the monocle-wearing octopus boss or tommy gun-toting buffalo gangsters. While not without some inconsistencies between areas, the sheer artistry on display is impressive for such a small studio.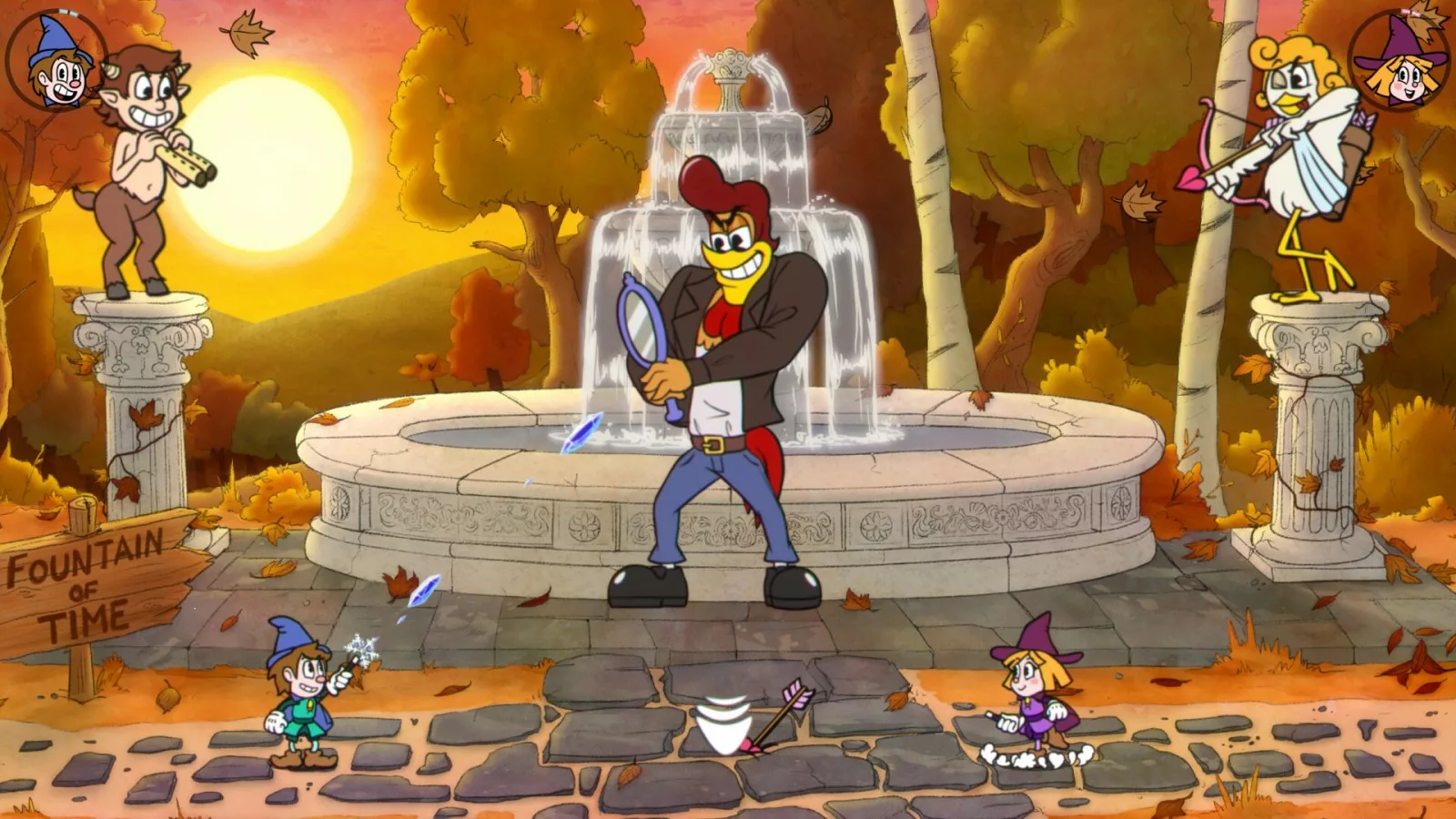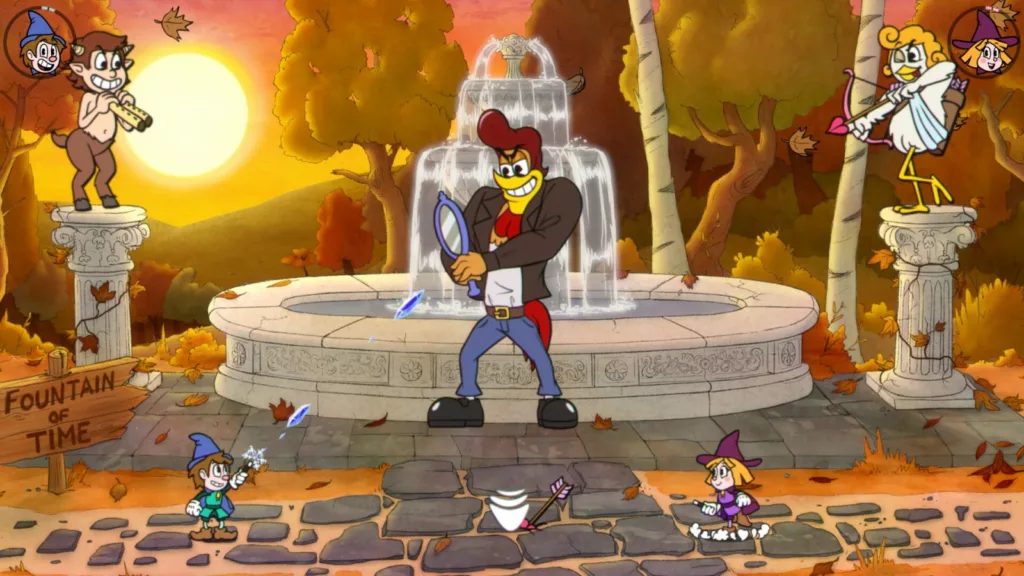 The fluidity of the animation also deserves praise, maintaining a perfectly smooth framerate even when the screen fills up with bullets and enemies. Some of the most delightful visual moments come from the multi-phase boss fights as they transition between different art styles. One second you're battling a moon witch, and the next she's turned into a creepy Tim Burton-style character.
However, upon closer inspection, it's clear there are some cracks in the gorgeous art direction. The still image cutscenes used to transition between levels feel a bit amateurish compared to the flowing animation during gameplay. Some environments also lack visual variety, reusing the same repetitive set pieces like gravestones or trees through the entire level.
Most disappointing of all are the lack of visually compelling reactions from enemies when hit. While their designs brim with cartoon personality, enemies exhibit no real visual feedback when damaged or destroyed. Given the incredible animation on display, more dynamic reactions to your attacks could have really enhanced the gameplay satisfaction.
Overall, Enchanted Portals perfectly encapsulates the vintage art style it strives for, an impressive achievement for a two-person studio. But a few missed opportunities for visual polish and diversity leave the presentation feeling a bit inconsistent. For the most part, its nostalgic graphics are a treat for the eyes, even if they can't fully mask the repetitive gameplay.
"Dive into the complex world of Crymachina with our in-depth review and discover if this ambitious sci-fi tale lives up to its potential."
Simplistic Shooting and Controls That Miss the Mark
On the surface, Enchanted Portals employs gameplay mechanics highly reminiscent of its spiritual predecessor, Cuphead. As Bobby and Penny, players run, jump, and shoot their way through side-scrolling levels filled with enemies and hazards.
The controls are simple – move with the analog stick, jump with a face button, and hold another button to fire your wand. Tapping a direction on the D-pad swaps between three different elemental attacks that are color-coded to enemy weaknesses. Other actions like a dash attack, bubble shield, and melee are mapped to shoulder buttons.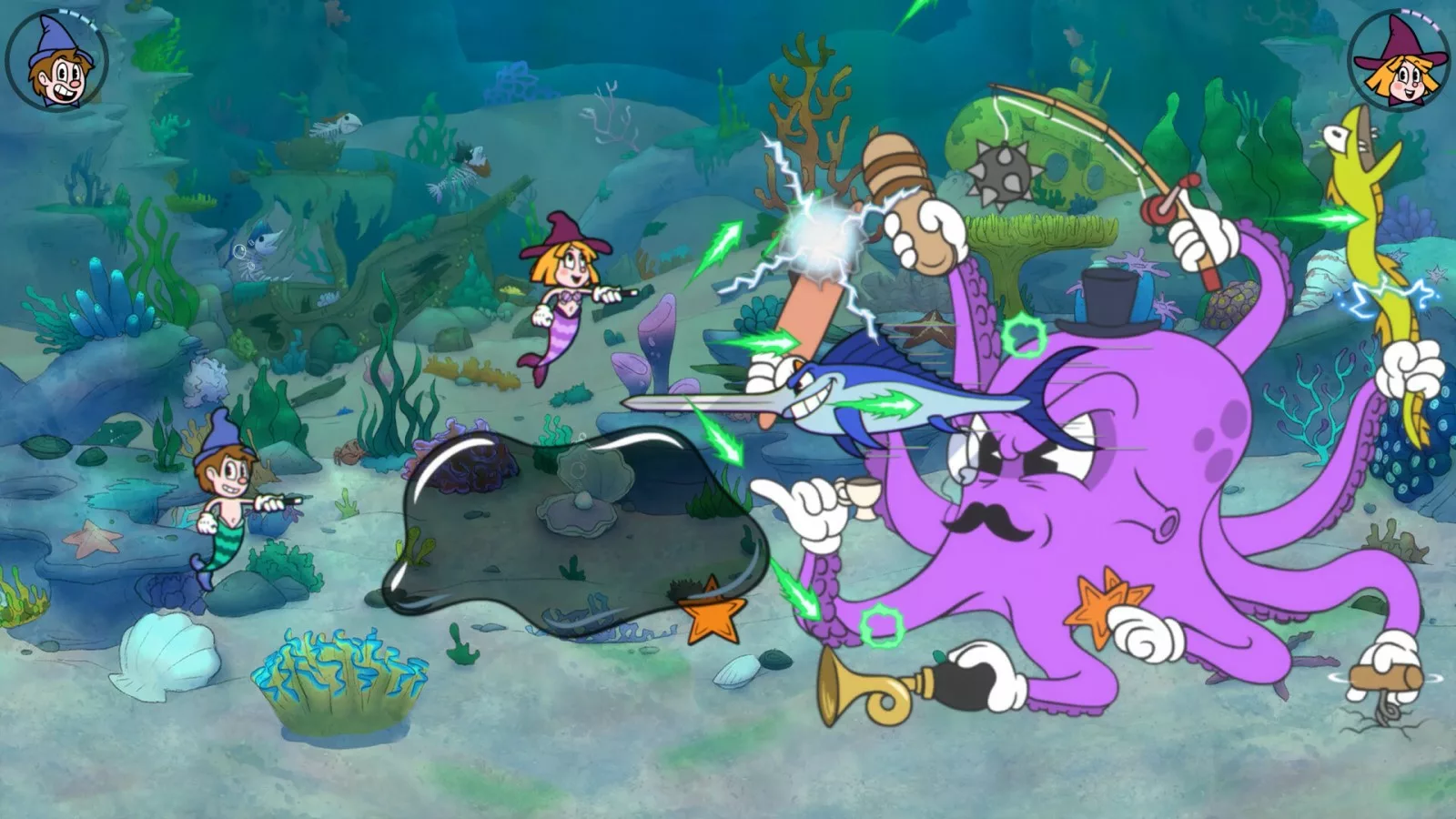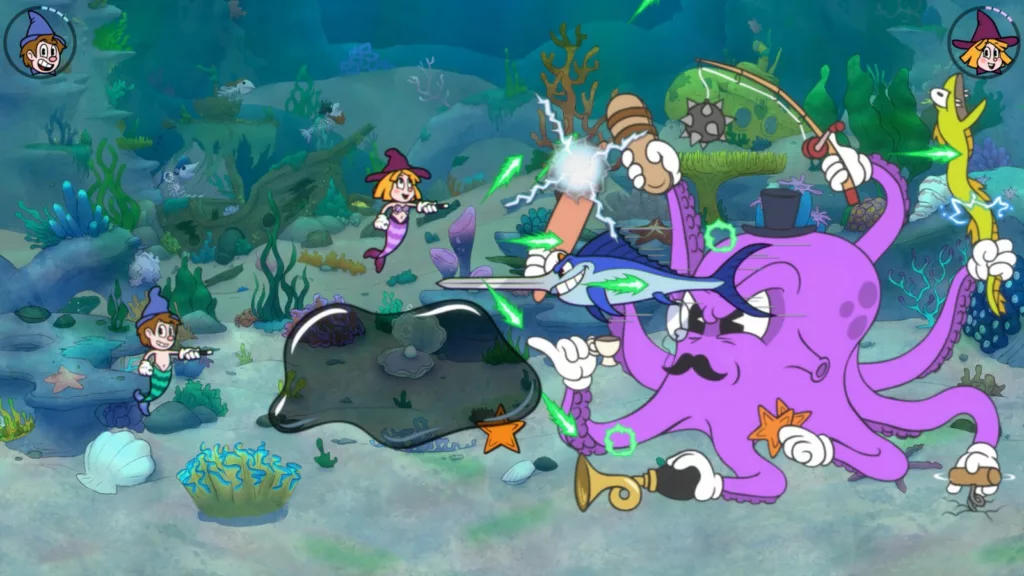 This straightforward control scheme is easy to pick up but lacks finesse in execution. Jumping feels somewhat floaty and imprecise, often leading to accidental hits. The dash comes with a delay and brief cooldown that disrupts the flow of gameplay. Switching spells halts your momentum entirely as you must release the fire button and press it again to resume shooting.
These control limitations become hugely problematic given the sheer number of projectiles and enemies constantly bombarding the player. The challenge often feels derived from overloaded, chaotic screens rather than intentionally crafted tests of skill. Trying to combine platforming and shooting quickly becomes an exercise in frustration.
Making matters worse are some puzzling omissions in the control scheme. The inability to duck or go prone to avoid shots feels like a glaring oversight. A brief period of invincibility after taking damage would also help mitigate the barrage of attacks. As it stands, the controls lack the all-important immediacy and accuracy needed in high-stakes situations.
Gameplay variety is also quite limited. Enemies appear randomly positioned rather than in carefully designed patterns, and most levels recycle the same handful of basic foes like flying bats and crawling spiders. Having to match elemental weaknesses also grows repetitive very quickly. While boss battles offer some unique mechanics, they tend to drag on through repetitive phases.
For a game focused on dodging attacks and returning fire, the responsiveness of the controls leaves much to be desired. Combined with the lack of diverse obstacles and enemies, this results in straightforward shooting and platforming scenarios becoming more frustrating than fun. Refined controls and more thoughtful level design could have made mastering the game's challenges an enjoyable endeavor rather than a test of patience. As is, Enchanted Portals doesn't quite capture the satisfying gameplay loop of the titles it aims to emulate.
Uninspired Level Design Plagued by Repetition
Enchanted Portals adheres to a fairly straightforward level structure – a series of side-scrolling platforming sections followed by a climactic boss fight. Unfortunately, the actual content and flow of these levels leaves much to be desired.
The floorplan of each environment is incredibly basic, usually just a flat plane with occasional platforms and hazards. Visual backdrops change as you progress, but interactive elements remain mind-numbingly similar. Enemies spawn randomly with little rhyme or reason rather than occupying thoughtful placements that test players' reflexes and pattern recognition.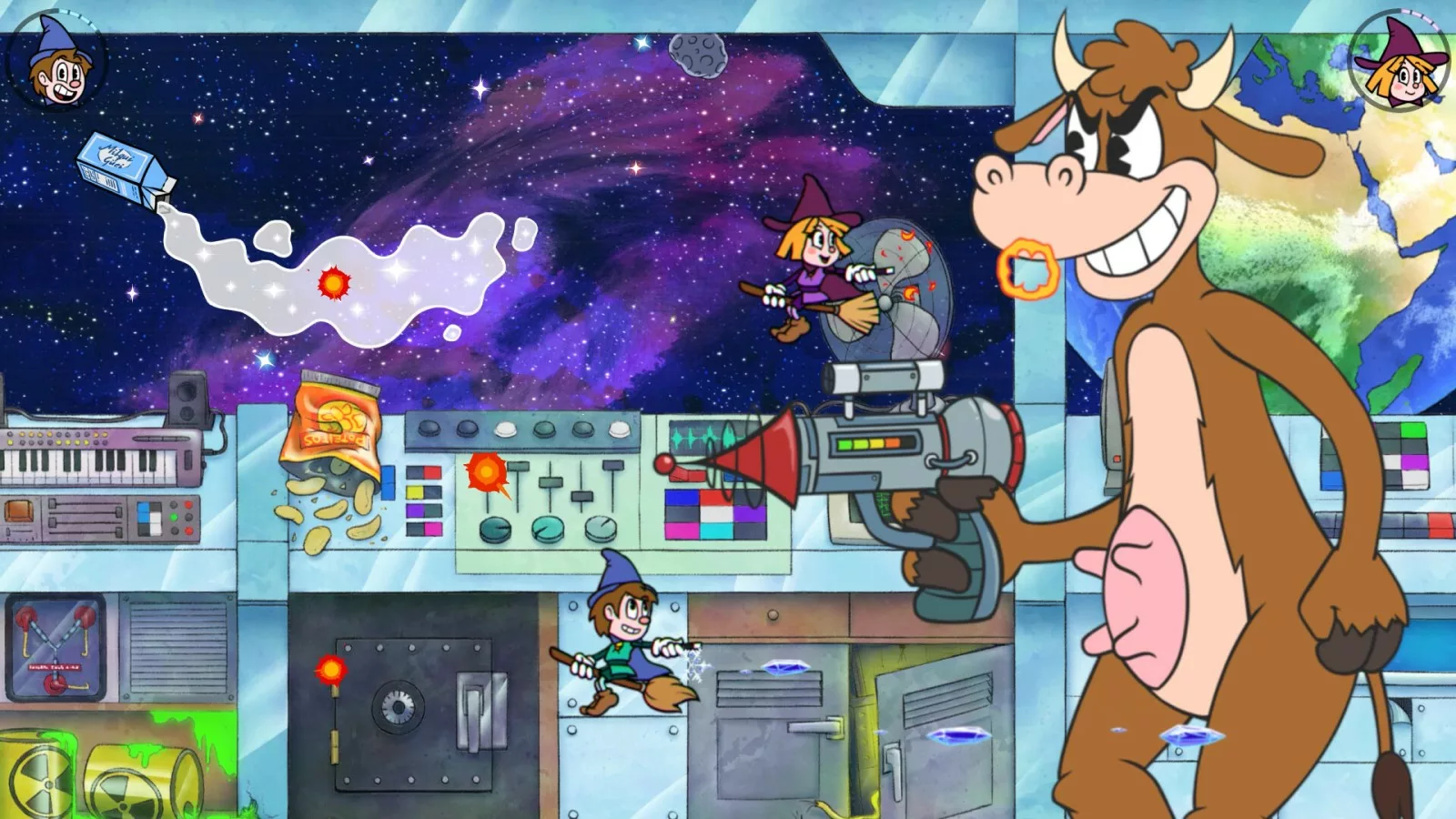 Worse still is the sheer repetition, as levels stretch on far too long with little gameplay variety introduced along the way. You'll face dozens upon dozens of the same few enemy types like flying bats and crawling spiders. The only indication of progress is a consistent midway point marked by a placid cat, which does little to alleviate the boredom.
Speaking of length, these platforming sections overstay their welcome by several minutes. The absence of compelling obstacles makes progression feel like a chore rather than a series of challenges to overcome. Some added environmental hazards or more intelligent enemy placement could have diversified the experience.
Boss battles fare slightly better by offering multi-phase fights, but they too suffer from repetition dragged across a span of 5+ minutes. These encounters feature some visually memorable designs, but the actual mechanics involve fairly simplistic dodging and shooting patterns on loop.
Overall, Enchanted Portals' levels exemplify wasted potential. Rather than well-balanced tests of skill and variety, they come off as uninspired and padded-out slogs. A few less repetitive environments, smarter enemy placement, and better checkpoint implementation could have done wonders to make progression an enjoyable ride. As it stands, the level design lacks purpose and fails to engage.
Nostalgic Journey Through Wii's Greatest Hits: "Join us on a nostalgic journey through the Wii's greatest hits. Our list of the top 20 Wii games revisits the titles that made the Wii a beloved console for gamers of all ages."
A Basic Premise Hampered by Amateur Storytelling
Enchanted Portals contains a pretty straightforward narrative about two magicians chasing after a mischievous spellbook through portals to fantastical lands. While not particularly original, the premise offers ample room for creative worldbuilding. Unfortunately, the game's storytelling fails to take advantage of this potential.
Presented through very limited static images and text, the plot progression feels stiff and amateurish. The introductory cutscene immediately kicks off the action without much context on the characters or world. From there, transitions between areas involve brief slideshows, many of which lack smooth animation between slides.
Minimal effort went into fleshing out the vibrant worlds teased by the art direction. From creepy forests to underwater coves, each environment begs for some background lore or character interactions to build intrigue. Instead, the player is given no motivation beyond chasing the book.
Pacing also suffers due to the padded-out length of each level. Because progression involves redundant platforming challenges, momentum grinds to a halt. The story would benefit greatly from more unique locales with smarter pacing and gameplay-to-narrative integration.
In the end, Enchanted Portals squanders promising fantasy settings by relegating them to repetitive backdrops. With some added character development and smarter worldbuilding, the story could properly support the whimsical journey at the core of this game. Unfortunately, subpar presentation and writing fail to bring this cartoon world to life. The vibrant visuals tease worlds full of magic, but the mundane execution leaves much to be desired.
Lackluster Sound Design Despite Pleasant Music
Given its retro cartoon aesthetic, Enchanted Portals understandably features a jaunty original soundtrack that invokes old-timey animation. The songs shift appropriately between creepy, curious and upbeat melodies from one world to the next.
While the compositions succeed in matching the visual flair, the actual sound design falls utterly flat. Effects for actions like jumping, shooting and getting hit carry almost no satisfying auditory feedback. Enemy projectiles fly by silently, which compounds the difficulty in reacting to threats.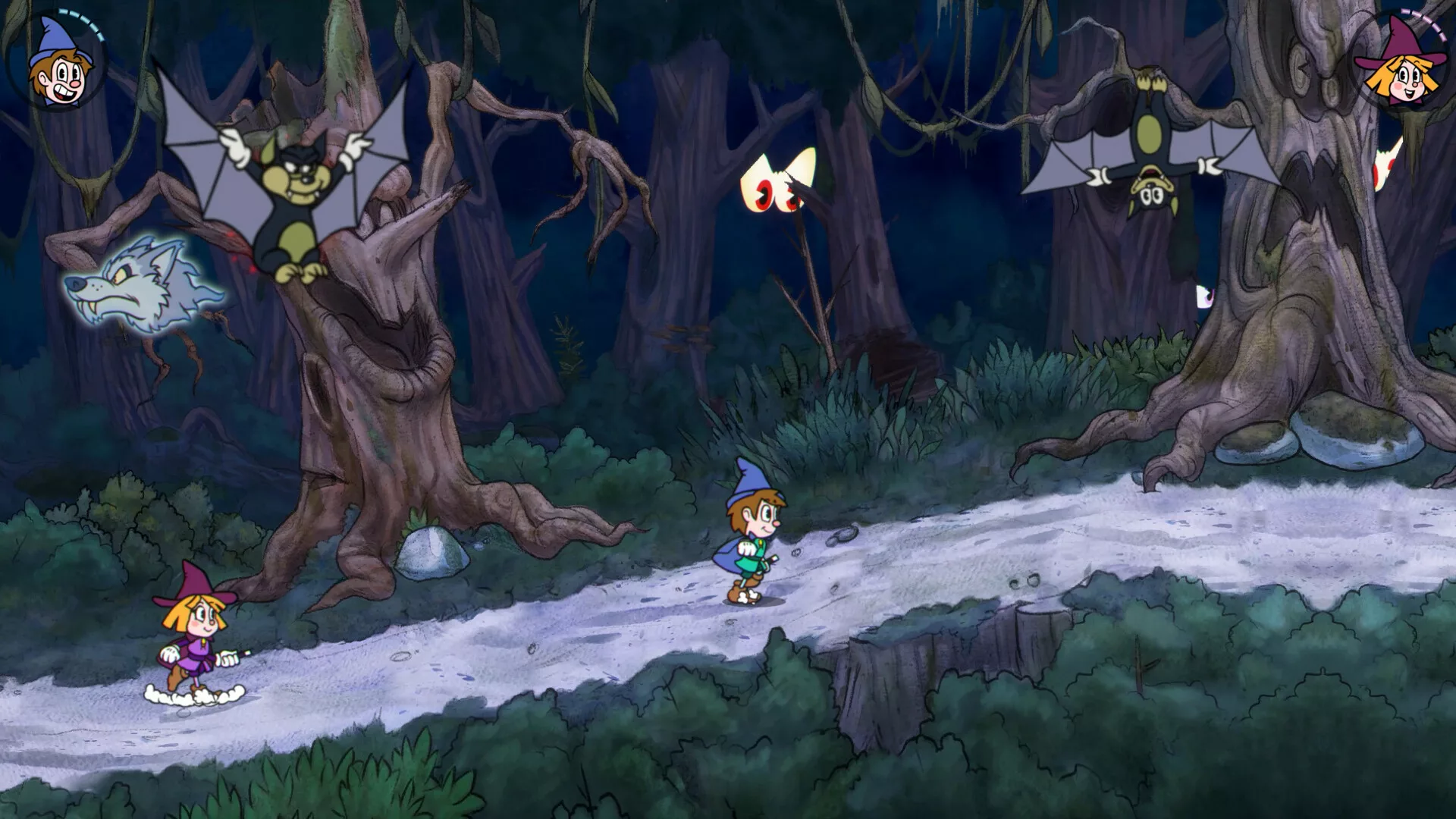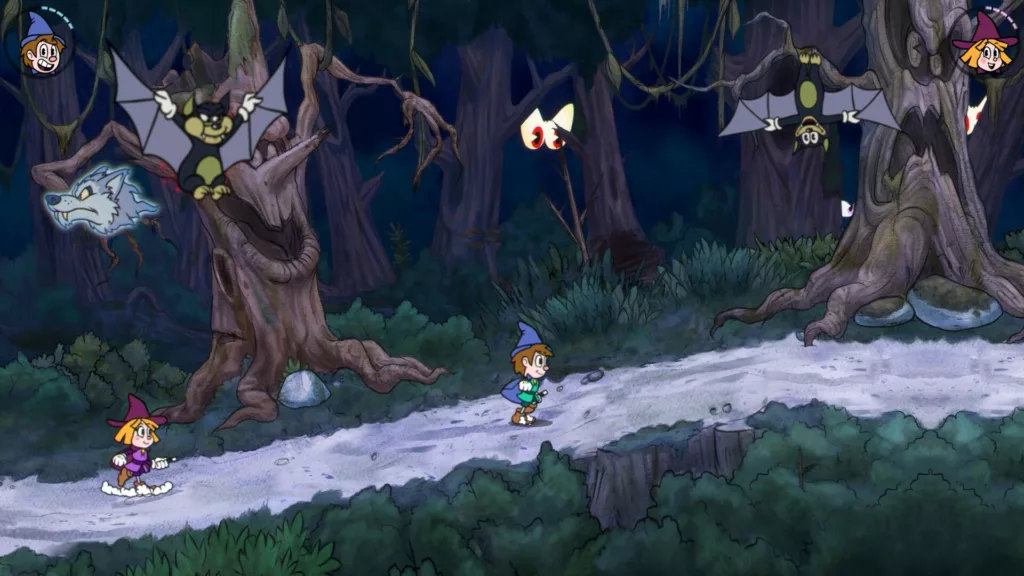 Without great sound, the impact of attacks feels weak, severely dampening the sensation of overcoming challenges. Even destroying enemies fails to elicit much in terms of response sounds. The bubbly cartoon worlds portrayed on-screen beg for bombastic, over-the-top audio accompaniment that is painfully absent.
Likewise, certain enemies lack distinguishing sounds to cue their presence, which leads to frustrating hits from off-screen foes. Sound plays a crucial role in player awareness, so the lack of thoughtful design here is detrimental to the gameplay experience.
The soundtrack demonstrates an artistic understanding of how music should complement each scene's tone and style. It's unfortunate that this mastery didn't extend to crafting robust sound effects and feedback. With the superb animation on display, it's truly immersion-breaking to have attacks, enemies and obstacles make so little audible impact.
While passable, the minimalist sound design misses the opportunity to bring Enchanted Portals' worlds to life with delightfully overblown audio. As a result, the retro-styled gameplay lacks the depth and satisfaction modern players expect thanks to believable soundscapes.
Short Playtime with Little Incentive to Replay
Enchanted Portals can be completed in around 3-5 hours depending on skill level. While not excessively brief for an indie title, the lack of meaningful replay incentives make it a one-and-done experience for most.
The simplistic level design and repetitive enemies offer very little reason to revisit completed levels. Outside of admiring the graphics, there is no added value through secrets, alternate paths or scoring systems. Even different difficulty options fail to change the core experience drastically enough to warrant another playthrough.
Once the story wraps up, there is no additional content like new game plus modes or multiplayer to extend longevity. Given the brevity of a single run, some added challenges or co-op functionality could have gone a long way here. As it stands, the package feels quite thin.
On a positive note, the game never outstays its welcome. The repetitive platforming sections do feel padded, but overall progression moves at a decent clip before the experience ends. However, smoothing out difficulty spikes and gameplay pacing issues could make that short playtime even more enjoyable.
Ultimately, Enchanted Portals offers a strictly linear adventure with no worthwhile reason to play again after credits roll. While not egregiously short, the lack of meaningful replay value makes this a one-time novelty rather than a deep, rewarding experience. For the asking price, a bit more polish and content would help players feel satisfied with their purchase rather than leaving them wanting.
A Passion Project That Stumbles on Execution
Enchanted Portals successfully channels the audiovisual style of classic 2D animation, a clear labor of love from this indie studio. However, the nostalgic presentation isn't enough to mask core gameplay flaws rooted in repetitive design and controls that lack polish.
Compared to genre standouts like Cuphead that nail challenging gameplay with precise performance, Enchanted Portals comes up well short. Its repetitive enemy patterns, unclear visual feedback, and occasionally clunky controls make progression feel like a chore rather than a satisfying test of skill.
That said, the developer's passion still shines through in the gorgeous art direction and charming soundtrack. There are genuinely good ideas here that get buried under the frustration of battling unresponsive controls and redundancy.
With some refinement to core mechanics and level design, Enchanted Portals could have lived up to the retro classics it pays homage to. Unfortunately, as is, it fails to recapture the meticulously crafted gameplay that defined old-school run-and-gun titles.
Diehard fans of rubberhose-animation era cartoons may still find enjoyment in the aesthetics alone. But for most players, the style can't overshadow the mediocre gameplay. Unless you reveled in the games that inspired it, Enchanted Portals doesn't offer enough fresh ideas or refinement to warrant a glowing recommendation.
The potential is here for an enjoyable nostalgic romp if the developers commit to smoothing out its shortcomings through patches. In its current state however, only the most patient and devoted retro enthusiasts will see this one through to the end.
The Review
Enchanted Portals
Enchanted Portals beautifully captures the vintage cartoon aesthetic it strives for, but lacks the fine-tuned and varied gameplay of the classics it seeks to emulate. Charming visuals can't mask repetitive design, imprecise controls, and underwhelming sound. While a clear passion project, this indie homage stumbles a bit too much on execution.
PROS
Inspired by classic 2D titles like Cuphead, capturing a retro cartoon aesthetic.
Hand-drawn visuals reminiscent of vintage 1930s cartoons.
Diverse array of environments and enemies that seem inspired by the golden age of animation.
Fluid animation with a smooth framerate.
CONS
Repetitive design and imprecise controls.
Gameplay fails to live up to its classic inspirations.
Some inconsistencies in the art direction.
Lack of visually compelling reactions from enemies when hit.
Controls lack finesse, with issues like floaty jumping and disruptive dash delays.
Chaotic screens with overloaded projectiles and enemies.
Limited gameplay variety with repetitive enemies and elemental weaknesses.