Lost Eidolons marks the first foray into gaming for fledgling developer Ocean Drive Studio. This story-driven tactical RPG certainly shows ambition in its scope and systems, inviting comparisons to stalwarts of the genre like Fire Emblem. While imperfect, Lost Eidolons delivers an engaging experience with plenty of strategic depth. It may stumble at times, but overall this debut provides a solid foundation that bodes well for the studio's future.
We step into the boots of Eden, captain of a mercenary crew caught up in civil turmoil within the war-ravaged land of Artemesia. Political tensions boil over as an aging emperor's corruption spreads across a once-unified continent. What begins as a simple rescue mission escalates into full-blown rebellion, with Eden reluctantly leading the charge. Ocean Drive Studio aims high in crafting this sprawling narrative, though the tale loses steam by the closing chapters.
Where Lost Eidolons shines brightest is in its grid-based tactical combat. A range of systems like terrain interactions, monster weak points, and class progression give players plenty to sink their teeth into. Skirmishes consistently engage, with new wrinkles introduced steadily throughout the game's 50-hour campaign. While the story falls short of expectations, innovative gameplay delivers on this indie studio's ambitions.
Lost Eidolons may stumble on occasion, but it seldom falls. For a first-time developer, Ocean Drive Studio has crafted an experience with noteworthy staying power. Some roughness around the edges is expected for a debut title. Nonetheless, Lost Eidolons provides a compelling adventure that hints at even greater things to come. Let's dive deeper to see where this promising new studio succeeds, and where future growth may lie.
A Sweeping Saga That Loses Momentum
The land of Artemesia stands as the setting for our sweeping political drama. Once a continent united under a single banner, years of corruption have left the empire a hollow shell of its former glory. As the aged Emperor Ludivictus' vise-like grip falters, the stage is set for an uprising that could reshape Artemesia's future.
We experience these turbulent times through the eyes of Eden, captain of a ragtag mercenary crew. When a routine rescue mission goes awry, Eden and his comrades become embroiled in full-blown rebellion against the empire. This unlikely band of heroes must unite a fractured nation if they are to overthrow tyranny and usher in a new era of prosperity.
Ocean Drive Studio crafts an initially intriguing plot, leaning heavily on the camaraderie between Eden's core group of fighters. These characters brim with personality, lending heart to a story filled with political maneuvering and bloodshed. Several memorable moments spotlight interpersonal relationships, bringing emotional weight to the story. The developers also wisely utilize a talented voice cast to bring the characters to life with conviction and nuance.
Regrettably, Lost Eidolons' narrative loses momentum as events unfold. Story threads arise without proper foundation, only to hastily wrap up or vanish altogether. Few villains stand out, with the primary antagonist transparent from the outset. The final chapters fail to capitalize on earlier build-up, resulting in a climax that feels devoid of suitable payoff. After a promising start, the tale ends in underwhelming fashion.
While this sweeping saga entertains in fits and bursts, it falls short of expectations. The vibrant cast and initially strong premise give way to a story lacking in focus. Plenty of potential remains untapped, from Artemesia's rich lore to impactful character arcs left unfulfilled. Still, credit is due for crafting a functional narrative in this debut title. With a more refined approach, Ocean Drive Studio could produce truly memorable tales.
Player choices influence one of several endings, but these resolutions lack the presentation to feel truly distinct. Major decisions along the way would benefit from illumination, rather than subtle alterations spelled out only in the concluding moments. Expanding on playable epilogues could provide sorely lacking details on the state of the world and characters' fates. Though ambition is apparent, the storytelling lacks necessary polish.
Despite fizzling out, Lost Eidolons' sweeping saga entertains for much of the journey. Deficiencies in the narrative fail to completely overshadow enjoyable characters and an intriguing premise. While Ocean Drive Studio aims high with the story's scope, it requires more focus and refinement. Still, this debut hints at the studio's potential for weaving engrossing stories worthy of accompanying their creative gameplay systems.
Strategic Battles Brimming with Depth
The true star of Lost Eidolons lies in its grid-based tactical combat. Each of the 27 story chapters culminates in a major battle, calling upon players to deftly position units and leverage various systems. An array of classes, skills, equipment, and mechanics give rise to engaging skirmishes with plenty of strategic considerations. Those seeking a stiff challenge will find much to sink their teeth into.
Every story battle unfolds on a grid, with players getting free reign to command units in any desired order. Each turn, units can move and attack, utilize skills, or employ items before the enemy takes their turn. Rather than a weapon triangle, effectiveness is determined by armor type – axes cut through heavy plates, while swords fare better against the lighter leathers.
Magic also factors heavily into combat strategy. Spells can interact with certain terrain types for added effects. Setting a forest ablaze damages any units within, while lightning strikes hardest against foes standing in water. The judicious use of elemental magic adds further depth when approaching each scenario.
To further keep players on their toes, some encounters pit your army against imposing monsters. These foes have multiple weak points that must be struck with the right attack type to inflict extra punishment. Identifying and properly exploiting these vulnerabilities provides a satisfying puzzle element.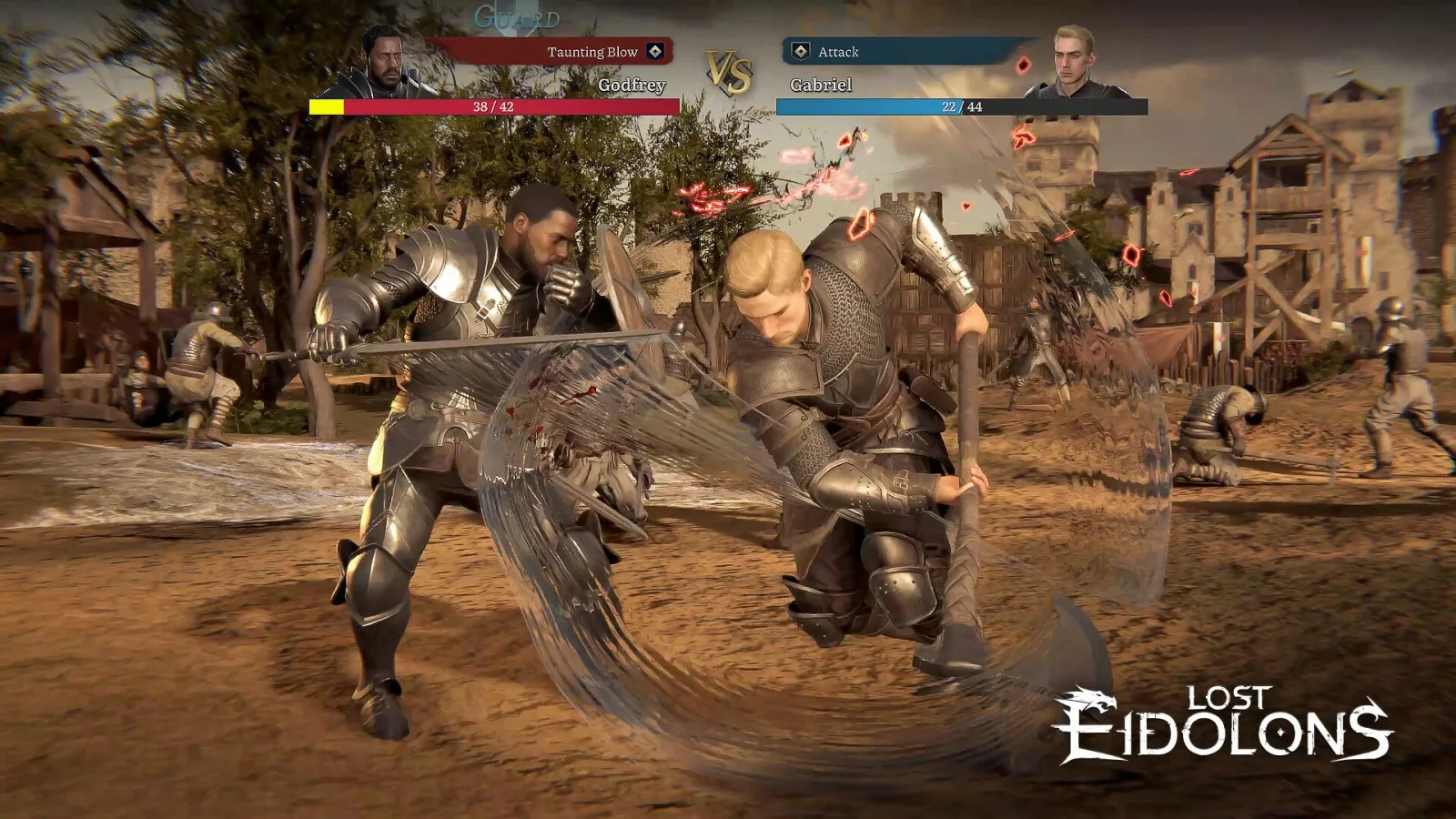 Skills and spells have limited uses per battle, forcing players to weigh their options rather thanspamming the most powerful abilities. Additional mechanics like assignable aides, debilitating status effects, and turn limits on each map provide even more strategic considerations. It all combines to deliver grid-based combat brimming with complexity.
The challenge level also caters to players of all stripes. Those seeking a stiffer test can enable permadeath or bump up to higher difficulties where enemies show no mercy. Story mode lowers the barrier to entry for less seasoned tacticians. Veterans will appreciate unlocking higher job classes, honing weapon skills, and compiling the perfect squad.
Between story battles, players can explore Eden's camp to converse with characters, undertake side quests, and recruit new allies. Building relationships grants stat bonuses and unlocks backstories, but requires valuable leadership points. Optional skirmishes could use more variety, as the small selection grows repetitive quickly. Still, the camp provides a welcome respite from combat's intensity.
Lost Eidolons' strategic clashes consistently engage the mind. Ocean Drive Studio has crafted a combat system with enough depth to stay entertaining over a lengthy campaign. There is always one more skill to master or squad configuration to try in the name of victory. Whether storming fortresses or facing mythic beasts, this debut game delivers turn-based tactics with poise.
Some minor issues like clunky menus do weigh things down slightly. Navigating equipment and classes could feel more streamlined. The visual differentiation between gear pieces is also limited. Additionally, the combat animations and effects lack some flair to match the intricate systems. But these quibbles little detract from the satisfying core combat experience.
With its grid-based warfare, Lost Eidolons establishes itself as a worthy peer to genre mainstays. Ocean Drive Studio has introduced numerous original mechanics while avoiding needless complexity. Both cerebral challenge and pure entertainment come in equal measure. This foundation brims with promise, and already delivers strategy and customization aplenty. Fans of turn-based tactics will find much to relish in these engrossing battles.
A Pleasing Aesthetic Hindered By Presentation Pitfalls
On the visual front, Lost Eidolons opts for a realistic graphical style that fits its grounded fantasy setting. Character models exhibit appreciable detail, distinguishing the diverse cast with clarity. Animations also impress during battles, bringing flashy skills and brutal combat to life. This pleasing aesthetic supports gameplay well, even if lacking some flair.
Environments also receive praise, as terrain features like muddy bogs or flaming forests play directly into combat strategy. Icons and tooltips sufficiently denote interactive elements, though some ground types are subtle. Performance also holds steady amidst the ability-slinging chaos. Options to skip enemy turns and animations make prolonged encounters less grating.
However, Lost Eidolons' presentation falters during story events. Conversations bizarrely involve characters popping in and out rather than interacting naturally. This disjointed approach diminishes narrative immersion and emotional impact. Key moments would benefit greatly from expanded environmental integration and direction.
Missed opportunities like these make the presentation feel less cohesive. Storytelling suffers while lacking the punch provided by fully realized cutscenes and locales. Even simple additions like transitional establishing shots between scenes could significantly improve flow. The story compels despite presentation limitations, not because of them.
This extends to endings, as player decisions leading to one of several conclusions lack tangible outcomes or distinctions. Cryptic splash screens make the outcomes feel detached from the journey. Epilogue chapters detailing the world's state and character fates based on choices would add investment. Presentation issues hamper the storytelling at pivotal moments.
On the positive side, Lost Eidolons boasts a strong artistic vision for environments and characters. This provides a satisfying backdrop for absorbing turn-based tactics, even if the narrative presentation itself breaks immersion. As Ocean Drive Studio gains experience, improving cohesion and storytelling impact would amplify the strengths already displayed in art and animation.
For a debut title, Lost Eidolons delivers a respectable aesthetic supporting its gameplay foundations. But integrating visual elements fully into storytelling and choices would elevate the experience markedly. Ocean Drive Studio must devote equal attention to presentation if future titles aim to maximize their potential. This will be imperative as the studio plans increasingly ambitious projects. For now, an enjoyable adventure hides behind unfulfilled potential.
Standout Voice Acting Despite Minor Shortcomings
Lost Eidolons features a star-studded cast of voice actors who breathe life into the colorful characters. Emotion and conviction flow through each line, amplified by vocal direction that smartly fits personalities. During both tender and tense exchanges, the exceptional acting connects players to the characters in a meaningful way.
Familiar names like Steve Blum, Jennifer Hale, and Matt Mercer lend their talents to bring conviction to key roles. Their nuanced performances mine the full spectrum of behaviors and temperaments on display. Even side characters receive dedicated voice acting, avoiding the common pitfall of unnamed NPCs.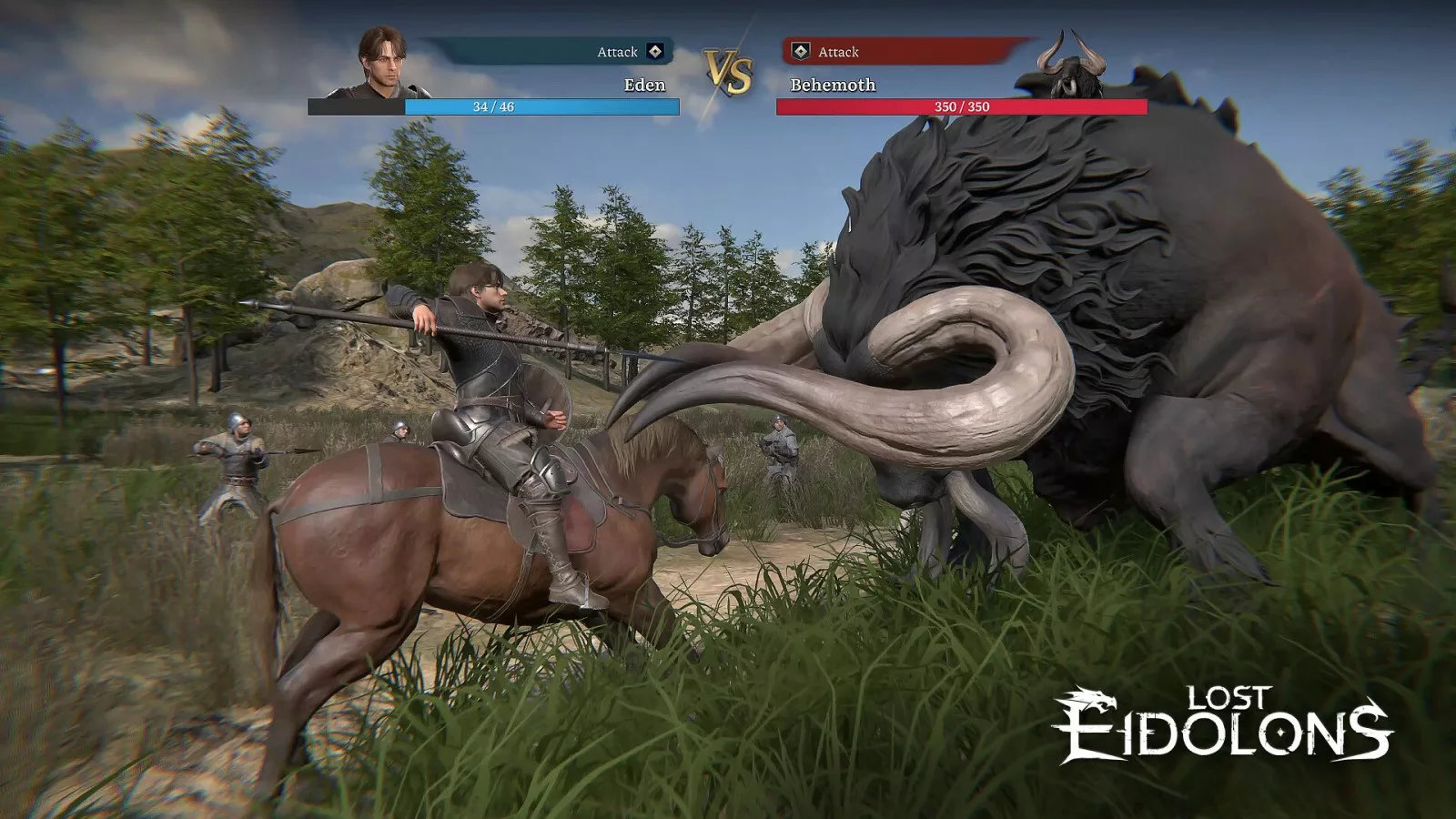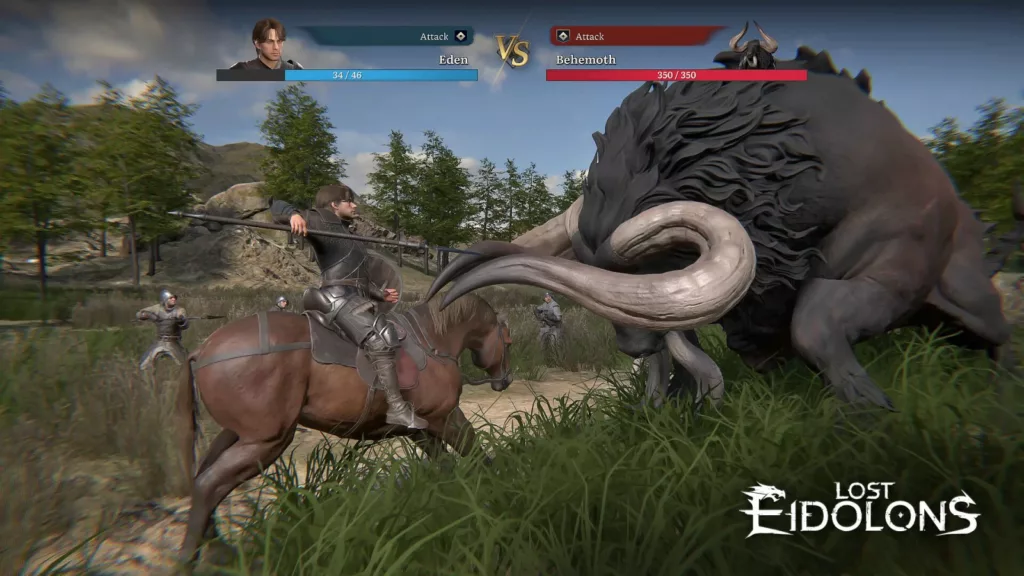 Regrettably, occasional repetitive battle cries and missing voice work do undermine the immersion slightly. Hearing the same victory line dozens of times wears thin, while the unvoiced quest dialogue contrasts starkly with fully voiced cutscenes. Nonetheless, these are small blemishes on an otherwise stellar audial presentation.
The orchestral soundtrack also uplifts the medieval fantasy aesthetic throughout the sweeping adventure. Somber piano melodies accompany poignant moments, while rousing battle anthems kick in once the swords start swinging. The music fits comfortably into the background when needed, while dynamic combat tracks energize the numerous skirmishes.
Overall, Lost Eidolons features audio design befitting its grand scope and production values. Ocean Drive Studio wisely invested in voice acting talent for this debut, realizing strong audial presentation significantly elevates the experience. A few repetitive or unvoiced lines barely detract from the outstanding vocals. Backed by a fitting soundtrack, the voice work stands tall as a hallmark of Lost Eidolons.
A Solid Foundation Established
As the maiden voyage for fledgling studio Ocean Drive, Lost Eidolons shows admirable ambition and polish. Robust tactical gameplay forms the cornerstone, delivering turn-based combat with commendable depth. A sprawling story falters in the late stages, but charms through much of the adventure. Minor technical quibbles aside, this debut provides a compelling experience for genre fans.
Where Lost Eidolons truly shines is in its grid-based combat encounters. Battles consistently engage the mind, calling upon players to deftly position units and leverage abilities. Magic combines with terrain for added strategy, while monsters bring puzzle-like weak points into play. A mountain of customization options provides new rewards for the dedicated tactician. Even after dozens of hours, the gameplay reveals untapped dimensions.
The narrative also entertains, introducing a colorful cast and sweeping political turmoil. Yet the plot loses focus as threads get abandoned and the main threat fizzles out. Presentation limitations further diminish immersion during key story moments. Still, enjoyable characters and voice acting carry the narrative through its rougher patches.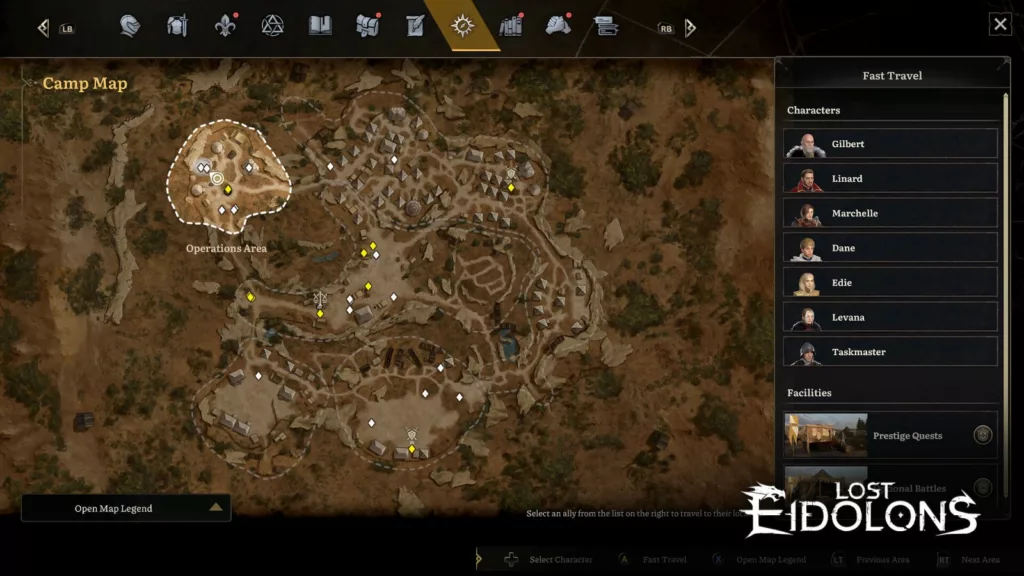 Lost Eidolons stumbles on occasion, but seldom falls flat thanks to rock-solid foundations. As a maiden voyage for Ocean Drive Studio, this shows admirable poise and promise. With refined storytelling and presentation, their next release could truly soar to extraordinary heights. For now, Lost Eidolons provides a gratifying adventure with combat depth to spare.
Some roughness is expected from a fledgling studio, but the overall craftsmanship shines bright in Lost Eidolons. Strategic gameplay forms the cornerstone, while supplementary elements show unrealized potential. With a strong debut now under their belt, Ocean Drive Studio has established credentials and experience needed to level up their future projects. The stage is set for this promising studio to deliver truly spectacular experiences down the road.
With its debut now complete, Ocean Drive Studio has reason to hold their heads high. Lost Eidolons delivers an engaging journey that while imperfect, establishes a solid baseline for growth. Tactical RPG aficionados will find rewarding depth in its combat systems and customization. The story entertains despite fizzling out. Missteps are mitigated by admirable heart and fundamental quality. Lost Eidolons is an easy recommendation to fans, and a worthy inaugural adventure for its promising studio.
The Review
Lost Eidolons
Despite some narrative shortcomings, Lost Eidolons still emerges as a noteworthy debut for Ocean Drive Studio. With deep strategic gameplay and solid production values, this tactical RPG provides a gratifying experience for genre fans. Minor flaws reflect the studio's inexperience, but the combat foundations and charming cast carry Lost Eidolons through occasional missteps. While not yet reaching masterpiece status, Ocean Drive's maiden voyage still entertains and engages throughout the journey. With refined storytelling and presentation, this studio could produce truly spectacular titles down the line. For now, Lost Eidolons is an easy recommendation to RPG enthusiasts looking for substantial tactical challenges.
PROS
Deep and strategic grid-based combat with plenty of complexity
Wide array of classes, skills, and customization options
Monster fights provide enjoyable puzzle-like challenges
Terrain and elemental magic add unique strategic dimensions
Multiple difficulty options cater to players of all skill levels
Character progression with levelling, gear, and unlockable classes
Excellent voice acting brings characters to life
CONS
Story loses momentum in later chapters
Some plot threads underdeveloped or abandoned abruptly
Main antagonist transparent from the outset
Presentation lacks impact during key story moments
Conversation system disjointed with minimal environments used