In a surprising turn of events, Microsoft found itself grappling with a substantial document leak on September 19, as the fallout from the ongoing FTC Microsoft case led to the exposure of alleged acquisition-related strategies, potential console redesigns, and even undisclosed Bethesda game titles.
Among the leaked information were hints at remastered versions of beloved PC classics, sending shockwaves through the gaming community. Microsoft Gaming CEO Phil Spencer has now stepped forward to address the situation.
In a statement, Spencer acknowledges the online discourse surrounding the leaked documents, stating, "We've seen the conversation around old emails and documents." He expresses the difficulty in witnessing the team's work shared in such a manner, especially considering the significant developments and exciting prospects currently in the pipeline. Spencer concludes his message on an optimistic note, assuring the community that Microsoft will "share the real plans when we are ready."
According to reports by The Verge, Phil Spencer delves deeper into the issue in an alleged email to Microsoft employees. In this communication, he reportedly characterizes the situation as "disappointing," emphasizing that many of the leaked documents are considerably outdated, and the company's strategies have since evolved.
Spencer underscores that the leak represents a breach of trust, as Microsoft takes "the confidentiality of our plans and our partners' information very seriously."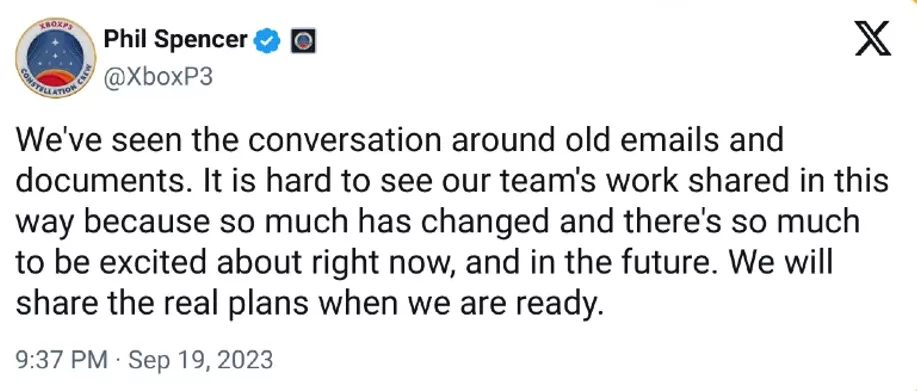 Looking forward, Spencer expresses the company's commitment to learning from this incident and improving its practices in the future. He emphasizes that "this is never how we want that hard work to be shared with the community." Encouragingly, he hints at exciting developments on the horizon, stating, "there's so much more to be excited about, and when we're ready, we'll share the real plans with our players."
While documents pertaining to highly anticipated titles like Baldur's Gate 3 and Star Wars Jedi Survivor may now be beyond the company's control, Spencer concludes his message to the staff by emphasizing the importance of focusing on what they can influence.
This includes "continuing the amazing success of Starfield, the upcoming launch of the incredible and accessible Forza Motorsport, and continuing to build games, services, and devices that millions of players can enjoy."
In the midst of a vibrant landscape of upcoming PC games, Spencer's words resonate more profoundly than ever. For those eager to uncover Microsoft's genuine plans as they are unveiled, a glance through the current roster of PC Game Pass offerings promises plenty of gaming excitement in the interim.