In the world of supercomputing, where processing power and technological prowess reign supreme, a stark revelation by industry luminary Jack Dongarra has sent ripples of concern throughout the Western tech community. Dongarra, a Turing award laureate and co-founder of TOP500, the esteemed supercomputer listing and benchmarking system, has voiced a controversial opinion: China could be ahead of the United States in the race for supercomputing supremacy.
Dongarra's assertion carries weight because he played an instrumental role in creating TOP500, a system designed to provide clarity on global processing capabilities. Ironically, his statement contradicts the official TOP500 rankings, which place China at a distant 7th (with the Sunway TaihuLight supercomputer) and 10th (Tianhe-2), far behind the US-based Frontier exascale computer, currently the leader in processing power.
China's Silent Supercomputing Achievements
According to Dongarra, the official rankings may not accurately represent reality. He points out that China has, or at least announced, the deployment of three "exascale" supercomputers: the Sunway OceanLight, developed by the National Supercomputing Centre in Wuxi; the Tianhe-3 by the National Supercomputing Center of Tianjin; and an unnamed supercomputer by China-based Sugon at the National Supercomputing Center in Shenzhen.
Remarkably, China's OceanLight went head-to-head with the exascale Frontier in August 2022, competing for the prestigious Gordon Bell prize. Although Frontier emerged as the winner, OceanLight's performance suggests that China's capabilities are formidable.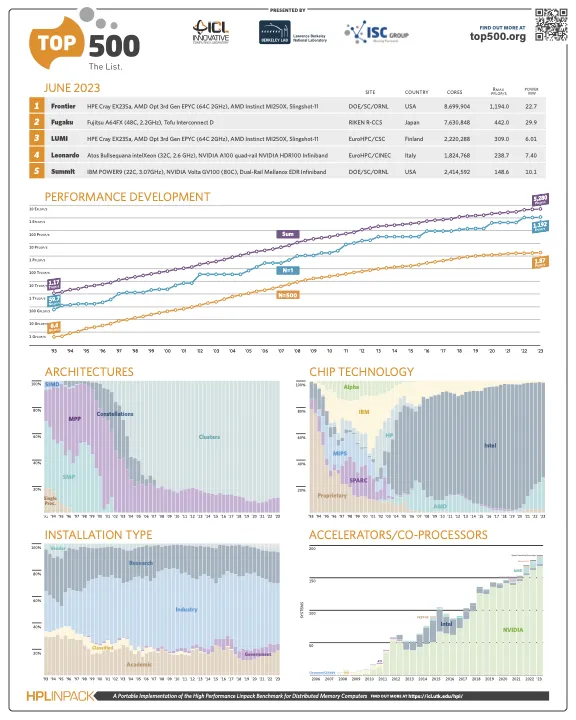 The Challenge of Transparency and Voluntary Listings
One key challenge in accurately assessing China's supercomputing prowess is the voluntary nature of TOP500 listings. Many institutions may choose not to participate, and this lack of participation can skew the rankings. Furthermore, in today's geopolitically charged environment, transparency and open competition are often hindered.
The recent decline in China's submissions to the TOP500 coincides with increasing sanctions imposed on the nation, making it reasonable to speculate that China may be inclined to conceal some of its supercomputer deployments. With the voluntary nature of the listing, it's possible to manipulate the data, effectively allowing institutions to determine which benchmarks are submitted.
Dongarra acknowledges these issues, highlighting that China taking the top spot in supercomputing could trigger further technological restrictions from the United States.
The Impact of Sanctions and the Ongoing Technological Race
The consequences of these technological tensions have reverberated across the global tech landscape. The effectiveness of sanctions aimed at restricting China's technological and economic advancement is a matter of debate, especially as Chinese companies express optimism about recovering from these sanctions.
As the supercomputing race intensifies and the world grapples with the complex interplay of technology, politics, and competition, one thing remains clear: China's silent ascent in supercomputing is a development that warrants careful scrutiny and consideration. Dongarra's warning serves as a reminder that the landscape of technological supremacy is ever-shifting, and transparency is essential in keeping pace with the fast-evolving world of supercomputing.