YouTube is gearing up to offer content creators a slew of AI-powered tools designed to enhance their video-making experience. These exciting features were unveiled during the company's Made on YouTube event, promising to bring a new dimension to the world of content creation.
One of the standout features is "Dream Screen," a tool aimed at YouTube Shorts creators. This AI-powered green screen feature, akin to what's found on TikTok, will automatically remove backgrounds from videos, replacing them with AI-generated images or videos based on user prompts.
While the true effectiveness of these generated backgrounds remains to be seen, the goal is to make it easier for creators to bring their fantasies to life or add a dash of excitement to mundane settings.
Whether it's a journey through an enchanted forest or a whimsical adventure with your pet pug driving you to school, Dream Screen aims to offer limitless creative possibilities. The tool is set to undergo testing with select creators later this year, with a broader rollout planned for 2024.
Inspiration at Your Fingertips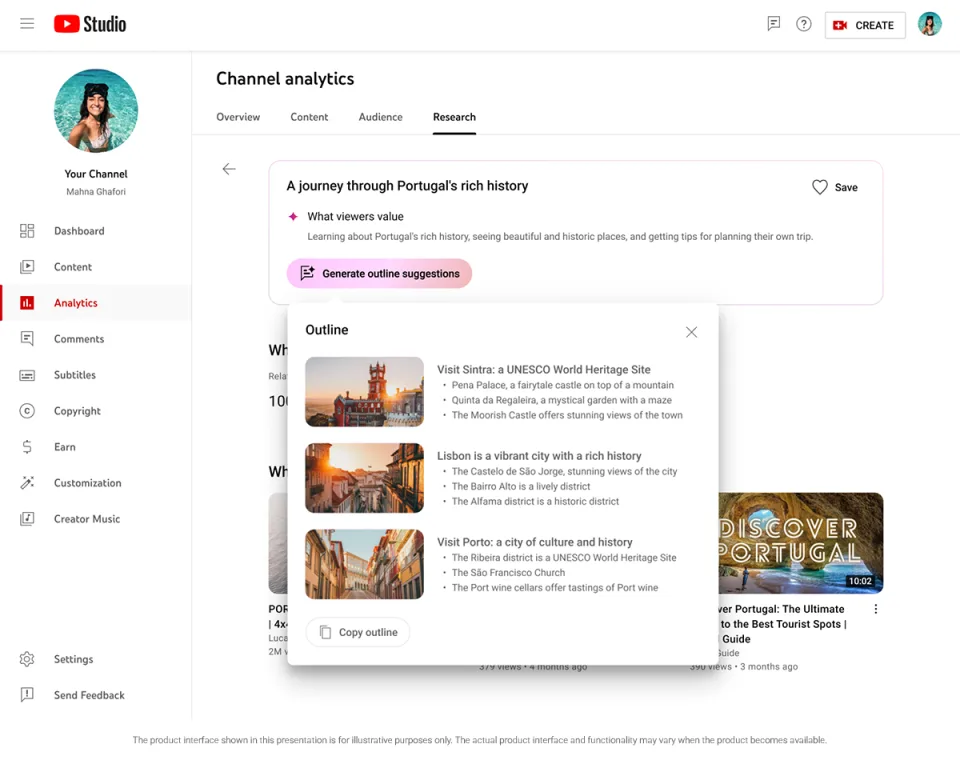 YouTube Studio is also getting a noteworthy addition—a feature that sparks creativity. Known as "insight recommendations," this tool functions much like consulting a creative mentor.
It can generate outlines and assist creators in brainstorming and conceptualizing their projects. This feature is poised to be a valuable asset for content creators, helping them discover fresh and innovative ideas for their videos.
Additionally, assistive search in Creator Music will simplify the process of finding the perfect background music for videos. Users can describe their content, and AI will suggest suitable music options. Both "Insights" and the assistive music search feature are slated to be available for creators in the coming year.
AI-Powered Dubbing and Mobile Editing
YouTube has also showcased its AI-powered dubbing feature, initially tested earlier this year. Developed within Google's Area 120 incubator, this tool can generate text-based translations into various languages.
Creators have the opportunity to review and fine-tune the output, choosing from a range of virtual narrators to bring their content to life. Currently, this feature is undergoing testing with select creators in English, Portuguese, and Spanish.
In addition to these features, YouTube is launching the "YouTube Create" app, tailored to help video creators produce content directly from their mobile devices.
The app encompasses a suite of standard video editing tools, including trimming, automatic captioning, voiceovers, filters, effects, and access to a library of royalty-free music with beat matching. The app is currently in beta for Android in select markets, providing a convenient mobile solution for creators on the go.
As YouTube continues to evolve and innovate, these AI-powered features promise to empower creators with new ways to craft engaging and imaginative content.
Whether it's transforming backgrounds, sparking ideas, or simplifying the video-making process, these tools represent a significant step forward in the world of content creation on the platform.
Discover the Charm of The Smurfs 2: "Are you ready for a nostalgic journey with a modern twist? Check out our in-depth review of The Smurfs 2: The Prisoner of the Green Stone and see how this game captures the essence of the beloved Smurfs franchise."