Dragons have fascinated humankind for centuries with their mythical powers of flight and fire. Whether appearing as wise companions or fearsome adversaries, they capture our imagination in vivid stories across the ages.
In recent decades, cinema has brought these extraordinary creatures to life on the big screen better than ever before. With today's remarkable advancements in special effects, we can now behold dragons in all their majestic glory like never before.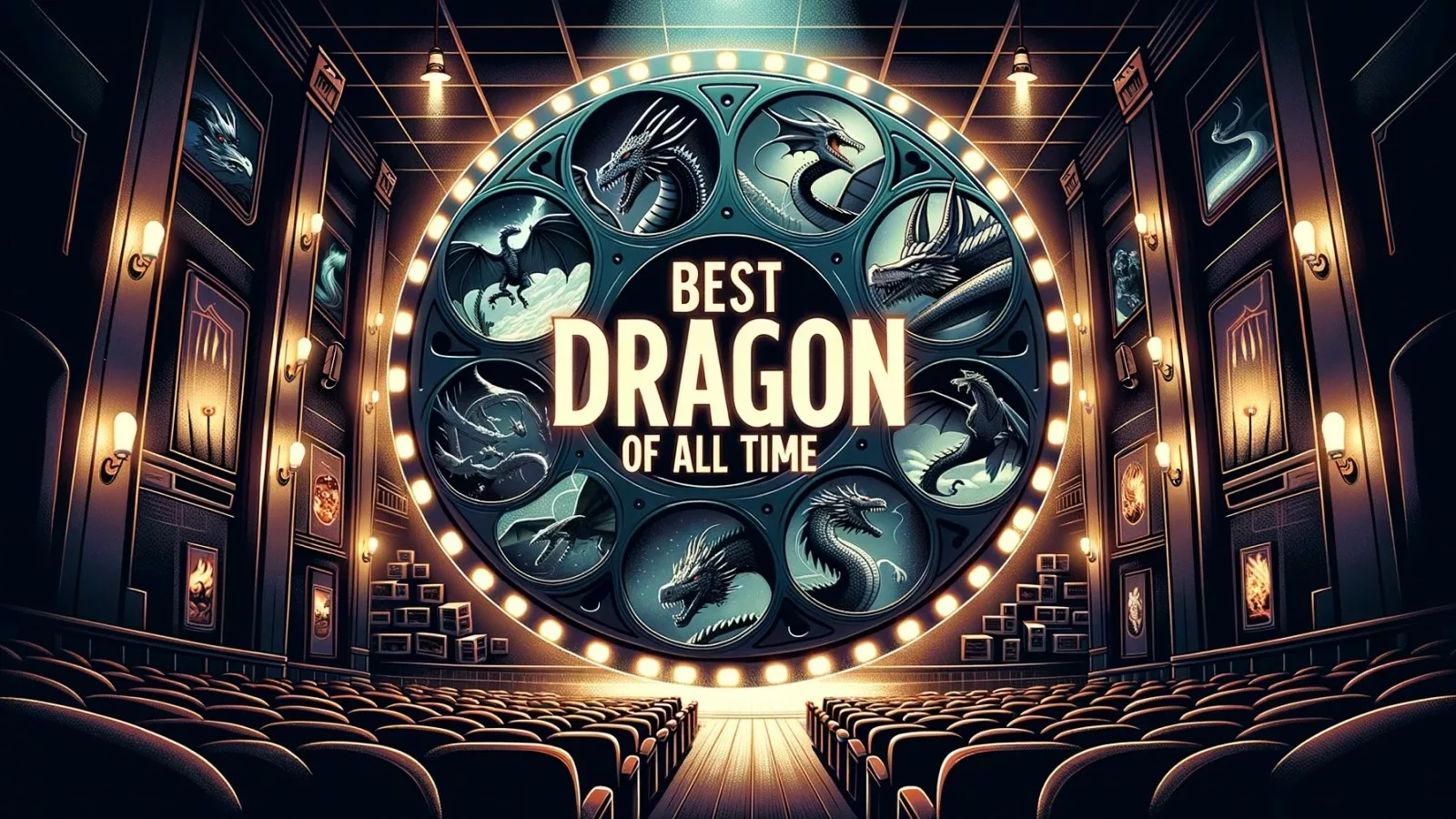 From classics dating back to the 1980s to recent blockbuster hits, movies featuring dragons have created some of the most memorable moments in film history. Their presence adds an essential touch of fantasy and adventure that keeps drawing us back.
In this article, we will explore an exciting selection of the top dragon movies that have enthralled audiences over the years. From animated tales to live-action epics, these films showcase dragons in all their awe-inspiring magnificence.
So get ready to be drawn into these enchanting cinematic worlds where dragons reign supreme! We will uncover hidden gems and revisit beloved favorites that showcase the best of dragon cinema.
Willow (1988)
For aficionados of fantasy films, "Willow" from 1988 remains a cherished classic that introduced many to the magic of the genre. Although by today's special effects barometer, its troll might resemble an economical version of King Kong, and the depiction of its two-headed dragon might seem a tad outdated, the movie never failed to enchant its viewers.
Back in 1988, those who watched the scene where Willow bravely nudges a hatching two-headed dragon into a moat, only to later witness its fearsome growth as it went on to consume humans, were left completely mesmerized. It's fascinating how this movie set the tone and carved a path for even more lifelike dragon portrayals in modern cinema. "Willow" might not have been the biggest blockbuster of its time, but its allure never waned.
Today, it continues to resonate with fans, old and new, due to its intriguing array of mythical creatures and the unforgettable performance of Warwick Davis as the hesitant yet brave hero. With two Academy Award nominations under its belt, and giving rise to a brief sequel series on Disney+, "Willow" maintains its position as one of the best dragon movies ever.
Mulan (1998)
The name 'Mulan' might instantly take you back to the iconic 1998 Disney masterpiece, but did you ever consider it among the best dragon movies? This animated spectacle revolves around the brave Mulan, a young woman who steps into her father's shoes, joining the Chinese army, all in a bid to shield him from conscription. To uphold her mission, she conceals her identity, posing as a male warrior. While her journey is fraught with numerous challenges, an unexpected ally comes to her aid: Mushu.
This formidable dragon, dispatched by her ancestors, stands by Mulan's side, offering both guidance and protection. With Mushu's unwavering support, Mulan confronts her adversaries and ultimately guides the Chinese army to a triumphant stand against the Huns. Beyond its gripping storyline, it's the unique blend of valor and the essence of dragons that positions "Mulan" as a must-watch for dragon movie enthusiasts.
Shazam! Fury of the Gods (2023)
Taking us on another captivating adventure, "Shazam! Fury of the Gods" is the latest superhero offering, standing as a proud sequel to the 2019 film "Shazam!" and marking its distinct place as the twelfth jewel in the DC Extended Universe's crown. Here, audiences get to witness our beloved superhero Shazam, along with his empowered Shazam siblings, as they confront the menacing Daughters of Atlas.
Among the challenges they face is the awe-inspiring dragon named Ladon, plucked straight out of the rich tapestries of Greek mythology. Lucy Liu's character, Kalypso, harnesses the power of Ladon in her relentless pursuit of the magical Golden Apple, which promises life eternal.
The film boasts an ensemble cast, starring talents like Zachary Levi, Asher Angel, Adam Brody, Djimon Hounsou, Helen Mirren, and the brilliant Gal Gadot. Vibrant, delightful, and infused with a playful spirit, "Shazam! Fury of the Gods" promises a visual feast with its action-packed sequences and top-notch special effects. However, some believe it couldn't quite recapture the same fresh magic that the first film effortlessly delivered.
Merlin (1998)
While "Merlin" might not fit the traditional mold of movies, given its origin as a made-for-TV miniseries in 1998 on NBC, its artistic merit and fan following truly make it a contender among the best dragon movies (or series!). A particularly poignant moment in this series, which many fans still rave about, is when Merlin's beloved Nimue meets her tragic end, offered as a sacrifice to a majestic dragon.
This heart-wrenching scene not only showcased the power and allure of dragons but also brought these mythical creatures right into the cozy settings of homes during prime-time television. Receiving numerous accolades, "Merlin" was nominated for an impressive six Emmy Awards and four Golden Globes. Beyond its critical success, its most significant triumph lay in drawing in a fresh wave of fantasy enthusiasts.
Offering a rich blend of magic, intrigue, and drama, all loosely anchored to historical events, "Merlin" can be credited with ushering in a golden era of fantasy-driven content in mainstream media, laying the groundwork for iconic shows like Grimm, Once Upon a Time, and Supernatural. Moreover, dedicated fans of the fantasy genre might also be well-acquainted with its equally engaging sequel, "Merlin's Apprentice".
Maleficent (2014)
Step into the enchanting realm of "Maleficent," a mesmerizing fantasy film that breathes new life into the classic tale most of us recognize from Walt Disney's 1959 masterpiece, "Sleeping Beauty." Drawing inspiration from Charles Perrault's 1697 fairy tale, "Maleficent" offers a fresh take by retelling the story from the vantage point of the notorious villain, the enigmatic evil fairy, who casts a spell ensuring the young princess Aurora is doomed to an endless slumber.
The cinematic appeal of dragons in the best dragon movies is undeniable, and in this tale, the majestic creature emerges when Maleficent morphs her loyal aide, Diaval, into a formidable dragon to bolster her endeavors. In the title role, Angelina Jolie is spellbinding, captivating viewers with every scene. She's accompanied by a stellar ensemble comprising Elle Fanning, Sharlto Copley, Lesley Manville, Imelda Staunton, and Juno Temple. With its eye-catching visuals, riveting performances, and the timeless Disney touch, "Maleficent" promises a cinematic experience that's both nostalgic and refreshingly novel.
Thor: Ragnarok (2017)
Journey to the cosmic landscapes with "Thor: Ragnarok," a superhero extravaganza that serves as a sequel to the 2011 hit, "Thor," and proudly claims its spot as the 17th gem in the Marvel Cinematic Universe's treasure trove. The plot thrusts Thor into unfamiliar terrains, imprisoned as a gladiator on the alien realm of Sakaar.
Racing against time, he must free himself and thwart the menacing threats posed by his estranged sister, Hela, as the looming shadow of Ragnarok threatens to annihilate his homeland, Asgard. Now, while dragons might not be the central theme, their brief yet memorable appearance, especially during Thor's escape from the fiery pits of Musphelheim, reinforces why this movie deserves a nod in our list of best dragon movies.
The dragon encounter, a face-off with Surtur's menacing beast, is an exhilarating visual treat. Led by the charismatic Chris Hemsworth as Thor, the film boasts of an enviable lineup of stars, including the likes of Cate Blanchett, Anthony Hopkins, Mark Ruffalo, Tom Hiddleston, Tessa Thompson, Idris Elba, and the ever-entertaining Jeff Goldblum. Packed with humor, edge-of-the-seat action, captivating visuals, and top-tier performances, "Thor: Ragnarok" is a testament to superhero cinema's capability to enthrall.
Harry Potter and the Goblet of Fire (2005)
The magical world of Harry Potter, brimming with enchantments and dark mysteries, frequently showcases majestic dragons, making it a worthy contender for any list spotlighting the best dragon movies. While fans of this mesmerizing series have encountered several dragons, from the mischievous Norbert the Norwegian Ridgeback to the formidable guardian of Gringotts Bank, one beast stands out from the rest.
Enter the Hungarian Horntail, arguably the fiercest dragon the series has ever introduced. Its appearance in "Harry Potter and the Goblet of Fire" gives us a heart-stopping sequence, highlighting not only the dragon's might but also Harry Potter's dauntless spirit and undeniable courage. This nail-biting confrontation isn't merely an action-packed moment; it signifies a pivotal juncture in the overarching narrative and showcases the growth and resilience of our beloved young wizard.
Raya and the Last Dragon (2021)
In the world of animated wonders, "Raya and the Last Dragon" is a true gem from Disney's treasure trove. Centered on Raya, a valiant warrior princess, the film takes viewers on an exhilarating journey as she, along with her band of unlikely companions, embarks on a quest to locate the elusive last dragon. Their mission? To safeguard her kingdom from a looming malevolent entity.
As Raya traverses diverse terrains and forms unique bonds, she uncovers profound lessons about trust, unity, and the unbreakable strength of friendships. With its impeccable animation detailing every scale and fire-breath, combined with high-octane action and dashes of humor, "Raya and the Last Dragon" is more than just a visual spectacle. It's a heartfelt tale that resonates with both young audiences and the young at heart, making it a perfect pick for a family movie night, especially for those in search of the best dragon movies to cherish.
The Neverending Story (1984)
Delving into the heart of "The Neverending Story," movie enthusiasts and dragon aficionados encounter a truly endearing character that stands as an epitome of warmth, kindness, and enthusiasm. Meet Falcor, the enchanting luck dragon, who with his unyielding optimism and spirited demeanor, can easily be labeled as the dragon world's answer to the ever-passionate Leslie Knope.
Drawing inspiration from the elegant design of Chinese dragons rather than their European counterparts, Falcor emanates an aura akin to a massive, gleaming canine with a penchant for human company — and not as potential meals! Those soulful brown eyes, coupled with soft, fuzzy exteriors, may have seemed unconventional back in 1984. Still, Wolfgang Peterson's cinematic marvel continues to reign supreme in popularity charts.
Year after year, nostalgic parents eagerly share this slice of their own childhood with their little ones. And who could forget Falcor's delightful part in helping Bastian get back at his tormentors? This memorable escapade further cements Falcor's place in the cherished memories of both young enthusiasts and those young at heart.
I Am Dragon (2015)
Step into a captivating realm of love, mystery, and transformation with "I Am Dragon," a film exquisitely crafted from the narrative threads of the novel "The Ritual." The tale spirals around Princess Miroslava, who finds herself whisked away by a majestic dragon to a distant, enigmatic castle. Amidst the sprawling corridors and echoing chambers, she encounters Arman, a mysterious young man who ignites the flames of passion in her heart.
However, the tale twists when Miroslava learns of Arman's dual existence, as both man and the very dragon that had abducted her. "I Am Dragon" isn't just a visual masterpiece adorned with breathtaking imagery and poignant symbolism; it is an ode to fairy-tale romances and the intricate dance of love and destiny. When you hear a title echoing such a definitive claim on dragon lore, it's hard not to consider it one of the best dragon movies available. For aficionados of heartfelt romances and mythical tales, this is a must-watch.
Godzilla: King Of The Monsters (2019)
While Godzilla itself treads the ambiguous line between dragon and monstrous lizard, there's no debating the dragon credentials of the mighty King Ghidorah, the central nemesis in the 2019 movie, "Godzilla: King of the Monsters." Resembling a gargantuan hydra, Ghidorah exudes an aura of menace with its capacity to unleash lightning from its breath, making it every inch a formidable opponent to the iconic Godzilla.
Upon its release, the film sparked quite the polarized reception. Critics, often disheartened by its relentless and deafening action sequences, stood in contrast to fans, who hailed it as the epitome of a thrilling cinematic ride. Even if King Ghidorah doesn't delve deep into the nuances of villainy, its majestic terror makes it a compelling highlight of the film and ensures the movie's spot on the list of best dragon movies.
Dragonslayer (1981)
"Dragonslayer," released in 1981, boasts of a charm that has kept its flame alive among its cult followers. With Peter MacNicol at its helm, this film strikes chords of the quintessential Arthurian legends and exudes vibes reminiscent of the Biblical tale where David triumphs over Goliath. A unique mix of eerie darkness, unconventional themes, and a sprinkle of damsel-saving, "Dragonslayer" treads the path less taken.
Despite its gore and dashes of horror—elements that might have been perceived as excessive for a dragon movie—it is impossible to ignore its monumental achievement. Especially in an era where CGI was in its nascent stages, "Dragonslayer" achieved the near-impossible, bringing a dragon to life on the silver screen with a finesse and darkness that was unprecedented. For those who appreciate a blend of archaic charm and cinema's budding efforts at VFX, this film undoubtedly claims its throne in the pantheon of best dragon movies.
The Hobbit: The Desolation of Smaug (2013)
Diving deep into the magical realm of Middle Earth, "The Desolation of Smaug" stands tall as the captivating second chapter in Peter Jackson's acclaimed rendition of J.R.R. Tolkien's timeless classic, "The Hobbit." As audiences rejoin the intrepid hobbit, Bilbo Baggins, and his band of brave dwarves, they embark on a perilous quest to reclaim their ancestral kingdom.
But standing in their way is the awe-inspiring and menacing dragon Smaug, the guardian of the Lonely Mountain's vast treasures. As Bilbo's wits are tested against the cunning of Smaug, viewers are treated to a cinematic experience rich in tension, action, and thrilling moments.
The craftsmanship behind Smaug is a testament to movie magic; the intricate detailing, from his shimmering scales to the inferno of his breath, is nothing short of a CGI marvel. Beyond its visual splendor and heart-pounding sequences, this film beautifully encapsulates themes of bravery, resilience, and the bonds of friendship, solidifying its place in the annals of best dragon movies.
How to Train Your Dragon (2010)
Securing a cherished spot on our dragon movie list is the animated masterpiece, "How to Train Your Dragon." Set against the backdrop of the Viking island of Berk, we are introduced to Hiccup, a young Viking with a heart too big for the warrior traditions of his clan. In a world where dragons are the adversaries to be vanquished, Hiccup charts a different course.
Denied the chance to battle these majestic creatures by his formidable father, Stoik the Vast, our unlikely hero embarks on a solo expedition that's bound to change the fate of his island forever. The narrative is bursting with humor, surprising twists, and mesmerizing animation, making it a rollercoaster of emotions for audiences of all ages. Lauded for its unique storyline and stunning visuals, this animated wonder has set the gold standard for dragon films, enchanting viewers with its heartwarming tale of friendship and understanding.
Dungeons & Dragons: Honor Among Thieves (2023)
Fresh out of the cinematic oven, "Dungeons & Dragons: Honor Among Thieves" is the latest fantasy-comedy spectacle that fantasy lovers are raving about. In this riveting tale, viewers are thrust into the chaotic lives of Edgin and Holga, two unlikely companions who narrowly escape the cold clutches of death from prison. Now on the run, they hatch a daring plan to assemble a team of skilled individuals, all with one audacious goal: to infiltrate Forge's seemingly impenetrable vault.
Their mission? To secure the mystical resurrection tablet and bring Kira's mother back to life. As the plot thickens, the duo finds themselves tangled in a web of breathtaking adventures, complete with magnificent creatures, epic showdowns, and jaw-dropping dragon battles that are sure to leave you on the edge of your seat. If there's a must-watch on the list of best dragon movies for this year, this one takes the crown!
Shrek (2001)
Now, shifting gears to a timeless animated classic that has charmed millions—enter the world of "Shrek." Though not strictly centered around dragons, this beloved tale wouldn't be complete without its iconic fire-breathing co-star. At the heart of the story is Shrek, an endearing ogre on a mission.
He wants nothing more than the peace and quiet of his swamp, but to achieve that, he's tasked with rescuing the feisty Princess Fiona from a castle fiercely guarded by a dragon. But as the tale unravels, Shrek finds that both the princess and the dragon aren't quite what the fairytales made them out to be.
Bursting with humor, heartwarming moments, and unexpected twists, "Shrek" remains a staple in the dragon movie genre. And the best part? If you fall in love with the world of Shrek (and we bet you will), there are sequels waiting to keep the magic alive. Yet, there's no denying, the first installment in this series holds a special place in our hearts, making it an evergreen favorite in the realm of best dragon movies.
Eragon (2006)
Stepping into the realm of action-packed fantasies, "Eragon" stands tall, painting a tale woven with magic, valor, and destiny. Inspired by Christopher Paolini's esteemed 2002 literary masterpiece, the movie plunges audiences into the life of a simple farm lad named Eragon. His world takes a mesmerizing turn when he stumbles upon a mysterious dragon egg, setting him on a path of discovery and heroism.
This isn't just a journey; it's Eragon's destiny to rise against a nefarious king threatening his homeland of Alagaësia. Boasting an impressive ensemble of actors, including the dynamic Ed Speleers portraying the lead role, alongside legends like Jeremy Irons, Robert Carlyle, Djimon Hounsou, Joss Stone, John Malkovich, and the enchanting voice of Rachel Weisz as Saphira Bjartskula, the fierce blue dragon who befriends and aids Eragon.
While "Eragon" parades high-tech cinematic finesse and stellar performances that dish out a hearty dose of dragon-centric thrills, purists might find it a tad divergent from its literary counterpart. But when on the lookout for the best dragon movies, this one surely deserves a nod.
Spirited Away (2001)
Diving into the mystical dimensions of Asian cinema, Hayao Miyazaki's magnum opus "Spirited Away" emerges as a shimmering beacon. The movie is not just a film; it's an enchanting voyage into the depths of magic and emotions. A pivotal character that has charmed millions is Haku, the majestic River Spirit that gracefully takes the form of an Asian dragon.
Intricately crafted, Haku embodies a mesmerizing blend of strengths and vulnerabilities, wavering between his thirst for dominance and an innate noble spirit. Even as he serves his enigmatic mistress, the sorceress Yubaba, his heart remains intertwined with the film's young heroine, Chihiro. Their intertwined fates drive the narrative, with Chihiro's resilient spirit proving to be their salvation.
Unlike many mainstream animations, Miyazaki's creations brim with a soulful depth that makes characters like Haku and Chihiro timeless icons. "Spirited Away" isn't merely a movie—it's a transcendent experience. Garnering unparalleled acclaim from critics and fans alike, the movie's staggering global earnings of over $289 million bear testament to its legendary status. For those in pursuit of the best dragon movies with a touch of profound artistry, this Japanese cinematic jewel is an unmissable treat.
Dragonheart (1996)
"Dragonheart" stands as an enduring testament to the entrancing allure of dragon folklore. Venturing into the captivating tale of Draco, this dragon wasn't your ordinary mythical creature. He demonstrated the power of sacrifice when he selflessly shared his very heart to breathe life into a dying human prince. However, in a cruel twist of fate, the very heart that Draco gave birthed a wicked ruler, pushing him to the edge of despair and disillusionment with mankind.
Yet, destiny had other plans. Teaming up with a former knight-turned-dragon-hunter portrayed by the talented Dennis Quaid, Draco's enchanting wit and somewhat grumpy charm swiftly made him an audience favorite. As the plot unfolds, we're treated to a conclusion that's as emotional as it is hopeful, seeing Draco ascending to the stars, rejoining his dragon brethren.
While some critics remained uncharmed by certain elements of the storyline, the film's dazzling visuals were undeniably its shining armor. Gaining popularity over time, "Dragonheart" didn't just capture hearts but expanded its legacy through a video game and two sequel films. A true gem in the collection of the best dragon movies.
Reign of Fire (2002)
When we traverse the corridors of dragon-centric films, "Reign of Fire" is undeniably a standout spectacle, often referred to as "that epic dragon film" from the early 2000s. Plunging viewers into a dystopian world on the brink of annihilation, this film paints a grim canvas where colossal, fire-spewing dragons emerge from the depths and claim the world as their own.
Set against this backdrop, the film showcases the grit and determination of its protagonists, Quinn and Denton, played by the formidable duo of Christian Bale and Matthew McConaughey. Their mission? To rally against the dragon onslaught and reclaim their world. What sets "Reign of Fire" apart from many of its contemporaries is its inventive take on the age-old dragon mythos.
Seamlessly intertwining traditional lore with a unique, post-apocalyptic narrative, the film has etched itself as a must-watch in the realm of best dragon movies. Its distinct flavor and enthralling visuals promise a roller-coaster of emotions, making every rewatch an immersive experience.