The arrival of Assassin's Creed Mirage marks a significant milestone in the evolution of Ubisoft's beloved franchise. Whether you're a seasoned Assassin's Creed enthusiast, reminiscing about exploring Renaissance Italy with the charismatic Ezio, or a fresh face to the series, Mirage promises to enrapture both nostalgia-driven fans and those just beginning their journey into this captivating universe.
Despite being in the wild for less than a week, the game has already embarked on a soaring trajectory in terms of sales, and Ubisoft is unveiling some remarkable statistics that underscore its early success.
The release of Assassin's Creed Mirage has been a moment of anticipation for many. This new RPG within the iconic series offers a refreshing and distinct premise, coupled with a vibrant, culturally-rich world.
Ubisoft, in its official statement, expresses immense gratitude for the love and positivity that fans have showered on the game during its brief time in the public eye.
Comparing Success with the Classics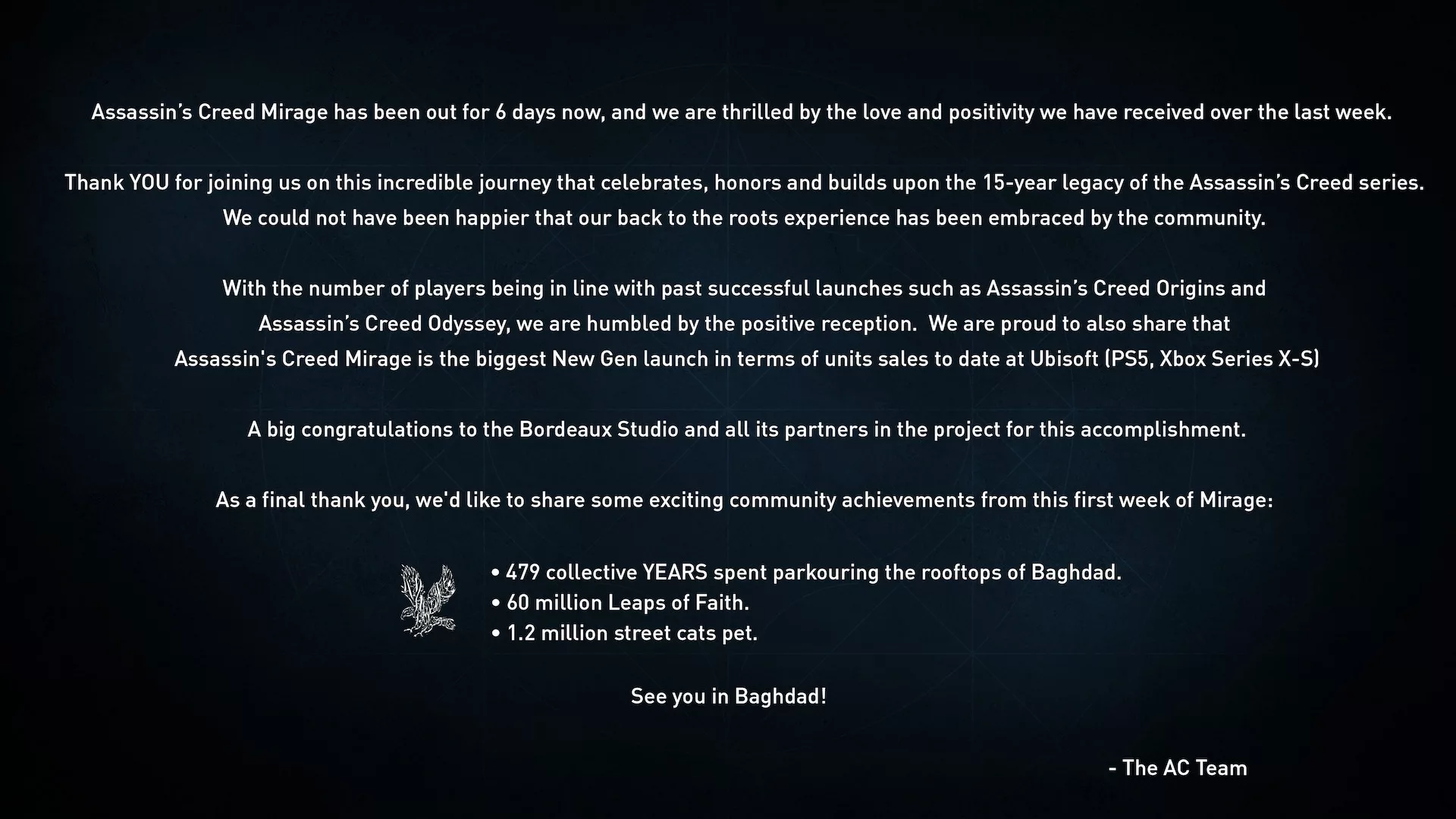 Ubisoft reveals that the current number of Assassin's Creed Mirage players is on par with the remarkable launches of previous series titles, such as Odyssey and Origins.
However, the standout revelation is that Assassin's Creed Mirage has achieved a remarkable feat. It proudly boasts the title of Ubisoft's "biggest new-gen launch" in terms of unit sales to date.
The creative reins behind Assassin's Creed Mirage were held by Ubisoft's Bordeaux Studio, the same team that orchestrated the enthralling "Wrath of the Druids" expansion for Assassin's Creed Valhalla. Their expertise and commitment have once again paid off, delivering an extraordinary new chapter in this iconic franchise.
As Assassin's Creed Mirage continues to draw players into its captivating world, it is poised to set new standards for the series. Ubisoft's latest installment combines nostalgia and innovation, ensuring the legacy of the Assassin's Creed franchise lives on, promising an exciting future for fans and the gaming world at large.