Counter-Strike 2 fans, gear up for potential shifts in gameplay dynamics, as Valve's latest patch sends ripples through the gaming community. With competitive and private matches temporarily on pause, the update introduces adjustments that could redefine match length and playing strategies. As the release date of Counter-Strike 2 draws near, it appears that Valve is ready to reshape how competitive battles unfold.
In a bold move, Valve has disabled private and competitive matchmaking as part of the Counter-Strike 2 patch. Alongside this pause, the update presents alterations that have captured players' attention.
Popular maps Anubis and Ancient have been temporarily removed, with the classic favorite, Italy, making its triumphant return to the active map rotation.
Redefining Competitiveness: A Closer Look
Delving into the update's details, there's a hint of potential seismic shifts in the realm of competitive Counter-Strike 2 matches. Presently, competitive games extend to 30 rounds, with the first team to secure 16 victories emerging as the ultimate winner.
However, meticulous examination of the new update files suggests a noteworthy change. Within the section dedicated to competitive games, the maximum round count is now listed as 24. If this alteration is implemented, competitive battles would take a shorter route, with victory achieved by the team that scores 13 wins, rather than the current 16.
The insights gleaned from Valve and CSGO content creator 'Aquaismissing' indicate even more potential adjustments. The shorter version of competitive matchmaking, previously structured around 16 rounds and a winning threshold of nine, seems to be on the cusp of removal.
This change holds the potential to transform the tactics and strategies players employ, potentially fostering an environment that aligns more closely with the dynamics of professional CSGO tournaments.
Looking Ahead: Reimagining Competitive Dynamics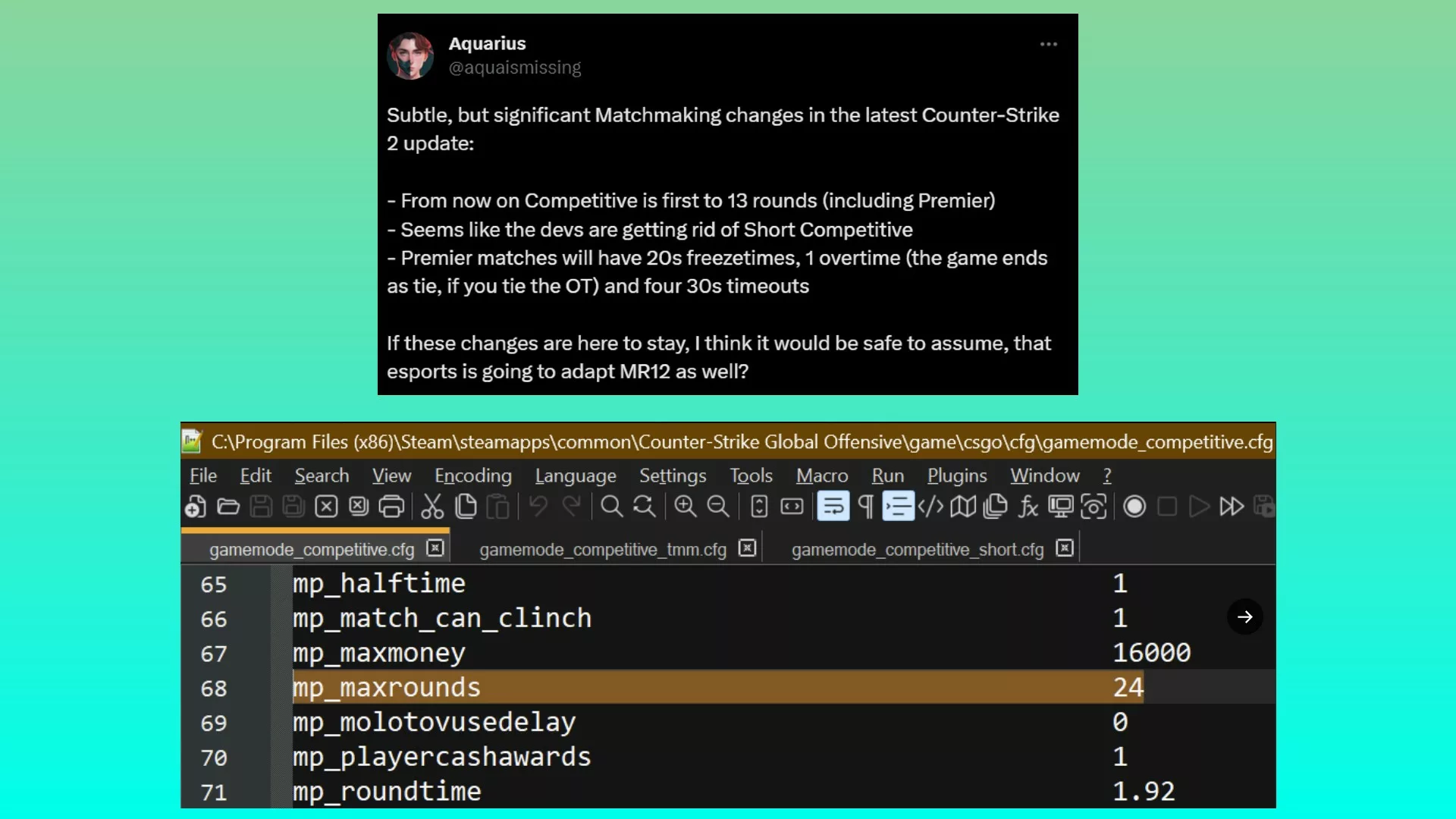 The modifications hinted at within the patch lay the groundwork for an intriguing future of Counter-Strike 2. While competitive and private matchmaking might currently be on hold, the prospect of revitalized and redefined gameplay looms large.
It is likely that these adjustments will come into play once competitive and private matchmaking are reinstated within the Counter-Strike 2 ecosystem.
As Valve continues to tinker and fine-tune, Counter-Strike 2 enthusiasts find themselves on the cusp of a potential revolution in gameplay, strategy, and match dynamics. The forthcoming changes, when unveiled, may forever transform the way players approach their virtual battles within the immersive world of Counter-Strike 2.