Many parents have problems with going on trips by airplane because of their children. Although flying with toddlers or babies is not easy, with the right preparation, it will be much more relaxed. We have compiled some tips and suggestions for you to make flying with your offspring easier before, during, and after your flight.
Travel planning
A relaxing flight with a toddler or baby begins long before you check-in at the airport. You should already consider a few things when booking your flight, for example, the correct departure time, the choice of seat or which health insurance you have.
Choose the right flight times
Many travelers look at the price rather than the departure time when choosing a flight. But if you are flying with babies or small children, you should pay a little more attention to flight times. Long flights are best taken at night, as your kids will be sleeping most of the time. For short-haul flights, nap time is a good time. As an alternative, you should choose times when your children are well-rested.
Booking their own seat
Many airlines used to allow children under two to fly for free. Nowadays, you usually have to pay for their own seats for kids, but they are usually discounted. Children up to two years of age can theoretically be taken on the lap. They must, however, secure them with a so-called loop belt.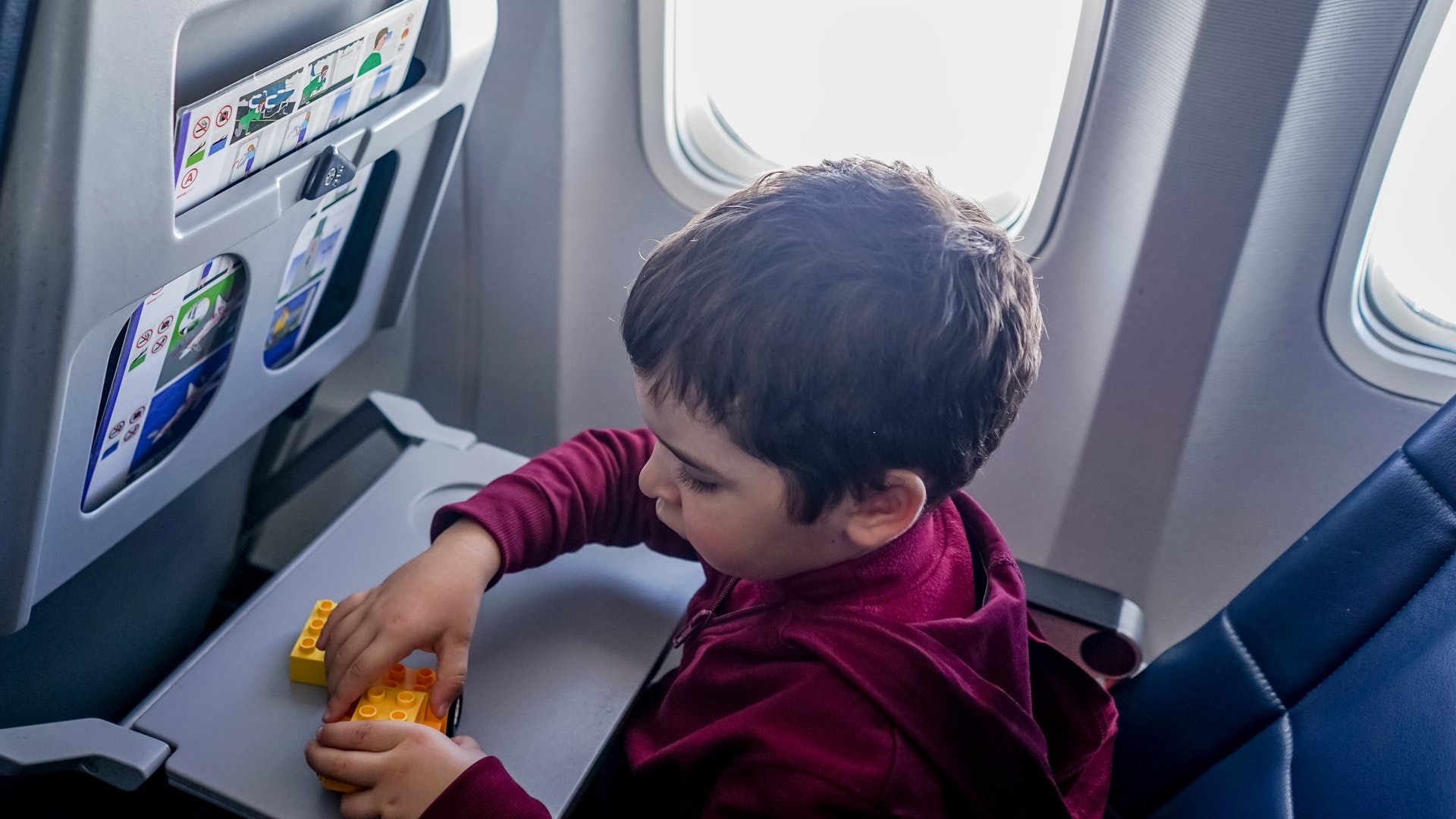 The disadvantage is that you will not be able to move around as freely, and your child will eventually feel cramped, particularly on longer flights. Furthermore, a seat on the parent's lap is not free of charge; it usually costs a small flat fee. Therefore, it is better to book a separate seat for infants and place them in a child seat. There they usually also fall asleep much better.
Make use of the free baggage allowance
If you need to buy a flight ticket for your child, you usually have the right to an additional piece of luggage. There is no limit to this. So you can pack for the child the same way as an adult. If you wish to take bulky luggage such as a baby crib or a baby back carrier, you will have to check this in as bulky luggage. Most airlines offer reduced or free rates for such baby accessories.
Think of child's passport
If you fly abroad, you must have a passport for your children. It has long been the case that an entry in a parent's passport is no longer sufficient. Therefore, be sure to apply for a child's passport in advance or check that the existing passport has not expired.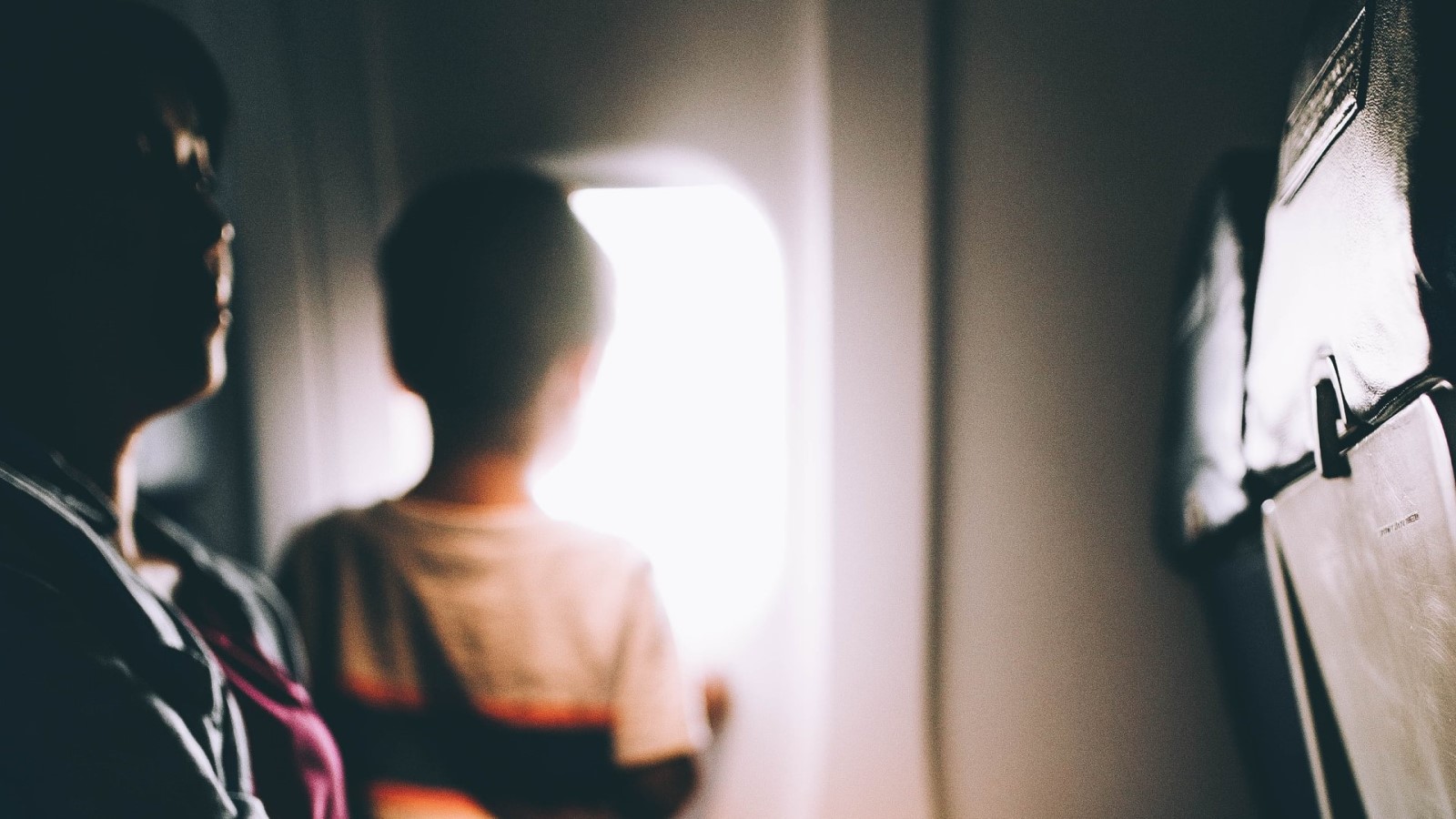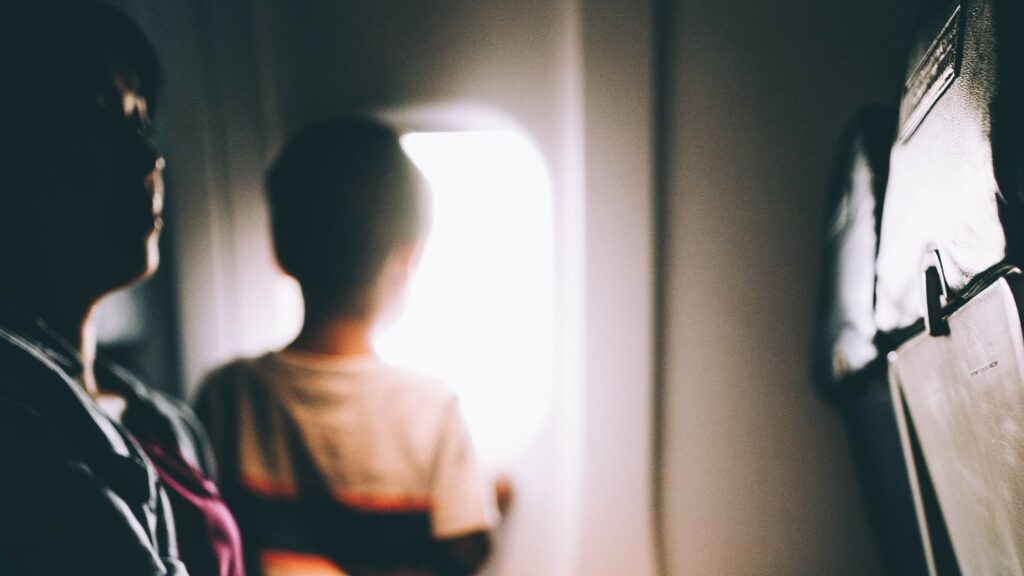 Kids over twelve need their own ID card or normal passport. Lone parents should note that if they have joint custody, they will need a declaration of consent from the other parent if they wish to travel abroad with their joint child.
Verify insurance coverage
When traveling outside of the United States, check in advance which additional travel insurances might be useful. Small children, in particular, can fall ill very suddenly and should also be covered in the best possible way.
On departure day
Preparations are complete, and everyone is looking forward to the vacation. Then the big day arrives. Now it is time to stay calm and keep a few things in mind on departure day that will make your life easier. Above all, this concerns a relaxed journey to the airport and the right preparation for all eventualities during the flight.
Plan enough travel time
Especially frequent flyers have a certain routine when it comes to flying. Don't waste too much time with useless waiting and check-in just before the flight. If you have children, don't rely on this tactic. Rather, allow enough time for arrival. That way, you won't be stressed by red lights and road works before getting to the airport.
Plus, with kids, so much can happen. Perhaps the big one stumbles and first needs to be comforted, or the smallest one is very excited by the hustle and bustle at the airport. So it's better not to have to constantly check your watch.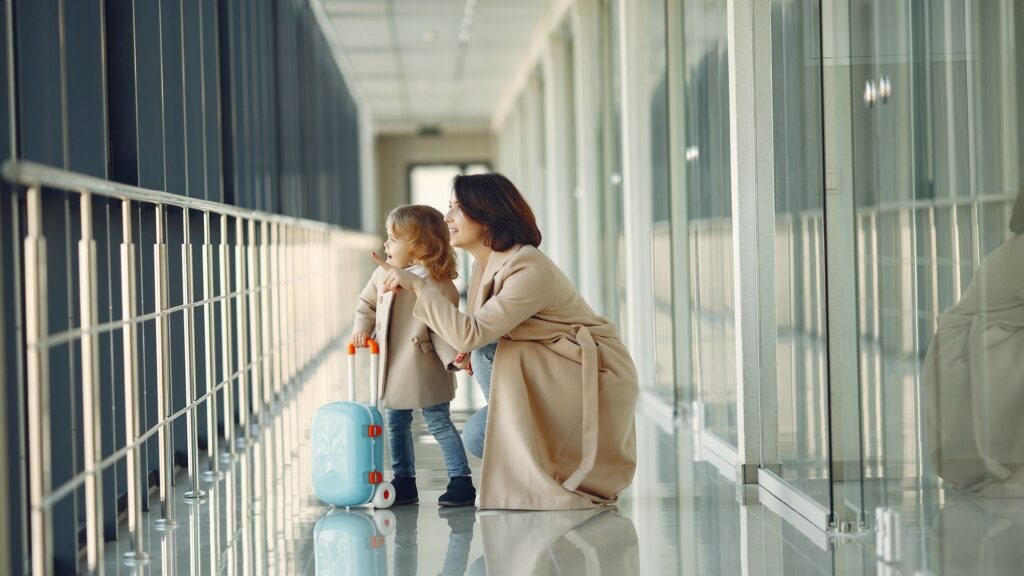 Correct clothing on the plane
The weather at home, on the plane and at the destination can vary greatly depending on the time of year and the destination. Therefore, dressing the children in a double-layered look before departure is recommended, that is, several layers on top of each other. That way, you're already dressed warmly and usually only have to take something off.
That saves the awkward search in the suitcase for the cardigan when the baby is suddenly cold. In addition, you have many combination possibilities directly at your seat and save space in the suitcase.
Sufficient clothes in the hand luggage
Even without flight turbulence and a queasy stomach feeling, small children and babies often spill their clothes. This is no different on the plane. So, if you are flying with babies and toddlers, make sure you take as many changes of clothes as possible in your carry-on luggage.
This not only applies to the kids' clothes but also to you. If your child embellishes your shirt with a sporty gush of the milk, he just drank, make sure you have a change of clothes with you. Very important: Remember where you have stowed the things in your hand luggage. If you have to go fast, there's no time for a long search.
Get hot water at the airport café
You'll usually need hot water to prepare baby formula or formula milk. However, sometimes it's not enough to bring some from home because it cools down much too quickly, depending on how you get to the airport.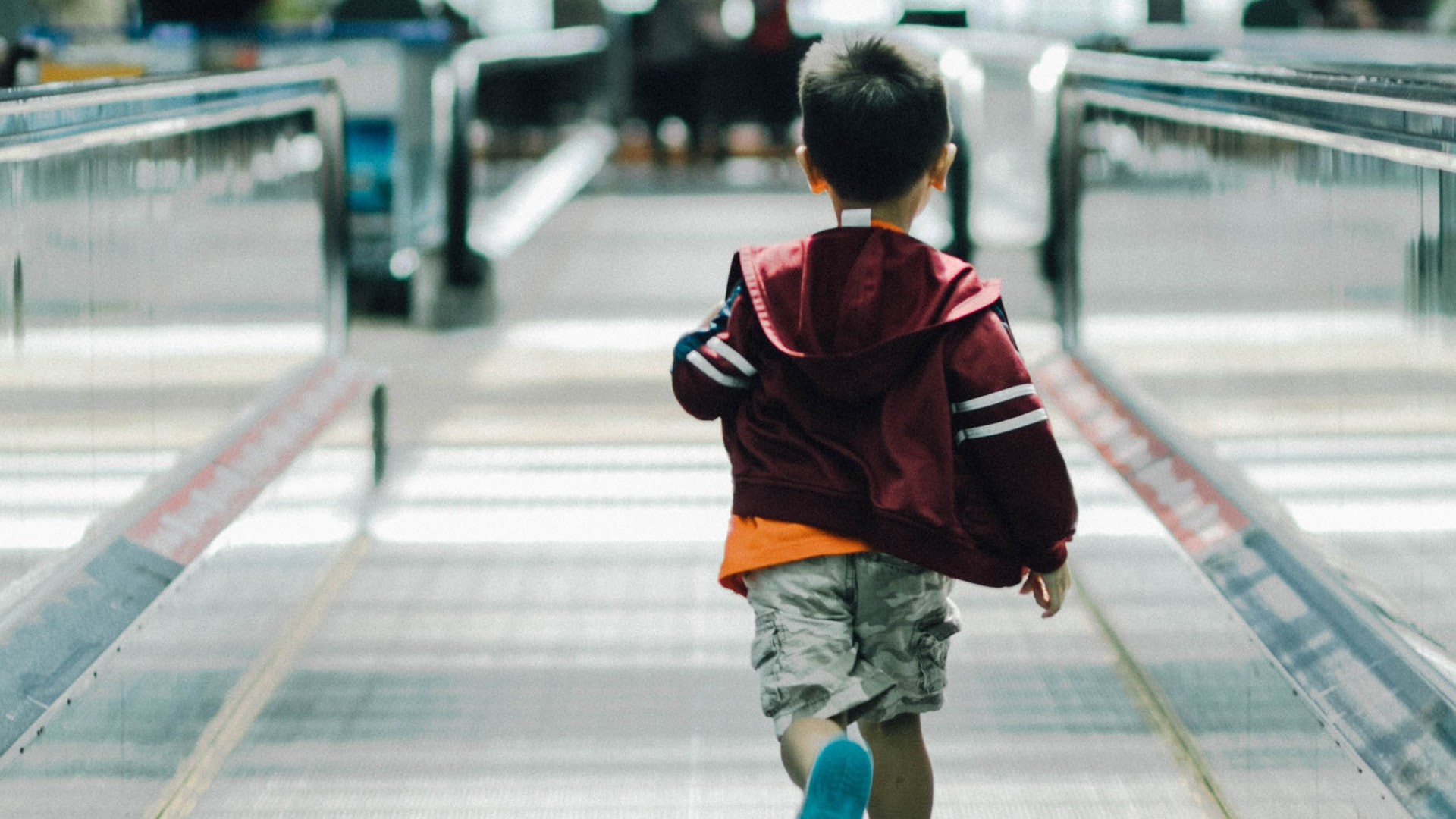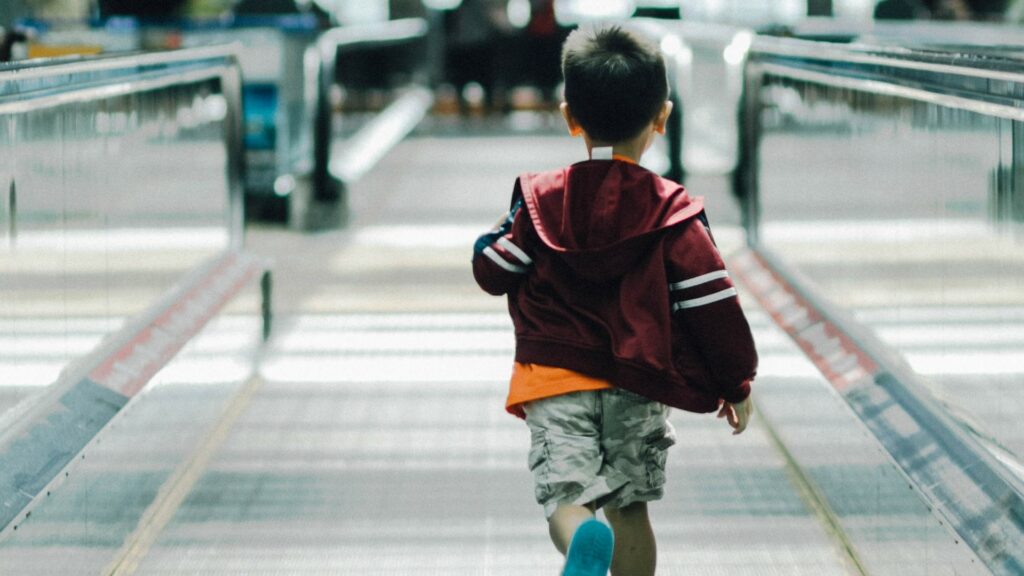 Simply ask in an airport café if you could get some hot, cooked water in your thermos. As a rule, this shouldn't be a problem and shouldn't cost anything. The freshly heated water can easily mix your milk or porridge at the right temperatures on the plane.
Using priority check-in
Check-in at the gate can sometimes be a real test of patience. Luckily, many airlines have realized this and offer priority check-in for families. You get priority over the other passengers and are checked in first. This reduces waiting times and makes it easier to get to the plane without a lot of crowding. Simply ask your airline if such a service exists.
Strollers in the luggage
A stroller is indispensable for most families when traveling with babies or small children. However, strollers are unfortunately also very large and bulky and therefore usually not allowed in the cabin. Certain models fold up very well and can possibly be taken in the hand luggage.
However, you should normally hand in the stroller as a piece of luggage. You can also do this by arrangement shortly before boarding. One of the boarding staff will then take the stroller and bring it to the belly of the plane for stowage.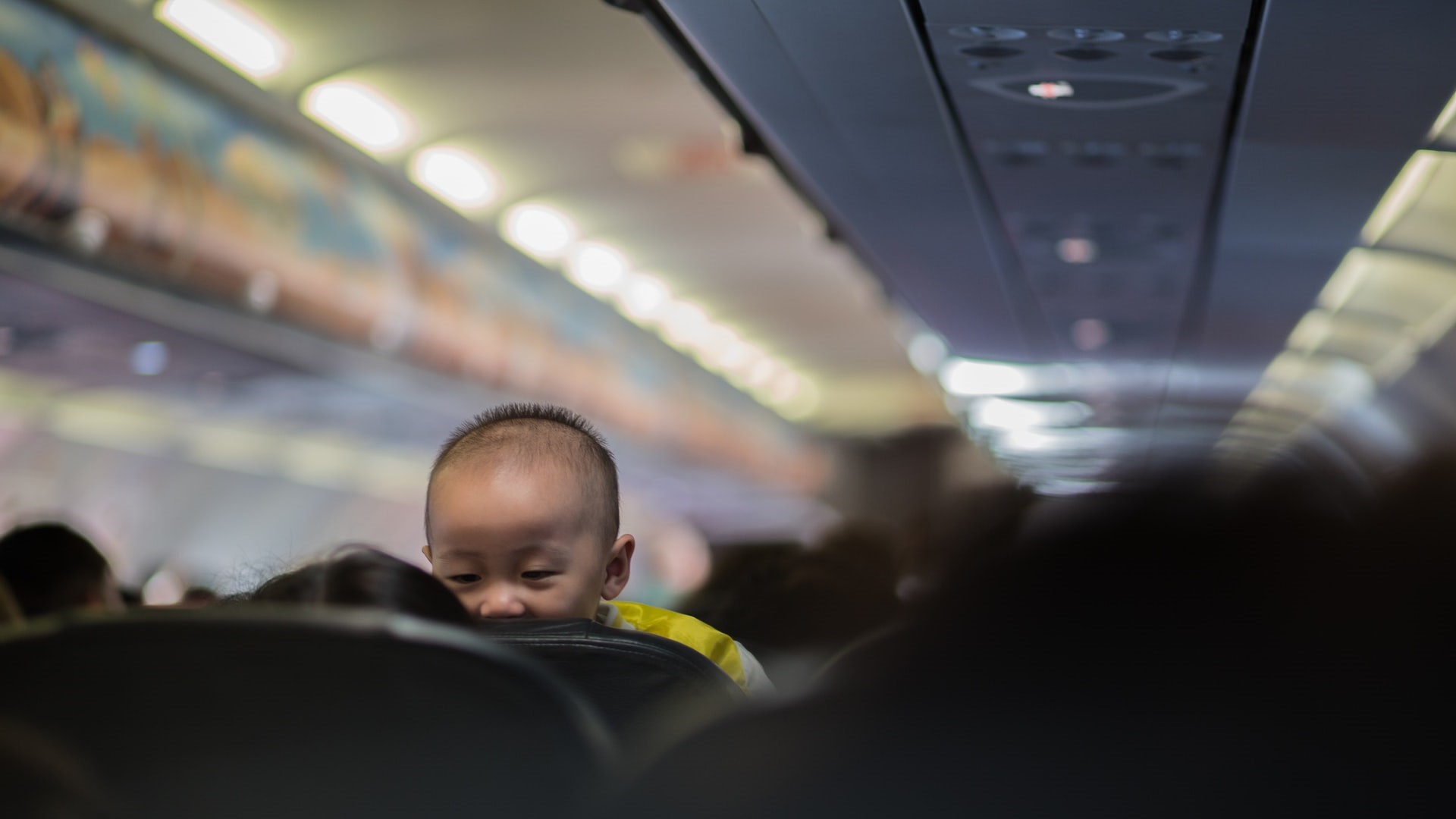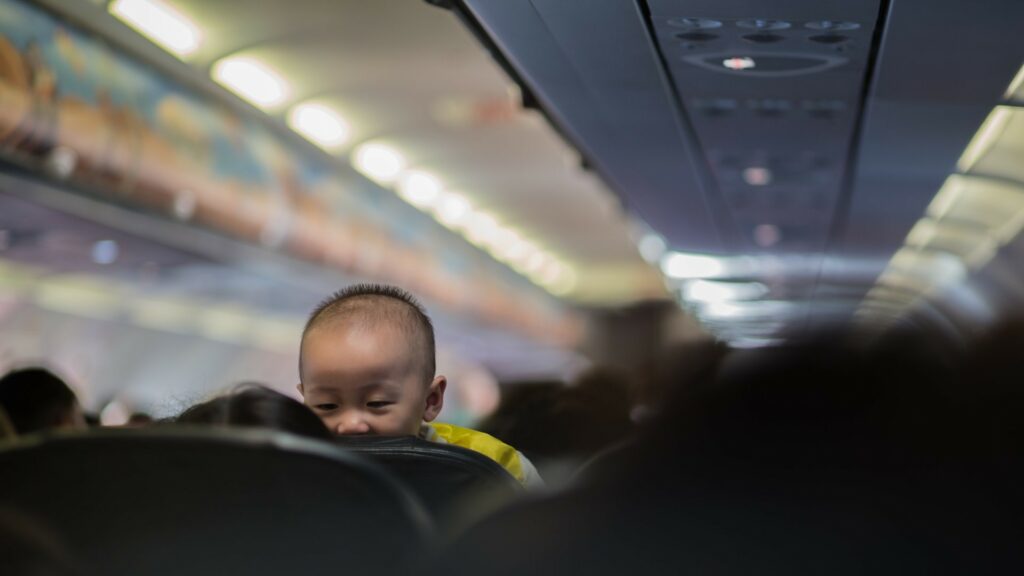 In the plane
When you are seated, one hurdle has already been overcome. With the following tips for flying with babies and toddlers, the flight will hopefully be more relaxing and enjoyable.
Introducing yourself to your seatmates
When traveling with small children and babies, briefly introducing yourself to your seatmates is a good idea. This isn't about apologies in advance; rather, it's a polite first step toward those who might feel disturbed. Usually, this breaks the ice and prevents a later thick air in the plane. This gesture should surprise most fellow passengers and ensure more goodwill during the flight.
Requesting a bassinet
Many planes have what is known as a bassinet. It's nothing more than a fold-out crib in which passengers up to two years can take a relaxing nap. The number of such devices is limited, however, which is why you should reserve a bassinet in advance if you need one.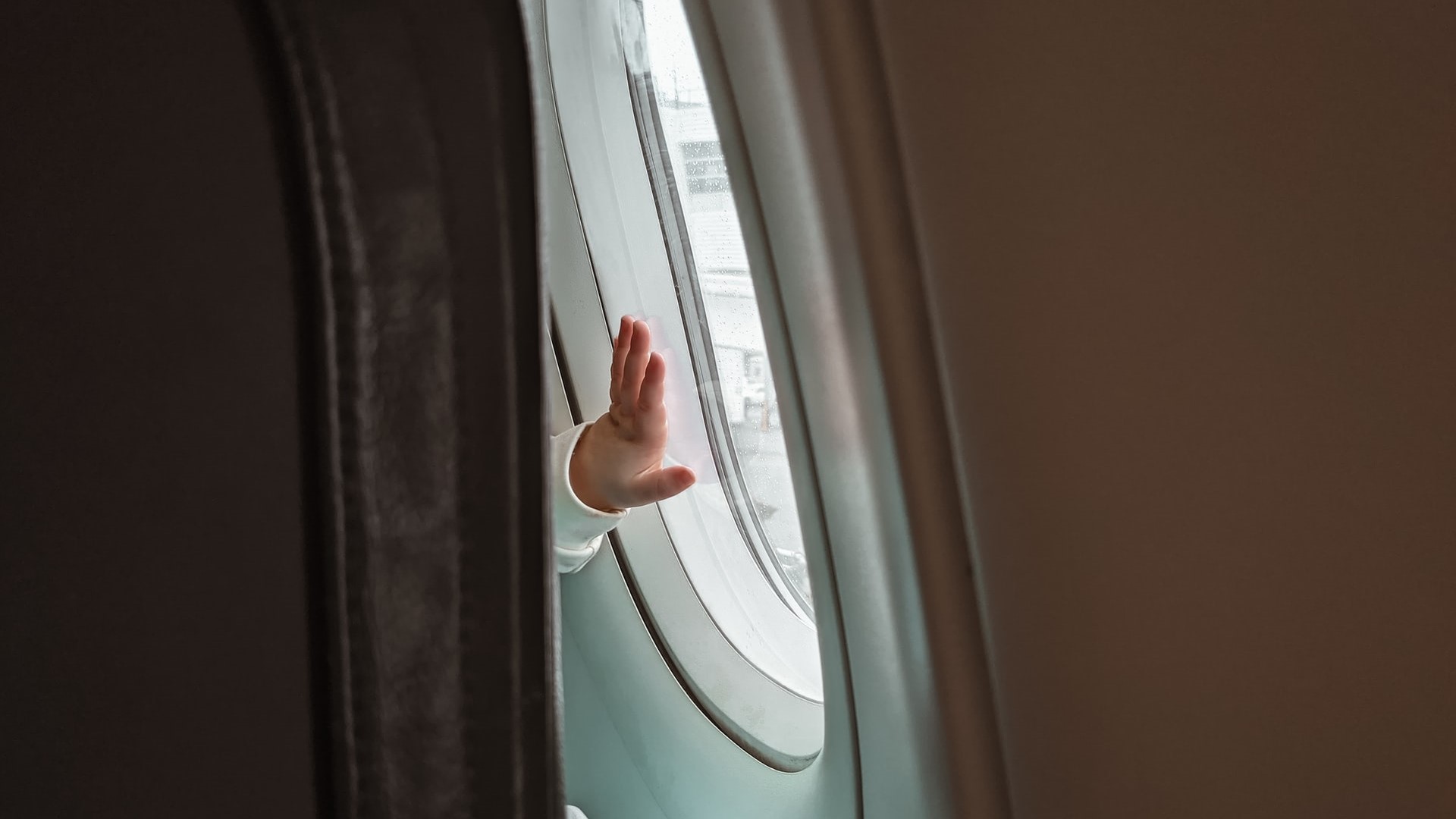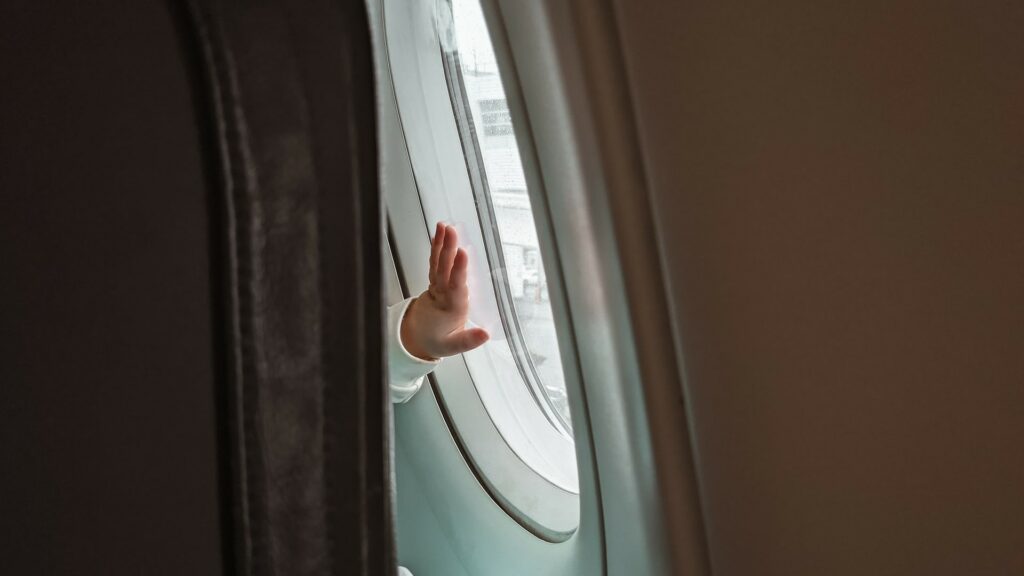 The limits on the use of bassinets also vary depending on the airline. Some have size restrictions, others have weight restrictions, and still, others depend solely on the child's age. It's best to clarify this before you start your trip.
Ensuring pressure equalization
The ears of babies and toddlers do not equalize pressure nearly as well as adults. You should therefore stimulate pressure equalization in your children during takeoff and landing. The simplest way to do this is by swallowing. Kids should start drinking just as the plane accelerates on the runway and not set down until after takeoff.
For landing, you should stimulate pressure equalization about 20 minutes before landing. Additionally, ear plugs for small children and decongestant nose drops can help. By the way, these are also recommended to combat the usually very dry air in the cabin.
Keep food and drink ready
You can keep children happy with plenty of drinks and small treats. Snacks that take a while to eat are best, such as small pieces of fruit and vegetables, sticks of corn or lollipops. Your child won't get bored easily if he or she has something tasty to eat. Don't forget about you adults, particularly on long-haul flights. Drinking plenty of fluids is a principle that applies even high above the clouds.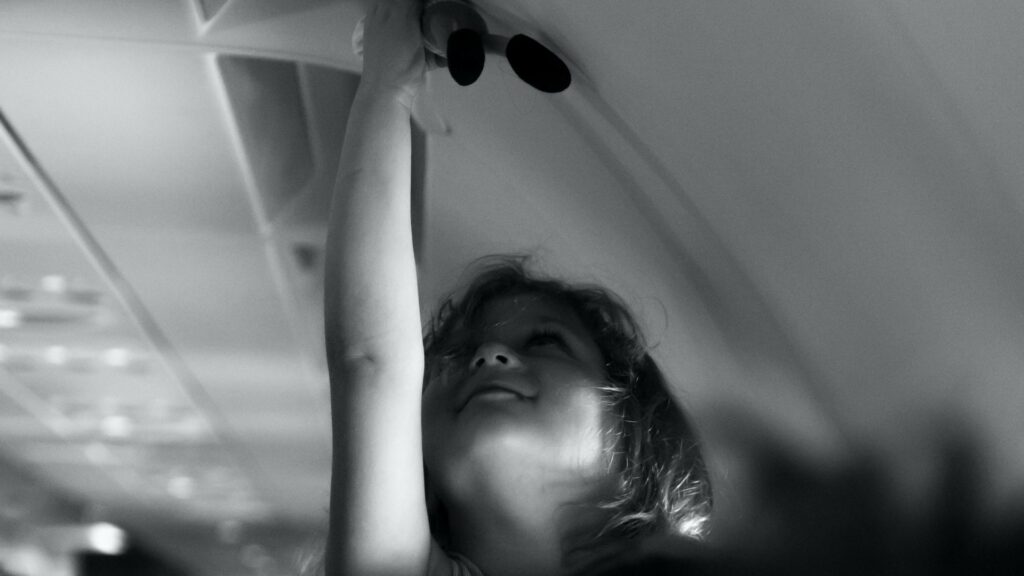 Entertaining the kids
The most important and best-known tip for flying with small children is to have enough things with you to keep them occupied. Little ones can quickly become bored without coloring materials, books or a radio play, especially on a relatively short two-hour flight. Pack an additional brand-new toy that the child doesn't know yet.
He will probably occupy himself much more joyfully and longer with something new. On most flights, flight attendants will also help you with ideas for keeping children occupied and small giveaways.
Stay calm
Very important for all those who may not like flying so much themselves or get nervous quickly when their own children start whining: Stay calm. Flying is something incredibly exciting and magical for children. That excitement can change quickly and should not be fueled. So, always speak in a calm, soft voice and distract it if necessary.
When the child cries
Your baby might start crying on the plane sooner or later. This is normal because little ones can not yet do much more to express their discontent. In the hustle and bustle of travel, though, screaming can put you under pressure from time to time – particularly if the child can't be calmed down. Breathe deeply and find why he or she is crying, then try to calm your baby.
Jet lag in children
Even with adults, Jetlag is a problem. Kids sometimes get even more confused when they suddenly find themselves in a different time zone. This applies even more to toddlers than babies, as the latter are awake every few hours anyway. To make the change to the new local time a little easier for children and adults, follow these three tips:
Eat your main meals at the local time from the start. Stay hydrated with snacks and drink plenty of fluids.
At night, make it really dark, using an additional blind if necessary, then go to bed at the usual time.
During the day, make it really bright or go outside as long as the sun is shining. Light from nature makes us awake. Humans are, after all, diurnal.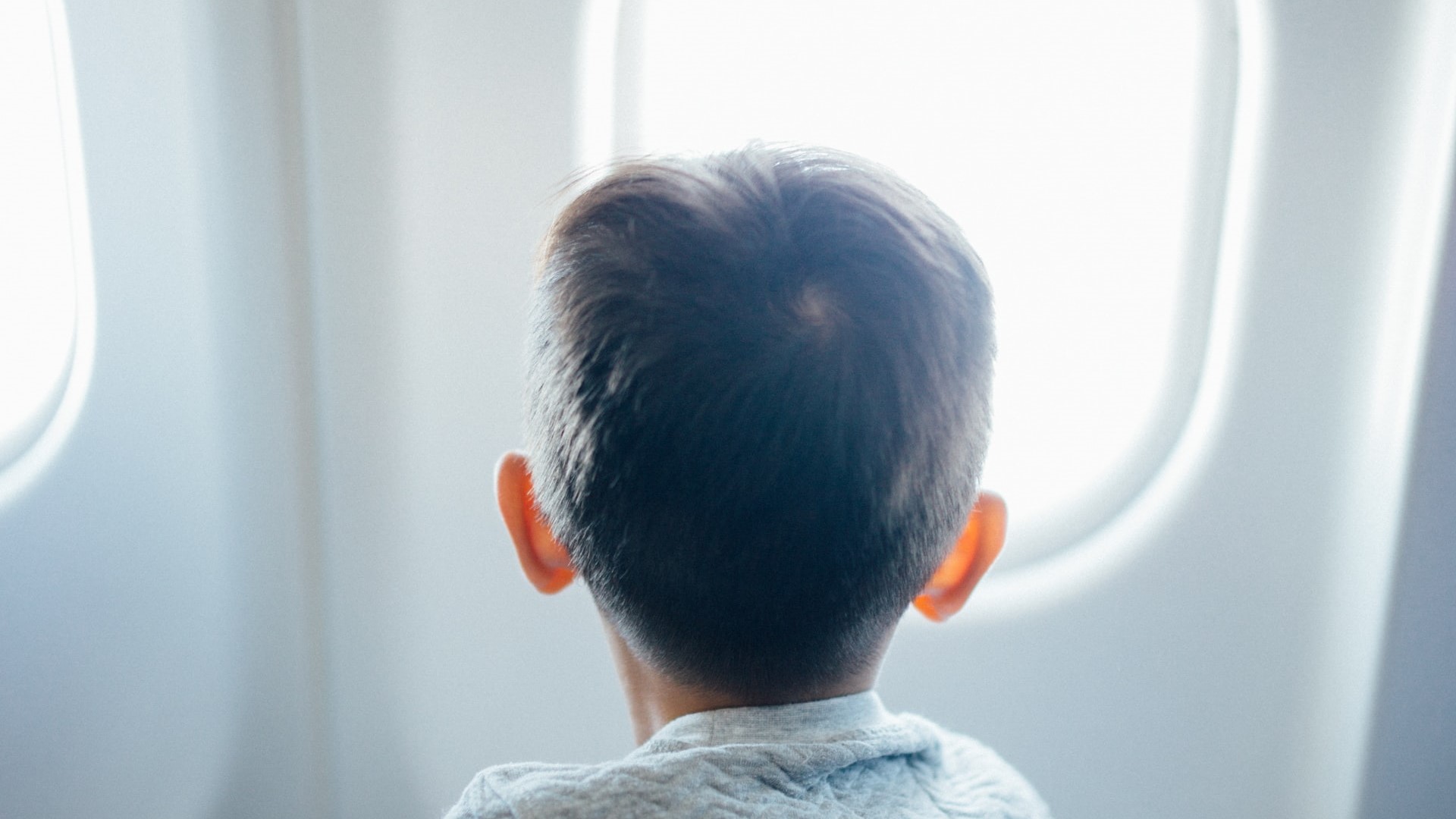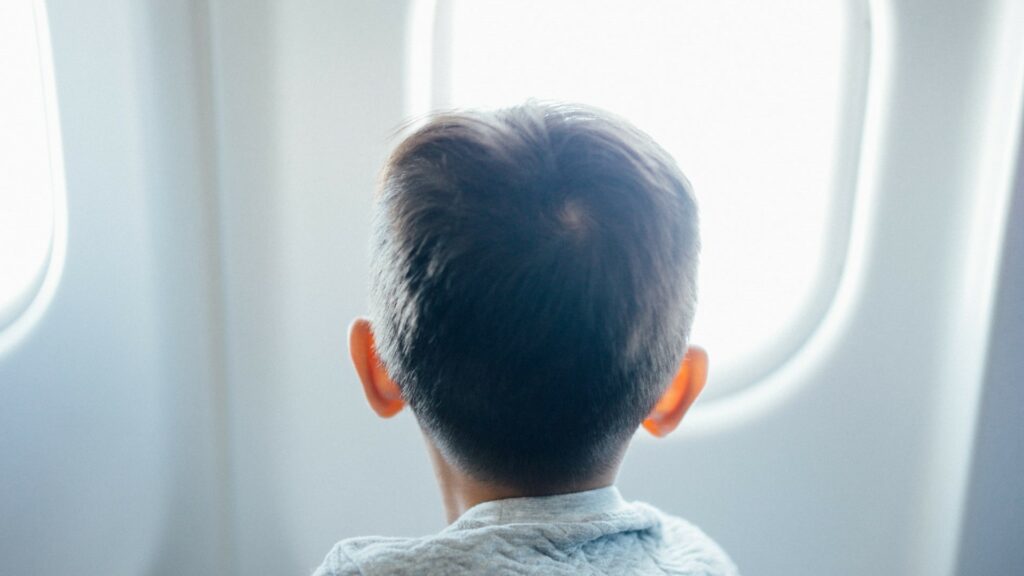 How much does a flight cost for a baby and toddler?
There is no blanket answer to the question of the cost of air travel for babies and toddlers since prices vary significantly depending on the airline. Prices average 20 percent of the regular airfare.
However, some airlines only give a 20 percent discount and charge flat rates for children on laps. However, kids on laps sometimes fly for free and only pay around ten percent for their seat. Check the prices and conditions well in advance so that there are no sudden surprises when you book.
Also Read: