We all know that with the next flight, the question of what is allowed as hand luggage in the cabin and what is forbidden arises again. Knowing this is even more important if you want to fly without checked baggage.
Find out more about the baggage regulations of individual airlines in this article. In addition, we will provide checklists with things you should have with you during your short vacation or long-distance trip will make packing easier for you.
Items prohibited in Carry-on luggage
There are regulations specifying which items may not be carried in carry-on luggage. Depending on the dangerous situation, the composition of these items changes. The control personnel may also assess on the ground whether an item could pose a danger on board.
If your flight destination is outside your native country, please inform yourself about the legal regulations of the country you are traveling to before starting your journey. You should not be surprised to learn that items such as firearms, machetes, mace, blasting agents, munitions and stun guns have no place on board. Nevertheless, for the sake of completeness, we are listing them.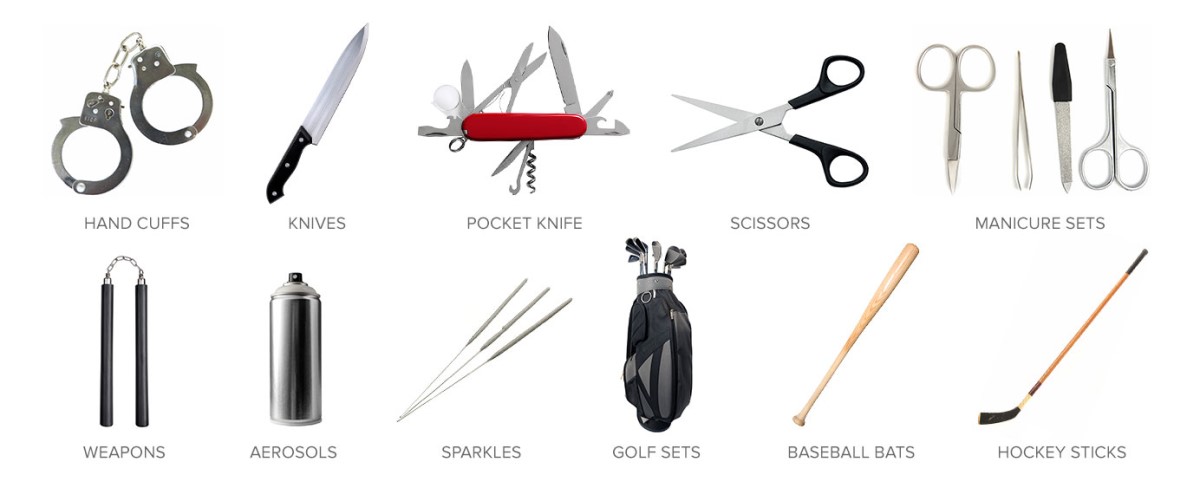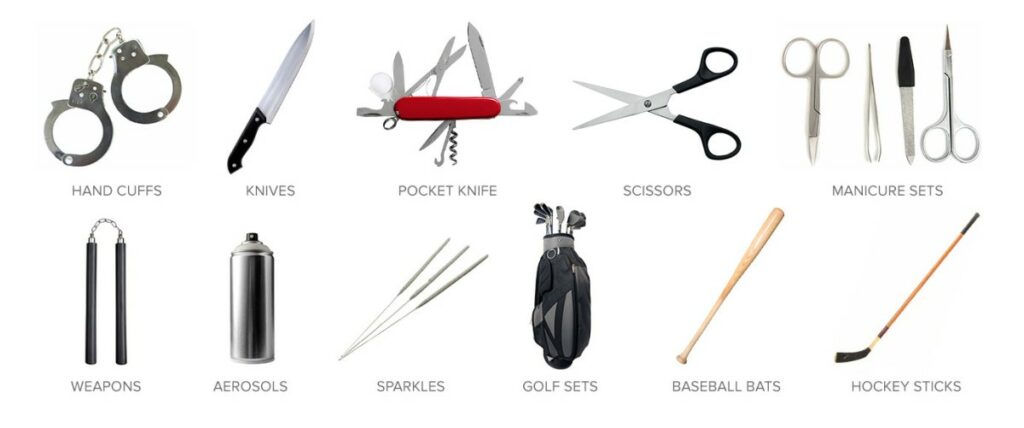 The fact that dummy and toy weapons are not welcome in the cabin should also be evident. According to regulations, blades and scissors (measured from the hinge) are not a problem, provided they do not exceed 6 cm in length in Europe, for example.
Our tip: if you want to take your pocket knife with you on vacation, it is better to find out beforehand at the airport what the regulations are.
Provisions that seem odd at first glance
Since anything that can be transported from A to B can also find its way into the aircraft cabin, there are bans on the most curious things: Keep your drills, hacksaws and pneumatic nailers at home if you don't want them taken from you at security.
Some bad news for some hikers among you: Hiking poles won't make it through security, but everyone who relies on crutches can rejoice: Claimed as medically necessary, taking them on board is not a problem.
Although a small pack of matches or a gas lighter may be carried on the body as carry-on luggage, they cannot be carried in hand luggage. This is because a pack of matches/gas lighter carried on the body is more controllable than one in the suitcase in the overhead compartment or under the seat. Next, we'll tell you what to do with liquids on board.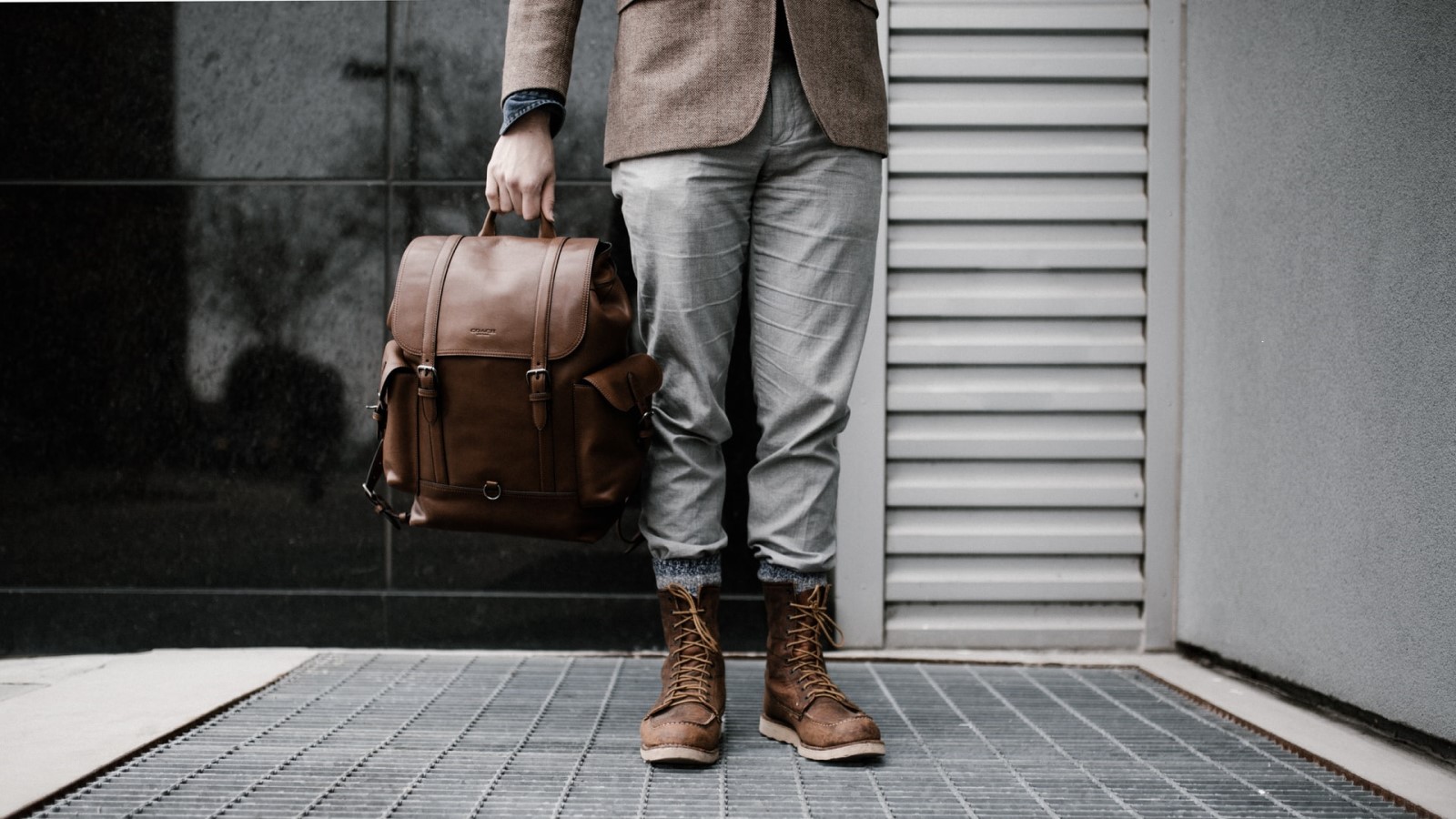 Liquids in carry-on luggage
Following a failed terrorist attack at Heathrow Airport in 2006, when an attempt was made to blow up several planes en route to the USA using liquid explosives, there have been tightening regulations on carrying liquids. Since then, you have only been allowed to carry containers with a maximum capacity of 100 ml.
You can purchase travel sizes in drugstores, and, if they're suitable, you can refill them after you've used up the contents. The tubes and jars must be stowed in a resealable, transparent plastic bag with a volume of no more than 1 liter. Frozen bags work well for this purpose.
Besides the way you transport liquids in your hand luggage, you still have to consider the airlines' baggage regulations.
Luggage regulations of different airlines
Dimensions and weights of hand luggage vary from airline to airline. We have collected the current baggage regulations of popular airlines for you. All details are without guarantee of correctness and completeness – in case of doubt, check the details on your flight tickets and/or the airline website.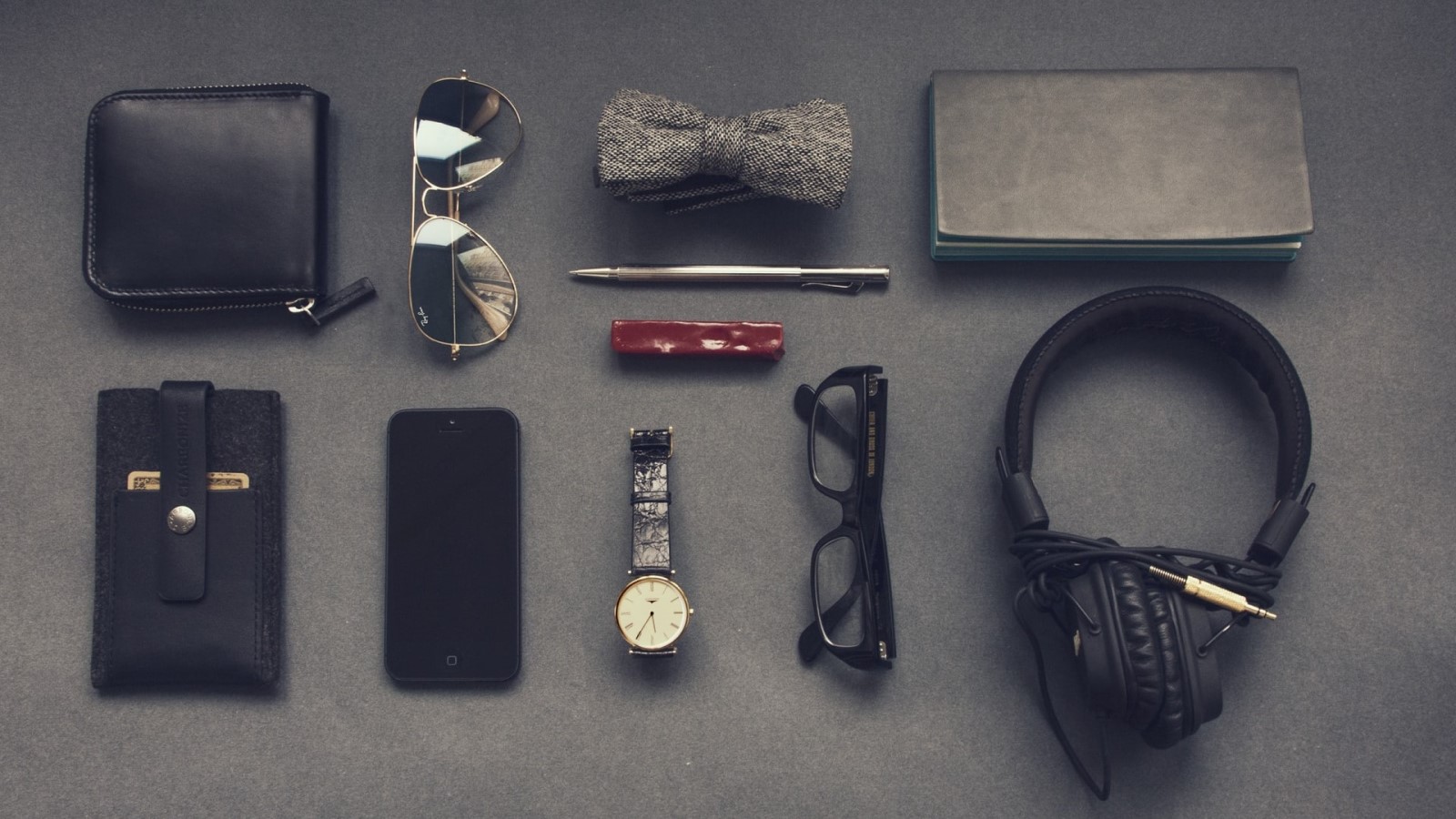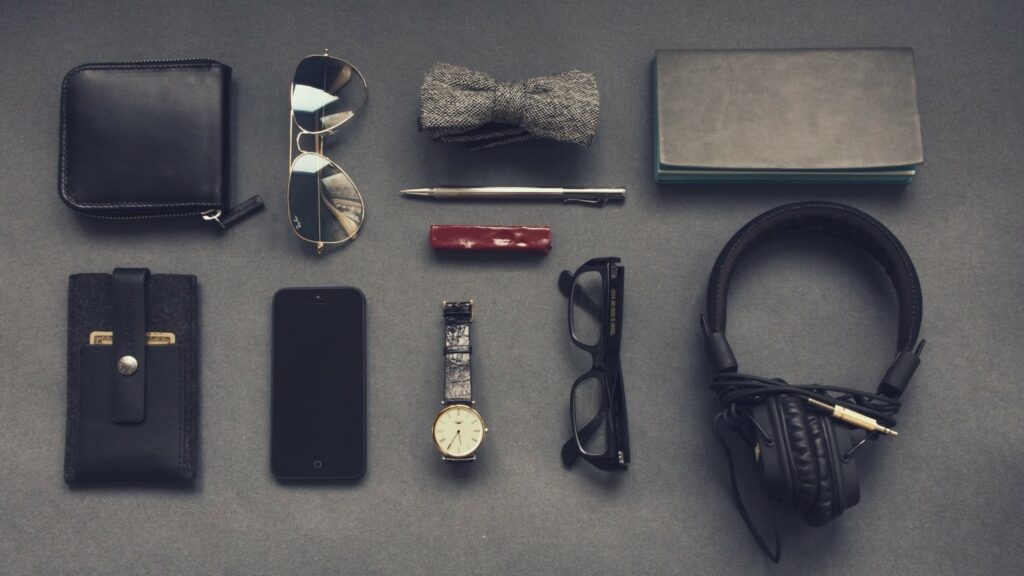 Notes:
A small piece of hand luggage may be transported under the seat with Ryanair. The second piece of hand luggage (40 cm x 20 cm x 55 cm, weight 10 kg) can be checked in at the Flexi Plus fare for a fee
If you are a Lufthansa passenger, you can take an additional handbag or laptop bag with dimensions 30 cm x 40 cm x 10 cm on board.
if you are a Condor passenger, you may take one additional personal item on your seat
if you are flying with Eurowings, you can take a handbag or laptop bag with the dimensions 30 cm x 40 cm x 10 cm on board additionally
If you are an Easyjet Plus cardholder, you can take an additional handbag or laptop bag measuring 36 cm x 45 cm x 20 cm.
With Airfrance, the weight refers to the total weight; one handbag or laptop bag with the dimensions 30 cm x 40 cm x 15 cm is included.
Customers of Germania can also take an additional handbag or laptop bag on board.
Please make sure that you comply with the regulations for hand luggage. If you do not, you must reckon with the fact that you have to check in the luggage for a fee, and it will start the journey in the hold.
Tip: Check out the big luggage guide with a checklist for suitable luggage and current airline regulations in advance.
Lost and damaged luggage
Many holidaymakers know someone who has lost or damaged checked baggage. It sometimes arrives late at your destination. If you have booked your flight directly with an airline, it is liable regardless of fault. The liability applies to the time the luggage was in their care. This does not include damage caused by customs clearance, for instance.
Valuable and fragile items should always be transported in your hand luggage. The airline is liable for this, depending on the fault. Damage or loss must have been caused by the flight crew, which is usually difficult to prove. You should inform the airline of any damage to your luggage as soon as possible, e.g. at the airline's counter at the airport.
If you wish to claim compensation, you must contact the airline within seven days of loss or damage. In case of delayed baggage, there is a time limit of 21 days from the date of receipt of the baggage.
If you have booked the flight as part of a package tour with a tour operator, notify him if the luggage has been lost or damaged as soon as possible. The tour operator is responsible for ensuring that the trip runs as agreed. If you are without your luggage for a few days, this constitutes a travel defect, and you can make a claim against the tour operator for this.
For lost or damaged luggage, you can claim compensation. Whether you will receive compensation depends on whether the tour operator can be proven to be at fault. The question of fault is also influenced by international agreements and the general terms and conditions information.
Traveling with hand luggage is practical
If you choose to travel with hand luggage only, you already save the costs for the checked-in luggage. If you only get on the plane with a trolley or a bag, you do not have to worry about the loss or delayed arrival of checked baggage.
In addition, there is no annoying waiting at the baggage carousel. Nor would you be potential victims of luggage lice at the airport. A moment of distraction and your travel suitcase may have involuntarily changed hands. Also, remember that the fewer pieces of luggage you have, the less you have to lug around.
When you travel with hand luggage only, you will quickly notice how few things you need at your vacation destination. Put only the crucial things in it. Do not take into account anything that you could only possibly use.
Keep your electronic devices in the backpack/trolley where you can get to them quickly before the security check. Save space by rolling up your clothes. It's also a good idea to get a compression bag, ensuring the air escapes from your clothes. If you take the manual rolling option, you are not dependent on technical aids such as pumps.
If you leave a little air in the backpack or suitcase, you still have room for souvenirs and souvenirs. What you wear on your body does not count as hand luggage. So put on that thick sweater or jacket, and you'll have more room in your suitcase.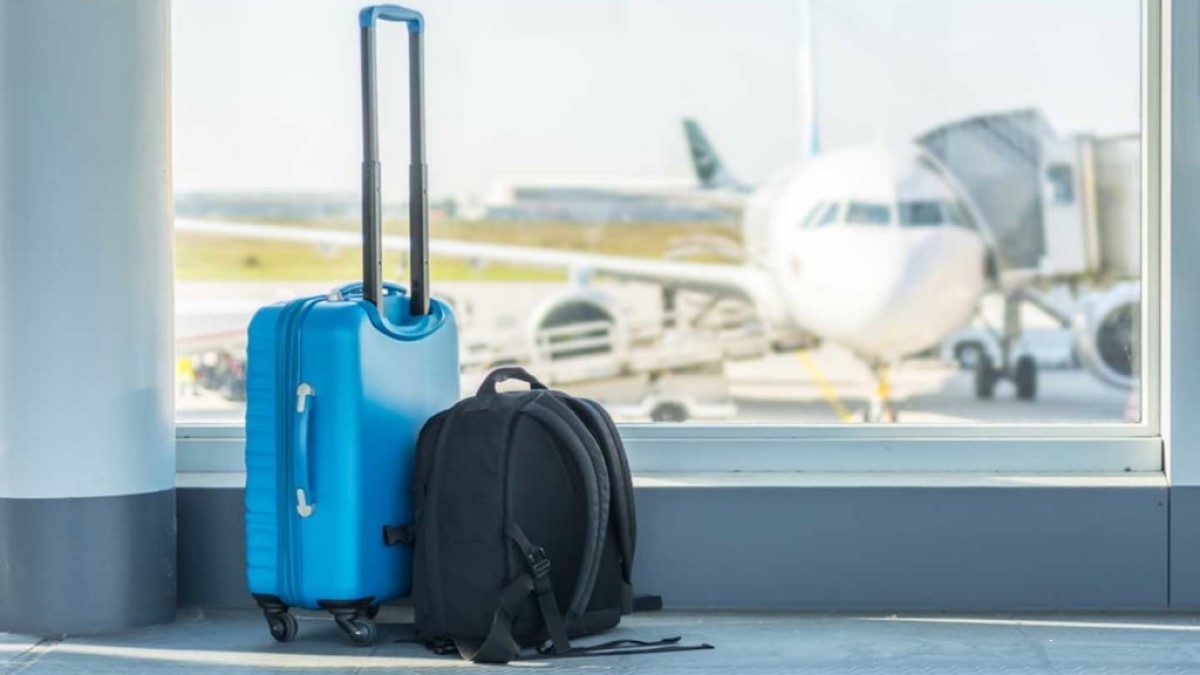 Have your dirty clothes washed at the hotel instead of taking so many clothes with you that you would have something clean to wear every day of your stay. If you want to look chic even on vacation, choose clothes you can combine well on the spot.
Better keep to the specifications regarding the dimensions and weight in case your hand luggage should be checked. If things go really badly, it can also happen that your suitcase does not fit into the overhead compartment due to a full plane, and it, therefore, ends up in the cargo hold. In that case, you will have to wait for the baggage claim.
Hand luggage packing lists – the checklist
The contents of your carry-on luggage will depend primarily on your destination and the length of your trip. You will need fewer clothes for warm vacation destinations than for cold ones, and for a longer stay far away, you will take more things than for a short vacation.
General and short-haul flights
Long, comfy clothes to avoid getting a cold from the air conditioning.
Something to eat, there's nothing on short-haul flights, and you may not like the on-board menu on long-haul flights.
Sandwiches, student food, cheese cubes… whatever tastes good and fills you up.
Earplugs against aircraft noise and talkative but unpleasant seat neighbors
Earplugs for a nap on the short haul and for sleeping during the long haul
Inflatable neck pillow and sleep mask for long flights
Entertainment in the form of music, TV series and movies on your fully charged smartphone, tablet, notebook or laptop. Don't rely on the airline's offerings for long-haul flights.
A book, magazine, newspaper or e-book reader
Medication that you need to take at certain times
Eye drops if you suffer from dry eyes because of the air conditioning.
Ear drops, if needed, to equalize the pressure in the children's ears.
Disinfectant wipes in case you are disgusted by the armrests or folding tables on the plane.
Take a moisturizing face cream or a thermal spray on board if you have sensitive skin on long-haul flights
Support stockings help with thrombosis

Swimming and beach vacations:
Swim trunks/swim shorts/swimsuit/bikini
Sunscreen, possibly a sunburn remedy
Hat/visor cap
Sunglasses
Beach towel or sarong (doubles as a skirt)
Flip-flops / sandals
Beach bag made of light fabric, if needed
One or two shorts/skirts/dresses
Thin jacket for the evening/night as a precaution
Regardless of destination:
ID card/passport
Driving license, if you want to rent a car
EC card and credit card
Printouts of booking confirmations
Notes with important phone numbers such as police, ambulance or embassy numbers
Ballpoint pen, notepad
First-aid
Plastic bag for dirty laundry
Toilet bag with toothbrush and toothpaste, brush/comb, nail file from sandpaper, deodorant, creams, if necessary other cosmetics (shampoo and shower gel are often available in the hotel room), which is essential from your own point of view
Possibly a plug adapter
Long distance travel – long haul flight:
For exotic destinations, insect repellent until you perhaps switch to a more aggressive one on the spot
Somewhat thicker jacket and pajamas when going to colder areas
Backpack instead of the trolley, if you want to travel around the vacation country
Besides the long pants and sweater for the flight spare sweater and pants
Several underpants, T-shirts and bras for a short vacation in the city, and a few pairs of socks for warm destinations
Maybe a camera for great photos, a battery charger and an extra memory card just in case