From the creative minds at Agera Games comes Toss!, a bubbly VR platformer that has players swinging through fantastical worlds as a trapeze-artist monkey. Published under Vertigo Games, this title aims to deliver an accessible yet challenging arcade experience focused on swinging mechanics and time trials. In this review, we'll be taking a comprehensive look at Toss! to see if it sticks the landing or needs a bit more banana power.
At its core, Toss! is a speedrun-centric platformer tailored for VR headsets. You'll be tasked with tossing yourself from platform to platform, collecting bananas and race against the clock across 80+ levels spread over 9 worlds. With a cute narrative wrapped in vaporwave clouds and neon landscapes, the game leverages its swinging hook mechanic to deliver immersive movement-based challenges.
While it stumbles occasionally on physics and accessibility, Toss! ultimately swings into our hearts as a creative, replayable adventure that knows how to ape the thrill of momentum-driven VR. In this article we will review the game to see if it is worth playing or not. Stay tuned!
Immersive Swinging Takes Center Stage
At its core, Toss! is all about swinging. Using your floating monkey hands, you'll be grabbing onto any reachable object and using momentum to fling yourself through each level. The controls are intuitive – simply grip the trigger to latch onto a platform, pole, tree, etc. and release to let go and fly towards the next anchor point. It's a straightforward mechanic, but mastering the timing and arcs of each swing requires precision.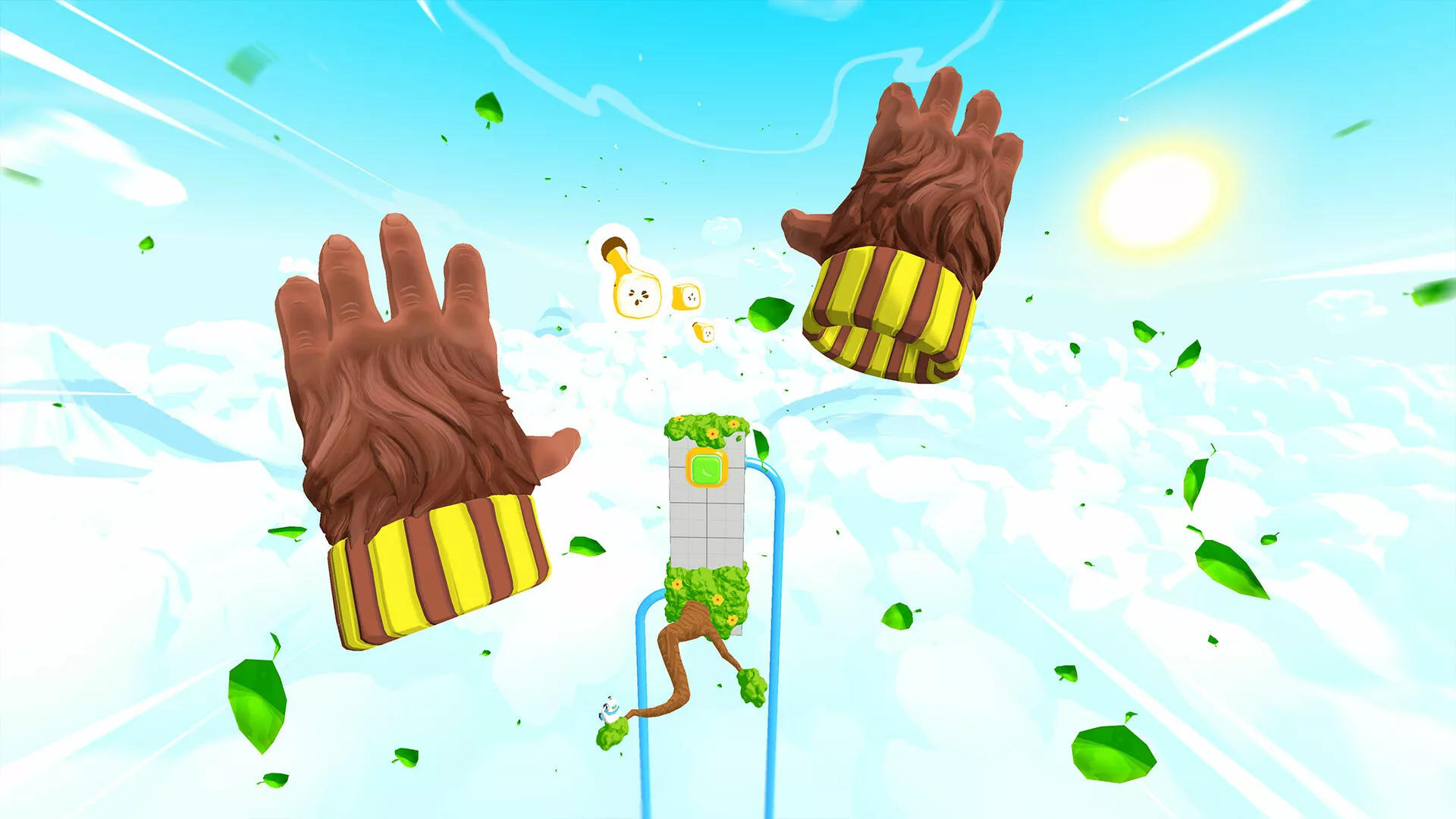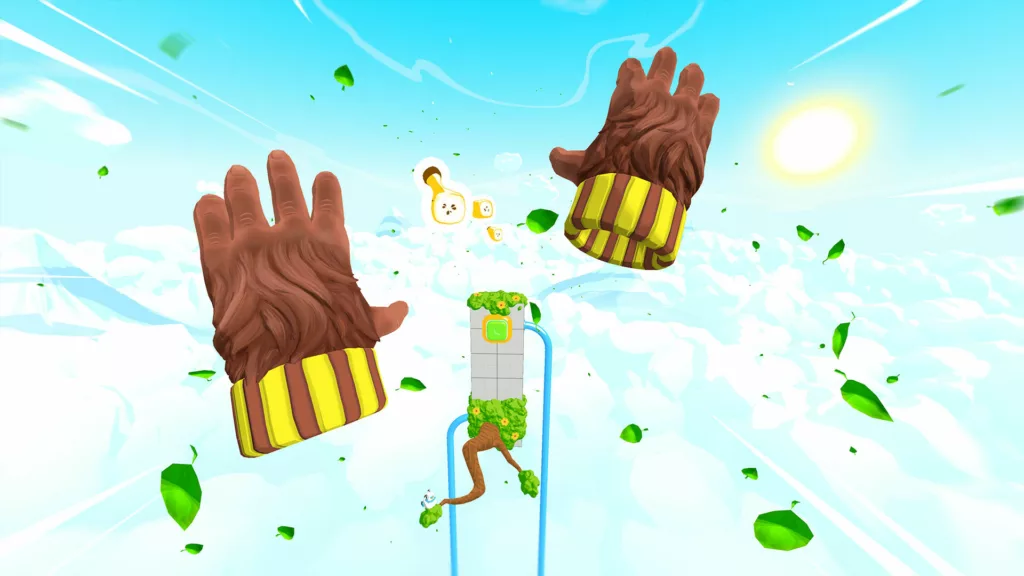 This core swinging conceit gives Toss! excellent flow and variety. Levels start simple, allowing you to get accustomed to the basics of maneuvering yourself through geometric jungle gym setups. But soon you'll be tossing off moving planks, avoiding hazards like electricity, and learning to string swings together to clear large gaps. The learning curve feels fair for most levels, though some spikes in difficulty can lead to friction. There is an art to finding the optimal route and number of swings – too few and you won't stick the landing, but too many and you'll lose time and momentum.
This is where Toss! shines in VR innovation. Unlike traditional platformers, you must physically throw your weight around, judging angles and trajectories. It leverages roomscale and motion tracking for an immersive, full-body experience akin to simulating being an acrobat. However, inconsistencies in the physics can undermine this effect. You may find yourself flung erratically in odd directions at times, which breaks the illusion. Some tuning to provide more reasonable reactions to momentum would go a long way.
Still, when the physics clicks, Toss! is magical. The feeling of hurtling yourself over a chasm or precisely catching the perfect swing is visceral. There is a childlike glee in being able to climb, leap and explore the playgrounds of this monkey world. Few games have captured the tactile sensation of monkeying around quite like Toss! Its commitment to physicality over abstraction is ultimately a net positive in the VR space, providing moments of blissful flow. Just be prepared to occasionally wrestle with some quirky physics along the way.
Bananas, Speed Runs, and Leaderboards Galore
Toss! provides plenty of gameplay variety through its different modes and challenges. The main "Campaign" mode takes you through over 80 core levels across 9 distinct worlds. Each stage tasks you with simply reaching the goal ring to advance. This introduces the basic time trial format and swinging mechanics.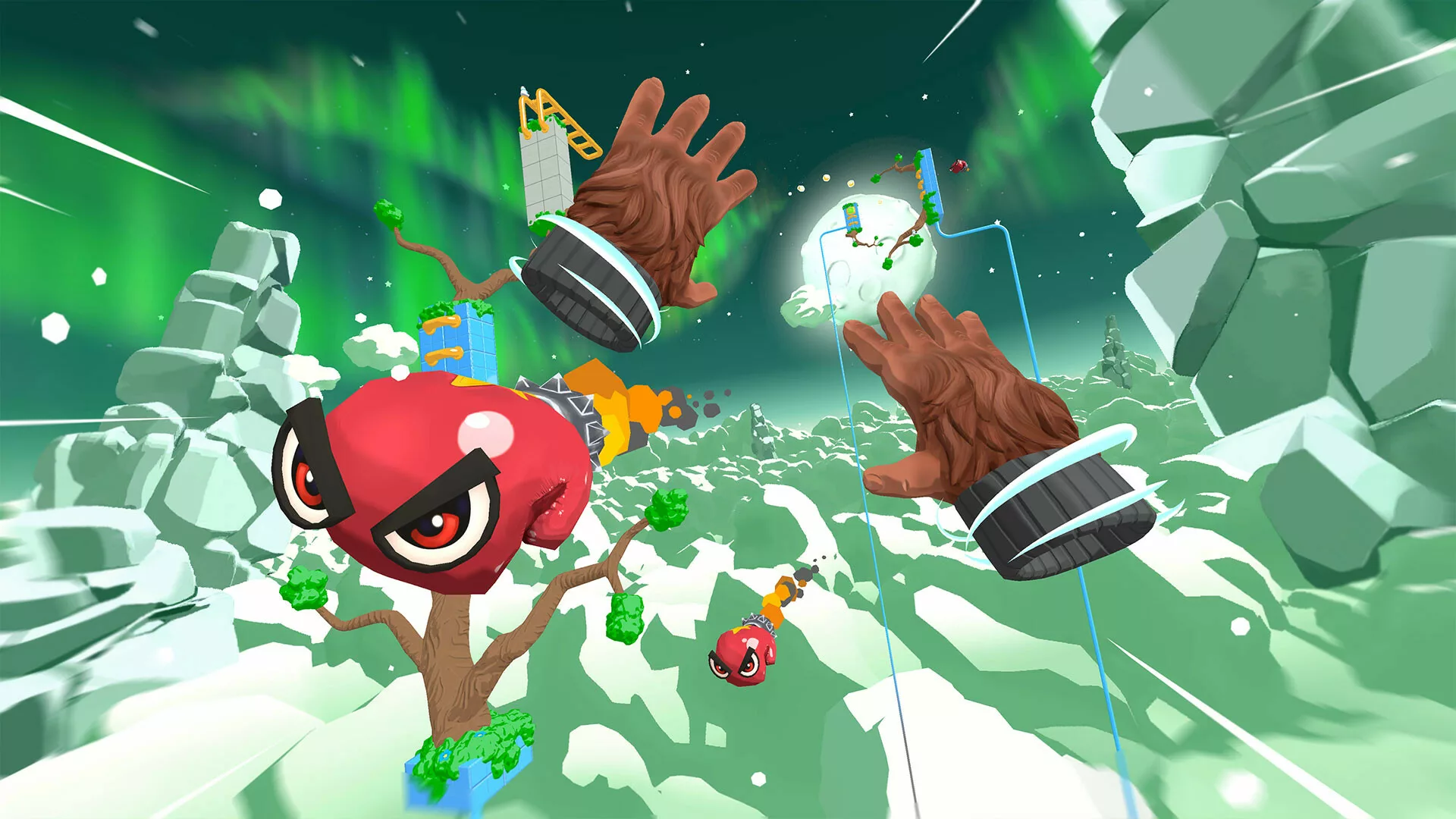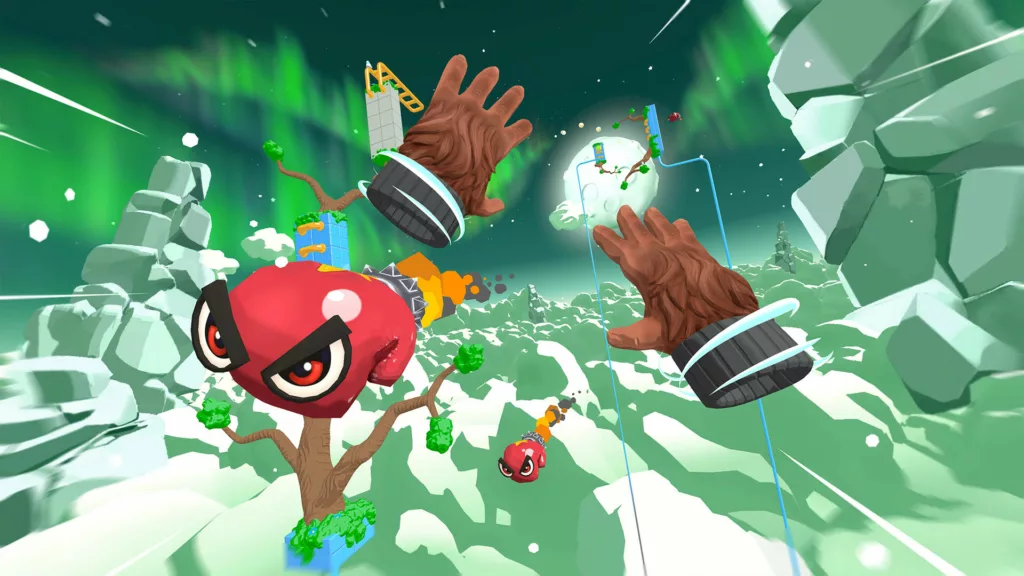 However, each stage has up to 3 optional objectives that add replayability. You can aim to collect all banana token collectibles, beat a tough par time, or minimize your number of grabs to complete the level with finesse. Trying to ace all 3 goals often requires planning entirely different routes and strategies. These side challenges will put your swinging skills to the test.
As you progress, Toss! steadily mixes things up by introducing new stage elements and hazards. Some examples include contending with moving platforms, avoiding electrical traps, and navigating currents that can sweep you away. The pacing of new mechanics felt well-tuned over our playthrough, keeping levels feeling fresh.
Beyond the campaign, Toss! also offers arcade modes for score chasing. Time Attack challenges you to race against the clock under various conditions, while Grab Master tests how few anchors you can use to still reach the goal. Finally, a mode focused on collecting all the bananas puts your observation skills to work.
These options cater well to competitive players, as Toss! supports online leaderboards for every level and mode variant. Comparing your times or grab counts against other players provides powerful motivation to keep replaying stages for the top spot. The leaderboards were seamlessly integrated and made it addicting to try shaving off a few more seconds from our runs.
Additionally, Toss! provides fun modifiers you can activate to drastically change the gameplay, like low gravity or giving yourself an extra mid-air dash. While they are rewarding to unlock, we did feel the requirements were on the steep side. A more forgiving progression could allow casual players to experience them sooner. Still, the wealth of modes and goals gives Toss! legs – it will take mastery to 100% everything.
A Visual and Physical Feast…For Those With Strong VR Legs
Toss! delivers players into a beautifully stylized world brimming with vibrant landscapes. Each set of levels introduces a new environment, from floating temples to nebulous factories. Vaporwave colors and trippy geometries give the game an otherworldly aesthetic that pops in VR. The clouds and distant horizons also sell the sense of airiness and vertigo as you soar through the skies.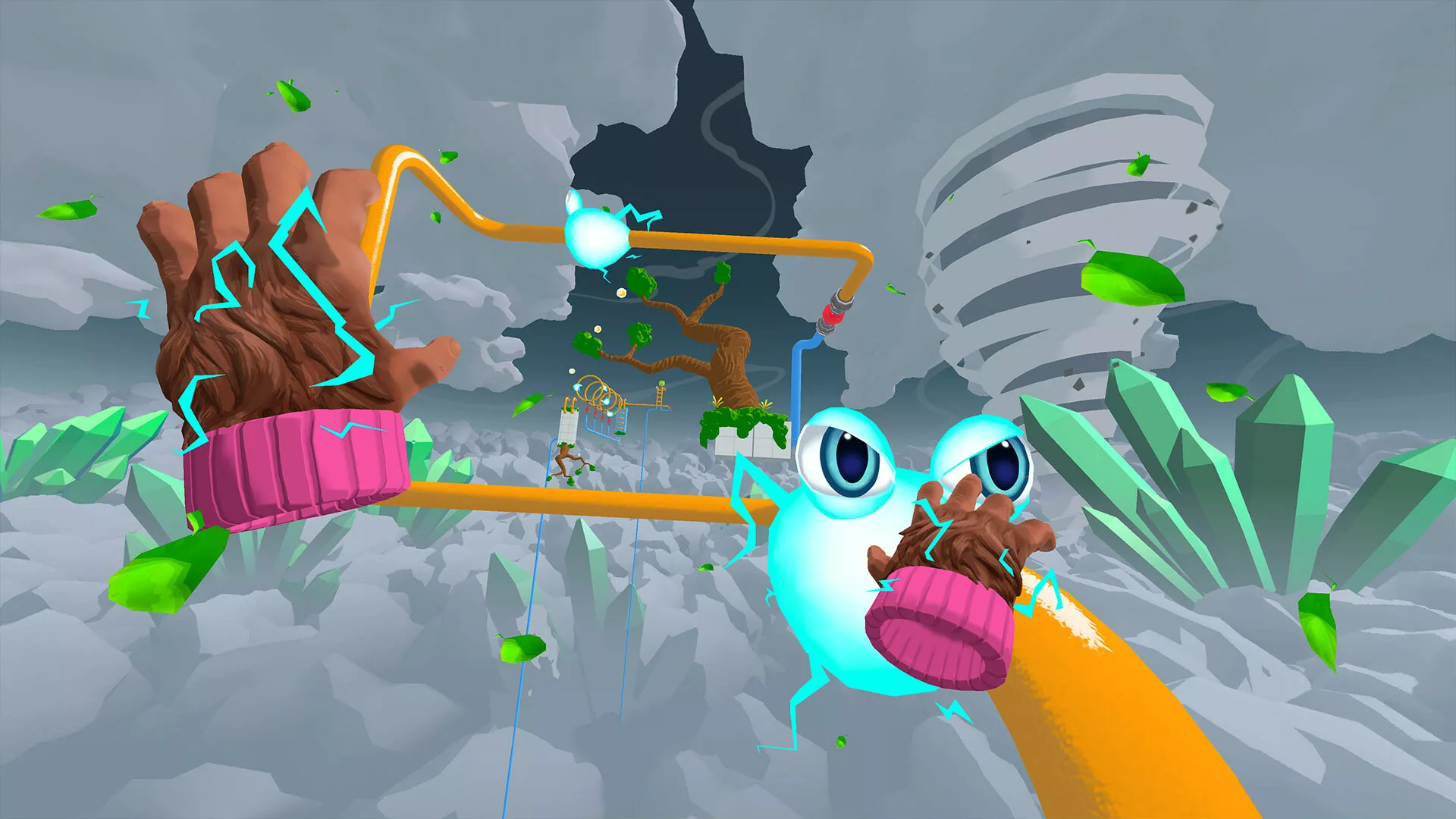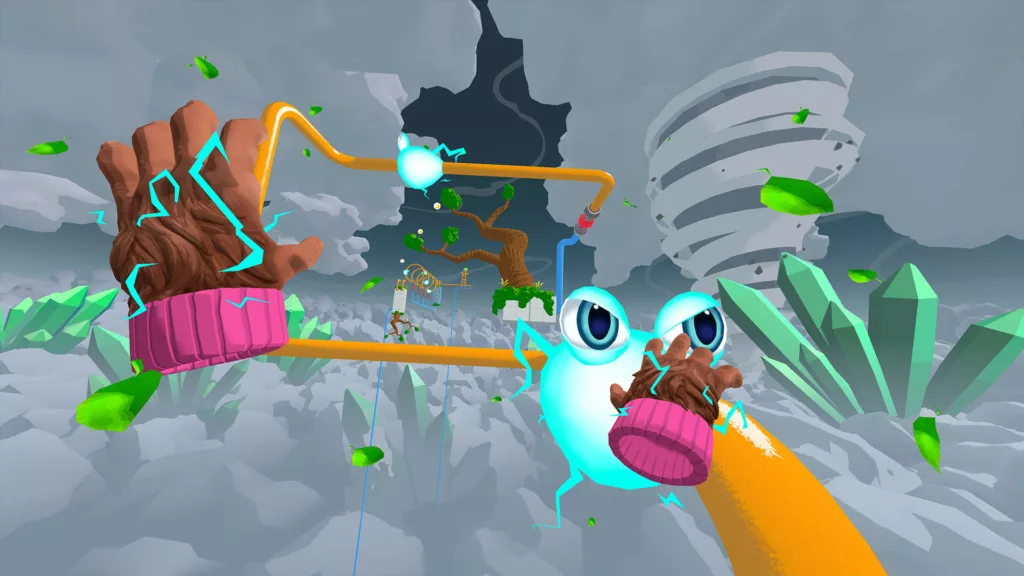 These environments are best appreciated during brief breathers between swinging bouts. When in motion, the focus narrows to carefully grasping onto the next anchor point. Here the tracking and physics make or break immersion. Fortunately, Toss! excels at making each swing feel natural, from latching onto poles to catching ledges at the perfect angle. The accuracy of tracking your hands as they release one grip and prepare for the next is impressive.
However, some occasionally wonky physics can disrupt this carefully crafted illusion. As discussed earlier, you may find yourself flung wildly against your intention, especially when colliding with walls mid-swing. This dissonance between your body's sense of motion and the visuals breaks presence. More refined physics could enhance immersion considerably.
Comfort is another area where players may be divided. Toss! mirrors realistic swinging motions closely, but all the swooping and careening about can take a toll. Those prone to motion sickness in VR may struggle during long sessions, as the constant acceleration can build nausea. Taking breaks is advised. We also recommend building up resistance slowly in short play sessions if you know you are sensitive.
Overall, Toss! succeeds more than it falters when it comes to immersive motion. Tracking precision is excellent, allowing natural climbing motions. And while the physics aren't perfect, they capture just enough momentum and weight to give that gut sense of swinging through the air. Just be cautious if you know you struggle with motion discomfort, as Toss! offers some extreme monkey business.
A Swinging Skill Spectrum with High Barriers
When evaluating Toss! in terms of accessibility, it becomes clear this is a game catering to those looking for a considerable challenge. The core swinging requires little tutorial, allowing anyone to jump in and start navigating the levels with some grace. In this regard, the skill floor feels adequately low for a VR-centric game. However, the skill ceiling raises dramatically as you progress.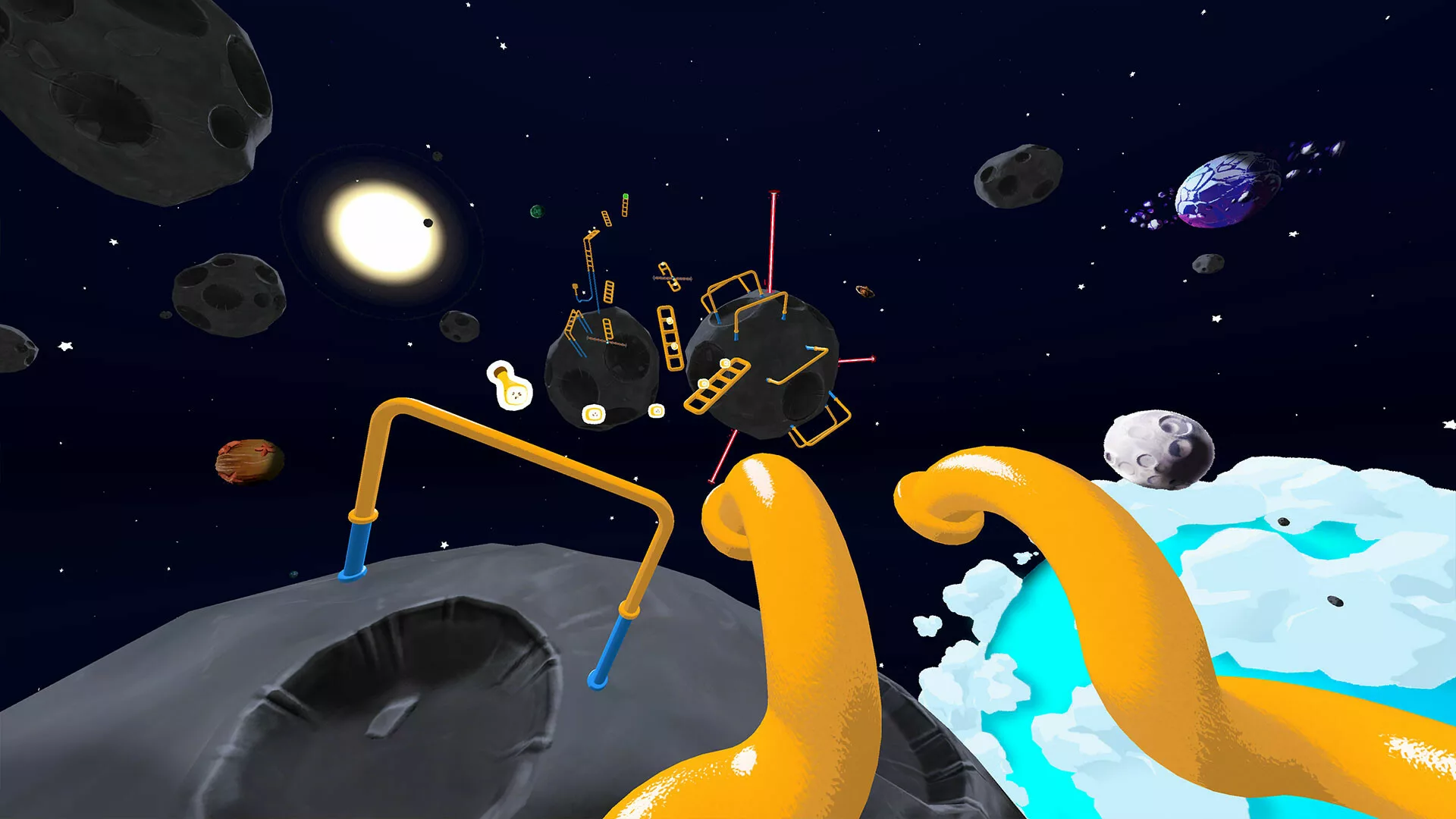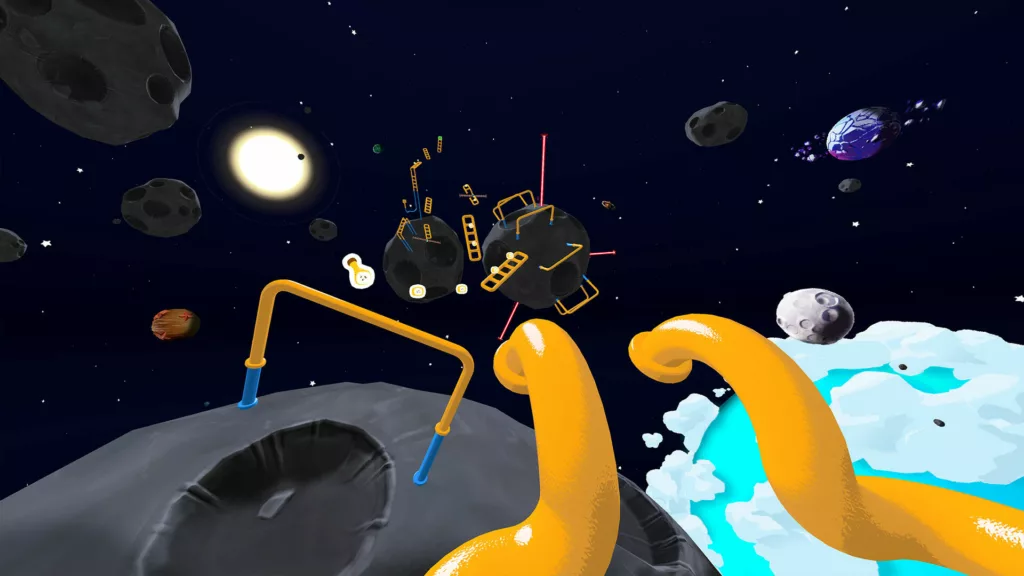 Advanced techniques like chaining multiple swings quickly or utilizing momentum for huge leaps separate the amateurs from the pros. Many of the optional objectives and time trial targets demand precision and dexterity that won't come easily to most. Here the learning curve trends steep, which provides long-term goals but could discourage new players.
The high barrier extends to progression as well. Those modifiers that fundamentally evolve gameplay are buried deep in the campaign tied to tough objectives. For example, unlocking a mid-air dash or low gravity requires beating levels under tight limits unlikely for a casual run. We'd love to see some of these creative modes made available earlier to ease players in rather than lock them away.
In summary, while the core premise is friendly to VR newcomers, Toss! seems designed primarily with seasoned gamers in mind based on its intense challenges and demands for progression. Players seeking a more relaxed swinging platformer may run into walls here, especially in the back half.
To open up the experience, we suggest smoothing out the difficulty spikes in some campaigns, unlocking modifiers sooner, and adding assist options like extended par times. Separate leaderboards for assisted and unassisted runs could allow competition without sacrificing accessibility. Meeting players at their skill level would help Toss! stick its landing for a wider audience. Until then, this monkey bar is set dauntingly high.
A Swinging Good Time With Room To Grow
In the end, Toss! succeeds as an enjoyable VR take on momentum-driven platforming. It nails the feeling of simian swinging through playgrounds in the clouds via responsive motion controls and just enough physics to capture weight and inertia. The variety of challenges and leaderboards provide compelling reasons to keep honing your skills.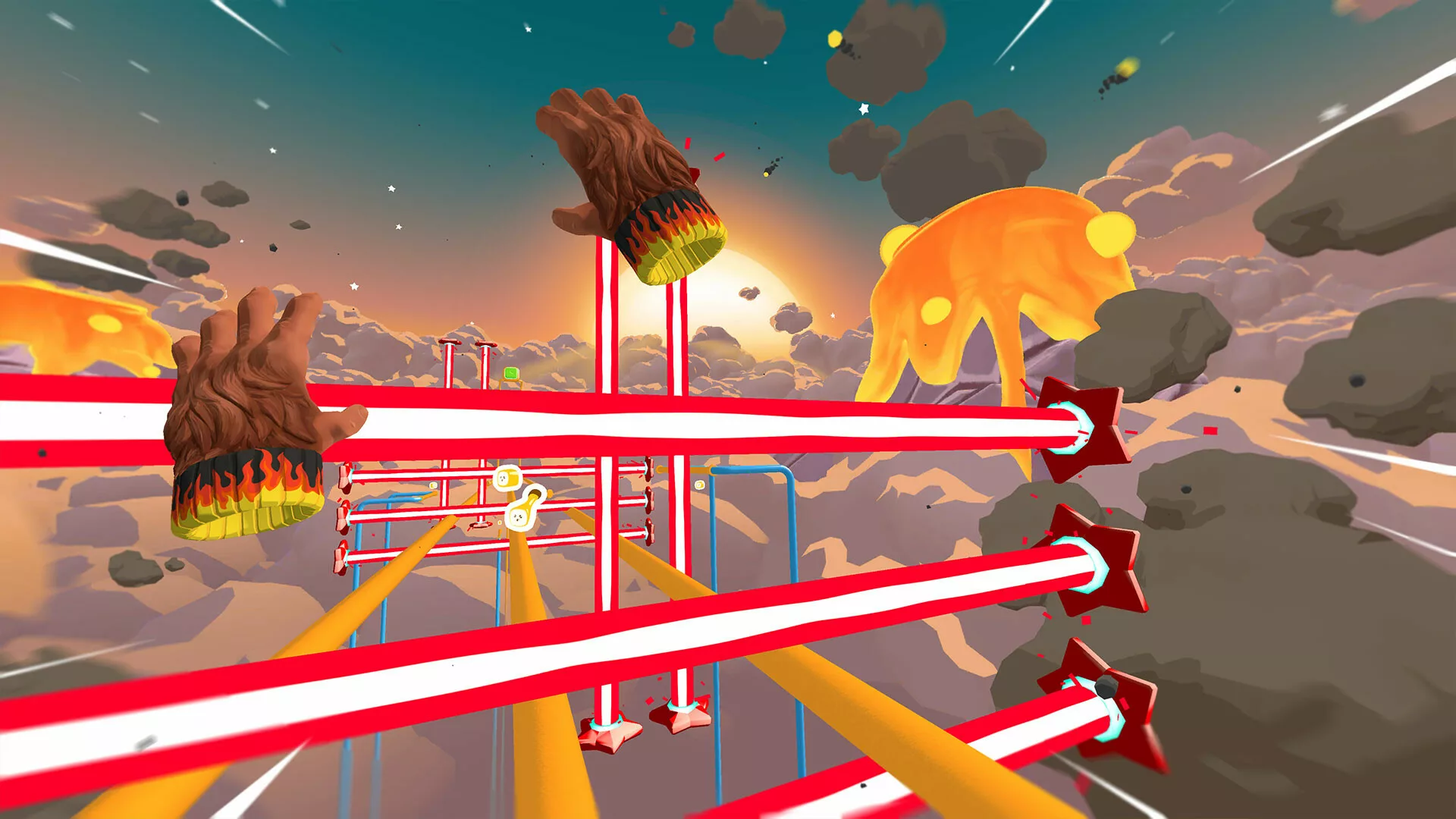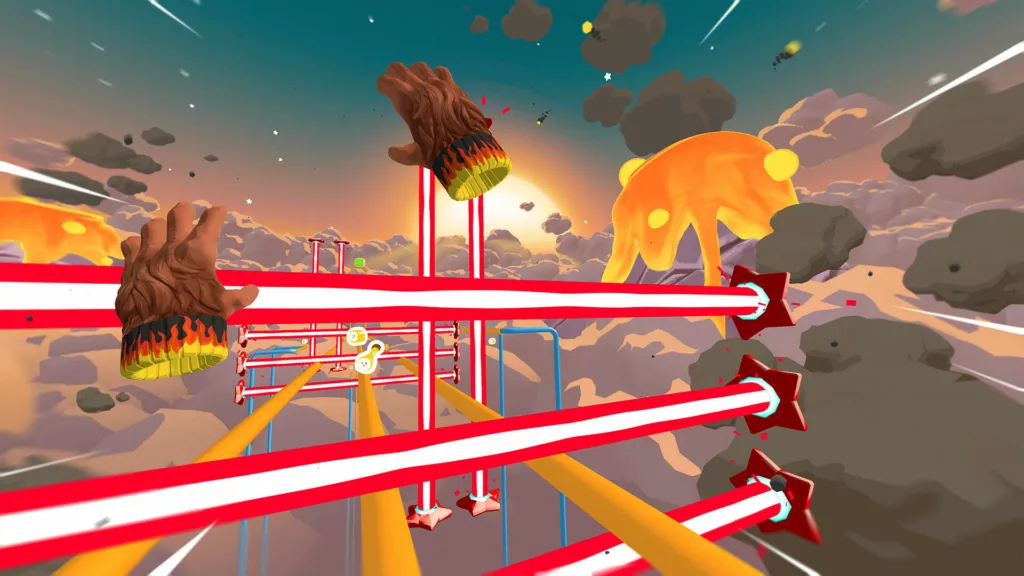 That said, Toss! doesn't quite stick the landing across all areas. Pesky physics inconsistencies can undermine immersion. Progression can feel overly punishing for less competitive players. And those prone to VR sickness may struggle with the constant movement.
But thanks to creative mechanics and exuberant style, Toss! comes together as a worthy addition to the VR catalog. It carves out a niche catering to hardcore time trial gamers looking to swing in style. While the barriers to entry are higher than we'd like, there is enjoyment here for those willing to engage on its level.
As for legacy, Toss! likely won't revolutionize the VR space, but deserves remembrance for prioritizing physicality in a genre that often embraces abstraction. Its commitment to making you feel the momentum and acute timing of each swing in your muscles provides a rush and sense of tangibility many VR games miss.
Toss! lays the groundwork for an evolution of platformers in VR that could one day rival old favorites like Mario. With more refinement and accessibility tweaks, the formula Agera Games has honed could produce timeless classics down the road. For now, strap on your VR headset and let your inner primate out – just don't be surprised if you're aching the next day. Toss! showcases the thrills, spills and occasional pains of practicing extreme VR.
The Review
Toss!
Toss! is a solid swinging simulator that provides enjoyable physicality but falls short on physics and accessibility. It carves out a niche for competitive VR players willing to master its unique brand of aerial acrobatics and overcome some friction along the way. While not quite reaching the apex of the genre, Toss! lays a foundation that future games could build upon to create excellent momentum-based VR platformers.
PROS
Satisfying core swinging mechanic that feels natural and immersive
Creative variety of modes and challenges promote replayability
Smooth progression of new stage elements and gameplay twists
Leaderboards and time trials cater well to competitive players
Bright, stylized aesthetics and environments
CONS
Physics inconsistencies can disrupt immersion
Steep learning curve and difficulty spikes may frustrate new players
Buried progression system locks away fun modifiers
Motion sickness may be an issue for VR sensitive players
Environments become repetitive over time