Definitely, jeans are among our favorite fashion pieces in the closet, as they always do the trick. Therefore, the fact that nowadays there are countless trendy jeans models, ranging from tight skinny jeans to loose wide-leg pants and extravagant pieces in slouchy cut, is very convenient for us.
A jeans model that is currently causing a stir everywhere is the so-called tapered jeans. So what do they look like? We have some cool styling inspiration for you and will show you how to properly combine the popular pants – and how not to.
Tapered jeans: This is the new trend for pants
Tapered jeans, also known as taper jeans, are a stylish cross between wide-leg pants and carrot pants. A characteristic feature of tapered jeans is their conical cut. The fashionable jeans are distinguished by a narrow and tapered pant leg. At the bottom, hips and thighs, the pants are cut nice and loose and at the ankle, they run super narrow.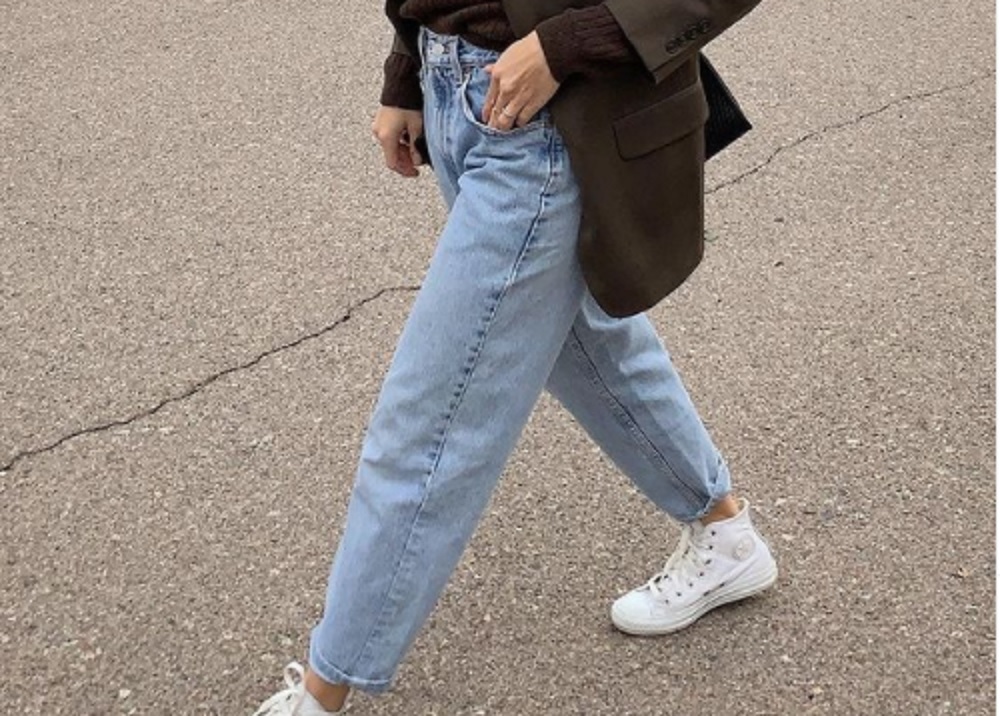 The tapered pieces look both timeless and yet cool. In addition, they look just as stylish with a blazer and sandals as with a hoodie and sneakers. Plus, there's another fashion advantage: thanks to the special cut, they conceal thick thighs and highlight the narrowest part, the ankles.
How do I style tapered jeans correctly?
What's great about denim pants is that they can be styled in many versatile ways. Not only are the jeans ideal for relaxed everyday looks, but they are also absolutely office-appropriate with a chic top and blazer in business chic. Those who like it even more elegant can go for high heels and glitter accessories.
In contrast to the slightly loose cut at the hips and thighs, narrow tops go wonderfully with the tapered jeans. For example, this can be a ribbed bodysuit or a thin sweater. Another great option is a crop top. In order to avoid too much fabric puffing up on the belly, you can tuck the top into the waistband of the pants. This also creates a nice waistline at the same time.
Wear tapered jeans with an XXL shirt? Yes, definitely! At the moment, fashion experts can't go far enough. So they love the combination of wide and wide. This means: a wide shirt or a sweater in the oversize cut is easily styled with casual taper jeans. To get the perfect street style look, simply tuck the shirt or sweater into the front of the waistband on one side, or wear a men's style shirt and button it up only sporadically.
Which shoes should I wear with tapered jeans?
When it comes to shoes, Tapered jeans look extra flattering with high heeled shoes. Women's shoes with a heel stretch the silhouette and give us longer, slimmer legs in no time.
However, flat shoes, for example, sneakers, go well with denim pants. But they should not be too bulky (keyword: chunky sneakers), since the jeans sit loosely on the legs, at least on the upper half. Yes, we like to go for ankle boots in the fall and winter. In this case, models with a pointed toe and narrow stiletto heel look particularly good with tapered jeans.
Conclusion
Fashion is, of course, strictly a matter of taste and not everyone will like the trends and pieces shown. The styling tips, outfit ideas and hacks are here to inspire you – whatever you choose to do with them is entirely up to you. Keep in mind that what you choose to wear is completely up to you. Nobody can tell you what you can or can't wear. In the end, fashion should be one thing above all: fun!