Pumpkins are as much a part of Halloween decorations as eggs are to Easter. Sometimes, pumpkin carving has become a tradition not only in United States, but also in many other countries. In the meantime, there are even pumpkin carving parties in the fall, where families, friends or even children meet to carve their own pumpkin together.
This is no wonder. After all, crafting one's very own Halloween decorations is a lot of fun for both adults and children when autumn arrives outside with uncomfortable temperatures.
But how do you properly carve out a pumpkin? Which tools do you need, what do you have to consider when buying a pumpkin and how can you preserve a carved pumpkin?
We will answer all these questions here in our step-by-step guide to carving pumpkin for Halloween. Let's go!
Buying pumpkin for carving: Which type is the right one?
First of all, before you start carving pumpkins, you have to find the right pumpkin. This can be found either in the supermarket or at pumpkin farms and pumpkin markets, both of which are a great spectacle for young and old on sunny autumn days.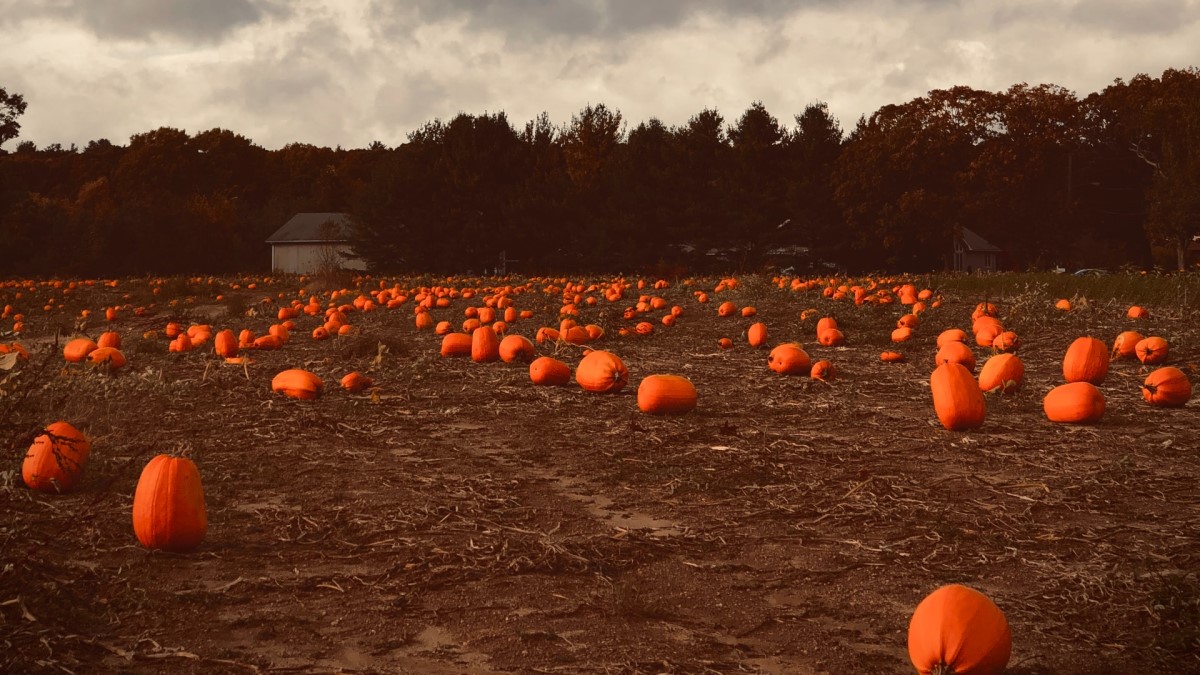 Suitable pumpkin varieties for carving are:
Hokkaido pumpkin
Nutmeg pumpkin
Butternut squash
Bottle gourd
Pumpkin season actually doesn't start in the fall – it starts in August! In September it is the peak season. To get a pumpkin for Halloween, you can purchase early. A pumpkin can keep for several months in its whole state – provided that you store it in a cool and dry place.
When buying a pumpkin for Halloween, you should pay attention to the following:
Pumpkin should sound hollow when you knock on it – this means it's ripe.
The exterior of the pumpkin should be completely intact (no cracks or soft spots).
Its stem should be quite tight and should not come loose even when pulled.
In case of nutmeg pumpkins, the skin should be as thin as possible (i.e. smooth instead of ribbed).
Tip: When the pumpkin feels lighter than it looks when you lift it up, the inside may already be rotten. Therefore, look for a Halloween pumpkin that is as heavy as possible.
Cleaning the pumpkin thoroughly before carving
Having chosen a Halloween pumpkin, in order to start carving pumpkin for Halloween, you have to clean the outside of the pumpkin first. For this purpose, simply wipe the shell with a damp cloth and some dishwashing liquid. Afterwards, dry it thoroughly so that you don't slip off with the tools when carving the pumpkin.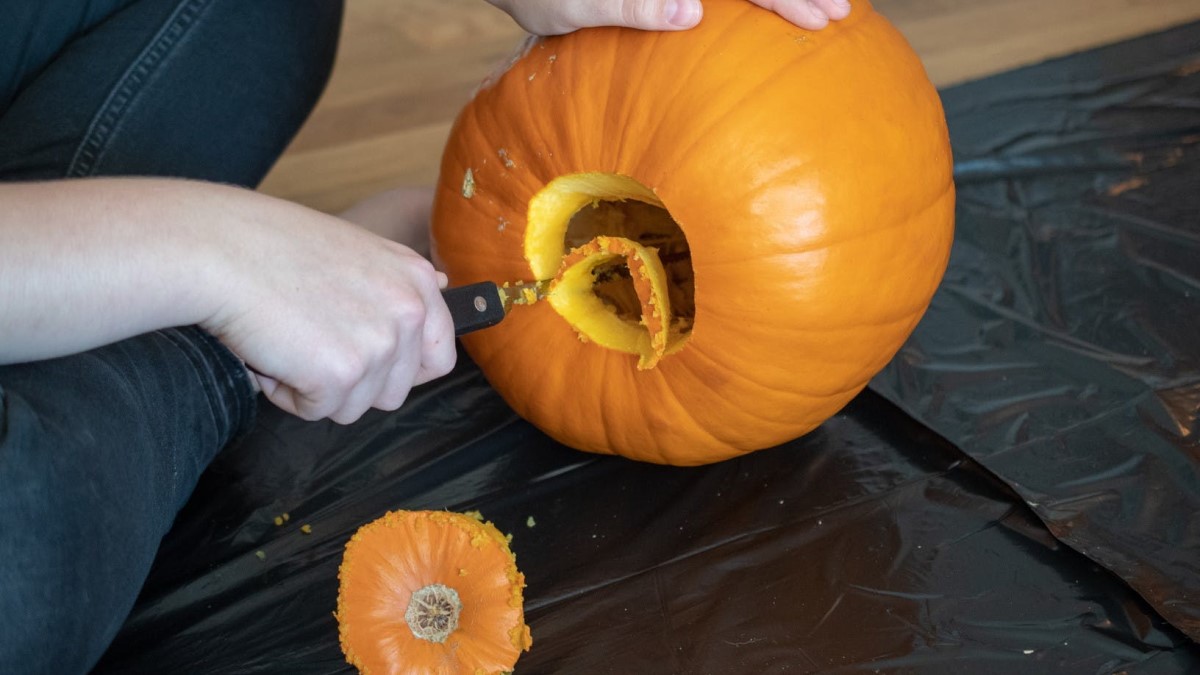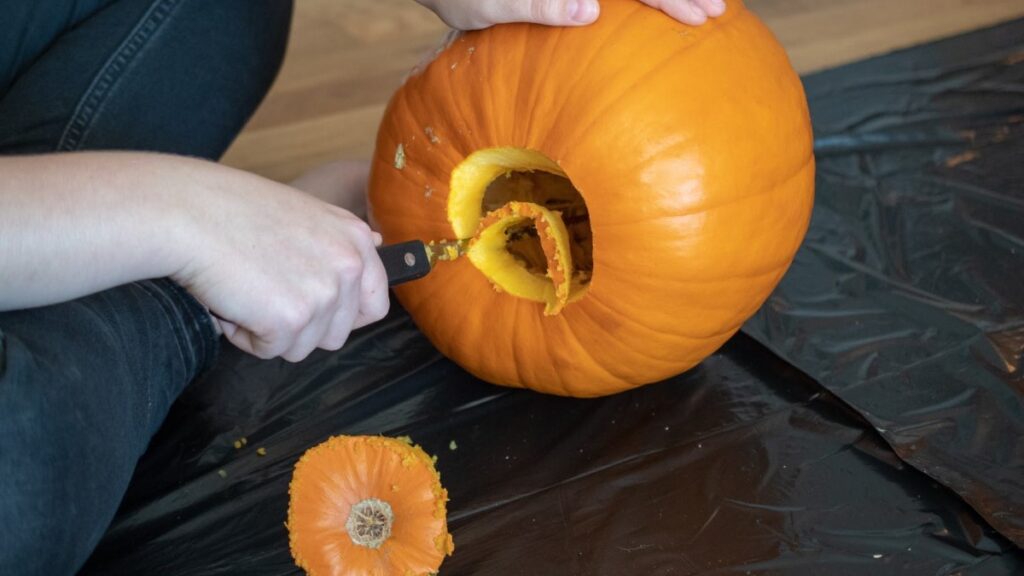 Cut hole in pumpkin
In order to be able to carve out the pumpkin, you have to create an opening first. This can either be at the top like a lid, hidden at the bottom or at the back. If you choose the invisible hole at the back, the pumpkin will stay completely intact from the front and the bottom and can be easily stored even with a tea light.
Regardless of whether top, bottom or back: use a large, sharp knife to cut an approximately fist-sized hole or rectangle in the pumpkin. If you want to use the pumpkin shell as a lid, you may want to make the cut at an angle towards the center. This will create a larger contact surface and the lid can not fall inward later.
Tip: If you cut out the opening in a hexagonal or octagonal shape, it will look especially decorative. This way, the lid will also close better.
Hollow out pumpkin
Be sure to place an old newspaper or other support under your Halloween pumpkin when it comes to hollowing it out. Always make sure it is securely in place. Wear gloves so you don't have yellow hands after hollowing your pumpkin.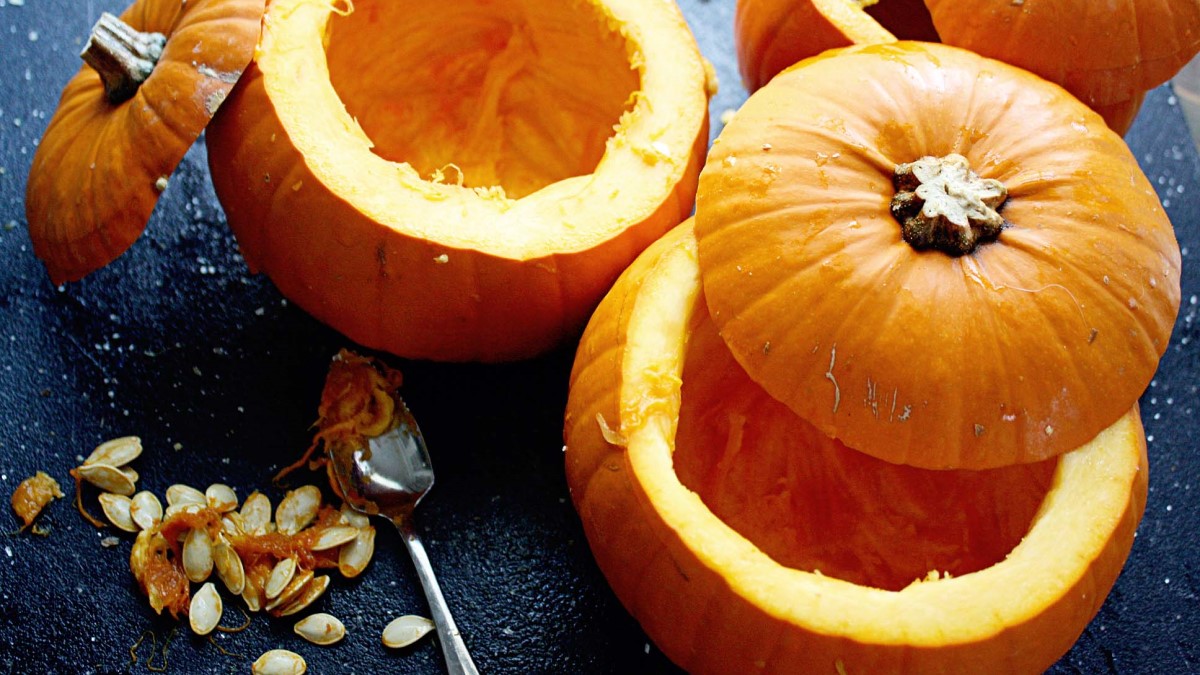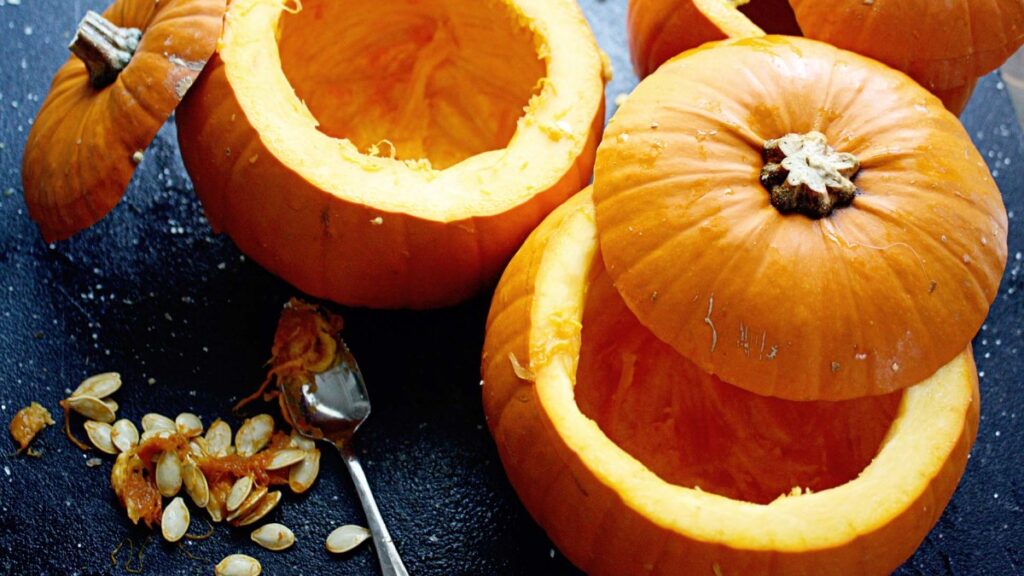 Now, use a large metal spoon or ice cream scoop to remove the fibrous insides and pumpkin seeds. When you carve the pumpkin with your children, you can let the little ones have a free hand with the mashing around.
Afterwards, scrape the firm flesh out of the pumpkin with a teaspoon. When doing so, leave a wide margin of about 1.5 to 2 cm. In this way, you can be sure that the hollowed pumpkin is still stable. To light the Halloween pumpkin later, it is best to check with a flashlight whether the light shines through the pumpkin walls. If so, you're done and ready to carve your pumpkin.
Tip: You can make delicious pumpkin soups or pumpkin pies with the flesh of Halloween pumpkins. And don't forget the pumpkin seeds! We have already written an article on how to roast pumpkin seeds!
Also Read:
Pre-draw pumpkin face
When you have finished wiping the pumpkin clean, you can start cutting into the pumpkin. However, before you cut wildly into it, you may want to think about a shape for its face: Eyes, nose, mouth… Do you want a friendly pumpkin face or rather a creepy Halloween grimace?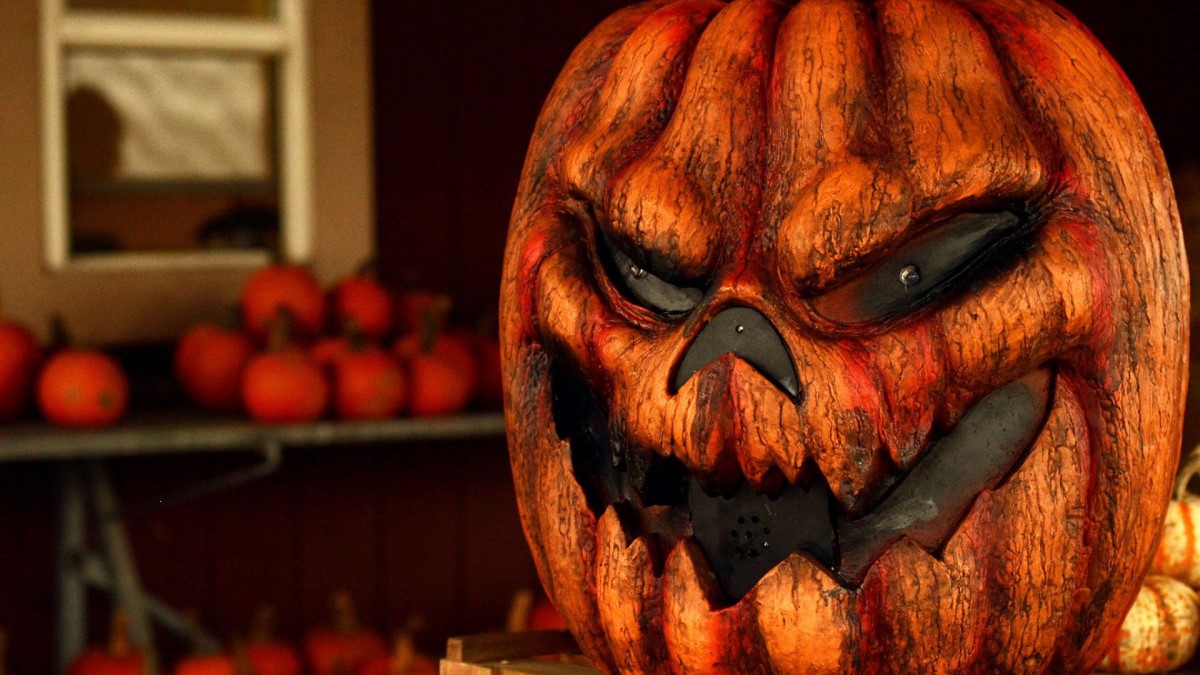 A classic shape is a pumpkin face made of triangles. Draw the outlines on the pumpkin shell. Use a water-based pen to wash off the paint afterwards. You can attach a printed template to the outside of the shell with tape. Use a thumbtack to mark the outline on the Halloween pumpkin. When the outline is in place, you can start carving the pumpkin.
Stay tuned to learn more about carving pumpkin for Halloween.
Carve pumpkin according to contours
Use a kitchen knife, cutter or mini saw from a pumpkin tool set and follow the carved or painted contours with the blade. Then you can simply press out the individual triangles of the pumpkin face with your fingers.
Tip: Be particularly careful with delicate areas such as the corners of the mouth. Preferably, you should approach these areas at the beginning, so that the pumpkin is even more stable and the shell does not break so easily.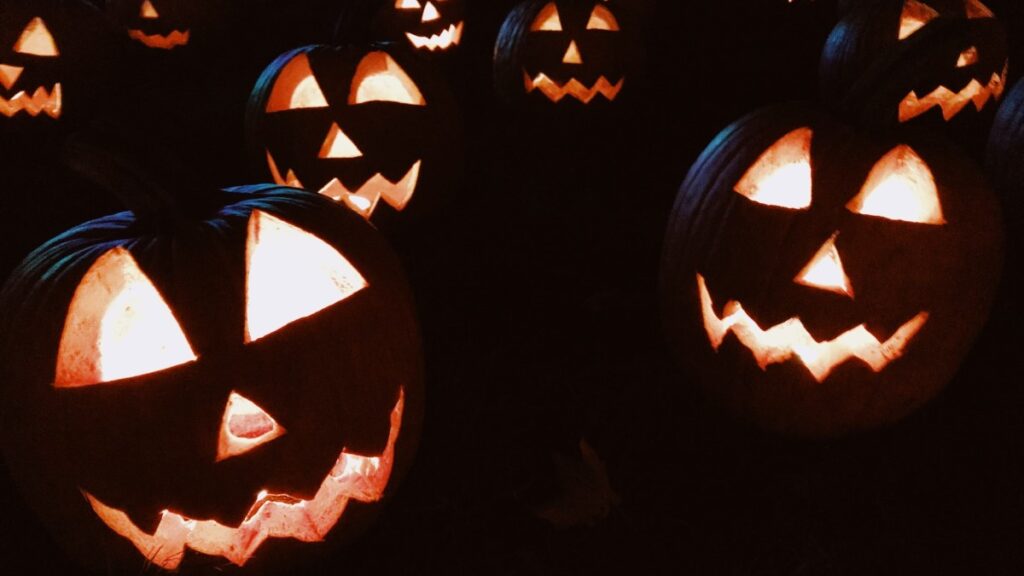 Should you not want to carve the whole pumpkin, then you can drill small holes into it with a drill. For example, you can make the glitter dust from a Tinkerbell pumpkin. You can also use metal cookie cutters – preferably in Halloween shapes such as ghosts or bats. Use careful hammer blows to dig the shape into the pumpkin shell.
Illuminate Halloween pumpkin
Self-carved pumpkins look particularly scary when they glow in the dark in the evening and just the pumpkin grimace is visible. Rather than placing the tealight directly in the pumpkin, you can place the candle in a small glass like a lantern. Then the candle will not go out in strong winds.
If you decided on a pumpkin with a lid, it is a good idea to cut a small notch in the top of the lid as a chimney. In this way, the smoke can escape and the Halloween pumpkin will not be cooked from the inside when you light the candle with the lid on.
Tip: Don't light the tealight inside the pumpkin until the candle is safely positioned on the bottom of the pumpkin. This is where a telescoping lighter comes in handy.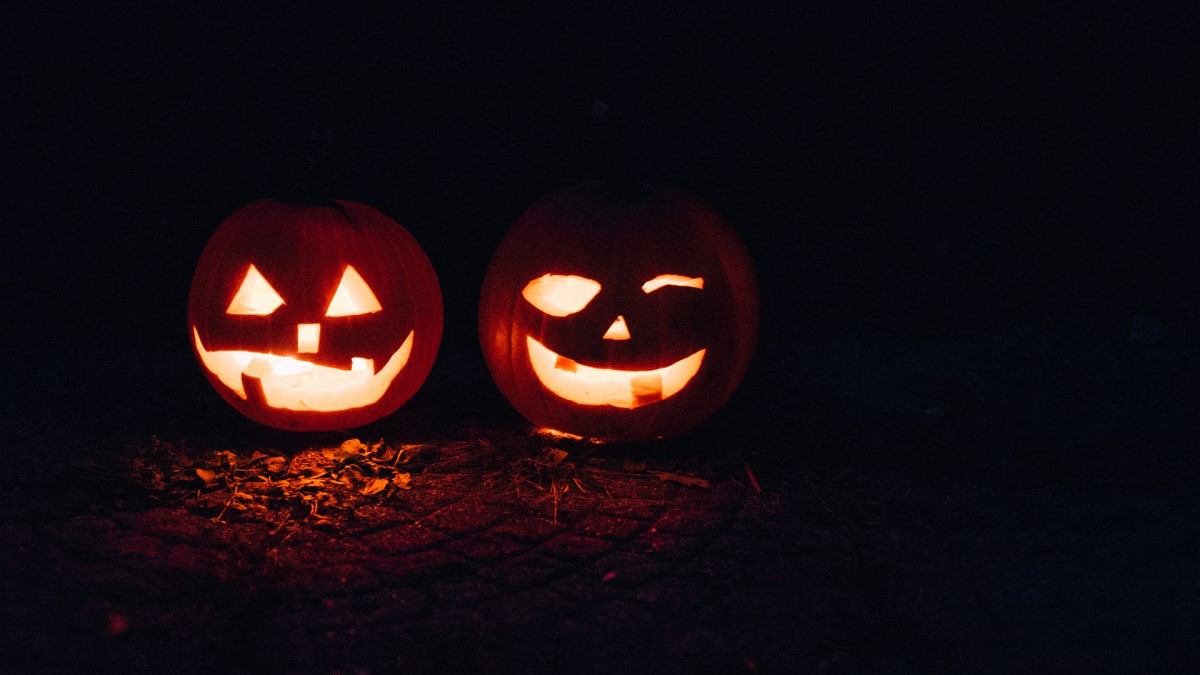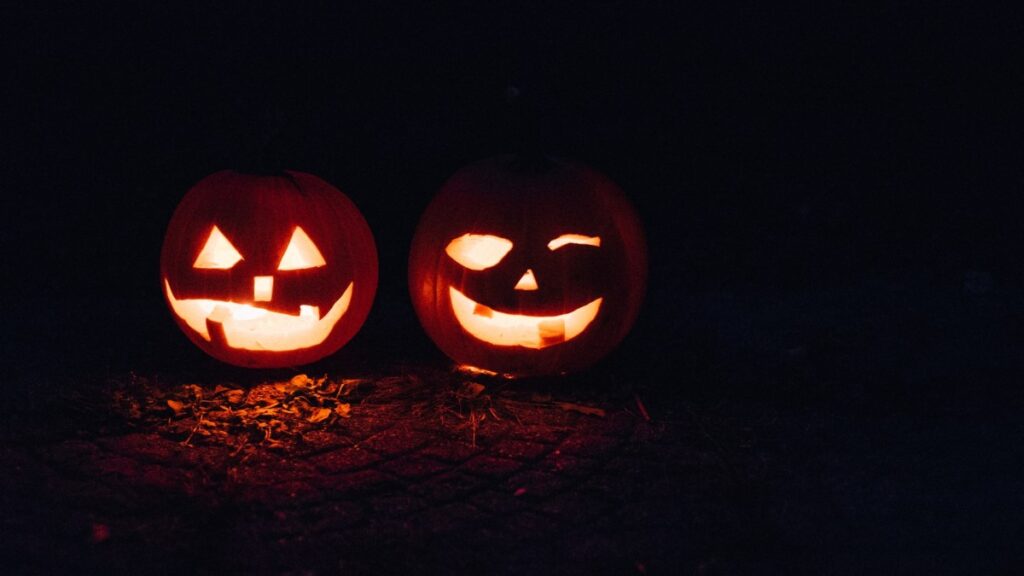 A safer and just as impressive option are LED tealights. In this case, nothing can burn and due to a built-in flickering effect, the lights are barely distinguishable from real candlelight. There are even colorful LED lights for Halloween pumpkins that illuminate in blood-red or poison-green. Just add some dry ice as fog and the spooky creepy decoration is ready.
Preserving carved pumpkin
Having wet and cold fall weather is a natural enemy of any pumpkin. To make sure your pumpkin looks great on Halloween, you should carve it no more than a week in advance – if you plan to put the pumpkin outside, at least.
To preserve your carved pumpkin do the following:
Spray the inside of the pumpkin with hairspray.
Rub the edges of the cut with petroleum jelly.
Place the pumpkin in a bucket of water and dry it thoroughly.
Put the pumpkin repeatedly for a few hours or overnight in the refrigerator.
If you still have any questions about carving pumpkin for Halloween, feel free to ask us in the comments section below.