What equipment do I actually need for my first time camping? Is there a tent that is right for me? And am I actually allowed to set up camp anywhere? We answer your questions and show you the top products for camping newbies.
In the beginning: keep it simple
The first question is: how do I travel, and how do I want to camp? We recommend you start by traveling by car or train to a simple camping destination. Thrilling trekking trails and daredevil mountain hikes with overnight stays will come later.
Keep it as simple as possible the first time and enjoy the feeling and freedom in nature instead of hiking with a heavy backpack and expedition tent.
Less is more when it comes to equipment, too. You don't need fancy gadgets on your first real tent trip, but just a few basics to have a good time.
The Right Tent
A practical, watertight and comfortable tent is the basis for a successful first camping trip. However, you'll soon be spoiled for choice: What type of tent is the right one for me? What do I have to look out for?
We've compiled the most popular types of tents you can trust as a newcomer on your trip.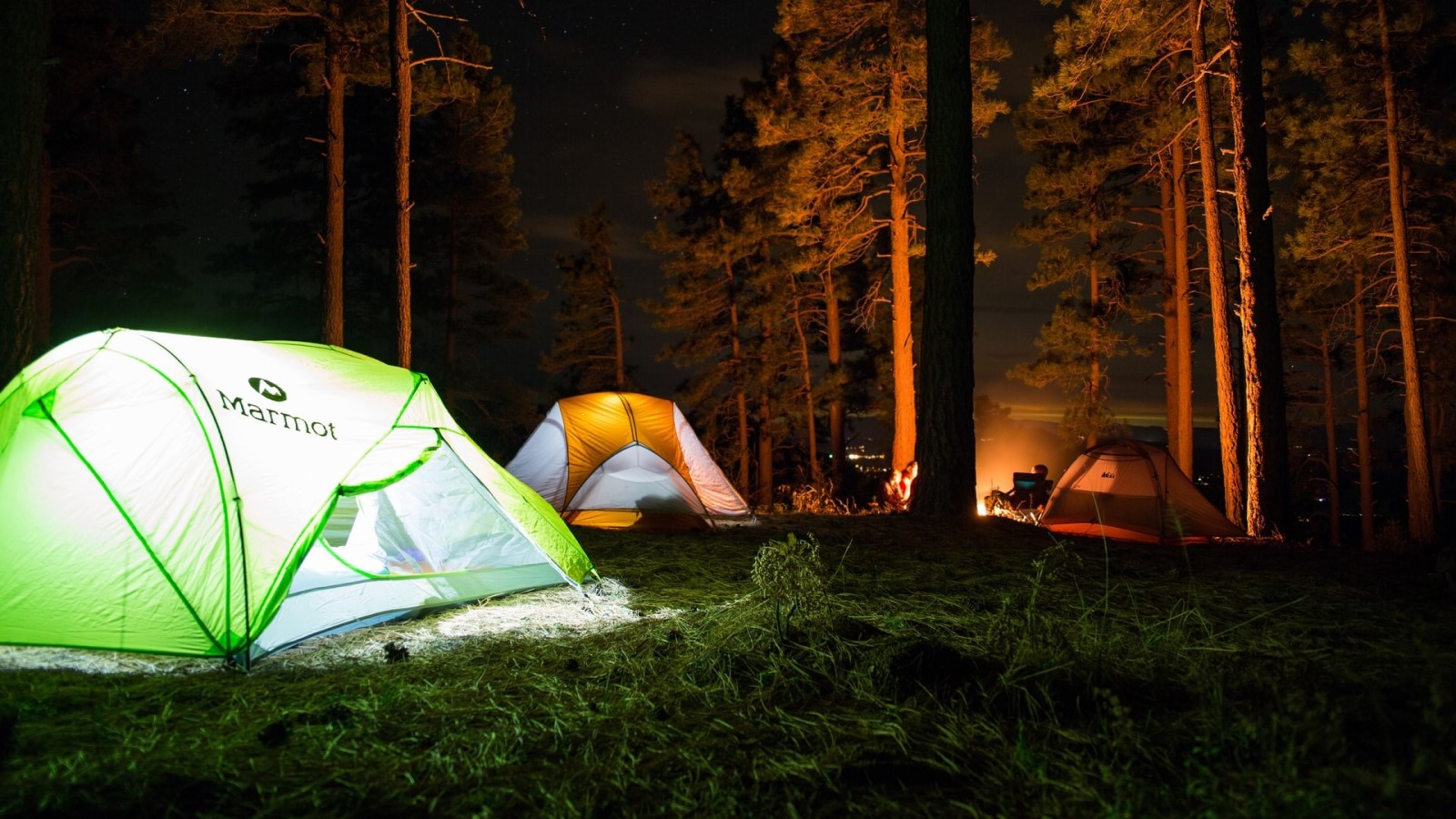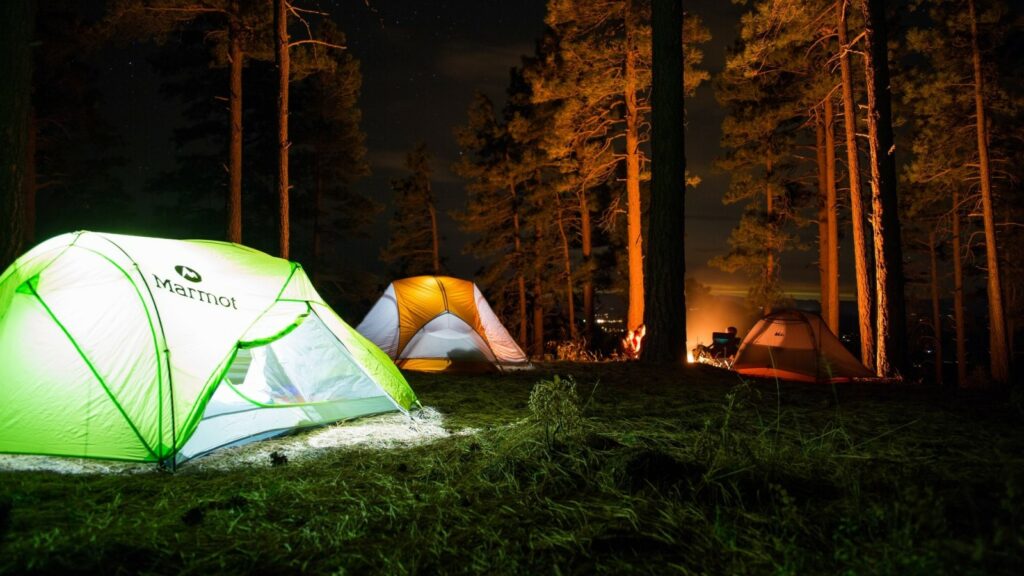 Pop-up tents: For impatient people
No desire to embarrass yourself as a newbie when setting up the tent? Save yourself the trouble!
While others are still despairing about the architecture of their shelter, just throw your tent up in the air like a boss, and it will set up by itself! This magic is made possible by a flexible, annular pole made of fiberglass, which is permanently connected to the tarp and unfolds itself through its spring force.
A practical roll tent offers enough space for up to four people. If you are unsure whether camping is something for you, this simple tent form is the right choice.
The dismantling only requires a few routine handles and should be practiced before you still embarrass yourself. Since the tent has the shape of a large disc when folded, it also does not fit too well in the trekking backpack.
Tunnel tents: they are lightweight
The tunnel tents are absolute all-rounders and also great for camping newbies. The greatest advantage of these tents is that they weigh very little. This is particularly useful if you are not traveling by car and every gram fewer counts in your luggage.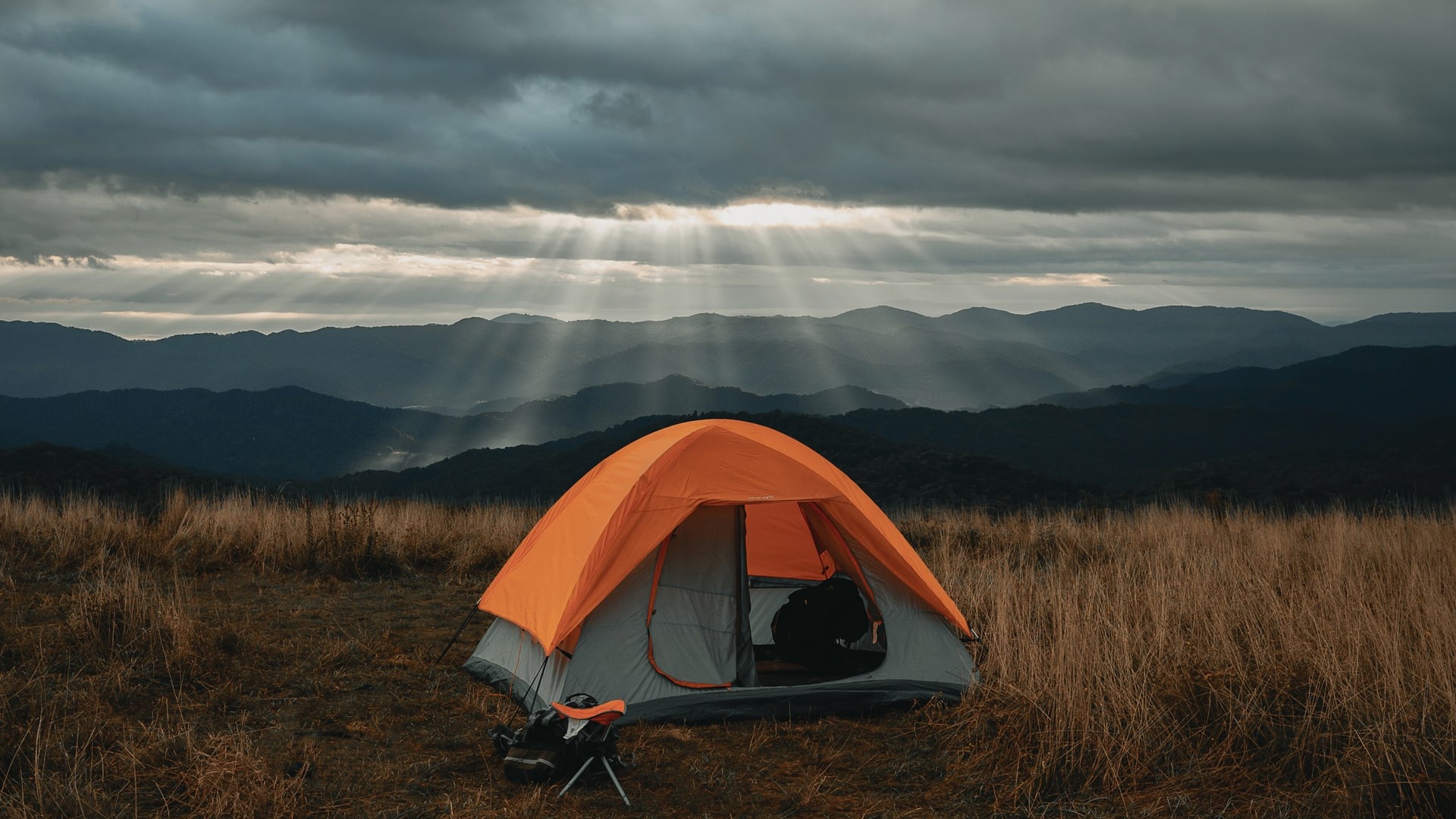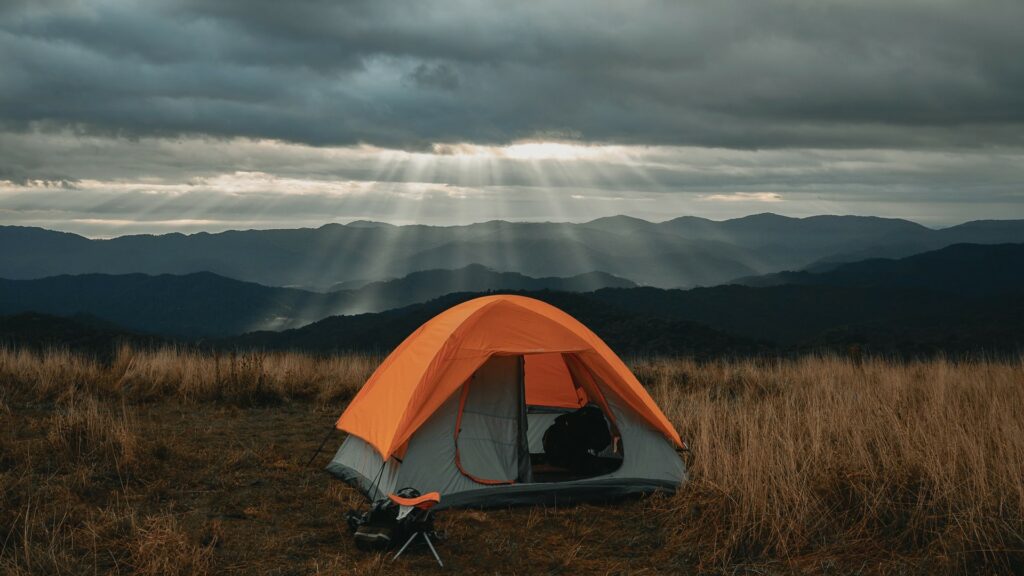 They are also real space wonders: Since the tent walls are vertical near the ground, storage space can be optimally used in corners. This results in spacious areas for sleeping and, in large models, even changing clothes while standing up is possible. A small luxury for camping newcomers!
But since they require a relatively large area to pitch, Tunnel tents are not so well suited for hilly excursion destinations. However, on flat terrain, they offer a superb base camp for the tent troop even in stormy weather.
Dome tents: The all-rounders
Dome tents are most common not only at campsites but at festivals, hiking tours, and mountainous terrain. This small, dome-shaped tent stands within 15 minutes and is a reliable basic companion. The tent has no outstanding features in terms of stability or space. Still, luckily it doesn't have any major weaknesses either.
So, if you're camping for the first time, you won't take any risks with a dome tent and won't do anything wrong.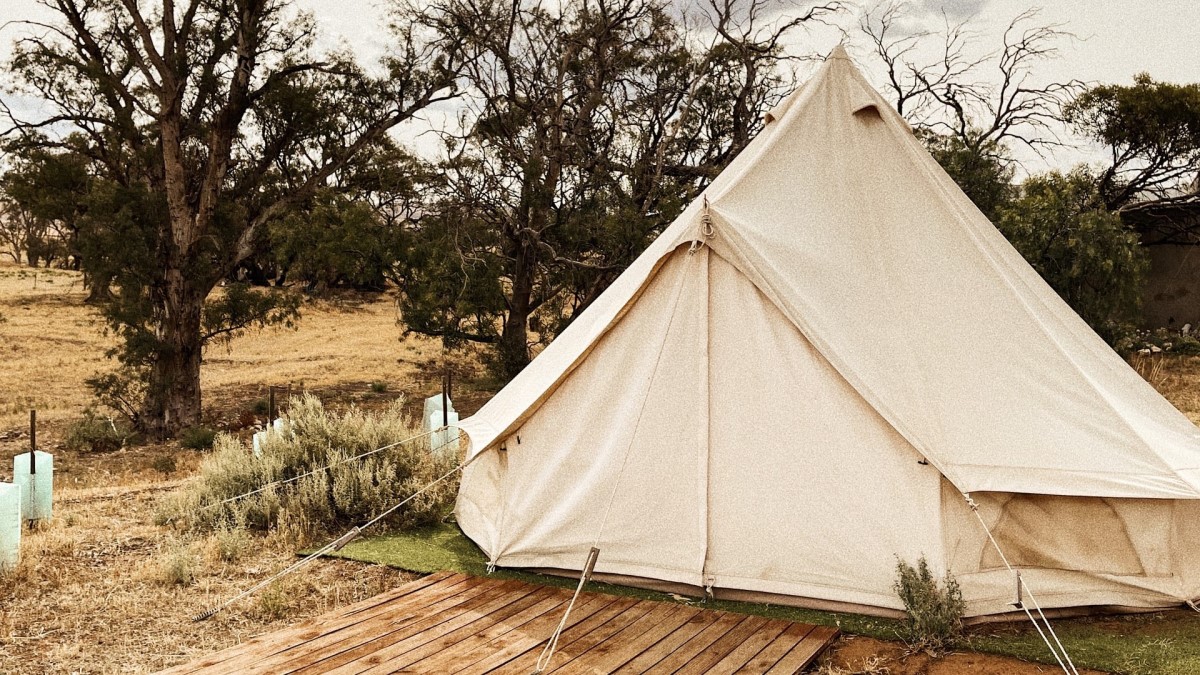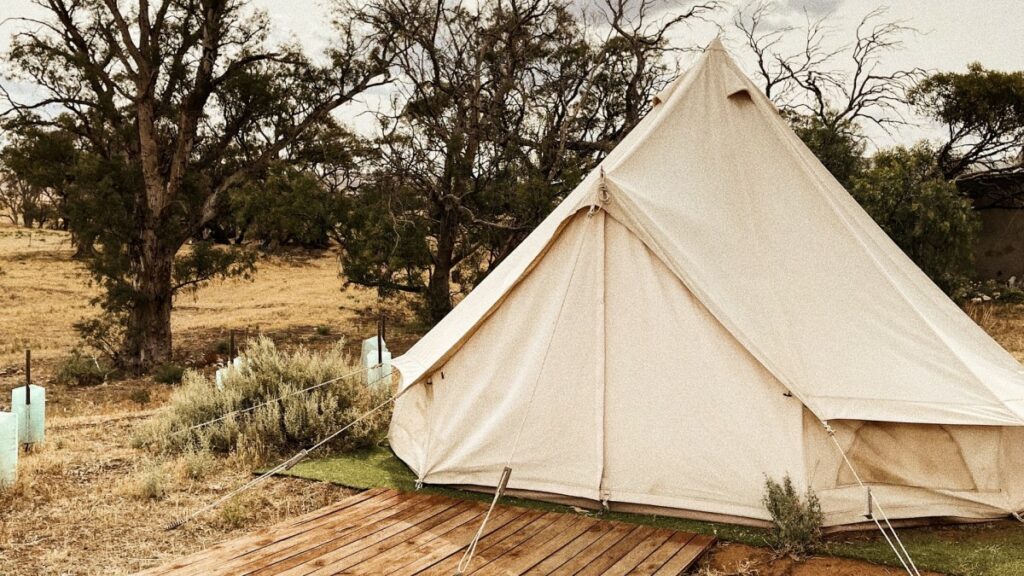 Family tents: for the whole gang
Are you planning a trip with all the kids? If so, a family tent is a great thing – ultimately, you want it to be comfortable and convenient for everyone. Most tents of this size are divided into several sleeping cabins so that you don't have to squeeze them together at night. Thus, easily three to eight, and sometimes even ten people find room in it.
Our tip: buy the tent one size larger than too small, because where a lot of people come together, there's also a lot of luggage that needs to be stowed.
Family tents are not well suited for hilly or mountainous terrain. Still, they are perfect for pitching on flat ground, such as a meadow or classic campsites, which are perfectly suited for the inexperienced.
You've bought the tent, everybody's happy, and you're standing on the campsite – now you're asking yourself: How do I set this thing up? No panic; this is not rocket science.
Air mattress & sleeping bag
This duo is indispensable for sleeping in a tent. Absolute basic equipment is a sleeping pad, which you lay on the tent floor. It warms reliably, but in terms of comfort, it is not necessarily worth the price.
However, should you want a good night's sleep and have enough space, take a thin air mattress with you? Although it must be inflated first, it is much more comfortable than the foam mat.
You need a suitable sleeping bag according to the temperature at your destination. If it is warm, choose a light sleeping bag; classic blanket sleeping bags are suitable for average temperatures. For autumn trips, choose a down or mummy sleeping bag to keep you warm and comfortable after an eventful day.
Cooking & Eating
Cooking possibilities are limited when camping, and you won't be able to conjure up a gourmet meal. However, you do not have to miss out on a good meal and only eat ravioli out of a can for three days. You can cook tasty basic dishes with a small camping grill or a camping stove (or both, if the space allows it).
A camp stove is a real must-have for newbies because it's so easy to use and doesn't take up much space. All it takes is a few logistics when cooking – or a tasty one-pot meal for which you only need one pot.
Another handy feature is a cooler, where you can store drinks and fresh food. A compressor cooler with 230-volt and 12-volt connections is the best choice. So you can connect it not only to an existing socket on the campsite but also very convenient to the cigarette lighter in your car.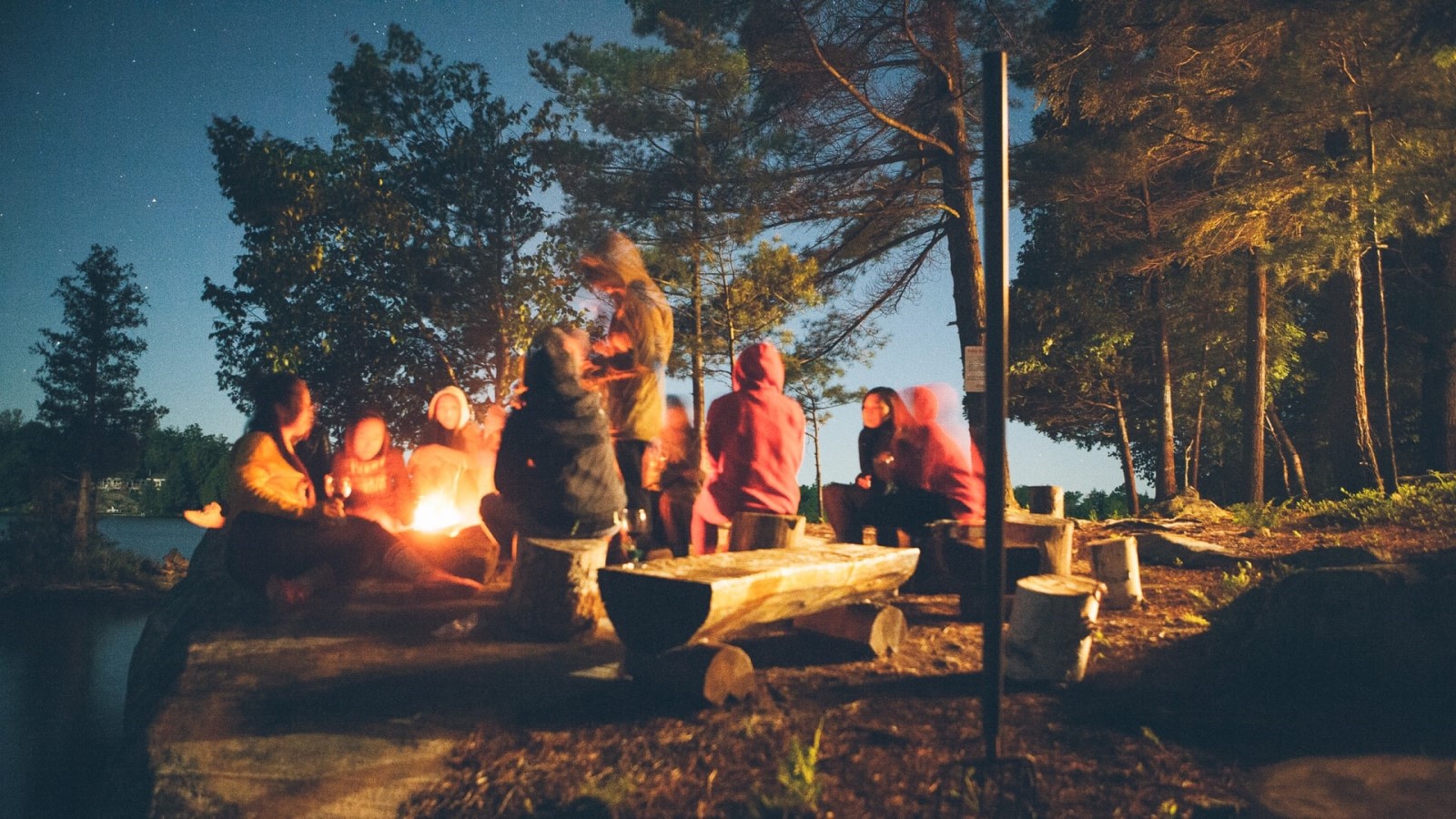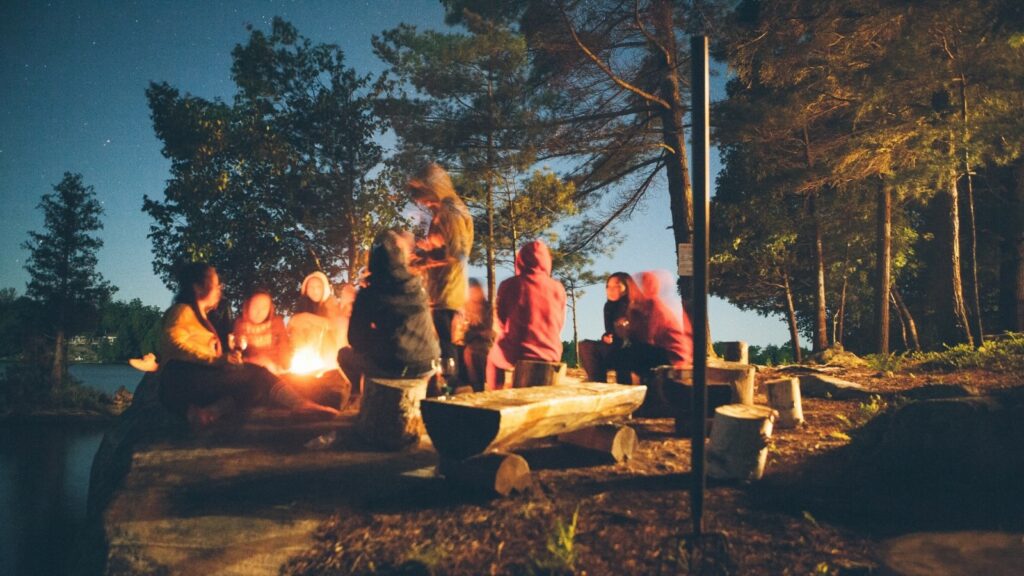 Our tip: Big coolers are often bulky and hardly necessary for the first camping trip. The smaller models with up to 30 liters are sufficient to carry a bit of provision and drinks. Thus, nothing stands in the way, even with the refreshing glass of wine in the tent vacation.
A multi-tool combines various tools in one handy companion. Whether you need a pocket knife, a bottle opener, a mini saw or a simple pair of pliers – with a multi-tool, you have everything at your fingertips. You are equipped with everything you didn't even know you might need.
This versatile tool folds up conveniently and takes up very little space in your luggage. A smart invention and a great tool, not just for newbies.
Also useful on the campground are:
1-2 pots
Hand filter and coffee
Camping utensils and cutlery
Cleaning facilities
Garbage bags and yellow bags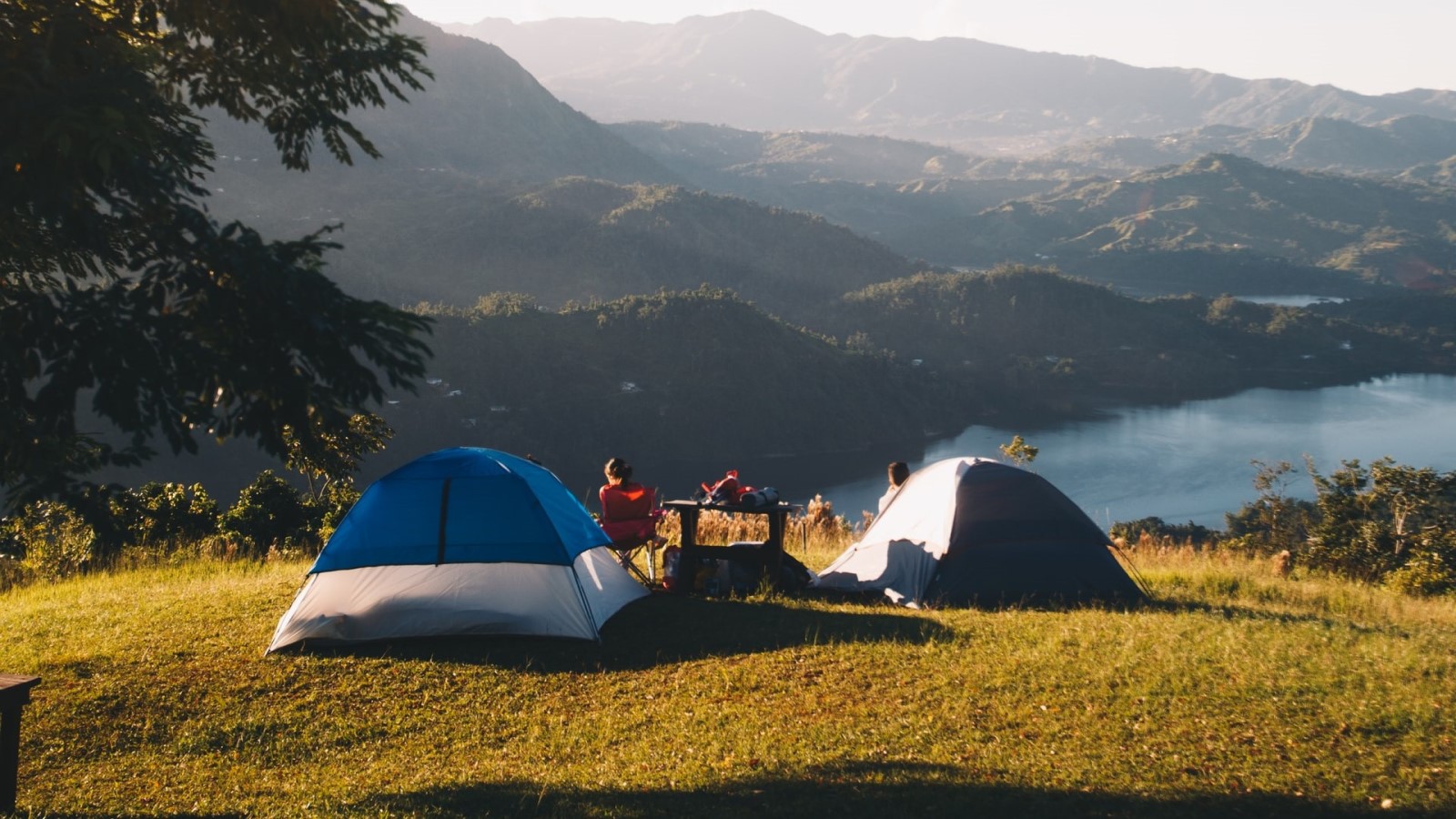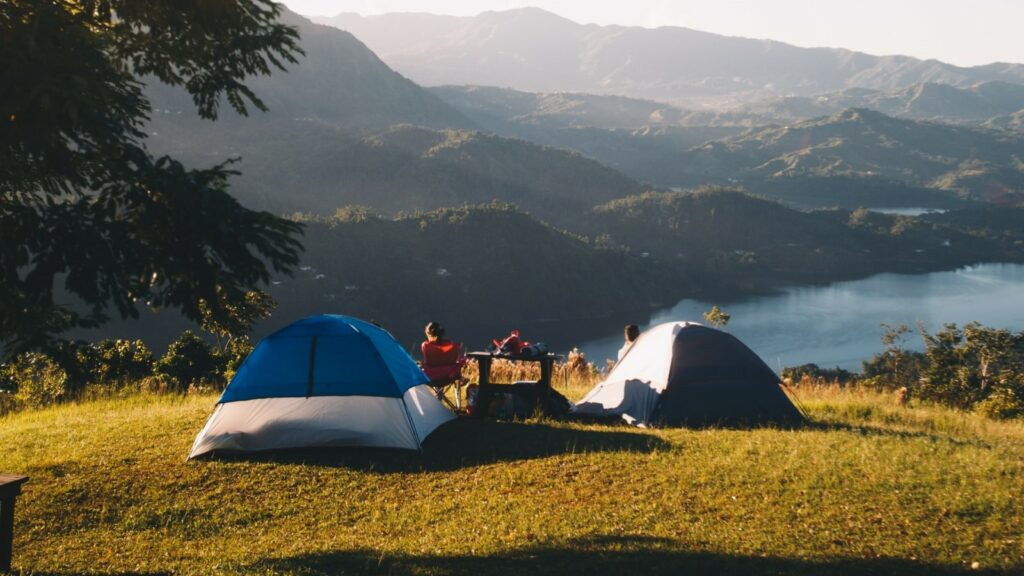 The travel pharmacy
A well-sorted first-aid kit helps you on every vacation, particularly if you are traveling in the great outdoors and the next pharmacy would mean a longer trip. It is best to compile your small emergency kit individually, considering the allergies and other needs of your fellow travelers.
If you have traveled by car, you will already have a first-aid kit on board that is equipped with plasters, compresses and the like. Furthermore, you should take headache tablets, anti-diarrhea medication and tablets against travel sickness.
In case of minor injuries, particularly with your kids, ointment is worth its weight in gold, as well as disinfectant. And to avoid being bitten by mosquitoes in the forest or on meadows, take a good anti-mosquito spray with you. This way, you don't have to worry about annoying insects anymore, and you can sleep under the open sky without any worries.
FAQ
Can I just camp anywhere?
The answer is clear: NO. The legal situation is, unfortunately, less clear because it varies from state to state and is extremely opaque.
Generally, camping is strictly prohibited in nature reserves, habitats or biotopes. You will also have a real problem on beaches and on dunes if you are caught with your tent.
There are no clear regulations for camping in the open countryside, and there is no general ban. But you must always be careful that you are not on private property.
You can play it safe with specially designated campsites. This might be less exciting, but you risk no penalty. In addition, there are natural campsites and trekking camps that are perfect for camping enthusiasts – or those who want to become one.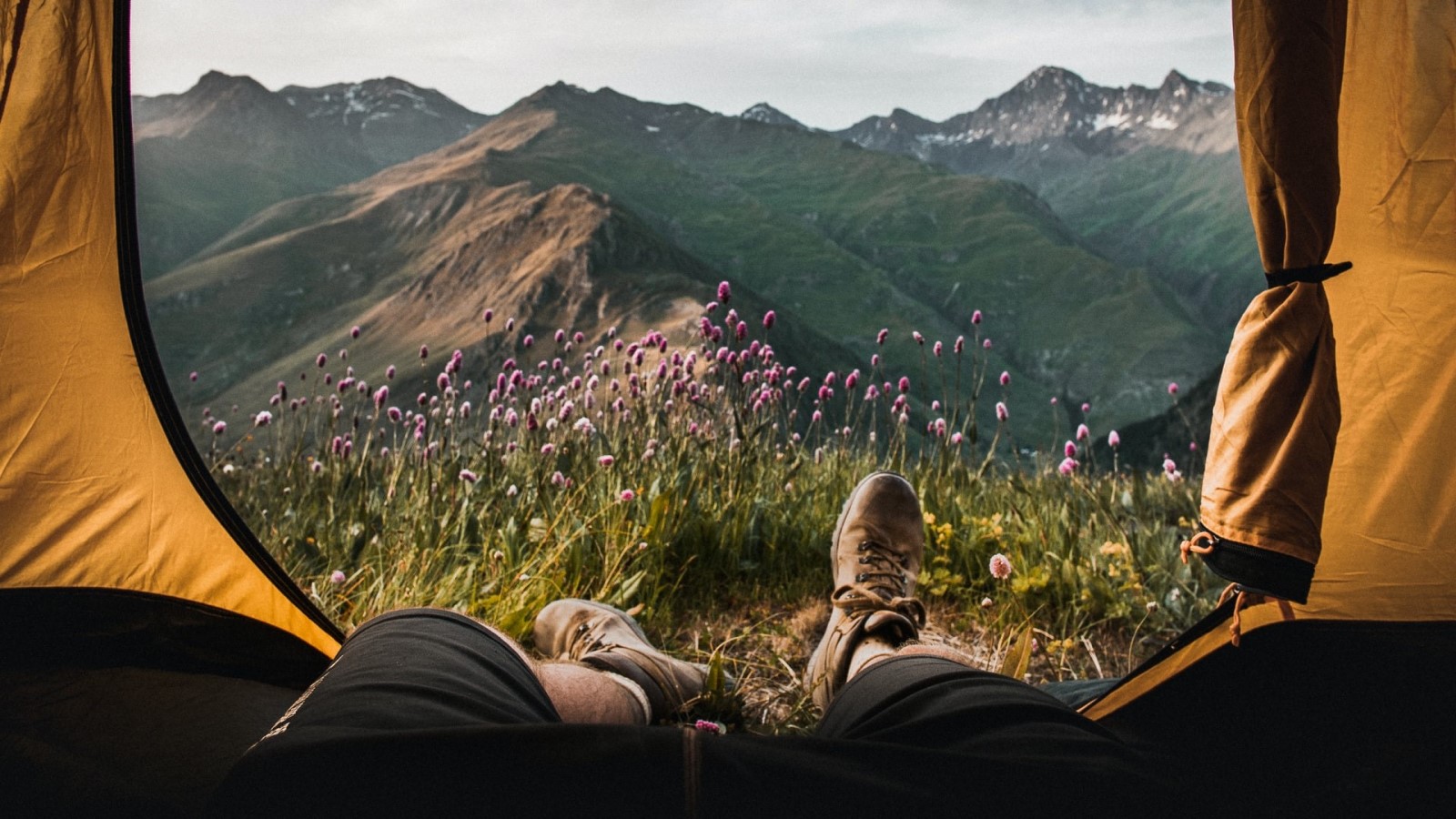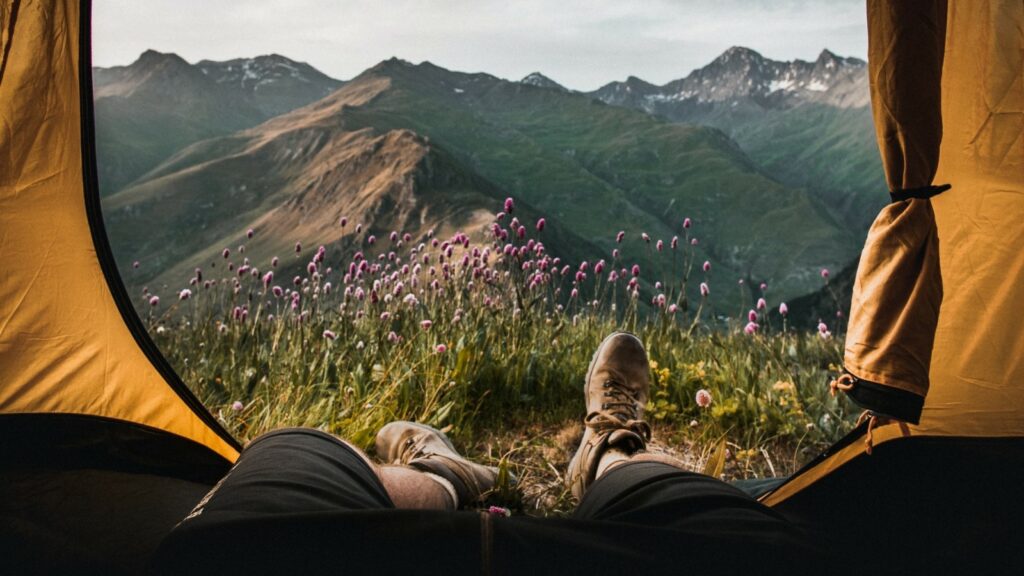 How to use cool gadgets for camping?
Besides the presented basics, which are absolutely sufficient for the beginning, there are a few nice-to-haves which simplify everyday life when camping. Consider carefully if you buy them for the beginning, especially if they are price-intensive. The following are some of the best that you can bring to your camping:
GPS device
LED light
Powerbank for your cell phone or solar charger
Waterproof Bluetooth speaker
Eco camping toilet
Wash bags to wash your clothes
Are you ready for your first camping trip? Get the basics, and your trip will be a success, and you'll be infected by camping fever right away.
Also Read: