It is time to analyze the last months of the Japanese manufacturer's activity. Having made recent announcements regarding the increase in the price of the hardware, popularity of the PS5 is not decreasing – for the past three months, gamers have purchased another 3.3 million copies of the new generation console.
It is interesting to note that in the same period (July-September) of the past fiscal year Sony reported identical distribution of the device and has now sold 25 million PlayStation 5 units.
Such a result is quite good, while it is not negligible that in the first 8 quarters since the launch of PlayStation 4, gamers grabbed 29.4 million copies of the console.
Nevertheless, it is important to take into account a number of inconveniences that the company has faced since the debut of the new generation.
Sony:

PlayStation 5 lifetime shipments reached 25M after selling-in 3.3M during the quarter ending September (same as last year's fiscal Q2).

Compare that to PS4's 29.4M thru its first 8 quarters.

And congrats PS5! You've now passed the sales of Nintendo GameCube & OG Xbox. pic.twitter.com/TaT2JiFvex

— Dom (@DomsPlaying) November 1, 2022
It is likely that the next quarters of business will be related to a much higher distribution of hardware – after six months of the current financial year, the Japanese sold 5.7 million PlayStation 5, while the target for the year is 18 million.
In the period under review, PlayStation Plus gathered 45.4 million customers, a clear decline from the previous year (47.2 million).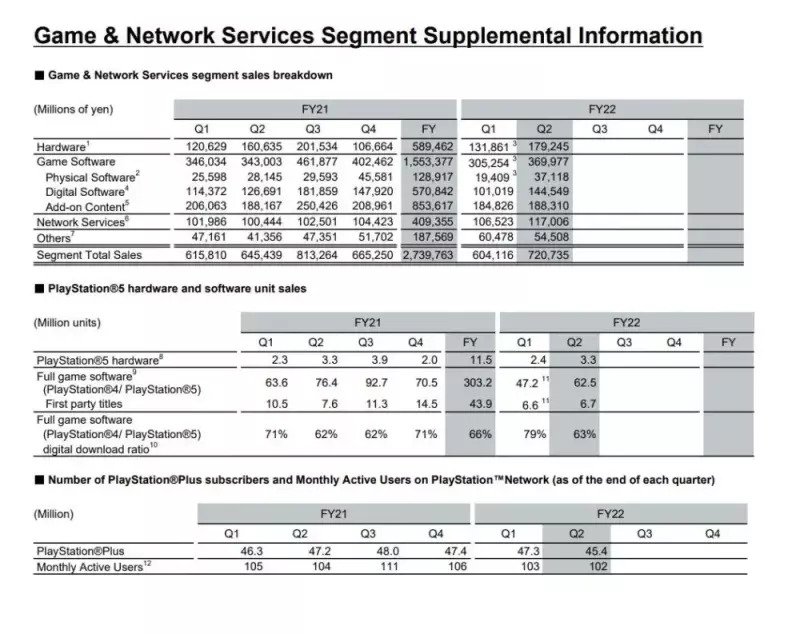 Taking into account that Sony has launched new PS Plus variants in recent months, the number of users declined, however, game and network service revenues increased by 11.7% year-on-year. Operating income also saw an increase (+8%) compared to last year.
Gamers have purchased 62.5 million copies of PS5 and PS4 productions, although only 6.7 million first-party items – a reduction in interest compared to the second quarter of last year (76.4 million and 7.6 million). Up to 63% of all games sold came from the PlayStation Store (that's a 62% year-on-year increase).
The Japan-based company also confirmed a lower number of active PlayStation Network users – 102 million – while in the same period of 2021 the base was 104 million.