If you're a gamer and an Xbox Game Pass subscriber, then you're in luck! Microsoft's popular gaming service has just announced its latest additions to the library. The good news is, you won't have to wait too long to play them, with one of the titles available from today.
Xbox Game Pass has become a staple of the gaming community, allowing players to access a vast collection of games at a monthly subscription cost. The service continues to grow with new releases added regularly, and March 2023 is no exception.
This month's line-up features six exciting titles across different genres, ensuring there's something for everyone. The games range from the highly anticipated Guilty Gear: Strive to the survival game Valheim, which has received widespread critical acclaim.
For those who love a bit of horror, both Dead Space 2 and Dead Space 3 are available for cloud play, allowing you to experience the thrill of the game on any device.
Meanwhile, Sid Meier's Civilization VI is making its way to console, PC, and cloud, providing hours of strategic gameplay for fans of the franchise.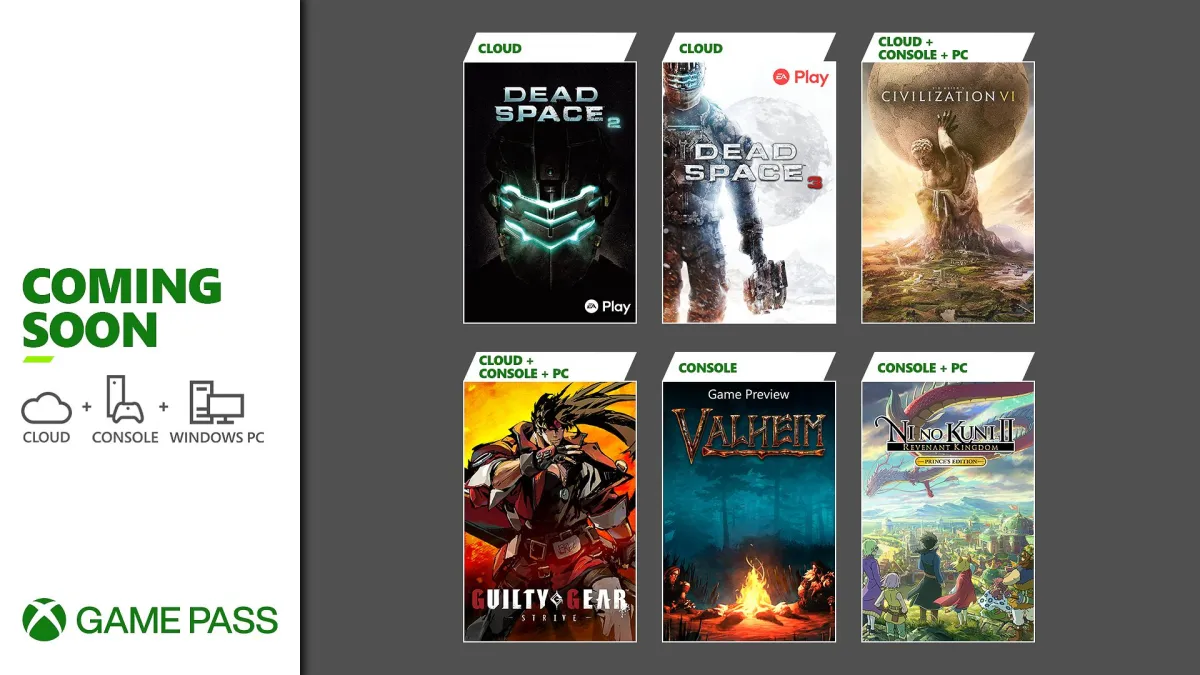 The following are the six games that are coming to Xbox Game Pass in March:
Guilty Gear: Strive – Available now. (Console, PC and Cloud)

Dead Space 2 – Available on March 9. (Cloud)

Dead Space 3 – Available on March 9. (Cloud)

Valheim – Available on March 14. (Console)

Sid Meier's Civilization VI – Available March 16. (Console, PC and Cloud)

Ni no Kuni II: Revenant Kingdom – The Prince's Edition – Available on March 21. (Console and PC)
These new additions are sure to keep you entertained, whether you're a seasoned gamer or new to the world of gaming. With a mix of single-player and multiplayer titles, you'll be able to play with friends or take on challenges on your own.
As always, Xbox Game Pass continues to provide great value for its subscribers, with new games added regularly. So, whether you're a fan of action-packed fighting games or strategic gameplay, Xbox Game Pass has got you covered. And who knows, there may even be more surprises in store for us later this month!