"Diablo 4," the latest installment in the acclaimed RPG series, has been grappling with an issue that's significantly affected its gameplay. Players have found themselves in a bind trying to farm Living Steel, a crucial element for summoning new endgame bosses like Grigoire, The Galvanic Saint, and subsequently, Uber Duriel.
These components are essential for progressing in the game, especially during the Helltide events that occur every two and a quarter hours. However, the rarity of Living Steel drops has made this an uphill battle for gamers.
The scarcity of Living Steel is more than a minor inconvenience. Players need a whopping 300 Aberrant Cinders to open the chests that contain this rare material. This requirement, coupled with the infrequency of Helltide events, has turned the pursuit of Living Steel into a daunting and time-consuming task.
Moreover, two Living Steel are needed to summon Grigoire, and from him, players must obtain two Shards of Agony to call forth Uber Duriel. This cascade of requirements has led to extensive grinding, frustrating many players. To add to these difficulties, some have reported bugs and phasing issues with the Tortured Gifts of Living Steel chests, further complicating the situation.
Blizzard's Response with a Promising Hotfix
Recognizing the community's frustrations, Blizzard has stepped up to address these issues. A recent announcement from Adam Fletcher, the Global Community Development Director for the Diablo franchise, hinted at an upcoming hotfix aimed at alleviating these challenges.
While specific details of the fix weren't disclosed, it's anticipated that the changes might include an increase in the drop rate of Living Steel, a reduction in the number of Cinders required to open chests, or possibly a decrease in the Shards of Agony needed for summoning Uber Duriel. These adjustments are expected to strike a balance, making the game more enjoyable without compromising its challenging nature.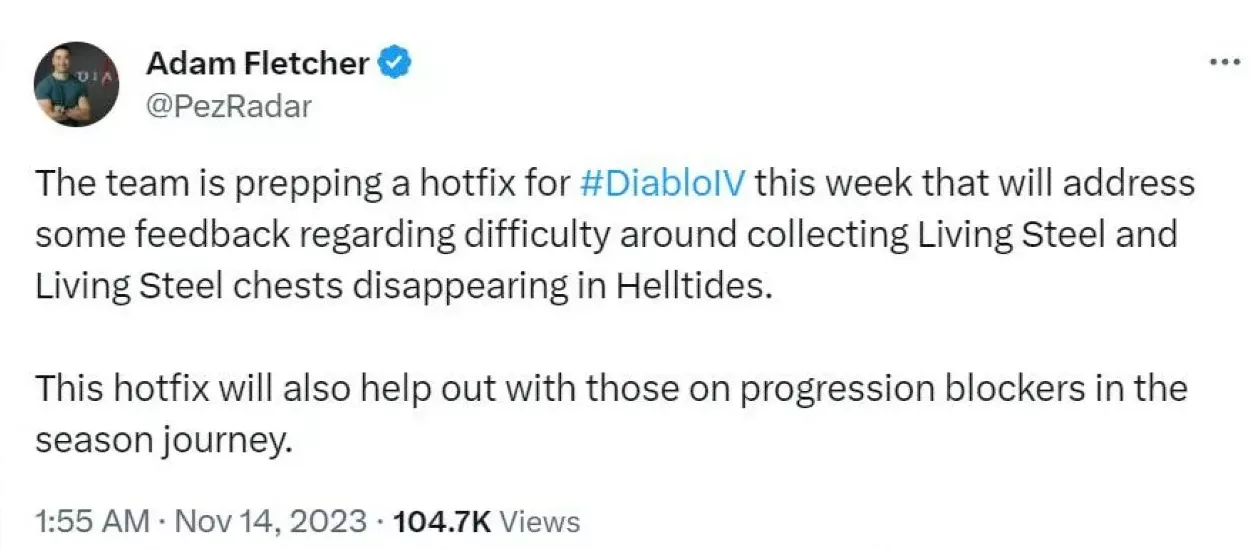 As the gaming community eagerly awaits the release of this hotfix, with no exact date announced yet, players are advised to prepare themselves. Exploring the best builds in Diablo 4 and strategizing for upcoming challenges against formidable foes like The Lord of Pain and the Lord of Hatred will be crucial.
With the next chapter of the Diablo IV saga on the horizon, players can look forward to an improved and more balanced gaming experience post-hotfix.