Tesla has long had its own social network, which is called Twitter. The company's CEO Elon Musk has 48.5 million followers on Twitter, and when he is not active himself, his followers jump into the breach by posting new information and memes. Additionally, the company used to have a forum on its own website, but that will be discontinued now. Nevertheless, Tesla may be planning to create a new online community for owners of its vehicles.
But the question is, does the aim of building of this new social platform is to offer a new community for Tesla owners or Elon Musk has other plans for it?
A Place to Support Tesla Campaigns
Since Friday, anyone who goes to the forums.tesla.com page will see a new piece of information there:
"Starting March 15th, Tesla Forums will become read only. To continue the conversation with the Tesla community visit engage.tesla.com."
In that page, visitors are greeted by a Tesla Model 3 Performance under the heading "Tesla Engagement Hub", which can best be translated as Tesla contact centre, but engagement nowadays also stands for corporate social responsibility. It goes on to explain that one can become active there in support of Tesla and the movement for cleaner energy.
Several campaigns can already be found at Tesla Engagement Hub. One campaign is about emergency aid for people in Texas after the devastating winter weather there in January. For Nebraska, Tesla is seeking support for a law that would allow direct sales of cars in the state. Another one tells the story of a girl who fulfilled her wish to ride in a Tesla, and the fourth lists upcoming Tesla club events.
A consolation for the forum shutdown?
At the bottom of the page, there is also more about what Tesla Engagement Hub is all about. Tesla Engagement Hub is a new platform for the company's own policy team and for clubs of Tesla owners. The goal is to create a "digital home" for their own work and to make it easier for members of the Tesla community to find out about current projects, to get involved and to stay up to date.
Word quickly spread on Twitter about this Tesla service (and the shutdown of the forum, which was not all that active anyway), and many people took the opportunity to comment on the posts that were already there.
There were also complaints about the closure of the forum and the service, as well as the fact that the site could not be accessed properly due to high load. However, at the time of writing this article the site works normally and there are no problems accessing or posting comments.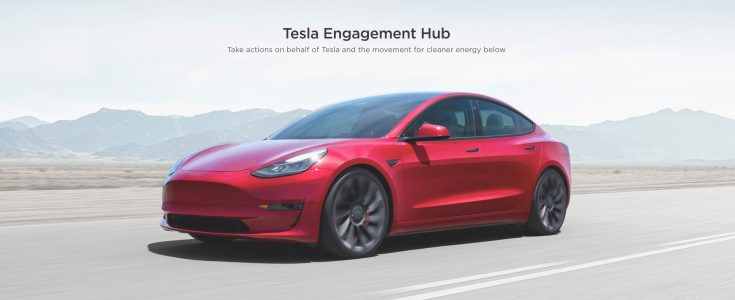 According to the information provided, the article containing the Tesla Engagement Hub statements is from January 2020, which suggests that Tesla did not create this platform recently.
However, it was not known until now. It was therefore initially unclear whether anything more was to happen with it or whether Tesla was only presenting it as a means of consolation for the shutdown of its forum.
What do you think Elon Musk is planning ok to do with his new Project Tesla Engagement Hub? Please let us know your opinion regarding this in the comments section below.
Also Read: